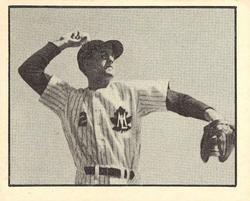 ---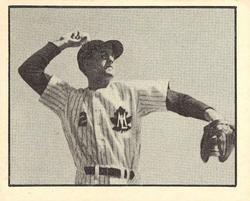 Bill Jennings was a tall, dignified, modest gentleman fondly remembered by everyone who met him. His major-league career is limited to the 64 games he played for the lowly St. Louis Browns in 1951 but Jennings lived an honest, unassuming life both in and out of Organized Baseball.
William Lee Jennings was born on September 28, 1925, in St. Louis. The loss of Submarine S-51 was in the headlines; it had been sunk in a collision with the steamer City of Rome near Block Island, off the coast of Rhode Island.1 Only three sailors survived the accident, including one from St. Louis. Jennings' father, James Percy Jennings, and mother, Tillie Mae (Chappell) Jennings, were very happy for their healthy second son.2 Their first son, James Jr., died in infancy. A third son, John, would come along in 1930 to complete their family.
Oil-truck driver James labored to raise his family in a working-class environment. William grew up in the Southwest Garden neighborhood in south-central St. Louis and attended Southwest High School. There he played basketball for four years and baseball during his junior and senior years. He was the class treasurer during his senior year. While Southwest didn't have a very good basketball program, Jennings was described thusly in the school's 1944 yearbook: "[W]hen one considers the prominent role that "Blushing Bill"3 has played in Southwest's basketball history. He has been a mainstay of the quintet for four seasons and has twice been named on the All-District squad. One wonders whether Southwest will ever be gifted again with a hardwood demon as was Ichabod Bill Jennings."4
The Southwest baseball team was much more successful, winning the Public High School baseball championship in 1943. The lanky Jennings was the ace pitcher on the team. "Slim Bill Jennings, the Longhorn's ace mound-man, pitched the Steers to triumphs in the first and third contests, winning the inaugural one to nothing and the finale two to one," said the yearbook.5 (Foreshadowing Jennings' professional career, his hitting was not highlighted in the yearbook.) After high school, which he finished in 3½ years, he briefly attended the University of Illinois-Champaign/Urbana.
Like all young men in the early 1940s, Jennings registered for the military draft. But he enlisted in the US Navy on March 20, 1944, before he could be drafted into the Army. After basic training he was assigned to the USS Gosper, a fast attack transport, on November 18, 1944. His war years were far from uneventful. The Gosper delivered supplies to Pearl Harbor, was converted to a hospital ship, avoided kamikaze attacks when participating in the Okinawa invasion, ferried casualties back from that battle and transported fighting troops to various points in the Pacific. The ship also returned US prisoners of war from Japan to the United States after the surrender. The Gosper was decommissioned on April 10, 1946, and Jennings was honorably discharged from the Navy, having reached the rank of radioman 2nd class.
The New York Giants signed the 20-year-old Jennings before the 1946 season and assigned the 6-foot-3½-inch 175-pounder to the Trenton Giants of the Class B Interstate League. The Giants obviously liked his fielding and bat more than his pitching arm because they installed him at shortstop. Jennings didn't join the Trenton team until halfway through the season. He batted .310 with two home runs in 126 at-bats. In 1947 the Giants returned him to Trenton for a full season. Jennings hit .277 with 9 home runs in 495 at-bats for the pennant-winning Trenton team.
In 1948 the Giants promoted Jennings to the Triple-A Jersey City Giants. He played all 152 games at shortstop for a team on which 25 of the 30 players eventually made the major leagues. But even with that stock of talent, the team finished in seventh place in the International League with a 69-83 record. Jennings started the season slowly, but improved throughout and by the end of the year was considered one of the best shortstops in the International League. He hit .250/.328/.359 but had some work to do on defense, committing 45 errors for a .938 fielding percentage. He was only 22 years old, nearly five years younger than the average player in the league.
In 1949 Jennings was sent to the Minneapolis Millers of the Triple-A American Association. The media welcomed his arrival. "In coming into possession of Bill Jennings, the Millers are probably overriding the wishes of Giant pilot Leo Durocher. Jennings has been the spring shortstop sensation, not only of the Giants, but of the major leagues," wrote the Minneapolis Star Tribune6 In the first game of the season, he struck out four times against former and future flamethrowing big leaguer Mickey McDermott. Seventeen Millers struck out that day so the golden sombrero was less embarrassing than it could have been. In the fifth game of the season, Jennings hit his first American Association home run, a grand slam, along with a single and triple. Then the next day he grand slammed again.
On May 16 Jennings walked and stole second, but in the process injured his ankle. He missed 20 games. After he got back in the lineup, he started slowly, but heated up in the second half of the season. He hit .285/.388/.423 with 10 home runs in 404 at-bats. His fielding apparently improved; it was remarked upon in the local papers, mentioning him making great plays on multiple occasions. For instance: "Bill Jennings came up with a couple of sparklers at shortstop, taking those half hops as though they had handles on 'em."7
The Giants returned Jennings to the Millers for the 1950 season. He had the best season in his professional career for the improved squad. Minneapolis finished with the best record in the American Association but lost to Columbus in the playoffs. Jennings batted a career-high .285/.394/.490 with 23 home runs and 85 RBIs in an injury-free season. His defensive range factor was a bit lower in 1950. Nicolet Field, which typically favored left handed hitters, was a good park for Jennings, since his power was to right-center, even though he was a right-handed hitter and thrower.
On May 16, 1950, Jennings married Minnesota native Correne Chambers. Several of his teammates turned out at Central Lutheran Church in Minneapolis for the ceremony and the traditional "walk under the bat arch" that was captured by a newspaper in a feature picture of the event.8 The couple scheduled the evening event for the same day as a Millers day game. The game was postponed by rain but the wedding went on as scheduled. The next day Jennings was back in the lineup.
In 1951 the Giants optioned Jennings to the Pacific Coast League Oakland Oaks. Oaks manager Mel Ott was familiar with him, having signed him in 1946. "This boy is a good shortstop," Ott said. "I'm confident he will be an outstanding man in the league. He probably won't get as many hits as Artie Wilson did but he'll hit a longer ball. He has good power to center and right field."9 Wilson, a star on the Oakland team the previous year, would go on to a cup of coffee major-league career but a stellar career in the Pacific Coast League.
Jennings hit a homer in his first game with the Oaks. His batting line for his 89 games was .258/.346/.374. He hit three home runs in three consecutive at-bats against the Los Angeles Angels on April 15, all the blasts landing in the right-field bleachers.10 However, the Oaks were hoping for more offense. In mid-June, the Giants assigned Artie Wilson to the Oaks and Jennings sat the bench. On June 30, the Giants reassigned Jennings to the San Diego Padres. He played seven quiet games for the Padres and then the St. Louis Browns came calling.
The lowly Browns were in the midst of a terrible season in which they would ultimately finish 52-102, last in the American League. Their previous two shortstops, Tom Upton and Johnny Bero, would combine for a .206 batting average and they were looking for an upgrade. They purchased Jennings' contract from the Giants and installed him at short for the remainder of the 1951 season.
Jennings debuted for the Browns on July 19, going 1-for-4 with a double, driving in two runs in a 9-7 victory and starting an important double play in the field. Unfortunately for the Browns, this performance was not representative of Jennings' season. He hit an anemic .179/.276/.251 in 224 plate appearances as the everyday shortstop over the last third of the season. His best day was during a September 12 doubleheader against the Yankees. He went 2-for-3 with a walk in each game while the Browns swept the Yankees. This was the first Browns sweep of the Yankees since 1945.11
Jennings was on the field for some of Bill Veeck's shenanigans, including the Eddie Gaedel affair on August 19. From his point of view, it was a very surreal event. The players saw the between-game festivities, including a giant cake being presented to manager Zack Taylor and Gaedel jumping out of the cake. The public address announcer declared Gaedel was a gift to the manager, a new Brownie. The players were as surprised as everyone else when Gaedel was announced as a pinch-hitter for Frank Saucier to lead off the second game. Saucier was quite upset by the substitution, thinking the whole thing was a circus. After Gaedel walked and Jim Delsing ran for him, none of the players saw him again. He went straight up to the press box and never came back to the field.
Jennings was still on the Browns' radar for 1952. He attended a World Series movie party along with some teammates and participated in other offseason events.12 However, in March, the Browns sold him to Triple-A Toronto. He played the full season of 1952 in Toronto but his bat continued to be poor (.201/.308/.285). Toronto made the playoffs, but dropped Jennings from their playoff roster.
Jennings began the 1953 season in Toronto but couldn't come to an agreement on salary with owner Jack Kent Cooke. He was paid $12,500 in 1952 which was fairly generous in comparison to his teammates.13 But Cooke wanted to cut his salary. It was reported that Jennings came to terms with Cooke on April 9. But the terms weren't to his liking. "He wouldn't pay me what I thought I was worth so I went to Charleston to finish the season and retired from baseball," Jennings recalled.14 Jennings' memory may have been somewhat faulty on this: The Sporting News reported that he and two others were traded to Charleston for Bob Boyd in early July.15 He finished his professional baseball career as a .200 hitter in 73 games for Charleston.
While Jennings wasn't the first player to wear protective headgear, he was concerned about his health. He did wear a protective sleeve inside his cap. Batting helmets weren't required then but he used the plastic liner, at least later in his career. It was noted that he and two other Toronto teammates used a liner during the 1952 season.16
After Jennings left baseball, he took a job delivering milk for Bailey Farm Dairy in south St. Louis. While working he studied business at Washington University in St. Louis. He worked for Bailey Farm Dairy for 35 years, raising three daughters (Nancy, Peggy, and Janet). He had five grandchildren and three great-grandchildren and stayed in St. Louis for the rest of his life.
Jennings enjoyed attending Bob Broeg SABR Chapter meetings as often as possible in his retirement years. He loved talking baseball and was a regular contributor during the meeting discussions but would only talk about his career when asked. He regularly won the "13 Run Pool" contest. This contest awarded the pot to the person who had the first team to score exactly 13 runs in a major-league game. In fact, Jennings won so regularly that the chapter started calling it the "Bill Jennings 13 Run Pool." He also was an ever-present guest of the St. Louis Browns Historical Society & Fan Club at its annual luncheons.
Jennings died on October 20, 2010. His funeral service was held at Salem Lutheran Church and he was buried at the Jefferson Barracks National Cemetery in south St. Louis. Correne died on July 31, 2012, and was buried alongside her husband.
Acknowledgments
This biography was reviewed by Len Levin and fact-checked by Alan Cohen.
Sources
baseballreference.com, Ancestry.com, Stew Thornley's Minneapolis Millers game logs, multiple conversations with Bill Jennings at various Bob Broeg SABR Chapter meetings, The Sporting News, St. Louis Post-Dispatch, Minneapolis Star Tribune, Oakland Tribune, Bob Pelc, Peggy Noonan.
Notes
1 "Heavy Sea Halts Effort to Raise Submarine S-51," St. Louis Post Dispatch, September 28, 1925: 1.
2 Author email from Jennings' Daughter Peggy Noonan, September 15, 2018
3 The significance of "blushing" is unknown; perhaps it referred to Jennings' shyness.
4 Southwest High School Yearbook, 1944, 100-101. "Ichabod" may have been a reference to Ichabod Crane, the protagonist in Washington Irving's short story "The Legend of Sleepy Hollow," who was described as tall and lanky.
5 Southwest High School Yearbook, 1944, 104.
6 "Jennings, Henry, Ayres to Millers," Minneapolis Star Tribune, April 11, 1949: 27.
7 Halsey Hall, "Millers Triumph 10-2," Minneapolis Star Tribune, April 23, 1949: 12.
8 Paul Siegel, "A Decided Hit," Minneapolis Star Tribune, May 17, 1950: 19.
9 Emmons Byrne, "Giants Send Infield Help," Oakland Tribune, March 22, 1951: 48.
10 Emmons Byrne, "Jennings Hits Three Homers, Ties Record," Oakland Tribune, April 16, 1952: 22-23.
11 "Browns stun Yankees Twice, 4-3, 6-3. Drop Them From Lead," St. Louis Post Dispatch, September 12, 1951: 2E.
12 "Browns Host at Film Party," The Sporting News, January 16, 1952: 20.
13 "$150,000 Outlay By Leafs' Owner in Year for Players," The Sporting News, June 11, 1952: 27.
14 Author conversation with Bill Jennings at a St. Louis SABR meeting.
15 "American Association — Charleston," The Sporting News, July 15, 1953: 40.
16 "International League — Toronto," The Sporting News, June 4, 1952: 34.
Born
September 28, 1925 at St. Louis, MO (USA)
Died
October 20, 2010 at Affton, MO (USA)
If you can help us improve this player's biography, contact us.
https://sabr.org/sites/default/files/JenningsBill.jpg
600
800
admin
/wp-content/uploads/2020/02/sabr_logo.png
admin
2018-10-18 15:50:46
2020-04-09 14:38:40
Bill Jennings