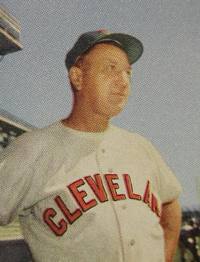 ---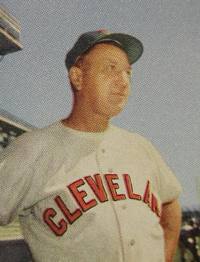 His contribution to a major-league team goes largely unnoticed to even the most knowledgeable baseball fan. His duties seem plain enough: warm up the starting pitcher and relievers if needed, in the bullpen. But the bullpen coach is an extension of the pitching coach, and can readily see if a hurler has his best stuff before he marches to the hill to meet the day's foes.
Cleveland starting pitcher Art Houtteman related an occurrence when he was warming up for a game in 1953, and not pitching particularly well. "I was warming up in the bullpen with Coach Bill Lobe, who is a great guy to work with. It was a Friday night and I was getting ready for a Sunday assignment. I felt exceptionally strong and quick. I was certain I had terrific stuff. But there was Lobe catching me like he was picking cherries. I couldn't understand it. It meant my ball was doing nothing. It bothered me."
"I changed the angle of my delivery just a little. I dropped it down just a bit. Then Lobe admitted he found it much harder to follow the ball. Either the delivery was harder to pick up, or the ball was moving more. Whatever it was, it made me effective once more. It was only a fine point, but it seemed to make all the difference, and it all happened just because Lobe was catching me so easy."[fn]Hal Lebovitz, "Houtteman Hoots at Hard-Luck Label," The Sporting News, June 2, 1954, 5.[/fn]
William Charles Lobe was born on March 24, 1912, in Cleveland, the third of four children born to Louis Lobe, who owned a diner, and Florence Lobe. Bill's siblings were a sister, Florence, a brother Joseph and a younger brother, Edward.
Bill began his association with the Cleveland Indians at a young age. When he was 15 years old, Cleveland general manager Billy Evans hired him as one of the first batboys to work at League Park. (According to his obituary he was one of the first batboys in the Indians' history; batboys had been a regular feature on other clubs since the 19th century.) His responsibility was handling the bats of the visiting team, beginning with the 1927 season. He eventually became a member of the grounds crew.
Lobe was a standout on the Cleveland sandlots, playing catcher for Poske Barbeque, one of the elite teams in the area. Because of his success, he was signed to a minor-league deal by the Indians, and was sent to Springfield of the Class C Mid-Atlantic League for the 1939 season. He served as a backup to future Cleveland star Jim Hegan. But Lobe never advanced past the Class C level in three years. His best offensive year was at Thomasville of the Class D North Carolina State League, when he hit .213, collecting 45 hits in 211 at-bats. "I couldn't hit enough to play pro ball," Lobe said in a 1952 interview. "I could hit well enough on the sandlots but not in the minors. Maybe it was just as well. Maybe I wouldn't have the job I've got today."[fn]http://www.baseballinwartime.com/player_biographies/lobe_bill.htm, June 19, 2007[/fn]
With the US fighting in World War II, Lobe entered the US Army in March 1942 and rose to the rank of sergeant. He rose to the rank of sergeant and served at a couple of camps, then settled in at Camp Barkeley, a training facility near Abilene, Texas. There he played for and managed the camp baseball team. In 1945 he was stationed in London, England.
After he was discharged, Lobe returned to Cleveland, where the Indians hired him as their batting-practice catcher in 1946. He became the full-time bullpen catcher in 1948, the season Cleveland won its second and, as of 2012 its last, world championship.
Lobe developed strong bonds with several of the Indians. In particular, he was fond of Mel Harder, who was a star pitcher when Lobe was a member of the grounds crew, and would drive Lobe home after ballgames. Together, they worked with the Tribe pitching staff in later years. "I never would have believed it if someone would have told me years ago that this would happen," said Lobe. "It's like a dream come true. Mel is the grandest guy in the world."[fn]Hal Lebovitz. "Grips, Twist and Release Explained By Tribe Coach," The Sporting News, April 30, 1952, 3.[/fn]
Lobe caught some hard throwers in his day, particularly Bob Feller, Herb Score, and Bob Lemon. Jim Hegan typically went through about four catcher's mitts a year. Lobe broke them in during his bullpen work, warming up the heaters. One of the hardest throwers was Mike Garcia. "When I warm him up, he seems right on top of me," Lobe once said, showing off his red and swollen left hand. "I can imagine how he must look to the hitters. … "His fastball stings, even through leather and sponge."[fn]J.G.Taylor Spink, "Once a Jockey, Now a Big Bear," The Sporting News, August 13, 1952, 4.[/fn]
The Indians set an American League record with 111 wins in 1954, but in an upset were swept by the New York Giants. As manager of the American League pennant winners, Al Lopez managed the American League All Star Team the following year. He named Lobe to his coaching staff for the midsummer classic, played in Milwaukee on July 13, 1955. Lobe's main duty was that of batting practice catcher.
Lobe retained his post as bullpen catcher through the 1956 season. He also did some scouting for the Tribe, until 1960.
On September 25, 1953, Lobe married the former Olga Dolsak at St. Peter's Catholic Church in Cleveland. They did not have any children.
In the offseason, and in retirement, Lobe worked for the City of Cleveland Recreation Department. He also drove a truck for Dregalla Trucking Company in the offseason, and sold real estate for Pena Realty Company in suburban Euclid, Ohio.
Lobe died at his home in Euclid on January 7, 1969.
This biography is included in the book Pitching to the Pennant: The 1954 Cleveland Indians (University of Nebraska Press, 2014), edited by Joseph Wancho. For more information, or to purchase the book from University of Nebraska Press, click here.
Sources
Cleveland Plain Dealer
The Sporting News
http://baseballinwartime.blogspot.com/p/baseball-in-wartime-website.html
http://www.baseball-reference.com
Born
March 24, 1912 at Cleveland, OH (US)
Died
January 7, 1969 at Euclid, OH (US)
If you can help us improve this player's biography, contact us.
http://sabr.org/sites/default/files/LobeBill.jpg
600
800
admin
/wp-content/uploads/2020/02/sabr_logo.png
admin
2012-01-04 20:27:40
2012-01-04 20:27:40
Bill Lobe