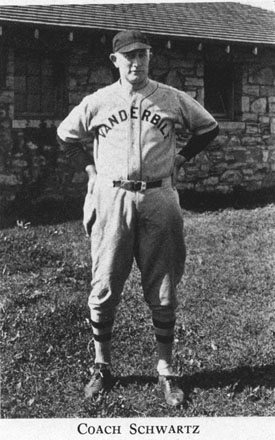 ---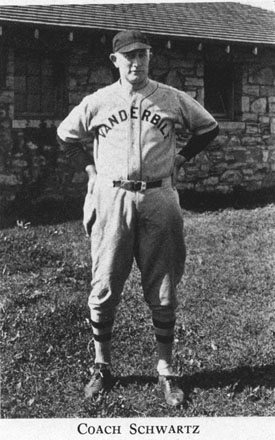 Over the winter of 1909-10, Bill Schwartz refused to sign with the Nashville Volunteers, who had drafted him from Akron. The local paper opined that Schwartz was jeopardizing any chance he had of returning to the majors, writing that he was "easily as good as Tom Jones of Detroit and is a much better fielder and almost as good a hitter as Bill Abstein."1 The writer went on to surmise that "no place is more suitable to him than Akron."2 As fate would have it, Schwartz relented and joined Nashville. He would spend 44 of the next 51 years of his life in the Music City.
Fred Schwartz and Anna Dienst were first-generation German-Americans who met in Cleveland. They wed there on September 15, 1881. Fred was a barber and the couple lived with her father and sister in Ward 12, which is south of the city center. The couple welcomed three children, Louis, William, and Gertrude, from 1882 to 1887. Bill was born on April 22, 1884. All the children were educated in the local schools and Bill completed high school before joining the work force.
Schwartz was a shortstop at Cleveland Central High School and with the Eberhards in the city league. At 6-feet 2-inches tall and 185 pounds, it was unusual for a man his size to play shortstop, but he had range and soft hands for fielding. After graduation from high school he found work in a rubber factory in nearby Akron and hooked up with the East Akron A.C. baseball team.
The semipro teams in northeast Ohio and western Pennsylvania had formed the O. and P. Protective Association. About 40 clubs had agreed to respect one another's contracts. There was no set schedule and teams played as many games as they wanted. Playing for East Akron A.C., Schwartz was one of the leading hitters in the circuit. The Cleveland Naps and the Pittsburgh Pirates both scouted him. Pittsburgh made an offer, but Schwartz's father advised against accepting it. Later the Blues made an offer that Schwartz did accept for the 1904 season.
Schwartz went to spring training labeled a utility player. The Blues infield was set with Bill Bradley, Nap Lajoie, Piano Legs Hickman, and Terry Turner; manager Bill Armour was hoping Schwartz would be a suitable backup at all positions. The final tune-up exhibition was against Evansville. The Blues won 21-0 behind the pitching of Bill Bernhard, but the highlight of the game was "the fancy fielding of Schwartz, the utility man, at first base. The tall boy played a phenomenal game … and gained applause."3
Schwartz sat out the first 10 games of the season, finally being used as a pinch-hitter on May 2 in Detroit. He batted for pitcher Red Donahue in the ninth and grounded into a force out. He was given his first starting assignment on May 14 in New York. The Blues lost 10-1, but Schwartz recorded his first major-league hit. He started the game at first base, but moved over to third after Bradley was struck on the wrist by a Jack Chesbro fastball. During a 12-game road trip, shortstop Terry Turner became ill in Boston and had to be confined to bed. The initial thought was to use Schwartz as shortstop, but Armour changed his mind. Lajoie went to short, Hickman to second and Schwartz took over at first base for the remaining eight games on the road.
Schwartz made his home debut on May 27 against the St. Louis Browns. The Blues won 5-2, but Schwartz went hitless. The Blues put together a six-game winning streak that moved them from fifth to second in the standings. Schwartz struggled at bat (5-for 33 over a 10-game stretch). His bat showed some life on June 10 in a victory over the Athletics. He hit a liner to left and laid down a bunt for his only multiple-hit game. But the story of the game was a double play that went right field to pitcher to first base.
In the eighth inning with a man on first, Philadelphia's Lave Cross sent a low liner to right that looked like a sure double. Elmer Flick made a sensational grab at his shoetops; seeing the baserunner on the go, Flick fired toward first. His throw went over Schwartz, but pitcher Bernhard was backing the play up, caught the overthrow, and returned it to first for the twin killing.4
Schwartz's reward for his two-hit game was a seat on the bench as Addie Joss took a turn at first. Schwartz would play twice more against Washington, on June 15-16. After that he was replaced by the tandem of Fred Abbott and Harry Bemis. One would catch and the other played first. That arrangement lasted until July 4, when George Stovall made his debut. Schwartz refused assignment to the minors and rejoined his Akron semipro team and a job in the rubber industry. The Blues reserved him for the 1905 season.
Major-league pitchers may have baffled Schwartz, but back in the semipro ranks he murdered the hurlers for a .426 average.5 His performance attracted attention from Indianapolis, Minneapolis, and several Southern Association teams. After a bit of a bidding war, Cleveland sold Schwartz's contract to Indianapolis of the American Association. Schwartz threatened a holdout in March over a $50-a-month difference in salary, but the issue was resolved and he reported.
Schwartz opened the season in right field against Milwaukee, but moved to shortstop in midgame because of an injury. He played several games at short before it became clear that he was not experienced enough to handle all that the position required. He was shifted to second base before being released on May 13 after 11 games.
He returned to Akron and joined the Akron Buckeyes in the Class C Ohio-Pennsylvania League. The O-P League was actually the old O&P Protective Association and was even labeled as such in the Cleveland Leader. Schwartz played outfield for a few games before moving to first base. During the season, he played everywhere but at pitcher and catcher. Akron got off to a fast start, but Youngstown Ohio Works proved too tough for the Buckeyes and took the crown.
After the season Schwartz became manager and instructor at a roller-skating rink. One of his students was Cleveland's Hickman. It was hoped that the skating would make Hickman more fluid and graceful in his movements on the field. Schwartz also took a bride, Helene Bedur. She was the sister of outfielder-first baseman Otto Bedur, who had spent part of the season with Akron and had been in the O&P Protective Association league previously. Helene was very popular and attractive. She had been the Akron Labor Day carnival queen in 1904.The couple were married on January 11, 1906, at her German-Lutheran church in Akron. Their only child, William Roland Schwartz, was born on December 2, 1906.
The 1906 season was a tumultuous one for Akron. Manager Walter East did some housecleaning in April. The pitching staff was solid despite changes, but Schwartz was one of the few recognizable fielders when the season began. In midseason the team had to employ lawyers to save them from jail in Mansfield, Ohio. In violation of the Sunday Blue Laws, Mansfield and Akron had played in July. The Mansfield sheriff traveled to Akron later that week to serve his warrant, but nothing came of the incident.
Akron and Youngstown engaged in a season-long battle for first place with Youngstown coming out on top. Schwartz had a difficult season, batting a lowly .236. Some of manager East's detractors suggested that his players had been bribed to give away the pennant. This story was debunked, but it did appear that East had tried to get opponents to give his Akron team a break by not playing at their best.6 In the coming months, East was implicated in a plot to throw the Canton-Massillon football games and to fix some Pennsylvania collegiate games. Despite all those charges/rumors, he was rehired as the Akron manager for 1907.
In January, Schwartz was bedridden with an illness and dropped 30 pounds. In March he wrote to the Akron Beacon Journal and promised the fans a much better performance in 1907. He backed his promise by getting off to a blazing start. Two weeks into the season, he was hitting .421.7 Troubled by an injured ankle and still feeling the effects of his illness, Schwartz played both shortstop and first base. He closed out the season batting .297, third in the league for players with 300 at-bats or more. He also clouted a tape-measure home run at Newark. The team finished in third place.
In November, Schwartz was drafted by Peoria in the Three-I League. He spent that winter playing indoor baseball, managing a cigar store and trying to avoid signing with Peoria. In March, Schwartz purchased his release from Peoria for $600.8 Once again he started the season on fire with a .391 average after two weeks, but he was not the best hitter for Akron. Outfielder Wilbur Good tore up the league with a .370 average before he was summoned by Cleveland. The Akron Tip Tops took the pennant easily. Schwartz's .301 average was good for eighth among hitters with over 300 at-bats. He was offered a chance to move up to Toledo in September, but declined.
The following spring the Tip Tops lost their manager to the West Coast and feared that Wheeling would sign Schwartz after procuring his rights from Cleveland. In April Akron purchased Schwartz's release from Wheeling and made him the manager.9 The Tip Tops played superb baseball, finishing in first place at 81-40, but had to struggle the entire season to keep East Liverpool (80-45) at bay. In the fall, former teammate Bill Bernhard drafted Schwartz for the Class A Southern Association Nashville Volunteers.
Schwartz landed a job in the Diamond Rubber Company front office. and pondered his future. He had rheumatism in his leg and a family to consider. Having an entrepreneurial spirit, he decided to drop out of Organized Baseball and form his own independent team. His plan was to play twice a week in and around Akron. He secured a lease for use of the same stadium as the Tip Tops and signed players away from the Ohio-Pennsylvania League.
The baseball powers did not take kindly to his efforts. Schwartz and the other players who jumped from teams that had a reserve on them were all suspended by Organized Baseball. His new team, named the Diamonds, found opponents to play but had trouble attracting crowds. In July, Schwartz gave up and signed with Nashville. He played 62 games and his .288 average was the best on the team.
Nashville games were played at Sulphur Dell and atop the left-field fence was a large sign for Bull Durham Tobacco. There was a $50 reward for any player who hit the sign. On September 8 Schwartz launched a drive that rattled the bovine and fell to the ground for a double. The blast compelled Grantland Rice to proclaim Schwartz a "long distance hitter and first baseman extraordinary."10After the season, Bernhard resigned and Schwartz, who had resisted leaving Akron for Nashville, was appointed manager for 1911. The Diamond Rubber Company was left to find a new office worker.
Schwartz managed the Vols from 1911 to 1915. They never finished higher than fourth and he had an overall losing record over that span. He played first base full-time in 1911 -12, then dropped to 104 games in 1913, 35 in 1914, and a mere 7 in 1915. In the offseason, Schwartz managed a cigar store in Nashville that became a hangout for local sports enthusiasts.11
Nashville won the pennant in 1916 under the guidance of Roy Ellam, but Schwartz deserved some credit for their success. Nashville had a working agreement with the St. Louis Browns in 1915. Branch Rickey led the Browns front office, but was anxious to move to the Cardinals. Rickey had begun to stash players for the Browns and felt he had to get rid of many of them before he could move on. Schwartz was aware of this and knew that Rickey wanted Gene Paulette from the Vols. The pair worked out an eight-for-one swap.12 The Vols added starters at first base, third base, and two outfield spots. The pitchers they received won 45 games in 1916. Nashville won the pennant by nine games.
Schwartz stayed on in Nashville with the cigar store, but was offered the managerial job at Hopkinsville, Kentucky, in the Kitty League. He initially declined because he felt the talent level was too thin. He changed his mind in July and managed until the league folded in early August. Hopkinsville was the third franchise to disband because of poor attendance and this led to the league closure.
Back in Nashville, Schwartz took the coaching job for Vanderbilt University baseball in 1917. The school records show results for only two games that season, a win and a tie. He then moved the family back to Akron and took a position in the sales department for Goodrich Rubber Company. He returned to the diamond and played for the company team headed by the recreation director, former major leaguer Mike Kahoe.
Schwartz returned to Nashville in 1924 as business manager for Vanderbilt athletics. He also assumed the baseball coaching job. His son would enter Vanderbilt and play baseball for his father. The younger Schwartz went on to win letters in four sports at the school and captained the baseball and basketball squads. In 1927 Schwartz arranged a lengthy trip to the East following the Southern Conference (the SEC was not formed until 1932) part of the schedule. They played 10 games against the likes of Harvard, Princeton, and Yale and came home with a 4-6 mark.
Schwartz held the coaching job through the 1940 season. His best years were 1929 (17-5), 1932 (18-4), and 1936(15-2). Football All-American and baseball outfielder/pitcher Bull Brown hung the nickname "Elmer" on his coach. Newspaperman and Vanderbilt alumnus Fred Russell noted, "I have never known an athletic coach who took a warmer and more personal interest in his players."13 He and Helene held regular Sunday dinners for the players.
Schwartz moved into a position at the university bursar's office, but was coaxed back to the diamond one last time in 1951. The team had suffered through a miserable 1950 season. They had lost their baseball field to spring football practice, their best hitter was ineligible and their budget was cut. The result was a winless season. Schwartz inherited only one returning position player and a young pitching staff. Starting in late January he worked with the players and recruited on campus. By the time they played an intrasquad game on March 8 he had a 29-man roster. The team posted a 4-16 mark, but Schwartz had revived interest. He had a career record of 155-112-1.
In his retirement, Schwartz was active in the Lutheran church and the Masons. He enjoyed taking walks in his neighborhood and was strolling near Centennial Park on August 29, 1961, when he was stricken with a heart attack. He died in the ambulance being taken to the hospital. He left behind Helene, Bill, and four grandchildren. Assistant football coach Buford Ray summed up Schwartz's contributions by saying, "We always thought of him as a daddy to us. He was an adviser to the boys and influenced a lot of boys in the right direction with his patience and guidance."14 Schwartz is buried in Nashville's Woodlawn Memorial Park.
Acknowledgments
This biography was reviewed by Len Levin and fact-checked by Alan Cohen.
Sources
In addition to sources cited in the Notes:
Baseball-Reference.com.
Johnson, Lloyd, and Miles Wolff, eds. Encyclopedia of Minor League Baseball (Durham, North Carolina: Baseball America, 2007).
2017 Vanderbilt University Baseball Guide.
A tip of the hat to SABR Nashville authority Skip Nipper for his insights.
Notes
Born
April 22, 1884 at Cleveland, OH (USA)
Died
August 29, 1961 at Nashville, TN (USA)
If you can help us improve this player's biography, contact us.
https://sabr.org/sites/default/files/SchwartzBill.jpg
600
800
admin
/wp-content/uploads/2020/02/sabr_logo.png
admin
2017-06-01 12:20:05
2017-06-01 12:20:05
Bill Schwartz