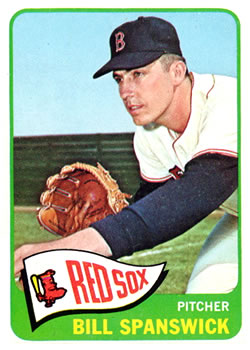 ---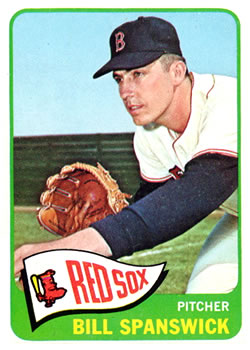 Over a span of 60 years, left-hander Bill Spanswick served the Red Sox as a pitcher for the 1964 team, and as a "rookie usher" wiping down seats at JetBlue Park in Fort Myers, the team's spring training home. In the spring of 2012, Spanswick said of his usher's job and the $9,000 he made as a player in 1964, "If I were to work an entire year doing this, it'd probably come out to be the same."1
William Henry Spanswick was a Bay State native, born in Springfield, Massachusetts, on July 8, 1938. He was born to Isabelle and a father who had the same name as he but was known as "Harry." The family lived in Enfield, Connecticut, just on the state line; Springfield had the nearest hospital, about 10 miles north. Harry Spanswick worked in a shop. "He was a machinist working on a lathe, a screw machine I think they called it. Metal work. And he was a heck of a bowler. My father was from Hartford and my mother was from Enfield."2 Harry had pitched some softball in local leagues but that was about it.
Bill starred in both basketball and baseball for Enfield High. At one point in the spring of 1956, he reportedly threw seven consecutive shutouts, the seventh of which was a one-hitter against South Hadley on May 25. Indeed, he threw one no-hitter and seven one-hitters that season, finally losing a game to West Springfield on June 11. In that game, both pitchers (Spanswick and Otto Welker) threw one-hitters, with Enfield losing, 1-0, on a throwing error by the catcher.3
Bill's younger brother Jim kicked off his own 1957 season throwing a no-hitter against Ware on April 23.
Bill attended Holy Cross on an athletic scholarship, and was 6-1 for the freshman baseball team in the spring of 1957. After their respective schools were out that June, both Bill and Jim pitched no-hitters in the same week for the Maciolek American Legion team of Thompsonville, Connecticut.4
In the spring of 1958, the Boston Red Sox offered Bill a contract, but he was perhaps a little too hasty in signing. Spanswick told Barry Stavro of the Boston Globe, "One night I called up Jack Onslow, a Red Sox scout, and told him I was ready to sign. He was at my house the next morning." Stavro noted, "Spanswick signed for $4,000. A few months later the bonus rule was revoked and Spanswick believes his untimely decision cost him a $60,000 bonus."5
Spanswick was brought to Ocala, Florida, where he impressed Red Sox alumnus Charlie Wagner. He reported in June for his first professional assignment, in Class-D ball. He had kept in shape pitching for the Maciolek Post team. In one game, he threw a two-hitter against Brightwood, striking out 18, hitting two home runs and a single, while driving in four runs.
He worked in the short-season Nebraska State League that summer, pitching for the Lexington Red Sox, and posted a 7-4 record with a 3.13 ERA. Strikeouts were his forte; in the nine-inning game against the Superior Senators on August 21, he struck out 22 batters. (About two weeks earlier, he had struck out 25 batters in a 14-inning shutout.) Spanswick led the league with 142 strikeouts in 92 innings. He had earlier worked 10 innings over six games for Waterloo, another Class-D team in the Red Sox farm system.
In 1959, Bill Spanswick bumped up to Class B and put up some special numbers in the Carolina League for the Raleigh Capitals. He'd gone to early "school" with the Red Sox again in Ocala, from February 15 to March 5. He was 15-4 with a 2.49 earned run average, leading the league in both ERA and wins (tied in the latter category). Two of those wins came against Durham on August 3, when he pitched the final two innings of a suspended game and then a full nine-inning five-hitter after that. He not only led the league in wins and ERA, but also in winning percentage. Teammate Carl Yastrzemski led in batting average (.377). The Capitals finished first in the standings and Spanswick won the clinching game.
Meanwhile, Jim Spanswick had signed with Jack Onslow in June 1959.6 Bill said that his brother once pitched three consecutive no-hitters in high school.7 Jim was in the Red Sox system from 1960 through 1962, and then with York in the Washington Senators system in 1963. He threw 407 innings in 108 minor-league games, with an overall 5.37 ERA. He lowered his ERA to 4.44 when he got to Double-A ball in 1963, but it was his last year in organized ball. He was back with Boston, on the Winston-Salem roster, for 1964, but arm troubles took their toll and he was released on May 14.
Bill's 1960 season began with a promotion to Class A, pitching for Allentown in the Eastern League. On May 15, he pitched 10 innings against Springfield and departed for a pinch-hitter with the score 1-1, marking by far his best outing. He went 0-6 with a 5.86 ERA before he was returned to Raleigh. At the lower level, he salvaged something of the season, going 5-5 with a 3.56 ERA. On August 15, he held Greensboro to three hits, shutting them out 3-0. The associate sports editor of the Greensboro paper noted the success, while also saying that Spanswick was "one of the Carolina League's top pitchers a year ago [but] something of a flop this season."8
He started the 1961 season pitching for Johnstown (Pennsylvania) in the Class-A Eastern League. In 18 starts, he was 8-7 (4.02). The Red Sox had a real need for lefthanders, so they moved him up to Triple A where he finished the rest of the season with the Seattle Rainiers of the Pacific Coast League. In nine starts, he was 4-3 (4.33). He was called up to Boston in mid-September and spent the last two weeks of the '61 season with the Boston Red Sox but saw no action.
In December 1961, Spanswick married Patricia Ann Lapinski.
Spanswick was considered a candidate for the Sox staff in 1962. Both pitching coach Sal Maglie and manager Mike Higgins saw him as a possibility.9 But it was determined that he could benefit from another full year at Seattle. That was probably the right assessment. He pitched in 28 games, 18 of them starts; he relieved in the other 10 games and was 5-9 (4.62) in just 109 innings of work. That was the year that arm problems began to plague him. "It came on slowly," he said. "I stated taking cortisone shots but I had only one shot that helped. The first one hit the infected area and I could throw as hard as I wanted. After that it never helped me … Mentally, it drives you crazy. You don't know how it's going to feel until that night when you throw."10
Once more, he was called up to the big-league club in mid-September, drove his car back across the country, and he was even listed as the starting pitcher for the September 23 game in Washington.11 His start got rained out, but the September 24 Boston Globe reported that Spanswick "will definitely be one of the Saturday servers in Fenway Park," on September 29. He was listed to start the second game, but both games that day got rained out, too, and Spanswick had to wait more than a year and a half to finally get his debut.
In the interim, he had to overcome the perception of erratic pitching. Manager Higgins of the Red Sox called him an enigma: "I saw him strike out 13 and pitch a shutout in one game. He could have beaten a big league club that night. The next time out against a weaker rival he couldn't get anybody out. Most of his pitches that time were very wild and whenever he got a ball around the plate he was hit hard. He's been that kind of an in-and-out performer ever since we signed him. He's got a big league arm and big league stuff, no doubt about it. This is his sixth season in pro ball and he's still erratic. He must overcome that fault to get to the top."12
He returned to Seattle in 1963 and had a very good year, working 185 innings in 29 games, all but two of them starts. He struck out a league-leading 209 and was named to the league's All-Star team. He also cut down on his walks, to less than half his strikeouts: 95. His record for the last-place team was 14-8 (3.16). Three of his defeats were by just one run. He might have won a few more, but had to report to Camp Lejeune for duty with the US Marine Corps in early September. Spanswick served in the Marine Corps Reserve from 1959-1965.
An Associated Press story touted his future in baseball: "All but given up as a bad risk a year ago, Bill Spanswick now is rated the brightest pitching prospect in the Boston Red Sox organization. Once an erratic, unpredictable left-hander, [he] was the outstanding southpaw in the Pacific Coast League last year."13
Spanswick believed he was ready. "This will be my seventh year of pro ball, and the man who helped me most—taught me the most—was Mace Brown. That was in the Red Sox instructional league in Bradenton a year ago last Fall….He said, 'Instead of watching the hitter, blank out the hitter entirely and pitch to the catcher's mitt'."14 His problems, he said, were "more mental than anything else." Brown also taught him not to dwell on such things as issuing a base on balls. "Mace told me to forget about the man I had walked and concentrate on the next batter. So when I stopped walking two successive hitters, I began winning."15
Was he worried, as a lefty, about Fenway Park's left-field wall? "Let the hitters worry about it. I'm not going to." Thinking ahead of the season to come, he said, "All I want is a chance to pitch there. I'm 25 years old and I think I'm ready. If I can give 30 days up there and four or five starts—and I don't make it—then I'll go my way with a smile."16
And for the Red Sox, it was said that Spanswick "figures highly in Red Sox plans and has a wonderful chance to become a starting pitcher in his rookie season. He's the only lefty on the staff who can become a starter."17
He picked up the nickname "Crow" for his black hair and looks. As teammate Bob Heffner explained, "He's dark and he has a face like a crow." Spanswick also had a habit which would surprise athletes 50 years later: he kept a packet of Camel cigarettes under his baseball cap. A reporter asked why he did that, and Dick Radatz said, with a glare, "All left handers who look like crows keep their cigarettes under their caps."18
He got more starts than four or five, and he did make it—sticking with the 1964 team all season long. But it wasn't because he starred in spring training. An April 2 article in the Boston Traveler declared he'd failed to make the grade: "Bill hasn't shown it."19 Nonetheless, the Sox needed pitching and Spanswick made the cut. His major-league debut was a good one: three innings of hitless relief on April 18 against the visiting White Sox. He did walk three, but he struck out four.
He got a starting assignment in his next appearance, on April 26 in Chicago. He pitched five innings, giving up an unearned run in the second and an earned run in the fifth, losing the game, 2-1, given a lack of run support. He lost his next start, too, on May 4 at Fenway Park. It all came down to one unfortunate pitch. He'd held the Indians to three runs through six innings, and the two teams were tied. Three singles loaded the bases, and then Leon Wagner hit a grand slam into the right-field grandstand. He'd given up seven earned runs, and lost, 7-5.
Spanswick got his first win on May 8, in Washington. This time he had run support (a seven-run seventh inning) and Boston won, 9-3. The Red Sox scored enough runs to take him off the hook in his next three starts, despite his surrendering four earned runs in the first of the three, and five in each of the following two. The start after that saw him lose after giving up yet another five runs on June 19. He worked in relief from that point on. He only had one more decision, a win on June 28 in the first game of a doubleheader against the Indians. He came on in relief in the top of the seventh with a runner on second and two outs. He got Vic Davalillo to ground out back to him. He threw the ball to first base for the third out, then saw the Red Sox score twice in the bottom of the seventh to take the lead. He worked to one batter, threw a total of three pitches, and picked up a win.
Spanswick continued to work sporadically—five games in July, six in August, and three in September. By year's end, he had worked in 29 games for a total of 65 1/3 innings. He struck out 55 and walked 44, and finished with a year-end ERA of 6.89 to go with his 2-3 record. In the field, he handled 16 chances without an error. At bat, he had four hits in 14 at-bats (.286), with two RBIs.
He wasn't ready to walk away just yet, and put in three more years of pitching before retiring.
Spanswick came to Scottsdale for spring training in 1965, but in late March was sold outright to the Toronto Maple Leafs, which had supplanted Seattle as the Red Sox Triple-A ballclub. Essentially, he was back where he had been in 1962 and 1963. He worked only 84 innings, due to a number of injuries, and went 6-3 (3.43).
In 1966, he started with Toronto but after 29 innings of work (0-1, 6.52) found himself back in Seattle, this time with the Seattle Angels, the PCL affiliate of the California Angels. In 10 games, he was 4-3 (3.42). His last season in pro ball was 1967, and during that one year he had been on minor-league rosters of the Angels, the Senators, and the Phillies.
In March 1967, his elbow had popped out of its socket. Though he stuck with it, he finally packed it in and elected to retire, making the decision on June 6, the day before his daughter's birthday. "I figured I might as well be home for that," he said.20
"My arm had had it, I guess. I probably could have played another year but I just said I better go home and get started with some other occupation. I was getting old anyhow—and my arm was getting real old."21
He had worked offseasons in Enfield. "When I came home, the director of Parks and Playgrounds in Enfield was nice enough to give me a job every year for quite a while." He hadn't returned to college. He had left to play baseball "not thinking that baseball ends and you're still a young man. What are you going to do then? But I fell into the trucking company. That was good."
He worked as a sales rep for Yellow Freight Systems for quite a while, and then became the terminal manager for Yellow Freight Systems in Westfield, Massachusetts. But then he went out on his own and formed Spanswick Trucking. "I had a lot of customers lined up so it worked out well for me."22
Brother Jim also went into trucking, on his own, too.
Bill and Patricia had two sons and two daughters. At a certain point, they divorced and Bill married Bonnie Ryan-Spanswick in 1990.
They moved to Naples, Florida, and Bill gave the trucking company to his youngest son, who still runs it in 2018.
In 1996, Spanswick was inducted into the Enfield Athletics Hall of Fame as part of its inaugural class.
He resurfaced in 2012 working as an usher at JetBlue Park, living in nearby Naples, Florida. He also worked part time in security at the Naples Beach Hotel and Golf Resort. By 2018, he had left both positions. "I got tired of standing in the sun," he said. "I enjoyed it for three or four years. I knew a lot of the players that were coming and going. It was different then. But it got old in a hurry. Or I did, anyway." Now, in the spring of 2018, it's a matter of just taking it easy, though trying to keep a little active. That's good, he allows, but "sometimes it's not that good. You get old quicker. I've noticed that."23
He looked back and took some pride in having made the majors. "I feel good about saying I pitched in the big leagues," Spanswick said. "Back then, there were only eight teams in the American League. You were one of 72 guys pitching. You had to prove yourself in the minor leagues. It's pretty special."24
Bill Spanswick died peacefully in Naples, Florida, on December 2, 2020. 
Last revised: January 11, 2021.
Acknowledgments
This biography was reviewed by Skylar Browning and fact-checked by Jack Zerby.
Sources
In addition to the sources noted in this biography, the author also accessed Spanswick's player file and player questionnaire from the National Baseball Hall of Fame, the Encyclopedia of Minor League Baseball, Retrosheet.org, and Baseball-Reference.com. Thanks to Rod Nelson of SABR's Scouts Committee.
Notes
1 David Dorsey, "Bill Spanswick, Formerly of Enfield and Boston Red Sox, Finds New Home at JetBlue Stadium," The News-Press (Fort Myers, Florida), March 7, 2012, at http://www.masslive.com/redsox/index.ssf/2012/03/bill_spanswick_formely_of_enfi.html
2 Author interview with Bill Spanswick on March 18, 2018.
3 Gene M'Cormick, "Welker Blanks Enfield For1-0 West Side Win," Springfield Union, June 12, 1956: 31. Quite naturally, he soon attracted the attention of baseball scouts. See, for instance, Patricia Harron, "Baseball Scout Views Enfield High Player," Hartford Courant, June 10, 1956: 7G.
4 "Hurlers Either Aces or Hitters Horrid," Boston Traveler, June 26, 1957: 40.
5 Barry Stavro, "Ed Connolly and Bill Spanswick – Remember?," Boston Globe, April 2, 1978.
6 Onslow's signing of each Spanswick was reported in the contemporary press, and also in Onslow's obituary: "Jack Onslow's Death Recalls Storied Career of Former Hartford Manager," Hartford Courant, December 23, 1960: 17.
7 Hy Hurwitz, "Bosox Bank on First Half of Spanswick Brother Act," The Sporting News, March 21, 1964.
8 Moses Crutchfield, "Spanswick's Three-Hitter Stops Locals," Greensboro Daily News, August 16, 1960: 15.
9 Bill Lee, "Thompsonville's Bill Spanswick May Land Pitching Berth With Red Sox," Hartford Courant, March 21, 1962: 23.
10 Barry Stavro.
11 "Baseball At A Glance," Hartford Courant, September 23, 1962: 1C.
12 Joe Cashman, "Farm Pitching Needs Time," Boston Record American, June 9, 1963: 37.
13 Associated Press, "Bill Spanswick Rated Bright Bosox Prospect," Hartford Courant, January 19, 1964: 1C1.
14 Roger Birtwell, "Sox' Spanswick Confident He's Ready," Boston Globe, February 23, 1964: 62.
15 Hy Hurwitz.
16 Hy Hurwitz.
17 Larry Claflin, "Radatz (25G) Tops List of 7 Red Sox Signees," Boston Record American, February 8, 1964: 39.
18 Larry Claflin, "Pesky Counts on Spanswick," Boston Record American, March 3, 1964: 33.
19 "Morehead's Failure Puts Heavy Load on Pesky," Boston Traveler, April 2, 1964: 41.
20 Barry Stavro.
21 Author interview with Bill Spanswick.
22 Author interview with Bill Spanswick.
23 Author interview with Bill Spanswick.
24 David Dorsey.
Born
July 8, 1938 at Springfield, MA (USA)
Died
December 2, 2020 at Naples, FL (USA)
If you can help us improve this player's biography, contact us.
https://sabr.org/sites/default/files/Spanswick%20Bill.jpg
600
800
admin
/wp-content/uploads/2020/02/sabr_logo.png
admin
2018-06-13 12:49:54
2022-04-04 13:52:41
Bill Spanswick