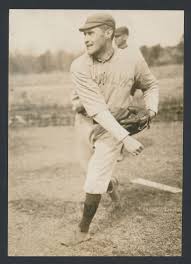 ---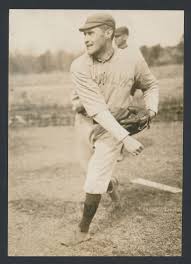 Any number of the marginal talents listed in the major-league record book owe their entries to either of the two momentous roster-shaping events of the late-Deadball Era: the two-season run of the renegade Federal League of 1914-1915 or American entry into World War I in April 1917. Whether pitcher Bill Upham falls into the first category, however, is arguable. His debut with the 1915 Brooklyn Tip-Tops was preceded by six seasons of solid minor-league performance and a 21-win campaign in the high-minor International League the year before. Upham was deserving of a major-league shot and might have received one in 1915, even if the Federal League had not been upon on the scene.
The cause of Upham's second line in the record book — a three-week stay with the Boston Braves in 1918 — is not as debatable. That June, the right-handed spitballer was retrieved from the outlaw Iron Range League of northern Minnesota solely to fill a shortage of pitching arms created by the departure of Braves hurlers for military service or defense industry work. After appearing in three games for Boston, Upham joined the departed, quitting the club to take a job in the shipyards of Providence, Rhode Island. He never played in Organized Baseball again, and spent most of the final four decades of his life living and working quietly in northern New Jersey. His story follows.
William Lawrence Upham was born on the outskirts of Akron, Ohio, on April 4, 1888. He was a much-belated second child born to William Robert Upham (1839-1912), a local farmer of far-distant English ancestry, and his wife, Angeline (nee Wilson, 1849-1926), a native of Iowa. Older sister Laura was 19 and about to be married when her baby brother made his appearance. Little was discovered about Bill Upham's early life apart from the fact that he grew into young adulthood working on the family farm.1 Good-sized (officially listed at 6-feet, 178 pounds) but probably larger; one 1911 source described him as "a giant about the size of Hippo] Vaughn"2) and farm-chore strong, Upham spent his leisure time on area baseball fields, becoming "a sort of embryo Cy Young … the best ball pitcher of his native village of Mogadore."3
Although lacking prior professional experience, Upham's size and first-rate fastball earned him a berth with the hometown Akron Champs of the Class C Ohio-Pennsylvania League in the spring of 1909. Thereafter, an early-season two-hit, 6-0 shutout of Canton got Upham a coveted mention in Sporting Life.4 The youngster subsequently backed up that effort with a string of low-hit gems.5 He finished the season with a 16-7 (.696) record in 26 games, with four shutouts and 103 strikeouts in 229⅔ innings pitched for the pennant-winning (81-40, .670) Champs.6 Deemed a prospect, Upham was selected in the minor-league player draft by the pitching-poor New York Highlanders of the American League, and directed to report to their 1910 preseason spring camp.7
The rookie made a good impression during his first spring audition, admiring sportswriter E.H. Simmons observing that "Upham gets great leverage on the ball before delivering it and when it comes in, it has a world of speed."8 Club brass also took favorable notice, bringing Upham north when camp closed. He even made the Highlanders' Opening Day roster, but saw no action in early regular-season going. Two weeks into the campaign, Upham was among those cut to bring the New York roster down to the 25-player limit.9 New York, however, retained interest in the young pitcher, attaching an option to his sale to the Bridgeport Orators of the Class B Connecticut League.10
Upham got off fast in Bridgeport, victorious in seven of his first eight decisions. Then he hit a wall, not winning again all season. By mid-August, the club was on the verge of loaning the youngster to last-place league rival Holyoke when insubordination in the ranks necessitated a change of plans. Veteran pitcher Jack Cronin was swiftly released by Bridgeport when he defied club owner-manager Gene McCann's ban on extracurricular Sunday baseball and left for New York to pitch a semipro game on the Sabbath.11 The dismissal of Cronin reprieved Upham from toiling for lowly Holyoke, but his season as a whole was a step backward. He went a substandard 7-9 (.438) in 22 games for a pennant-contending Bridgeport team that otherwise posted a 60-43 (.583) log. Meanwhile, the Highlanders had let their option on Upham expire, making the pitcher entirely Bridgeport property.12 That October, the still-hopeful Orators reserved him for the coming season.13
In April 1911 Upham reported to the club's spring camp in superb physical condition. The Bridgeport Evening Farmer remarked that "the winter's layoff has worked wonders with him. [Upham] looks the picture of health and has put on considerable weight. He always did have portions of his anatomy on which flesh could be put and still not be noted."14 In addition to filling out, Upham may well have added the spitball that became his major-league out-pitch.15 But whether now-equipped with the spitter or without, Bill's performance strongly rebounded. He became the staff ace of a pennant-contending Bridgeport club, going 19-9 (.679) with 139 strikeouts in 282 innings pitched for the 71-49 (.602) Orators.16 At season's end, moreover, he was one of four Bridgeport players ordered to report to the New York Highlanders.17
Despite that directive, Upham's next appearance in a Highlanders uniform did not occur until spring camp 1912 — where the events of two springs earlier repeated themselves. Upham showed "good stuff" during training, and New York filed his contract with American League officials in early April.18 But he was not really in Highlander plans for the coming season, and sportswriters knew it, one predicting that Upham "will probably be farmed to some Class A club."19 But when he was demoted down another notch to the Brockton (Massachusetts) Shoemakers of the Class B New England League,20 Upham rebelled — at least briefly. Angered by the assignment, he "stayed around New York for a week before he decided to report."21 Notwithstanding his displeasure, Upham pitched outstanding ball for Brockton, even throwing a 4-0 no-hitter at New Bedford on June 22. Eight days later, he posted complete-game victories in both games of a doubleheader against Fall River.
With Upham's record standing at 14-8 for an otherwise sub-.500 Brockton club, his contract was purchased for a steep $2,000 by the Rochester Hustlers, the three-time defending champions of the Double-A International League.22 Unbeknownst to Rochester, Upham was damaged goods, his arm strained and wearied by profligate use; Brockton had worked Upham in seven of the 10 games that preceded his sale.23 The newcomer lasted only three-plus innings in his first start for Rochester, on August 4. Three days later, he left after two frames complaining of a sore arm. After more than a month's layoff, Upham resumed pitching, turning in some creditable late-season relief outings. But it was too little, too late, as the Hustlers could finish no better than a close second to the Toronto Maple Leafs for the IL crown. With his arm on the mend, Upham was nevertheless reserved by Rochester for the 1913 season.24
Upham began the 1913 season in Rochester, but was soon demoted to Class B ball again, optioned to the Binghamton (New York) Bingos of the New York State League.25 And once again Upham rebounded nicely, going 14-4 (.778) for a pennant-winning (81-53, .613) Binghamton club. At season's end, Upham was recalled by Rochester and placed on the Hustlers' reserved list for 1914.26
In 1914 the arrival of the Federal League, a self-proclaimed third major league, lent upward mobility to those playing in the high minors. But for the time being, Upham was of no interest to the Feds. He changed that by having his finest professional season, going 21-12 (.636) for third-place (91-53, .591) Rochester. In the process, he appeared in 51 games and threw 237 innings, establishing that his pitching arm had regained its strength. Early that season, Upham also changed his domestic situation, marrying Eunice Coughlin, a 23-year-old waitress he had met earlier while playing in Bridgeport. Their union would last the ensuing 44 years.
Rochester wanted Upham back for 1915, upping his previous $240-a-month salary by an unknown amount. Bill Upham, however, had his eye on finally getting a bona-fide shot at the big show and turned the Rochester contract offer down.27 Instead, he signed with the Brooklyn Tip-Tops of the Federal League.28 "A right-handed spitballer with a style of delivery that follows [25-game winner] Cy Falkenberg's," much was expected of Upham by Tip-Tops player-manager Lee Magee.29 Before a large home crowd on Opening Day, April 10, 1915, Bill Upham made a less-than-stellar major-league debut against Buffalo. Coming on in middle-innings relief of starter Tom Seaton, he surrendered four hits and three walks (with three strikeouts), good for three runs in three innings pitched in a sloppily-played 13-9 Brooklyn victory. Thereafter, Upham settled into the role of spot starter/reliever. Although he yielded hits readily, Upham was usually tough in the pinches. On June 12 he posted a complete-game, 1-0 victory over Newark in which he gave up eight hits but left 10 Peppers baserunners stranded. Three months later, Bill blanked Newark again, 3-0, scattering eight hits.
At season's end, Upham's pitching stats pretty much embodied the norm of the seventh-place (70-82, .461) Brooklyn club. He went 7-8 (.467), with a 3.35 ERA, near-identical to the Tip-Tops' combined staff 3.37 ERA. In 121 innings, Upham surrendered 129 hits, and walked 40, while striking out 46 and throwing only one wild pitch. And his two shutouts tied for club best. Those numbers garnered Upham little National or American League interest when the players of the failed Federal League were dispersed over the winter of 1915-1916. Instead, he and Brooklyn pitching mate Happy Finneran were purchased by the St. Paul Saints of the Double-A American Association.30
Upham posted a disappointing 14-16 (.467) record for the fourth-place (86-79, .521) Saints in 1916, but he absorbed 263 innings for the club, and returned to St. Paul for the 1917 season. But with his record standing at 7-4 in early July, he jumped the Saints, joining a better-paying club in Hibbing, Minnesota, that played in the outlaw Duluth-Mesaba League.31 Upham began the 1918 season again pitching for the Hibbing Colts, but by now America's engagement in World War I had spread playing talent very thinly. Many minor leagues abandoned play for the duration of the conflict, while others, including the American Association, began the season tentatively in anticipation of shutting down sometime during 1918.32 The major leagues, meanwhile, forged ahead, albeit with rosters depleted by the government's call for able-bodied young men, including professional ballplayers, to take up arms or work defense industry jobs.
As a 30-year-old married man, Upham was not a likely target of the military draft. Rather, he was an available pitcher with major-league experience whose contract rights were still held by the St. Paul Saints. Desperate for pitching arms, the Boston Braves purchased Upham from St. Paul in late May.33 The big right-hander agreed to come East, but was somewhat put off by what he observed upon arrival in Boston. In a letter back home to a Hibbing friend, he expressed a mixture of wonder and disdain "for the pleasure crowds that throng the streets here in Boston, and the money being spent for luxuries. … You would never know this country is at war."34
After a three-year hiatus, Upham made a triumphant return to major-league baseball on June 17, 1918, turning in a complete-game, 4-2 victory in the second game of a doubleheader against the St. Louis Cardinals. "The spitball throwing of Bill Upham made its bow in the afternoon game. He was good, so good that he held the Cards to six hits," wrote Boston sportswriter Burt Whitman.35 The effort proved Upham's last major-league hurrah. Four days later, he was pasted for 16 hits in a 10-6 loss to Philadelphia. On June 26 Upham was touched for six hits, but held the New York Giants to a single run in mop-up relief during a 9-0 loss. Days later, he celebrated the Fourth of July by quitting the Braves and leaving Organized Baseball, this time for good.36 Bill then set off for Rhode Island where he soon began work in the shipyard (and pitching on weekends) for Bethlehem Steel in Providence.37 In time wife Eunice joined him there. And that October, the couple's only child, son William John Upham, was born in Providence.
Shortly after World War I ended in November 1918, the Uphams returned to Minnesota, where Bill joined the Hibbing club in the Iron Range League, a four-city outlaw circuit subsidized by the Oliver Mining Company. In addition to competitive wages, Iron League ballplayers were also provided with no-show offseason employment by the municipal governments of their respective cities.38 Bill Upham became a putative Hibbing policeman, and gradually receded into the anonymity of private life.
For reasons undiscovered, the Upham family left Hibbing in the summer of 1922 to take up residence in northern New Jersey. There, Bill found steady employment at the General Motors plant in Bloomfield. He remained on the job for 30 years, mostly living in nearby Newark. During that time span, the Bill Upham occasionally mentioned in newsprint was not him, but son Bill, the guitarist for a locally popular trio that played in area jazz clubs.39 Bill Sr. retired from GM in 1952. Six years later, Eunice Coughlin Upham died, bringing a marriage of more than four decades to its end. On September 14, 1959, Upham suffered a stroke and died at Martland Medical Center, Newark.40 William Lawrence Upham was 71. Following a High Requiem Mass at St. Patrick's Pro-Cathedral in Newark, the deceased was laid to rest beside his wife in Gate of Heaven Cemetery, East Hanover, New Jersey.41 The only immediate survivor was son Bill.
Acknowledgments
This biography was reviewed by Phil Williams and Len Levin and examined for accuracy by SABR's fact-checking team.
Sources
Sources for the biographical info provided herein include the Bill Upham file maintained at the Giamatti Research Center, National Baseball Hall of Fame and Museum, Cooperstown, New York; US Census data and Upham family posts accessed via Ancestry.com; and certain of the newspaper articles cited in the notes. Unless otherwise indicated, stats have been taken from Baseball-Reference.
Notes
1 According to the 1940 US Census, Upham completed three years of college. The writer, however, could find no trace of higher education for Upham, and the census claim seems highly improbable for a citizen who spent his post-baseball life as an auto-plant worker.
2 Per an unsigned scouting report on "George [sic] Upham" contained in the Bill Upham file at the Giamatti Research Center. Baseball-Reference lists Hippo Vaughn as 6-feet-4, 215 pounds.
3 "Upham Is a Phenom," Cleveland Plain Dealer, September 26, 1909: 18. Mogadore is a sparsely populated farming community located outside the city of Akron. Cy Young, an Ohio farm boy of the preceding generation, would register his 500th win as a major league pitcher before the 1909 season was over.
4 See "News Notes," Sporting Life, May 29, 1909: 20.
5 As particularized in the Cleveland Plain Dealer, September 26, 1909: 20.
6 The shutouts, strikeouts, and innings-pitched were published in the Cleveland Plain Dealer article noted above. The other 1909 Upham stats come from Baseball-Reference.
7 Cleveland Plain Dealer, September 26, 1909: 20.
8 "New York Notes," Sporting Life, April 2, 1910: 6.
9 As reported in "American League Releases," Philadelphia Inquirer, May 4, 1910: 10; "Yankees Release Five: Stallings Cuts NY Team to Bring Number to 25," Washington (DC) Evening Star, May 4, 1910: 18; and elsewhere.
10 As noted in "Bracing Bits 'Bout Baseball," Bridgeport (Connecticut) Evening Farmer, April 21, 1910: 8, and "Stallings Sells Mogadore Pitcher, Canton (Ohio) Repository, April 23, 1910: 5. New York had until August 20 to reclaim Upham. Otherwise, he became the property of the Bridgeport club.
11 As reported in "Pitcher Upham Is Loaned to Holyoke," Bridgeport Evening Farmer, August 9, 1910: 2; "Snappy Sayings Well Worthwhile for Frenzied Fans," Bridgeport Evening Farmer, August 10, 1910; "News Notes," Sporting Life, August 20, 1910: 26.
12 As noted in "M'Cann Denounces Darkness Decision of Umpire Hart," Bridgeport Evening Farmer, September 2, 1910: 10.
13 As memorialized in Sporting Life, October 15, 1910: 16.
14 See "Joe Kustus Will Report with Rest of Mechanics," Bridgeport Evening Farmer, April 5, 1911: 8. The local newspapers usually referred to the Bridgeport club as the Mechanics, rather than the Orators.
15 Contemporaneous reportage establishes that Upham threw a spitball by the time he made his major-league debut with Brooklyn in 1915. But precisely when he added the pitch to his repertoire could not be ascertained by the writer.
16 Upham's strikeout total was included in the 1911 Connecticut League pitching statistics published in Sporting Life, November 4, 1911: 15.
17 See "Kauff, Litschi, Russell and Upham Return to Big Show at Close of Season," Bridgeport Evening Farmer, August 16, 1911. The particulars regarding how New York reacquired the rights to Upham were not revealed, but another circuit daily called Connecticut League observance of the player option rule "a joke." See "Ted Larkin Will Join Pony Squad," Springfield (Massachusetts) Union, August 14, 1911: 14.
18 "American League Contracts," Sporting Life, April 6, 1912: 6.
19 See Wagner, "Benny Kauff May Land with Albany Club," Bridgeport Evening Farmer, March 14, 1912: 8.
20 Per "Latest News by Telegraph Briefly Told," Sporting Life, May 4, 1912: 7; "Uppy Upton Shipped to Brockton by the Yankees," Bridgeport Evening Farmer, May 8, 1912: 9.
21 Per "Upham Wins First Game for Brockton Squad," Bridgeport Evening Farmer, May 17, 1912: 11.
22 "Notes of Interest to Nutmeg Fans," Springfield Union, July 28, 1912: 27; "Diamond Notes," Norwich (Connecticut) Morning Bulletin, August 2, 1912: 4.
23 As reported in "International Incidents," Sporting Life, August 17, 1912: 15.
24 Per "Gleanings from Major and Minor Ball Yards," Jersey Journal (Jersey City), January 21, 1913: 9. Baseball-Reference provides no data on Upham's 1912 time in Rochester, and he appeared in too few games to appear in the International League pitching stats published in Sporting Life. By means of available box and line scores, the writer calculates the Upham record as 0-1 in five games for Rochester in 1912.
25 See "Bings Have Revenge," Wilkes-Barre (Pennsylvania) Times, May 10, 1913: 12; "Around the Circuit," Bridgeport Evening Farmer, May 15, 1913: 8.
26 See "The Reserves," Sporting Life, October 18, 1913: 16.
27 Bert Yuell, "Tip Top Topics," Sporting Life, March 20, 1915: 9. A card specifying Upham's minor-league salaries for the 1910-1914 seasons is contained in his file at the Giamatti Research Center. The $240 a month he received from Rochester in 1914 was the highest recorded for the five-season period.
28 As reported in "Brooklyn Brief," Sporting Life, February 20, 1915: 9.
29 Bert Yuell, "With Magee's Team," Sporting Life, March 27, 1915: 9.
30 As reported in "Federal Leaguers Land Good Jobs," Wilkes-Barre Times, February 16, 1916: 13, and "Federal League Players Disposed Of," Sporting Life, February 19, 1916: 15.
31 Per "Carnes Looks for Northern Leaguers," Duluth (Minnesota) News-Tribune, July 3, 1917: 1; "St. Paul Player Jumps," San Antonio Light, July 4, 1917: 7. The dissolution of the Class C Northern League at the end of the 1916 season destabilized Organized Baseball in the Upper Midwest, and outlaw organizations like the Duluth-Mesaha League quickly assumed prominence in the industrial and mining regions of Minnesota.
32 The American Association officially suspended operation on July 21, 1918.
33 Per "Bill Upham Sold," Pueblo (Colorado) Chieftain, May 31, 1918: 3; "Braves Buy Upham," Kalamazoo (Michigan) Gazette, June 1, 1918: 6. See also, Boston Herald, June 5, 1918: 13.
34 "Boston Pleasure Crowds Defy War, Upham Writes," Duluth News-Tribune, June 8, 1918: 5.
35 "Tribe Take Two Games from Cardinals, 4-1, 4-2," Boston Herald, June 18, 1918: 1916: 6.
36 As reported in "Upham Quits Braves," New York Sun, July 5, 1918: 11; "Braves' Pitcher Retires," Evansville (Indiana) Courier, July 7, 1918, and elsewhere.
37 Per "Bob Dunbar's Sporting Comment," Boston Herald, July 6, 1918: 4. See also, "Upham's Wife Leaves Hibbing to Join Him at Providence," Duluth News-Tribune, July 23, 1918: 5.
38 For an informative overview of the Iron Range League, see L.H. Gregory, "Strangest Ball League in History Out of Existence," The Oregonian (Portland), August 15, 1925: 10.
39 See e.g., "Jerry Nusbaum's Evenings Out," Newark Star-Ledger, July 23, 1947: 70.
40 Per "W.L. Upham, Was a Pitcher," Newark Evening News, September 16, 1959. The death certificate contained in Upham's file at the Giamatti Research Center lists the official cause of death as a "cerebral vasculary accident."
41 Gate of Heaven is a Roman Catholic cemetery maintained by the Archdiocese of Newark, but it could not be determined whether Upham was a lifelong Catholic or converted after he met and married the Irish-Catholic Eunice Coughlin.
Born
April 4, 1888 at Akron, OH (USA)
Died
September 14, 1959 at Newark, NJ (USA)
If you can help us improve this player's biography, contact us.
https://sabr.org/sites/default/files/UphamBill.jpg
600
800
admin
/wp-content/uploads/2020/02/sabr_logo.png
admin
2020-01-16 16:25:15
2020-04-09 14:37:27
Bill Upham