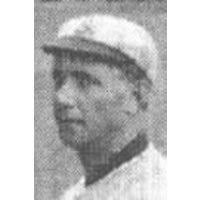 ---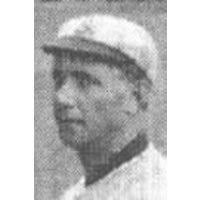 With his last-place team hopelessly out of pennant contention, Washington Nationals manager Joe Cantillon used the final month of the 1909 season to audition recently acquired minor-league prospects. Among those given playing time was Bill Yohe, a third baseman obtained from the Class C Texas League. Although he did little in the field or at bat to impress, the sportswriters on the Nats beat put a positive spin on their commentary. "Yohe is better than should be expected of a youngster," declared Thomas S. Rice of the Washington Times.1 After observing "young Yohe" at practice, a non-bylined commentator with the Washington Evening Star (likely sports editor Harry H. Fry) went so far as to call Yohe "a dead ringer for [Hall of Famer] Jimmy Collins when the great third baseman was in his prime."2 All the newcomer needed was some seasoning to mature into a first-rate major leaguer.
Unbeknownst to his admirers, Yohe was hardly the fledgling ballplayer that Washington sportswriters supposed him to be. He was actually a 30-year-old journeyman when he joined the team, a marginal playing talent who had spent years prowling the lower precincts of faraway minor league, independent club, and semipro baseball. The spring following his 1909 tryout, the Nationals returned Yohe to the minors. He never received a second chance at the big leagues, but hung around the fringes of the game until he was in his mid-40s. Yohe spent the remainder of his life as the proprietor of low-budget hotels in Bremerton, Washington, that were periodically raided by local police for liquor and gambling offenses. He died in December 1938, suffering a fatal stroke at age 60.
William Clyde Yohe was born on September 2, 1878, in Mount Erie, Illinois, a sparsely populated village set in farming country about 150 miles southeast of the state capital of Springfield. He was youngest of four children born to farmer John Wesley Yohe (1848-1930), a Union Army veteran who was also born in Mount Erie, and his wife, Lucinda (née Alcorn, 1850-1922), an Iowa native.3 Next to nothing was discovered about Bill's early life, as he seems to disappear from the US Census for decades after 1880.4 The level of his education, offseason occupation, religion, and other biographical details could not be determined. But evidence of a circa-1903 marriage survives in the 1930 US Census.5 Unhappily, the birth name of Yohe's first wife was not uncovered. Fleeting press references merely identify her as "Mrs. William Yohe" or Bill's "wife."6 Also undiscovered was information about the only child produced by this union, apart from obituary mention that Yohe was survived by a daughter, "Mrs. Mayfield of Urbana, Illinois."7
His ballplaying days trace to the diamonds and town teams near home, and then to semipro clubs "all over Illinois."8 But the name Bill Yohe cannot be attached to a specific nine until 1902, when he reportedly spent the summer playing for the Jonesboro club in the unaffiliated Arkansas State League.9 Stocky but otherwise physically unremarkable, Yohe was a 5-foot-8, 180-pounder who batted left, threw right, and played third base almost exclusively. In 1903 he played for an independent club in Poplar Bluff, Missouri, before finally gaining entry to Organized Baseball by signing with the Pittsburg (Kansas) Miners of the Class C Missouri Valley League in either 190410 or 1905.11 A personal highlight for Yohe came eight games into the 1905 season, when he triggered a rare around-the-horn triple play in a May 26 Pittsburg win over Muskogee.12 The Miners (75-26, .743) captured the MVL pennant handily, but both the club and the league disbanded at season's end.
The baseball odyssey of Bill Yohe gathered pace in 1906. That spring he hooked on with the Temple Boll Weevils of the Class D Texas League.13 Bill was batting a tepid .221 and had committed 28 errors in 58 games when the cellar-dwelling Temple club (20-43, .317) was jettisoned by the Texas League on June 30.14 An ensuing tryout with the Webb City (Missouri) Gold Bugs of the Class C Western Association was brief and ended with Yohe's release.15 He then landed a berth with the woeful (31-82, .274) Chanute Browns of the Class D Kansas State League. His .216 batting average and 15 errors committed in 27 games played at third was about on par with his performance with Temple.
In 1907 the former Texas League dropout Greenville Hunters entered the newly formed Class D North Texas League. Now 27, Yohe was appointed team captain-manager, the first of numerous times that he would assume that post. A preseason headline pronounced "Greenville Fans Enthusiastic,"16 but the 1907 Hunters were not much better than the previous season's edition. And as they had in 1906, the Hunters abandoned play before June was out.17 Cast adrift, Yohe promptly joined an unaffiliated team in Wichita Falls, Texas.18 Soon thereafter, he was in different livery once more, taking over as captain of an independent club in Midland, Texas.
Yohe began the 1908 season as captain-chief recruiter of yet another independent pro club, this time in remote Douglas, Arizona. But the Douglas club failed quickly, disbanding in April.19 From there, he latched on with the Waco Navigators of the Texas League, by then Class C. By late May, Yohe was the Waco player-manager.20 He brought the Navigators home a respectable fourth (71-72), contributing a .247 batting average in 114 games. Bill then set off for Tucson, where he captained a local winter ball club.21 He also scouted talent for the next season's Waco team.22
The year 1909 saw Bill Yohe ascend to the modest pinnacle of his professional career. He began the campaign back in the Texas League, but as third baseman of the Galveston Sand Crabs, not Waco. This change in uniform proved fortuitous, affording Yohe the opportunity to make a favorable impression on big-league clubs holding spring training in the south Texas area. In a March exhibition game against the Washington Nationals, Yohe was overmatched as a batsman facing the likes of Bob Groom, Dolly Gray, and Walter Johnson, going 0-for-4 in a 10-1 drubbing of Galveston. But slick defensive play drew press attention, the Washington Evening Star observing that "Yohe robbed the Nationals of half a dozen hits" in a flawless game at third base.23 That glove work was also noted by Nationals skipper Joe Cantillon, and would redound to Yohe's benefit in due course.
For the time being, however, Yohe was merely another lower-tier minor leaguer. As he had been elsewhere, Yohe was appointed captain of the Galveston team, and registered improved marks at the plate (.285 BA), if not in the field (.901 FA).24 The Sand Crabs club was headed for seventh place (53-89, .373) in the Texas League. In mid-August, however, Yohe left Galveston, sold for $500 to a league rival, the Shreveport Pirates.25 Within days of Yohe's arrival, Shreveport peddled its new acquisition to Washington for a reported $1,250 (turning a quick $750 profit in the process.)26
The 1909 Washington team that Yohe was joining was a sad-sack outfit headed for last place (42-110, .276), a distant 56 games behind the pennant-winning Detroit Tigers. With nothing to lose in the season's final month, manager Cantillon began using the minor-league hopefuls that the club had set about acquiring – including Bill Yohe. Our subject made his major-league debut on August 30, 1909, going 0-for-3 against St. Louis left-hander Bill Bailey in an 8-0 Washington defeat. Yohe broke into the base-hit column the following day with a single off Jess Petty. He backed that up with two singles and a walk in the following game, but made two fielding miscues. Both were losses to the Browns (the latter coming on Yohe's silent 31st birthday).
Although Yohe was not particularly youthful in appearance, he exhibited a boyish enthusiasm, with unfailing good humor, near-constant chatter while stationed at third, and all-out hustle while in uniform. And local sportswriters quickly took a shine to this unknown newcomer, presumed to be a novice professional. Tom Rice of the Washington Times was notably solicitous, rebuking an unidentified teammate's "unkind" criticism of "the youngster breaking in from the Texas League. Give Yohe a chance. He has enough to learn to fill a couple of books, and he may never learn it. But he looks like he will some day and, until it is proven that he won't do, have a little patience."27 Meanwhile, the Washington Evening Star praised "the kid" for gamely withstanding grandstand heckling, and voiced the belief that "the youngster … will be all the better for the roast."28
Whatever the sentiments expressed on both sides, his stats indicate that Yohe got off to a decent start, registering 15 hits (13 singles, two doubles) good for a .268 batting average in his first 16 games as a major leaguer.29 He never got another one, going hitless in his remaining appearances. By season's end, Yohe had played in 21 games for the Nationals, finishing with a meek .208/.240/.236 slash line, plus 14 strikeouts in only 72 at-bats, a high ratio for the Deadball Era. His 15 errors and .917 fielding average were also unimpressive. Still, Washington reserved Bill Yohe for the 1910 season.
During the offseason, Yohe altered his usual regimen, eschewing winter ball. Instead, he only worked out a fine tenor singing voice, traveling the Texas music hall circuit.30 As a result, Yohe "was not fit for hard work" when he reported to Nationals camp the following spring, and spent much time on the trainer's table rather than on the field.31 This was a serious setback for Yohe, as his place on the Nats' Opening Day roster would not be left to the supportive Cantillon. Rather, it was determined by newly hired Washington manager Jimmy McAleer, a clear-eyed veteran of 17 seasons as a major-league outfielder and an experienced judge of playing ability. Formerly the Browns skipper, McAleer had seen Yohe when he broke in against St. Louis in late 1909, and had not been particularly awed. Still, when asked about "Bill Yohe, the youthful third baseman," McAleer stated that "I am going to get another look at that player. They tell me he is a pretty good infielder, and I want to see him in action."32
Once Yohe was able to take the field, it did not take McAleer long to decide his fate. In mid-March, Yohe was cut loose, sold to the Kansas City Blues of the Double-A American Association.33 To his credit, Bill took the demotion evenly. "It's only a furlough," he said. "I'll play so well out there that they'll be ordering me back before the season is half over."34 Still clueless as to Yohe's true age, Washington Evening Star sports editor Harry Fry was among those "pulling for Yohe to make good, as he is as game as a pebble and a likeable boy."35 But it was not to be. The brief big-league career of Bill Yohe was now behind him.
Nor did he find much success once in Kansas City. Although he was chosen as team captain, Yohe's work (particularly 12 errors in 21 games)36 failed to satisfy Blues manager Danny Shay, who benched him a month into the regular season.37 Shortly thereafter, the Washington Times sadly reported that local sports scribes had "charged [Yohe] with being unable to think, hit, field or touch runners. He can sing beautifully and wears lovely clothes, but those splendid accomplishments have not pleased Kansas City fans and it is reported Yohe will soon be sold."38 The prediction proved accurate. In early June Yohe was dispatched to the Montgomery (Alabama) Climbers of the Class A Southern League39 – reducing, in the harsh estimation of local Sporting Life correspondent Ed Kandergraber, "the dead timber on the Kansas City club" in the process.40 In 75 games for Montgomery, Yohe did little better, batting a soft .223 for a last-place (59-80, .424) club. He was released at season's end.
Yohe's next stop was the Denver Grizzlies of the Class A Western League. Signed in mid-February 1911,41 he was penciled in as the team's third baseman in preseason reportage. But unlike the situation in Washington, Yohe was no stranger to Denver club brass, sportswriters, and fans, who recalled his time with Arizona and west Texas clubs. And when he did not produce right away, Denver Daily News sportswriter Pyke Johnson, observing that "Yohe has been in the game for a good many years,"42 quickly grew impatient. So did Denver club President James McGill; only days into the 1911 season, Yohe was given his unconditional release.43
With his age creeping upward and his career spiraling in the other direction, Yohe returned to the Texas League, signing with the Oklahoma City Indians.44 And there, Yohe's bat suddenly and inexplicably exploded, far surpassing any previous output. In a pitcher-friendly circuit that produced only four .300 batters in 1911, Yohe hit a league-leading .329. He also registered the most base hits (181) of any Texas League batsman. He even threw in some previously unseen power: 34 extra-base hits and a .416 slugging average, both easily career bests. The Daily Oklahoman expressed surprise that Yohe's performance did not earn him a trip back to the majors.45 Still, he was elevated two minor-league levels, drafted by the San Francisco Seals of the Double-A Pacific Coast League in September.46
Sadly, time was beginning to run out on the professional career of Bill Yohe. In 25 games with San Francisco, he posted a respectable .294 batting mark, but exhibited little power, with only two extra-base knocks. When released from the early-starting PCL, he dropped back to Class B minor-league ball, joining the Tacoma (Washington) Tigers of the Northwestern League.47 In time, Yohe moved on to a NWL competitor, the Victoria (British Columbia) Bees. There he assumed a different kind of leadership post: second tenor and front man for the Victoria Bees Vocal Quintet.48 Meanwhile, back on the diamond, Yohe's batting average fell to an off-key .253 in a combined 154 games played. And his fielding average at third base (.888) was worse.49 Yet his sojourn in the Northwestern League was not without its benefits, introducing Yohe to the Puget Sound area, which became his home for the remainder of his life.
Yohe's performance rebounded in 1913. Playing for still another NWL club, the Spokane (Washington) Indians, his .290 BA and .917 FA were marked improvements over the previous season's numbers. Spokane then sold Yohe's contract back to Tacoma. where he assumed the familiar position of team captain50 – but not for long, as Tacoma released him 58 games into the 1914 season.51 Still wanting to play, Yohe then latched on with the Moose Jaw (Saskatchewan) Robin Hoods of the lowly (Class D) Western Canada League, for whom he batted .299 in 76 games.
Bolstered by the recommendation of NWL Seattle Giants club owner-manager Dan Dugdale, Yohe was appointed playing manager of the Class C Northern League Grand Forks (North Dakota) Flickertails for the 1915 campaign.52 But for reasons undiscovered, Yohe drew his unconditional release before the regular season even started.53 He then returned to the Pacific Northwest, where he played with the semipro Poulsbo and Pearson clubs in Seattle.54 Bill got a final shot in minor-league baseball that June, when his friend Dugdale put him in a Seattle Giants uniform.55 A .156 (5-for-32) batting average in 10 games played prompted his release. Thus, Bill Yohe's 12-season/22-club tenure in Organized Baseball drew to its close.
A baseball lifer with few workaday job skills, Yohe settled near Seattle in the US Navy port city of Bremerton. First, he operated a cigar stand. Thereafter, he worked for a concrete business, before finding his vocation as a clerk/manager of low-budget Bremerton hotels. All the while Bill kept active in local baseball, serving as player-manager for the semipro Bremerton Mastiffs.56 He also remarried, taking Luella Smith Crews, a 44-year-old divorcee with three children, as his second wife in September 1919.57
In December 1920 Yohe attempted to get back into minor-league ball, but his bid to be named manager of the Tacoma Tigers was rebuffed.58 Undiscouraged, he continued playing with Bremerton teams into his mid-40s, "becoming one of the most popular and outstanding athletic figures in the city's history."59 Yohe was managing the Oxford Hotel when the premises were raided by Prohibition agents in 1929. The Model Hotel, another Yohe-fronted Bremerton establishment, was the scene of gambling-related arrests in 1937. Among those taken into custody and charged with unlawful possession of gambling paraphernalia was hotel manager Yohe himself.60 But arrests for victimless offenses did little to diminish his standing in the community. Genuine regret, therefore, greeted the news that Bill Yohe had succumbed to a stroke at the Model Hotel on the morning of Christmas Eve 1938.61 He was 60 years old. After locally conducted funeral services, the deceased was interred in Ivy Green Cemetery, Bremerton.
Acknowledgments
This biography was reviewed by Rory Costello and Len Levin and fact-checked by Kevin Larkin.
Sources
Sources for the information provided above include the Bill Yohe file maintained at the Giamatti Research Center, National Baseball Hall of Fame and Museum, Cooperstown, New York; US Census and Yohe family data accessed via Ancestry.com; and certain of the newspaper articles cited in the endnotes. Unless otherwise specified, stats have been taken from Baseball-Reference.
Notes
1 Rice, Washington Times, September 23, 1909: 13.
2 Non-bylined news article, Washington Evening Star, September 4, 1909: 9.
3 His older siblings were Lillie (born 1869), Francis (1872), and Anna (1874).
4 The 1890 US Census was lost almost 100 years ago in a warehouse fire, and the writer could not locate our subject on either the 1900 or 1910 national censuses. He reappears in 1920 as a resident of Bremerton, Washington.
5 By 1930 the 58-year-old Yohe was living in Bremerton with second wife Luella Smith Crews, a divorcee he married in 1919 when he was 47. The 1930 census also reveals that Yohe's age at the time of his first marriage was 25, placing his first trip to the altar around 1903.
6 See e.g., "Douglas News Notes," Arizona Daily Orb (Bisbee), May 2, 1908: 4: "Professionals Enroute Here," Tucson Citizen, September 24, 1908: 5. Yohe is also listed as a married man on the roster of the 1911 Denver Grizzlies. See "'Dope' on Grizzlies of 1911," Denver Sunday News, March 5, 1911: 10. In addition, it seems probable (but could not be determined with certainty) that our subject is the W.C. Yohe obliged to answer the March 1907 complaint filed in Craighead County (Arkansas) Chancery Court by Gertrude Yohe. See "Warning Order" published in the Jonesboro (Arkansas) Weekly Times, March 14 and 28, 1907. The nature and disposition of the Yohe v. Yohe complaint is unknown.
7 See "Bill Yohe Dies, Baseball Star of Other Days," Bremerton (Washington) News Searchlight, December 24, 1938: 1; "Plan Funeral for Bill Yohe," Bremerton Sun, December 26, 1938: 5.
8 Per "Yohe, William C., Who's Who on the Diamond," Baseball Magazine, Vol. 4, No. 3 (January 1910): 52.
9 "Yohe, William C." The Jonesboro newspaper, however, places Yohe with the hometown club in 1903 and 1904. See Jonesboro Weekly Times, December 20, 1905: 20, and June 19, 1909: 1.
10 Per Yohe, Baseball Magazine, above.
11According to Yohe's minor-league record on Baseball-Reference. In spring 1905, Yohe tried out for the Wichita Jobbers of the Class C Western Association but was cut in April, per "Over the Western Association," Topeka (Kansas) State Journal, April 11, 1905: 9.
12 As reported in the Topeka State Journal, May 26, 1905: 3.
13 "Temple Team Line-Up,'" Dallas Morning News, February 18, 1906: 25; "Temple Baseball Line-Up Given," Fort Worth Star-Telegram, February 25, 1906: 10.
14 Temple was dropped to consolidate the Texas League into a four-club circuit when the Greenville Hunters folded.
15 Per "Western Association Gossip," Topeka State Journal, August 8, 1906: 3.
16 Dallas Morning News, March 26, 1907: 12.
17 Per Lloyd Johnson and Miles Wolff, eds., The Encyclopedia of Minor League Baseball (Durham, North Carolina: Baseball America Inc., 2nd ed. 1997), 155. The North Texas League itself ceased operations a few days later.
18 As reported in "North Texas League," Dallas Morning News, June 30, 1907: 28.
19 See "Douglas Baseball Gets a Black Eye," Arizona Daily Orb, April 10, 1908: 10.
20 Per "Yohe Succeeds Cavender," Fort Worth Star-Telegram, May 26, 1908: 3. See also, "Baseball Gossip," Dallas Morning News, June 7, 1919: 9.
21 See "Yohe Signed for Tucson," Tucson Citizen, September 22, 1908: 8.
22 Per "Team Owners Engage in Search for Players," Dallas Morning News, November 1, 1908: 31.
23 See "Notes of the Game," Washington Evening Star, March 18, 1909: 18, and Sporting Life, March 27, 1909: 3.
24 Per 1909 Texas League stats published in the 1910 Reach Guide, 378, 382, and Kansas City Times, March 15, 1910: 10. Baseball-Reference has no 1909 minor-league statistics for Yohe.
25 As reported in "Pirates Buy Yohe from Sand Crabs," Fort Worth Star-Telegram, August 13, 1809: 10.
26 See "Locals Buy Two Players," Washington Post, August 18, 1909: 8; "Rich Ball Farms," New Orleans Times-Picayune, August 30, 1909: 10.
27 Thomas S. Rice, "Fans Turn About When Team Loses," Washington Times, September 12, 1909: 11.
28 See "Nationals Easy for Detroit Champions," Washington Evening Star, September 24, 1909: 15.
29 Per "Long Hits and Total Bases," Washington Evening Star, September 20, 1909: 15. Revised figures on Baseball-Reference list him at .250.
30 As reported in "To Start Work Tomorrow at 9," Washington Times, March 6, 1910: 15.
31 Per "McAleer Calls Halt," Washington Herald, March 12, 1910: 8.
32 Sportswriter William Feet, "Early Training Plans Outlined by McAleer," Washington Herald, March 1, 1910: 9.
33 As reported in the Kansas City Star, Washington Times, and elsewhere, March 16, 1910.
34 Per H.H. Fry, "'Texas' Yohe Goes to Kansas City," Washington Evening Star, March 18, 1910: 20.
35 Ibid.
36 Per American Association fielding stats published in the Boston Herald, December 15, 1910: 8.
37 As noted in "Baseball Briefs," Harrisburg (Pennsylvania) Patriot, May 21, 1910: 14.
38 Washington Times, May 20, 1910: 19.
39 As reported in "Third Baseman Yohe Sold to Montgomery," Montgomery (Alabama) Advertiser, June 1, 1910: 14; "Yohe Goes to Southern League," Wilkes-Barre (Pennsylvania) Times, June 2, 1910: 12, and elsewhere.
40 "Kandergraber's Kansas City Brief," Sporting Life, June 18, 1910: 15.
41 See "Grizzly Contract Signed by Yohe," Denver Daily News, February 19, 1911: 8, and "Yohe Signs with Grizzlies," Denver Post, February 19, 1911: 19.
42 Pyke Johnson, "From the Sportsman's Angle," Denver Daily News, March 27, 1911: 7.
43 Per Denver Daily News, April 7, 1911: 8.
44 As reported in "Oklahoma City Gets Yohe," Denver Daily News, April 12, 1911: 10; "Yohe Will Play with Oklahoma City Team," Fort Worth Star-Telegram, April 12, 1911: 10, and elsewhere.
45 See "Overlooked by the Majors, He Is Wanted by American Association,' Daily Oklahoman (Oklahoma City), September 10, 1911: 23.
46 As reported in the Oregon Journal (Portland), San Francisco Call, and elsewhere, September 17, 1911.
47 Per "Fan Fodder," Seattle Times, April 9, 1912: 15.
48 See "Bee Five Musical," Oregonian (Portland), August 4, 1912: 2. The other members of the group were lead tenor/pitcher Erv Kantlehner, baritone/pitcher Willy "Kiddo" Wilson, bass/pitcher Dick Kaufman, and harmony/outfielder Ed Kennedy.
49 Per Northwestern League stats published in Sporting Life, November 2, 1912: 15.
50 As noted in the National Association bulletin published in Sporting Life, February 28, 1914: 18.
51 Per "News Notes," Sporting Life, June 27, 1914: 24.
52 As reported in the Duluth (Minnesota) News-Tribune, February 26, 1915, and Sporting Life, April 17, 1915.
53 See "Northern Men Turned Adrift," Duluth News-Tribune, March 15, 1915: 1. See also, Denver Post, March 15, 1915: 33.
54 Poulsbo: "Amateur Bombshell," Seattle Star, May 5, 1915: 10; Pearson: "Amateur Baseball," Seattle Star, June 8, 1915: 7.
55 As reported in the Seattle Star, June 21, 1915: 8.
56 As noted in "Bill Yohe to Lead Bremerton," Seattle Times, June 21, 1917: 19, and the Yohe obituary published in the Bremerton News Searchlight, December 24, 1938.
57 Per State of Washington marriage records, accessed online via Ancestry.com.
58 See Tacoma News-Tribune, December 16, 1920: 21, and Tacoma Ledger, December 17, 1920: 6.
59 "Plan Funeral for Bill Yohe," Bremerton Sun, December 26, 1926: 5.
60 See "Port Orchard News," Tacoma News-Tribune, June 29, 1937: 11.
61 Locally published obituaries indicated that Yohe had suffered a fatal heart attack, but the cause of death listed on his death certificate is cerebral hemorrhage. He was, however, suffering from chronic myocarditis at the time of his passing.
Born
September 2, 1878 at Mount Erie, IL (USA)
Died
December 24, 1938 at Bremerton, WA (USA)
If you can help us improve this player's biography, contact us.
https://sabr.org/sites/default/files/Yohe%20Bill.jpg
600
800
admin
/wp-content/uploads/2020/02/sabr_logo.png
admin
2020-02-19 15:05:34
2020-04-09 14:37:26
Bill Yohe