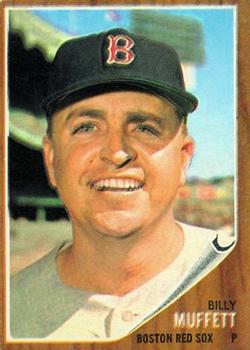 ---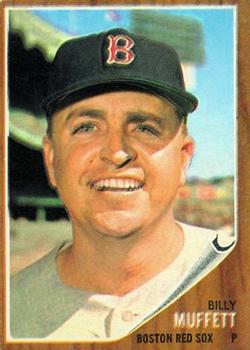 Billy Arnold Muffett — Billy was his given name — was a right-handed pitcher who worked for the Cardinals, Giants, and Red Sox in the years 1957-1962. In only one of those years — 1961 with the Red Sox — did he spend a full season in the majors.
"I was named Billy Arnold for Billy Arnold, who won the Indianapolis 500-mile race in 1930, just a few months before I was born. My dad was quite an auto racing enthusiast."1 As it happens, Billy's father was named Arnold, which might have played a role in Billy's naming.
Billy was born in Hammond, Indiana, on September 21, 1930, to Arnold B. Muffett and Margaret Irene (Buckman) Muffett. Arnold had come from Kentucky and Margaret from Illinois. Billy's State of Indiana birth certificate shows that Arnold was working in Indiana as operator at an oil refinery. Before too long, the Muffetts moved to Fort Worth, Texas, where Billy (and his younger sister Donna Irene) grew up. Billy attended Circle Park Elementary School and North Side High School. Arnold Muffett is listed in the 1940 census as "cracking unit operator, oil refinery."
Arnold also loved baseball. "I guess I held a bat in my hand as soon as I was able to walk in Hammond," Billy told Neal Russo. "My dad loved to play ball. He played the infield in pro and semipro ball about 27 years, then hurt his arm making a throw."2
Billy played American Legion baseball and for the high school team; he also played basketball and was on the track team. He completed school in 1948 and was signed by Abe Miller of the Shreveport Sports (Texas League.)3
Muffett stood 6-feet-1 and was listed at 198 pounds.
Shreveport placed Muffett with the 1949 Helena (Arkansas) Seaporters in the Class-C Cotton States League. He worked 164 innings (and walked 154 batters, while giving up 187 base hits) in 35 games, with a record of 10-10 and an earned run average of 5.98. His 109 earned runs were the most in the league. Helena lost its Cotton States League franchise in October; the team became the Monroe (Louisiana) Sports in 1950, where Muffett had a much better year — a 2.99 ERA in 205 innings of work. His record was 11-13.
In December 1950, he married Janet Lusk of Epps, Louisiana. Billy's best man was Robert Yale Lary Jr., a childhood friend who went on to play 11 seasons, 1952-1964, as a defensive back for the Detroit Lions. The Muffetts enjoyed 57 years of marriage.
In 1951 Billy followed with a very good year, 22-9 (2.25) for Monroe. He was briefly with Shreveport (0-1). His ERA led the league; his 22 wins and .710 winning percentage tied him for first place (with Vachel Perkins). He was a league All-Star and voted league MVP.4
The Korean War was on, and the Army needed men. Muffett spent from February 1952 to February 1954 in the service, almost all the time at Fort Sill, Oklahoma.5
He pitched for Shreveport in 1954, but suffered an arm injury in a spring training game. It was, however, an injury that led to an improvement. "It was then that I learned to pitch to spots and acquired better control, rather than try to fire the ball past the batters." His record was 5-11 (4.83), but on June 8 his contract was acquired by the Chicago Cubs, purchased for delivery in the fall.6
He began the 1955 season on a Los Angeles Angels contract, placed with Single-A Macon and was 3-4 (4.91) before mid-June when he was obtained by Shreveport. There he blossomed once more, despite being in Double A, going 10-4 (3.05). And he pitched a no-hitter in the Texas League playoffs, beating the San Antonio Missions, 10-0, on September 12 in San Antonio. (He homered in the game, too.) An error and a walk were all that marred Muffett's performance.
On November 27 the St. Louis Cardinals selected Muffett in the Rule 5 draft. He was working as a carpenter in the offseason and learned about being selected when his wife, Janet, came home waving a newspaper. "My grandmother was a great Cardinal fan," he said. I sure was happy that day because I had been a Cardinal rooter and I figured I'd have a good chance with them after kicking around in the minors for five years."7 He gave Cardinals scout Joe Monahan credit for signing him.8 That winter he played baseball in Puerto Rico.
He trained with the Cardinals in the spring of 1956, the last pitcher cut from the staff. There was some confusion regarding his acquisition by the team which surfaced in April, but he spent almost the full season (save for five early games without a decision for Omaha) pitching for the Texas League's Houston Buffaloes. He was 14-10 with an excellent 2.68 ERA.
That winter he pitched in Cuba. In the springtime, he trained with the Cardinals again but on the eve of the season, he was sent to Houston. He did even better than the year before, and was 14-6 (2.20) with 139 strikeouts before he was called up to the big leagues. Just a few days before, he was credited with the victory in the Texas League All-Star Game. Muffett was called up to take the place of Murry Dickson, who had gone on the disabled list.
Muffett's major-league debut came on August 3. The Cards held a 2-1 lead over the Phillies when manager Fred Hutchinson beckoned him in. Muffett threw four scoreless innings, allowing just one hit and one base on balls. He earned a save, and it was an important one: the win gave St. Louis a one-game lead over Milwaukee in the National League standings. After his first four outings, he had yet to give up a run over the course of nine full innings. That day came, of course, on August 14. By the end of August, though, he had an ERA of 1.33 after 11 outings. He had a win and a loss, the victory coming on August 18 in the first game of a doubleheader in Milwaukee. In a 6-6 game, he pitched a scoreless bottom of the ninth. Stan Musial hit a two-run homer in the top of the 10th and Muffett closed it out.
He finished the season with 23 appearances in the two months and a record of 3-2, with an ERA of 2.25. He had earned eight saves. It had been a very successful first stint in the majors. He would have had one more win, but for a ruling by National League president Warren Giles. The official scorer had given the win to Muffett, but many fans protested that it should have been credited to starter Larry Jackson and Giles agreed.9 Muffett was added to the eligible list for the 1957 World Series but it was the Braves who went to the Series, with the Cardinals in second place. The clincher came on September 23, when Hank Aaron hit a 12th-inning home run off Muffett. Aaron always said that the homer was his most memorable moment in baseball. "The greatest thrill I ever had, bar none, was the year we clinched the pennant here in 1957, when I hit the home run off Billy Muffett. That, to me, was probably the greatest thing that ever happened to me as a ballplayer."10
The Cardinals didn't wait long to sign him for 1958 and GM Frank Lane said he'd granted him a significant bump up in pay, saying, "[W]ithout him, we'd have finished fourth instead of second."11
Muffett returned to Cuba that winter, pitching for the Havana Sugar Kings.
Muffett's parents had separated, his mother remaining in Fort Worth but his father running an oil refinery in Venezuela.12
Bing Devine became GM for the Cardinals over the winter. He foresaw an important role for Muffett in 1958: "If Muffett can come back for a second season as good as he was last year, we'll have welcome depth to our starting staff."13 His role was as a reliever, though he did get six spot starts in 1958 between July 25 and August 20, when he had returned to the Cardinals after a brief three-game stretch in Triple A with the Omaha Cardinals. He was 1-3 as a starter, but overall 4-6 with a 4.93 ERA—not as good as he'd been the previous year. The team ERA was 4.12.
On October 7 he was traded to the San Francisco Giants, part of a five-player trade. Hobie Landrith and Benny Valenzuela went to the Giants, too, and Ernie Broglio and Marv Grissom came to St. Louis. Giants manager Bill Rigney said, "Billy Muffett is the fellow I think can be the relief man answer. A year ago with the Cardinals he was as good as they come."14
He didn't help the Giants much at all in 1959. He pitched a third of an inning on April 16, giving up four base hits and two runs in working to five batters. Three days later he was sold outright to the Phoenix Giants; UPI reported it as an outright sale, but the Associated Press did not characterize it that way. He was 3-2 for Phoenix, somehow winning more than he lost despite a 5.50 ERA. On June 16 he was recalled to San Francisco and pitched in four games over the next two weeks. He was without a decision in the majors in 1959, working only a total of 6 2/3 innings. After being idle for three weeks, he was traded to the Boston Red Sox (with cash) for Bud Byerly on July 26. The Red Sox assigned him to their Triple-A team, the Minneapolis Millers. With the Millers, he was 4-4 (3.44).
Muffett saw postseason action in the Junior World Series, pitching for Minneapolis against the International League's Havana Sugar Kings. Weather forced the series to play its final five games in Havana; the series went to seven games. With armed revolutionaries populating Gran Stadium, Muffett was on the mound in relief with the score tied 2-2 in the bottom of the ninth. He walked pitcher Raul Sanchez, who then took second on a sacrifice bunt. He intentionally walked Tony Gonzalez to pitch to right-handed hitter Danny Morejon. Morejon skipped a grounder right over second base, just deep enough for Sanchez to score from second and win the series.
In the Caribbean Series that winter, played in Panama in February 1960, Muffett pitched for the Rapinos of Venezuela. He was 0-2 in the series.
The Red Sox brought him to Scottsdale for spring training in 1960 as a non-roster invitee. Pitching coach Sal Maglie, who had known him in St. Louis, was impressed with his work and his approach to the game, but he was placed with Minneapolis again. In 17 games, 11 of them starts, Muffett was 5-5 for the Millers (2.63). He was brought up to Boston at the end of June, first appearing against the White Sox on June 25.
After six relief appearances, he had an ERA of 7.71 with a record of 0-1. But given a start on July 7, he threw a four-hitter against the visiting Senators, winning 4-2. Three days later, he booked another "W" thanks to 6 1/3 innings of relief while his teammates came from behind and beat the Yankees at Fenway Park. In all, he started 14 games and relieved in nine others; he was 6-4 (3.24).
He was the starting pitcher on September 28, Ted Williams's last game in the majors and Muffett's last game of the season. He pitched seven innings; Ted Williams hit a homer in his last at-bat in the major leagues in the Boston eighth. The Red Sox came from behind to win the game in the bottom of the ninth, after both Williams and Muffett had left the game. Mike Fornieles got the win, setting an American League record at the time with his 70th relief appearance of the season.
The Williams home run always remained one of Muffett's most treasured moments in baseball. He had also witnessed Stan Musial getting his 3,000th hit, and in 1961 saw Roger Maris hit his 61st home run, beating Babe Ruth's long-standing record.
Manager Mike Higgins liked what he'd seen of Muffett the last several weeks of 1960 and foresaw him as offering some hope of helping the Red Sox get into the first division in 1961. Neither happened. It was, as mentioned above, the only year Muffett stayed in the big leagues from the beginning of the year to the end.
Muffett mixed starting (11 games, eight of them losses and only one a win) and relieving (27 games), and wound up with a 3-11 mark and 5.67 ERA. He'd had a kink in his arm in spring training, then put on quite a lot of weight while inactive and never really got going, winning his first game on June 4.
Muffett pitched one more game in the big leagues. He turned up for spring training some 18 pounds lighter than in September 1961.15 On April 28, 1962, at Comiskey Park, Chicago, he started and worked four innings, yielding four runs on eight hits and two walks. On May 7, needing to trim their roster, Muffett was sold outright to the Seattle Rainiers.
His major-league totals were 16-23 (4.33), with a 1.432 WHIP (walks and hits per inning pitched). As a batter, he hit .217, striking out 32 times in 92 at-bats. He drove in seven runs and scored 11. As a fielder, he committed three errors in 77 chances (.961).
In eight games for Seattle, he was 1-2 (3.16). On June 27 he was traded with outfielder Dave Mann to the Atlanta Crackers (International League) for young outfield prospect Mike Shannon. He was back in the St. Louis Cardinals system, Atlanta being their Triple-A affiliate. It was reported at the time,"From the Cracker standpoint, Muffett was the center of the deal."16 With Atlanta, he started seven games and relieved in 10 others. He won four, lost six, and was 3.39.
Muffett pitched three more years, all in the minor leagues. In 1963 and 1964, he was with the Richmond Virginians, a Yankees affiliate, and had two decent seasons: 10-6 (2.42) and 9-9 (4.24). He'd been best on the team in both wins percentage and ERA in 1963. In 1964, he was a combination pitcher and pitching coach.
In 1965 he was 0-1 in 15 innings (eight appearances) for the Double-A Texas League Tulsa Oilers, for whom he also served as pitching coach.
Little could he have known that he would have a couple of championship rings before his career had come to a close.
In 1966 he worked as the organizational pitching coach (a/k/a minor-league pitching instructor) for the Cardinals, making the rounds of the farm system. In October, he was signed to become pitching coach for the St. Louis Cardinals themselves — and won a World Championship ring as the Cards beat the 1967 Impossible Dream Red Sox in a seven-game World Series. He was credited a lot with the development of Dick Hughes, Steve Carlton, and Nelson Briles.17 All four of manager Red Schoendienst's coaches were brought back for 1968, all with pay raises.
It was the first year of 18 as a big-league pitching coach. He worked for the Cardinals through 1970, then with the Angels from late in the 1974 season through midseason 1977, and finally with the Detroit Tigers from 1985 through 1994.
The Cardinals reached the Series again in 1968, beaten by the Tigers. Muffett picked up a second ring for the National League championship.
Muffett managed Licey in Dominican Winter Baseball in 1969.
After the Cardinals had let him go in the fall of 1970, the Angels hired him as their minor-league pitching coach and he served in that role until promoted to the major-league position. He spent 1978 out of baseball, but was hired by the Tigers as their minor-league pitching coach in 1979. After his 10 years as Detroit's major-league pitching coach, he retired following the 1994 season. He enjoyed hunting and fishing in Louisiana.
In February 1968, Muffett had taken part in a youth baseball clinic in Baton Rouge. He worked with semipro and youth baseball groups in his community and with annual baseball clinics, something he enjoyed doing during the winters and continued to do for many years, ultimately noted in his obituary in 2008.18
The Muffetts had no children. Billy died at home in Monroe, Louisiana, on June 15, 2008. Janet died on December 24, 2012, after a battle with cancer. Both are buried in Monroe.
Acknowledgments
This biography was reviewed by Norman Macht and fact-checked by Alan Cohen.
Sources
In addition to the sources noted in this biography, the author also accessed Muffett's player questionnaire from the National Baseball Hall of Fame, the Encyclopedia of Minor League Baseball, Retrosheet.org, and Baseball-Reference.com. Thanks to Rod Nelson of SABR's Scouts Committee.
Notes
Born
September 21, 1930 at Hammond, IN (USA)
Died
June 15, 2008 at Monroe, LA (USA)
If you can help us improve this player's biography, contact us.
https://sabr.org/sites/default/files/MuffettBilly.jpg
600
800
admin
/wp-content/uploads/2020/02/sabr_logo.png
admin
2017-08-09 13:38:24
2020-04-09 14:40:33
Billy Muffett