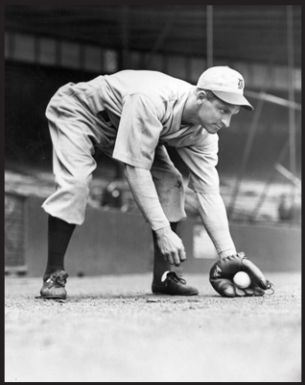 ---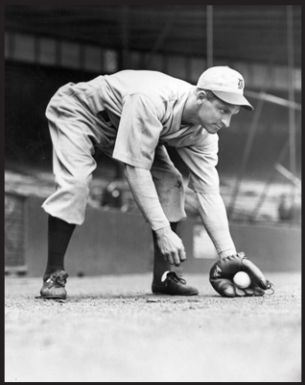 During the mid-1930s, the Detroit Tigers fielded one of the most potent infields in the history of the American League, known to many as the Battalion of Death. A key member of that team was a hawk-nosed, sure-handed, scrappy shortstop named Billy Rogell, who later continued his hardnosed character as a city councilman for Detroit for nearly 40 years. 
William George Rogell was born on Thanksgiving Day, November 24, 1904, in Springfield, Illinois, the fifth of nine children and the first boy. His family eventually settled in Assumption, a mining town in southern Illinois. His father died as the result of a mining accident in 1911. His mother passed on three years later, leaving Rogell to be raised by his married sister in Roseland, a suburb of Chicago. 
He attended Fenger High School while working as an office boy for the Pullman Car Company, and played baseball for St. Anthony in the Roseland Catholic Church League, where he was a standout second baseman. His level of play landed him on the Pullman Athletic Club semipro team in 1922. That team had a number of standout players, including two from the former Federal League. They recommended Rogell to contacts in the minor leagues and he eventually ended up playing for Coffeyville, Kansas, in the Southwestern League.
In 28 games for the Refiners in 1923, Rogell batted .224 with five doubles. Since the manager of the team played second base, Rogell played a number of positions, including taking a turn in the outfield. However, he broke three ribs after running into a fence, effectively ending his career as an outfielder. The league dissolved near season's end, sending Rogell back to Chicago.
The Southwestern League reorganized in 1924 and Rogell was asked to join the Salina, Kansas, squad by manager Flies Dorland, the shortstop for the previous year's Coffeyville team. He had a stellar year for the Salina Millers that year, hitting .317 in 131 games, with 29 doubles, 8 triples, and 12 home runs. He played an exceptional second base and caught the eye of the Boston Red Sox, who signed him during the offseason.
With only Class C experience, Rogell made the Red Sox, debuting on April 14, 1925, at the age of 20. He was used primarily as a utility infielder, playing second base and shortstop. He hit only .195 in 169 at-bats, with only six extra-base hits. Though he was a switch-hitter throughout his career, the Red Sox tried to restrict Rogell to the right side of the plate in order to take advantage of the close left-field fence, a move that he strongly resisted. He felt this attempt damaged his stroke for many years during the early part of his career. 
Rogell spent the 1926 season with the Jersey City Skeeters in the International League, with limited playing time, appearing in only 33 games, but he found himself back with the Red Sox in 1927. That year Rogell was used mostly as a third baseman, playing 53 games at the hot corner, where he made only six errors in 178 chances. He hit .266 in 207 at-bats, with 14 doubles, 6 triples, and 2 home runs. The next year, he appeared in 102 games, spending 67 games at shortstop and 22 at second. His batting average dropped to .233, and after the season he was released.
In 1929, Rogell was traded to the St. Paul Saints of the American Association. There his batting stroke returned; he hit .336 with 221 hits, 34 doubles, 18 triples, and 9 home runs. He played mostly at shortstop, with 199 putouts and 329 attempts. At year's end the team owner told Rogell that five teams were interested in signing him. Given his choice, Rogell replied, "Detroit, that's where I want to go."1 Navin Field was one of his favorite stadiums to play in.
The 1930 season started slowly for Rogell, who was beaten out by Bill Akers for the starting shortstop job in spring training. He appeared in 54 games for the Tigers, batting a paltry .167. Failing to impress manager Bucky Harris, he eventually was sent to Toronto of the International League. There he had a solid season, hitting .316 in 68 games. He improved on his performance in 1931, hitting.330 in 118 games. The Tigers meanwhile continued to struggle to find a regular shortstop, trying multiple candidates, including former New York Yankee Mark Koenig, without success. According to legend, Tigers owner Frank Navin sent a scout to Toronto to look at a sensational shortstop. The scout reported back, "The only shortstop I saw in Toronto who answered that description and who might do us some good was Rogell."2 Navin said, "Then let's get him back," and purchased Rogell's contract from Toronto for $10,000. Rogell rewarded the Tigers' faith in him by hitting .303 in the last 48 games of the season, and his hold on the shortstop position lasted for the next eight years.
He played well his first two full seasons with Detroit, hitting .271 and .295 in 1932 and '33. However, Detroit could not finish higher than fifth place in the standings, despite having players like Hank Greenberg and Charlie Gehringer in the lineup. Navin tried to get Babe Ruth to manage the club, but was unable to reach an agreement on the Babe's playing time. He then turned to Philadelphia, obtaining Mickey Cochrane for $100,000 to become player-manager for the Tigers. It turned out to be the elusive final piece to the puzzle.
The 1934 Tigers infield, consisting of Greenberg at first, Gehringer at second, Rogell at short, and Marv Owen at third, had one of the most productive offensive seasons in baseball history. The four players drove in 466 runs. From fifth place in the batting order, Rogell drove in 100. He is one of only nine players ever to knock in 100 or more runs while hitting three or fewer home runs. He batted.296 and scored 114 runs while playing in all 154 games.
During the last weeks of the season, Rogell broke his ankle during a game. He continued to play, taping the ankle, and letting no one know the seriousness of the injury. He felt that one had to play, because there was always someone else waiting to take your place. The injury did not affect his performance in the World Series, in which he had eight hits and drove in four runs, all in a 10-4 victory in Game Four. However, it was for a fielding play in that game that Rogell became best known. In the fourth inning, Cardinals manager Frankie Frisch inserted pitcher Dizzy Dean as a pinch-runner after Spud Davis singled to knock in a run. The next hitter, Pepper Martin, grounded to Charlie Gehringer, who threw to shortstop Rogell at second base. After getting the force out, Rogell fired to first to complete the double play. His throw struck a still-upright Dean in the forehead. The ball ricocheted nearly 100 feet into the outfield and Dean collapsed, unconscious. Dean recovered after an overnight stay in a local hospital, and started Game Five the next day. Although Rogell was concerned for Dizzy's well-being, he later quipped, "Of course, it was Dizzy's fault. He threw up his head in the way intentionally. Even said so. He wanted to break up the double play. And to tell you the truth, I never saw the play because I was coming to the bag at an angle. I caught the ball and threw. Actually, if I'd have known his head was there, I would have thrown the ball harder."3
The 1935 season began with high expectations, but the team floundered out of the gate with a 2-9 start. The team took over first place for good on July 24, eventually building a ten-game lead by early September. They cooled off at the end, but finished with a record of 93-58 and a three-game lead over the Yankees. Rogell had another strong year at the plate, hitting .275, with 71 RBIs and 88 runs scored, and was magnificent in the field. The Tigers faced the Chicago Cubs in the World Series. Rogell hit .292, with one RBI, and played flawlessly in the field, participating in six double plays. The Tigers defeated the Cubs in six games for Detroit's first World Championship. 
Rogell was known as one of the best shortstops during his era, blessed with great range and a strong throwing arm. He led the league in fielding percentage for three straight years, from 1935 through 1937, and in assists in 1934. He and Charlie Gehringer were near the top of the American League in double plays during their tenure together. He often finished in the top five in many defensive categories for shortstops. Rogell never seemed to be caught out of position on a bad hop. He was one of the best at going to his left and he had a strong arm with a quick release. He was very athletic, rarely being taken out by a slide at second while turning the pivot. He once said, "The only time they have a chance to knock me down is when I have to take a low throw."4 His boss, owner Frank Navin, was quick to praise Rogell, once saying, "Find me a better shortstop than Rogell and I'll get him."5 Ironically, Rogell holds the record for the fewest chances by a shortstop in a 12-inning game, none.
Rogell was a tenacious and aggressive player in the middle of the field, especially when compared to Gehringer with his the quiet demeanor. One incident represented their differences quite well. During a game both players failed to cover second during a steal attempt. Frustrated, Cochrane raced out to the middle of the infield, demanding an explanation. Rogell at first deferred to Gehringer, the senior member of the duo, but the second baseman remained silent. Rogell then turned to Cochrane and yelled, "Goddamn you. Don't you come charging out here telling me how to play shortstop. You go back there and do the catching, and I'll play shortstop. If I'm not good enough, you can find someone else."6 Stunned, Cochrane returned to his place behind the plate without saying another word.
Rogell finished with a batting average of .267 over his 14-year career, and batted .274 during his time with the Tigers, frequently hitting in the leadoff spot. He said he probably lost 20 points on his career average because he felt it was his job to take as many pitches as possible to help the team assess the opposing pitcher's repertoire. His patience at the plate resulted in setting a record in 1938 of seven consecutive walks (since tied by four players). 
During the last half of the 1930s, the Tiger teams were competitive but could never overtake the Yankees. Rogell's fielding remained stellar and he continued to perform at the plate, hitting .274 in 1936, .276 in 1937, and .259 in 1938. However, during the 1938 offseason, Rogell injured his throwing arm while playing handball. The strength he was known for failed to return, limiting his playing time to 74 games, and his average dropped to .230. By the end of the 1939 season, Rogell had lost his starting job, and during the winter he was dealt to the Chicago Cubs for fellow shortstop Dirk Bartell in a trade many characterized as a trade of "one worn-out shortstop for another."7 
Rogell's time with the Cubs was a disaster from the start. During spring training, the Cubs' veterans of the 1935 World Series harassed Rogell, trying to convince him that the Tigers were lucky to have won the Series. Rogell, always the fighter, retaliated with the fact that the Tigers won the Series despite losing Hank Greenberg after Game Two, and the verbal battle escalated. Cubs manager Gabby Hartnett, who played in the '35 Series, reportedly walked up to Rogell and said, "You don't belong here."8 Rogell asked for his release, but the Cubs refused. He spent most of the year riding the bench, appearing in just 33 games and hitting a paltry .136 before being given his release on August 28, 1940. He quickly latched on with the Montreal Royals of the International League, who signed him for their stretch run. He hit .143 in seven games with the club.
Rogell was hired to be player-manager for the Lancaster Red Roses of the Interstate League in 1941. He broke his shoulder in an automobile accident before the start of the season, and couldn't play for most of the season. The owner's dissatisfaction with Rogell's limited play and Rogell's frustration with the poor quality of his players, most of them fresh out of high school and unable to handle the level of competition, led him to hang up his spikes before the end of the year.
A Detroit resident, Rogell ran for the City Council, and was elected, beginning a nearly 40-year association with the city's governing body. One of his first projects was developing a baseball school program for the boys of Detroit. Rogell, as an orphan himself, knew how important it was for a child to have a sense of belonging. The program started with 296 teams in 1942 and grew to over 800 by 1954.
Rogell brought to the council the same stubbornness he exhibited on the playing field.  The best representation of this was the battle for the location of the region's airport. Rogell wanted to keep the airport in nearby Romulus, where he felt that there was enough land available for future growth and development. Detroit's three newspapers, however, were pushing for a new location along the city's northern borders. The papers teamed together to help vote Rogell out of office in 1947. However, he continued the fight, winning re-election two years later and securing his desired location for the airport, now known as Detroit Metropolitan Airport. Today, Detroit Metro is one of the nation's busiest airports, having undergone a number of expansions over the years. In 1999, the Wayne County Airport Authority honored Rogell for his vision, renaming the roadway leading into the facility Rogell Drive.
Rogell was respected by many during his tenure on the City Council, despite his gruff demeanor. Former Wayne County Executive Edward McNamera said, "Billy Rogell was not only a great athlete, but also a great politician.  He always fought for what was right, and then stuck to his guns."9 He served on a number of committees responsible for building and highway projects in the city, and always had the needs of the community first. He even voted against the Tigers twice, once preventing the city from purchasing Briggs Stadium in the 1950s, and later voting against a measure to build a multipurpose 110,000-seat stadium at the Michigan State Fairgrounds in Detroit. The stadium was intended to attract the 1968 Summer Olympic Games, and eventually serve as the new home of the Tigers and the NFL's Detroit Lions. Rogell, however, felt that there were more pressing needs for the city and its people. "All I ever wanted was Detroit to be a better place to live," he once said in an interview with a Detroit paper.10
Rogell was known to assist any old ballplayer who was down on his luck. He always made sure that a bed was available, an interview for a job scheduled, or money provided for a meal or travel.
Rogell retired from the City Council in 1981, and spent the rest of his life residing in Detroit and Florida. On September 27, 1999, he was given the honor of throwing out the ceremonial first pitch before the final game at Tiger Stadium. He died of pneumonia in Warren, Michigan, on August 9, 2003, at the age of 98, and is buried in Holy Sepulchre Cemetery in Southfield, Michigan.
Sources
Anderson, William M., The Detroit Tigers: A Pictorial Celebration of the Greatest Players And Moments In Tigers History (Detroit: Wayne State University Press, 2008).
Anderson, William M., The Glory Years of the Detroit Tigers: 1920-1950 (Detroit: Painted Turtle Books, 2012).
Bak, Richard, A Place For Summer: A Narrative History Of Tiger Stadium (Detroit: Wayne State University Press, 1998).
Detroit News, They Earned Their Stripes (Detroit: Sports Publishing Inc., 2001).
Falls, Joe, The Detroit Tigers: An Illustrated History (New York: Prentice Hall Press, 1989).
James, Bill, The New Bill James Historical Abstract  (New York: Free Press, 2001).
McCollister, John, The Tigers and Their Den (Lenexa, Kansas: Addax Publishing Group, 1999).
Parrish, Lance, Few and Chosen: Defining Tigers Greatness Across The Eras (Chicago: Triumph Books, 2010).
Kelley, Brent, "Billy Rogell," Sports Collectors Digest, May 4, 1990.
Schumann, George, "Billy Rogell," Calumet Index, August 30, 1954.
Goldstein, Richard. "Billy Rogell Is Dead at 98," New York Times, August 13, 2003, nytimes.com.
Hunter, George, "The Obit For Billy Rogell," The Deadball Era, thedeadballera.com/Obits/Obits_R/Rogell.Billy.Ob/
Baseball-almanac.com
Baseball-reference.com
Motownsports.com/forums/archive/index.php/t-35494.html
Ourcampaigns.com
Research.sabr.org/journals/harvest-seasons-most-runs-batted-in
Sptimes.com/2003/08/12/Pasco/Billy.Rogell
Stevesteinberg.net/baseball_history/steve_with_baseball_personalities/BillyRogell/
Notes
1 Brent Kelley, "Billy Rogell," Sports Collectors Digest, May 4, 1990.
2 George Schumann, "Billy Rogell: From Milkman to Big League Shortstop to City Councilman," Calumet Index, August 30, 1954.
3 Richard Goldstein, "Billy Rogell Is Dead at 98," New York Times, August 13, 2003.
4 William M. Anderson, The Glory Years of the Detroit Tigers: 1920-1950 (Detroit: Painted Turtle Books, 2012), 217.
5 Ibid.
6 Bill James, The New Bill James Historical Abstract (New York: Free Press, 2001), 622.
7 motownsports.com/forums/archive/index.php/t-35494.html
8 Brent Kelley, "Billy Rogell."
9 Metro Connections, May 18-31, 2000.
10 George Hunter, "The Obit For Billy Rogell," thedeadballera.com/Obits/Obits_R/Rogell.Billy.Ob/
Born
November 24, 1904 at Springfield, IL (USA)
Died
August 9, 2003 at Sterling Heights, MI (USA)
If you can help us improve this player's biography, contact us.
http://sabr.org/sites/default/files/BillyRogell.JPG
600
800
admin
/wp-content/uploads/2020/02/sabr_logo.png
admin
2012-01-04 20:00:12
2020-10-09 07:59:40
Billy Rogell