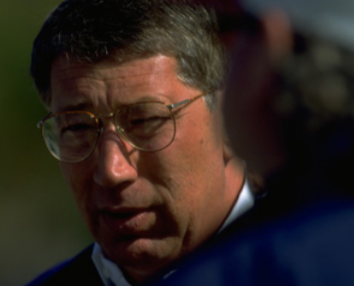 ---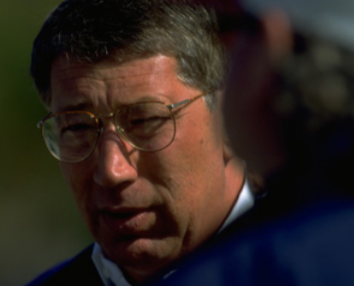 Bob Gebhard, the man who became the first general manager in the history of the Colorado Rockies, emerged from modest working-class roots in rural Minnesota.1
Born on January 3, 1943, Gebhard grew up in Lamberton, population 1,100, about 150 miles southwest of Minneapolis. He is of German and Scandinavian heritage, and his family has called Minnesota home for several generations.
Bob's father, Leo, was the local barber in Lamberton, and his mother, Viola (Albertson), served as head cook at Lamberton High School. His sister, Leola, was four years older.
Gebhard grew into a very talented athlete at Lamberton High, earning 16 varsity letters in football, basketball, track and field, and baseball. By the time he graduated in 1961, Bob had filled out into a strapping young man at 6-feet-2 and 210 pounds. He decided to accept an athletic scholarship to the University of Iowa.
At Iowa, Gebhard was a two-sport athlete, playing three seasons of basketball for the Hawkeyes and four seasons of baseball, serving as captain of the baseball team his senior year. Bob completed his undergraduate studies in January of 1966, receiving a bachelor of science degree in recreation. He studied for a time at Mankato State, now Minnesota State, and earned another bachelor's degree in physical education and math.
The previous summer, in June of 1965, the first-ever draft of amateur players was conducted by major-league baseball. Rick Monday, an outfielder at Arizona State, was selected first overall by the Kansas City Athletics. Back in the 44th round, Bob Gebhard, a right-handed pitcher out of the University of Iowa, was picked by the Minnesota Twins at number 732 overall.
During college, Bob had a student deferment as the Vietnam War heated up. He later completed his military obligation by serving in the Minnesota National Guard.
Gebhard began his professional baseball career with the short-season St. Cloud Rox of the Northern League. Over the next six years he made his way up the ladder in the Twins' minor-league system. For players, this is not ordinarily a straight climb, and Bob was no exception.
As he hurled for a variety of teams in the Southern, Carolina, and Pacific Coast Leagues, and the American Association, Gebhard's high-water marks included an 11-2/1.91 ERA in 1965 for Class-A St. Cloud, 13-3/1.23 for Double-A Charlotte in 1969, and an 8-3 record with a 4.02 ERA for Triple-A Portland in 1971. His PCL performance for Portland earned Gebhard a promotion to the big leagues, and on August 2, 1971, Gebhard made his major-league debut for the Minnesota Twins. At the age of 28, Gebhard pitched two scoreless innings against the Chicago White Sox.
He stuck with the Twins the rest of the season and throughout the entire 1972 season, but 1973 found him back in Triple A, hurling for Tacoma. In the offseason, he was released by Minnesota. On January 14, 1974, he signed as a free agent with the Montreal Expos.
Gebhard was briefly with the parent Expos team in 1974, but spent the bulk of the year toiling as a player-coach for the Memphis Blues, their Triple-A affiliate, posting a 10-6 record with a sterling 1.69 ERA. One more go-round as a player for Gebhard in 1975, going 4-3/2.67 for Memphis, and at 32 Bob Gebhard decided it was time to make the transition in his baseball life from player to coach and administrator.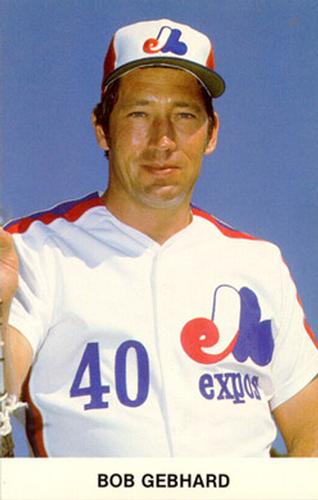 Montreal judged in 1976 that Gebhard, now a retired pitcher of 33, showed significant potential as an administrator and offered him a position as minor-league field director and roving pitching coach. Gebhard served the Expos in that capacity for five years through 1980, honing his instructing proficiencies as well as his interpersonal skills.
Paying his dues in the minors finally paid off for Gebhard in 1981 when the Expos, undergoing a midyear shakeup under general manager John McHale, elevated him to pitching coach with the major-league team. He continued in that position through the 1982 season and then was named director of minor league clubs, a position he held for the following four years, 1983-1986.
Returning to the team he made his major-league debut with, Gebhard, then 44, rejoined the Minnesota Twins as director of major league personnel in 1987, adding the title of vice president a year later. Twice during his tenure with Minnesota (1987, 1991), the Twins captured World Series championships.
The Colorado Rockies were born on July 5, 1991, being named one of two National League expansion franchises, the other being the Florida Marlins. With major-league action slated to begin for the expansionists in the 1993 season, the new Rockies organization wasted little time in selecting a general manager. In September 1991, Colorado named Bob Gebhard senior vice president/general manager.
The Rockies had less than two years between the awarding of the franchise and the beginning of major-league play. The first order of business was building a minor-league system and creating an administrative staff.
Gebhard first built a scouting staff, picking Pat Daugherty as the Rockies' first director of scouting. Together, along with a rapidly growing scouting department, Gebhard and Daugherty became known as "the road warriors," scouting all 26 existing major-league teams during the 1992 season in preparation for the expansion draft, which was to take place on November 17, 1992.2
At the conclusion of the baseball season and before the draft, it was time to name a field manager. Gebhard chose longtime player and coach Don Baylor to lead the Rockies in their inaugural year. Baylor and Gebhard had crossed paths briefly during their championship season in Minnesota in 1987, but Baylor left a lasting impression on his future boss. "I used to watch him in the clubhouse," Gebhard later recalled. "He was only with us for six weeks, but our players would go up to him for advice. I never forgot what I saw."
Don Baylor had spent the 1992 season as hitting coach for the St. Louis Cardinals. During that season the Cardinals had journeyman first baseman Andres Galarraga on the roster. Galarraga had enjoyed several productive years in Montreal, but by 1992 he seemed to be on the downside of his career and was holding on to stay in the majors. Hitting coach Baylor went to work on "The Big Cat," completely rebuilding Galarraga's swing to an almost exaggeratedly open stance.
Galarraga's numbers for 1992 were unimpressive, and after the season he became a free agent. But Baylor knew what talent was there after working diligently with Andres, and shared this with his new boss in Colorado, Bob Gebhard. So the stage was set for the Rockies to grab Galarraga, and on the day before the expansion draft, November 16, 1992, Gebhard signed Galarraga.
The Inaugural Year Rockies had their first baseman locked up, and all Galarraga did to reward his new team was play stellar defense and win the National League batting title, swinging at a .370 clip.
For three weeks before the expansion draft the Rockies brain trust was sequestered at the team's offices on Broadway in Denver. The principal decision makers were Gebhard, Pat Daugherty, John McHale Jr., Randy Smith, Paul Egins, Herb Hippauf, Don Baylor, and Dick Balderson. They analyzed every player on every existing major-league roster and ranked them in order of desirability for each position, using age, talent, contract status, sign-ability, and trade-ability as criteria. But it was not until November 7, 10 days before the draft, that Major League Baseball made available to Florida and Colorado the list of protected players from all the other clubs.
Each existing franchise could protect 15 players during the first round of the draft. In each subsequent round, they could then pull back additional players from the selection process for protection. Both before and after the protected list was made available to the Rockies, there was much guesstimating involved. As soon as the process began, picked players came off the board and altered the selection strategy. Gebhard and the Rockies would need to adapt their thinking on the fly. Colorado won a coin toss and selected first.
With the first pick the Rockies went with David Nied from the Atlanta Braves. The tall right-handed pitcher from the Dallas-Fort Worth area had been a late-season callup to the Braves at the end of the 1992 season, and went 3-0. But with the likes of Greg Maddux, John Smoltz, Tom Glavine, and Steve Avery already on the roster, Nied was left unprotected for the expansion draft, and Colorado snapped him up.
Gebhard and his team selected journeyman third baseman Charlie Hayes from the New York Yankees with their second pick, Milwaukee reliever Darren Holmes with their third, and Jerald Clark of the San Diego Padres with their fourth.
Before the draft Gebhard had decided he needed a power-hitting right-handed-hitting outfielder, and had coveted the Brewers' Dante Bichette. The trouble was that Bichette was on the Brewers' protected list, so Gebhard turned to an old friend, Sal Bando, who was the Milwaukee general manager at the time. Gebhard asked Bando what he was in the market for, and Sal didn't hesitate. If the Rockies could secure a left-handed-hitting designated hitter, the Brewers would be willing to part with Bichette. With their fifth pick Colorado selected Kevin Reimer from Texas, and then swapped him to Milwaukee for Bichette. The deal was consummated on Draft Day.
Other notable Rockies picks from the first round of the draft included Eric Young Sr., an infielder from the Los Angeles Dodgers who would secure his place in Rockies history during the 1993 home opener, and future New York Yankees manager Joe Girardi, a catcher selected from the Chicago Cubs.
The second round provided 1993 starting shortstop Freddie Benavides from Cincinnati and starting third baseman Vinny Castilla from Atlanta. The Rockies also picked Detroit's Kevin Ritz in the second round. Ritz would go on to become a 17-game winner for the Rockies in 1996.
With their participation in the amateur draft in June 1992 and their harvest during the expansion draft, the Rockies had the personnel to fill the first spring-training roster. After considerable research, Tucson, Arizona, was selected as the site for spring drills. The Rockies took over Hi Corbett Field in Tucson, where the Cleveland Indians had trained since 1947. The Tribe pulled up stakes in Arizona and set up their spring camp in Winter Haven, Florida, in 1993.
With an expansion team just starting out, everything and everybody was new. Gebhard arrived in Tucson to find the practice fields badly in need of work, and the day before the first workout found Gebhard doing manual labor with his new coaching staff. Don Zimmer, Larry Bearnarth, Ron Hassey, and Amos Otis, along with Gebhard and Don Baylor, all grabbed shovels and were working on pitching mounds 24 hours before the first Rockies team trotted out into the Arizona sun.
When the new Rockies did arrive they were a mixture of veterans and rookies, but few knew one another. To help break the ice and bring some levity to camp "Hello, my name is ——-." name tags were distributed to all. It seemed to help mold the group into a real ballclub over the next six weeks.
On April 5, 1993, Bob Gebhard was ready to present his first major-league team to baseball. Although their debut was inauspicious, with Colorado getting shut out, 3-0 at the hands of the Mets' Dwight Gooden at Shea Stadium in New York, they were underway: the Rocky Mountain region was now part of the major-league baseball fraternity, and Bob Gebhard was the principal architect.
The Rockies came home to Denver for the inaugural home opener on April 9, 1993. It was a spectacular day in many ways. The Rocky Mountain region, starved for major-league baseball for so many years, turned out in record fashion. The first game in Denver drew 80,227 to Mile High Stadium, still a major-league record for a home opener.
In the bottom of the first, in the first at-bat of a Rockie on Colorado soil, Eric Young electrified an already energetic crowd with a solo home run. The home team went on to notch an 11-4 win over the visiting Montreal Expos.
The Rockies went on to draw 4,483,350 in their first year, also an attendance record that as of 2018 still stood.
The parent club was now supported by the minor-league system Gebhard had developed, with the Triple-A affiliate Sky Sox down the road from Denver in Colorado Springs, in the Pacific Coast League, the New Haven Ravens the Double-A team in the Eastern League (starting in 1994), and Single-A squads in Visalia, California, and Asheville, North Carolina.
That first big-league season in 1993 was typical of expansion franchises. After enduring a 13-game losing streak in midsummer, the Rockies' main goal was avoiding 100 losses. They accomplished it, posting a 67-95 mark.
Bob Gebhard did much that was right in his eight years as general manager of the Colorado Rockies. But by his own admission, his worst move came during that first major-league season of 1993. He, along with others in the front office, had been impressed with San Diego Padres right-hander Greg Harris. A midseason trade made Harris a Rockie. But Harris struggled once he reached the Mile High City, and never did get on track; his 4-20 record while with the club remains one of the low points in franchise history.
The 1994 season started with considerable optimism, as most baseball seasons do. The Rockies were on pace to break their own record for single-season attendance. But the storm clouds of a strike in baseball soon began to gather. The season came to a screeching halt after the games of August 11, and for the first time in 90 years the World Series was canceled.
Like everyone else in the game, Bob Gebhard was very upset. On top of the aborted season, the Rockies were scheduled to move into their new home, Coors Field, for the 1995 season. Uncertainty abounded as the strike dragged on through the winter. Eventually, the owners decided to proceed with replacement players, pleasing almost no one. Mercifully, a settlement in the dispute was reached in time for an abbreviated spring training for the "real" players, but it dictated that the regular season be only 144 games in 1995.
That year Colorado became the first National League team to win the wild card in the new playoff format. In just their third season the Rockies became the fastest expansion team to reach the postseason, up until that point, a fact that provided Gebhard with much pride. He had created a competitive team from scratch and was duly rewarded for his efforts.
One of Bob Gebhard's more notable achievements while general manager in Colorado came away from major-league action. One day he was waiting in his car near some ballfields for a meeting to begin. He noticed seven or eight kids playing catch and hitting fly balls to one another. After a short time a group of older kids came by and simply chased the younger kids from the field and took over. Gebhard thought to himself: "Hey, why aren't there enough fields in the Denver area to accommodate all the kids that want to use them?"
This experience gave rise to Gebhard's idea of building new fields or refurbishing existing ones and financing the project through discretionary community money written right into the contracts of Rockies players. The Field of Dreams Program was started in 1995 and as of 2018 consisted of 55 fields spread around the Denver area, the Colorado Front Range, the Western Slope, and Wyoming. It proved to be so successful and impactful that within a few years the Los Angeles Dodgers, St. Louis Cardinals, and San Diego Padres had started fields programs of their own, using the Rockies program as a model.
After the eventful season of 1995, when the Rockies moved into their new Coors Field home and reached the postseason, 1996, 1997, and 1998 turned out to be less than satisfying years for the team. Gebhard always believed the Rockies had the makings of a good team during that stretch, but underperformed.
After the disappointment of the 1998 season, Gebhard was faced with making what he termed "the most difficult decision of my life." After taking a chance on a previously inexperienced manager to launch the franchise, it was time to let Don Baylor go. Gebhard was also aware that Jim Leyland, a longtime baseball man he admired, was available, and so Gebhard made the change.
But despite the managerial switch, 1999 was another down year for Colorado, and this time it was Gebhard's turn to part ways with the Rockies. The ax fell on August 20. Gebhard was replaced as general manager in September by longtime Orioles and Indians executive Dan O'Dowd.
Gebhard was very well connected and respected throughout the game, and within a few days of his Colorado dismissal he had been contacted with offers on the table by Chicago Cubs President Andy McPhail, St. Louis Cardinals general manager Walt Jocketty, and Minnesota Twins GM Terry Ryan. On September 1, 1999, he became special assistant to Jocketty, a man who had earlier worked for Gebhard in Denver. It was a position he was to hold for the next five years, through 2004.
Late in the 2004 season Arizona general manager Joe Garagiola Jr. called Jocketty in St. Louis to ask permission to talk to Gebhard about a position with the Diamondbacks that Garagiola considered an upgrade. In October 2004, Gebhard became vice president and special assistant to Garagiola in Arizona. When a vacancy occurred with the Diamondbacks GM position in July of 2005, Gebhard was installed as interim GM until Josh Byrnes was hired as permanent GM in October of that year. Gebhard then returned to his previous job.
Gebhard was to stay in Phoenix with the Diamondbacks until October 2016, when he made his return to the Cardinals in a similar capacity. In the small universe of major-league baseball, Bob Gebhard was lured out of Arizona by John Mozeliak, who years earlier had been a clubhouse employee under Gebhard with the Rockies. Gebhard related that Mozeliak had a standing offer to him: "When you get tired of the desert, call me."3 Bob Gebhard finally took him up on his offer.
Entering the 2018 season, Bob Gebhard was senior special assistant to the general manager of the St. Louis Cardinals, a title he shared with Mike Jorgensen and Hall of Famer Red Schoendienst.
Last revised: April 1, 2018
This biography appears in "Major League Baseball A Mile High: The First Quarter Century of the Colorado Rockies" (SABR, 2018), edited by Bill Nowlin and Paul T. Parker.
Sources
In addition to the sources cited in the Notes, the author also consulted Baseball-Reference.com. All other information was obtained from the Gebhard interviews and from the author's personal knowledge as Colorado Rockies club historian.
Notes
1 All personal biographical information was obtained through a series of one-on-one author interviews with Bob Gebhard in late 2017. Unless otherwise indicated, all direct quotations come from these interviews.
2 Colorado Rockies Media Guide of 1993 and 1994.
3 Author interview with Bob Gebhard.
Born
January 3, 1943 at Lamberton, MN (USA)
If you can help us improve this player's biography, contact us.
https://sabr.org/sites/default/files/bob%20gebhard.png
600
800
admin
/wp-content/uploads/2020/02/sabr_logo.png
admin
2018-03-27 09:11:35
2020-04-09 14:40:22
Bob Gebhard