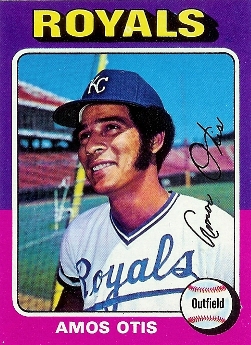 Late in the evening of May 15, 1973, Amos Otis lifted a Nolan Ryan fastball to Royals Stadium's spacious right-center-field gap that was hauled in by Angels right fielder Ken Berry. Some 35 years later, Otis still remembered the moment, the pitch, and who caught it. "Right there on the warning track," he told the Kansas City Star, recalling that Berry had come in for defense. "If Bob Oliver had been out there, I'd have had it, I'd have broken it up."

Instead, with Otis's help, Ryan took a major step on the path that led him to immortality. The no-hitter was the first of seven fired by the famed Ryan Express, and it resurfaced from the annals of baseball history in 2008 when Kansas City was no-hit for a second time (by Boston's Jon Lester). Ryan's career led him to the Hall of Fame, while Otis played for another decade and was one of the most productive and popular players in Royals history.

While no one could have known it in 1973, Otis and Ryan would remain linked for another reason. They came to symbolize the two worst trades the New York Mets have ever made. While the 1973 Mets were a shocking pennant winner in the National League, they soon endured seven straight seasons finishing fifth or sixth and fading to obscurity in the largest media market, where baseball is king. In 1980, Sports Illustrated's Henry Hecht referred to Otis as New York's WT 1 (worst trade No. 1), with Ryan checking in as Hecht's WT 2. Ryan—and three other prospects—brought former All-Star shortstop Jim Fregosi to the Mets, but Otis brought much less in return to New York. The fledgling Royals received Otis and pitcher Bob Johnson for third baseman Joe Foy, who played only 140 more games in the majors, while Johnson was later shipped from Kansas City in a package of players that brought the Royals Freddie Patek. It was Foy's failure at third base that set the wheels in motion for the eventual trade of Ryan for Fregosi, whom the Mets unsuccessfully attempted to make into a third baseman.

Otis, however, was stellar--but not with the Mets. Outside of short stints with the Mets at the beginning of his career and a season in Pittsburgh at the end, Otis became a Royals legend. The five-time All-Star finished in the top 10 in the American League batting race four times, and in the top 10 in steals (six times), runs (six times), hits (four times), and total bases (three times). He twice paced the AL in doubles. In terms of numbers that became more recognized after he retired in 1984, Otis was among the best 10 players in the junior circuit in runs created four times and in OPS (on-base percentage plus slugging percentage) twice.

Otis left the Royals in 1983 as the team's all-time leader in many categories. Even after more than a quarter-century, Otis remained in the top five in team history in games played (third, 1,891), runs (second, 1,074), RBIs (third, 992), walks (second, 739), and stolen bases (second, 340). In fact, he ranked in KC's top five in just about every offensive career category except batting average. (And his .280 batting average for Kansas City was sixth all-time among Royals who played at least 1,000 games for the franchise.) A.O., as he was called, helped lead the Royals from the futility of their early expansion era to one of baseball's most successful franchises in less than a decade, and inspired the chants of "Aaaay-Oh! Aaaay-Oh!" which reverberated across the shimmering turf of sparkling Royals Stadium.

And while every Mets fan knows that the organization let Amos Otis slip through its hands, many don't know that in reality he got away from the Amazin's twice. In 1964, the year before Major League Baseball instituted the amateur player draft system, Otis was among 35 players flown to Shea Stadium for a workout during a Mets road trip. Sent. home to Mobile, he was told the Mets would contact him.

Otis heard from a major league team several months later, but it wasn't the Mets. The Boston Red Sox drafted him with the 95th selection of MLB's first draft. Like his hometown hero Hank Aaron, Otis was drafted as a shortstop. Mobile produced Hall of Famers Aaron and Billy Williams and major league regulars like Tommie Agee and Cleon Jones, Otis's future Mets teammates. Otis, however, was the only player ever drafted out of Mobile's Williamson High School. He was also the kicking specialist for his high-school team that was undefeated for three straight years. But Amos Joseph Otis—born April 26, 1947, in Mobile—used his feet to glide across outfields and steal bases at a clip that made him one of the game's best outfielders.

Success did not come easily and acceptance for the Alabaman in the 1960s South was far from given. While Otis hit .329 with nine home runs and 10 stolen bases for the Harlan (Kentucky) farm team in the Appalachian League in 1965, and led third basemen in fielding (.910), chances accepted (122), and double plays (13), his assimilation into the life of a professional ballplayer masked a tumultuous summer away from the diamond. One of two African Americans on the squad, Otis recalled in a 1969 New York Times feature that he received an anonymous phone call several weeks into his rookie season in Harlan admonishing him to leave town in strongly worded, racially inflamed language. Red Sox management chose not to heed Otis's pleas for reassignment, and he and teammate Bobby Mitchell endured sporadic threats and harassment not uncommon for the time and place.

A change in scenery arrived the next season. Otis advanced to Oneonta of the New York-Penn League, and he responded by earning All-Star honors. He hit .270 that summer with three homers, drawing 39 walks while stealing 14 bases. After the season ended, though, Otis received a jolt. The Mets, two years after working him out at Shea Stadium, drafted Otis from Boston's farm system.

Taking the move in stride, Otis hit .268 with 36 walks for Triple-A Jacksonville in 1967, with 11 doubles, seven triples, and three home runs. He stole 29 bases, and earned a September call-up to Shea Stadium. Otis indicated in a 1996 article in Sports Collectors Digest that he arrived in the majors with a clear sense of his defensive role, although New York manager Wes Westrum initially played him at third base. "I was a jack-of-all-trades in high school, I could play all nine positions," he told an interviewer. "I started out my pro career at shortstop, kind of lost interest at shortstop, and moved over to third base for a while. Then I was the fastest guy in the outfield for the Mets and then I wanted to be an outfielder."

Returning to Jacksonville in 1968, Otis hit .286 with 15 home runs, matching his previous career total as a professional, and stole 21 bases. He walked 50 times and played in the Triple-A All-Star Game.

His 1968 record landed Otis in an awkward position entering spring training in 1969. The 22-year-old was lauded as "the best piece of property we've got" by Mets farm director Whitey Herzog, who later was instrumental in Otis's career in Kansas City. General manager Johnny Murphy tagged Otis as "untouchable" in trade negotiation with Atlanta for Joe Torre before the 1969 campaign. The Mets drew scorn from Braves GM Paul Richards (who asked--prematurely, it seems--"If they got so many 'untouchables' on that club, how come they haven't won any pennants?"). New York sportswriters also wondered about an untouchable list that included Tom Seaver, Jerry Koosman, and Bud Harrelson. Broadcaster Howard Cosell even asked Otis in a spring training interview if he expected to win Rookie of the Year honors.

If trying to break into a lineup for a New York major league team wasn't pressure enough, the label of untouchable was. "That untouchable label was a terrible burden," Otis told sportswriter Arthur Daley in 1971. Although seen as a utility infielder during the winter months, he broke camp as a third baseman. Veteran Ed Charles earned time at third to begin the season, but when opportunity knocked, Otis responded. He later told the St. Petersburg Independent that when the 1969 season started, "I didn't play for three weeks. After they had a losing streak I finally got to play and we broke the streak. Then [the press] started coming out with all this 'phenom Otis breaks streak' and all that stuff. I played three games in a row." Otis returned to spot duty, playing primarily as a defensive replacement for the next several weeks. His bat went cold.

On June 15, with only nine hits in 66 at-bats, Otis was farmed out to make way for Donn Clendenon, who had been acquired in a trading deadline deal with Montreal. Recalled on September 2, Otis saw some action, but being brought up after the rosters expanded eliminated him from consideration for the postseason roster. He was Steve Carlton's 19th strikeout victim on September 15, putting the Cardinals lefty in the record books as the first pitcher to ever fan that many in a nine-inning game. In the next-to-last regular-season series, in Philadelphia, Otis went 3 for 9, and GM Murphy, in an article in The Sporting News, said manager Gil Hodges thought Otis "looked like the player we always said he was." That series was Otis's last appearance as a Met.

Otis also opened the eyes of Cedric Tallis, Kansas City's "flim-flam man," as Bill James once referred to the architect of the great Royals teams of the 1970s. Tallis built those teams by acquiring other teams' talented young players, and the Mets were Tallis's first victim. Sent with Bob Johnson to the Royals on December 3 for the infamous Joe Foy, Otis was installed in Municipal Stadium's spacious center field. Royals manager Charlie Metro told Kansas City Star writer Joe McGuff that the Otis acquisition was made to plug Kansas City's hole in center field.

Tallis correctly read New York's displeasure with their third-base platoon of 35-year-old Ed Charles and rookie Wayne Garrett. The organization's desperation to plug a hole at the hot corner dated back to the first days of the Mets in 1962. Tallis hawked the Mets through the summer and fall with the idea of moving Foy, who had been a regular in Boston's "Impossible Dream" ballclub that captured the 1967 AL pennant.

"During the World Series, we sent a lot of people to Baltimore and New York," Tallis said. "I assigned two men to each of the other 23 clubs to sound out their needs and what they would give in a trade." Tallis told sportswriter Joe Trimble that the Mets had tried to acquire a young third baseman from Cleveland, but that the teams didn't match up. Negotiations began between the Mets and Kansas City at the World Series, according to Tallis, with talks heating up at the general managers meetings at Colorado Springs after the season. "That was a kind of four-day outing, mostly golfing," Tallis recalled. "Murphy didn't play golf but we got together at night. We couldn't agree at that time, but promised to talk again at the winter meetings in Miami. Bob Scheffing [who would succeed Murphy after his untimely death that winter] and Whitey Herzog [the Mets farm director] were there, too. We finally made the deal with Foy going to New York and Otis and Johnson coming here."

Evaluating the opportunity facing him, Otis celebrated in ironic fashion. "December 3rd was the happiest day of my life. I didn't get to drink any of that World Series champagne, but on the day I was traded my wife and I went out and bought our only bottle," he told sportswriter Joe Trimble in 1970. Otis, who had been voted a World Series share by his teammates (though he didn't receive a championship ring), was heading from a team that had become the talk of the baseball world to a club that had been in existence for one year. He later told Sports Collectors Digest: "The disappointment came from being traded from a World Series champ to an expansion team; it had only been around one year. The best thing about that was there were no superstars over there; the only name I recognized there was Lou Piniella. He was Rookie of the Year that year. So it was like I went from being on top of the water barrel to being under the water barrel. That was probably my biggest thrill in baseball, getting a chance to play more in Kansas City, and I stayed there for 14 years."

Otis expressed mixed emotions about his opportunity in New York when he visited with Newsday's Paul Ballot in August of 1970. "I didn't want to play third with the Mets, but I think I could have played it if I'd really gotten a shot at it. But three games? That's no test. I never got an explanation from anyone why I was benched." Hodges showed little remorse in letting Otis go, commenting after the deal that it may have been "unfair to the boy to ask him to play third. He didn't like the position and he didn't play well there." Comments by Hodges in the spring of 1969 offer further clues to the uneven career and limited opportunity Otis experienced in New York. "Lackadaisical is the word people in our organization use" to describe Otis, Hodges told Jack Lang in the March 22, 1969 issue of The Sporting News. "Seems like I play my best ball when they're pushing me," Otis offered in that same article.

Otis's impact in Kansas City was immediate and unquestionable. In his first spring training with the Royals, he told the New York Times in 1971, "I was standing in the outfield not far from the right-field foul line when I saw Charlie Metro walking toward me. I didn't even know what to say to him and so I headed toward center field. I looked again and he was coming my way. Finally he pinned me against the left-field fence. 'Amos,' he said, 'you're my center fielder for as long as you can hold the job.'"

On his way to hitting .284 in 1970 with 36 doubles, tied for the league lead, Otis reached base by hit or walk in 136 of his 159 games. He became the first Royal to play in an All-Star Game—catcher Ellie Rodriguez had been named a reserve for the 1969 game but saw no action—and Otis was involved in one of the best-known plays in midsummer classic history. Otis made the throw to the plate on which Pete Rose collided with Ray Fosse in the 12th inning to end the game. That throw, Otis recalled in Sports Collectors Digest, spawned the nickname Famous Amos "because I made that great throw from center field. It was a one-hop throw.…That's the way baseball's supposed to be played."

If 1970 announced Otis's arrival, the next year marked his coming-out party. Playing in 147 games, Otis stole a league-leading 52 bases in 60 attempts to set a stolen base percentage record (since surpassed), and hammered 15 home runs with 26 doubles. He hit .301 and won the first of his three Gold Glove Awards. His 1971 honors included the Kansas City Sports Personality of the Year Award from the city's Jewish Community Center. The Royals continued to improve, adding Patek, Cookie Rojas, and John Mayberry to the infield mix through trades, and matriculating George Brett and Paul Splittorff through the farm system. They battled through Oakland's five-year run of division crowns (1971-75), finishing second to the A's three times. Otis played well through this period, earning renown for his speed and glove. He led AL outfielders in putouts (404) and total chances (418) in 1971, and on September 7 of that season stole five bases in a nine-inning game against Milwaukee, one short of the major league record. He became only the fifth player since 1900--and the first since 1927--with five swipes in a game. Otis and Patek stole 101 bases between them that season, the highest total by two American League players on the same team since 1917.

In 1973, Otis finished third in the American League's MVP voting, behind Reggie Jackson and Jim Palmer. He made his only All-Star start that year; it came at his home stadium and he had two hits while batting fifth in the AL order. (Royals first baseman John Mayberry batted third.)

Otis's production slipped some in 1974, a season in which some hard feelings emerged on both sides in his relationship with Royals fans. "I can't help it if I make things look easy," Otis told Joe McGuff early in 1975 about the perception that he occasionally coasted. "Even in 1973, when I had my best year, people said I could do better. Last year I didn't have the year I wanted to have. I got to pressing. It was just something I couldn't overcome. Everything I do on this team, I'm first or second. I can't do much more than that. I know I didn't have the year I wanted, but you can't always do it. I got so I hated to come to the park. It was embarrassing.…As soon as you came out of the dugout, they were on you. After a while, you just hated to play."

Otis tied an AL record for most steals in two consecutive games with seven (April 30-May 1, 1975), but he struggled with injuries. A midseason tonsillectomy limited him to 132 games—his lowest total in the 1970s—and he finished with a .247 average. His walk total, however, spiked to 66; his on-base percentage held at .342, and his 39 steals were third in the league. Otis rebounded in 1976, and Kansas City—in its first full season with Herzog as manager—finally outraced Oakland to the American League's West Division title. The American League Championship Series brought heartache, however. In his first career postseason at-bat, leading off the bottom of the first inning in Game One at Royals Stadium, Otis severely sprained his ankle running out a grounder. He missed the remainder of the series. Kansas City was locked in a 6-6 tie with the Yankees in the deciding Game Five when Chris Chambliss homered off Mark Littell, setting off an insane celebration on the field in the Bronx and starting a string of three straight ALCS in which New York beat the Royals for the pennant.

Otis nearly made another career move following Kansas City's first divisional crown. After the season, the Royals completed a deal sending him and Cookie Rojas to Pittsburgh for Al Oliver. Rojas voided the transaction by using his 10-and-5 veto rights (10 years in the majors and 5 with one team). Otis remained a fixture in Kansas City's outfield. He was credited with popularizing the one-handed catch, a move he said helped him get rid of the ball faster. He won Gold Glove Awards in 1971, '73, and '74, and led AL outfielders in fielding average in 1978 and '79.

In 1980, the Royals finally beat the Yankees to advance to the World Series. Otis belted three home runs, knocked in seven, and hit .478 in a losing effort against the Phillies in six games. It was his only career World Series action. (He played in the ALCS four times for the Royals, batting .279; he went hitless in 12 at-bats in a sweep against the A's during the Divisional Series created by the strike in 1981.)

Otis's last season with the Royals was 1983. The club declined to exercise its option after he played the two guaranteed seasons on a $1.27 million contract. The Royals wanted to move Willie Wilson to center field. A free agent, Otis signed with the Pirates—the team he hadn't wanted to go to seven seasons earlier—and filled a reserve role for a struggling Pittsburgh club. After batting only .165 in 97 at-bats, Otis, 37 years old, was released in August, ending his career as a player.

Otis remained sporadically active in baseball after his playing days, working in the Rockies organization as a hitting instructor for a time in the late 1990s. He became a somewhat forgotten ballplayer everywhere except in Kansas City. Otis and former teammate Steve Busby were the first players inducted into the Royals Hall of Fame, in 1986. Voters for the National Baseball Hall of Fame in Cooperstown, however, did not cast a single vote for Otis in his first year of eligibility, and he was thus barred from the baseball writers' ballot.

Bill James, the renowned baseball writer, statistician, Kansas native, and staunch Amos Otis supporter, wrote a testament to the swift center fielder's legacy the year he left the Royals. In the Bill James Baseball Abstract 1984, James wrote:

Amos Otis was an intensely private man leading an intensely public life. He disdained showmanship—probably he hated showmanship—of any type and to any extent. He could never quite deal with the fact that his business was putting on a show. This is what is called 'moodiness' by the media. Yet there was a rare, deep honesty about him that was the defining characteristic of him both as a man and as a ballplayer. He could not stand to do anything for show. He could not charge into walls (and risk his continued existence as a ballplayer) after balls that he could not catch. He could not rouse the fans (and risk his continued existence as a baserunner) with a stirring drive for a base too far. He never in his career stood at home plate and watched a ball clear the fence. McRae and Brett, they did that sort of thing; Otis would sometimes turn away interview requests with a sardonic comment, 'Talk to Brett and McRae. They're the team leaders.'

It went further than that. Amos could not quite walk down the line when he hit a popup (that, too, would be dishonest) but he could not bring himself to run, either. Because it was false, you see? He wouldn't have been running for himself or for the team or for the base; he would have been running for the fans, or for the principle that one always ran.

Last revised: May 1, 2012
 
Sources

Bordman, Joe. "Royals' Otis En Route to Super Star Status," Kansas City Star, August 14, 1971.

Fimrite, Ron, "It's A Game of Pinches," Sports Illustrated, June 30, 1975.

Fimrite, Ron, "The West," Sports Illustrated, April 12, 1976.

Herron, Gary. "Another Famous Amos (Otis) Offers Some Pretty Startling Revelations...for the Record," Sports Collectors Digest, February 9, 1996.

Kansas City Royals 1980 Media Guide.

Keith, Larry, "Noble Mobile From Mobile," Sports Illustrated, June 21, 1971.

Leggett, William, "A Jam-up Of Talent At Third," Sports Illustrated, April 28, 1969.

Leggett, William. "Now Comes the Big Blue Machine," Sports Illustrated, April 23, 1973.

LeNoir, Bob. "Royal Thank You for Otis' Trade," St. Petersburg Independent, March 18, 1971.

Matthews, Denny, Fred White, and Matt Fulks, Play by Play: 25 Years of Royals on Radio, (Kansas City: Addax Publishing Group, 2002).

McGuff, Joe. "Otis Loosens Up—He's One of the Royals' Elite," Kansas City Star, March 27, 1971.

Mellinger, Sam. "Amos Otis Remembers the Last No-hitter Thrown against the Royals," Kansas City Star, May 20, 2008.

O'Leary, Ted, "Time For A Catfish Fry in KC," Sports Illustrated, August 6, 1973.

Articles from unidentified publications in Amos Otis File, provided by National Baseball Hall of Fame and Museum.