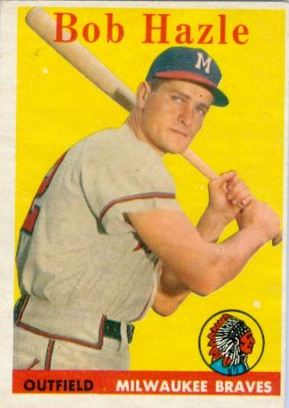 ---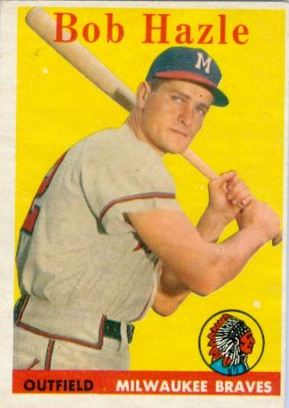 Until Hugo came along in 1989, Hurricane Hazel (1954) was the strongest storm ever to strike the South Carolina coast. Thus it is fitting that a man from the Palmetto State should be the mighty storm's namesake: right fielder Bob Hazle, who hit the National League with a bang late in the 1957 season. Although that season with the Milwaukee Braves was the highlight of Hazle's very brief major-league career, it is still remembered by sportswriters today. Over a span of 134 at-bats, he hit .403 and helped propel the Braves to the pennant and a World Series victory.
Robert Sidney Hazle was born in Laurens, South Carolina, on December 9, 1930, but grew up in nearby Woodruff. His parents, James Roland (J.R.) Hazle and Ella Belle Bishop Hazle, had six children. In addition to daughters Margaret and Azile, there were four sons: James, Paul, Joseph, and the youngest, Robert. Paul and Joe also signed professional baseball contracts. However, Bob was the only one who made it to the majors; Paul played in the minors from 1944 through 1947 and Joe from 1947 through 1955. Bob starred in four sports at Woodruff High School – football, basketball, and tennis in addition to baseball – and earned 16 letters before he graduated in 1949.
In addition, Bob played ball in the American Legion and in a South Carolina institution, the textile league. He was with teams for Mills Mill in Woodruff – where his father worked – in 1947 and Watts Mill in Laurens in 1946 and 1949. (Catcher Sammy Taylor, three years younger than Hazle, also graduated from Mills Mill to the majors.) Hazle's favorite sport in high school was football, and he had a scholarship offer from the University of Tennessee, but quit after a few days in favor of baseball. He attended Wofford College in Spartanburg, South Carolina, for one semester, but then chose to sign a pro baseball contract instead. To a boy growing up in a poor family, the bonus money of between $6,000 and $8,000 sounded very attractive.
In 1950 Hazle signed with the Cincinnati Reds, who assigned him to their Columbia team in the Sally (South Atlantic) League. The South Carolina state capital was only 80 miles from home. There, manager Gee Walker, the former Detroit Tiger, helped the new pro correct his bad habit of bailing out on pitches. Walker lay on the ground to hold the lefty swinger's foot in place during batting practice, and he then developed a triangular clamp that did the job. 1
During his initial period in the minors, Hazle played for the Tulsa Oilers (1951, 1953), the Indianapolis Indians (1954), the Nashville Volunteers (1955), and the Wichita Braves (1956). He made the Texas League all-star team in Tulsa in 1951, and the Reds called him up after the major-league All-Star break, but Uncle Sam got to him first, and Hazle spent part of 1951, all of 1952, and the beginning of 1953 in the Army. He was stationed at Fort Jackson, near Columbia, and was able to play a lot of regimental baseball. The Reds called him up for spring training in 1954, but it didn't work out.
Hazle remembered this as the time things began to go a bit sour for him.  He wasn't getting much playing time. Even though he had hit around .300 with Columbia and Tulsa, he was doing a lot of sitting. And then there was that stint in the military, which came at exactly the wrong time in his career. As he said, "When you get down, especially in the minor leagues, it's hard to get back up."2 As a minor leaguer, he had a batting average of .287, an on-base percentage of .338 and 249 RBIs – but the 1954 season in Indianapolis was his worst (.224-4-23).
It was while playing winter-league ball in Venezuela in 1954 that Hazle first earned the nickname "Hurricane." (That October the Category 4 Hurricane Hazel had struck the US coast near the border between North and South Carolina.) In 1955, while playing 150 games for the Nashville Volunteers, Hazle batted .314. But while he had never hit for much power before, that year he hit 29 homers and drove in 92 runs. The Reds brought him up to the majors, and he hit a single to center in his first at-bat during his major-league debut on September 8. He played in six games for Cincinnati before the season ended.
Hazle went to spring training with the Reds in the spring of 1956, but just before the season started he and pitcher Corky Valentine were traded to the Milwaukee Braves for first baseman George Crowe. Hazle was never given a reason for the trade, but he recalled, "In those days a ballplayer was like a horse. Open his mouth, look at his teeth, check his legs, and say 'Trade him.' "3 The Braves immediately sent Hazle down to their Triple-A team in Wichita, where he hit .285 and had 13 homers. Midway through the season, he stepped on something in the outfield and seriously injured his knee. He was forced to hobble through the rest of the season. Hazle almost decided to quit baseball altogether. "I thought I had had it," he said. "I decided that if I didn't make the majors by '57 I would call it quits."4
Hazle played at Wichita again in 1957. His manager, Ben Geraghty, showed a lot of confidence in him and refused to send him down to Double-A. His knee began to strengthen, he started playing more regularly, and his batting average soared. Late in July, the Braves brought Hazle up from the minors to replace injured outfielder Bill Bruton. He joined the roster for the 100th game of the season, and shared right-field duties with Andy Pafko. Hazle said he promised himself one thing, "that if I failed, it wasn't going to be for not trying."5 What followed was a baseball sensation that won the Braves a place in the World Series. Using a bat borrowed from teammate Chuck Tanner, he once again became "Hurricane" Hazle, and this time the nickname stuck. A month later, he was batting .507. An article in the New York Times summed it up:
"The Milwaukee Braves' rookie outfielder has stunned the baseball world with his outstanding hitting since he was recalled a month ago from Wichita. He owned a modest .279 batting average at the time. The 26-year-old left-handed hitting South Carolinian has made thirty-four hits in sixty-seven times at bat for an average of .507. …'It doesn't seem possible that anyone can keep up such a pace,' said Red Schoendienst …'but right now the kid is Stan Musial, Mickey Mantle and Ted Williams all wrapped in one.' … Some say he simply is an overnight sensation. … Others, such as Andy Pafko, the Braves hard-hitting flychaser, say Bob is a natural hitter. 'The kid can really rip the ball,' Pafko said. 'Next to Henry Aaron, he's got the strongest wrists in baseball. And he doesn't swing at too many bad balls, either.' "6 Hazle's teammate Frank Torre said, "He looked like the best hitter in the world. … He never got fooled." And Eddie Mathews credited him with winning the 1957 pennant for the Braves.7 Hazle ended the season with a .403 batting average in 41 games. He hit seven home runs and had 27 RBIs. His slugging percentage was .649.
The Braves won the World Series by beating the New York Yankees that year, even though Hazle batted only .154 during the Series. He did, however, have two hits in the seventh game, the first of which sparked a four-run outburst by the Braves. In that game Hazle also tied Mel Ott's record for the most putouts in an inning for a right fielder, three. Even though he had only 134 at-bats for the year, he was fourth in the voting for Rookie of the Year.   In an interview done for the 1990 book When the Cheering Stops, Hazle remembered his first visit to Yankee Stadium: "I'll never forget coming to Yankee Stadium for the first time. I mean, here I am, a little ol' boy from the little ol' town of Woodruff, South Carolina, and I'm in Yankee Stadium to play in the World Series, the same ballpark where Babe Ruth played, where DiMaggio played, and all the others. It was simply the ultimate." 8
There was a bittersweet side to Hazle's wonderful run, though. "The team wanted to give me only a twelve-hundred-dollar raise. Plus I didn't get a bonus I was promised. My World Series share was supposed to take care of that. But I told them I had earned that share and helped the team get there. …We finally agreed, but maybe that whole thing led to what happened next." 9
After playing winter ball in the Dominican Republic, Hazle rejoined the Braves for spring training in 1958, but was hit in the head by a pitch from Tom Morgan of the Tigers. Then early in the season he hurt his ankle sliding into second, and was then beaned again by a pitch from Larry Jackson of the Cardinals. He was hospitalized for a week or so, and his equilibrium was thrown off a little. In May of 1958, the Braves sold him to the Detroit Tigers for $50,000. According to the Chicago Daily Tribune, "The deal climaxed a disappointing spring for Hazle, who helped propel the Braves to a National League flag last season by hitting .403. His 1958 batting average with the club had shrunk to a mere .179."10 Jack Tighe, the Tigers' manager, used Hazle to relieve the ailing Al Kaline, and at one point he was hitting .300. But Tighe was fired on June 10, Bill Norman took over, and Hazle was once again riding the bench. He played in 43 games for the Tigers, and had a .241 average in 58 at-bats. His last major-league appearance was with the Tigers on September 28, 1958. Over his major-league career, he played in 110 games and had 261 at-bats and a batting average of .310. He hit nine home runs and batted in 37 runs.
Hazle wasn't called up for the Tigers' spring training in 1959, but was assigned to Charleston in Triple-A. He then played for the Birmingham Barons and the Little Rock Travelers (Double-A) in 1960. Once back in the minors, he said, "My confidence was shot. In the majors, you have it all built up inside you. But when you end up back in the minors there's the small ballparks again with no one coming out. It's very discouraging. And even though I was hitting well, I just didn't feel I would ever get another chance. And as it turned out, I was right."11 
That winter Little Rock sold Hazle's contract to the Macon Peaches of the Southern Association. Instead, in April 1961, he retired at the age of 30. In a 1987 interview, he told writer David Lamb, "Everything went wrong, and that was the end of it. … I told the wife it was time to wrap it up."12 And once he left the game, he "never thought about going back, managing, coaching, or whatever. What's done is done. Besides, the way it ended, I left with kind of a bad taste in my mouth for baseball." 13
After he returned to South Carolina, Hazle worked first as a salesman for a monument company, and then as a sales representative for Coggins Granite Industries. He and his first wife, Jo Ann, had a son named Robert Jr. (Robbie) and a daughter named Jodie. Jo Ann died of cancer in 1970, and in 1972 Hazle married his second wife, Pat, who was an accountant. She had two children from a previous marriage (Bob and Pat did not have any children together). He ended his career as a salesman for the Ben Arnold Beverage Company, a wholesaler of wine and whiskey. He also worked with an annual charity golf tournament in Ringgold, Georgia, which raised money to benefit the Special Olympics. It was Hazle's job to make sure that former major-league players showed up to play. He had a heart attack in 1981, followed by open-heart surgery. This forced him to slow down his pace a little, and in 1987 his wife, Pat, declared that "The Hurricane, these days … is really just a gentle breeze." 14
Bob Hazle died on April 25, 1992, in Columbia, South Carolina, after suffering another heart attack. He was buried in Crescent Hill Memorial Gardens there. This man never bragged about his major league successes. According to his widow, Pat, "That [1957] season was truly a magical whirlwind for him, and he put South Carolina on the map. … But he would never say he was a hero. He had a true love for baseball."15 And he was philosophical about his experiences in the sport: "Look at it this way. I'll always have 1957. There was the pennant race and then the World Series. Some players, even great ones, never get there. But I did. And we won it. And we beat the Yankees."16
This biography is included in the book "Thar's Joy in Braveland! The 1957 Milwaukee Braves" (SABR, 2014), edited by Gregory H. Wolf. To download the free e-book or purchase the paperback edition, click here.
Sources
Baseball-Almanac.com: baseball-almanac.com/players/player.php?p=hazlebo01
Baseball-Reference.com: baseball-reference.com/players/h/hazlebo01.shtml
The Baseball Page: thebaseballpage.com
Foster, Jim. "Bobby Hazle Glad He Chose Baseball," Spartanburg (South Carolina)Herald, August 16, 1957, 14.
"752 Woodruff Fans Send Bob Hazle Good Luck Wire," Spartanburg (South Carolina) Herald, October 2, 1957, 1.
"Woodruff Welcomes Home Bob Hazle Today," Spartanburg (South Carolina) Herald, October 19, 1957, 8.
Cole, Bob. "Hazle Had Torrid Year for Braves," The State (Columbia, South Carolina), April 28, 1992, 1C.
"Hurricane Bob Hazle, Retired Pro Baseball Player, Dies at 61," Charlotte Observer, April 27, 1992, 5C.
Paul Hazle obituary, The State, July 4, 2009.
Perry, Thomas K., Textile League Baseball: South Carolina's Mill Teams, 1880-1955 (Jefferson, North Carolina: McFarland and Company, 1993).
McGuire, Mark and Michael Sean Gormley. Moments in the Sun: Baseball's Briefly Famous (Jefferson, North Carolina, McFarland and Company, 1999).
Notes
Born
December 9, 1930 at Laurens, SC (USA)
Died
April 25, 1992 at Columbia, SC (USA)
If you can help us improve this player's biography, contact us.
http://bioproj.sabr.org/bp_ftp/images5/HazleBob.jpg
600
800
admin
/wp-content/uploads/2020/02/sabr_logo.png
admin
2012-01-04 20:31:45
2020-06-16 17:23:32
Bob Hazle