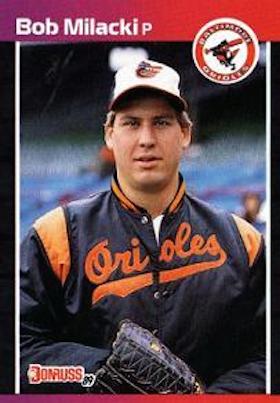 ---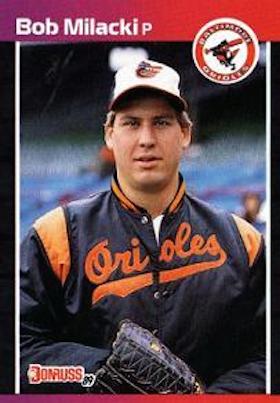 Selected by the Baltimore Orioles in the second round of the 1983 MLB amateur draft, Bob Milacki garnered little attention with a pedestrian record of 16-21, 3.79 in his first 290 innings in the minor leagues. "I'd been in the organization [three] years and never impressed anybody," the right-hander later acknowledged.1 In 1988, as the Orioles stumbled to the franchise's worst season in 49 years in St. Louis and Baltimore, Milacki was selected among the club's September call-ups. Shoved into the starting rotation—a move seemingly made more from necessity than anything else—Milacki presented one of the season's few pleasant surprises when he collected two of the club's final three wins over a miserable 20-game span.2 A year later he established the team record for innings by a rookie (243) while helping the Orioles to an exciting near last-to-first finish.3
Though Milacki never cited the extensive workload as an excuse, the hefty innings hoisted upon the rookie in 1989 likely contributed to the shoulder tendinitis that limited the burly 6'4", 220-pound righty to just over half as many frames the following year. Thereafter Milacki spent 10 years bouncing between Class-AAA and the majors (including one year in Japan) trying to recapture the magic he brought to Orioles fans in 1989.
Robert Milacki (he did not have a middle name) was born on July 28, 1964, the youngest of six children of Charles S. Sr. and Margaret M. (Fischer) Milacki, in Trenton, New Jersey. He was the grandson of Polish immigrant Casimur Milacki who, at 5 years old, arrived in the United States with his large family in 1913. When the Depression hit sixteen years later, Casimur was fortunate to find work as a truck driver for a Trenton-area box company. He eventually went to work for the General Motors Corporation, where he carved a long career as a tool-and-die journeyman. In the 1920s Casimur married Sophie Krulewicz, a New Jersey native of Polish heritage five years his junior. The couple had two sons, the eldest of which was Bob's father.
Trenton was an industrial hub for iron, rubber and steel, and in the 1950s Charles Milacki entered the latter industry. He married but the union dissolved in divorce by the early 1970s. Bob moved with his mother and siblings to northwest Arizona where they settled in Lake Havasu City around the same time that the London Bridge was reassembled in the small city. A natural athlete, in 1977 the 12-year-old scored a hole-in-one on a local golf course with a 110-yard tee shot. Bob attended Lake Havasu City High School, where his baseball skills were honed under the guidance of distinguished coach and later professional manager and scout Harry Gurley. Following his high school graduation in 1982, Milacki went to Yavapai College in Prescott, Arizona. Notable for producing a large number of professional soccer and baseball players, the community college's most famous athletic alum was Milacki's future Orioles teammate, Curt Schilling. In 1983—three years prior to the Boston Red Sox's selecting Schilling in the MLB amateur draft—the Yavapai Roughriders' most attractive star was freshman hurler Bob Milacki. Presumably seeking to complete his first term at Yavapai, the righty spurned San Diego when the Padres selected him as the ninth overall pick in the 1983 January draft. But five months later, following the aggressive pursuits of scouts Jim Driscoll and Joe Bowman, Milacki signed with the Orioles when the club selected him in the second round of the June draft.
As aforementioned, Milacki's first three years of professional play went largely unnoticed except for a stingy 0.3 home run yield. Excluding one game with Class-AA Charlotte in the Southern League, Milacki shuffled among various Class-A clubs over this period. But in 1987 he began to exhibit his much-awaited potential. Assigned to the Charlotte O's, on May 28 Milacki delivered 11⅓ hitless innings before settling for a 2-1 14-inning win against the Chattanooga Lookouts. Benefitting from his offensively-charged teammates, he placed among the league leaders with 11 wins despite a mediocre 4.56 ERA. Though he had struggled with a high walk yield throughout his first three seasons, in 1987 the durable hurler showed improved control while leading his club in starts (24) and strikeouts (101).
The 1988 season was the true turning point in Milacki's career. Starting the season in Charlotte, he earned the franchise's player of the month award in April and May with three wins and a 2.39 ERA over 37⅔ innings (five starts). Advanced to the Rochester Red Wings in the International League, Milacki continued his successful run with five straight wins in Class-AAA. In July he was selected to the first All Star squad made up of Triple-A prospects from each of the three top circuits. Despite his late start, Milacki placed among the league leaders in wins (12), innings pitched (176⅔) and shutouts (3) while pacing the Red Wings to their first pennant in a dozen years. When the campaign ended he was selected by the Orioles as a late-season call-up.
On September 18, 1988, Milacki made his major league debut in Detroit's Tiger Stadium. Except for a third-inning double by Tigers third baseman Tom Brookens, Milacki held the home team hitless through eight innings as he collected a 2-0 win. Five days later he faced the Tigers again, this time in Baltimore's Memorial Stadium. Carrying a four-hit, 3-1 lead into the ninth, Milacki was lifted after surrendering a leadoff home run to Tigers catcher Matt Nokes. The bullpen was unable to preserve the lead and Milacki did not figure in the decision when the Orioles won the game in their half of the ninth. On September 28, Milacki earned his first major league shutout and collected the first of two career-high 10-strikeout performances in a 2-0, three-hit win against the New York Yankees. He held AL batters to a meager .120 average over 25 innings while posting 18 strikeouts and a 0.72 ERA. Following the Orioles' only season without a 10-game winner, Milacki was immediately appointed to the club's rotation in 1989. Stunned by his own success, the youngster admitted, "I never dreamed I would end this season in the big leagues. I thought maybe I'd have a chance for Triple-A, but not this."4
Before the start of the 1989 season, sportswriters invoked past Orioles greats when they dusted off the term "Baby Birds" to describe the club's projected rotation of rookie righty and Baltimore native Dave Johnson and a quartet of hurlers no older than 25. Tabbing Milacki as a likely candidate for AL Rookie of the Year—a remarkable compliment considering the rich roster of competitors that included Milacki's teammate Gregg Olson, slugger Gary Sheffield, and future HOF outfielder Ken Griffey, Jr.—The Sporting News contributor Moss Klein said that first year "Orioles' pitchers . . . Jose Bautista, Bob Milacki and Pete Harnisch should be fun to watch as they learn on the job."5
Part of the fun Klein expected was delivered on April 23 when Milacki became only the third pitcher in Orioles history (joining future HOF righty Jim Palmer and former AL Cy Young Award winner Mike Flanagan) to face the minimum 27 batters while leading the club to a three-hit shutout against the Minnesota Twins. But the outing proved to be one of just four wins for the righty through the first half of the season as Milacki struggled through 17 inconsistent starts. On April 28 he was shelled in the first inning by the Seattle Mariners, only to pitch splendidly five days later and still absorb the loss in a 2-0 duel against the California Angels' future HOF righty Bert Blyleven. Milacki suffered eight losses through June 30, five of which were when his teammates scored two or fewer runs.
Milacki found more success in the second half of the season. Moreover, the Orioles, the 1988 AL doormats, realized the largest increase in MLB attendance as the club remained perched at the top of the standings throughout most of the season. But in August, in the face of the surging Toronto Blue Jays, Baltimore's lead dwindled to just one game. Orioles manager Frank Robinson turned to a four-man rotation and, at the very end of the season, a three-man in an attempt to hold on. On pace for a league-leading 36 starts (tied with four others), Milacki thrived with the frequent usage. "I've got faith in him," Robinson said. "He just takes the ball and does his job."6 On August 15, on just three days' rest, Milacki collected his second shutout of the season with a three-hit gem against the Tigers. He won seven of his last eight decisions to finish with a record of 14-12, 3.74 in 243 innings. He and lefty Jeff Ballard, who entered the season with a combined 10 major league wins, accounted for more than one-third of their club's 87 wins. But it wasn't enough to halt the Blue Jays' blistering .655 play over the final weeks of the season to overtake the Orioles. During the offseason the club more than tripled Milacki's 1989 salary—placing him among the highest paid sophomores in baseball—after the righty established career-high marks in wins, appearances (37) and strikeouts. Already acknowledged as one of the nicest players on the club, in January Milacki was a big hit among Orioles fans as he accompanied his teammates on the team's winter press caravan.
Ballard's slow recovery from offseason elbow surgery afforded Milacki his only career Opening Day assignment on April 9, 1989. He held the Kansas City Royals hitless through 3⅔ innings and was lifted after five, not figuring in the 7-6 extra-inning win. Eleven days later Milacki delivered five innings of no-hit ball against the Tigers before settling on a 6-0 win and he finished April with a splendid 2.84 ERA. But May proved another matter when Milacki was unable to survive through the fourth inning in four of his first five starts, including a dreadful outing against the Twins in which he surrendered four runs while garnering just one out. Following three consecutive losses, Orioles pitching coach Al Jackson said, "You can't give up on him. There's ability there; we just have to work to get it out."7 On May 29, Milacki rebounded on just two days' rest to earn his second win of the season, scattering seven hits over 6⅓ innings to beat the Twins, 5-1. Except for a challenging start against the Milwaukee Brewers two weeks later, Milacki had a splendid June with two wins—including his fourth career shutout—and a 3.63 ERA. But the month ended on a sour note when he was diagnosed with tendinitis in his right shoulder.
Determined to pitch through the tenderness, Milacki declared, "I just hope they keep giving me the ball every fifth day."8 They [management] did, but the results were less than expected as Milacki was unable to complete the third inning in half of his next six starts (four losses). With a noticeable loss in velocity, Milacki was placed on the 15-day disabled list where he remained throughout August. Working out of the bullpen in his first three September appearances, Milacki obtained mixed success before ending on a high note with seven shutout innings of two-hit pitching against the Cleveland Indians to earn his last win of the season. The formerly successful tandem of Milacki and Ballard contributed just seven wins combined in 1990 as the Orioles tumbled to a disappointing 76-85, fifth-place finish.
An offseason spent resting his shoulder proved counterproductive when Milacki struggled throughout the Orioles' 1991 spring training. Requiring additional work, Milacki was assigned to the Hagerstown (Maryland) Suns in the Eastern League (Class-AA) where he rebounded with three wins and a 1.06 ERA in three starts. Recalled by the Orioles, Milacki made his season debut on April 28 with 5⅓ innings of one-hit relief to earn a 5-4 win against the Brewers. The offseason acquisition of righty Jeff Robinson from the Tigers, combined with the emergence of sophomore hurlers Jose Mesa and Ben McDonald, made for a congested Orioles rotation in 1991. Moreover, in light of the shoulder problems from the preceding year, the club was determined to bring Milacki along slowly. He did not get his first starting assignment until May 20. In a most-forgettable outing, Milacki walked four of the first batters before Tigers left fielder Pete Incaviglia launched a grand slam to deep left field to put the Orioles in a 5-0 hole. When Milacki walked third baseman Travis Fryman he was through for the day.
A week later the desperate Orioles, on course for the major league's worst ERA for the season, moved Milacki into the rotation permanently. The righty responded with three consecutive wins in June followed by a July 13 gem against the Oakland Athletics in which he combined with three others to secure the second multi-pitcher no-hitter in club history and the Orioles' first no-hitter in 22 years.9 Two months later he collected his fifth—and last—major league shutout with a five-hit win against the Yankees. On October 6, Milacki earned the privilege as the Orioles' starting pitcher in their last game in Baltimore's historic Memorial Stadium. Though his appearance was far from vintage—surrendering eight hits and five runs (four earned) in just 2⅔ innings—Milacki finished the season by pacing the Orioles' staff in wins (10), starts (26), complete games (3), innings (184) and strikeouts (108)—a remarkable feat considering his late start to the campaign.
In February 1992, Milacki became the first player since Billy Smith in 1980 to take the Orioles to arbitration. Going in nearly $500,000 apart, Milacki won an award of $1.18 million. But a promising start to the season—4-2, 4.47 in 50⅓ innings—eventually succumbed to disappointment. Evidenced by the fewer strikeouts accumulated after the 1991 season, Milacki was unable to throw with the same velocity because of his continued shoulder tenderness. Forced to convert to more of a finesse pitcher, he tried to spot his pitches with little success. Orioles manager Johnny Oates, who had replaced Robinson during the 1991 season, told Milacki, "You've stuff is good enough. You've got four good pitches . . . see how far they can hit the ball."10 But this advice came to no avail as Milacki, in a string of six appearances beginning June 13, went 0-4 while averaging a mere 3⅔ innings per start. In July he was assigned to Rochester where he remained until rosters expanded in September. Milacki made five appearances (two starts) and finished the season with a disappointing record of 6-8, 5.84 in 115⅔ innings. In December he was granted free agency.
Except for one season with the Osaka Kintetsu Buffaloes in the Japan Pacific League, Milacki spent the next seven years bouncing among various AAA affiliates. In 1993 he surfaced with the Indians as a September call-up but was released after the season. A year later Milacki was called up by the Royals after prized rookie Jeff Granger stumbled in two early season starts. A promising start gave way to five straight losses and a yield of 34 earned runs over 35⅔ innings in seven of his next eight starts that earned him a return trip to the Omaha Royals in the American Association. In 1996, following a back injury to left-handed flamethrower Randy Johnson, Milacki was called by the Mariners as a temporary fill-in for the future Hall of Famer. Returned to the Tacoma Rainiers, Milacki, who was having a tremendous comeback season in the Pacific Coast League (13-3, 2.74 in 164⅓ innings), was selected among the Mariners' late season call-ups. On September 21 he closed out the last inning of a 9-2 win against the Athletics in what proved to be Milacki's last major league appearance. He spent the 2000 season with the St. Paul Saints in the independent Northern League Central before finally retiring.
Milacki returned to Arizona where he was reunited with his wife and three children. In the 1980s he had married his high school sweetheart, Kimberly Patricia Mycek. The daughter of a landscape company owner in Lake Havasu City,11 one of Kimberly's earliest experiences of being married to a professional ballplayer was getting mugged in Miami in 1986. (This bad luck extended to Milacki a year later when his car was broken into.) Their only son, Robert A. Milacki, became a baseball star at the same Lake Havasu High School from which his father graduated in 1982. Eyed by scouts for the Philadelphia Phillies and Cincinnati Reds, in 2015 Robert opted instead for Hutchinson Community College in Hutchinson, Kansas, before transferring to Grand Canyon University in Phoenix to be closer to home. But the pull of baseball was not limited to Milacki's son alone. One year after he threw his last professional pitch, the righty was on the sidelines coaching in the lower minors for the Pittsburgh Pirates. Through 2016 Milacki remained among the professional coaching ranks with the Pirates, Phillies and Washington Nationals, helping to launchthe careers of rising stars such as Matt Capps, Ken Giles, Aaron Nola and Joe Ross.
Milacki concluded an eight-year major league career with a record of 39-47, 4.38 in 795⅔ innings. Whether he was overworked in his 1989 rookie season is a matter of conjecture. But the shoulder tendinitis that affected him the following year brought an overly rapid close to a once-promising career.
Last revised: November 1, 2016
Acknowledgments
The author wishes to thank SABR members Bill Mortell and Rod Nelson, chair of the SABR Scouts Committee for their valuable research.
Sources
Ancestry.com
Notes
Born
July 28, 1964 at Trenton, NJ (USA)
If you can help us improve this player's biography, contact us.
http://sabr.org/sites/default/files/MilackiBob.jpg
600
800
admin
/wp-content/uploads/2020/02/sabr_logo.png
admin
2016-11-01 21:51:15
2016-11-01 21:51:15
Bob Milacki