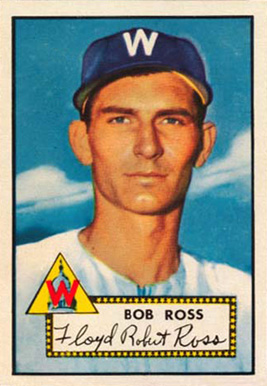 ---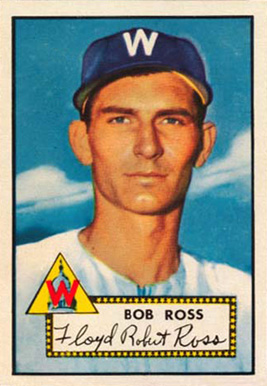 On Thursday afternoon, March 31, 1938, the Pittsburgh Pirates played an exhibition game against the Pacific Coast League's Portland Beavers at Amerige Park in Fullerton, California. Bob Ross, a 9-year-old student at Ford School, just a few blocks from the baseball field, was given permission by his mother, Louisa Ross, to attend the game.
"From that day on, I knew what I wanted to do," Ross recalled.
Ross was born on November 2, 1928, in Fullerton. When he was around 15, Ross remembers going to a Dodgers open tryout at Recreation Park in Long Beach with fellow Fullerton High School teammate and future major league all-star Del Crandall.
"I was a 5-foot-9, 135-pound, 15-year-old kid, but they kind of liked me," Ross remembers. "I was caught that day by Branch Rickey Jr."
In 1945, Ross was signed by Brooklyn Dodgers legendary scout Tom Downey, who signed many Southern California players, including Duke Snider, Dee Fondy, Irv Noren, and years later, Bob's own brother Billy, who played four years in the Dodgers organization.
At 16 years old, Ross found himself on a cross-country train to pitch for Thomasville in the North Carolina State League. His father Floyd, who worked as a house-mover, was apprehensive about sending his teenage son across the country to play baseball, but surprisingly, his mother supported the idea.
"I was paid $200 to show up and $90 a month," Ross said of his first professional baseball contract.
That summer he pitched in 15 games, 94 innings, and finished with a 5-7 record and a 3.16 ERA.
Ross returned to his hometown of Fullerton, California, to finish his senior year at Fullerton Union High School, but due to signing a professional contract, Ross was ineligible to play his last season of high school baseball.
After high school graduation in 1946, Ross was moved up to the Santa Barbara Dodgers Class C team in the California League. "They paid me $150 a month, which at that time seemed like all the money in the world!" Ross said.
With the Santa Barbara Dodgers, Ross appeared in 22 games, pitching 141 innings, and finishing with a record of 10-7 and a 3.57 ERA. Future All-Star Irv Noren was a teammate of Ross' on that team, and they would become teammates again in the big leagues with the Senators. Ross, now 88, and Noren, 92, still keep in touch today.
Ross spent the next three seasons climbing the Dodgers' minor league ranks playing in Ft. Worth, Pueblo, and St Paul.
On February 6, 1949, Bob and his wife Jacklyn, who he'd known since second grade, were married at The Chapel of the Bells in Anaheim, California. The newlyweds were then off on cross-country trip to Vero Beach, Florida for spring training.
Future Hall of Fame manager Walter Alston was his manager in Pueblo and St. Paul. "Alston liked me, and had me taken with him from Pueblo to St. Paul." Ross remembers.
His batterymate on a couple of occasions in St. Paul was future Hall of Famer Roy Campenella. "He was only there a month, and hit about 13 home runs for us," Ross remembered. "We all knew that he was destined for the big leagues."
At the end of the 1949 season, Ross said, "the Dodgers had had enough of me." He was taken by the Washington Senators in the minor league draft and assigned to Double-A Chattanooga.
In mid-June 1950, Ross was in New Orleans pitching against the Pelicans when he was given the news that every minor-leaguer dreams of hearing, "You're going to the big leagues."
The next day he flew through thunderstorms from New Orleans to St. Louis to meet up with the Washington Senators before their doubleheader against the Browns.
Ross' first major-league appearance came a few days later. On June 16, 1950 in Chicago's Comiskey Park, Ross was called in to mop up for Steve Nagy, who had given up six runs in 2 2/3 innings.
"Our starter got knocked out early, and I came in in the third inning, and did pretty well, but we lost." Ross remembers of his major-league debut. He ended up pitching 5 1/3 innings that night, giving up four hits, one earned run, three walks and a strikeout against the White Sox.
Ross' first start came on June 23, 1950, in Cleveland against future Hall of Famer Bob Lemon. "His sinker was dropping a foot that night," Ross remembered with amazement. Ross lasted 3 1/3 innings, giving up six earned runs and taking the loss.
Ross appeared in just six games for the Senators that season. He still questions whether bringing him up early in the season was the right move. "It destroyed my confidence," Ross remembers. If I had been a September call-up and then started the 1951 season with the Senators, I probably would have been all right, but the Senators were desperate for pitching."
Ross was sent down to Double-A Chattanooga to finish out the season because "the Senators didn't have a Triple-A team."
Ross made the 1951 Senators team out of spring training and appeared in 11 games for the Senators, pitching 31 2/3 innings, and finishing with a 0-1 record and a 6.54 ERA. In a June 9 game in St. Louis, Ross got the only major-league hit of his career off Browns pitcher Jim Suchecki.
"He made the mistake of hitting my bat with the ball," Ross deadpanned. "I wasn't much of a hitter, but they had a short porch in right field at old Sportsman Park, and I hit it off of the right field wall." His only major-league hit was a double that scored two runs for the Senators.
Midway through the Senators' 1951 campaign, Ross was optioned to the Kansas City Blues. There, one of Ross's teammates was a 19-year old prospect named Mickey Mantle, who had also been sent down by the big-league club.
The Kansas City team was managed by George Selkirk. "He was an old-school type of guy, real hard-nosed, would make us run, I mean run, for an hour in the outfield," Ross remembered of Selkirk, who is mainly known by baseball historians as the man who had the unenviable job of replacing Babe Ruth in the Yankees outfield in 1935.
In 1952, Ross was in spring training with the Senators when he was drafted into the Army. He was stationed at Camp Roberts and then was later "traded" with a few other soldier-athletes to Fort Ord, where he played on the division's baseball team.
Ross returned to professional baseball in 1954 and started out hot with a 4-1 record. He admits that he wasn't physically prepared and overdid it. He ended up with a "sore arm." He had to sit out nearly eight weeks before returning at the end of the season and finishing 7-4.
Ross spent 1954 and 1955 in Double-A Chattanooga before his contract was sold at the end of the season to the Philadelphia Phillies. "This was the first time that I had a real pitching coach," Ross remembered of Whit Wyatt.
"He was a 22-game winner for the 1941 Dodgers and helped me develop a slider to go along with my fastball, change, and curve."
Ross appeared in three games for the Phillies in 1956, posting an 8.10 ERA in just 3 1/3 innings of work. His contract was sold to the Milwaukee Braves on July 28 for $30,000 and he was assigned to the Braves' Triple-A team in Wichita.
In 1957, again playing for Wichita, Ross appeared in 33 games, the most in his 13-year professional career. One of the backstops on that team was a young, quiet kid, who didn't say much," Ross remembered. "He had a good arm, and was a very good catcher, but didn't hit much."
That young, quiet kid who didn't say much would eventually end up being honored by the Baseball Hall of Fame with the Ford C. Frick award for broadcasting. He was the broadcaster affectionately known as "Mr. Baseball," Bob Uecker.
In 1958, Ross played for the Sacramento Solons of the Pacific Coast League. "I loved it," he said. "It was the best stop of my career. The PCL was just past its glory days, losing the San Francisco, [Hollywood,] and Los Angeles teams due to the Giants' and Dodgers' move west. The weather, travel, hotels, ballparks, and money were all good," Ross remembers.
By this time, Ross had his college degree and a teaching credential from Long Beach State University. He was only playing in the summer when he was free from his teaching job. He appeared in 10 games for Double-AA Atlanta in 1959, finishing with a 2-2 record before "hangin' em up."
His major-league career totals were: 20 games, winless in two decisions. He gave up 55 hits, 38 walks, and struck out 29 in 47 2/3 innings of work.
Ross and his wife had four children: Margaret, Robert, Thomas, and Carolyn. He worked for the Anaheim Union School District as a teacher, principal, and district administrator until his 1984 retirement. In the early 1990s, he worked as an assistant scout with Bob King for the Houston Astros.
Bob and Jackie divorced and she passed away in 1990. Bob owned and personally tended his 20-acre avocado grove in Rancho California well into his 70s, eventually selling the grove in 2003.
In April 2017, at the time of our interview, Ross was retired and living with his second wife Shirley in San Jacinto, California.
Last revised: September 20, 2017
Acknowledgments
This biography was reviewed by Tom Schott and fact-checked by Alan Cohen.
Sources
Baseball-Reference.com
Three telephone interviews between David Jerome and Bob Ross, March and April 2017. All quotes are from these author interviews.
Born
November 2, 1928 at Fullerton, CA (USA)
If you can help us improve this player's biography, contact us.
https://sabr.org/sites/default/files/RossBob.jpg
600
800
admin
/wp-content/uploads/2020/02/sabr_logo.png
admin
2017-09-21 13:07:10
2020-04-09 14:40:31
Bob Ross