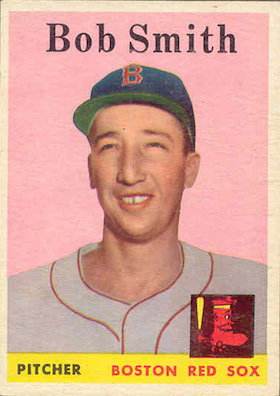 ---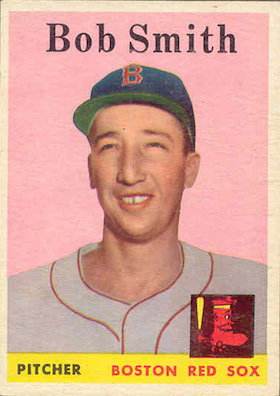 In the early 1950s, the Boston Red Sox signed two left-handed pitchers named Bob Smith. They both batted right-handed and they both were about the same height and weight. Robert Gilchrist Smith was the first one signed, in 1948. He is the subject of a separate biography.
In 1950 scout Chuck Koney of the Red Sox signed Robert Walkup Smith out of the University of Missouri Columbia. He was born on May 13, 1928, in Clarence, Missouri. His parents, Elbert and Ada Pearl (Walkup) Smith, were both native Missourians. Elbert Smith was listed in the 1930 census as a general farmer. They had four children – Elbert, Bobby, Myra, and Max. Smith claimed Scotch-Irish descent.
Smith graduated from Clarence High School and also the University of Missouri. With the university, he was named to the All-Big Seven baseball teams in 1948, '49 and '50. In June 1949, he married Gwendolyn Kelly in Storm Lake, Iowa.
The nickname "Riverboat" had nothing to do with Smith growing up in a Mississippi River community. Clarence is about 50 miles due west of Hannibal, which is on the river. The nickname? Reportedly, "West Coast scribes pinned it on him a year ago [in 1957] because they felt he worked on the hitters with the skill and cunning of a riverboat gambler."1 He said he liked the nickname. "It's distinctive. It keeps me from being confused with other Bob Smiths."2
His first season in professional baseball was with the Scranton Red Sox (Class-A Eastern League) in 1951, and he had a strong 13-8 (3.30) first year, which included five shutouts. In the playoffs, Scranton won eight consecutive games to sweep both rounds. Smith shut out the opposition twice during the eight-game stretch. He struggled in 1952 and 1953. In 1952 he was 1-5 with Class-B Roanoke, 1-2 with Class-A Albany, and 1-0 for the Triple-A Louisville Colonels, only working a combined 65 innings. The one win for Roanoke was a no-hitter against Newport News on August 28, 1952. He was with the Louisville Colonels again in 1953 but only worked in 12 games all season (he was 1-4). Why? He reportedly "quit baseball…to return to the farm because he felt he wasn't getting enough money."3
Farming wasn't easy, either. He had bought a big farm and later admitted, "I found farming tougher that baseball in building up a bank account" and so returned to the game in 1954.4
In 1954, working exclusively as a reliever, Smith was 1-2, appearing in 23 games, with an ERA of 3.79. He only worked 38 innings. He was joined on the Colonels by the "other Bob Smith" – Robert Gilchrist Smith – in 1955 and again in San Francisco in 1956. (Some Boston fans no doubt still remembered yet another Bob Smith, who had pitched for the Boston Braves 1925-30 and 1933-37.) Riverboat Smith worked in 42 games, including 13 starts, a total of 108 innings. His ERA was 4.25 and his record was 7-5.
In 1956 he worked more than 174 innings and recorded a 4.44 ERA. He started 25 games and relieved in eight others. He was 7-5. (Robert Gilchrist Smith was a comparable 8-11, 4.38 with the Seals. R. G. Smith was drafted by the Detroit Tigers in the Rule 5 draft that December.) Robert Walkup Smith returned to the Seals in 1957 and eventually made the Boston Red Sox in 1958. In 1957 he was 13-10 (3.35) for San Francisco, and won eight of his last nine decisions. Among the wins were a league-leading six shutouts – sure to attract attention around baseball.
Over the wintertime, he pitched in Venezuela and was 13-6 for Maracaibo. Smith and his wife had three young sons at the time.
When he joined the Boston team for spring training in 1958, Smith emphasized that his control was more important than his raw fastball. "I can be fast," he said. "Maybe a little above average. But that's not enough in the big leagues, unless you're a Bob Feller or a Herb Score. … I've always had fair stuff, but eventually realized that unless I could improve my control, I wouldn't have a chance up here. So, actually I took something off my fast ball to get better acquainted with the strike zone."5 He impressed Sox GM Joe Cronin.6
As the team made its way north, there was one odd incident that cost Smith $70. While the Red Sox were playing an exhibition game against the Raleigh Caps, a thief or thieves broke into the hotel room shared by Smith, Bob Porterfield, and coach Boo Ferriss and stole a number of items.7
There was considerable ink written about him in the Boston newspapers in the spring of 1958, but curiously research for this biography (and the one written about fellow Red Sox left-hander Robert Gilchrist Smith) did not turn up even one article commenting on them both being in the system at overlapping times.
Riverboat made the ball club. He wasn't impressive in his April 22 debut, throwing two innings of relief against the New York Yankees but yielding three runs. Four days later he got another shot – this time in Boston – and he threw four innings of one-hit relief against the Washington Senators. On May 5 he got a start and won the game, 8-5, despite giving up the five runs to the Cleveland Indians in eight innings of work. He won his next two starts, too, and was 3-0 by May 20, when he won a three-hitter.
His first defeat came in Baltimore on May 30, but it was a 2-0 loss and he'd only given up one of the two runs. By July 12 he was 4-3 with an earned run average of 3.78. That wasn't bad at all, but he'd lost some of the luster he'd shown in spring training, and the Red Sox thought they could do better. On July 16 they called up 22-year-old lefty Ted Bowsfield and optioned Smith to the Minneapolis Millers. There wasn't roster space for both of them. With the Millers, he pitched well: 6-4, with a 2.47 ERA.
Boston brought Smith back to spring training in 1959, but on March 9 they traded him to the Chicago Cubs for outfielder Chuck Tanner. He only appeared in one game for the Cubs, on April 29 in Cincinnati. It was the bottom of the second and the Reds had a 2-0 lead with runners on second and third and nobody out. Cubs manager Bob Scheffing called on Smith to relieve starter Moe Drabowsky, and it was a disaster. He did get a couple of groundouts, but they were sandwiched in among a double by the first batter he faced, two intentional walks, a wild pitch, and four singles. He was removed, but he'd given up six earned runs in two-thirds of an inning and seen the game get out of hand.
On May 5 the Cubs traded him to the Cleveland Indians to reacquire third baseman Randy Jackson. The Indians sent Smith to the Pacific Coast League San Diego Padres. In 11 games, he was 4-4with an ERA of 3.04.
Cleveland recalled him to the majors on July 9. His first appearance was three days later in Cleveland against the visiting Detroit Tigers. That was the one time in big-league ball that he and Robert Gilchrist Smith might have appeared in the same game. Riverboat Smith worked a perfect three innings of relief. Robert Gilchrist Smith remained in the Detroit bullpen.
Riverboat Smith pitched in 12 games for Cleveland, starting three times. His record was 0-1 with a 5.23 ERA. It was his last time in the majors. In mid-October he was one of three pitchers the Indians sold to the Toronto Maple Leafs.
He pitched four more years in the minors, all at the Triple-A level in the International League.
Smith had an excellent year in Toronto in 1960, with a 3.04 ERA and a 14-6 record. In 1961 he was 9-11 (3.65). In 1962 he was 9-10, 4.61 for the Columbus Jets, a Pirates affiliate.. His final year in professional baseball was 1963. He pitched for two teams in the year he turned 35 – the Arkansas Travelers and the Atlanta Crackers. He was a combined 5-11 but with a very good 2.98 ERA.
Smith had returned home to Clarence over the years to work on the farm, and it was while working on the farm that he met his end in a tractor accident that brought death to him on June 23, 2003, in Clarence. He and Gwen had operated Bob Smith Feed Lot Systems in Clarence for 30 years, from 1969 to 1999.
He was survived by his wife and their three sons – Kelly, Jeff, and Roger – and seven grandchildren. His obituary in the Jefferson City News Tribune reported that he "enjoyed working with the Clarence Baseball Association and was involved in the building of the baseball fields at the Clarence City Lake in the 1960's."8
He is buried in the city's Union Cemetery.
Sources
In addition to the sources noted in this biography, the author also accessed Smith's player file and player questionnaire from the National Baseball Hall of Fame, the Encyclopedia of Minor League Baseball, Retrosheet.org, Baseball-Reference.com, Rod Nelson of SABR's Scouts Committee, and the SABR Minor Leagues Database, accessed online at Baseball-Reference.com.
Notes
Born
May 13, 1928 at Clarence, MO (USA)
Died
June 23, 2003 at Clarence, MO (USA)
If you can help us improve this player's biography, contact us.
http://sabr.org/sites/default/files/SmithRobertW.jpg
600
800
admin
/wp-content/uploads/2020/02/sabr_logo.png
admin
2017-01-04 15:31:50
2017-01-04 15:31:50
Bob Smith