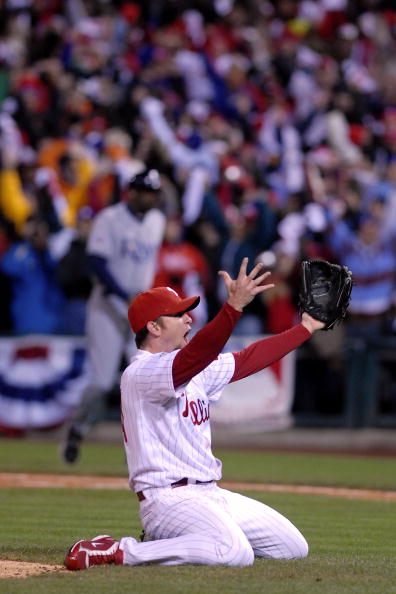 ---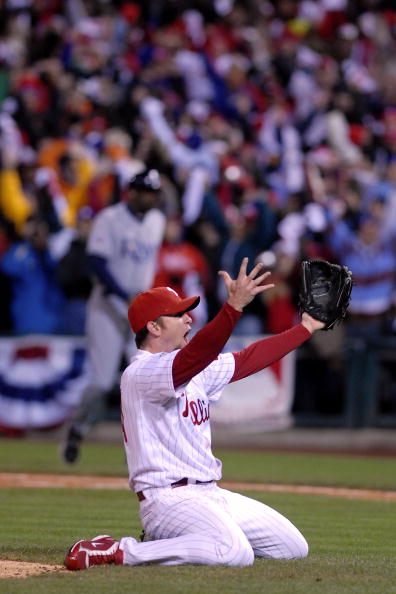 Perhaps it is Brad Lidge's fate to be best remembered for two sliders. The first, in 2005, hung over the plate and resulted in an Albert Pujols blast that decided an NLCS game. The second, in 2008, tailed away from Eric Hinske and clinched a world championship. Yet Lidge's big-game résumé stretches well beyond these two iconic moments: his 18 postseason saves places him second on MLB's career list, trailing only Mariano Rivera (with 42). This is a testimony not only to Lidge's slider and fastball, but also to his competitiveness, perseverance, and dedication to craft.
Bradley Thomas Lidge was born on December 23, 1976, in Sacramento. His parents, Ralph Jr. and Deborah, grew up in suburban Chicago, met while attending the University of Arizona, married, then moved to California. Brad was the second of their two children, following his sister Catherine. His father worked as a real estate broker, his mother as a housewife. The Lidges moved to the Denver suburbs in the late 1970s.
His parents encouraged him to play sports: first soccer, then basketball, baseball, and football. His father helped to coach each endeavor. "I wasn't always the best at whatever sport I picked up," Lidge recalls. Yet he discovered that "through a lot of repetition and practice" he could excel.1
Brad attended Cherry Creek High School, whose baseball team was a state powerhouse. Playing the outfield, he made little impact. In his junior year, the righthander turned to pitching, building up his arm strength by long tossing a baseball each day. He became a staff mainstay his senior year, throwing 90-91 mph fastballs. The San Francisco Giants drafted him in the 42nd round. The University of Notre Dame offered him an athletic scholarship. For a former altar boy from an Irish-Catholic family that valued education, the decision was easy. Moreover, he believed, a quality collegiate program provided the best developmental setting for his raw talent.
Lidge arrived at South Bend with a sore shoulder, made little progress that fall, and found himself dead last on the pitching depth chart. He responded by driving himself in the weight room and on the practice fields. Head coach Paul Mainieri and pitching coach Brian O'Connor helped him develop mental toughness. Mainieri "would not let me get away with pouting" and instead "told me he expected a lot from me." O'Connor "changed my attitude and my walk in life towards becoming more confident" both on and off the field.2
By his 1997 sophomore season, Lidge moved into a starter's role. In his 1998 junior season, with his fastball being clocked at 97 mph, he won Big East pitcher of the year honors. Labelled "a power pitcher of the first order" by Baseball America, the Houston Astros selected him in the first round (17th overall) of the 1998 MLB amateur draft.3
Lidge threw 11 innings at Class A Quad City that summer before tightness in his pitching elbow landed him on the disabled list. Not until June 1999, at Class A+ Kissimmee, did he pitch again; 21⅓ innings later his elbow shelved him again. The cause was easily identified: "Every time I threw a curveball my elbow just flat-out hurt."4
The solution came in 2000, when minor-league pitching coordinator Dewey Robinson taught him a slider. "You're throwing that curveball and it's hurting your elbow every time," Robinson told him, "Let's just throw that thing away, change your arm slot a little bit, and have you throw a slider." Robinson instructed Lidge not to "baby" the pitch but instead to "throw it as hard you can."5
"I've never, ever had someone pick it up so quickly," Robinson remembered, "It had this huge break, it was an instant swing-and-miss pitch, and it was thrown harder than anyone I've taught before or since."6 Lidge used the same release point, body motion, and arm speed as he did with his four-seam fastball. Also: "I try to hold it the exact same way as my fastball, the difference being that on my fastball I try to get pure backspin on the ball, and on my slider I try to get over the top as much as I can to get more of a topspin."7 A traditional slider, released with a lateral spin, exhibits a distinguishing red dot to a hitter. Lidge's did not.
But adversity tested him again. A line drive through the box broke his right wrist and ended his 2000 season. Wrist and elbow surgeries followed. Lidge moved up to Class AA Round Rock in 2001, then injured his shoulder. Another visit to the disabled list, and another surgery, followed.8
As his pitching career fitfully progressed, Lidge found greater fortune away from baseball. Back in Colorado, after his sophomore year at Notre Dame, mutual friends introduced him to Lindsay Littrell. The couple became engaged in 2000, then married in 2001. Daughter Avery arrived in 2004, and son Rowan in 2008.
Lidge had thrown 100 innings, all as a starter, in his first four professional seasons. Still, Houston's brass, especially assistant general manager Tim Purpura, believed in him. Yet they wondered if he might be more successful, and stay healthier, as a reliever. Lidge began the 2002 season at Round Rock coming out of the bullpen. Houston called him up on April 21.
Five days later Lidge made his major-league debut, relieving in the fifth inning, with the Astros trailing the Braves, 4-0. Lidge got through the inning, but yielded two runs in the sixth. Another struggle in mop-up duty occurred a week later. "I just wasn't ready," he admits.9 Houston sent him down to Class AAA New Orleans for a final test run at starting and, in the process, to build up his arm strength.
At New Orleans, he finally felt healthy. The Astros called him back up that September. Lidge made several relief appearances before starting against Milwaukee on September 18. In the fourth inning, at bat, Lidge pulled an oblique muscle as he pulled a single, again ending a season early. Afterwards, catcher Brad Ausmus discussed the game with him. "Your changeup is kind of garbage," the veteran backstop told him, adding "I think you should be in the bullpen." Despite organizational discussions of Lidge moving away from starting, the frank assessment still stung. But Ausmus continued: "I think you have the ability, with that fastball and slider, to be a pretty dang-good end-of-the-game type guy." In retrospect, Lidge concludes: "Brad Ausmus, obviously a smart guy, knew what he was talking about."10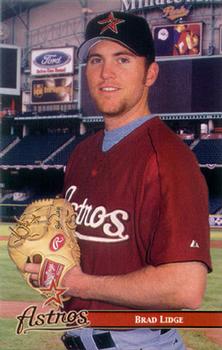 In 2003 Lidge made the team and joined a relief corps led by eighth-inning specialist Octavio Dotel and closer Billy Wagner. The Astros' starting rotation battled injuries and inconsistencies, and Houston's relievers logged the second-most innings, 581⅓, in baseball.11 A decade later, baseball analyst Buster Olney listed Houston's 2003 bullpen as one of the 10 finest in MLB history.12
At Yankee Stadium on June 11, the Astros' relievers demonstrated their value in spectacular fashion. After throwing two pitches in the second inning, starter Roy Oswalt left the game with a strained groin muscle. "We were all kind of sitting around the bullpen," Lidge remembered, "and Billy [Wagner] turned around and said, 'Well boys, we've got some work to do today.'"13 Peter Munro came in, then Kirk Saarloos. Lidge pitched the sixth and seventh, Dotel the eighth, and Wagner the ninth. Houston won 8-0, as their six pitchers (a MLB record) combined to no-hit the Yankees.
The Astros stumbled in late September, and finished out of the playoffs. Lidge completed his rookie season with a 6-3 record, a 3.60 ERA, and 97 strikeouts over 78 games and 85 innings.
Houston traded Wagner that offseason. For 2004, Dotel moved into the closer's role, and Lidge became the setup man. Both endured early-season difficulties. Lidge soon ironed out his problems and, from May 26 through June 20, amassed a 14⅓ scoreless innings streak. Dotel continued to struggle and, on June 24, the Astros dealt him to Oakland in a three-way deal that netted Houston Carlos Beltran.
Lidge became the closer. A local radio station nicknamed him "Lights Out." At home, Drowning Pool's thunderous "The Game" served as his walk-up song. Raucous crowds packed Minute Maid Park. "It was SO stinking loud," Lidge recalls, "I had so much adrenaline when I was pitching that year it was just amazing."14
His fastball occasionally reached triple digits.15 The Cardinals' Larry Walker, speaking for many, called his 90-mph slider "wicked and nasty."16 "He'd come at you like a buzz saw," recalled Giants pitching coach Dave Righetti, "He'd just put you away."17 Lidge on 2004: "In terms of stuff, that was the best season of my career."18
Yet the Astros sputtered. The team replaced manager Jimy Williams with Phil Garner, but slid further, reaching a 56-60 nadir on August 14. Then Houston caught fire, going 36-10 and snaring the NL Wild Card. Lidge's season line: 6-5, a 1.90 ERA, 94⅔ innings, and 29 saves (four blown) over 80 appearances. No reliever since has topped his 157 strikeouts that season.
The Astros defeated the Braves in the NLDS, for the franchise's first postseason series victory since 1980. Next, Houston faced St. Louis in the NLCS. The Cardinals took the first two games at home. At Houston, Lidge earned saves in Games Three and Four, then a victory in Game Five. The series returned to St. Louis, the Astros a win away from the pennant. With Game Six tied at 4-4, Garner brought Lidge into pitch the bottom of the ninth, where he mowed down three Cardinals. Lidge shut down the opposition again in the 10th, then in the 11th. Cardinals manager Tony La Russa breathed a sigh of relief when Houston pinch-hit for Lidge in the 12th: "I don't care who else they brought in."19 It was Dan Miceli, who yielded a walk-off homer. St. Louis clinched the pennant the next day.
With Andy Pettitte recovered from shoulder surgery, and re-joining Oswalt and Roger Clemens, Houston's 2005 starting rotation was healthier. With Chad Qualls and Dan Wheeler alternating between seventh- and eighth-inning duties, Houston's bullpen was more stable. As a result, in 2005, Lidge pitched more than an inning on seven occasions, versus 27 times in 2004.
That July, Lidge made his first all-star appearance. Pitching the seventh inning for the National League, he struck out Melvin Mora, Mike Sweeney, and Garret Anderson on 11 pitches. Houston again meandered through the first half. But the Astros again took off, going 45-27 down the stretch to capture another wild card. Lidge finished 4-4, with a 2.29 ERA, 70⅔ innings, and 42 saves (four blown) over 70 appearances. He again led MLB relievers in strikeouts, with 103.
Houston again defeated Atlanta in the NLDS. Then they met St. Louis again in the NLCS. After Chris Carpenter bested Pettitte in Game One, Houston took the next three games, with Lidge earning a save in each. The Astros led Game Five, 4-2, when Lidge came in to pitch the top of the ninth. He struck out John Rodriguez and John Mabry. With Minute Maid Park at full roar, he put David Eckstein into a 1-2 hole, before the little shortstop singled to left. Lidge walked Jim Edmonds on five pitches. Albert Pujols strode to the plate. Garner came out to discuss strategy. "He said, 'We don't have to give him anything to hit,'" Ausmus recalled, "'If we walk him, we walk him. We'll go after the next guy.'"20 The slugger missed a falling slider. Lidge's next slider stayed up, and Pujols crushed it through the left field support towers.
Pujols circled the bases in near-silence. Lidge struck out Reggie Sanders for the third out. Houston's batters went down in the bottom of the ninth, and the series returned to St. Louis. Behind Oswalt, the Astros triumphed, 5-1, and advanced to the World Series to play the White Sox.
Behind clutch hitting and quality starting pitching, Chicago swept the series. In the bottom of the ninth in Game Two, with the score knotted at 6-6, Lidge fell behind Scott Podsednik, 2-0, then threw a fastball for a strike. Podsednik anticipated another fastball.21 It came, and he lifted it into the right-field stands to win the game. "The pitch I threw to Pujols was a mistake and this one wasn't," Lidge told reporters, "He just did a great job with it."22 In Game Four, Garner summoned Lidge to pitch the top of eighth. Willie Harris singled to left, Podsednik sacrificed him to second, and Carl Everett's groundout moved him to third. Jermaine Dye, on an 1-1 count, topped a good slider, which hopped through the box, and scored the game's only run.
Lidge's 2006 season turned into a disaster. His troubles began in March when he left the orderly process of training camp to pitch competitively in the World Baseball Classic. He started turning his shoulders too early in his delivery, tipping hitters to his pitches.23 By midseason, with local fans turning on him, a Houston sportswriter commented, "It's painful to watch one of the most professional, accountable and diligent men in baseball receive thunderous boos at Minute Maid Park."24
Garner stuck with Lidge as his closer until mid-September, when he moved Wheeler into the role. Another late-season charge fell short, and Houston finished 82-80, 1½ games behind St. Louis. Lidge's 2006 line: 1-5, a 5.28 ERA, 75 innings, 104 strikeouts, and 32 saves (six blown) over 78 appearances.
On Opening Day 2007, attempting to save a 2-1 game, Lidge yielded a game-tying homer to Pittsburgh's Xavier Nady. Garner yanked him from the closer's role. The demotion hurt, but Lidge remained confident he would return to the ninth inning. "I figured it was a great opportunity, in the meantime, to master my craft, which was the slider," he recalls, "To get to a point where I could throw it for a strike, and down below the strike zone, or throw a backdoor one, or a frontdoor one, when I wanted to – as opposed to just every time just grabbing that pitch and ripping it as hard as I could." Lidge experimented with his mechanics, finding that – by resting momentarily in his balance point and focusing on different parts of the plate – his slider possessed such capabilities. To further guide his focus, he instructed Ausmus, "you give me the slider sign but then you tell me where you want it also."25
As he refined his slider, Lidge excelled out of the Houston bullpen, and regained the closer's role by mid-June. Days later, he pulled an oblique muscle and landed on the DL. When he returned in mid-July, he again pitched well – until his right knee became problematic. Surgery came after the season. His 2007 campaign: 5-3, a 3.36 ERA, 67 innings, 88 strikeouts, and 19 saves (eight blown) over 66 appearances.
Philadelphia scouts studied Lidge in 2007, and were impressed by his velocity and his slider.26 That offseason, the Phillies sought to bolster their starting rotation but saw few appealing free agent options. Consequently, on November 7, they traded young outfielder Michael Bourn, prospect Mike Costanzo, and reliever Geoff Geary to the rebuilding Astros for Lidge and utility infielder Eric Bruntlett. By obtaining a new closer, the Phillies could move Brett Myers – their best young starter for several years before moving into a closer's role in 2007 – back into the rotation. Lidge signed a one-year, $6.35 million deal with the Phillies.
It was, a Philadelphia sportswriter wrote, a "bold and risky" deal.27 Overlooking his mechanical problems in 2006, and his impressive stretches in 2007, some believed Lidge still bore the scars of the 2005 postseason, and wondered how he would fare with Philadelphia's sometimes surly fanbase.
"Everyone was like 'you're going into the lion's den, it's Philadelphia,'" Lidge remembers, "But mentally and physically I felt great."28 Even another right knee injury, and another round of arthroscopic surgery, at the onset of spring training couldn't derail his confidence. Lidge built up his arm strength, and made his Phillies debut on April 6.
His fastball's velocity slid in 2008, averaging 94-96 mph.29 Catcher Carlos Ruiz immediately, and increasingly, called for his slider, helping Lidge to perfect its recent refinements. "When Brad puts his slider where he wants to," Marlins infielder Wes Helms stated, "there's not a hitter in the league who can put it in play hard."30
Lidge finished 2008 with a 2-0 record, a 1.95 ERA, 69⅓ innings, 92 strikeouts, and 41 saves (none blown) over 72 appearances. Despite being the second reliever (after Eric Gagne in 2003) to record at least 40 saves with a perfect conversion rate,31 it wasn't a perfect season. On July 25, pitching the ninth, with the Phillies down, 1-0, he yielded a grand slam to Atlanta's Brian McCann. His teammates occasionally bailed him out. On June 6, with Lidge pitching the 10th inning against the Braves, center fielder Shane Victorino cut down the tying run at the plate to end the game. On September 27, after Lidge yielded three hits and a run against visiting Washington, a diving Jimmy Rollins flipped a groundball to Chase Utley to start a game-ending, and division-clinching, double play.
But it was, by any standard, a brilliant season that earned Lidge his second All-Star selection, NL Comeback Player of the Year, and a new three-year, $37.5 million contract. Most importantly, in the season-long battle the Phillies waged with the Marlins and (especially) the Mets for the division, Lidge enabled Philadelphia to narrowly prevail.32
Philadelphia faced Milwaukee in the NLDS. In Game One, with the Phillies leading, 3-0, manager Charlie Manuel summoned Lidge to save the game for starter Cole Hamels. He allowed the Pujols homer to creep into his thoughts: "I was thinking, 'OK, this is your time to show that 2005 will not be your defining memory. Now is the time I can change that personally. But also, this team believes in you and they don't care at all what happened in 2005.'"33 Lidge earned the first of his seven consecutive saves that postseason.
Four weeks later, Lidge stood again on the Citizens Bank Park mound, facing Tampa Bay in the bottom of the ninth, with the Phillies three outs away from the second world championship in their 126-year history. Lidge got Evan Longoria on an infield pop-up, yielded a broken-bat single to Dioner Navarro, then – after pinch-runner Fernando Perez stole second – watched Ben Zobrist line out. Pinch-hitter Eric Hinske fouled off Lidge's first slider, then couldn't check his swing against a second. As Hinske objected the call, Ruiz ran out to the mound to ask if his pitcher wanted to throw a fastball. Lidge said slider. "OK, give me the good one,"34 Ruiz replied. A moment later, Hinske – hoping fastball – missed a low and away slider.35 Lidge jumped, then fell to his knees, raising his hands to the heavens, providing a memory for a generation of Phillies fans to savor.
Lidge's right knee, the subject of 2007 and 2008 surgeries, started bothering him during 2009's first road series. Putting his full weight upon it and driving off proved too painful, and he started twisting his knee at the onset of his motion. "That was great; it kept me on the field, but I had absolutely no feel for pitching whatsoever," he later stated, "I would try to throw a fastball down and away; it would end up up and in. I'd try to throw a slider for a ball, and it'd end up going right down the middle."36 Hitters picked up his grip as his arm flew open, and baserunners took advantage of his labored delivery.37 He began putting undue stress on his right elbow, and it also grew painful.
Philadelphia became preoccupied with his struggles, and boos began wafting down from the seats. But Manuel stuck by his closer, in part demonstrating his commitment to his players, and in part as setup man Ryan Madson struggled as a closer when Lidge landed on the DL in June. Finally, on September 8, after Lidge placed runners on second and third to open the ninth at Washington, Manuel took the ball from him, and inserted Madson. "That was real tough for me to do," the manager admitted, "But the team and the game is bigger than my heart, and bigger than anything else."38 Lidge finished the 2009 season with a 0-8 record, a 7.21 ERA, 58⅔ innings, and 31 saves (11 blown) over 67 appearances. The Phillies handily won the NL East crown.
Yet, as the Phillies brushed past the Rockies and the Dodgers in the postseason, Manuel again went with Lidge to close, and the veteran responded with four scoreless innings and three saves. Against the Yankees in the World Series, he made his first appearance in the top of the ninth in Game Four with the score knotted at 4-4. Lidge got through the first two batters, and placed Johnny Damon in an 1-2 hole. The left fielder fought off sliders and lofted a single into left. Mark Teixeria, a left-handed power bat, came up. Philadelphia put on an infield shift. Damon stole second on Lidge's first pitch. Ruiz's throw was late. Damon, who had studied Philadelphia's shift earlier in the series and found it susceptible, bolted for an uncovered third base. Lidge, the closest Phillie to third, ran to it belatedly.39 With the go-ahead run on third, sliders in the dirt proved too risky and, after Lidge hit Teixeria with a pitch, Alex Rodriguez and Jorge Posada sat on fastballs, delivered hits, and gave New York a lasting 7-4 lead. Madson saved Game Five for Philadelphia the next night. New York then won the deciding Game Six.
Surgeries on his right elbow and knee followed that offseason. But Lidge's elbow flared up as the 2010 season began, and his four-seamer's velocity slid to 91-92 mph. After Washington's Ryan Zimmerman crushed one of these slower fastballs for a walk-off three-run homer on July 31, Lidge's ERA was 5.57 and he had converted only 10 of his 14 save opportunities. Philadelphia stood 3½ games behind Atlanta in the NL East.
Lidge again experimented, this time mixing in a better-moving two-seam fastball.40 From August onwards, his ERA was 0.73. He also helped recruit Oswalt to join the Phillies in mid-summer. With Oswalt joining Roy Halladay and Hamels at the top of the rotation, Philadelphia played .700 ball from August onwards, and cruised to another NL East crown. Lidge finished the 2010 season with a 1-1 record, a 2.96 ERA, 45⅔ innings, and 27 saves (five blown) over 50 appearances.
The Phillies swept the Reds in the NLDS. But San Francisco upended Philadelphia's postseason ambitions in the NLCS. Lidge pitched four scoreless innings in the 2010 postseason, and earned two saves.
Philadelphia signed a fourth ace, Cliff Lee, that December. As 2011's spring training opened, Lidge spoke for the squad: "We all feel like we need to win the World Series this year."41 Soon afterwards, a partially torn rotator cuff shut down Lidge until July 25. By then, Antonio Bastardo and Madson were established in the setup and closer roles. Lidge ably contributed wherever Manuel saw fit. His limited 2011 line: 0-2, 1.40 ERA, 19⅓ innings, one save, and eight holds over 25 appearances. The Phillies captured their fifth consecutive NL East crown, then lost to the Cardinals in the NLDS; Lidge provided two scoreless innings in the series.
Weeks later, Philadelphia bought out his contract. In January, he signed a one-year, $1 million deal with Washington. Lidge looked forward to assisting the Nationals' young bullpen. But an abdominal strain in late April led to sports hernia surgery. That June, not yet fully recovered, Washington called him up after a couple rehab appearances. He was hit around. The Nationals released him on June 25. His 2012 season: 0-1, 9.64 ERA, 9⅓ innings, and two saves (two blown) over 11 games.
Lidge hung up his cleats in early 2013, and formally retired that August as a Phillie. Since then, he frequently assists the team as a guest instructor at their rookie camps and spring training. From his Colorado home, he co-hosts the entertaining "Inside Pitch" on Sirius XM's MLB Network.
Completing the undergraduate work he began at Notre Dame, Lidge earned a BA in Religious Studies from Regis University in 2008. After retirement, Lidge and his family visited Italy each summer, where he pursued graduate field work in archaeology. In 2017 he earned a MA in Roman Archaeology from the University of Leicester. His thesis? "Nails: An Underutilized Tool in Ancient Roman Archaeology."42
Yet Brad Lidge's greatest pleasures, since retiring, come from the parenting he shares with Lindsay. Avery is an accomplished young cellist. He coaches Rowan's baseball team, enjoying his son's progress just as his father did years ago when he was a boy. "You miss a lot when you are playing," Lidge says of his children, "as they grow up, I don't want to miss any more."43
Last revised: January 18, 2018
Acknowledgments
The author is grateful to Brad Lidge for sharing memories of his life and career.
This biography was reviewed by Norman Macht and fact-checked by Kevin Larkin.
Notes
1 Brad Lidge, telephone interview with author, November 30, 2017.
2 Ibid.
3 Mike Christensen, "Truby Shows Draft Far Cry from Foolproof," (Jackson, Mississippi) Clarion-Ledger, June 4, 1998.
4 Brad Lidge, telephone interview with author, November 30, 2017.
5 Ibid.
6 Tyler Kepner, "Lidge Is Far from Perfect, but His Slider Looks It," New York Times, September 19, 2010.
7 David Laurila, "Prospectus Q&A: Brad Lidge," Baseball Prospectus, June 25, 2010, https://tinyurl.com/yb4rjyx9, accessed December 5, 2017.
8 For an overview of Lidge's injury history over this span, see Jose de Jesus Ortiz, "Lidge Remains Upbeat Despite Injuries," Chron.com, September 4, 2002, https://tinyurl.com/yb5ak5xk, accessed December 5, 2017.
9 Brad Lidge, telephone interview with author, November 30, 2017.
10 Brad Lidge, telephone interview with author, November 30, 2017.
11 Per Baseball-Reference's play index. Only Texas's bullpen, in 2003, topped Houston's with 601⅓ innings.
12 Buster Olney, "Top 10 Bullpens in MLB History," ESPN Insider, January 21, 2013, https://tinyurl.com/ybess8vf, accessed December 5, 2017.
13 Brian McTaggart, "Astros Relievers Recall Six-Pitcher No-Hitter," Chron.com, June 12, 2004, https://tinyurl.com/y6wfcttc, accessed December 5, 2017.
14 Brad Lidge, telephone interview with author, November 30, 2017.
15 Ibid.
16 Jose de Jesus Ortiz, "Astros Depend on Lidge's Heat for Playoff Success," Chron.com, October 5, 2004, https://tinyurl.com/y9oa3uwr, accessed December 5, 2017.
17 Eric Neal, "Confidence Game," ESPN.com, July 2, 2007, https://tinyurl.com/y7m2hnr5, accessed December 5, 2017.
18 Brad Lidge, telephone interview with author, November 30, 2017.
19 Brian McTaggart, "Lidge Believes He'll Be Able to Pitch In," Chron.com, October 21, 2004, https://tinyurl.com/yaealpcb, accessed December 5, 2017.
20 Jason Beck and Matt Slovin, "Ausmus Recalls Pujols' 2005 NLCS Home Run," MLB.com, April 18, 2014, https://tinyurl.com/ybel7288, accessed December 5, 2017.
21 Paul Skrbina, "Blast From the past Still Hits Home for Scott Podsednik," Chicago Tribune, January 24, 2015.
22 Chris Duncan, "Lidge Putting Another Blown Save Behind Him," Chron.com, October 23, 2005, https://tinyurl.com/ybukvazf, accessed December 5, 2017.
23 Chris Duncan, "Astros' Lidge Determined to Bounce Back from Rough '06," Chron.com, March 9, 2007, https://tinyurl.com/y88v4xd7, accessed December 5, 2017.
24 Jose de Jesus Ortiz, "Baseball Notebook: Astros Owner – and the Fans – Deserve Better," Chron.com, July 16, 2006, https://tinyurl.com/yahmpr2x, accessed December 5, 2017.
25 Brad Lidge, telephone interview with author, November 30, 2017.
26 Paul Hagen, "Phillies Pull Trigger on Blockbuster," Philadelphia Daily News, November 8, 2007.
27 Ibid.
28 Brad Lidge, telephone interview with author, November 30, 2017.
29 Jack Curry, "Perfect in Saves in 2008, Phillies' Lidge Sees Room to Improve," New York Times, February 25, 2009. Also see Brooks Baseball's page on Lidge: https://tinyurl.com/y7b9nb55, accessed December 5, 2017.
30 Jim Salisbury, "Phils' Lidge Takes Slider to New Depths," Philadelphia Inquirer, July 27, 2008.
31 Since 2008, Jose Valverde (Detroit 2011) and Zach Britton (Baltimore 2016) have also accomplished this feat.
32 For an in-depth statistical analysis of Lidge's 2008 season, see Jim Sweetman, "Pitch Perfect: Re-examining Brad Lidge's Performance in 2008 Using Win Probabilities Added and Leverage Index," as published in the 2013 National Pastime, https://tinyurl.com/y8zj55lr, accessed December 5, 2017.
33 Sam Donnellon, "Plugging the Bleak," Philadelphia Daily News, January 11, 2013.
34 "For Ruiz, A Striking Memory," Philadelphia Inquirer, March 1, 2009.
35 David Murphy, "About That Final Strikeout…" Philadelphia Daily News, February 26, 2009.
36 Kepner, "Lidge Is Far from Perfect."
37 Matt Gelb, "Lidge's Slider Is Starting to Bite, and That Has Everyone Encouraged," Philadelphia Inquirer, May 6, 2010.
38 Ray Parrillo, "Madson Gets Lidge and Phils Out of a Jam," Philadelphia Inquirer, September 9, 2010.
39 For coverage of Damon's baserunning, see Jayson Stark, "Damon Steals the Show in Game 4," ESPN.com, November 1, 2009, https://tinyurl.com/ydhcptrc, accessed December 5, 2017; Andy Martino, "Damon's Steal Push Lidge to Fight Crime," Philadelphia Inquirer, March 17, 2010. After the game, Rollins – as the captain of Philadelphia infield – accepted responsibility for third base being uncovered.
40 Brad Lidge, telephone interview with author, December 12, 2017. Lidge estimates half of the fastballs he threw in 2010's second half were two-seamers.
41 Matt Gelb, "Starters Inspire Confidence About Season," Philadelphia Inquirer, February 14, 2011.
42 Brad Lidge, telephone interview with author, November 30, 2017.
43 Ibid.
Born
December 23, 1976 at Sacramento, CA (USA)
If you can help us improve this player's biography, contact us.
https://sabr.org/sites/default/files/images/Lidge-Brad-2008.jpg
600
800
admin
/wp-content/uploads/2020/02/sabr_logo.png
admin
2018-01-18 23:35:43
2020-08-19 06:24:06
Brad Lidge