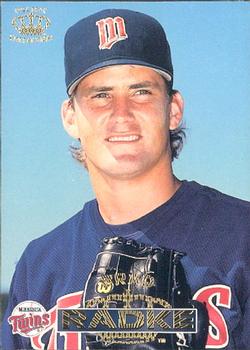 ---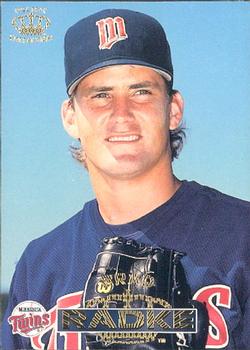 One teammate said Brad Radke was his hero. Another said Radke had more heart than anyone he ever played with. His pitching coach — after nearly three decades in professional baseball — said Radke was the man he respected most in the game.
Stoic toughness. Steady reliability. Big-game guts. Brad Radke displayed it all during a 12-year career with the Minnesota Twins.
Brad William Radke was born October 27, 1972 to his parents Joy (Ferch) and Bill Radke. The family lived in Eau Claire, Wisconsin, before moving to Tampa, Florida.1
Radke's father, a marketing consultant, coached Brad's youth baseball teams and taught him a fluid windup with a high leg kick modeled after Hall of Famer Jim Palmer's delivery.2 Radke's teams competed in tournaments across the United States and even played a tournament in Mexico — where Radke hit a home run that killed a chicken.3
At Tampa's Jesuit High School, Radke played basketball and baseball. He was a very good basketball player, and because the hoops season overlapped with the hardball season, he never played a full slate of baseball games.4 Still, he was a standout on the diamond, playing shortstop and third base in addition to pitching.5
As a high school senior, Radke set a school record for lowest ERA, but his demeanor was as memorable as his 90-mph heat and big curveball.6 His high school coach, John Crumbley, recalled "Nothing ever really got to him. I can't remember one time that he got mad about anything. He always had that sense of calm about him that you thought, with his athletic ability, could allow him to be very successful."7
Minnesota Twins scout Jeff Schugel noticed something else: "When you look at a high school kid, you seldom see a kid that has as much pitch feel as Brad did."8 Radke's skills, savvy, and sparkling statistics (9-0 record, 0.31 ERA, 75 strikeouts in 45 innings) earned him the St. Petersburg Times' All-Hillsborough County Player of the Year Award.9 Radke had a scholarship offer from the University of South Florida, but after the Twins drafted him in the eighth round in 1991, he decided to sign with the club and become a professional.10 It was a difficult decision, but Radke said, "I  thought maybe I wouldn't have another chance to play professional baseball and that has been my dream since I was a little kid."11
Around the same time, Radke began a relationship with Heather Elkins, a friend of his older sister. The couple married a few years later. By then Radke was steadily moving up the ladder in the Twins' minor-league system. His performance at Single-A Kenosha in 1992 during his second professional season caught the attention of Twins vice president Terry Ryan12 and earned praise from Kenosha pitching coach Rick Anderson, who said Radke was "one of our better prospects in the whole organization."13
Radke split the 1993 season between High A and Double A, and then spent the entire 1994 season with Double-A Nashville, where he posted a 2.66 ERA in 186⅓ innings. He was named the Twins' minor league pitcher of the month in July14 and was a Southern League All-Star.15
During spring training the following year, Radke impressed Twins manager Tom Kelly so much that Kelly convinced general manager Terry Ryan to let Radke skip Triple-A ball and head north with the Twins.16 When the announcement was made, Ryan said "We've had [Radke] four years. He's pitched well every place he's been. He's got the right mental makeup and tenacity. I'm hoping it's the right decision."17
It turned out to be a great decision, although surely there were doubts after Radke's debut. He entered the fourth game of the season mid-game against the Baltimore Orioles, gave up three straight singles to load the bases, and then hit Cal Ripken Jr. with a pitch.
Radke had better luck in his next appearance a week later — his first career start — holding a powerful Cleveland Indians lineup to six hits and two runs over 5⅔ innings.18 Radke's performance got Twins catcher Matt Walbeck's attention. "His mound presence was really impressive," Walbeck said. "He got ahead in the count a lot. He pitched inside, which enabled him to use both sides of the plate. He had a quick rhythm and never got flustered."19
Like most rookies, Radke took his lumps, including allowing a major league-high 32 home runs and a 5.32 ERA, but his ability was undeniable. Twins pitching coach Dick Such praised Radke's mental toughness20 and his ability to change speeds and throw strikes to every corner of the strike zone: "That's what you try to get them all to do, and here's this kid who walks in out of Double-A and you don't have to teach him a changeup or a curve or how to maintain his composure."21
During Radke's first season the Twins had a terrible team with a lousy pitching staff. They had the highest team ERA in the American League, and after veteran right-handers Scott Erickson and Kevin Tapani were traded, the 22-year-old Radke became the de facto ace of the staff.22 After he tossed a three-hit shutout in late August, his teammate Chuck Knoblauch said, "He's winning with a team that's losing. He's definitely showing he belongs here."23
Radke returned for his second big-league season in 1996 and again tied for the major-league lead in homers allowed, but he also ranked eighth in the AL in innings pitched, seventh in opponents' batting average, third in walks per nine innings, and second in baserunners per nine innings and opponents' on-base percentage. He also tied an unbreakable record on July 31 with a three-pitch, three-out inning against the Orioles.24
Although he was only 23 years old and in just his second season in the majors, Radke pitched like a cunning veteran. His teammate Paul Molitor said, "It's hard to watch him pitch and not think that this guy has been around the league for a while. He's not overpowering, but he knows how to use different pitches. Put a little on this, take a little off that. He's got great instincts in staying one step ahead of the hitters."25
Radke was several steps ahead of hitters during his breakout third season in 1997. His fastball had gained some extra hop, topping out at 93 mph,26 and he could fire any of his four pitches — fastball, curve, slider, change — in any count with terrific command.27 With his stuff and his savvy, Radke won 12 consecutive starts, becoming only the third pitcher since 1950 to accomplish that feat.28
Radke's winning streak garnered nationwide attention. Reporters from national publications chased him, ESPN interviewed him, and he appeared on Howard Stern's radio show.29 The streak also put Radke in position to win 20 games, which he achieved in late September by going 10 innings — throwing 128 pitches, 93 for strikes — to defeat Milwaukee, 2-1.30 After the game, Radke said he could have pitched longer: "The adrenalin was definitely going," he said31 as his teammates toasted him with champagne in the locker room.32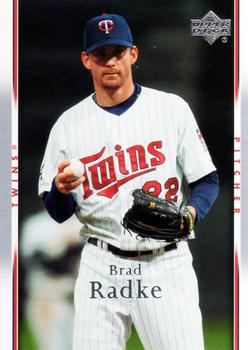 Pitching for a lowly 68-win team, Radke completed the '97 campaign with a 20-10 record, a 3.87 ERA, and a third-place finish on the AL Cy Young ballot behind Toronto's Roger Clemens and Seattle's Randy Johnson.
Over the next four seasons, 1998-2001, Radke was remarkably consistent. Each year he gave the Twins 32-34 starts, delivered 12-15 wins, and chewed up over 200 innings. During those years, Radke made adjustments to keep hitters off balance. He earned his first and only All-Star selection in 1998, but that year batters began sitting on his changeup and his ERA rose to 4.30.33 He pivoted to throwing more fastballs and breaking balls the next year and his ERA dropped to 3.75, fourth best in the AL.34
Following the 1999 season, Radke engaged in contract extension negotiations with the Twins. Talks between club and their ace broke off in the spring but rekindled in the middle of the 2000 season. Finally, in July, the two sides agreed on a club-record four-year $36 million extension.35 The deal gave stability to the Twins and provided hope for fans of the low-budget club, which averaged fewer than 68 wins per year during Radke's first six seasons (1995-2000).
In 2001, the first year of Radke's contract extension, the Twins showed dramatic improvement, winning 85 games on the way to a second-place finish in the AL Central. Radke, steady as ever, won 15 games while displaying phenomenal control and efficiency. He walked just 26 of the 919 batters he faced, led the majors in fewest walks per nine innings, and led the AL in strikeout/walk ratio and fewest pitches per batter. After Radke's complete-game victory over the White Sox in April, Chicago's Paul Konerko said, "I don't think any of the pitches he throws are special, but the way he pitches is special. Obviously, it's something he has inside."36
In 2002 Radke had some injury problems and pitched fewer than 200 innings for the first time since his rookie season. He made only 21 regular-season starts — the fewest of his career — but one of them was a complete game shutout in September that ended Oakland's AL-record 20-game win streak. After the game the A's Eric Chavez said, "Radke was just outstanding tonight. It was his night. It's always fun competing against the best, like Radke."37
The next month Radke found himself facing the A's again, this time in the playoffs after the Twins took the AL Central Division crown. Radke, the victor in Game One of the ALDS, started for the Twins again in Game Five. He allowed just one run in 6⅔ innings, leading the Twins to a series-clinching win. The A's Barry Zito said "If you have to give one reason why we lost this series, plain and simple, it was because of Brad Radke."38
The Twins' 2002 season ended with a loss to the Angels in the ALCS, but Radke proved he could handle postseason pressure, posting a 1.96 ERA in three October starts.
Indeed, the stoic Radke seemed impervious to pressure. He appeared to be on cruise control, calmly throwing strike after strike. "I'm not going to put any extra pressure on myself," he said. "I never say, 'I've got to make this pitch here, or I lose the game.' I don't have any cares. I just go out and say, 'Here, hit it.' Things seem to go my way like that, so I've stuck with it."39
Radke was solid in 2003, and in 2004 his career-low 3.48 ERA was fourth-best in the AL. The Twins rewarded him after the season with a two-year, $18 million contract, which Radke accepted despite having higher offers from other clubs.40 Radke said he was not aiming for the biggest possible contract. "I wasn't really looking for that," he said. "I just wanted to be treated fairly. I thought it was a pretty fair deal for both sides."41It turned out to be Radke's last big-league contract. In 2005 he threw over 200 innings for the ninth time in 11 years, and the heavy workload took a toll on Radke's right arm. After the 2005 All-Star break, his shoulder was so sore that he stopped throwing in the bullpen between games.42 At the end of the season he skipped his last two starts. It was later revealed that he had been pitching with a torn labrum in his shoulder.43
When spring training rolled around in 2006, Radke talked about retiring. His shoulder needed surgery, but he didn't have it because he decided to make the 2006 season his swan song.44 Early in the year it looked like Radke had hung on too long — by late May he had a 4-6 record and a 7.44 ERA — but he rebounded and posted a 2.54 ERA over his next ten outings.45 Along with his success, however, came excruciating pain.
Radke got a cortisone shot in mid-July but still struggled to get his shoulder loose enough to pitch.46 The pain became so severe by August that Radke couldn't use his right arm to wash his hair or pour a glass of milk.47 If he tried playing catch, he'd last a handful of throws before the pain became unbearable.48 Still, somehow, he willed himself to take the ball every five days. "It's like a war out there," he said. "If your arm falls off, it falls off. As long as you went down trying."49
Radke got a second cortisone injection in August but it didn't improve his shoulder.50 Twins manager Ron Gardenhire was so distressed by Radke's pain level that he could not bear to watch his veteran ace throw between-innings warmup pitches.51 Legendary sports reporter Sid Hartman, who at that point had been covering the Minnesota sports scene for more than 60 years, wrote "I've watched a lot of athletes play in pain. But nobody like Radke."52
Pitching with nothing but grit, guts, and guile, Radke somehow went 8-3 with a 2.82 ERA in June, July, and August as the Twins rallied from a poor start to make a playoff push.53 Minnesota pitching coach Rick Anderson said, "It's just amazing what he's done. In all my years in the game, he's probably the guy I respect more than anyone."54
During a late August game, Gardenhire watched Radke throw pitches in the 70-75 mph range. Then he threw one at 80 mph. Gardenhire turned to bullpen coach Rick Stelmaszek and asked "What was that?" Stelmaszek responded "His fastball."55 Gardenhire pulled Radke from the game, watched him sit down, and thought he'd never see Radke throw a baseball again.56
Gardenhire seemed prescient a week later when the terrible news arrived: An MRI identified a stress fracture in Radke's shoulder socket. His career was likely over.57
Radke's injury was so rare that the Twins' medical team could not find an example of any professional athlete with similar damage. According to the club's orthopedist, there were other athletes who had "chronic damage through wear and tear in the glenoid, or shoulder socket, but apparently not an actual stress fracture."58
Throughout the summer, as Radke had pitched through intense pain, the Twins clawed up the standings. They were 12 games out of first place in the AL Central on July 15, but they battled to six games back by September 1.
For the next several weeks, with Radke unable to pitch, his teammates kept fighting. They were within a game of first place going into a September 28th matchup with Kansas City at the Metrodome in Minneapolis. The Twins won and found themselves tied atop the AL Central. The winning pitcher, making an improbable comeback, was Brad Radke. With his damaged wing he delivered five gutty innings, giving up just three hits and an unearned run.
After the game, Radke's teammate Rondell White then in his 15th season, told Radke that he had more heart than anyone White had ever played with.59 Another teammate, Michael Cuddyer, called Radke his hero. "Truest professional in the game," Cuddyer said. "One of the best teammates in the game. Never complains about anything. He was pitching with a broken arm — literally. And he still goes out there and grits and bears it for his team. He doesn't need to do it for himself. He does it because we need him in the playoffs."60
The Twins made the playoffs, clinching the AL Central Division title on the final day of the season to set up an ALDS battle with the Oakland A's. The Twins lost the first two games at home and then sent Radke to the mound to start a do-or-die Game 3. His shredded shoulder lasted 83 pitches. After four innings, he was done.
He returned to the dugout. He cried. He hugged his teammates. He watched his team lose, watched their season end, watched the A's celebrate.
His career was over.
But what a career it was.
Radke finished in the AL top ten numerous seasons for strikeout/walk ratio, complete games, WHIP, innings pitched, and WAR for pitchers. In an average year Radke gave the Twins 34 starts and 221 innings of quality, competitive pitching. But he always meant more to his team than his just numbers. For more than a decade he was the anchor of the Twins' rotation and the soul of the franchise, his heart as important to the club as his arm.
Radke invited 250 friends, including some executives and many players from the Twins, to his retirement party in January 2007.61 A couple months later the relaxed-looking retiree visited his old teammates during spring training. When asked if he had an urge to pitch again, Radke said no.62 However, he did throw out the first pitch on Opening Day of the 2007 season for the Twins. The former ace got a standing ovation from the crowd and hugs from his ex-teammates.63
With baseball behind him, there was nothing in front of Radke but days, months, and years of fishing and spending time with Heather and their boys Kasey and Ryan. Kasey followed in his dad's footsteps, becoming a pitcher for the University of Tampa after being the winning hurler in a state championship game for his dad's old high school, Tampa Jesuit.64 Ryan also went to Jesuit, but he thought baseball was boring so he focused on basketball — his dad's other high school sport — and became a good player despite standing just 5'8". Brad was thrilled to watch Ryan play basketball for the same high school and under the same coach he did. "It's almost like I'm dreaming," he said.65
A few years after he retired, Radke took his rightful place in the Twins' Hall of Fame. Twins catcher Mike Redmond described his former teammate as "the ultimate Twin. He represented the Twins not only in the community but as a leader on the field."66 Upon accepting the honor, Radke summed up his career by saying "I never cheated the Twins, the fans, or my opponents."67
Last revised: April 23, 2020
Acknowledgments
This biography was reviewed by Paul Doutrich and Warren Corbett and fact-checked by Chris Bouton.
Notes
1 Scott Miller, "He's On A Roll … The Twins' Brad Radke Has Quietly Emerged As The Hottest Pitcher In The American League," St. Paul Pioneer Press, July 14, 1997.
2 Jim Souhan, "In control of his success — Subtle improvements have enabled Twins ace Brad Radke to win nine consecutive games," Minneapolis Star Tribune, July 25, 1997.
3 Ibid.
4 Dan Barreiro, "Radke is true to his roots," Minneapolis Star Tribune, August 8, 1997.
5 Ibid.
6 Cary Waldman, "Radke in command performance," St. Petersburg Times, March 28, 1991 (noting that Radke had "[a] fastball clocked at 90 miles an hour and a sweeping curveball that makes hitters look foolish.").
7 Barreio, ibid.
8 Sid Hartman, "Twins hit it big by taking Radke," Minneapolis Star Tribune, June 11, 2004.
9 Cary Waldman, "Jesuit's Radke was Mr. Versatility," St. Petersburg Times, May 14, 1991.
10 Hartman, ibid.
11 Brian Landman, "Radke spurns USF, signs with Minnesota," St. Petersburg Times, June 23, 1991.
12 Sid Hartman, "Twins deserve credit for winning — after losing All-Stars," Minneapolis Star Tribune, July 4, 1992 (noting that Ryan "was impressed with the pitching of 19-year-old Brad Radke").
13 Brian Landman, "Radke is content in Kenosha; Twins are content with him," St. Petersburg Times, July 25, 1992.
14 Jim Souhan, "Winfield rests up for Yanks," Minneapolis Star Tribune, August 3, 1994.
15 Rod Beaton, "AL Notes," USA Today, September 6, 1994.
16 Sid Hartman, "Radke keeps looking better all the time," Minneapolis Star Tribune, April 13, 1996. (The move caught Radke by surprise. The headline in the St. Paul Pioneer Press said it all: "Radke Stunned He's A Twin." Scott Miller, "Radke Stunned He's A Twin," St. Paul Pioneer Press, April 25, 1995.)
17 Scott Miller, "Pulido, Kowitz Waived As Twins Keep Radke," St. Paul Pioneer Press, April 24, 1995.
18 The 100-win Indians represented the American League in the World Series that year after leading the AL in runs, hits, and home runs.
19 Scott Miller, "Radke's First Victory Rescues Twins," St. Paul Pioneer Press, May 7, 1995
20 Tom Powers, "Kelly Keeps Radke As Tonight's Starter," St. Paul Pioneer Press, June 26, 1995 (quoting Dick Such saying "He is a special kid. He is tough mentally, and has the command of a veteran.").
21 Jim Souhan, "Twins pin hopes on rookie Radke's strong start," Minneapolis Star Tribune, May 14, 1995.
22 Jim Souhan, "New 'ace' Radke shines as Twins beat Oakland," Minneapolis Star Tribune, August 9, 1995.
23 Jim Souhan, "Radke gets 1st shutout, stops Texas on 3-hitter," Minneapolis Star Tribune, August 30, 1995.
24 The top of the 5th was Radke's three-pitch gem, but it was probably one of the luckier three-pitch innings in baseball history. It started with a Cal Ripken Jr. double on the first pitch. Then Radke got Eddie Murray to pop out on the next pitch before the inning ended with a line drive double play on the third pitch.
25 Scott Miller, "Radke Can't Be Rattled, Twins Starter Coolly Gives O's First Loss," St. Paul Pioneer Press, April 7, 1996.
26 Jim Souhan, "In control of his success — Subtle improvements have enabled Twins ace Brad Radke to win nine consecutive games," Minneapolis Star Tribune, July 25, 1997.
27 See Sid Hartman, "Steinbach helps Radke win big," Minneapolis Star Tribune, July 26, 1997 (quoting Twins catcher Terry Steinbach saying, "He gets all four of his pitches over at any time in the count. That keeps the hitters off-balance.").
28 Scott Miller, "A Dozen," St. Paul Pioneer Press, August 5, 1997.
29 Jim Souhan, "The secret's out — An 11-game winning streak has brought Twins righthander Brad Radke plenty of attention. He goes for 12 in a row tonight," Minneapolis Star Tribune, August 4, 1997.
30 Scott Miller, "Payoff: 10 Gets Radke 20," St. Paul Pioneer Press," September 22, 1997.
31 Ibid.
32 Drew Olson, "Loss leaves Garner hot, Weak hitting display draws wrath of manager," Milwaukee Journal Sentinel, September 22, 1997.
33 La Velle E. Neal III, "Keeping 'em guessing — The Twins Brad Radke enjoyed a better season because of adjustments he made to keep batters from sitting on his changeup," Minneapolis Star Tribune, October 2, 1999.
34 Ibid.
35 La Velle E. Neal III, "A big deal — Twins make Radke highest-paid player in franchise history," Minneapolis Star Tribune, July 4, 2000.
36 La Velle E. Neal III, "Radke is No. 1 to No. 4 — Pitcher sharp as Twins win," Minneapolis Star Tribune, April 21, 2001
37 Patrick Reusse, "Radke's return helps halt Oakland," Minneapolis Star Tribune, September 7, 2002 (the victory was the 100th of Radke's career).
38 Bob Sansevere, "Radke the reason the Twins are still alive," St. Paul Pioneer Press, October 6, 2002.
39 Jim Souhan, "Island of calm," Minneapolis Star Tribune, October 2, 2003.
40 Gordon Wittenmyer, "Twins Re-Sign Radke — Koskie Among Those Offered Arbitration; Blanco Signs With Cubs," St. Paul Pioneer Press, December 8, 2004
41 Ibid.
42 Jason Williams, "Radke submits to shoulder pain," St. Paul Pioneer Press, September 21, 2005
43 Gordon Wittenmyer, "Radke Rationing What's Left In His Tank — Veteran Focuses On Last 12 Regular-Season Starts," St. Paul Pioneer Press, August 1, 2006.
44 Tom Powers, "Radke Insists This Season Will Be His Last," St. Paul Pioneer Press, March 25, 2006.
45 Sid Harman, "Radke, struggling with pain, plans to retire after season," Minneapolis Star Tribune, July 23, 2006.
46 Wittenmyer, "Radke Rationing."
47 Jim Souhan, "Radke has devised ways to get around pitching-arm pain," Minneapolis Star Tribune, August 13, 2006.
48 Ibid.
49 Classic Twins, Brad Radke: Changing Speeds. November 21, 2018. Video file retrieved from https://www.youtube.com/watch?v=4LluSJnr7Ks (the quote is at the 39:35 mark of the video).
50 Souhan, "Radke has devised…" ibid. See also "La Velle E. Neal III, "Twins Notes — Injured Radke has a lot of fight left in him," Minneapolis Star Tribune, September 1, 2006.
51 John Romano, "Through Pain, a Purpose," Tampa Bay Times, September 6, 2006: 29.
52 Sid Hartman, "Radke wants to win this one badly," Minneapolis Star Tribune, October 6, 2006.
53 Romano, "Through Pain."
54 Ibid.
55 Jason Williams, "Comeback King: Desperate for a victory, the Twins are counting on Brad Radke to give them whatever he has left in his right arm," St. Paul Pioneer Press, October 6, 2006.
56 Ibid.
57 Gordon Wittenmyer, "'Rare' Injury Shelves Radke — Stress Fracture Could End Season," St. Paul Pioneer Press, September 2, 2006.
58 Ibid.
59 Williams, "Comeback King."
60 Jason Williams, "A Boost Into First — Mauer And Morneau Supply Late Heroics To Radke's Strong Start," St. Paul Pioneer Press, September 29, 2006.
61 Charley Walters, "Another TCU Connection for U?" St. Paul Pioneer Press, January 11, 2007; Charley Walters, "U Hire Pleases Fundraisers," St. Paul Pioneer Press, January 19, 2007.
62 Brian Murphy, "Rodriguez, Casilla Chase Spot On Bench," St. Paul Pioneer Press, March 12, 2007.
63 Kelsie Smith, "Radke Shows Up To Pitch," St. Paul Pioneer Press, April 3, 2007.
64 Kelly Parsons, Jesuit Wins State Championship: Kasey Radke's six solid innings help end 14 years of frustration," Tampa Bay Times, May 23, 2014.
65 Kelly Parsons, "Choosing A Different Path: Son of former MLB pitcher racks up 3-pointers instead of strikeouts," Tamp Bay Times, January 18, 2018.
66 Phil Miller, "Radke Voted Into Team's Hall," St. Paul Pioneer Press, January 24, 2009.
67 La Velle E. Neal III, "Team Notes: Radke joins ranks of Twins greats," Minneapolis Star Tribune, July 12, 2009.
Born
October 27, 1972 at Eau Claire, WI (USA)
If you can help us improve this player's biography, contact us.
https://sabr.org/sites/default/files/RadkeBrad.jpg
600
800
admin
/wp-content/uploads/2020/02/sabr_logo.png
admin
2020-04-28 00:00:53
2020-06-23 21:45:07
Brad Radke