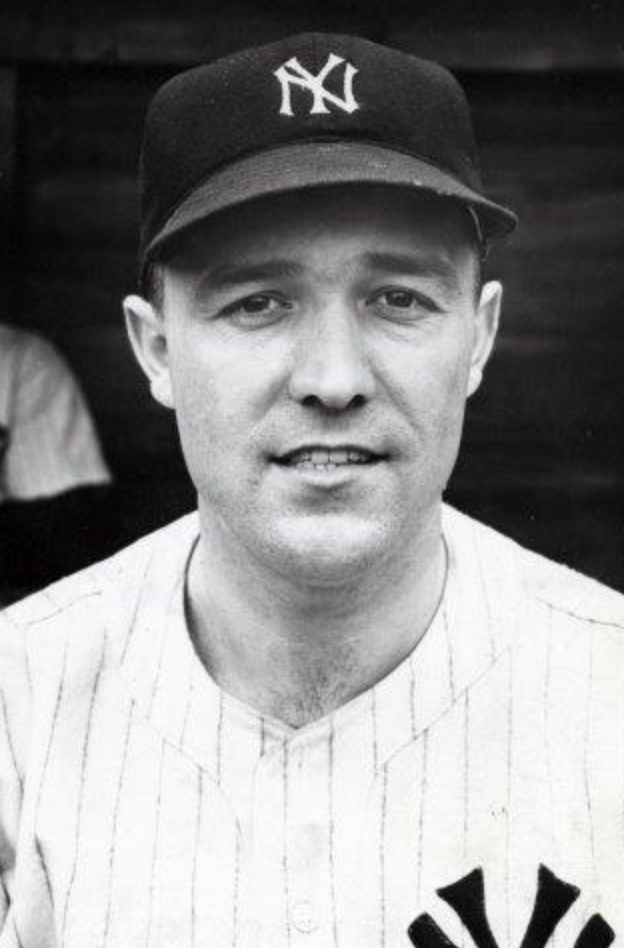 ---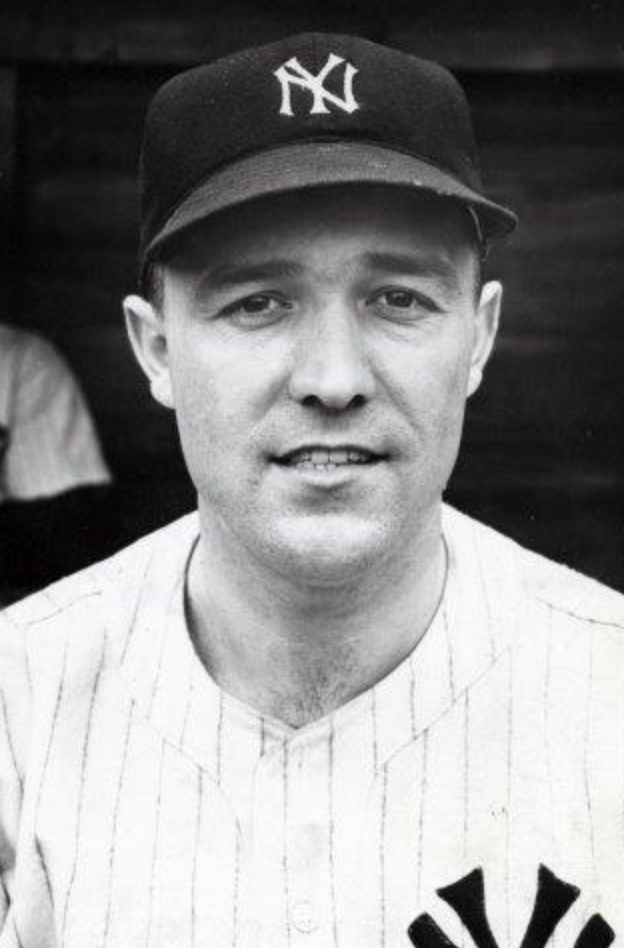 Who was the last Yankee player to wear Babe Ruth's uniform number 3 before it was retired by the New York Yankees? It was Arthur Beauregard "Bud" Metheny, a wartime outfielder (1943-46).
Metheny was born on June 1, 1915, in St. Louis. He was of Scotch-Irish-English-Indian descent. On his mother's side his great-grandmother was a full-blooded descendant of Pocahontas. His middle name, Beauregard, was in honor of his grandfather, Pierre G.T. Beauregard, who was named after the Confederate general who fired the first shot on Fort Sumter.1(Captain Abner Doubleday fired the first shot for the Union.)
Metheny's father was an electrician in St. Louis, where at the age of 12 Metheny played American Legion baseball. The family moved to Virginia, where Metheny attended Calverton (Virginia) High School. He was a pitcher until he developed elbow trouble. While playing semipro ball in Culpeper, Virginia, and in Vermont, he was scouted by Gene McCann. In June 1938, while Metheny was at the College of William & Mary, McCann signed him to a Yankees contract.2 Metheny believed he owed a great deal to the Yankee organization because they enabled him to complete his college education and set up his future.3 He played in 89 games for the Norfolk Tars in 1938, hitting .338 with 21 home runs, the most he would ever hit in a season.
Metheny graduated from William & Mary in 1939.4 He paid his way through college working in the dining hall and by serving as circulation manager for the school newspaper. He found time to join Phi Kappa Tau fraternity and play football.5 After graduation he was certified to teach high-school biology, chemistry, and mathematics.
While playing freshman football at William & Mary, Metheny suffered a knee injury that had a long-lasting effect on his ability to run. He later wondered if that injury kept him from making it big as a ballplayer.6
An outfielder during his professional career, Metheny threw and batted left-handed. He stood 5-feet-11 and weighed about 190 pounds while playing in the major leagues.
In 1939 Metheny played with the Kansas City Blues of the American Association, for whom he hit 10 home runs and batted .315 in 95 games. That season he again hurt his left knee, while sliding, and was out for close to two months. After the season surgeons at Johns Hopkins Hospital removed a piece of cartilage from his knee and scraped a bone growth.7 Because of inactivity after the procedures, he bulked up to 200 pounds. In 1940 Metheny played for the Newark Bears of the International League, for the 1940 season, where he batted .308 and his 102 RBIs helped the Bears win the pennant and the Junior World Series over Louisville, the American Association champion. Metheny returned to Johns Hopkins after the 1940 season to enroll in a weight-reduction program, which helped him trim down to170. But the program left him so weak that he batted only .240 for Kansas City with just three home runs.8 The knee injury resulted in his rejection from military service in 1943. He had been classified originally as 1-A because he was married without children.9
Metheny's slugging percentage was in a state of decline. For Norfolk in 1938 it was .618; at Kansas City in 1939 it was .523, and it fell to .451 for Newark in 1940. Metheny's slugging really dropped, to .307, in 1941 when he was back with Kansas City. But 1942 marked a return to his former self with Newark; he clubbed 18 home runs, posted a .296 batting average, and got on base at a 363 clip while batting in the cleanup spot for the Bears.10 He hit lefties as well he did as righties and threw out 16 runners from the outfield.
It is possible that the turnaround in 1942 was inspired by Metheny's marriage on Valentine's Day to Frances Davis of Norfolk, Virginia. The two had met at William and Mary. Frances graduated in 1939 and became a teacher and librarian in the Norfolk public school system. During the offseason Metheny stayed in shape working as a fireman on a locomotive crane, picking up 60-ton loads at the naval base in Norfolk. By the end of the 1942 season, after five years in the minors, Metheny was known to be a vigorous left-handed swinger and the only left-handed thrower among the Yankees outfielders.11
Metheny was originally snubbed by Yankees manager Joe McCarthy at spring training 1943. McCarthy was concerned about his availability based on his 1-A draft classification, and favored Johnny Lindell, Roy Weatherly, and Tuck Stainback in the outfield. There was another reason McCarthy favored Lindell over Metheny: He wanted Lindell to get regular at-bats because he was a converted pitcher with a lot of potential at the plate.12
In a spring training game in 1943 against the Brooklyn Dodgers, Metheny tripled over the head of Joe Medwick with a shot that was declared the hardest-hit ball of the game.13 He also doubled and walked twice in the game. Even so, an outfield of Metheny, Lindell, and Stormy Weatherly hardly compared with DiMaggio, Keller, and Henrich.
When Metheny made the Yankees roster for the 1943 season he joined Weatherly, who was part Cherokee, as the two Yankees who were part Native American.14
Metheny made his major-league debut on April 27, 1943, at Fenway Park in Boston. With the Yankees trailing the Red Sox 4-0, he pinch-hit for pitcher Atley Donald in the eighth inning and singled to right field. The next nine times Metheny was sent up to pinch-hit, he failed to get a hit, but he nonetheless collected three RBIs. One was with a bases-loaded walk on May 6 at home against Boston that brought in the tying run. .
In June 1943 Metheny was rejected from military service and he soon emerged as the club's starting right fielder. On June 17 at Griffith Stadium, he came in as a defensive replacement in right field for the bottom of the sixth inning. In the top of the ninth, Washington's Early Wynn walked Metheny with the bases loaded. It proved to be the winning run as the Yankees won, 9-8, with three runs in the ninth. Metheny got his first start in right field the next day in Yankee Stadium against the Red Sox. He went hitless and was now batting .071 with only one hit. On June 20 he started against the Senators, doubled, and was on his way to becoming a mainstay in the lineup.
Starting on July 10, Metheny hit in 10 straight games. He had 18 hits in 40 at-bats, a .450 clip and an on-base percentage of .532 with a .575 slugging percentage. Metheny stole two bases during this 10-game streak, the only two he stole all season. This stretch included a 4-for-4 day on July 21 – the only game the Yankees lost during this period, a 1-0 extra-inning loss to the St. Louis Browns. Though Metheny had four of New York's nine hits, McCarthy replaced him with a pinch-hitter when faced with a southpaw on the mound. On October 2 in the first game of a doubleheader at home against the Browns, Metheny was a triple shy of the cycle. Batting in his usual second spot in the batting order, he went 3-for-5, knocking in two runs and scoring three in a 5-1 Yankees victory. He finished his very solid rookie season with a .261 average, .333 on-base percentage, and a .397 slugging average. These numbers would turn out to be the best in his career. He hit nine home runs.
The Yankees entered the 1943 World Series with a record of 98-56 and faced the 105-49 St. Louis Cardinals. It gave New York an opportunity to avenge the loss to St. Louis in the five-game 1942 Series. This year proved to be different. In the Series McCarthy alternated between Stainback and Metheny in right field. Metheny became the goat of the second game, the only Yankees loss. In the top of the fourth inning, trailing 2-0, with one out and Whitey Kurowski on first, Ray Sanders lifted a high fly ball to deep right. The ball glanced off the tip of Metheny's glove into the stands for a home run. It was believed that Tommy Henrich could have made that catch as he so often reached over the low right field wall in Yankee Stadium to snatch balls out of the stands.15 It put the Cards up 4-0 and they held on to take the game, 4-3. Batting second, Metheny went 0-for-3, reaching base one time on catcher interference. He did not appear again until Game Five, when he started again in right field. He went 1-for-5, with two strikeouts. He was replaced defensively in the bottom of the ninth by Johnny Lindell. The Yankees won the game, 2-0, behind the 10-hit pitching of Spud Chandler, and became the 1943 World Series champion.
Metheny got off to a slow start in 1944. On Opening Day he found himself in the lineup as the Yankees beat Boston, 3-0. He went hitless and was 1-for-22 going into the April 26 game against the Philadelphia Athletics, although he continued to hit in the number two spot (He batted second in more than 90 percent of his starts in '44). He went 2-for-4 that day and knocked in his first run of the season. Four days later, in the second game of a doubleheader at Griffith Stadium, he went 3-for-4 to bring his average to .176 and helped rookie Joe Page win his first career start as the Yankees won, 3-2. This also was the first day of a 22-day period during which Metheny saw his average rise to .292 as he went 28-for-76 with 4 home runs and 14 RBIs. The Yanks won 13 of 19 games and moved from second to first place.
On June 12 the Yankees dropped their sixth straight game, 4-3 in 11 innings. The loss dropped the team into fifth place, only one game from the bottom and three games from first in a very crowded AL race. It was New York's longest losing streak in four years and the first time they had fallen below .500 since April 29. Twice during the game in Washington, the Yankees charged out of the dugout, but not a blow was believed to have been landed. In the eighth inning, with Metheny on first, Ed Levy grounded to Senators second baseman George Myatt. Myatt tried to tag Metheny and throw on to first to complete the double play. Metheny ducked the tag and back-pedaled. Myatt had to chase Metheny to apply the tag. In the process Metheny kicked dirt on or near Myatt as he got up and the two squared off and tossed a couple of punches with no damage done. Both Myatt and Metheny were ejected. As they made their exit down the stairs adjoining the Senators' dugout, another scuffle broke out and the two teams piled down together. Eyewitnesses said that the two just gripped each other, but did not engage in any fisticuffs.16 The Yankees pulled ahead in the 10th inning, 3-1, only to see Joe Page blow the lead with two out. The Senators then won in the bottom of the 11th with Atley Donald taking the loss.
Metheny was hit with a $50 fine by American League President Will Harridge for his battle with Myatt. He made a personal appeal that he was not at fault and was persuasive enough to have the fine rescinded. Metheny got into another battle in the sixth inning of the July 24 game against the White Sox in Chicago. He and White Sox catcher Tom Turner came close to blows. It was related to an incident in the fourth when Metheny got to first base because Turner tipped his bat.17
Despite the fact that Metheny hit 14 home runs in 1944 while playing in 137 games, he went home after the season with the impression that his .239 batting average had lost the pennant for the Yankees, who finished behind the St. Louis Browns and Detroit. He had plenty of company to take their share of the blame, but Metheny declared himself the number-one goat.18 On the morning of September 16, the Yankees were in first place. When the season was over on October 1, the Yankees were in third place, six games behind the league champion Browns. It was during this 16-day season-ending stretch that Metheny batted only .158. He knocked in only one run and had only 9 hits in 57 at-bats. The Yanks had a record of 7-7 in the 14 games that Metheny played during the stretch run. What made it even more painful was that the Browns waswept the Yankees in the final four games of the season. It is no wonder that Metheny volunteered to wear the goat horns.
Metheny's 1944 home-run total of 14 was 10th in the AL, a year that saw teammate Nick Etten lead the league with only 22. Adding to Metheny's feelings of remorse about the season were the 11 errors he made to lead all AL outfielders.
Before the 1945 season McCarthy said that "this could be the best outfield in the AL, maybe even tops in the majors." Metheny, Lindell, and Hershel Martin were thought to be the primary outfielders with Stainback, Russ Derry, and veteran Paul Waner, at age 42, as backups.19 The Opening Day starting lineup did not include Metheny, though he did pinch-hit and deliver a sacrifice bunt that advanced a runner who scored in the Yankees' 8-4 win over the Red Sox. Another slow start saw Metheny hitting an anemic .150 after 26 games. Adding to Metheny's concern about his role on the Yankees was that by the end of April Derry had hit four home runs, two of them grand slams. (Derry finished the season with 13 home runs in 78 games.)
On May 24 against the White Sox at Yankee Stadium, Metheny went 3-for-4, driving in three runs. He continued to bat in the number-two spot in most of the games he started. He finished the season with a .248 average and 8 home runs in 133 games (more than any other Yankees outfielder). His .983 fielding percentage led all American right fielders. His season highlight took place on June 24 in the first game of a doubleheader in New York. He knocked in six runs on two homers and a double as the Yankees beat the Athletics, 13-5.
In 1946, with the return of DiMaggio, Keller, and Henrich, Metheny had three hitless pinch-hit appearances. His final at-bat for the Yankees came on May 9, after which he was sent down to Kansas City. He finished his major-league career having played 331 games in right field and 11 in left with a .247 average, an on-base percentage of .323, and 31 home runs
After Kansas City Metheny played for Birmingham, Newark, and, in 1948, the Baxley Red Sox, where he was the player-manager of the Class D Georgia State League team. He moved on to the Portsmouth Cubs of the Piedmont League in 1949, and ended his career in 1950 with the Piedmont League's Newport News Dodgers as player-manager.
Metheny began teaching and coaching at Old Dominion University in Norfolk, Virginia, in 1947. He earned a master's degree in education at William & Mary in 1952. Metheny had a 32-year teaching and coaching career at Old Dominion, compiling a 423-363-6 record as the baseball coach, and was the director of athletics from 1963 to 1970.20 He was named by the NCAA as the Eastern Regional Coach of the Year in 1963 and 1964, and the National Coach of the Year in 1964.21 In 1965 Metheny was named Small College Baseball Coach of the Year. Under Metheny Old Dominion won eight state titles as well as NCAA Eastern Regional crowns in 1963 and 1964.22 He also was the basketball coach from 1948 to 1965, compiling a record of 198-163 with 16 winning seasons. In 1983 Metheny was inducted into the College Baseball Coaches Hall of Fame.23 Still later he was inducted into the Hampton Roads Sports Hall of Fame, the Virginia Sports Hall of Fame, the American Association of College Baseball Coaches Hall of Fame, the William & Mary Hall of Fame, and the Old Dominion University Hall of Fame. On April 25, 1984, Old Dominion named its baseball stadium for Metheny.24
In 1980 Metheny was honored by the Yankees as the first recipient of the "Yankee Family Award."
Frances Davis Metheny and Arthur Beauregard "Bud" Metheny both died on January 2, 2003, in Virginia Beach and are buried at Colonial Grove Memorial Park, Virginia Beach, Virginia. Frances died in the morning and Metheny several hours later. They had two children, Eileen Carlton and John Metheny, and four grandchildren, Laura Carlton, Beau Metheny, Jeremy Metheny, and Sean Carlton.
This biography originally appeared in "Who's on First: Replacement Players in World War II" (SABR, 2015), edited by Marc Z. Aaron and Bill Nowlin.
Sources
In addition to the sources cited in the notes, the author relied on the Bud Metheny player file at the National Baseball Hall of Fame, Retrosheet.org, and Baseball-reference.com.
Notes
Full Name
Arthur Beauregard Metheny
Born
June 1, 1915 at St. Louis, MO (USA)
Died
January 2, 2003 at Virginia Beach, VA (USA)
If you can help us improve this player's biography, contact us.
http://sabr.org/sites/default/files/MethenyBud.png
600
800
admin
/wp-content/uploads/2020/02/sabr_logo.png
admin
2012-01-04 20:42:08
2021-09-24 16:53:38
Bud Metheny