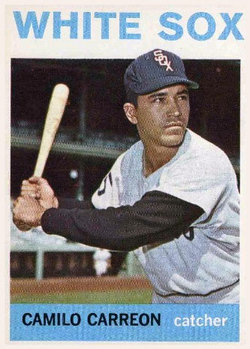 ---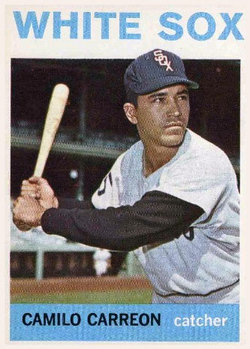 Even though he preferred the comforts of home, whether in his California birthplace or his eventual hometown of Tucson, Arizona, Cam Carreon's batting stroke never showed signs of homesickness. Reaching the majors at the age of 22, he contributed to a contending White Sox team for several seasons (1959-64) and played briefly for the Indians and Orioles until a shoulder injury and a desire to see his children grow up combined to end his playing career. After leaving the major leagues, Carreon remained involved with the game and made a large impact in his local communities that was still being felt more than 20 years after his passing.
Camilo Garcia Carreon was born in the Southern California town of Colton to Miguel and Socorro (Garcia) Carreon on August 6, 1937. His father had immigrated to Colton from the state of Durango in Mexico and was employed at a cement plant in Colton for 30 years. Camilo was the youngest of five children. The family lived in a home next to a set of railroad tracks. Camilo honed his hitting as a boy by hitting rocks pitched to him, or ones that he tossed in the air to himself and swatted with a bat for hours at a time.
Carreon was a standout athlete at Colton Union High School, competing in football and basketball in addition to catching for the baseball team. As a senior in 1956, he was the captain of the baseball team and was named All-Conference catcher. After graduating from high school in 1956, Carreon played with the semipro Colton Lumbermen and worked for a local honey company. He also gained some experience playing for a semipro outfit in Bandon, Oregon, named the Millers. While playing for the Millers, he worked as a lumberman in Bandon.
While playing for the Lumbermen in June 1956, Carreon drew the attention of a pair of scouts for the Chicago White Sox, Hollis Thurston and Doc Bennett. They signed Cam for the White Sox and he finished out the year in Holdredge of the Class D Nebraska State League, the equivalent at the time of a rookie league. His first full season of professional baseball came with Duluth-Superior of the Class C Northern League. He played at Duluth-Superior for two seasons and moved up to Colorado Springs of the Class-A Western League in 1958. His performance that season drew the attention of the Chicago press, and a Chicago Sun-Times article quoted scout Jack Sheehan as saying he believed Carreon was the "most powerful fellow of all" of a group of White Sox farmhands that included Norm Cash, Johnny Callison, and Don Mincher.1 Carreon validated Sheehan's praise by hitting .342 for Colorado Springs.
For Carreon, 1959 was a banner year. In February, he married his high-school sweetheart, Dolores Atellcio. When the season started, he was assigned to Indianapolis of the Triple-A American Association. He hit .311 for the Indians, and hit for the cycle in a mid-August game. His achievements were enough to earn him the Robert E. Hoey Memorial Award, given to the league's outstanding rookie. To top off 1959, Carreon was called up to Chicago in September and had one at-bat for the American League champions, on the last day of the season in Detroit. He replaced Johnny Romano behind the plate in the bottom of the sixth inning and flied out to left field against Pete Burnside in the eighth. Needless to say, it was Sherm Lollar who caught for the White Sox in the World Series.
But 1960 again found Carreon plying his trade in the minor leagues, this time in San Diego, with another September call-up. On the 18th, he collected his first major-league hit, a single in the second game of a doubleheader in Detroit that he started. He broke camp with the team in 1961 and served as the backup to the 36-year-old Lollar, batting .271 in 229 at-bats. In 1962, roles were reversed and Cam received the majority of the playing time at catcher for the White Sox, with Lollar serving in the reserve role. Carreon played in 103 games, hitting .256 with 37 RBIs. He rebounded to hit .274 in 1963.
As Carreon became established as the starting catcher for the competitive White Sox of the early 1960s, he was approached by the Campbell's Soup Company, which wanted him as a spokesman to appeal to its Mexican market. But according to his wife, Chicago had not affected Cam's homebody tendencies, and even though Campbell's offered to provide him with travel back and forth to Chicago, he declined because of his desire to be back home throughout the offseason.2
Colton remained home in his early career. Cam, or Camel, as he had been known to friends in high school in Colton, worked as a car salesman in the offseasons. Over time, he and Dolores took a liking to Arizona and moved to Tucson in the early 1960s. Nonetheless, Colton remained a part of their lives, as many of the family remained there. In 1968, Colton paid tribute to Cam by designating a local roadway as Carreon Drive for its hometown boy who made it to the big leagues.
Once the couple moved to Tucson, Carreon hung up his car salesman shoes and spent his offseasons playing winter ball in Latin America, which included stints in Colombia.
As a major leaguer, the promise in Carreon's bat remained unfulfilled as his career took shape. Some had raved about his power while he was a prospect, but it had not developed in his minor-league career. He hit over .300 three times in the minors, but as the 1963 season approached, he carried a career major-league batting line of .261 with an on-base percentage of .327 and a slugging average of .354. He continued to struggle at the plate until a hot streak beginning in late July and extending into August brought his average to .302. An article by Jerome Holtzman in the Chicago Sun-Times quoted Carreon as crediting manager Al Lopez for his success. He said, "Before, I'd raise up and sweep at the ball. I don't move up any more. Instead, I'm stepping and striding into the ball. It's made a big difference. I hit the ball solid now."3
Carreon cooled off over the rest of the season but still finished with his best batting average as a major leaguer, .274. There would be limited opportunity in the future to determine if he could carry over the improvement to future seasons. He hit the same .274 in 1964, but in only 37 games, largely because he injured his right shoulder badly while sliding into third base in June. Even before the injury, J.C. Martin had been receiving the majority of the playing time behind the plate, even though his production to that point had been worse than Carreon's. At the time of Carreon's injury, Martin was hitting .203 in 118 at-bats.
The shoulder injury proved to be the beginning of the end for Cam Carreon in the major leagues. In January 1965 he was part of a three-team trade that landed him in Cleveland. A season with the Indians that saw limited playing time (52 at-bats with a .231 batting average) was followed by a trade to Baltimore in March 1966 for (then) minor leaguer Lou Piniella.
Carreon played in only four games for the Orioles in 1966. They were his last major-league appearances. He spent most of the season in Baltimore's Triple-A team at Rochester. The next season was more of the same as he appeared in 62 games for Rochester and Jacksonville and hit a combined .145. As his career took this nomadic turn and he continued to struggle with the effects of his 1964 shoulder injury, he was faced with a decision. Cam had always told Dolores that once their children began school, he wanted to stay home with them in Tucson and help raise them. She didn't believe he would follow through, and told an interviewer in 2008 that she wasn't certain what part the injury may have played in his decision. As their first child, Michael, began school, however, Carreon decided to retire from a playing career and stay home in Tucson with his family rather than try to hang on with a major-league team. A daughter, Camille, and a son, future major leaguer Mark Carreon, were already part of the family and Cam was happy to be home in Tucson to see them grow. Another son, Manuel, and a daughter, Christine, would follow. Mark broke in with the Mets in 1987 and enjoyed a 10-year major-league career.
Cam Carreon ended his time in the majors with a .264 lifetime average, 11 home runs, and 114 runs batted in. He was a good defensive catcher with only 13 errors in 320 games and a .993 fielding average.
Carreon enjoyed being close to his family, but he was not entirely through with professional baseball. When the Tucson Toros franchise joined the Pacific Coast League in 1969, he was persuaded to end his one-year retirement and appeared in 57 games, collecting 31 hits (28 of them singles) in 119 at-bats. He shared catching duties with Jim Napier. (Coincidentally, Carreon's oldest son, Mike, became a Tucson firefighter working in the same station with Napier's son.) Carreon played for the Toros just in that one season but remained with the team as a coach through 1972.
Carreon enjoyed being a family man and being able to watch his children grow up in Tucson. After his time with the Toros, he was able to focus on providing instruction to his children in Little League and was heavily involved in amateur men's leagues in the area. The time spent with his sons bore fruit, as in addition to Mark's professional success, both Mike and Manny were standout players. Mike was a member of the Cactus Little League team that played in the 1973 Little League World Series championship game, and Manny was a star in high school and played at Emporia State University.
Camilo Carreon's devotion to his children helped turn out a handful of adults that any parent would be proud of and who also revered their father for his guidance. His involvement with his friends and the baseball community in Tucson evoked many similar feelings. After a battle with cancer, Carreon died on September 2, 1987, at the age of 50. Six days later Mark made his debut in the major leagues as a September call-up of the Mets. On that day he pinch-hit for Sid Fernandez in the third inning and hit into a fielder's choice. Memorial services for Cam were well-attended both in Tucson and in Colton, where he is buried. Later, a memorial was dedicated in his honor at the El Rio Golf Course in Tucson, where he spent many afternoons with his closest friends. In 2006, Carreon was posthumously elected to the Colton Hall of Fame, the first Hispanic so honored. His family was present for the induction.
Carreon's memory lives on to this day, as his family and friends gather in Colton every August around the time of his birthday to celebrate his legacy and that of his mother, who also shared an August birthday. His influence is also felt in Tucson, where his son Manny took up Cam's role in the community, becoming involved in the amateur men's leagues in the area. As an employee of the Tucson Parks and Recreation Department he was in charge of preparing the grounds at Hi Corbett Field for the final homestand of the Toros in 1997. Both Manny's commitment to the community and Mark Carreon's 10-year career in the major leagues helped preserve the legacy of Camilo Carreon.4
An earlier version of this biography originally appeared in SABR's "Go-Go To Glory: The 1959 Chicago White Sox" (ACTA, 2009), edited by Don Zminda.

Sources
In addition to the sources cited in the Notes, the author consulted Basbeall-Reference.com and the following sources:
Burris, Jim. "Camilo Carreon Named A.A.'s No. 1 Freshman Player." American Association Service Bureau press release, August 30, 1959.
Carreon, Camilo. Chicago White Sox questionnaire, June 18, 1956. Chicago White Sox personnel file.
Carreon, Mark. Telephone interview. April 24, 2008.
Munzel, Edgar. "Injury To Carreon Hurt Sox," Chicago Sun-Times, September 29, 1964.
Notes
1 "Sox Tab Carrion [sic] For Future Power," Chicago Sun-Times, 1958 (exact date unknown).
2 Delores Carreon telephone interview, May 22, 2008.
3 Jerome Holtzman, "Carreon Credits Clouting Spree to Tips by Lopez," Chicago Sun-Times, August 20, 1963.
4 Greg Hansen, "Toros of Old Leave Their Mark on Tucson," Arizona Daily Star, September 3, 2008.
Born
August 6, 1937 at Colton, CA (USA)
Died
September 2, 1987 at Tucson, AZ (USA)
If you can help us improve this player's biography, contact us.
http://bioproj.sabr.org/bp_ftp/images5/CarreonCam.jpg
600
800
admin
/wp-content/uploads/2020/02/sabr_logo.png
admin
2012-01-04 20:45:17
2012-01-04 20:45:17
Cam Carreon