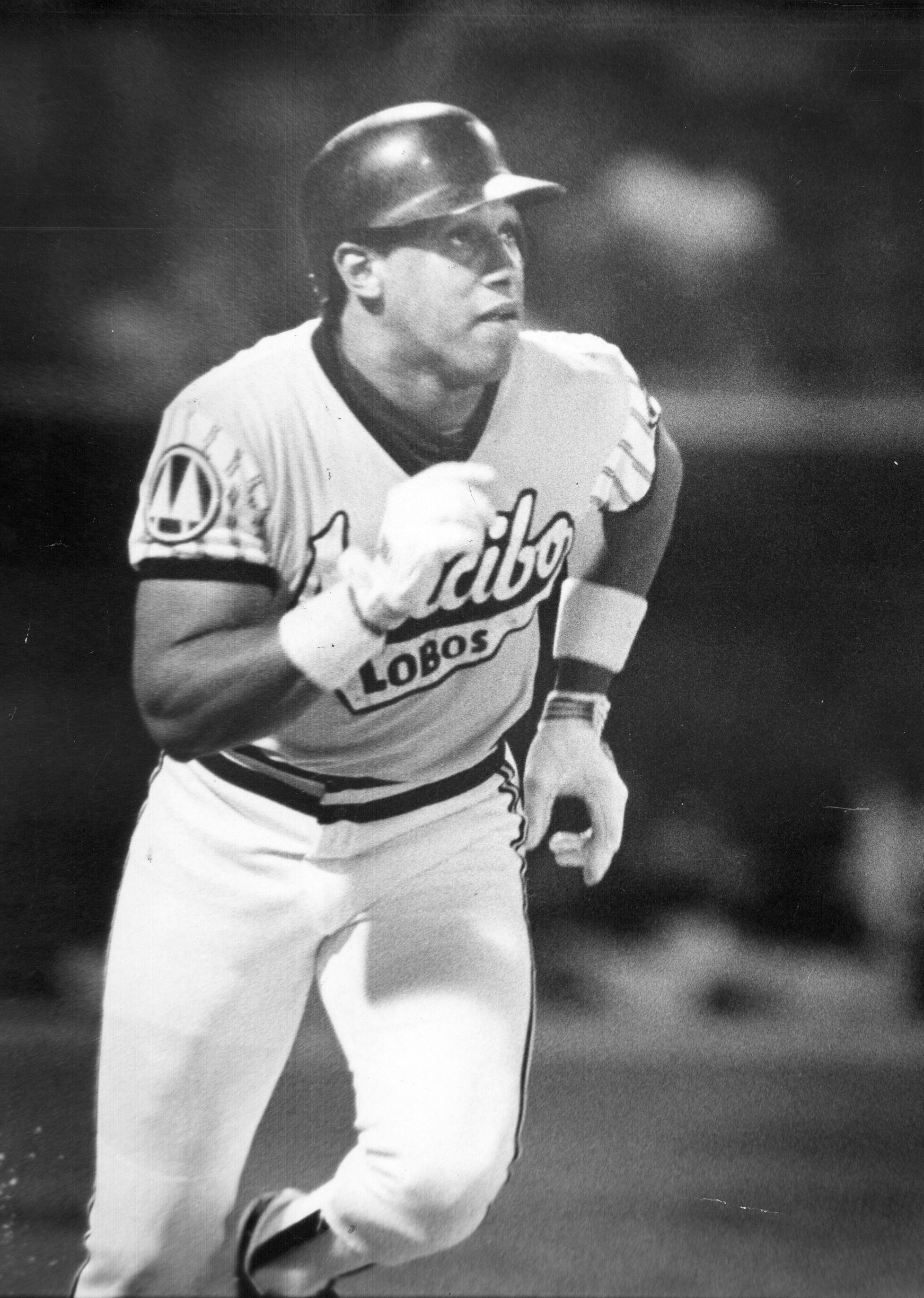 ---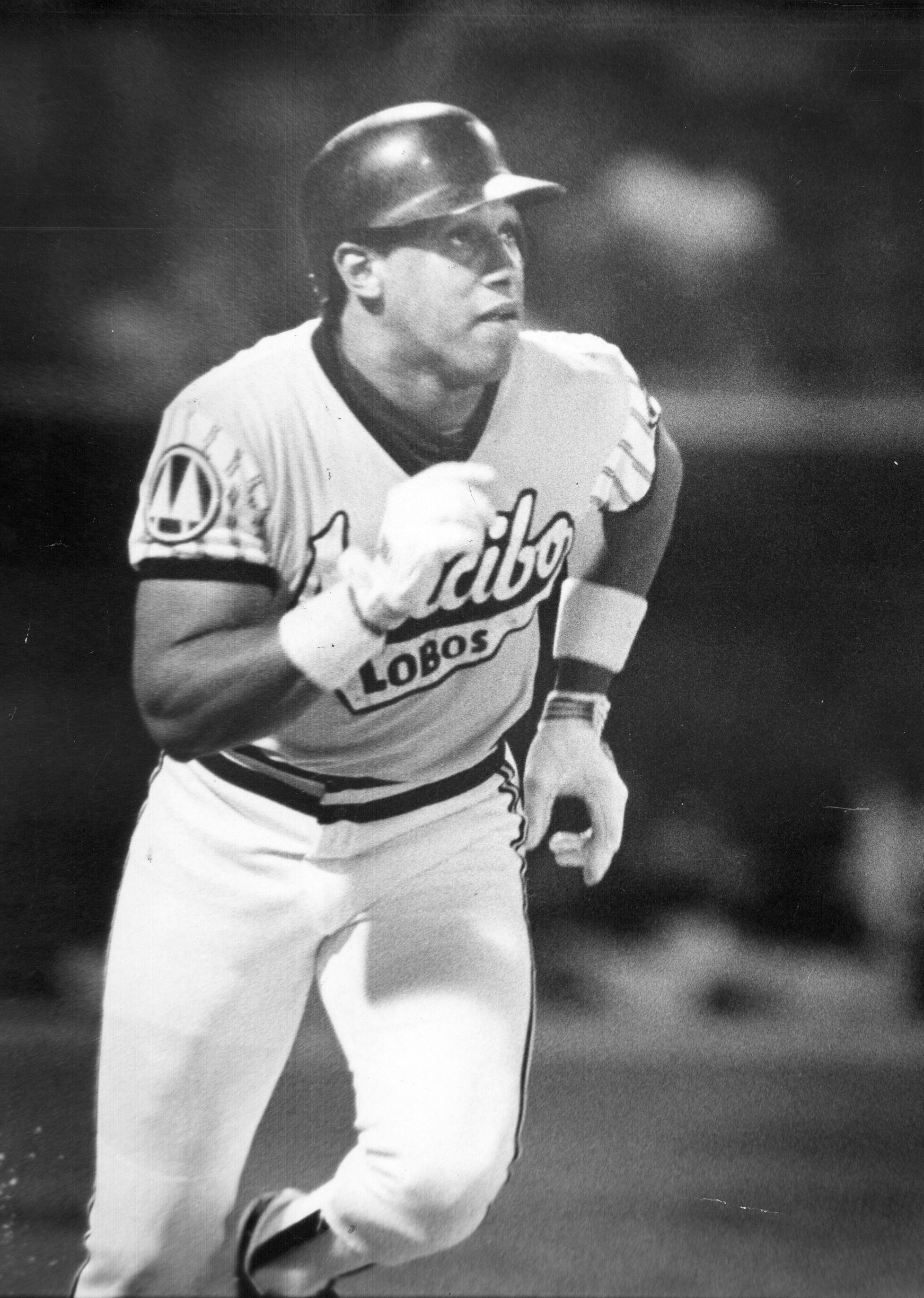 Fred Merkle had his boner and Steve Bartman his bobbled foul ball. For Candy Maldonado, a momentary lapse and blinding lights contributed to a play less infamous but just as devastating for the unfortunate protagonist.
It was October 13, 1987, as Game Six of the National League Championship Series pitted Maldonado's San Francisco Giants (90-72) against the St. Louis Cardinals (95-67). The Giants needed just one more win to advance to the World Series for the first time in 25 years.
Tony Peña, leading off the bottom of the second inning for the hometown Cardinals, lined a Dave Dravecky pitch toward Maldonado in right field. The fielder charged in before sinking to his knees on the artificial turf as the ball sailed over his head. By the time the ball was returned to the infield, Peña was standing on third base.
One out later, with the Giants infield playing in, batter Jose Oquendo sliced a soft fly toward Maldonado. "Fly ball to right field and pretty shallow," Vin Scully told television viewers. "Maldonado makes the catch and Peña's going to come! Here's the throw, the play, he is …"
Maldonado raced about 15 steps toward the seats, his momentum taking him across the foul line as he caught the ball before quickly pivoting to face home plate. He made a strong, one-hop throw to catcher Bob Melvin, the ball arriving about 10 feet up the line as Peña sidestepped his counterpart. "He is … safe!" Scully declared.1
The Cardinals nursed that lone run to victory. After the game, Maldonado was disconsolate. "I just lost the ball in the lights," he said. "I tried to protect my face. I got the glove up but fell and missed it." Nor did the outfielder ignore his lapse on the throw home. "If I make a good throw, the man is out. We might still be playing the game."2 Newspapers the next day showed Maldonado on his back like an overturned turtle, glove helplessly up in the air, the ball bouncing away. The Cardinals went on to win Game Seven and the Giants' promising season seemed to have turned on an outfielder's misplay.
Nine months later, lingering tensions between the teams erupted when a hard slide led to a bench-clearing brawl. With Will Clark on first base, Maldonado hit a grounder fielded by Cardinals shortstop Ozzie Smith, who tossed underhand to José Oquendo as Clark barreled through and beyond second base. Oquendo's response was to knee or kick Clark (the video evidence is inconclusive), whose rise from the dirt led to a flurry of pushing and punching. Smith punched Clark from behind. Seeing his teammate ganged up on by four Cardinals, including Oquendo, a fellow Puerto Rican, Maldonado raced from first base to throw a desperate, diving haymaker punch at Smith, bloodying his lip.3
Those lowlights in a 15-season career were more than matched by highlights, including several breathtaking throws, spectacular catches, and timely hits, most notably during the 1992 World Series, when he helped the Toronto Blue Jays win the first championship by a team not based in the United States.
In his career, Maldonado went from being a touted (but surplus) prospect to a struggling (and self-doubting) newcomer to a valued (but mercenary) hitter. He patrolled the outfield for seven major-league teams – the Los Angeles Dodgers (1981-85), Giants (1986-89), Cleveland Indians (1990, 1993-94), Milwaukee Brewers (1991), Blue Jays (1991-92, 1995), Chicago Cubs (1993), and the Texas Rangers (1995).
Candido Maldonado y Guadarrama was born in Humacao, Puerto Rico, on September 5, 1960. His father, Cándido Maldonado de León, worked as a heavy-machinery operator, while his mother, Irene Guardarrama de Jesús, worked in a factory, later establishing her own food business. The young athlete moved to Arecibo on the island's north shore to play Little League baseball. He would eventually drop out of junior high school to pursue a baseball career. As he played in his homeland, he attracted the attention of scouts representing six major-league teams, though none was prepared to make an offer.
"I was kind of disappointed," Maldonado later said, "but I kept playing hard."4
After a game, he was approached by Ralph Avila, a scout for the Dodgers best known for his work in the Dominican Republic. The interest after so much rejection left the player unimpressed. "I gave him my name and all the details, but I didn't care anymore. After all those others, I was tired of wasting my time."5
The Dodgers liked the youth's whip-like batting stroke and strong right arm. He was signed as a nondrafted free agent on June 17, 1978, soon establishing himself as an exciting, power-hitting prospect at age 17 with the Pioneer League team in Lethbridge, Alberta. After another season split between Lethbridge and the Dodgers farm team in Clinton, Iowa, Maldonado graduated to the Lodi Dodgers of the California League, where he smacked 25 home runs in his first 121 games in 1980. He was leading the circuit in home runs, runs batted in, and total bases when his season ended prematurely after he suffered a spiral fracture of the pinky on his left (catching) hand while diving for a line drive. Sportswriters and official scorers named him a league all-star, while he also shared most valuable player honors with Jamie Cocanower, a pitcher.6
Maldonado feasted on Triple-A pitching after being promoted to the Albuquerque Dukes of the Pacific Coast League for the 1981 season. The outfielder whacked two homers and knocked in six runs in a 15-9 win over Phoenix on April 22. He was only getting warmed up. On April 30, he hit two round-trippers in his final two at-bats against the Tucson Toros. He was plunked in his first plate appearance the following night, and responded by hitting a solo shot in the fourth and a two-run homer in the fifth to power his team to a 7-5 success. The homers on four consecutive at-bats tied a league mark set by Gus Zernial in 1948 and matched by Ted Beard five years after that.7
Maldonado didn't only do his slugging with a bat. On August 18, 1981, he was hit in the helmet by a pitch thrown by Rick Aponte of the Toros. Maldonado charged the mound, only to be tackled by trailing Toros catcher Tom Vessey. As both dugouts emptied, Maldonado's manager, Del Crandall, went after Aponte, who blocked a punch with his gloved hand. For his efforts, Crandall was punched in the nose by Toros first baseman Danny Heep. It was the fifth time in the season that Maldonado fought a pitcher.8
Maldonado and first baseman Mike Marshall gave the Dukes a mighty power duo and the pair received attention from The Sporting News and other newspapers as future stars. Both players were September call-ups, debuting in the majors at Dodger Stadium on September 7, 1981, two days after Maldonado's 21st birthday. The 6-foot, 180-pound outfielder replaced Dusty Baker in left field in the ninth inning of a 5-1 victory over the San Francisco Giants. The Candy Man, as he was called, went just 1-for-12 with five strikeouts in his first stint with the Dodgers.
After a stellar 1981 campaign with the Dukes (.335, 21, 104), he returned to Albuquerque for more seasoning in 1982, once again recording strong numbers (.301, 24, 96) and again joining the parent Dodgers in September.
Meanwhile, Maldonado continued to play in the Puerto Rico Winter League with the Arecibo Lobos (Wolves), who took the league title in 1982-83. The Lobos went on to win the Caribbean World Series in Caracas, Venezuela, posting a 5-1 record. Against Mexico, Maldonado hit a two-run single in the eighth inning for a 2-1 victory. He also hit a three-run homer and saved another game with a leaping, over-the-fence catch. The heroics cemented his reputation among Puerto Rican fans, and to no one's surprise Maldonado was named the tournament's all-star center fielder.
A month later, Maldonado reported to training camp at Dodgertown in Vero Beach, Florida. At 22, he had been in the organization five years, still without a spot on the parent club. The Dodgers already had five outfielders. "Where am I going to put him?" lamented manager Tommy Lasorda.9 Maldonado was asked to try third base as a potential backup to Pedro Guerrero, another player who had chafed at a long internship.
With his options running out, Maldonado figured he might be traded to another team. "I've got to realize that a lot of ballplayers are going through the same thing," he said. "I guess what makes the difference between being a kid and a man is having a little more understanding of what's happening around you, why this may not be for you."10
Maldonado split the 1983 season between Albuquerque and the Dodgers, where he replaced Ron Roenicke as a fifth outfielder. Maldonado recorded just 12 hits, including his first big-league home run, in 62 at-bats (.194), as both Lasorda and batting instructor Manny Mota blamed impatient aggressiveness at the plate for the poor showing. He got his first taste of the postseason, going 0-for-2 as a pinch-hitter as the Dodgers lost the best-of-five National League Championship Series in four games to the Philadelphia Phillies.
Maldonado would become one of those players who seemed always to be in the playoffs even as he bounced from team to team, seeing postseason action in 1983, '85, '87, '89, '91, and '92.
Maldonado spent the next two seasons full-time with the Dodgers before he was traded to the Giants for Mexican-born catcher Alex Trevino in December 1985. The Giants at first used him as a pinch-hit specialist. In his first month in San Francisco, the new acquisition registered eight hits, including two homers, in 10 pinch-hit appearances, knocking in six runs. That earned him a full-time spot in the lineup at last, and Maldonado hit 18 and 20 home runs in successive seasons.
On May 4, 1987, Maldonado, batting cleanup, hit for the cycle in game against the Cardinals at Busch Stadium. Maldonado was left stranded after hitting a third-inning triple. By the time he came to bat in the seventh, he was 1-for-3 and his team was trailing by 7-2. Maldonado homered off starter Danny Cox, who lasted only one more batter. Maldonado then singled in the eighth and doubled in the ninth as the Giants came from behind for a 10-7 victory.
Following their collapse in the 1987 Championship Series, the Giants returned to the playoffs two years later, eliminating the Chicago Cubs before being swept in the Earthquake Series by the cross-bay rival Oakland A's. Before the Series, Maldonado lamented a season-long slump in which his swing seemed to have deserted him. "I went through a lot of things that probably could have destroyed me, because (baseball) is something that I love," he said. "It's frustrating when you know you're not doing the job you can do and you see the other guys doing it all and you want to be a part of it."11 In the end, Maldonado struck out four times in 11 at-bats, his only safety a pinch-hit triple off reliever Rick Honeycutt in Game Four. The outfielder signed as a free agent with the Cleveland Indians the following month. He hit a career high 22 homers for the Tribe in 1990 before signing with the Milwaukee Brewers just before the start of the 1991 season. In August, the Blue Jays pried him from the Brewers in exchange for minor leaguer Bob Wishnevski and a player to be named later, who turned out to be minor leaguer William Suero. Maldonado responded by hitting .277 in 52 games with 7 homers and 28 RBIs, though he sagged with a 2-for-20 run in the postseason.
Maldonado hit .272 with 20 homers for the Blue Jays in 1992. He had timely hits in the World Series, the first coming in the bottom of the ninth inning of Game Three against the Atlanta Braves at Skydome in Toronto. A series of managerial chess moves pitting relief pitchers against pinch-hitters led to a situation with the bases loaded and one out in a 2-2 game. Jimy Williams, acting in place of manager Bobby Cox, who had been tossed for throwing a helmet onto the field, called on Jeff Reardon to face Maldonado, who had a woeful 2-for-13 career record with seven strikeouts against the right-hander. Maldonado swing and badly missed two curveballs from Reardon, who then threw a third. The Candy Man was waiting for it. "I figured after the first two made me look so bad, he wasn't going to change," Maldonado said later.12 The batter drove the ball to deep center for a game-winning single in the first World Series game played in Canada.
Maldonado's second hit in the Series came against left-hander Steve Avery in Game Six, a solo homer to left field in Atlanta in the top of the fourth inning to give the Blue Jays a 2-1 lead. Maldonado and the Jays went on to win the game, 4-3, in 11 innings, and the World Series.
He spent the next three more seasons wearing four different uniforms. Maldonado retired after the 1995 season with a .254 career average, 146 homers, and 618 RBIs in 1,410 major-league games.
Five years later, Maldonado joined the Spanish-language ESPN Deportes as an analyst and co-host of such shows as Beisbol Esta Noche. Among his contributions was a weekly online video, called La Esquina de Candy (Candy's Corner), in which he addressed newsworthy topics.
Maldonado has been inducted into the Salón de la Fama del Béisbol Profesional de Puerto Rico (Puerto Rican Baseball Hall of Fame) and the Pabellón de la Fama del Caribe (Caribbean Baseball Hall of Fame).
Last revised: August 1, 2018
This biography is included in "Puerto Rico and Baseball: 60 Biographies" (SABR, 2017), edited by Bill Nowlin and Edwin Fernández.
Sources
In addition to the sources cited in the Notes, the author also consulted Baseball-Reference.com and Retrosheet.org. Thanks to Jorge Colon-Delgado and Candy Maldonado for helping with information for this biography.
Notes
1 Tony Pena Scores on Candy Maldonado's Throw . Retrieved January 17, 2017. youtube.com/watch?v=2q6tH9KNSag.
2 Steve Wilstein, "Maldonado: 'I Feel Real Down,"' Star Press (Muncie, Indiana), October 14, 1987.
3 Will Smith Takes on Ozzie Smith and Jose Oquendo video]. Retrieved March 13, 2017. https://youtube.com/watch?v=2hbxU20SkNQ.
4 Paul Scherr, "Maldonado, Marshall Climb Fast on Dodger Ladder," The Sporting News, July 25, 1981: 38.
5 Ibid.
6 "Season Ends Early for Maldonado," The Sporting News, September 13, 1980: 57.
7 "The Candy Man," The Sporting News, May 23, 1981: 41.
8 "Dukes Duke It Out," The Sporting News, September 12, 1981: 69.
9 Gordon Edes, "Maldonado: What He Wants Is a Chance," Los Angeles Times, March 7, 1983.
10 Ibid.
11 "Giant Hopes Slump Is a Thing of the Past." Press-Citizen (Iowa City, Iowa), October 13, 1989.
12 1992 World Series video . Retrieved April 3, 2017. https://youtube.com/watch?v=mDVND9PC8DQ.
Full Name
Candido Maldonado Guadarrama
Born
September 5, 1960 at Humacao, (P.R.)
If you can help us improve this player's biography, contact us.
https://sabr.org/sites/default/files/MaldonadoCandy.jpg
600
800
admin
/wp-content/uploads/2020/02/sabr_logo.png
admin
2012-01-04 20:38:59
2012-01-04 20:38:59
Candy Maldonado