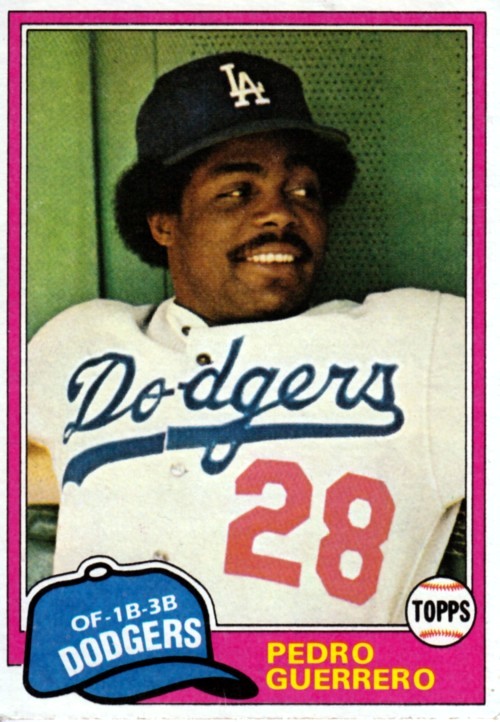 Godsends always arrive on schedule. But God sends great baseball hitters far less frequently than are promised by even the most clairvoyant of baseball prophets. Saber-sophist Bill James once proclaimed the Los Angeles Dodgers' Pedro Guerrero "the best hitter God had made in a long time." It was the mid-1980s, and Guerrero was in the prime of his career. In little more than half a decade, he was a World Series MVP as a rookie, a perennial All-Star and MVP candidate and the highest paid Dodger in franchise history. His 1985 season was a blue streak of record-setting at-bats. There was every reason to believe that Guerrero would have an epic career.
But fate would conspire to ensure that Guerrero never more than fleetingly achieved the greatness predicted by James. Guerrero's career ultimately proved a hero's (or anti-hero's) journey; a mythical story of supernatural aid plucking a young prodigy from impoverished obscurity, followed by an archetypal course of challenges, triumphs, and temptation that led from glory to an obligatory abyss and subsequent atonement.
Pedro Guerrero was born June 29, 1956, in San Pedro de Macoris, a dense provincial city on the east coast of the Dominican Republic. The nation had already gained baseball fame for producing such stars as Juan Marichal, Ozzie Virgil, Rico Carty, the Alou brothers, and Guerrero's future major league mentor, Manny Mota.
San Pedro would later gain international notoriety as the "Land of Shortstops" for producing an abundance of major league talent. In the early 1970s, Guerrero's impoverished community offered few prospects beyond a life of labor in the surrounding sugar cane fields. Guerrero was barely a teenager when he left school to help support his family cutting cane for the island's rum industry. Though his earnings were less than $3 US a week, the strapping youth was as adept as most men at hewing, stripping, and heaving large bundles of cane stalks.
The young teenager provided for his divorced mother and siblings by day, but enjoyed playing the drums during the evening and participating in organized baseball on weekends. By age 16, Guerrero stood out amongst his peers in a local youth league, primarily at third base, littering the neighborhood with warped baseballs smashed beyond outfield walls and over apartment buildings.
Word spread through the island's baseball circles of an extraordinary young talent amongst the petromacorisanos in San Pedro. Latin scouting pioneer Reggie Otero, representing the Cleveland Indians, decided the teenager was worth a visit. Otero described his first impression of the Dominican prodigy: "He was five-feet-11, 157 pounds. I looked at the width of his shoulders, back and front, and knew that he would get heavier and stronger. He had lived off of rice and beans." (SI)
In late 1972, Otero offered Guerrero a pro contract, which included a $2,500 bonus to be paid out on New Year's Day of 1973.
At age 17, Guerrero began his career with a season of rookie ball in the remote Gulf Coast League. Pedro eventually distanced himself from the whole crop of rookie league peers, both athletically and geographically. In April 1974, the Indians, seeking pitching help, traded Guerrero to the Los Angeles Dodgers for minor leaguer left-handed pitcher Bruce Ellingsen.
Dodger personnel director Al Campanis had inside information. Los Angeles had recently hired Reggie Otero, who recommended the acquisition of Guerrero.
Ellingsen wasted no time proving a disastrous acquisition for the Indians, pitching in 16 major league games before leaving baseball altogether at age 25. Ellingsen's flame-out, contrasted with the distance and height of Guerrero's career, ranks the trade as one of the most lop-sided straight-up swaps in baseball history.
The Dodgers saw great promise in their new farmhand. Guerrero cut a striking figure, balancing upper body strength with quickness afoot. It wasn't long before the minor league sensation was lauded as a five-tool prodigy who could hit for power and average in addition to fielding many positions.
The Dodgers were content to let Guerrero ripen in their cabbage patch of talented farm prospects despite his early aptitude. In any case, there was no vacancy in the LA infield for the foreseeable future. Shortstop Bill Russell and second baseman Davey Lopes formed one of baseball's best double play combos, and perennial All-Stars Steve Garvey and Ron Cey were fixtures at first and third bases. The Dodgers were clearly the "haves" in the unlocked world of free-agent major league baseball. Los Angeles won three pennants between 1974 and 1978, receiving a steady supply of pitching talent from Triple-A Albuquerque, and gaining talent through trades and the free agent.
While the parent club failed to capture a World Series title in 1977 and 1978 losses to the Yankees, Guerrero shined in the minors, hitting .300 or better in six seasons and being named to minor league All-Star teams at both first and third base. In 1977, he was leading the Pacific Coast League at AAA Albuquerque with a .403 batting average, when he fractured his left ankle in the field. The injury cost him a call-up to the majors.
Guerrero shook off this first significant injury and dedicated himself to rigorous rehab. He reflected on the setback in a 1982 interview with Sports Illustrated: "Before, I wasn't interested in being a good base runner or working on my defense. All I worried about was my hitting. After I got hurt I had a lot of time to think. There was a lot more money in baseball than when I signed, and I was thinking that if I played better I could make good money someday." (4)
Guerrero's hard work finally earned him a call-up in late 1978. His first major league at-bat came in the fifth inning of a September blowout loss against Randy Jones and the San Diego Padres. Pedro pinch-hit for former minor league roommate and future nemesis Rick Sutcliffe, and promptly singled for the first of the 1,618 hits he would garner in his big league career. Exactly a year later he hit his first major league home run off Padres pitcher Bob Owchinko, appearing in 25 games total in 1979.
Pedro made significant contributions to the parent club in 1980. He filled valuable a utility role over two stretches during the season, spelling an ailing Davey Lopes at second and a slumping Rudy Law in center. Overall, Guerrero played six different positions in 1980 and batted an impressive .322 with 7 homers and 31 RBI in 183 at-bats.
The talented tyro did everything he could to endear himself to management during these early years, proving himself an unselfish, jovial teammate who could deliver timely hits and field where needed. The young slugger also bought himself a fun toy in the form of a new Thunderbird. Teammates and fans recall the young Guerrero roaring out of the Chavez Ravine parking lot and regularly returning with his gorgeous lady friend riding shotgun. Guerrero was courting Denise, a young woman of Latin and European ancestry from New Mexico. In the beautiful young companion, Pedro had met his lifelong love. The couple would soon marry and move into a condominium in the Wilshire District of Los Angeles.
1981 started fortuitously for the deserving Dodger. Incumbent right fielder Reggie Smith was still rehabilitating from an arm injury suffered the year prior, so the spot in right field was open for Guerrero at the start of the season. Pedro made the most of the opportunity. His early numbers in 1981 were All-Star caliber. The Dodgers were atop their division and Guerrero's average well above .300 when a players' strike halted the season full stop in early June.
The season resumed in August, but two months were torn from the schedule.
When play resumed, pennant races were replaced by a prosthetic playoff system pairing "first half" winners against "second half" winners in each division, infused with a pair of wild card teams and grafted over with a divisional playoff. The Dodgers would benefit from the lopsided logic, guaranteed a playoff spot for their first-half success. The second act would be a different story.
The All-Star game was played in Cleveland on August 9th as an introduction to the re-start of the season. Guerrero's .325 first half batting average won him a spot on the NL roster, his first of five All-Star nods. Guerrero batted only .269 in the latter half of the split campaign as the Dodgers posted a mediocre 27-26 record the rest of the way.
Guerrero's slump continued into the postseason. The Dodgers were pushed to the brink in two consecutive playoff rounds against Houston and Montreal, but managed to overcome the deficits in each series. In the final game of the National League Championship Series against the Montreal Expos, Los Angeles' Rick Monday hit a miraculous ninth inning home run in Montreal's Olympic Stadium to give the pennant to the Dodgers.
The powerful and wealthy Dodgers met the powerful and wealthy New York Yankees in the World Series. It was their third Fall Classic matchup in five years, and the latest installment in a rivalry that dated back 40 years, across two coasts and two New York City boroughs.
The Yankees gained the early advantage while the Dodgers looked disoriented at the plate, dropping the first two games. In the third game, played at Dodger Stadium, Los Angeles squandered a three-run lead gained by Ron Cey's first-inning homer when the Yankees scored four runs against rookie Fernando Valenzuela. Yankees reliever George Frazier settled in nicely after entering in the third in relief of starter Dave Righetti and snuffing a two-on, no-outs Dodger threat.
Guerrero came to bat in the fifth, facing Frazier, with Garvey and Cey on base with no outs. In the third, Pedro had fouled off two bunt attempts before striking out swinging on five pitches, and the Dodgers had failed to score in the inning. Facing the same situation, the logical decision was to move the runners over once again. Dodger Manager Tommy Lasorda's instinct told him otherwise.
Yankees expected the bunt, and Yankee third baseman Aurelio Rodriguez bit hard when Guerrero squared his stance. Unexpectedly, Guerrero withdrew from the bunt stance and hacked a ground ball past the outstretched glove of the drawn-in Rodriguez. The hard grounder allowed Garvey to score and Cey to advance to third. Guerrero hustled to reach second base, and Cey scored the go-ahead run on a subsequent double play. The pair of decisive runs was enough as Valenzuela held on to secure the 5-4 comeback complete-game win.
The Dodgers won a back-and-forth 8-7 battle to even the Series in Game Four, but were on the ropes again at home in Game Five. Ron Guidry baffled the Dodgers, cruising into the seventh with a two-hit shutout and nine strikeouts. After dispatching Dusty Baker on three pitches, a Louisiana Lightning strike was followed with a resounding peal of Dodger Blue Thunder, as Guerrero smashed a home run to deep left field. Guerrero commented on his solo shot after the game: "I hit a slider…as soon as I hit it I knew it was gone." (Fimrite, Sports Illustrated) Steve Yeager followed with another homer, and the back-to-back round-trippers were enough for a 2-1 win, Los Angeles' third in a row.
Guerrero had factored into three straight World Series wins, but his crowning performance sealed the series for the Dodgers.
Pedro bombed The Bronx in Game Six with five RBIs and eight total bases amassed on a triple, homer, and bases loaded single. The one-man show capped a 9-2 victory and gave the Dodgers' their first World Series title in 16 years. Guerrero was named co-MVP of the Series along with teammates Ron Cey and Steve Yeager.
Despite his Fall Classic heroics, Dodger management was said to have entertained a deal in the offseason that would send Guerrero to the Padres in exchange for their stellar shortstop, Ozzie Smith. Rumors subsided and Guerrero was still a Dodger for the start of the 1982 season. The Dodgers confirmed their confidence in their burgeoning star by awarding Guerrero Steve Garvey's long-time spot as Dodgers cleanup hitter. The former league MVP was bumped to third in the order. Pedro came through with a tremendous season. By season's end, he led the team in batting (.306), runs (86), home runs (32), runs batted in (98), slugging (.543) Guerrero also became the first Dodger to hit 30 home runs and steal 20 bases in a season. He finished third in National League MVP voting behind Dale Murphy and Lonnie Smith. It would mark the first of four times Pedro would finish in the top four of MVP voting.
Despite his breakout totals in 1982, Guerrero and Dodgers floundered at season's end, losing eight straight games and coughing up a division title to Atlanta in ignominious fashion. The excruciating skid saw the Dodgers lose six of eight games by one run, three in extra innings. The season came down to a final four-game series against the Giants, in San Francisco, with the division title up for grabs. The Dodgers needed to win each game, but Guerrero was conspicuously absent for the full set. Without clear explanation, a sore hand and hamstring were assumed the cause. Rumors swirled about off-field excesses.
Still, Los Angeles won the first three without their cleanup hitter. In Game 162, Giant second baseman Joe Morgan broke a 2-2 seventh inning tie with a three-run homer that won the game and kept the Dodgers out of the playoffs.
The colossal collapse was the death knell for the old Dodgers guard. Davey Lopes was already gone to Oakland. Ron Cey was next – feeling disrespected by Dodger brass, went public with his sentiments and was soon traded to the Chicago Cubs. Steve Garvey also left, signing a handsome contract with division rival San Diego.
With these long-timers gone, the Dodgers turned to young talent: Steve Sax, Greg Brock, Mike Marshall, and Guerrero. Pedro was now a centerpiece of the team on and off the field, appearing in local advertisements and public service announcements recorded in both Spanish and English.
Guerrero took over at third base, and offensively, he was rock-solid, batting .298, with 32 home runs, 103 RBIs, and 23 stolen bases. Defensively, he was a nightmare, with 30 errors. The miscues made him furious, and his frustrations spilled over into conflict with opposing players.
One particular loss of temper nearly cost him his life. In a game against Houston, Guerrero led a mound charge at Astros pitcher Frank LaCorte who was thought to be throwing at teammate Ken Landreaux's head. "He's in trouble," Guerrero said postgame "I never forget anything like that." (5)
LaCorte's teammate Nolan Ryan soon answered Guerrero's outburst. In a subsequent contest, the Houston fireballer accidently 'let one slip,' beaning Guerrero in the head with a fastball that cracked his batting helmet. "I thought I was dead," said the head-hunted Dodger. Guerrero had the helmet sent to the Astros clubhouse after the game for Ryan to sign.
Despite inconsistencies, the "Baby Blues" endured to win the division title that had eluded them the year prior, posting a 91-71 record. The Dodgers met the NL East champion Philadelphia Phillies in the best-of-five National League Championship Series. Guerrero was largely ineffectual. In Game Three, Pedro committed a mental mistake by throwing to first instead of home, allowing a Phillie run to cross the plate in a 7-2 Dodger loss. Guerrero's post-game comments made the on-field mishap even worse. "I can't look at the ball and the runner," said Guerrero. "I should get help from somebody." The Baby Blues were put to bed for the winter after falling to Steve Carlton in Game Four, 7-2,.
In February of 1984, the Dodgers awarded their All-Star slugger with a princely 5-year, $7 million deal. It was the largest contract in franchise history. The kid from San Pedro de Macoris who dropped out of school to cut cane was now one of the richest athletes in America.
When spring training started in Vero Beach, Guerrero's closest friend on the team, Dusty Baker, was absent from the clubhouse. The veteran had been granted free agency and signed with the rival Giants at season's start. This left Guerrero as the only remaining regular from the 1981 Championship squad. Guerrero was visibly distressed, arriving a dozen pounds overweight and exhibiting lethargy in the field. Rumors swirled about the slugger's off-season partying and poor work ethic. In a miserable start to the regular season, Guerrero managed only three RBIs in his first 60 at bats and ended April with a dismal .179 average. Guerrero was also on pace for another 30 errors.
With the team languishing, skipper Lasorda blasted his underperforming squad and benched Guerrero for two midseason games with a phantom knee injury. After the admonishment, Lasorda met with Guerrero and probed the mind of his disconcerted slugger. The manager posed an imagined scenario, asking Pedro to envision himself at third base with the game on the line in the ninth inning. Lasorda asked his player what would be going through his mind.
"God, please don't let him hit the ball to me," Guerrero replied.
The skipper asked what else he was thinking.
Guerrero added: "God, please don't let him hit the ball to (Steve) Sax."
Pedro was relieved of third base duties and sent to the outfield. The move allowed Guerrero to relax and find his hitting mojo. Before the switch his average was .277; afterwards .336. Guerrero ended the season with a .303 average, but he had totaled only 16 homers and 72 RBI. It was a hard fall for the newly-minted millionaire after two straight seasons of 30 HRs and 100 RBIs. "If I'd known what would happen, I never would have signed for all that money," Guerrero told Sports Illustrated.
The start of 1985 inexplicably had Guerrero back at third, fielding feebly and hitting humbly. With his team a game below .500 on June 1st, Lasorda freed Guerrero to left field. Like clockwork, his funk shook immediately upon hitting the outfield grass.
The shake-up would trigger an explosion of historic proportions. Pedro hit a June record 15 home runs in one of the greatest slugging skeins by any player in history. In his final at bat of June' Guerrero beat Atlanta with a two-run homer off Bruce Sutter to give a 4-3 win, his 15th of the month,.
The offensive outburst made headlines across the country and landed Guerrero on the cover of Sports Illustrated. The accompanying article portrayed Guerrero at his personal and professional apex. He claimed, "When I was playing third last year, I wasn't patient at the plate. This year I am." Batting coach Manny Mota attested to his prodigy's mental steadfastness. "He's a changed man…He's happy, and his mind's clear."
Amazingly, Guerrero was even better in July, hitting .460 with .563 on-base and .794 slugging averages. On July 23, he would start a streak of reaching base in 14 consecutive at-bats, a senior circuit record and just two shy of Ted Williams' major league mark of 16 straight. The streak ended on the 27th, but over the four-day span Guerrero had put together a stretch of two singles' three doubles' two homers' six walks' and a hit by pitch.
The singular resurgence lifted the dithering Dodgers to a postseason berth, but Los Angeles eventually squandered 2-0 NLCS advantage against the pennant-winning Saint Louis Cardinals. Guerrero was again kept under wraps by opposing pitching, hitting only .250 with no homers and four RBI.
Guerrero's 1986 season ended before it even began. On April 3, in the final spring training game a day before the season opener, Pedro caught his left cleat in an aborted slide attempt. The result was a ruptured a patella tendon in his left knee. It was the third base-running injury of his career. Guerrero was lost until the final month of the season, and the Dodgers finished 23 games behind the division-winning Houston Astros.
Guerrero rebounded in 1987. He batted a career high .338, smacked 27 home runs and 89 RBIs to win Comeback Player of the Year honors. Guerrero's batting average was the highest by a Dodger since Tommy Davis belted .348 in 1962. But while locked-in at the plate, Pedro was becoming a destabilizing force in the clubhouse. He openly criticized teammate Mike Marshall for not playing through injury, resulting in a clubhouse fight between the teammates. Despite making his fourth All-Star team, Guerrero complained about his lack of at-bats in the 1987 contest, blaming a conspiracy against the Dodgers franchise. "Everybody hates the Dodgers," stated the sour slugger.
Los Angeles made a fateful roster move during the offseason by inking free agent Kirk Gibson from the Detroit Tigers. LA's new number three hitter was in every way the opposite of the Dodger hitting behind him. Gibson was straight from central casting as the hardscrabble grunt who made up for awkward aesthetics with incomparable strop. Guerrero was the wanton antagonist, implicit in incidents superfluous to winning baseball games.
As elder statesman in the clubhouse, Guerrero fanned an atmosphere of immaturity that immediately drew the consternation of Gibson. An anonymous jokester made Gibson the target of a spring-training joke by rubbing the inside of his cap with eye black. Gibson blew up, calling his teammates "clowns" and storming out of training facility. The childish wind-up smacked of Guerrero. Pedro denied complicity, but a line had been drawn. The Dodgers would eventually have a choice to face: support Guerrero's grin or Gibson's glower.
Guerrero's once carefree aloofness was now shrouded by apathy and petulance. He'd made a habit of losing his cool in recent years, and manifested his temper in a May contest against the Mets when David Cone hit him with an innocuous curveball. Pedro reacted violently. He slung his bat back at the mound, aiming at the Mets' starter. The act led to a four-game suspension from National League President Bart Giamatti. Many, including unnamed Dodger teammates and recently suspended Pete Rose, thought the outburst deserved a more stern suspension.
Los Angeles remained in contention late into the summer of 1988. Clinging to a slim division lead with the trade deadline approaching, the Dodgers were at a precarious point between wait-and-see and all-in. The Dodgers had a particular need – left-handed pitching – a commodity the St. Louis Cardinals were willing to offer in the form of proven starter John Tudor, the league leader in earned run average at the time. The Dodgers offered Guerrero in return for the crafty southpaw.
The deal was made official on August 16. It was a bitter turn for the longtime Dodger. Guerrero had gone from a streaking division leader to an out-of-contention St. Louis squad. While Pedro waited out the last weeks of season at first base for St. Louis, the Dodgers lengthened their lead over the second place Reds, finishing 94-67. With a balanced staff following other-worldly ace Orel Hershiser and Gibson's work ethic pervading the clubhouse, the over-achieving Dodgers secured a playoff spot, overcame the New York Mets in seven games, and pulled off a miraculous 4 games to 1 triumph over the powerhouse Oakland A's in the World Series. Kirk Gibson was named National League Most Valuable Player.
Subsequent gestures of appreciation by his former team only salted Guerrero's emotional wounds. The Dodgers sent Guerrero a framed collage depicting images of his Dodger years – which had shattered during delivery. Guerrero threw the gift in the trash.
The Dodgers also graciously offered Guerrero a 50% share of their World Series bonuses, though Pedro took offense along with the money. "What ticked me off is they gave John Tudor more than they gave me," said Guerrero about the 75% share given to Tudor. "I told (the Dodgers) if you want your money back, I'll give it back. I've got more than all you guys put together." (8)
Guerrero would make more disparaging comments about the Dodgers and his former teammates over the next year. Upon reuniting with Lasorda months later, Guerrero was repentant. "The problem with writers," Guerrero was reported as saying to the Chicago Tribune's Paul Sullivan, "is they write what I say and not what I think."
The Cardinals were not expected to contend in 1989. Instead, they surprised with a strong campaign that had them contending for a playoff spot before falling short in the season's final weeks.
Guerrero was instrumental in the team's success. Cardinal teammates expressed support for Guerrero as the league's most valuable player. "There's no one like Pete when it comes to a pennant race and clutch situations," said catcher Tony Pena. "He's put this team on his back and carried it all year." (16)
In total the Cardinal first-baseman posted another All-Star season with a .311 average, 17 homers, a league-leading 42 doubles and a career best 117 RBIs. Guerrero batted .400 with runners in scoring position over the year and finished third in NL MVP voting.
1990 was a disappointment for the aging slugger, whose 34th birthday on June 29 was ruined by former teammate Fernando Valenzuela. The Dodger no-hit the Cardinals, with Guerrero grounding into a double-play to end the game. There were more confrontations with opposing moundsmen and another stint on the disabled list with a lower back strain. Pedro ended the season with only 13 home runs, 80 RBI and .281 average, a 30-point drop off from the previous year.
Guerrero's decline continued in 1991. An August collision with catcher Tom Pagnozzi on a foul ball resulted in a hairline fracture of Guerrero's right leg. Remarkably, Pedro remained in the game to drive in tying runs in both the ninth and the 12th innings, eventually scoring the winning run. Despite his valiant effort, Guerrero was placed on the disabled list. He was ineffective after a late-season comeback and finished with career lows in home runs and RBIs.
Things fell apart for Pedro Guerrero in 1992. In mid-April, teammate Todd Worrell took umbrage to Guerrero's post-game invitation to a young Dominican from the opposing Cubs to visit the Cards' clubhouse. The Cub was named Sammy Sosa. The Cardinal teammates began shouting and Pedro jumped over a table to throw a punch. Worrell caught the flailing slugger and deposited him into a locker, letting loose a couple of punches on Guerrero before being pulled away.
Guerrero was contrite afterwards: "I shouldn't have brought him in," Guerrero said. "It was my mistake." (17)
The season ended badly for the former star. A shoulder injury limited him to 43 games in which he hit just .219 with one home run.
Guerrero was granted free agency in October of 1992. The next spring, Pedro split time with the Sioux Falls Canaries of the Northern League and the Charros de Jalisco of the Mexican League. He returned to the Canaries in 1994 and signed with the Double-A California Angels squad before retiring from the game for good in 1995.
Over his 15-year major league career, Pedro Guerrero totaled 215 home runs, 898 RBIs, 1615 hits and an even .300 lifetime average. The five-time All Star hit .300 seven times in 10 seasons with the Los Angeles Dodgers, and was a top vote getter in four Most Valuable Player Awards.
There's no question that Guerrero was the best hitter of his era, and in 1985 there was every reason to believe the star was trending towards a Hall of Fame type career. His delay in the minors and nearly five seasons lost to injury, coupled with commonplace choler and carousing, made Pedro Guerrero the classic example of what might have been, with circumstance ultimately outweighing talent.
Instead of going quietly into retirement, Guerrero made headlines in the latter half of the 1990s in embarrassing fashion. The first sign of a dark turn came when OJ Simpson called 911 on Guerrero for running away with his troubled girlfriend.
In 1999, Guerrero was implicated as the "money-man" in a Drug Enforcement Administration investigation on a purchase of 15 kilograms of cocaine Miami. An acquaintance, Adan "Tony" Cruz, asked Guerrero to be a financial guarantor for a large narcotics purchase. For two months Guerrero and Cruz dealt with Nestor Lacerna, and at a meeting in a Miami restaurant, Lacerna confirmed the go-ahead on the deal. Guerrero was to front $200,000 for the cocaine shipment to be delivered to Cruz. Lacerna said he would deliver 15 "little animals" to his associate Cruz. Guerrero guaranteed payment, and the transaction was caught on federal surveillance tapes.
Guerrero was arrested at his Miami home by DEA agents, one of whom turned out to be Nestor Lacerna himself. He had been working undercover on the sting operation. Guerrero was released on $100,000 bail and pleaded not guilty in the criminal trial in June 2002.
Guerrero tapped top-shelf criminal defense lawyer Milton Hirsch as his counsel. Hirsch considered the evidence – Guerrero's voice on tape and several eyewitnesses, all of whom were undercover DEA agents. Plus, the ex-major leaguer had confessed to the crime. "But other than that, they had nothing," said Hirsch in a later interview.
It took only four hours for Hirsch to convince the jury his client was innocent of conspiracy charges. But Guerrero's innocence bankrupted him of pride and dignity. Hirsch's argument was that his client's IQ was too low for him to understand the full implications of the alleged drug deal. Hirsch detailed a humiliating portrait of the former major league All-Star, referencing his lack of education and inability to perform simple tasks such as writing a check or making a bed. The jury bought it, and Guerrero was a free man.
Those closest to Guerrero were unequivocal in their support. They knew the former ballplayer as a loving family man, not the mentally deficient patsy suggested by his defense. Guerrero had endeared himself to thousands of fans and his legacy in major league baseball was that of a kind, outgoing person who made mincemeat of major league pitching for 15 years and had caprices like the rest of the world.
As far as the lordly talent Bill James ascribed to him early in his career, Guerrero has been honest about not meeting his full potential:
"I feel I did a good job in the time I played, but not as good as I was supposed to be if I lived the life I'm living now," Guerrero said. "I would have put up better numbers and been a better person. I'm not a bad guy. I used to come to the park with a hangover every day and I could still play like that. Can you imagine if I had been 100 percent sober all the time? It's too late now to think about…."
Almost a decade after the trial, Pedro experienced a personal rebirth. The burn that guided him through years in the minors and a cruel succession of injuries had re-ignited. Spiritually revitalized, Guerrero set his sights on a familiar goal: getting back to professional baseball.
"I feel like a new man," Guerrero declared. "I know I did a lot of wrong things and especially when I was playing…I let down a lot of people. Now, I'm a new man. I go to church, I'm reading the Bible, I pray every day. The last three years, I quit drinking. That was my big problem. Now, I'm working with kids in the Dominican. I tell them to stay away from drugs and drinking. I'm 100 percent different."
In 2012, Guerrero managed the Tijuana Tuernos in the Mexican League. Most recently, Guerrero was named field manager of the Vallejo Admirals, a charter member of the 4-team Pacific Association of Professional Baseball Clubs beginning play in the spring of 2013. (18)
Last revised: May 1, 2013.
Notes
"Baseball Almanac - Baseball Anecdotes & Stories." Oct. 18, 2012. www.baseball-almanac.com/humor1.shtml.
"Cardinals Timeline | Cardinals.com: History." St. Louis Cardinals. Oct. 18, 2012. http://stlouis.cardinals.mlb.com/stl/history/timeline5.jsp.
"AROUND THE MAJOR LEAGUES: Guerrero, Worrell Get Into a Fight." Los Angeles Times, April 19, 1992. http://articles.latimes.com/1992-04-19/sports/sp-980_1_daily-report.
"AROUND THE MAJOR LEAGUES: Cardinals' Torre Bans Fraternization. Los Angeles Times, April 20, 1992.
Bagnato, Andrew. "Sandberg Ends RBI Suspense." Chicago Tribune. Oct. 7, 1991.
Gurnick, Ken. "Guerrero Sincere He's Turned Life around." MLB.com, May 3, 2010.
Kaplan, Jim. "A Bolt Out Of The Dodger Blue." Sports Illustrated. August 5, 1985
Kaplan, Jim. "A Hit Every Place He Plays." Sports Illustrated. Oct. 4, 1982.
Mitchell, Fred. "Cub-dodger Game On Hold: So Is Feud." Chicago Tribune. July 10, 1987.
Mitchell, Fred. "Dodgers` Guerrero Rushed To Hospital." Chicago Tribune. July 12, 1985.
Modesti, Kevin. "Despite Past, Guerrero Still Has Smile." Los Angeles Daily News. Feb. 10. 2002.
Sullivan, Paul. "National League: The Week In Review." Chicago Tribune. May 7, 1988.
"Crushing losses to Yankees helped prepare Dodgers for glory." Posted: Friday June 18, 2004 11:33AM; SI.com
Fimrite, Ron. "The Series Was Up For Grabs." Sports Illustrated. November 2, 1981
"Former Dodger Is Acquitted of Drug Conspiracy Charges." June 7, 2000. Associated Press
Gammons, Peter. "A Series To Shout About." Sports Illustrated. Sept. 18, 1989
Stewart, Larry. "Guerrero in No Mood to Congratulate Friend: Cardinals: His double-play grounder in the ninth preserved no-hitter, spoiling his 34th birthday." Los Angeles Times. June 30, 1990
O'Donnell, Matt. "Vallejo Admirals hire ex-Dodger Pedro Guerrero as manager." Times-Herald Online. April 13, 2013.