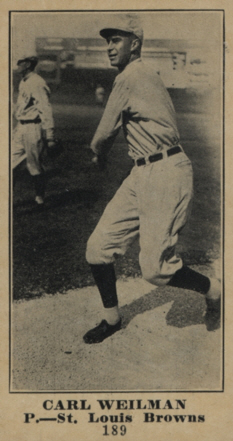 ---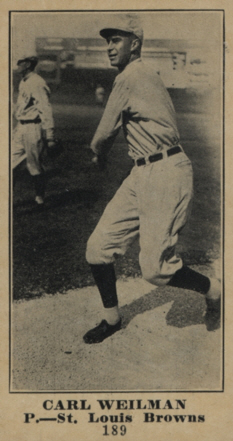 Tris Speaker of the world champion 1915 Boston Red Sox declared Carl Weilman of the St. Louis Browns to be one of the six best pitchers he ever faced.1 "If you ask the Detroit Tigers," said sportswriter L.C. Davis, "the six best pitchers in the American League are Carl Weilman."2 The Tigers were the best offensive team in major-league baseball in 1915, yet they finished in second place in the American League, 2½ games behind the Red Sox. Weilman, a towering southpaw, won eight of nine decisions from the Tigers that year. Detroit's incomparable Ty Cobb said Weilman was the toughest pitcher he ever faced.3 Sadly, health problems derailed Weilman's promising career and ultimately caused his death at the age of 34.
Carl Edward Weilenmann was born in Hamilton, Ohio, on November 29, 1889. He was the second oldest of seven children born to John Weilenmann, a Swiss immigrant, and Louisa C. Schlotterbeck, a daughter of German immigrants.4 Carl graduated from Hamilton High School.5 John was a machinist and taught Carl the trade. The demand for machinists was great in Hamilton, where manufacturers produced "stoves, steam engines, agricultural implements, machine tools, furniture casters, ornamental fencing, and bank vaults."6
But Carl wanted to be on the baseball field, and several times against his father's wishes, he quit his job in a machine shop to try out for a minor-league team. After each trial petered out, he returned home to a stern lecture.7 Finally, in 1912 he got the opportunity he was seeking, on the Maysville (Kentucky) Rivermen of the Class D Blue Grass League. He batted .362 in 50 games for the Rivermen, and on the mound he compiled a 16-8 record in 198 innings, with 172 strikeouts and only 35 walks.8 He was "discovered" by scouts Charley Barrett and Billy Doyle, and the St. Louis Browns paid $500 to acquire him.9
Normally, a Class D star would advance to a Class A or Class B minor-league team, but the Browns were in desperate need of pitching help, and engaged Weilman without delay. In his major-league debut, on August 24, 1912, he pitched six innings in relief and allowed four runs in the Browns' 9-2 loss at Philadelphia. He lost his first three starts before hurling a pair of seven-inning shutouts against the Chicago White Sox in late September. (Each shutout was the second game of a doubleheader, called after seven innings due to darkness.) Weilman allowed only five hits in those 14 innings.10 This was no fluke; the White Sox "admitted the youngster fooled them with some real goods."11
Weilman then blanked the St. Louis Cardinals twice in an October exhibition series between the St. Louis teams. In the first of these shutouts, he missed a no-hitter by inches, when Steve Evans's fly ball landed barely fair for a two-base hit.12 Weilman "has strength, speed and nerve, and one of the best assortments of southpaw stuff of any youngster who ever broke into the league," said Sporting Life. "It seems impossible to rattle him."13
Newspapers often mentioned Weilman's size. He was slender, between 187 and 200 pounds, and at 6-feet-5½, he was one of the tallest players in baseball. Like the 6-foot-10 Randy Johnson in the 1990s, Weilman was viewed with curiosity. He was called the Human Skyscraper or "Woolworth,"14 after the Woolworth Building in New York City, at the time the tallest skyscraper in the world. People asked him how he could sleep in a Pullman berth. It's easy, he said; stick one leg out the window of the train car and the other into the aisle.15
Unlike Randy Johnson, Weilman did not have overpowering stuff. He was more like Tom Glavine in his approach: good fastball, curveball and changeup, with excellent control, able to paint the corners. According to Browns manager George Stovall, Weilman resembled pitcher Addie Joss. "Weilman works the same as Addie used to," said Stovall, "and he picks up his front foot in the same way."16 The comparison was eerily prescient: Joss died in 1911 of tuberculosis, and Weilman would succumb to the same disease.
The 1913 season was a struggle for Weilman and the Browns. He won his first three starts in impressive fashion, with two victories over the Tigers and one over the White Sox, but he won only seven of his next 26 decisions en route to a 10-19 record. In a 15-inning contest against the Washington Senators on July 25, Weilman set a major-league record for futility at the plate when he struck out six times; the great Walter Johnson fanned him in four of the at-bats.17 Stovall was fired in September, and the Browns finished in last place.
The next season, under new manager Branch Rickey, the Browns improved to fifth place and Weilman developed into one of the best pitchers in the American League. He compiled a 17-12 record and his 2.08 ERA ranked sixth in the league. Highlights included two shutouts against the Tigers and a 12-inning shutout of the Red Sox. On October 5, 1914, he married Lucy Owens Dresel, "a Kentucky society girl and heiress," whom he had met in Maysville in 1912.18
Popular with his teammates and respected by opponents, Weilman was modest and good-natured. He was also industrious. He followed a strict training regimen and abstained from alcohol and tobacco.19
Weilman began his mastery over the 1915 Tigers by throwing a five-hitter in a 3-1 victory at Detroit on April 26. In St. Louis on May 8, he beat the Tigers, 6-4, and fanned Ty Cobb twice. Three weeks later in St. Louis, Weilman was removed from the first game of a doubleheader after allowing four hits and a walk to the first five batters; it would be his only loss to the Tigers in 1915. The next day he hurled a gem, allowing four hits in 12 innings as the Browns overcame the Tigers, 3-2, in the first game of a doubleheader.
The Browns played in Boston June 17-19, and then traveled to Detroit for a five-game series, June 20-26, but their baggage got lost in transit. They arrived in Detroit without equipment or uniforms, so they played on June 20 using equipment borrowed from the Tigers and wearing the Tigers' road uniforms. Despite the inconvenience, Weilman pitched brilliantly, firing a four-hit shutout as the Browns nipped their hosts, 1-0. His control was so perfect, "he could have hit a gnat in the eye," said sportswriter E.A. Batchelor.20 Two days later Weilman allowed one run in eight innings of relief to earn the victory in the Browns' 13-9 triumph in 15 innings. Then on June 26 he tossed a six-hitter for his third win of the series. His season record against the Tigers was now 6-1, though his combined record against the other AL teams was 3-7. Conversely, the Tigers were 1-6 against him and 35-20 against all other AL pitchers. People wondered what sort of hoodoo Weilman had on Detroit.
The southpaw tamed the Tigers by neutralizing their three best hitters – Cobb, Sam Crawford, and Bobby Veach – all left-handed batters. The career batting averages of the "big three" are .366 for Cobb, .309 for Crawford, and .310 for Veach, but their career averages facing Weilman are .236, .214, and .211, respectively.21 The Washington Herald described Weilman as "a philosopher and a thinker" who studied "batters and their peculiarities and methods."22 According to Cobb, Weilman used great judgment in working the batters – he pitched with his head as well as his arm.23 "Weilman knew the type of ball I liked least, and just where I didn't like it," said Cobb. "He would proceed to serve me on such a diet through the entire game."24
On July 13 Weilman threw a four-hit shutout to defeat Walter Johnson and the Senators. In the second game of a doubleheader on July 24, Weilman beat the Red Sox, 3-2, aided by George Sisler's first major-league home run. On August 21 Weilman outpitched Babe Ruth but lost to the Red Sox, 4-1, after Browns catcher Sam Agnew made two costly errors.25
Weilman's five-hitter in St. Louis on September 4 was his seventh win of the season versus the Tigers. And in Detroit on September 30, he threw a six-hitter for his eighth win, which eliminated the Tigers from the pennant race.26 He finished the season with an overall record of 18-19 for the sixth-place Browns, though he was 8-1 against the second-place Tigers. Sportswriter F.C. Lane said the Tigers lost the 1915 pennant because of "the superb control" and "masterly pitching craft" of Weilman.27
In 1916 Weilman was 3-6 against the third-place Tigers, and 17-18 overall with a stellar 2.15 ERA for the fifth-place Browns. But his 1917 season was cut short in early May by his nemesis, mycobacterium tuberculosis; the contemptible pathogen had infected one of his kidneys. The tubercular kidney was surgically removed on May 17, 1917, eight days after his wife gave birth to their only child, daughter Mary Louise.28
Weilman sat out the remainder of the 1917 season and all of the 1918 season, endeavoring to regain his strength and fitness. Many doubted that he would return to baseball. He could earn a comfortable living as a machinist and avoid the physical strain of pitching. But Weilman returned to the Browns in 1919 with a performance worthy of a Comeback Player of the Year Award.29 He compiled a 10-6 record with three shutouts, and his 2.07 ERA ranked third in the league; only Walter Johnson and Eddie Cicotte achieved a lower ERA. Catcher Sam Agnew said Weilman "is just as good out there today as he was in 1916. … He knows every batter and never gives a batter a ball he can hit."30
Weilman was sidelined by an injury during the final two months of the 1919 season; it was described as an abdominal or hip strain, and it is unclear whether it was related to his prior kidney trouble.31 He missed the following spring training with the flu, yet began the 1920 regular season with a 6-3 record and a 2.94 ERA through games of June 19. But after June 19, his record was 3-10 with a 5.42 ERA. Citing health concerns, he announced his retirement in January 1921, at the age of 31.32
For the next three years, Weilman scouted for the Browns, and during spring training served as a pitching coach. He became critically ill in the spring of 1924 and died in Hamilton on May 25, 1924. The cause of death was tuberculosis of the throat.
George Sisler, now manager of the Browns, said Weilman "stood for something more than baseball to us. … He was ever uncomplaining regardless of what happened to him. He was a genuine real friend who was a help to all who knew him."33
Notes
Born
November 29, 1889 at Hamilton, OH (USA)
Died
May 25, 1924 at Hamilton, OH (USA)
If you can help us improve this player's biography, contact us.
http://sabr.org/sites/default/files/WeilmanCarl_0.jpg
600
800
admin
/wp-content/uploads/2020/02/sabr_logo.png
admin
2016-09-02 11:43:28
2016-09-02 11:43:28
Carl Weilman