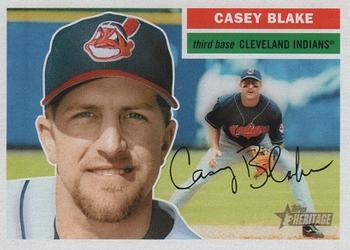 ---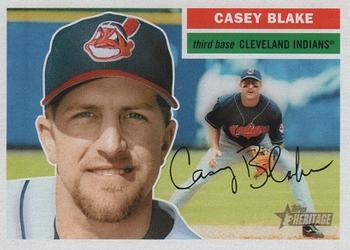 With a career batting average of .264 and the second-highest home run total of any Iowan who ever played major league baseball (after Hal Trosky), it goes without saying that Casey Blake could hit. He also was a good fielder, whether he was playing his natural position of third base or filling in at first base or in right field.
But Blake, above all, was a great teammate.
No matter where he went in 13 years in the big leagues, Blake provided a unifying influence. When he joined the Los Angeles Dodgers in 2008, he became part of a team torn by cliques and dissension. Older players on the team had nothing to do with the younger players. Players of different races from different backgrounds and different cultures almost never intermingled.
Blake, then an established veteran in his mid-30s, made it his mission to bridge those gaps and bring together a team filled with talent but lacking in unity and chemistry. He twice helped bring the Dodgers to within a few games of the World Series, mainly by being what Wall Street Journal writer Hannah Karp described as "one of baseball's least selfish players, quietly hell-bent on smashing conflict, extinguishing outsized egos and making the Dodgers' once deeply divided clubhouse a better place."1
Blake's unselfishness also manifested itself after his retirement from baseball in contributions he has made to the community that spawned him — Indianola, Iowa.
Born August 23, 1973, in Des Moines, William Casey Blake was the third oldest of four brothers who grew up playing every sport there was in Indianola, about 15 miles south of the capital city.
The Blake boys all had a competitive drive fueled by their father, Joe. Joe Blake had played in the New York Yankees farm system and spent more than a quarter century as the pitching coach at Simpson College, just two blocks down the street from the Blake home. He knew how much work it took to achieve success at baseball's highest levels.
The Blakes would go to the park on the weekend and Dad would hit ground balls to the boys. Joe Blake eventually used much of his life savings to build a batting cage in the backyard to help his sons further develop their skills.2
All four boys — Joe Jr., Ben, Casey and Pete — became accomplished players. Ben played in the minor leagues in the Cleveland Indians system and later became the head coach at Simpson. Pete may have been the best prospect of all. A left-handed pitcher and hitter, he played in the Minnesota Twins organization before having his career cut short by a series of arm injuries.
Casey is the one who made it. He played four sports during his time at Indianola High School and said baseball wasn't necessarily his favorite. That probably was football. He played quarterback and earned all-state honors despite being overshadowed by some of the other QBs around the state, including future Iowa State basketball star and coach Fred Hoiberg (at Ames High School) and Ryan Driscoll, who starred at Linn-Mar before going on to play at the University of Iowa.
Blake also was a three-time letter-winner and two-time state place-winner as a hurdler in track. In basketball, he helped Indianola to a third-place state finish as a sophomore on a team led by future Iowa star Chris Street, then made first-team all-state as a senior while leading the Indians to a second-place state finish. In both his junior and senior years, he ranked among the state's top three-point shooters.
"While in school and since, Casey is one of the most humble athletes we have had in Indianola," said Bert Hanson, his high school basketball coach. "He was a leader in every sense of the word. He always strived to get better but of equal importance, he wanted and helped others to get better. That is a quality he has carried through his life as personified by his career."3
Blake's size — he was 6-foot-2 but considerably less than his eventual major league weight of 205 — kept him from being considered a top-level college recruit in football and basketball. From the very beginning, it seemed his future would be in baseball.
As a junior shortstop at Indianola, he batted .493 with 10 home runs and 43 RBIs and he continued that success as a senior, batting .416 and earning first-team Class 4A all-state honors.
He was selected by the Philadelphia Phillies in the 11th round of the 1992 major league draft, but was committed to playing college baseball and had pretty much chosen to attend Creighton over the University of Iowa. He really liked Creighton's head coach, Jim Hendry, who had led the Blue Jays to the College World Series in 1991. But before Blake could sign with Creighton, Hendry took a job as a special assistant to Florida Marlins general manager Dave Dombrowski.
Hendry was good friends with Wichita State coach Gene Stephenson, who didn't normally do much recruiting in Iowa, but Hendry told him about this hot prospect in Indianola. Blake ended up signing with the Shockers before they ever saw him play.
At Wichita State under Stephenson, Blake came into an environment of high intensity and even higher expectations.
"He was an interesting guy to play for," Blake said. "Coming in there, the standard was already set. It was like 'We're going to Omaha every year, no doubt about it.' He wanted mean, tough, blue-collar guys who would just outwork everyone else."4
Blake got playing time in a platoon situation early in his first season but eventually emerged as the everyday third baseman. He batted .366 as a freshman but hit .451 in the Missouri Valley Conference tournament and .500 in the NCAA Atlantic Regional, and eventually made the all-tournament team at the College World Series. He appeared on every freshman All-American team and was on his way.
He was named first team all-MVC in each of the next three seasons and was the league's player of the year as a senior in 1996. He also was a two-time academic All-American, a member of Team USA in 1995 and 1996, and a second-team All-American in 1996. His career average was .354 and he was inducted into Wichita State's athletic hall of fame just seven years after leaving there, in 2003.
At the end of his junior season in 1995, Blake fully expected to be a high draft choice and thought he would turn pro. However, he went undrafted until the Yankees finally chose him, almost as an after-thought, in the 45th round.
After talking to Stephenson, Blake decided to play one more year of college ball and as a highly-motivated senior, he batted .320 with career highs of 22 home runs and 101 runs batted in. The Toronto Blue Jays took notice and chose him in the seventh round of the 1996 amateur draft.
John Sickels, a former research assistant to Bill James who writes scouting reports for various websites, wrote many years later that some scouts were skeptical about Blake's long-range potential. "He was considered to be a fine athlete with good defensive skills at third base, but a questionable bat; scouts were worried that he couldn't hit with wood," Sickels wrote.5
Blake had only modest success at the plate in his first two years in the minor leagues and thought he might be on the verge of being released. But in 1998, while splitting time between Class A Dunedin and Double-A Knoxville, he batted .357 with 18 homers, 43 doubles, 103 RBIs and 19 stolen bases, and emerged as a top prospect.
His average dropped to .245 the following year at Triple-A Syracuse, but he hit 22 home runs and came up to the Blue Jays at the end of the season, batting .256 in 14 games.
Over the next three years, Blake changed teams four times and bounced frequently between the majors and Triple-A. In May 2000, he was picked up on waivers by the Minnesota Twins but batted only .188 in seven games with the big-league club. In 2001, after batting .318 in 13 games with Minnesota, he was waived again, claimed by Baltimore, played in six games with the Orioles, was waived again three weeks later and reclaimed by the Twins.
He managed to bat .309 at Triple-A Edmonton in both 2001 and 2002 but after playing in nine more games with Minnesota in 2002, he was released after the season.
In December he signed as a free agent with Cleveland and finally found a home. He became a starter for the Indians in 2003 and over the next eight years, he averaged 20 homers and 73 RBIs per season at the major-league level.
"I thought he was an excellent hitter. He was always a major league hitter," said Tim McClelland, a fellow Iowan who watched Blake as a major league umpire for many years. "He did what he had to do. He didn't always get a lot of glory or stardom, but he was a great team player. He's a good guy to have on your team."6
Blake really solidified his standing with the Indians in that first season during a mid-season hot streak that earned him American League player of the week honors. On July 5, he had probably the best game of his life against the Minnesota team that twice discarded him, going 5-for-5 with two homers, two doubles and seven RBIs in a 13-2 Cleveland victory.
Blake had perhaps his best year in 2004 when he reached career highs with 28 homers and 88 RBIs while batting .271. The improved power numbers probably were attributable to a better grasp of the strike zone, although Blake, by his own admission, was a player who tinkered with his style of hitting more than most players. He used a wider, less upright, batting stance during most of his years in Cleveland, but often would try to emulate things that he saw working for other players.
"I was awful about altering my stance," he admitted. "It was almost a game-to-game thing."7
Blake also got moved around to different positions in the field during his major league career. He was Cleveland's starting third baseman in 2003 and 2004, but spent more time in right field in 2005 and 2006. He began 2007 at first base before going back to third. For his career, he played 923 games at third base, 238 in right field, 116 at first base and was even briefly pressed into service at shortstop, second base and left field.
The Indians weren't an exceptionally strong team in Blake's first few years with the team, but in 2007 things finally fell into place under manager Eric Wedge. They went 96-66 and won the American League Central Division title.
Blake had been together with many of those same players for about five years — C.C. Sabathia, Jake Westbrook, Travis Hafner, Victor Martinez, Grady Sizemore, Rafael Betancourt, Coco Crisp, Jhonny Peralta — and it was a tight-knit, cohesive group.
"It was a lot of the same guys I broke in with there in 2003," Blake said. "It was just a team where everybody pulled for each other, everybody cared for each other."8
He said many of his fondest memories come from that 2007 season, especially from the final month when the Indians were battling to hold off the competition. On September 14, he hit a game-winning home run off Kansas City's David Riske in the bottom of the ninth inning to give Cleveland an important win. Three days later, he did it again, homering off Detroit's Zach Miner in the bottom of the 11th to finish off the Tigers.
The Indians couldn't quite complete the job in the postseason, though. After beating the Yankees in four games in the AL Division Series, they opened a 3-1 lead over Boston in the ALCS only to have the Red Sox win three straight lopsided games to get to the World Series. It was hardly Blake's fault. He batted .346 in the ALCS and went 4-for-10 in those last three losses.
He continued to be a productive player for Cleveland in 2008, but he was scheduled to become a free agent after the season, and with the team going nowhere in late July, he was traded to the Los Angeles Dodgers with cash for Jon Meloan and Carlos Santana. Blake's numbers declined slightly after the trade, although he still finished with a .274 average, 21 homers, and 81 RBIs.
With the Dodgers, he joined a team with a completely different aura from what he experienced in Cleveland.
"It was weird for me," Blake said. "Obviously, just being traded for the first time was weird. I was going into a locker room where I didn't know anybody and it was kind of a divided clubhouse."9
The older players on the team despised the younger players, didn't talk to them, didn't socialize with them.
"I figured as long as I was there, I might as well try to pull everybody together," Blake said. "I'd like to think I made a difference."10
He befriended brash, younger players such as Matt Kemp, who came to view Blake as a big brother. A 2009 Wall Street Journal article quoted Kemp as saying "I know a great dude when I see one."11
Blake also made an effort to engage some of the older players. Veteran infielder Jeff Kent had a reputation for being grumpy and surly, but Blake softened him up and found him to be a good guy.
More than anything, he tried to open lines of communication and cultivate camaraderie.
"It seemed like we would get to a new city and these guys would go their own way and these guys would go that way," Blake said. "I would say 'Let's all go out to eat. Let's get a room at a restaurant and go have a team meal and spend time together. Let's grow the family.'"12
It worked. When Blake joined the Dodgers, they were two games under .500. They ended up winning the National League's West Division and defeating the Cubs in the NLDS before losing to Philadelphia in the NLCS.
When he became a free agent after the season, the Dodgers signed him to a contract that paid him $18 million over three seasons.
Blake, who came to be known for his trademark beard and a distinct jawline that prompted teammates to call him "The Chin," remained a Los Angeles stalwart in 2009. He batted .280 and drove in 79 runs as the Dodgers again won a division title. Manager Joe Torre loved the way he continually put the team's interests above his own, calling Blake "a throwback."13
Blake created a bit of controversy along the way. When he hit a game-tying home run in the 12th inning on May 10 against the San Francisco Giants' flamboyant closer, Brian Wilson, he mimicked the gesture Wilson made after every save. He later admitted he got caught up in the emotion of the moment and also didn't realize Wilson was honoring his faith and paying tribute to his late father with the move.14
"Of course I didn't mean anything personal by it," Blake later said. "I didn't intend to mock his father or mean any disrespect by it. All anyone sees is what happened afterward. I was excited. I hit a big homer. I got out of my box a little bit."15
The Dodgers again came up short of the World Series. After defeating St. Louis in the NLDS, they couldn't find a way to beat the Phillies.
Blake's stats dropped off a bit in 2010, although he still hit 17 homers and drove in 64 runs while batting .248. He said he still hoped to be an everyday player in 2011, but a series of ailments kept him from doing so. Early in the season, he began experiencing pain and swelling in his elbow and it was determined that he had a staph infection. He underwent surgery for that and came back at mid-season but encountered more problems.
Blake had experienced chronic neck problems throughout his career, but he always had been able to play through the pain and stiffness. This time it didn't go away and actually grew progressively worse.
"It got to where it hurt just to stand in the batter's box and look at the pitcher," he said.16 He finally opted to have season-ending surgery in early September to relieve a pinched nerve in his neck. He ended up getting only 202 at-bats that season and he usually wasn't 100 percent even when he did play. He batted just .252.
He became a free agent again following the season. Although there was some interest from the Indians in bringing him back to Cleveland, he signed with Colorado. The Rockies had a vacancy at third base and they gave him a non-guaranteed $2 million contract with several performance clauses.
Blake had another setback with his neck in spring training, and although he was starting to hit the ball better, the Rockies released him near the end of spring training, on March 27.
He could have continued to play. Even though he was 38, the Texas Rangers were very interested in signing him, especially after starting third baseman Adrian Beltre was injured. Blake needed only 42 more days of service in the majors to become eligible for the maximum players' pension, but he just couldn't bring himself to continue. He was weary of the mental and physical grind. He turned down the Rangers, retiring after having played 1,265 games over 13 seasons.
"In my mind, in my heart, I knew I was done playing." he said. "I just didn't want to do it anymore."17
In the years since retiring, Blake was named one of the top 10 male high school athletes in the history of Iowa and has reaped many other honors. He was inducted into the Iowa High School Athletic Association Hall of Fame in 2013 and the National High School Hall of Fame in 2014. In 2012, a Cleveland Indians website named him one of the 100 best players ever to play for the franchise.18
Blake still lives in Indianola, where he and his wife Abbie [Archibald] are raising six kids — five girls and a boy — the oldest of whom was born in 2001. He spends some time coaching his children's sports teams and also does plenty of golfing and duck hunting, but he mostly just enjoys being a father.
Abbie also was an outstanding athlete at Indianola High School five years after Casey. She earned 17 varsity letters, more than anyone in the history of the school — four each in basketball, volleyball and track, five in softball. She went on to compete in basketball and softball at the college level at both St. Ambrose University and Simpson.
Both Casey and Abbie are concerned with helping the community in which they were raised. In February 2010 they gave $1 million to initiate a foundation, challenging the Indianola community to match their donation. The result is a new multi-purpose sports facility, attached to the local middle school, which serves the needs of the local community.
"It just feels good to be able to help, to be in a position to do something like that," Blake said.19
Needless to say, Indianola will be forever grateful.
"He's a hometown hero and so many people look up to him," Indianola athletic director Bernie Brueck said. "For him to want to provide so many opportunities for local kids, that's tremendous."20
Last revised: July 18, 2018
Acknowledgments
This biography was reviewed by Norman Macht and Rory Costello and fact-checked by Alan Cohen. It was adapted from the chapter about Blake in the author's book, Iowa Baseball Greats (Jefferson, North Carolina: McFarland & Company, 2015).
Notes
1 Hannah Karp, "Casey Blake: The Dodger Diplomat,'' Wall Street Journal, October 20, 2009.
2 Casey Blake interview with Don Doxsie, October 31, 2014 (hereafter Blake interview).
3 "Casey Blake Featured in 2011," Iowa High School Athletic Association Bulletin, October 2011.
4 Blake interview.
5 John Sickels, "Prospect Retro: Casey Blake," Minorleagueball.com, March 5, 2008 (https://www.minorleagueball.com/2009/3/5/780892/prospect-retro-casey-blake).
6 Bryce Miller, "Indianola native Blake to retire after 13 seasons," Des Moines Register, May 9, 2012; 3C.
7 Blake interview.
8 Ibid.
9 Ibid.
10 Ibid.
11 Karp, "Casey Blake: The Dodger Diplomat."
12 Blake interview.
13 T.J. Simers, "Nothing corny about Casey Blake's Dodgers stint," Los Angeles Times, June 28, 2009.
14 Joseph Santoliquito, "Blake meant no disrespect by gesture," MLB.com, May 12, 2009 (https://www.mlb.com/video/blake-meant-no-disrespect/c-4531435).
15 Ibid.
16 Blake interview.
17 Ibid.
18 "The Top 100 Indians: #85 Casey Blake." letsgotribe.com, August 15, 2012 (https://www.letsgotribe.com/2012/8/15/3227222/top-100-indians-85-casey-blake).
19 Blake interview.
20 Steve Dilbeck, "More than a season of giving for Casey Blake," Los Angeles Times blog, December 24, 2010 (http://latimesblogs.latimes.com/dodgers/2010/12/giving-a-moment-of-appreciation-to-casey-blake.html)
Born
August 23, 1973 at Des Moines, IA (USA)
If you can help us improve this player's biography, contact us.
https://sabr.org/sites/default/files/Blake%20Casey.jpg
600
800
admin
/wp-content/uploads/2020/02/sabr_logo.png
admin
2018-07-18 13:34:12
2020-04-09 14:38:43
Casey Blake