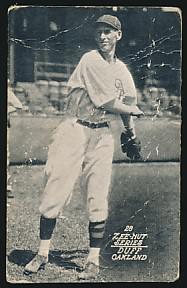 ---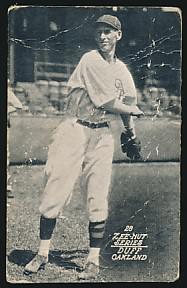 Cecil Duff was a fixture of the semiprofessional circuits of northeast Oregon before pitching three games for the Chicago White Sox in September of 1922. When his playing days were done, Duff returned to Oregon to work in the lumber mills, briefly managing a semipro team called the Loggers. With the ponderosa pine forests depleted and the mills closed, Duff opened a service station. A business acquaintance of Ty Cobb in his later life, Duff enjoyed talking the game with one of the all-time greats, but otherwise lived a quiet, workingman's life with his family before passing in 1969.
Cecil Elba Duff, born November 20, 1896 in Radersburg, Montana, was the last of eight children born to Mariah E. (Henry) Duff, and her gold pyrite mining husband, Alexander Thomas Duff.1 The family of predominately Irish heritage had been in Montana since at least 1874. Cecil, listed as Elba in the 1900 and 1910 censuses, had four older sisters: Jennie, Maud, Winnifred, and Susan Irene, and three older brothers: William, John Alexander2, and Alexander Jr. By 1910 the family was farming in Ferndale, Oregon, near the border with Washington.
C.E. Duff's first regular gig in the semipro ranks came at age 18 with the 1914 Ferndale team in the Blue Mountain League.3 Standing 6'1" and weighing 175 pounds, Duff played mostly at first base, but the righty began pitching for the Milton-Freewater (Oregon) Blue Mountain team the following spring. When not pitching, Duff was used as a utility fielder due to his strong lefty bat (he would go 2-for-5 off major-league pitching). Duff was with the Milton-Freewater team for a total of five years, earning such headline monikers as, "the Freewater farm boy pitcher" and "the Freewater Farmer."4
While Duff's statistical records are preserved in online databases under the name Larry Duff, the author found only one passing reference of Cecil Elba being called Larry, that coming in 1929.5 Another game eight years earlier might hold the answer — or muddy the waters further. It appears there was a pitcher named Larry Duff from Pendleton, Oregon, who on April 11, 1921, faced Cecil Elba Duff pitching for Moose Jaw.6 The 1921 paper correctly identifies C.E. Duff as hailing from Milton-Freewater, and Pendleton Larry as "pretty wild." In the bottom of the eighth Cecil Elba grounded into a fielder's choice off Larry.7 During his time in the big leagues our Duff was most commonly called Cecil Duff, while in the amateur ranks it was usually Elba Duff — although the two appeared interchangeable.8
In 1917, Duff wrote the Seattle Star inquiring about when and where the Seattle Northwestern league team would begin training. The paper answered that the Giants would commence at owner Dan Dugdale's manor in the Rainier valley on April 1.9 By the summer of 1918, Duff was living at the Busch Hotel in Seattle and working at the Skinner and Eddy Corporation helping to build ships for the war effort. Later that summer Duff was stationed at Puget Sound Naval Shipyard in Bremerton, working as a mechanic. A stutter kept Duff from seeing combat.10 Duff was listed as a reserve pitcher on a Navy nine that played the Camp Lewis Army men on July 13 at Dugdale Park in Seattle. A crowd of 8,000, bolstered by 5,000 servicemen, were on hand to see Chicken Hawks, Limb McKenry, Charlie Mullen, and Dutch Ruether for the khaki, and Del Baker and Duff for the blue.11 McKenry pitched Army to a 12-1 victory, as his teammates "took to [minor leaguer, Al Bonner's] curves like a German to propaganda."12 Despite the shipmen being mortared early and often, Duff didn't make it into the game.
Duff would be back with Milton-Freewater for 1919-20. On April 18, 1921, Duff pitched Milton-Freewater past the Moose Jaw (Saskatchewan) team of the Class D Western Canada League. A week earlier, Duff had pitched for Moose Jaw against Larry Duff and Pendleton.13 He soon signed with Moose Jaw for good, and went 4-10 over 25 games. When the Saskatchewan team disbanded citing a lack of fan support, Duff was sold along with 16-year-old teammate Mark Koenig to the St. Paul Saints.14
Duff never made it into a game with the Saints, and spent 1922 pitching for Mitchell in the Class D Dakota League. The ace of the Kernels' staff, Duff won five straight starts en route to leading the league in wins (15), and ERA (3.57). His best game in the Dakotas was a shutout of Jamestown in which he allowed one hit, and nobody past first base.15 On August 6, 1922, Duff was sold to the White Sox for $4,500.16
Duff's major-league debut came at Comiskey Park in the second game of a doubleheader on September 5. Relieving Ted Blankenship in the third inning after the Tigers had plated their fourth run, Duff surrendered another, running the score to 5-3. In the bottom of the third, Duff smacked a single off Syl Johnson for his first big-league hit sparking a two-run rally that knotted the score. The ChiSox scored again in the fourth while Duff proceeded to hold the Tigers scoreless for six innings, striking out Lu Blue, Bob Fothergill, and Larry Woodall while earning his first big-league victory.
Duff's first major-league start came a week later against Cleveland. It was a tough outing, even when aided by a rally-killing 4-6-3-2 triple play in the first inning. Duff had a foul tip injure his battery mate, catcher Yam Yaryan, in the second. He struck out Luke Sewell, but it was downhill from there. Duff faced three men in the third inning before exiting. All three hit the ball hard, including a two-RBI double by Bill Wambsganss.
Duff's last appearance in the majors came in relief on September 21 against the Philadelphia Athletics. Pitching four innings, he gave up three runs on three hits, including a 2-run homer to Bing Miller, before being lifted after the eighth. Six games remained in the season, but Duff's major-league career was over. After the regular season, Duff pitched in the end of the year exhibition series with the Cubs, which the Pete Alexander-led National Leaguers took in seven games.17 The players' pool for the city championship was over $24,000, with each Sox player pocketing $466.88.18 It would be 21 years before another Montana-born ballplayer set foot on a major-league diamond, the longest such drought in Montana baseball history.
Following his stellar year in the Dakota League, and his three games in the bigs, Duff joined the White Sox for spring training in Marlin Springs, Texas. He pitched in a game on March 25 against the defending champion Giants that ended in a tie at nightfall. Although the Sox were a middle of the pack team in 1922 (77-77), at least one paper felt "there is no better looking batch of young pitchers in the American League … Cecil Duff will doubtless [make] the staff."19
Duff broke camp with the big-league club, but never got into a game. On May 7, he was farmed out to Sioux City (Western League) where he went 3-7 over 21 appearances. Duff finished the year with the Springfield (Illinois) Ponies in the Eastern League, going 3-4 in 11 games. While with Springfield, Duff claimed to hit a home run to beat the Hartford team, who had a 20-year-old first sacker by the name of Lou Gehrig.
Duff spent the next three summers in the Virginia League. In 1924, Duff played with the Rocky Mount (North Carolina) Broncos, where he went 23-11, striking out 133 over 282 innings. His wins were tops for the six-team, Class B league, while his punch outs ranked third.20 With the Norfolk Tars in 1925, Duff went 14-15 in 30 appearances. His .313 batting average was fifth best on the team, and good for 25th in the batter-friendly league. With Petersburg in 1926, Duff went 16-22 over 39 games. The workhorse pitcher was second in the league in innings pitched (309), but his 22 losses topped the circuit.
Duff was back in Oregon with the Portland Beavers in 1927. Former Beaver catcher Jack Onslow recommended Duff to Portland after seeing him pitch in Virginia in 1924. The Oregonian caught local fans up, "Duff is a finished [read accomplished] hurler. He is one of those tall stringy, long-armed fellows who seems to make the best pitching material. He has a hopping fast ball which he pitches low and both a deceptive and slow curve ball, and one that breaks quick and fast."21
Duff impressed in his first preseason game, and the Oregonian heaped on more praise:
Duff is one of those tall, lanky, long-armed hurlers and he worked with the polish of a big leaguer. He unfurled a fast ball which he kept low, and a slow curve that was very effective. And better yet, he gave every indication of being a pitcher with control. He has a sweeping overhand delivery, showed great coolness under fire and uncovered a move to first that made [manager] Ernie Johnson and [president] Tom Turner look at each other. Duff is no green pea.22
Pitching in a preseason exhibition at Solidarity Park in San Jose on March 24, Duff held the Philadelphia Colored Giants, with future Hall of Famers Judy Johnson and Biz Mackey, scoreless through six innings.23 The News claimed, "Duff's fastball was sinking half a foot or more."24 Duff added a homer to left field in the fifth inning to help his own cause.
Despite all the accolades, the 30-year-old was sold after just four games to Evansville of the Three-I League. There may have been friction between Duff and manager Ernie Johnson.25 Duff chose to buy his unconditional release rather than head east.26 He continued to farm at Freewater while pitching for the Boise Mountaineers on Sundays. Duff won his first five games for Boise, and seemed quite the draw pitching in the bushes, as 2,000 people came to see his easy delivery on June 5. He allowed only three hits, struck out 12, while driving in four runs on a pair of base hits.27 With Duff at the helm, Boise won the championship of the Southwestern Idaho league. Not done, Duff went on to pitch for the Pocatello Bannocks for the remainder of their season in the Utah-Idaho League.28
Duff was with Oakland at the start of 1928.29 The defending Pacific Coast League champs had no less than 11 pitchers with MLB experience, and Duff only made it into eight games, going 1-1, before being released on May 8.30 His only win was dealt in revenge to the Beavers.31 The Oregonian brought mention that "the big boy stutters painfully when excited," but Oaks manager Ivan Howard countered, "I have yet to notice a stutter on his curve ball. He can pitch, and he knows how to pitch. He has the stuff and the knack of using it."32 1928 was the only year Duff graced a baseball card, Zeenut Candy #74. Finishing the season with the Boise Senators (Utah-Idaho League), Duff would go 8-7 before an undisclosed surgery prematurely shut him down in August.33
Pitching for La Grande (Oregon) in the Blue Mountain league in 1929, Duff was in "midseason form," against Pendleton holding the Buckaroos to six hits, while he collected four of his own, raising his average to .467.34 Duff also did a little work for the Peterson Motor Company in the Boise Twilight league.35
The tail end of 1929 through 1932, Duff was pitching for the Boise Mountaineers.36 The 1930 census finds him working as a garage mechanic in Boise. Duff was suited up for Nampa, Idaho, in 1931 for the town's first night game. Nampa hosted the California Owls, who were managed by first baseman Miss Mae Novak.37 In the spring of 1932 Duff helped organize the Boise team in the semi-pro Idaho-Oregon League, which appears to be his last mention playing ball.38
Cecil Duff married Esther Lillian Tobin, February 8, 1923 in Mount Vernon, South Dakota. The couple had two boys, John F., born in North Carolina in 1925, and James Cecil, born in Walla Walla, Washington, in 1934. After the birth of his boys, as the Depression worsened, Duff left the game at age 36. His available career minor-league record is 87-83.
By 1936 the family was living in Bend, Oregon, as Cecil worked as a stock picker and machine operator at Shevlin-Hixson lumber mill. Around this same time Duff remodeled a house across the alley from the Coca-Cola bottling plant in Bend. Ty Cobb, who had owned the facility for many years, purchased the house for his son Herschel. The two ballplayers hit it off, and would reminisce when the Peach came to Bend on business. Duff would quip that his best day pitching was holding Cobb to three triples the day after a teammate had given up two home runs to the baseball immortal.
After Shevlin-Hixson closed in 1950, Cecil opened Duff's Park Service Station with his son, Jack. The elder Duff would manage his son Jim, a big lefty pitcher, with the Bend Loggers in the Central Oregon League in 1952. The Loggers hosted the Cuban Giants travelling team in July of that year.39
Cecil Elba Duff died of heart failure on November 10, 1969, following surgery to repair a fractured left hip that he sustained while at the hospital for treatment of several heart ailments. His Catholic funeral preceded a burial at Pilot Butte Cemetery, nine miles east of Bend.40
Acknowledgments
This biography was reviewed by Bill Nowlin and fact-checked by Warren Corbett.
Sources
In preparing this biography, the author relied primarily upon online newspaper archives including The Sporting News offered at The Paper of Record, The Sporting Life made available through SABR membership, as well as the Library of Congress hosted Chronicling America newspapers, and the Historic Oregon Newspapers hosted at the University of Oregon. Additional information was obtained from the player's file at the Hall of Fame Museum and Library in Cooperstown. Census data was acquired from familysearch.org.
Notes
Born
November 20, 1896 at Radersburg, MT (USA)
Died
November 10, 1969 at Bend, OR (USA)
If you can help us improve this player's biography, contact us.
https://sabr.org/sites/default/files/DuffLarry.jpg
600
800
admin
/wp-content/uploads/2020/02/sabr_logo.png
admin
2018-01-09 02:54:27
2020-04-09 14:40:27
Cecil Duff