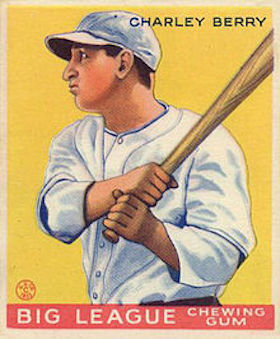 ---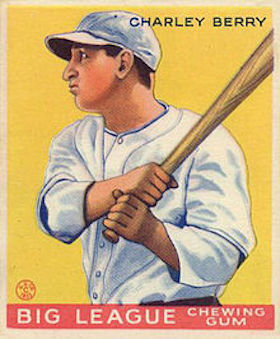 Charles Francis "Charlie" Berry had one of the most extraordinary sports careers of the 20th century. He was a two-sport athlete who plied his craft as a player and official for more than 40 years. He was a National Football League end, a major-league baseball catcher, a college football coach, a minor-league baseball manager, an NFL head linesman, and a major-league baseball umpire. These dual sports put Berry in contact with the greatest sportsmen of his time and he earned the respect of everyone he met.
The Berry family story in America starts with Thomas Berry, Charlie's grandfather, who was born in Ireland about 1820. Thomas married and emigrated to the United States sometime before 1855, working as a laborer, teamster, and lineman. He and his wife, Catherine, settled in Camden County, New Jersey, before moving to Elizabeth, New Jersey, where they raised five children.1
The third child, Charles Joseph Berry, was born in 1860. He grew up to be a machinist. He and his wife, Ada "Addie" (née Bartch), lived for a time in Pennsylvania before moving to Phillipsburg, New Jersey.2 As a young man, Charles played baseball well enough to play one professional season, 1884, for three teams in the Union Association. Playing second base for Altoona and Pittsburgh and second base and outfield for Kansas City, he batted .224 in 43 games. In the field he was less than stellar, committing 27 errors.
Berry and his wife had three children, Addie C., Lucy E., and Charles Francis. Charles F. was born on October 18, 1902, in Phillipsburg. His father put a baseball glove on his son's hand "when I could just about hold one," he said.3
Charlie inherited his father's love for sports and his athletic skills. At Phillipsburg High School he made the varsity team in football, basketball, and baseball. He received 11 varsity letters in his four years there. As a sophomore, Berry helped lead the football team to the New Jersey championship. When he was a senior, he was elected captain of the football, basketball, and baseball teams.4 A local newspaper article declared Berry "the greatest athlete that ever wore a Garnet and Grey uniform."5 In the summers he worked at a local foundry, and after hours played catcher and outfield for the company baseball team in the Ingersoll-Rand League, an industrial league.6
Berry was courted by several Eastern colleges. and ultimately entered Lafayette College in Easton, Pennsylvania, after high school.7 As a freshman he was the starting left end on the football team and proved to be an excellent receiver. He also played defensive end. The 1921 team was undefeated, outscoring its eight opponents 239-26, and won a consensus national championship.8 In the spring of 1922, Berry joined the baseball team, earning the starting catcher job and helping the team to a 14-8 record.
The 1922 football team went 7-2. In the spring of 1923 the baseball team went 17-6. Berry hit over.300 and had a game-winning three-run homer against the University of Pennsylvania.9
In his senior year, Berry was elected class president and named captain of both the football and baseball teams. In January 1925 Walter Camp named Berry to his 1924 All-American football team as first-string left end.10
After graduating in June 1925 with a degree in economics, Berry signed a contract with Philadelphia A's scout Mike Drennan.11 He reported immediately to Connie Mack's Athletics, his major-league debut coming against the Cleveland Indians on June 15, 1925. Berry entered the game in the top of the sixth inning at catcher with the A's losing, 12-2. He had an inauspicious beginning as he made an error with an errant throw that allowed Freddy Spurgeon, who had stolen second, to continue to third. In the seventh inning Berry got his first hit, singling off Indians pitcher Jake Miller. Down 15-4 in the eighth, the A's scored 13 runs to win the game. During the rally Berry got his second hit of the day and his first RBI, and scored his first run. At the end of his first major-league game, he was batting 1.000.
Berry played in only 10 games for the Athletics in 1925, but was soon to find glory with the Pottsville (Pennsylvania) Maroons of the fledgling National Football League.12 The Maroons were a collection of all-stars. Berry, despite never having played a down of professional football and being the youngest member of the squad, was named the team captain.13 He more than proved himself as a leader and a player. Against the Green Bay Packers Berry scored three touchdowns and four extra points, and kicked a field goal. He led the NFL in scoring. Pottstown won the 1925 league championship, but the NFL stripped the Maroons of the title for playing an unauthorized game against the University of Notre Dame featuring the Four Horsemen.
In February 1926 the Athletics optioned Berry to the Portland (Oregon) Beavers of the Pacific Coast League. Two momentous events happened that summer. On June 30 in Portland Charlie married his high-school sweetheart, Helen S. Smith. During the season he suffered the first serious injury of his fledgling career, a broken wrist. He recovered before the end of the season, in all playing in 99 games.
After the season Berry resumed his football career with the Maroons, who won 10 games, lost 2, and had 2 ties, finishing in third place in the NFL. It was Berry's last stint as a professional football player.
Apparently the Athletics had doubts about Berry's wrist, for in the spring of 1927 they sent him outright to the Dallas Steers of the Texas League.14 There he was the number-one catcher, and hit.330.15
When the baseball season ended, Berry took a job as head football coach at Grove City College in western Pennsylvania. He returned to the Wolverines each year through the 1931 season, compiling a five-year record of 27 wins, 7 losses, and 8 ties. The Wolverines won the Tri-Conference title in three of those years.16
After the 1927 football season, Berry was sold to the Boston Red Sox. The 1928 Red Sox (53-96) were a last-place team. Berry played in 80 games as a catcher and a pinch-hitter, batting.260 and recording his first major-league home run, off Jack Ogden of the St. Louis Browns. He showed a bit of temper, as he received his first two of three ejections as a player, one for arguing balls and strikes and the other for arguing a close play at the plate.
Over the next two seasons, the Red Sox remained mired in last place. Berry's batting average dipped in 1929, but bounced back in 1930 when he hit .289 in 88 games. He was proving himself to be a dependable man behind the plate.
Berry enjoyed a banner year in 1931. He appeared in the most games (111), batted .283, and had the most at-bats (357), most hits (101), and most runs scored (41) of his career. The season was memorable for a play involving Berry on April 22. When Babe Ruth tried to score after a fly out to center field, catcher Berry, the former football player, put a shoulder into the Yankees star and threw him skyward. Ruth came down in a heap safe at home plate."17 Ruth took his position in left field in the bottom of the inning, but his left leg gave way and he collapsed. Ruth was carried from the field by his teammates and was taken to a hospital where he was diagnosed with a severe Charley horse in his left thigh.18 Ruth, unable to return to action for two weeks, did not blame Berry, saying, "It's all part of the game and that was what he was paid to do. I'd have done the same thing in his place. Baseball isn't ladies ping-pong. It's a game played by men who want to win."19
In 1932 Berry got off to a dismal start. In the first month he played in only 10 games and batted a paltry .188. On April 29 the Red Sox traded him to the Chicago White Sox. The trade apparently motivated Berry, as for the rest of the year he batted .305. His slugging percentage for the White Sox was the highest of his career at .478 (.453 when combined with Boston for the season).
On Memorial Day, May 30, Berry was involved in a bizarre incident. The White Sox were in Cleveland for a doubleheader. The first game, which the Indians won, 12-6, was contentious, with near fisticuffs between opposing players and between the White Sox and umpire George Moriarty.
The tension poured over into the second game, and bickering between the White Sox and Moriarty intensified as the game went along.
After the game, which the Indians won, 12-11, the White Sox accused Moriarty of challenging the entire team to a fight. Berry said Moriarty challenged him in the players' tunnel. No matter the reason, the fracas started, with Moriarty punching pitcher Milt Gaston. Berry, Lew Fonseca, and catcher Frank Grube (Berry's friend from Lafayette College days) all jumped on Moriarty and gave him a good pummeling. Indians players and coaches arrived and rescued Moriarty, who went to the hospital to be treated for bruises, spike wounds, and a broken right hand. American League President Will Harridge issued fines and suspensions to the White Sox who had participated. Berry got off relatively easily with a $250 fine. Moriarty was only reprimanded.20
Berry continued with the White Sox in 1933, then was traded back to the Athletics after the season. Installed as the first-string catcher, he got off to an unfortunate start when on Opening Day, April 17, he was hit by a foul ball; the injury to the little finger on his throwing hand kept him out for two weeks.21 Berry played in 99 games, batting .268. On July 21 in Detroit, his line drive to first base resulted in a triple play.
After the season Connie Mack invited Berry to join a barnstorming team for a trip to Japan.22 However, Berry missed the trip as he was stricken by appendicitis in Valley City, North Dakota, and was hospitalized.23
In 1935 Berry played in 62 games and hit the last of his 23 major-league home runs. On May 22 he was involved in a bizarre incident involving an umpire. In the first inning of a game against Detroit, the A's Bob Johnson attempted to steal but was called out by umpire Charles Donnelly. Berry was one of several A's who left the bench to protest to the umpire. Berry returned to the bench, where he remained until he pinch-hit in the ninth inning. After Tigers pitcher Elden Auker threw a pitch to Berry, Donnelly came forward to say he had ejected Berry during the first-inning argument. Berry said he did not remember being ejected and his manager, Connie Mack, said he had never been informed. Even Donnelly's partner umpires did not know Berry had been banished. In the end, Berry was removed from the game. League President William Harridge investigated and determined that Donnelly was at fault and declined to reprimand Berry.24
On June 9, 1936, Berry was released by the Athletics as a player and hired as a coach. He remained in that position through the first half of the 1940 season. Berry not only helped the catchers, but he also instructed the pitchers. During spring training he would hold regular classes with the pitching staff.25 Berry had one last hurrah as a player. On September 8, 1938, he replaced Hal Wagner at catcher and made two plate appearances, going 0-for-2. In 1939 Berry was ejected from games twice, his only ejections as a coach. On July 15, Bill Summers tossed Berry for arguing a call at third base and on August 6, Harry Geisel gave him the thumb for protesting a home-run call.
At the midpoint of the 1940 season, Connie Mack asked Berry to take over as manager of an A's farm team, the Wilmington (Delaware) Blue Rocks of the Interstate League. Berry took over a 28-29 team and piloted it to an overall 68-52 record, good enough for second place in the league.
Berry had continued to be involved with football, first as a scout and then as an official. He spent several years refereeing high-school and college games. In January 1941 he was hired by the National Football League as a head linesman for the coming season.26 At about the same time, Berry resigned as manager at Wilmington and became an umpire in the Eastern League.27 He had worked only a few spring-training games when the International League president, Frank Shaughnessy, saw Berry's work and purchased his contract.28 Explaining his switch to officiating, Berry quipped, "I found out that the umpires win every argument so I decided to go over to their side."29
Berry's rise through the ranks was meteoric. In football, he was the head linesman for the 1942 NFL championship game in only his second season on the field. He was the head linesman in 11 more NFL championship games before his career was over.
In baseball, Berry spent less than two seasons in the International League before being hired to umpire in the American League. He made his major-league umpiring debut on September 10, 1942, in Chicago in a doubleheader between the Senators and White Sox. Working in a three-man crew with Bill Summers and Art Passarella, Berry covered third base, then moved to first base in the nightcap. Although he umpired in only seven games that September, he had proven himself. For the next 20 years, he was a full-time umpire.
In his second full year as a major-league umpire, Berry umpired in the 1944 All-Star Game. He worked the bases starting at first base and moving to second in the fifth inning. It was the first of five All-Star Games Berry umpired. (The others were in 1948, 1952, 1956, and the second All-Star Game of 1959.)
In 1945 Berry joined the US Army special services and made a goodwill trip to Greenland and Iceland to entertain the troops stationed there and to give clinics on officiating.30 After the war he continued to make trips at the behest of the US military. In the 1950s and early 1960s, he made four trips to Germany and three trips to Japan.31
Berry umpired four no-hitters and was at a different base for each one. He was at first base for Bo Belinsky's no-hitter in 1962, second base for Allie Reynolds' second no-hitter in 1951, third base for Jack Kralick's gem in 1962, and home plate for Bob Feller's third and last no-hitter in 1951. Berry was almost part of a perfect game. On July 27, 1958, Billy Pierce of the White Sox had one going with two outs in the ninth inning before the Senators' Ed Fitz Gerald lined a ball down the first-base line. Berry, umpiring at first, called it fair and the perfect game was gone.
Berry took time off from umpiring to serve as head linesman at the 1949 College All-Star Game, at Chicago's Soldier Field, which featured the best college football players against the previous year's NFL champion. That left a three-man umpiring crew for the White Sox-Indians game and when Cleveland lost on a disputed play, Bill Veeck, owner of the Indians, protested the game on the grounds that Berry should have been at the game. AL President Will Harridge disallowed the protest.32 Berry also worked the 1951 College All-Star Game, after working both games of a doubleheader between Cleveland and Chicago.
During his 21 years as a major-league umpire, Berry ejected 55 players.33 His ejections ranged from eight in 1956 to none in 1945 and 1959. Berry sent four future Hall of Famers packing: Casey Stengel, Lou Boudreau (three times), Minnie Miñoso, his old White Sox batterymate Ted Lyons, and Al Lopez. (Lopez was Berry's last career ejection.) Manager Paul Richards was thumbed by Berry the most times, four. The most men Berry ejected during one game was three and he did that twice, in 1952 and 1962.
Berry umpired in five World Series: 1946, 1950, 1954, 1958, and 1962. In 1958 Berry was the head linesman for the NFL title game, becoming the only man to officiate both major championships in the same year.
The 1962 World Series was Berry's swan song. In December 1962, after 21 years of wearing the blue suit, he called it quits. He had appeared in 3,079 regular-season games, 29 World Series games, and five All-Star Games as well as countless spring-training and exhibition games. He retired as one of the most respected umpires in the game. In 1960 and 1961 The Sporting News conducted a poll of writers, managers, and coaches to evaluate the major-league umpires. In both polls, Berry was named the number-one American League umpire.34
Berry went to work for the American League as an assistant to the supervisor of umpires. He did some scouting of umpires and inspected field conditions at major-league ballparks. He also worked for the National Football League observing and evaluating officials. Twice he traveled to Mexico to give clinics on umpiring at the behest of major-league baseball. He also gave officiating clinics in the Pennsylvania area. Berry also kept busy on the banquet circuit. His gift of gab and storytelling ability made him a much sought-after guest speaker. He also participated as an umpire in a few Old-Timer's games. Berry kept his hand in umpiring by twice calling the plays at the NCAA College World Series.
In the fall of 1970, just before the League Championship Series, major-league umpires went on strike, demanding more pay for postseason assignments. For the American League Championship Series between the Orioles and Twins, the league office put together a replacement umpiring crew consisting of two minor-league umpires and two retired umpires, John Stevens and Berry. On October 3 Berry traveled to Minnesota and, in his last major-league umpiring assignment, took his position at third base. At the age of 67 years and 350 days, he was the second oldest umpire ever to appear in a box score. (The record lasted until 2007 when Bruce Froemming moved into the second spot and Berry moved to third oldest.) The strike ended the next day and Berry returned to his retired life.
Through the years, Berry received many honors. He received one vote in 1955 and three votes in 1958 for induction to the National Baseball Hall of Fame. In 1966, the Eastern Pennsylvania Chapter of the Pennsylvania Intercollegiate Athletic Association recognized him for his contribution to football officiating. Also in 1966, he was inducted into the Pennsylvania Sports Hall of Fame. His alma mater honored him in 1977, inducting him into the Lafayette College Maroon Club Athletic Hall of Fame and in 2000 named him as one of Lafayette College's 15 Greatest Athletes of the 20th Century. In 1980 Berry was inducted into the College Football Hall of Fame.
In interviews Berry would often explain what makes a good official and the keys to his success on the field. Berry wrote, "With me, studying and reading the rules is a daily routine. I would feel I wasn't doing my job if I didn't look at the rulebook every day. Once you get the wording you get the feeling you're never in doubt. I feel that an umpire should know the rules so well that he could recite every rule in the whole book word for word."35 Talking about on-the-field necessities he explained, "The main things to remember are these: you must know the rules; you must know where you should be on the field, and you must be there to call the play."36 He added, "One qualification for a good sports official is that he does not call plays too quickly. Instead of anticipating the play, let it happen, follow it intently to its completion and THEN make the call quickly. I think that's a rule which can be followed in all ways of life."37
Summarizing his career, Berry said, "I got just as much kick out of officiating as I did out of playing. It was never an effort, never a burden."38 He also said, "I think I am a lucky guy. I like my jobs. The pay is good. I wouldn't change places with any man."39
In June 1972, Berry suffered a stroke at his home in Phillipsburg. In late July he was transferred to a hospital in Evanston, Illinois to be nearer his oldest daughter. After an operation, and subsequent physical therapy, Berry suffered a massive heart attack and died on September 6, 1972. He was buried in Belvidere Cemetery, Belvidere, New Jersey. He was survived by his wife, Helen, and his three daughters, Helen, Charlé, and Lynn.40
On December 28, 1958, the New York Giants and the Baltimore Colts met in the NFL championship game. It has been called the "Greatest Game Ever Played." Late in the fourth quarter, the Giants had the ball. If they could get a first down, they could run out the clock and win the game. They gave the ball to Frank Gifford who charged into the line. After the play, Berry, the head linesman, spotted the ball short of the first down and the Giants had to turn the ball over. The Colts ended up tying the game and went on to win in overtime. Berry's call drew protests from the Giants and was second-guessed for years afterward. In 2008, on the 50th anniversary of that momentous game, the ESPN television network produced a two-hour documentary about it. They examined the disputed play and through forensic analysis of photographs and film determined that Berry's decision was, indeed, correct. But of course Charlie knew that the moment he made the call.
This biography is included in "The SABR Book on Umpires and Umpiring" (SABR, 2017), edited by Larry Gerlach and Bill Nowlin.
Last revised: September 20, 2022 (zp)
Notes
Born
October 18, 1902 at Phillipsburg, NJ (USA)
Died
September 6, 1972 at Evanston, IL (USA)
If you can help us improve this player's biography, contact us.
http://sabr.org/sites/default/files/BerryCharlie.jpg
600
800
admin
/wp-content/uploads/2020/02/sabr_logo.png
admin
2016-05-09 17:35:01
2022-09-20 15:16:24
Charlie Berry