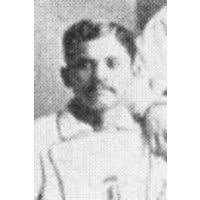 ---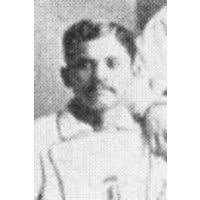 Charlie Hautz was a man of modest baseball talent but much baseball enthusiasm. He parlayed his limited abilities into a long career as a first baseman and outfielder during the pioneering years of nineteenth-century baseball in St. Louis and other Western locales. While he spent only parts of two seasons with major-league clubs, he always was available to play in a lower league, an exhibition game, or a picked-nine benefit. And if there wasn't a spot on the field for him, he'd serve as a practice player or an umpire, just to stay involved in the game he clearly loved.
Charles A. Hautz was born on February 5, 1852, in St. Louis to Joseph and Katharina Margaret (Keil) Hautz. He was the second of six children (Adam, Louisa, Mary, William, and Margaretta) born between 1850 and 1865. Joseph and Katharina Hautz had immigrated to the United States in 1845 and settled in St. Louis, which was rapidly becoming a city with a strong German flavor. Joseph worked as a tailor while Katharina kept the household in order. Charlie attended grade school only, which was typical for the working-class children of the time. When he was old enough, he went to work, initially as a nail cutter. The average wage for a low-level laborer at this time was about a dollar a day.1
Hautz grew up in a time when St. Louis was generating significant numbers of ballplayers at all levels, including quite a number who ended up in the major leagues. There were many amateur teams for a young man who showed interest and ability. Hautz's preferred position was first base, but at 5-feet-7 and 150 pounds, he was a small first sacker, even for the nineteenth century. If first base was manned by a superior player, he would play in the outfield to get into a game. In those early days of the game, played with a dead ball, less-talented defenders would be placed in the outfield, just as in modern little league, since infield defense was so critical to winning and losing.
The first newspaper mention of Hautz on an organized team came when he appeared for the amateur St. Louis Empires in 1874. Undoubtedly he had worked his way up through the amateur ranks because the Empires were the best team in St. Louis during the early 1870s. However, being the best team in St. Louis didn't prevent them from being regularly thrashed by the professional Chicago White Stockings. In 1874 the Empires and the local Red Stockings lost six games to Chicago by the combined score of 93-14. And that was an improvement over previous seasons. Further salting the wound, Chicago signed two of best local players, pitcher Dan Collins and shortstop John Peters, before leaving town.2 Hautz played on both the Empires and Red Stockings in 1874 but didn't catch the eye of the visiting professional teams.
In 1875 St. Louis businessmen led by J.B.C. Lucas, tiring of their amateur teams getting soundly thrashed by the Chicago White Stockings, put together funding and entered a team in the National Association. They hired C. Orrick Bishop, a local baseball enthusiast, to recruit talented players from New York and Philadelphia and put together a top-notch team. However, some local boosters felt the Brown Stockings didn't represent St. Louis since there was no local talent on the team (although eventually remedied by adding Pud Galvin and George Seward). The St. Louis boosters didn't have much money but they took the existing amateur St. Louis Red Stockings (with a few upgrades of other local talent) and entered the National Association. Charlie Hautz was chosen as the first baseman for the Red Stockings.
On May 4, 1875, the newly formed Red Stockings and Brown Stockings faced off in the first fully professional league game held in St. Louis. The game was highly anticipated, although only about a thousand fans were in attendance, largely due to confusion of the location and date of the match. The talent disparity was obvious to observers. One of the Brown Stockings shareholders, E.H. Tobias, noted in an interview years later, "Every one of the Brown Stockings was of massive mold and great experience while the Reds were mere striplings of limited experience."3 The game at the Compton Avenue Grounds ended in the Browns' favor, 15-9, only made close by an eight-run rally by the Reds in the eighth inning. Hautz, batting cleanup and playing first, singled twice in five times at bat and scored one run. He handled 20 chances at first flawlessly.
The remainder of the 1875 professional season went about as well as that first game for Hautz and the Red Stockings. Hautz was the best hitter on the team, batting .301 in 19 games and stealing a team-leading five bases, being caught only once. But the Reds were heavily outmatched by their opponents, winning only four games and losing 15 before dropping out of the league. They were far from the only team to play a partial season in the National Association. But the dropouts were a primary reason the Association folded after the 1875 season and the National League was formed to take its place.
Hautz started the 1876 season playing for the Covington (Kentucky) Stars. He was called upon to umpire Cincinnati's first-ever National League game, against the St. Louis Brown Stockings on April 25. The game was a tightly-played 2-1 win for Cincinnati. His umpiring was not remarked upon in the game report, which should be the goal of every umpire, and he umpired other NL games in the Midwest. In late July, he joined an Indianapolis team, playing first base. After the first three games, his play was extolled by The Indianapolis News, printing "The club have a man they can count on in Houtz (sic), the first baseman, he having the happy faculty of holding every ball that comes anywhere in his reach."4
In the 1877 St. Louis city directory, Hautz optimistically listed his occupation as "base ball." He was playing whenever he could, but he couldn't crack the lineup of the National League St. Louis Brown Stockings. Which may have been just as well, since the Brown Stockings folded after the 1877 season, primarily because they had signed players for the coming season who were caught up in a gambling scandal.
In 1879 Hautz patrolled the outfield for the amateur Brown Stockings. In previous seasons, the St. Louis Grays routinely handled the Brown Stockings' pitching. Hautz recommended a new pitcher to the team, George "Jumbo" McGinnis, a glass blower living in north St. Louis, for the 1879 season.5 McGinnis started hurling for the Browns and proved to be more than capable. In fact, he was the team's star pitcher through the 1884 season in the American Association and had a solid professional career.
Hautz continued with the Brown Stockings in 1880 and 1881. He was a marginal player, typically playing center field. When Chris von der Ahe helped form the American Association and entered his Brown Stockings in that league, Hautz was judged not up to the task of playing in the highest-level league. He practiced with the team and played for a picked nine against the Browns in exhibition games before the regular season but when the season started he was not on the team.
Hautz was a fan favorite, at least with some fans. A letter in the St. Louis Post-Dispatch in mid-1883 said, "We would like to know how it is that Mr. Von Der Ahe does not give Charles Houtz (sic) a trial in the outfield of the St. Louis club as we think it would strengthen it materially."6 But other fans didn't agree, as seen in the printed response a few days later: "Try 'Houtz (sic).' Goodness gracious, what for? We think there are enough of wind sawers on the nine now."7
Grand Rapids picked up Hautz for the second half of the 1883 season. After the season, he was selected for a St. Louis team to play an exhibition series in New Orleans. Most of the players on the team were St. Louis Browns but Hautz was used in center field and played creditably. He enjoyed his time in New Orleans because he would resurface there a few years later.
Hautz returned to Grand Rapids in 1884, also spending time in Saginaw. Late in the season he got his second chance at the major leagues. The Pittsburgh Alleganys signed him in mid-August to play first base.8 He couldn't do much to improve the team, which finished 30-78. Hautz hit a meager .208 in seven games, five at first base and two in center field.
Pittsburgh wasn't interested in continuing Hautz's employment so he returned to St. Louis. During the 1885 preseason, he practiced with the Browns. He played semipro ball in St. Louis through the year, including for the local Prickly Ash Bitters team. With them he appeared in a benefit game for three blacklisted St. Louis Maroons players (banned from the National League for playing in the Union Association), including St. Louis native and favorite son Jack Gleason.
The Western League in 1886 was made up of six teams in Colorado, Kansas, Missouri, and Nebraska. The league was stocked with St. Louis players, either young players on the rise or old men looking for some magic. Hautz, in the latter category, caught on with the Lincoln, Nebraska, team, captained by Perry Werden. It wasn't a good team and was mired in fifth place by mid-July and on its way to insolvency. In July Hautz and teammate Fleury Sullivan were drinking in a bar after skipping a morning practice ordered by Werden. After the practice, Werden entered a saloon and found the pair nursing drinks. He fined each $5. Enraged, Sullivan attacked Werden with Werden responding in kind. Hautz, with the help of other bystanders, broke up the fight between the two men.9 The fines stood.
Hautz played in 11 known games for Lincoln. He played first base and batted ninth in the nine games where box scores are available, hitting .370 with a pair of doubles.10 Family tragedy forced him to leave the team. His brother William, working on tearing down the downtown Jaccard Building, was struck by a large stone and died. Hautz was the executor of his brother's limited estate.
In October 1886 Hautz could be found in Mobile, Alabama, playing ball. He then moved to New Orleans to try to catch on with that city's 1887 entry in the Southern League. According to The Sporting News, he was to be found with Ed Fusselback and Dick Phelan every morning at the long wharf, fishing for breakfast. Hautz was noted as the most successful of the anglers but also was pulled off the pier into the water by a giant eel one morning.11 He was ultimately unsuccessful breaking into the New Orleans starting lineup but did play for the club's "second nine." This allowed him to continue to stay near the game ready to jump on any opportunity. That came when Birmingham traveled to New Orleans for a game on June 26. Birmingham lost 17-0 but signed the now 35-year-old Hautz. He didn't play regularly for Birmingham, presumably being on call when they needed a player. Continuing his habit of playing whenever, wherever, he showed for Mobile in September and in October returned to New Orleans in time to play an exhibition game for the Picked Nine against the "varsity." This seems to have ended his playing career.
Hautz's career might be characterized in modern terms as that of a 4A player. He wasn't quite good enough to play in the major leagues but was effective at the next lower level, Triple A. He never said no, practicing with teams when needed, playing on the picked nine for exhibitions, and coming to a team when they needed a first baseman or center fielder. And he'd fill in as an umpire also. He was often referred to as a fan or teammate favorite and since he kept getting chances, he clearly had a genial disposition and good attitude.
Official records like the census and his death certificate spell his name Hautz. But the newspapers usually spelled it Houtz. Also, the St. Louis city directory is inconsistent: Some years it was with the "a" and some with the "o." The misspelling is interesting because the city directories typically show no or very few people named Houtz but a number of people named Hautz.
After Hautz's baseball career ended, he may have spent time in New Orleans running the bar at the ballpark, according to David Nemec. Nemec also notes that he may have had a family; however, this researcher could not confirm these items.12 In any case, Hautz was back in St. Louis working as a bartender and waiter in St. Louis by 1899. His mother died in 1890 and his father in 1895, so he likely returned to St. Louis for those events given the closeness of his family. The 1910 US Census shows him as unmarried, living in a boarding house, and working as a waiter.
Charles Hautz had a tough 17 months beginning with his sister Margaretta's death in March 1917. Louisa died in April, Mary in December, and Adam in July of 1918. That left Charles as the sole surviving sibling. The deaths were all of "natural" origin, not related to the influenza pandemic.
On January 24, 1929, Charlie Hautz died 11 days short of his 77th birthday in St. Louis, suffering from a cerebral embolism. He had been living with his brother-in-law Robert Fritz (Margaretta's husband) and was survived by many nieces and nephews. No notation is made to any family of his own. He is buried at Saints Peter and Paul Catholic cemetery in south St. Louis.
Acknowledgments
This biography was reviewed by Len Levin and fact-checked by Kevin Larkin.
Sources
In addition to the sources cited in the Notes, the author also accessed Baseball-Reference.com, Ancestry.com, and Newspapers.com. Daniel Ross also provided much-needed information.
Notes
1 Statistics of the United States in 1860, (Washington: Government Printing Office, 1866), 512.
2 Jon David Cash, Before They Were Cardinals, (Columbia, Missouri: University of Missouri Press, 2002), 10.
3 Cash, 16.
4 "City News, Chicago vs. Indianapolis," Indianapolis News, August 1, 1876: 1.
5 "M'Ginnis Released," The Sporting News, July 12, 1886: 5.
6 "Try Houtz," St. Louis Post-Dispatch, June 29, 1883: 5.
7 "Don't Try Houtz," St. Louis Post-Dispatch, July 2, 1883: 8
8 "Hustling Horace Here," Pittsburgh Post-Gazette, August 15, 1884: 8.
9 "Sullivan and Werden," The Sporting News, July 26, 1886: 5.
10 Daniel Ross, email to author, November 28, 2018
11 "In the Crescent City," The Sporting News, March 12, 1887: 2.
12 David Nemec, The Rank and File of 19th Century Major League Baseball (Jefferson, North Carolina: Macfarland & Company, Inc., 2012): 142.
Born
February 5, 1852 at St. Louis, MO (USA)
Died
January 24, 1929 at St. Louis, MO (USA)
If you can help us improve this player's biography, contact us.
https://sabr.org/sites/default/files/HautzCharlie.jpg
600
800
admin
/wp-content/uploads/2020/02/sabr_logo.png
admin
2019-03-12 15:06:09
2020-04-09 14:37:35
Charlie Hautz