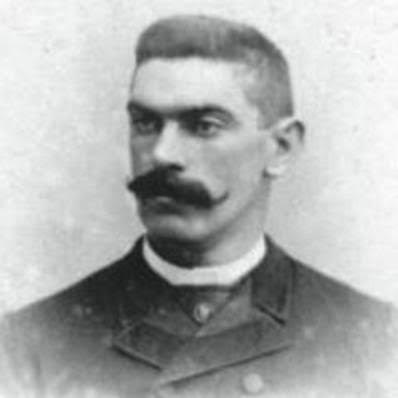 ---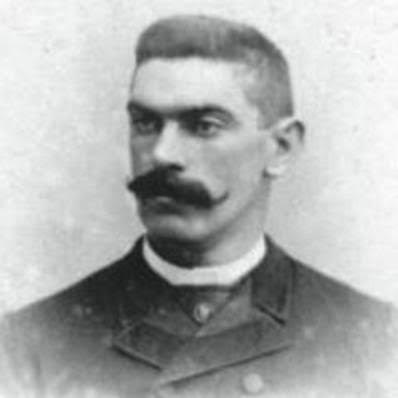 In 1887, future Hall of Fame hurler Tim Keefe was interviewed and praised pitcher Charlie Sweeney. He regarded him as the "greatest twirler that ever lived, and that his equal does not now exist, and … never will."1 Keefe was referring specifically to Sweeney's 1884 performance, in which he won a combined 41 games with two teams in two different major leagues and struck out 19 batters in a nine-inning game. His arm started to give out before that season was over and as his prospects for success dissolved away he turned to drink and allowed his darker side to take control. He was out of the major leagues after 1887. Imprisoned in 1894, he contracted tuberculosis and was dead before his thirty-ninth birthday.
Charles Joseph Sweeney was born April 13, 1863, to Edward and Mary Sweeney in San Francisco, California. The Sweeneys were Irish immigrants who had come to the states around 1850 (their first child, Edward, was born in New York in 1851). Soon after, they made the cross-country trek to California where Edward the elder found work as a police officer in San Francisco. Edward Sweeney was a hard-drinking, pugnacious man whose record as a policeman shows a number of incidents where he used excessive force both on and off duty.2 Over the next two decades the couple welcomed Mary, Rebecca, Margaret, James, Charles, Elizabeth, Francis, John, and William to the family. The children received minimal schooling before joining the work force or marrying. The 1880 census lists Charlie as a butcher's apprentice.
Sweeney made a name for himself on the sandlots of the Bay Area. He was described as "a large man…of great strength and endurance."3 At 5-feet-10-inches and 181 pounds, he certainly fit the description. As a 17-year-old, he debuted with the San Francisco Athletics. The local paper noted he had "good command of the ball," but lacked the insight that experience gives a player.4 In addition to pitching, he played outfield and first base and frequently batted cleanup.
In 1882, he is listed as opening the season with the Providence Grays and playing one game. Author and nineteenth-century baseball historian David Nemec suggests that this listing "begs further study."5 Indeed it does, as the player in question with Providence turns out to be William Sweeney from Philadelphia, who had spent some summers playing in California along with exhibition games with the Detroit Wolverines in 1881.6 After his debut on May 11, 1882, William Sweeney fell ill with a lung condition. Following a period of recuperation, he joined Philadelphia of the American Association in late June.
Charlie Sweeney spent 1882 in the west,7 making appearances with the Athletics, Niantics and Renos in 1882. The bulk of his playing time came with the Niantics. He continued with them until May 13, 1883, when he was dropped for "dishonorable conduct." He made no effort to win and essentially pitched batting practice to Haverly in a 21-2 loss.8 He was formally expelled by unanimous league vote on May 25. The local paper reported he was headed east to play ball, possibly in Cincinnati.9
After his expulsion, Sweeney joined the Providence Grays in the National League, reuniting him with fellow Californians Jerry Denny and Sandy Nava. The Grays had begun the season with Lee Richmond as their "change pitcher" for Charley Radbourn, but his performances were ragged. Sweeney debuted June 11 against the defending champion Chicago White Stockings. He came away with a 6-2 victory and earned praise in the press: "[H]e maintained a cool head and good judgment all through the game, and his last ball was pitched as well as the first."10 He then bested the Detroit Wolverines, 12-3. On June 21 he had to be relieved in the fifth by Radbourn when his arm hurt. Five days later, Sweeney returned to the box, but he dropped a 4-0 decision to last-place Philadelphia.
He did not pitch again until July 4 when the Grays had a unique doubleheader in their schedule. They were to play in Philadelphia early in the day and then later in New York. Sweeney took the box in Philadelphia and was ahead, 11-9 in the seventh. Manager Harry Wright pulled the Grays from the field so the team could catch the train to New York. The game was forfeited to Philadelphia, costing Sweeney a possible victory. In New York, Radbourn lost a 1-0 pitcher's battle to Mickey Welch.
Providence was in the thick of the pennant race until an eight-game losing streak in late July and early August. Sweeney saved his best performance for September 14 when he beat the Detroit Wolverines, 2-1 in 10 innings, driving in both Providence runs. For the season, Sweeney pitched in 20 games and worked 146 2/3 innings with a 7-7 record. At the plate he batted .218.
The Grays played exhibition games until October 20. With the season finally complete, Sweeney returned to California and joined a team created by Jerry Denny. They were part of a four-team league that played once a week. In the spring, Sweeney, Denny, and Nava all went east to join the Grays for exhibition games in late-March and through April.
The Grays, now managed by Frank Bancroft, had reserved all three pitchers from 1883, but Richmond dropped out of the professional ranks, leaving the team with a two-man pitching staff. Young outfielder Paul Radford replaced John Cassidy on the roster and he had enough pitching experience where he could be used in an emergency. Radbourn had a $3,000 contract. He complained of various ailments during the exhibition season and Bancroft pampered him by using Sweeney in the bulk of the appearances. Years later Sweeney claimed to have worked 19 of 21 dates. The Grays actually played 23 and won 22 with Sweeney making 19 starts. The only loss was a forfeit to the American Association Brooklyn Atlantics.11
Radbourn had every intention of pitching the opener on May 1 with Cleveland, but his constant grousing convinced Bancroft to send Sweeney to the box. Sweeney lost the opener, 2-1. Over the next couple of weeks, Sweeney and Radbourn played a game of one-upmanship. A rivalry and jealousy that began in 1883 grew worse by the day. Both men were prima donnas, narcissistic to a fault. They both moaned and groaned so much about their aching arms, but their egos prevented them from resting.
The cold dismal weather did nothing to help the situation with the egotistical hurlers, but they took the box every game. On May 19, the Grays had an 11-2 record, but were in third-place behind the 13-1 New York Gothams and the 13-2 Boston Beaneaters. Over the next eight days the Grays added six more wins, four over New York, and moved into first place. The pair finally took a rest on June 5 when rookie Jack Cattanach was given his only start with the Grays. The day off was meant to help them ready for an important series with Boston.
In the opener of a seven-game series with the Beaneaters, Radbourn and Grasshopper Whitney went 16 innings before the game was declared a 1-1 tie. On June 7, 7,500 fans witnessed a momentous contest between the Grays and Beaneaters. The game was scoreless in the fifth when Boston outfielder Jim Manning dropped a fly ball, allowing a Providence to score. On the next play, Manning redeemed himself by snagging Nava's short fly ball and turning it into a triple play. Sweeney was the big story of the game as he struck out 19 batters. Only Ezra Sutton escaped strike three. The 19-strikeout performance was duplicated by Hugh Daily a month later and not surpassed until 1986 when Roger Clemens reached 20 in a game against the Detroit Tigers.
Sweeney, a 2-1 winner over Whitney, was the toast of the baseball world and manager Bancroft tried to ride him to victory in the rest of the series with the Beaneaters. However, the Bostonians rose to the occasion and won, 2-0 and 3-1. Radbourn fared no better and the Grays dropped behind in the pennant race. By late June, Sweeney's arm was ailing (his elbow was starting to fray). Bancroft decided to rest him and turned duties over to Radbourn, who promptly asked for additional pay because of the increased workload. Sweeney had purportedly received extra pay during the preseason and Radbourn expected similar treatment. Bancroft refused and rumors began to surface that Henry Lucas and the St. Louis Maroons of the Union Association were courting Radbourn.
Sweeney sat out 11 days , during which the team went 4-3. Outfielder Paul Radford pitched on July 5 to give Radbourn's arm a respite. Sweeney returned to action on July 8, but had to be relieved by Radbourn in the sixth. He would not pitch again until July 17. Radbourn and rookie Cyclone Miller pitched the six intervening games, losing four and dropping the Grays three games off the pace.
On July 16 against Boston, Radbourn had a meltdown because of the strain of pitching repeatedly in a tight pennant race, his jealousy, lack of bonus pay, and the calls of umpire Stewart Decker. Management suspended him for his poor play, which meant Sweeney was forced to pitch regardless of his arm condition. He won three consecutive games before losing to Philadelphia on July 22. In that game, Sweeney refused to let Miller relieve him when he was ahead, 6-2. He berated Bancroft with an expletive-filled rant and was suspended without pay.12 Providence eventually lost the game, 10-6.
After his hysterics, Sweeney was suspended. Some newspapers speculated the team would disband. The pitching staff was decimated, both stars were suspended, and they were left with Miller and Radford. Would they find rookie pitchers and play out the season or reinstate one of their temperamental hurlers? Bancroft and the directors renegotiated Radbourn's contract by eliminating the reserve clause and raising his salary. He was reinstated immediately. They also brought in a rookie pitcher, Ed Conley. Over the remaining 51 games of the season the Grays went 41-9-1, with Radbourn posting a 35-4 mark, leading the Grays to the league championship.13
Meanwhile Sweeney signed an offer sheet with St. Louis similar to what they offered Radbourn and went to the Union Association as the highest-paid player in the league for the remainder of the season.
He left Providence with a 17-8 record and a 1.55 ERA in 221 innings of work. His WHIP of .824 led the National League. He debuted with St. Louis on August 3 and beat Kansas City, 4-3. A local scribe marveled at "his ease, deceitful change of pace, speed and mastery of different styles of delivery."14 The Maroons finished 21 games ahead of second-place Cincinnati. Sweeney posted a 24-7 record with a 1.83 ERA in 271 innings. After batting .298 with Providence, he hit .316 in the Union Association.
By jumping his contract and joining the Union Association, Sweeney was blackballed by the National League. The St. Louis franchise from the Union Association escaped to the National League in place of the disbanded Cleveland franchise and Lucas spent more than a month convincing the other owners to remove players from the blacklist so that he could field a competitive team. Finally, in mid-April, an agreement was reached and Sweeney was free to join the Maroons (many newspapers called them the Black Diamonds) in the National League. He had come east in late March and spent some time working as an umpire in exhibition games.
Sweeney earned the opening day assignment and faced Chicago on April 30, 1885. Despite some issues with a new balk rule concerning arm motion, he triumphed, 3-2. On May 13, Sweeney returned to Providence and a head-to-head match with Radbourn. Sweeney responded with an 8-2 win. He outpitched Radbourn and also delivered two hits and scored twice. A week later, the Grays drove Sweeney from the box in the fourth and Radbourn recorded a 10- 4 victory.
Sweeney teamed with Henry Boyle as the St. Louis pitching staff, but the team was ill-prepared for the stiffer competition and quickly fell into the second division. In late July, the Boston Herald reported that Sweeney had developed a sore arm and might be done for the year. It was suggested that changing teams "might cure him."15
Reports of Sweeney's demise were greatly exaggerated, but there was clearly something wrong with his arm. Victories were harder to achieve, so Boyle became the number-one pitcher and other pitchers were added to the roster. On August 13, Buffalo lashed out 23 hits in a 14-3 devastation of Sweeney. From August 9 through September 15, the Maroons posted a record of 2-20-1 and took over last place. Sweeney played out the season and went through an exhibition season that did not end until November 1. The pain in his arm, constant losing, and increased drinking turned him surly. This led to a tawdry fight with Maroons' outfielder Emmett Seery on the final exhibition swing in which the smaller Seery was sucker punched. Sweeney ostentatiously returned to the west with his arm in a sling. He finished 11-21 with a 3.93 ERA and .206 batting average.
Sweeney returned to the Maroons in 1886 at a salary of $3,000. The pitching staff was all holdovers from the previous season: Sweeney, Boyle, John "Egyptian" Healy, and John Kirby. The players gathered in late March and exhibition games started soon after. Detroit was the first opponent in the regular season and Sweeney had the honor of pitching the season opener. He was treated roughly by the Wolverines in a 9-2 loss.
In the aftermath of his fight with Seery, Sweeney became a polarizing figure in the clubhouse. In mid-May, five thugs assaulted Sweeney as he walked home from the ballpark. There was speculation that the attackers were friends of Seery and were after other players besides Sweeney. Jerry Denny, Tom Dolan, and Sweeney took to drinking heavily. Sweeney faced Detroit on June 12 and surrendered 21 hits, including seven home runs, in a 14-7 loss. The seven dingers were the most ever surrendered by one pitcher in a game. Shortly after this game, the threesome was suspended indefinitely for their carousing. In Denny's case that lasted three games; for Dolan and Sweeney, they were fined $50 and released after a week of inactivity. Sweeney posted a 5-6 record with a 4.16 ERA.
Before dropping his falling star, Bancroft tried to smooth the tensions by offering Sweeney an alternative contract. Bancroft asked Sweeney to be an outfielder, but at half the salary he was making as a pitcher. The two men could not come to an agreement and Sweeney caught on with Syracuse in the International League. He pitched on July 15 and 23 losing 16-5 and 12-3. He also played one game in the outfield before packing his bags and heading to California.
Sweeney reasoned that he needed to rest his arm. He had seen what rest did for Jim McCormick and Radbourn, so he held off playing ball that fall. In January he started playing again, but as a corner infielder. He had always been a decent hitter and was quickly signed by the Cleveland Blues in the American Association to play first base for the upcoming 1887 season. Jimmy Williams, the Cleveland manager, had friends on the West Coast who highly recommended Sweeney.
Sweeney started the season well with the Blues, batting third behind Pete Hotaling and Ed McKean. He even belted a pair of triples to help Cleveland top Cincinnati on May 8, but the club was just 2-13 after that victory. Williams turned to Sweeney to pitch and his first assignment was scheduled for Saturday, May 14. It was well publicized days in advance in the local papers, so it may have been as much a publicity move as a tribute to Sweeney's rehabbed arm. He took on second-place Brooklyn, and after falling behind 4-1; he held the game close but ended up with a 5-4 defeat. Sweeney immediately negotiated a clause in his contract adding a stipend for pitching. His next appearance in the box came May 23 against the Philadelphia Athletics. He had "neither speed nor curve and was wild besides" and surrendered 17 singles, three doubles, and five triples in the 13-6 loss.16 He took the box a final time one week later. The results were even uglier as he allowed 23 hits in an 18-2 loss to New York.
The Plain Dealer listed Sweeney with a .378 batting average (36-for-95) on June 6. They also noted a .912 fielding percentage.17 That was about the time he was moved from first base into the outfield and moved down in the batting order. On July 9, the field was barely playable because of a rainstorm and the Blues were without their second baseman and an outfielder. In a strange managerial move, shortstop McKean was shifted to second base and Sweeney inserted as shortstop. The Blues were ahead until the seventh inning when "an inexcusable muff" by Sweeney allowed three runs to score.18 That was Sweeney's final game as the Plain Dealer announced his release in the July 14 edition.
Sweeney returned to California, and the next spring he joined the Stockton team in the California League, where games were played on Sundays and holidays. Sweeney started the season at first base, but moved to shortstop and Bob Blakiston took over at first. Stockton captured the pennant. When the winter leagues started up, Sweeney played with the Knickerbockers. He would play a few more seasons before trying his hand as an umpire for a couple years.
Off the field, Sweeney was in business with his friend James McDonald. They ran a drinking/gathering place called "The Battery" in San Francisco. The business was initially very successful, but business fell off and the establishment closed. McDonald had a lengthy career playing in California, mostly as an infielder and played parts of two seasons in the majors. He left the playing field and became an umpire. Sweeney married McDonald's sister, Jennie. The couple had at least one child, a son, but further details have proven elusive. In 1900, Sweeney was housed in the city hospital, suffering from consumption, at census time and listed himself as a widower. Whether this was actually the case or a way of hiding an unhappy page in his life has not been verified.
Besides his business with McDonald, Sweeney served as a police officer for a time, but was relieved of duty. He became a bartender and worked as a bodyguard for a gambler/promoter and early-day San Francisco gangster named "King" McManus. Events surrounding this relationship sent Sweeney's life spiraling out of control. On July 15, 1894, Sweeney got into an altercation with Con "The Gossoon" McManus, younger brother of "King." The two men had been drinking and Con McManus made some statements that angered Sweeney. The two men exchanged words and possibly punches. Sweeney pulled a pistol and shot Con, who died the next day. A coroner's inquest deemed the incident a murder and Sweeney was held without bail pending the trial, which began in late October.
The prosecution painted Sweeney as a drunken hothead, while the defense claimed that he was merely protecting himself. Adding drama to the proceedings were claims of perjury and witness intimidation. On the stand, Sweeney's primary witness completely reversed what he had told police in July. He claimed intimidation by "King"McManus had forced him to lie at first. Even the newspaper accounts varied widely in details that were reported. Some writers speculated that "King" McManus committed perjury during his testimony. The bottom line was that Sweeney had fired three shots and killed Con McManus. "The jury took a long while to come to a decision," 19 before finding Sweeney guilty of voluntary manslaughter. Sentencing was held on November 9. The judge noted that Sweeney had not proven his claim of self-defense, but then imposed a sentence of eight years, less than the maximum he could have applied. With good conduct, Sweeney could be free in just over five years.20
"King" McManus died of dropsy (severe edema) in the fall of 1896. California Governor James Budd quietly commuted Sweeney's sentence based upon the many issues of impropriety during the trial. He was released from San Quentin State Prison on March 1, 1898. He was hired soon after as an umpire by the California League. In August, he got into an argument at a game in Fresno. One report says he assaulted the Fresno manager; another claims he hit a fan. Whatever the case, he boarded a train for home with deputies in pursuit. They arrested him 90 miles from town and returned him to Fresno. This would not be his last brush with the law. In January, 1899 he was booked in San Francisco for carrying a concealed weapon. In November, he got into an altercation with a Chinese businessman who was chasing Sweeney's mischievous son. In that case, Sweeney pressed charges for assault.21
Sweeney's physical condition worsened and he was hospitalized in February 1902, in the "final stages of consumption."22 He died April 4, and was laid to rest in the Cypress Lawn Memorial Park in Colma, California, a potentially great early-day pitcher whose talents were misspent and and largely went unrealized.
Sources
Thanks to SABR member David Nemec for his input on Sweeney's life.
Notes
Born
April 13, 1863 at San Francisco, CA (USA)
Died
April 4, 1902 at San Francisco, CA (USA)
If you can help us improve this player's biography, contact us.
http://sabr.org/sites/default/files/SweeneyCharlie.jpg
600
800
admin
/wp-content/uploads/2020/02/sabr_logo.png
admin
2017-02-14 12:10:04
2017-02-14 12:10:04
Charlie Sweeney