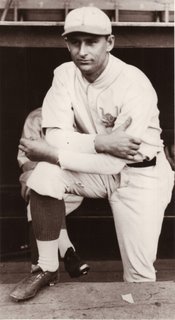 ---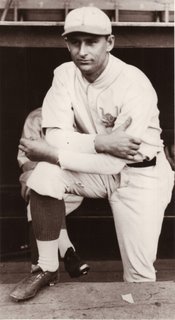 As he stood on the sidelines during batting practice on the afternoon of July 25, 1928, Chick Galloway, barely embarked on his tenure with the Detroit Tigers, saw his career as a major-league infielder come to a sudden close. Galloway, who had come to the Tigers in a complicated trade after nine seasons with the Philadelphia Athletics, was struck on the head by an errant throw by another Tiger. He suffered a fractured skull and never played another game in Organized Baseball. But after a long recuperation, Galloway enjoyed a long career as a businessman, baseball scout and college coach.
Clarence Edward "Chick" Galloway was born on August 4, 1896, in Manning, South Carolina. He was raised in Clinton, South Carolina, where his father, A.B. Galloway, coached the Presbyterian College baseball team for several years around 1910. Chick attended Clinton High School, where he played baseball and ran track, winning four medals in a track meet in Laurens in 1913. He attended Presbyterian College from 1914 through 1918, and earned all-state honors in baseball, basketball, and football. In 1917 he also played for the Victor Mill team in Greer, South Carolina, part of the Greenville Mill League. Galloway's brothers also were athletes. Bruce played at Furman and spent three years in the lower minors. Another brother, Ashby "Skeet" Galloway, was a star at the Bingham School, and was a football star at Presbyterian College. Albert Eugene "Gene" Galloway was also a baseball standout at Presbyterian.
According to Chick's son-in-law, Mike Turner, he wrote to the Crackers in the spring of 1918 and told them, "I can play shortstop for you if you give me a chance." On April 25 Charles Frank, the Crackers' manager, telegraphed back, "If you can report at once job here for you otherwise don't come."[1] Galloway didn't even discuss what his salary would be, and was later quoted as saying, "I suppose I was just too interested in a chance to play ball, and was so tickled with the opportunity that I jumped at it without worrying about money. … Frankly, that Atlanta club was filled with young college graduates, and I don't recall any of us as being too concerned about money."[2] With the US now fighting in the World War, he played in 39 games in 1918 before entering the Navy in July as a seaman. The war ended in November, and upon his discharge in December, he coached basketball and baseball at Presbyterian before returning to Atlanta for the 1919 season. He batted .263 for Atlanta's "kid team," so-called because of the six young college graduates on the squad, and was part of a sparkling double-play combination, Galloway to Jimmy Dykes to Ivy Griffin, that helped propel the Crackers to the Southern Association pennant. Galloway played in an epic game against Chattanooga on June 13 that went 23 innings and ended in a 2-2 tie. Connie Mack of the Philadelphia Athletics came to scout the Crackers midway through the season, and bought an option on the whole team. He eventually brought Galloway and several others, including Dykes, to play for the A's. (Dykes was actually Athletics property, having played in 59 games for the A's in 1918 before being sent down to Atlanta.) Galloway later said, "I suppose the most thrilled I've ever been was the day Mr. Mack told me I was going to Philadelphia. … He had been scouting the Atlanta club for a few days and everybody knew he was looking at Dykes. I was really surprised when he also bought my contract. It was a dream come true." [3]
Galloway made his major-league debut on September 9, 1919. He played 84 games at shortstop in 1920, making 34 errors at the position and batting only .201. Philadelphia sportswriter James C. Isaminger described Galloway that season as "very unreliable on ground balls and almost a cipher at the bat." Mack gave Galloway another chance in 1921, "but he started the season so poorly that Connie was advised to let him out," Isaminger wrote. "'No, I won't do that,' replied the lean leader. 'Galloway is a good ball player who hasn't found his stride. He isn't fielding as he should and he isn't hitting because his erratic defense is worrying him. In time he will both hit and field.'"[4] Mack briefly switched Galloway to third base, where both his defense and hitting began to improve. He wound up playing 110 games at short (43 errors) and 20 games at third base, and raised his batting average to .265. The Athletics finished in the AL cellar that year for the seventh straight season, but began to improve, and within a few years were pennant contenders.
During his early years with the A's, Galloway played basketball in the off-season to stay in shape. According to the Evening Public Ledger he played with both the All-American team managed by Walter Haffey and the Coatesville team of the Eastern League in 1921.
Galloway's best season with the A's was 1922, when he batted .324, hitting 26 doubles, 9 triples and 6 home runs. He led the American League in games played (155), was second in putouts for a shortstop (321), and fourth in assists (493). He was named to an all-league team picked by the American League's umpires. The Philadelphia Evening Public Ledger called him the best shortstop in the American League – better than Everett Scott and Roger Peckinpaugh. And Isaminger now waxed ecstatic about "Whiskaway" Galloway, whom he described as a shortstop "who can stop balls anywhere and who has the arm of a rifle, while, in addition, hits above .300 and can go from first to third or second to home on nothing. … Galloway is every bit as good a defensive shortstop as Jack Barry in the days of pennants and world's championships, and in batting he is far better than the veteran. … Whiskaway is the trickiest hitter on the Mack team and the hardest for the opposing pitcher to pitch to. He can hit to any field, and he drives home as many runs as any other player on the team. Galloway's strength in batting and fielding rather makes the fan forget that he is also the best baserunner on the team – the very best the team has had since Eddie Collins."[5]
From 1921 through 1926 Galloway remained the Athletics' regular shortstop. As early as 1923, Ty Cobb wanted to acquire Galloway for his Detroit Tigers, but, as one sportswriter put it, "Mack would hardly part with his brilliant little short fielder. If he did, his infield would be wrecked."[6] On another occasion, Mack refused an offer of $175,000 for Galloway from the Chicago White Sox,[7] but after the 1925 season he offered Galloway to the Boston Red Sox for pitcher Howard Ehmke, an offer the Red Sox rejected. (The Red Sox traded Ehmke to the Athletics for three other players a few months later.) Then, after the 1927 season, in which Galloway played only 77 games, Mack traded him to Milwaukee of the American Association for catcher Ossie Orwoll. By this time, his salary had risen to $8,000. Three weeks later Milwaukee sent Galloway to the St. Louis Browns for two players, and the Browns immediately shipped him to the Tigers in a deal that sent future Hall of Fame outfielder Heinie Manush and first baseman Lu Blue to the Browns.[8]
Galloway played 22 games at shortstop and 21 games at third base for the Tigers in 1928. They were his last major-league games. On July 26, during batting practice before a doubleheader with the New York Yankees, Galloway, standing on the sidelines, was struck in the head by a wild pitch thrown by Josh Billings of the Tigers. He suffered a fractured skull, which required a long recuperation. His son-in-law Mike Turner said in 1976 that Galloway could not speak at all for a year after the accident, and that he used bird-hunting as a form of therapy, forcing himself to put one foot after another.[9] His speech was seriously affected for a number of years. His daughter, Marcia Addison, remembered playing children's card games – Old Maid and Go Fish – with him while he recuperated. An attempt at a comeback with the Athletics in 1930 was unavailing. Galloway later said that Connie Mack wouldn't play him "because he was afraid I would get hurt again. I couldn't feel the ball in my hand like I should have, either."[10]
However he may have felt about his thwarted comeback, Galloway throughout his life expressed nothing but admiration for Mack. In a 1937 speech he said "My career, spent under the guidance of such a man and mind as Mr. Mack proved a successful one for me until 1928. I sincerely hope I can use to the best advantage my knowledge gained under him in guiding and choosing my future ballplayers, who would do well in taking the tall lean leader as their model in both character, and ballplaying."
In 1934 the Michigan state labor department found that Galloway's injury had ended his baseball career, and ordered the Tigers to pay him $4,092 in accrued compensation and $18 a week as long as he was unable to play baseball.[11]
Galloway returned to Clinton. He had invested in a local bookstore while he was still playing ball, and when he returned, his wife opened a gift shop in the store and they ran it together for about a decade. Later he was an insurance underwriter with Equitable Life Assurance Company and Colonial Life and Accident Insurance. From 1935 to 1943 he coached the Presbyterian College baseball team. (He was instrumental in bringing Lou Brissie to Connie Mack's attention.) The team won the state championship in 1937. In that year, on the way back to Philadelphia from spring training in Fort Myers, Florida, the Athletics stopped in Clinton to play the college team. Although Presbyterian lost, 17-4, the event caused a sensation in Clinton and the surrounding area, and drew thousands of fans.
Galloway also scouted for several major-league teams, including the Cincinnati Reds, the Athletics, and the Milwaukee Braves. He scouted Kirby Higbe, who was pitching for a textile-league team in South Carolina after flunking a test with the Pittsburgh Pirates. Galloway signed Higbe for the Atlanta Crackers; Higbe eventually pitched for the Cubs, Phillies, Dodgers, and Giants. He also scouted and passed along recommendations on Joe Haynes, Mickey Livingston, and Bob "Hurricane" Hazle.In 1938 he was named manager of the Spartanburg Spartans of the South Atlantic League in midseason after manager Edde Moore was fired.
For all his travails as a player, Galloway continued to love the game. In 1961 he told a sportswriter, "Baseball has been very good to me … and I can't imagine any youngster who likes the game not aspiring [to] a big-league career. It's a wonderful life."[12]
Outside baseball, Galloway was very active in his community. He was a deacon and member of the choir at the First Baptist Church, and a member of the Chamber of Commerce and the Kiwanis, Rotary, and Lions clubs. He was chosen as Clinton's Citizen of the Year in 1967 for his sportsmanship and encouragement of young people in the community. He rarely missed a sporting event in Clinton, particularly Little League games.
Galloway died on November 7, 1969. He was survived by his wife of 45 years, the former Sara Barnes; a daughter, Marcia Turner; and three brothers. A hometown newspaper editor summed up the feelings of his townspeople: "… Speaking for my generation, we held 'Mr. Chick' in awe because he had been an outstanding major league baseball player. … Yet he was more than someone to respect. He was a warm friend to young people. He kept up with us. He always knew of our accomplishments and our disappointments and he had an appropriate word for it. … He loved sports on any level. He … followed the local athletic teams avidly, from the junior high level on up to Presbyterian College. He always attended the games and often he was at the practices. Major leaguers today often seem more interested in their contract negotiating position and their endorsements than they are in the game itself. 'Mr. Chick' loved the game. … To many of us, he was a major leaguer in every respect, and he was our friend."[13]
In 1976 Galloway was inducted posthumously into the South Carolina Athletic Hall of Fame.
February 2011
Sources
"Chick Galloway was Clinton's First Major League Ball Player." Clinton Chronicle, February 15, 1962.
"Clarence Edward 'Chick' Galloway." The Scrapbook: A compilation of historical facts about places and events of Laurens County, South Carolina. William P. Jacobs, editor. Laurens County: Laurens County Historical Society and Laurens County Arts Council, 1982.
CNNSI.com – Baseball – Chick Galloway statistics.
http://sportsillustrated.cnn.com/baseball/mlb/players/10007
"Former Big League Ball Player Dies." Clinton Chronicle, November 12, 1969.
Interview with Marcia Galloway Addison, February 2, 2011.
Nolan, John J. "Chick Galloway Makes Comeback." Atlanta Constitution, March 20, 1930, p. 14.
Scrapbooks and other items supplied by Marcia Galloway Addison and Jimmy Lee, February 2011.
Wilder, Donny. "'Chick' Galloway's Story – A Legend." Clinton Chronicle, May 6, 1976.
"Chick Galloway." www.baseball-reference.com
---
Born
August 4, 1896 at Clinton, SC (USA)
Died
November 7, 1969 at Clinton, SC (USA)
If you can help us improve this player's biography, contact us.
http://bioproj.sabr.org/bp_ftp/images5/GallowayChick.jpg
600
800
admin
/wp-content/uploads/2020/02/sabr_logo.png
admin
2012-01-04 20:33:00
2012-01-04 20:33:00
Chick Galloway