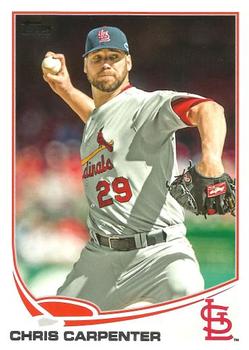 ---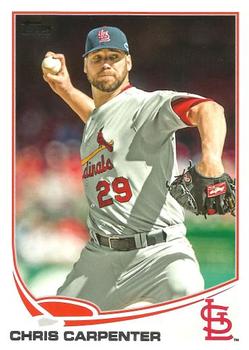 Chris Carpenter spent 15 seasons in major-league baseball, first with the Toronto Blue Jays and then with the St. Louis Cardinals .His won-lost record was 144-94 with an earned-run average of 3.76, and in 2005, his 21-5 season and 2.83 ERA won him the National League's Cy Young Award. But statistics alone don't tell the story of Carpenter's career. His determination to play, despite serious injuries that nearly ended his career on several occasions, impressed both the fans and the writers who covered him. As one columnist said of the right-hander, he was "the epitome of persistence — he won three separate Comeback Player of the Year awards in two seasons — as he missed nearly five full seasons with major arm injuries. He had three surgeries on his elbow and two on his shoulder, and had a rib removed in hopes of making a return from thoracic outlet syndrome, which caused weakness in his pitching shoulder."1 Few pitchers overcame as many obstacles as Carpenter, and yet there was a time in 2003 when he doubted he'd ever throw a baseball again.2
Christopher John Carpenter was born on April 27, 1975, in Exeter, New Hampshire, the son of Bob and Penny Carpenter.3 Raised in nearby Raymond, he developed a love of sports at a young age: Mentored by his father, whom he credited with teaching him the fundamentals of baseball, he began playing that sport before he was 8, getting involved in Little League and then Babe Ruth League.4 (He also followed the Boston Red Sox faithfully; his favorite players were Roger Clemens and Carlton Fisk.)5 Carpenter attended Trinity High School in Manchester, where he continued to excel at baseball. But he also enjoyed playing hockey: despite being 6-feet-6 (or 6-feet-9 on skates, as his dad jokingly recalled), he was a three-time all-state defenseman, and both the Chicago Blackhawks and Boston Bruins scouted him for a possible professional career.6
However, Carpenter's first choice was baseball. A versatile athlete who could both play the outfield and pitch, he was one of the star players on the Trinity High Pioneers team. By his senior year, baseball scouts rated him in the top 10 among high-school pitchers,7 and local newspapers were predicting that he would be drafted.8 But taking nothing for granted, Chris had signed a letter of intent to attend Creighton University in Omaha, Nebraska, on a baseball scholarship. As it turned out, going to Nebraska would not be necessary: The Blue Jays drafted him in the first round, as the 15th overall pick. Local sports reporters who had followed his high-school career noted that Carpenter was the first New Hampshire baseball player ever selected in the first round of the amateur draft.9
The 18-year-old right-hander received a signing bonus of more than $500,000 from the Jays, and the team also promised to pay for his education if he decided to go to college.10 As he prepared to report to Dunedin, Florida, home of Toronto's rookie and Class-A teams, his future looked bright. Ted Lekas, the Jays' scouting supervisor, said he believed Carpenter had all the tools to be on a major-league team, and the young pitcher agreed with that assessment; in fact, he predicted he'd be in the majors within four years.11
In 1994 Carpenter made his professional debut, pitching for the Medicine Hat (Alberta) Blue Jays in the rookie-level Pioneer League; he won six and lost three, with a 2.76 earned-run average. The following year, he began the season with the Dunedin Blue Jays in the Florida State League; he went 3-5, with an ERA of 2.17, and opposing teams batted only .229 against him. This earned Carpenter a midseason promotion to the Knoxville Smokies of the Double-A Southern League.12 His record there was just 3-7, with a 5.18 ERA. When he returned to Knoxville for the 1996 season, Carpenter was determined to improve, and he did. His record was 7-9 with a 3.94 ERA.
In 1997 Carpenter was in Triple A, pitching for the Syracuse SkyChiefs. But prior to reporting, he had the chance to meet one of his childhood heroes, Roger Clemens, who was now with the Blue Jays; when Carpenter arrived early at the Jays training camp in Dunedin in early February, there was Clemens, the man he had emulated even as a Little Leaguer. Carpenter was just 11 when Clemens won his first Cy Young Award in 1986, and he wanted to be as good a pitcher as the Red Sox ace. "When I thought of baseball, I thought of Roger Clemens," Carpenter recalled. He also remembered how he would pretend to be Clemens when pitching in an important Little League game.13 Now, more than a decade later, the two were at spring training together; and in the future, they might be major-league teammates.
But there was no plan to hurry Carpenter along: the Blue Jays, while impressed with his potential, felt he still needed more time in the minor leagues. At Syracuse, Carpenter's fastball continued to impress, but he was still learning to improve command of his curveball and changeup. He was only 1-4, with a 3.88 ERA in early May, when something unexpected happened: Toronto pitcher Erik Hanson developed shoulder trouble, and after his replacement, Robert Person, also got a sore shoulder,14 Carpenter was suddenly on his way to Toronto to make his major-league debut.15
It did not go well. Pitching against the Minnesota Twins on May 12, 1997, he lasted only three innings, giving up seven runs (five earned) and eight hits, as the Jays lost to the Twins 12-2. Carpenter was the losing pitcher.16 In his brief time with the Jays, he was 0-2, with a less-than-impressive 12.71 ERA.17 When Person was able to come off the disabled list, Carpenter was optioned back to Syracuse.18 On the other hand, reporters observed that the 21-year-old pitcher had good stuff, and with some more experience, he would undoubtedly do much better the next time he was called up.
In late July Carpenter's record with Syracuse was 4-9, with a 4.50 ERA, but local baseball writers noted that his record was deceptive — the SkyChiefs' poor defense and lack of timely hitting had cost him several games, yet despite that, he had shown steady improvement.19 The writers believed Carpenter would get called up again soon, and Chris was confident that this time things would go better.
On July 29 Carpenter was recalled by the Blue Jays, but it would take a few more starts (and several more losses) before he finally got his first major-league win, on August 19, when the Jays defeated the Chicago White Sox 6-5. Carpenter gave up four runs in six innings, but a win was a win, and he was happy to get one. As the season progressed, he used every available moment to soak up additional information about the art of pitching from the team's veterans,20 and gradually he began to show improvement. On September 9 he gave his best major-league performance, beating the Anaheim Angels, 2-0. It was his first shutout and his first complete game, and he gave up just three hits; only two runners reached second base.21
Carpenter finished the season with an overall record of 3-7 and an ERA of 5.09, much of that the result of his early outings. When the Jays began the 1998 season, he was in the starting rotation, eager to build on what he had learned during his rookie year. He made 24 starts that year, compiling a record of 12-7, with a 4.37 ERA. Most of those wins came in the second half of the year; he went 6-1 over a period from July through September. His manager, Tim Johnson, stated that Carpenter was showing an ability to use all of his pitches consistently; Johnson also stated with certainty, "He'll be a quality pitcher for years."22
As the 1999 season approached, Carpenter seemed poised to have a breakout season. He was about to be part of a rotation that featured Roy Halladay, Kelvim Escobar, Pat Hentgen, and David Wells. Although Chris had a couple of minor health problems in 1998 (including several weeks during spring training when he had some tightness in his shoulder,23 and a time in the late summer when he saw an asthma specialist after experiencing some breathing problems),24 neither situation caused any lasting effects. During April and May of 1999, Carpenter led all Jays pitchers in innings pitched and complete games, and was the only starter with an ERA under five — his was 3.63.25 Then, without warning, in early June he suddenly began to experience soreness in his elbow. He ended up on the 15-day disabled list, then did a rehab start at Class-A St. Catharine's (Ontario), and prepared to rejoin the Jays.26
But although he said he felt good, his pitching was once again inconsistent, and he was having problems with control.27 As it turned out, his elbow was not 100 percent after all. He decided to see a specialist to find out why he continued to experience recurring pain. The Jays' trainer thought it might be a bone spur, and that meant surgery would be needed.28 Carpenter finished 1999 with a record of 9-8 and a 4.38 ERA. In the offseason, he had elbow surgery, after which he worked on strengthening his arm, and said he would be ready for the 2000 season.29 But just like before, he pitched inconsistently; in early May, he was 3-3 with a 4.50 ERA. He insisted he was fine, but some players who knew him suspected he was in more pain than he wanted to admit.30 Carpenter soldiered on throughout 2000, but he rarely was the dominant pitcher everyone hoped for. He was in and out of the starting rotation, and he finished up with a losing record, 10-12 with an unimpressive 6.26 ERA. By this point, fans and baseball writers alike were wondering why he continued to underachieve. Said one reporter, Carpenter was one of several pitchers on the Jays who were "long on potential but short on performance."31 No one, including Chris Carpenter himself, had a good explanation.
In fairness, Carpenter was playing for a team that had endured quite a bit of management turmoil. By spring training of 2001, the Jays were on their fourth manager and coaching staff since Carpenter's major-league debut, and along the way, several of the coaches insisted on changing his mechanics in hopes of addressing his inconsistency.32 But Carpenter refused to make excuses. He was now 25, had plenty of major-league experience under his belt, and he wanted to step up and become the team's ace. At times during the early part of the season, he seemed ready to do just that, like when he overpowered the White Sox in late May, pitching a six-hit shutout and boosting his record to 5-2.33 But then the inconsistency and loss of control recurred and he began losing (and giving up too many runs). In early August, Carpenter's record was 7-9 with a 4.33 ERA, he hadn't won a game since late June, and he admitted he had lost command of his curveball.34 Carpenter was unable to turn things around until late August, when he finally won a game, pitching seven shutout innings in the Jays' 5-0 victory over Baltimore — his first win in 11 starts. For the remainder of the season, Carpenter once again pitched well, and brought his record up to 11-11, with a 4.09 ERA; he also pitched a career-high 215⅔ innings.
In the offseason, with his three-year contract up, Carpenter found that the Jays' new management (general manager Gord Ash was gone, replaced by J.P. Ricciardi) was not as accommodating as the previous management had been. The Jays refused to give him a multiyear deal, nor did they offer him the kind of money he had hoped to make. In fact, his agent believed Carpenter's days with Toronto were numbered.35 In the end, the Jays and Carpenter avoided salary arbitration, but he was signed to only a one-year contract, worth $3.45 million, less than the $4.5 million he wanted.36
And yet again, it was a difficult year for Carpenter. In early April, after a game in which he gave up four home runs in less than three innings, he was put on the disabled list with shoulder tendinitis (which he admitted had begun during spring training).37 He returned, but ended up on the DL again — in fact, he was on it a total of three times, as his shoulder continued to bother him throughout the season. By early September, Chris had a record of 4-5 and a 5.28 ERA, and he had pitched only 73⅓ innings for the Jays. The team announced that the hard-luck pitcher would need surgery to repair a torn labrum in his right shoulder, and even if everything went well, he would not be able to pitch for at least nine months. But few of the beat reporters in Toronto expected to see Carpenter in a Jays uniform again. With his contract up again, the consensus was that Carpenter's time with the Blue Jays was over.38 In his six years with the Jays, he had compiled a record of 49-50, with a 4.83 ERA. Few people thought that was all he was capable of. Perhaps a new start would be for the best.
As it turned out, those who predicted Carpenter's time with Toronto had ended were correct. When the Jays wanted to assign him to Triple-A Syracuse, Carpenter instead decided to test the free-agent market. It was a good decision: The day after he severed ties with the Jays, the St. Louis Cardinals made him an offer. Even though he would be unable to pitch till at least July of 2003, the Cardinals guaranteed $300,000, which would grow to $500,000 as soon as he was put on the active roster that year.39 There was also a $2 million option for 2004.40 Best of all, he would not have to go to the minors and work his way back to the big leagues. Carpenter expressed frustration at the previous couple of seasons, and especially at his inability to improve his won-lost record. And while he and his wife loved Toronto, he agreed that it was time for a change.
Things did not go the way either Carpenter or his new team planned. Instead of being able to come back to the Cardinals in July, there were unexpected complications. The team had sent him to do a quick rehab stint in late June, first for the Class-A Palm Beach Cardinals, and then at the Triple-A Memphis Redbirds. When he took the mound for the Redbirds, Carpenter gave up three runs and four hits in the first inning, and he definitely did not look ready for the majors. Rather than rush him, it was decided he needed more time in the minors.41 But when Carpenter did not pitch any better in a subsequent rehab appearance, the Cardinals grew concerned. They had good reason. Not only was he giving up a lot of runs, he was once again feeling discomfort in his surgically repaired shoulder. He was sent to St. Louis to get an MRI, and Cardinals manager Tony La Russa acknowledged that it was unlikely Carpenter would pitch for the team in 2003.42
The test results confirmed La Russa's assessment. Carpenter needed additional surgery, this time to remove scar tissue from his shoulder. The operation took place in late July, and the Cardinals said that once this was taken care of, he would be ready for spring training in 2004.43 Of course, this was not what St. Louis fans had hoped for. The Cardinals needed pitching, and Carpenter had been expected to help the team in 2003. Now, everyone would have to wait and see, and some fans were skeptical about whether the team had made the right decision to sign him. But showing they still believed Carpenter would come back and contribute positively, the Cardinals gave him another one-year contract, with terms similar to the last year's, and additional incentives once he had reached 10 starts. GM Walt Jocketty expressed confidence that in 2004 Carpenter would be one of the team's starters.44
And after living through so many disappointments and setbacks, Carpenter was eager to get some results. He was also confident that this surgery had worked: Back home in New Hampshire, he was pitching to some college players, and noticed that his pitches had the kind of movement they used to have before his arm trouble. His location was back, and he could even throw his changeup for strikes.45 Before this most recent surgery, he had considered retiring, concerned that the constant pain would never go away and he would never be able to pitch effectively again.46 It was his wife, Alyson, who encouraged him and persuaded him not to quit,47 and now, finally, he was pain-free. He was optimistic again, and he couldn't wait to get to spring training. And when Cardinals players saw how good Carpenter's stuff was, they were optimistic too.
In fact, 2004 turned out to be the kind of year people had long believed Carpenter was capable of. His velocity and command were back, and he pitched 182 innings, going 15-5, with a 3.46 ERA. The Cardinals were heading for the playoffs, and everyone was excited to see what Carpenter would do. But once again there was a roadblock. In late September Carpenter began feeling pain in the biceps in his throwing arm. Resting it did not help; there was some kind of nerve irritation in the arm, and neither the team doctor nor the specialist could predict when it would get better.48 The Cardinals waited to see if Carpenter would be available during the playoffs, but he never was. The team subsequently lost the World Series to the Red Sox, much to the frustration of the fans, who had been excited by Carpenter's 2004 comeback and disappointed that he couldn't pitch in the postseason.
No one was more frustrated and disappointed than Carpenter. While Red Sox fans rejoiced in their first World Series win in 86 years, Cardinals fans wondered if he would ever stay healthy for a full season. Meanwhile, Carpenter won The Sporting News' Comeback Player of the Year award for 2004, a year before a similar award was given by Major League Baseball.49 But better than winning an award was the fact that resting his arm had allowed the nerve disorder to heal; Carpenter returned to the Cardinals once again able to throw without pain.50 He looked so good in spring training that manager LaRussa named him the Cardinals' Opening Day starter. He did not disappoint, pitching seven innings of four-hit, one-run baseball in a 7-3 victory over Houston.51
It was a preview of things to come. By the All-Star break Carpenter had 128 strikeouts and 13 wins, one of which was against his former team, the Blue Jays; he overpowered them, throwing a one-hitter in an interleague game the Cardinals won 7-0.52 When players were named for the All-Star Game, Carpenter was selected It was his first time, and La Russa chose him as the National League's starting pitcher. He gave up two hits, induced a double play, and pitched a scoreless inning.
Throughout the rest of 2005, Carpenter's pitching was outstanding; no one used words like "mediocre" or "underachiever" any more. Now, he was "brilliant" and "dominant and his teammates praised his focus, his intensity, and his desire to win. He was so overpowering that he did not lose a game in 16 starts from June 14 to September 8; during that period, he went 13-0 with a 1.36 earned-run average.53 His final four outings were subpar, but he still ended the season with a record of 21-5 and a personal best 2.83 ERA. Carpenter's peers voted him the winner of a Players Choice Award, as the National League's Outstanding Pitcher.54 Carpenter also won the Cy Young Award; he beat out Florida Marlins left-hander Dontrelle Willis in a close vote. His career had totally turned around — from a time in 2003 when he thought he would never play again to being honored as the National League's best pitcher in 2005. He was now making $13 million (a far cry from the $500,000 he had signed for), but many reporters noted that compared with some other star pitchers, he was quite underpaid. Carpenter said he didn't mind; he was healthy, he was winning, and he felt he was with the right team.55
In May 2006 Carpenter made another sudden trip to the disabled list, but this time it wasn't his arm. He had experienced back spasms in April, and they had never improved; he now had some stiffness in the shoulder area, and was finally diagnosed with bursitis. It was affecting his mechanics, and some time on the DL seemed prudent, given his history.56 When he returned in June, he felt better, and he gave the Cardinals some quality starts; but at several points during the season, he had to leave games with painful cramping in his arms or legs, said to be caused by dehydration.57 And while he didn't put up Cy Young numbers, he still finished with a solid record: 15-8 and a 3.09 ERA in 221⅔ innings; more importantly, whenever the Cardinals needed a big win from him, he usually produced, including during the playoffs. For example, although the Cards barely made it into the postseason, Carpenter gave them 6⅓ innings of clutch pitching in Game One of the NLDS versus San Diego; he was the winning pitcher, allowing five hits and one run in the Cardinals' 5-1 victory. That win improved Carpenter's lifetime playoff record to 3-0, with an ERA of 1.98. Meanwhile, the Cardinals began to play like champs, defeating the Detroit Tigers in five games in the World Series. And one of the Cardinals' wins came from Chris Carpenter, who pitched eight shutout innings in Game Three, giving up only three hits as the Cardinals won 5-0.
But nothing ever was simple in Chris Carpenter's career. When he came to spring training in 2007, he soon began to experience elbow stiffness, soreness, and inflammation. He was diagnosed with arthritis and an MRI showed bone spurs. It was hoped that a cortisone shot and some rest would be all that was needed.58 But the elbow did not improve, and by May it became obvious that Carpenter would need surgery to remove the bone spurs. The hope was that he would return to the Cardinals in about three months.59 But in July management admitted that its original optimistic report was inaccurate. In fact, not only was Carpenter not coming back in August; he needed additional elbow surgery, to replace his medial collateral ligament, better known as Tommy John surgery. He would probably miss much of 2008.60 This was a major disappointment for the fans, the team, and of course, for Carpenter, who had hoped his arm troubles were behind him.
By mid-July of 2008 Carpenter was far enough along in his recovery to begin an injury rehab assignment; he pitched four pain-free innings for the Double-A Springfield (Missouri) Cardinals, and while he did not have his command back yet, the outing was encouraging. In fact, Cardinals said he would return to the team at the end of the month. He made several appearances with the Cardinals, and all seemed to be going well; but then, in mid-August, Carpenter experienced soreness in his triceps area. Again he had to go see the specialists. Everyone breathed a sigh of relief when the diagnosis was just a mild muscle strain on the back side of his right shoulder. But it still meant another trip to the DL, certainly not what Carpenter had hoped. And there was worse news: Tests showed nerve irritation in his shoulder, and he was told not to pitch any more in 2008.61 He also required one more surgery, to reduce pressure on a compressed nerve in his shoulder. It was becoming increasingly difficult for Carpenter to remain positive. All he wanted to do was pitch, but it seemed there was one obstacle after another.
Still, Carpenter persevered. He was back at spring training in 2009, and early indications were that his velocity had returned. He returned to the Cardinals' rotation, determined to win games and not worry about his arm. The season brought him some much-needed good news: he threw well, and looked like the dominant pitcher everyone saw in 2005. In fact, from early July through mid-August of 2009, he was 7-0 in eight starts, with an ERA of 1.67.62 And at season's end, he had an impressive 17-4 record, with a league-leading ERA of 2.24. And there was one other interesting note: In early October, on the last day of the season, Carpenter (a .105 lifetime hitter as of 2009) hit a grand slam and knocked in six runs in a game the Cardinals won 13-0 against the Cincinnati Reds.63 In early October Carpenter was voted the National League's Comeback Player of the Year. Some of the baseball writers also expected Chris to win another Cy Young, but he lost out to San Francisco Giants ace Tim Lincecum. The vote was very close, and not everyone agreed with the decision.64 But Carpenter's amazing season also earned him other accolades: In January 2010 the Boston chapter of the Baseball Writers Association of America announced it had unanimously chosen him for the 20th annual Tony Conigliaro Award, given to "a Major League player who has overcome adversity through the attributes of spirit, determination and courage."65
The 2010 season saw Carpenter continuing to put up good numbers. He was 35 now, but just as his injuries hadn't stopped him, neither did his age. He made a league-leading 35 starts, finishing at 16-9 and a 3.22 ERA. But he pitched one complete game, and said that at times he felt uncomfortable with his mechanics.66 In 2011 he was once again the Cardinals' Opening Day pitcher, the fifth time he had been chosen.67 During the season, he was sometimes inconsistent, but he came up big when the Cardinals needed him to. And he was still a workhorse: Carpenter led the National League with 237⅓ innings pitched. His record was 11-9, with a 3.45 earned-run average. But he was especially dominant during the Cardinals' pennant drive late in the season. Then, in Game Five of the NLDS, Carpenter outpitched his friend and former Blue Jays teammate Roy Halladay, throwing a three-hitter and winning, 1-0. Throughout the playoffs, he continued to win big games, including giving the Cards six-plus innings on only three days' rest in Game Seven of the World Series, helping his team to defeat the Texas Rangers and win the Series again. Carpenter's hometown newspaper, the Manchester (New Hampshire) Union Leader, editorialized that he was the epitome of good sportsmanship, competitiveness, and character, someone that every young athlete could emulate.68
In 2012, however, Carpenter was injured again, this time with a nerve problem that affected his rotator cuff. Determined to continue pitching, he agreed to another surgical procedure, but he made only three starts that year, and was winless. Things did not improve for him in 2013, when he experienced periods of numbness in his pitching hand. He was unsuccessful in completing a rehab assignment. Finally, Carpenter decided there was no point in living with continued pain that made it impossible for him to be effective. In November 2013 he announced his retirement. In spite of all the injuries, he compiled an impressive record during his major-league career: 144 wins and 94 losses (he went 95-44 with the Cardinals), with an ERA of 3.76 and 1,697 strikeouts. He had won a Cy Young Award, been named Comeback Player of the Year, played on three All-Star teams, and was on two championship World Series teams.69 Not bad for a young man from Raymond, New Hampshire, who almost became a hockey player. After his playing days ended, the popular Carpenter was given a job in the Cardinals' front office, but he left that position after only a year; he told reporters he had been going through some personal changes (including getting divorced, and ultimately remarrying), and did not feel he was able to focus on what the organization needed. He hoped to come back to the Cardinals in some capacity in the future.70 In 2016 he was voted into the St. Louis Cardinals Hall of Fame.
Last revised: March 1, 2017
Notes
1 Jim Connell, "Carpenter at Home on the Sidelines," Springfield (Missouri) News-Leader, January 24, 2015:D1.
2 Lori Shontz, "Pitching on Wife Support." St. Louis Post-Dispatch, July 30, 2004: D1.
3 Joe Strauss, "That's a Winner," St. Louis Post-Dispatch, August 16, 2005: D1.
4 Ronald Blum, "American League Stars Shine Bright in Detroit," Portsmouth (New Hampshire) Herald, July 13, 2005: B1-2.
5 "Chris Carpenter, Toronto Blue Jays Pitcher," Hamilton (Ontario) Spectator, July 2, 1999: E6.
6 Joe Strauss, "That's a Winner," St. Louis Post-Dispatch, August 16, 2005: D1.
7 Tom King, "Welch Now a Met," Nashua (New Hampshire) Telegraph, June 4, 1993: 23.
8 "Area High Schools: Baseball," Nashua Telegraph, April 17, 1993: 18.
9 "Trinity's Carpenter Signs With the Jays," Nashua Telegraph, August 12, 1993: 27.
10 Ibid.
11 "Jays Come to Terms With NH Prospect," Lowell (Massachusetts) Sun, August 12, 1993: 26.
12 "A Walk Through the Parks," Toronto Globe and Mail, June 27, 1995: C4.
13 Matt Michael, "SkyChief Prospect Idolizes Clemens," Syracuse (New York) Post-Standard, March 27, 1997: C1.
14 S.P. Services, "Expos Mighty Pleased with 5-4 Coast Record," Saskatoon (Saskatchewan) Star-Phoenix, May 12, 1997: C4.
15 John Benson, "New Faces Offer Rotisserie Risks and Opportunities," Stamford (Connecticut) Daily Advocate, May 18, 1997: C2.
16 "Twins Get Back on Victory Lane," Aberdeen (South Dakota) Daily News, May 13, 1997: 4C.
17 Matt Michael, "Struggling Syracuse Gets Help," Syracuse Herald-Journal, May 28, 1997: C3.
18 "Transactions," Stamford Daily Advocate, May 28, 1997: C5.
19 Matt Michael, "Carpenter Twirls a Dandy, But SkyChiefs Fall," Syracuse Herald-American, July 13, 1997: C8.
20 Richard Griffin, "Rookie Pitcher Carpenter Could Be the Real Deal," Toronto Star, August 21, 1997: D6.
21 "Toronto Led by Young Lineup," Lawrence (Kansas) Journal-World, September 10, 1997: 4C.
22 Scot Gregor, "Blue Jays Carpenter Silences Belle, Rest of White Sox," Daily Herald (Arlington Heights Illinois), July 17, 1998: Section 2, p. 3.
23 Tom Maloney, "Guzman's the Wild Card in Jays' Rotation," Kitchener (Ontario) Record, February 18, 1998: E5.
24 "Carpenter Works on Control — Of His Mind," Toronto Star, August 12, 1998: 1.
25 "Baseball: Hurting Jays Lose Top Starter," Kingston (Ontario) Whig-Standard, June 7, 1999: 19.
26 Chris Jones, "It Was Only Class-A, but It Was a Game Worth Catching," The National Post (Don Mills, Ontario), June 24, 1999: B16.
27 Robert MacLeod, "Texas Hitters Hammer Carpenter," Toronto Globe and Mail, August 28, 1999: A21.
28 "Carpenter Sees Specialist," Toronto Star, September 14, 1999: 1.
29 "Blue Jays Starting Rotation on the Mend," Alaska Highway News (Fort St. John, British Columbia), February 21, 2000: 8.
30 Geoff Baker, "Walking Wounded Straddle a Fine Line," Toronto Star, May 30, 2000: C7.
31Bob Matthews, "Indians Will Return to Prominence," Rockford (Illinois) Register Star, March 31, 2001: 6C.
32 Mark Zwolinski, "Carpenter Out to Rebuild Reputation," Guelph (Ontario) Daily Mercury, February 27, 2001: B4.
33 "Carpenter Whitewashes Sox," Chatham (Ontario) Daily News, May 30, 2001: 11.
34 "Carpenter Needs Work," Timmins (Ontario) Daily Press, August 3, 2001: 9.
35 Allan Ryan, "Blue Jays' Carpenter Feels Chill in Post-Ash Era," Toronto Star, January 19, 2002: E4.
36 Richard Griffin, "Who Loves Ya, Chris? Not the Blue Jays," Toronto Star, February 14, 2002: C18.
37 "Blue Jays: Carpenter Placed on Disabled List," Kingston Whig-Standard, April 8, 2002: 18.
38 Richard Griffin, "Carpenter's Cut Leaves Jays in a Quandary," Toronto Star, September 5, 2002: D2.
39 "Carpenter Signs With Cardinals," Barrie (Ontario) Examiner, December 14, 2002: B1.
40 Drew Olson, "Job One: Keeping Your Own," Milwaukee Journal Sentinel, December 14, 2002: 6C.
41 Joe Strauss, "Knee Pain Again Gives Drew Cause for Concern," St. Louis Post-Dispatch, July 6, 2003: F9.
42 Joe Strauss, "Jocketty Won't Deal for Pitcher Right Now," St. Louis Post-Dispatch, July 24, 2003: D5.
43 "Cards Pitcher Carpenter's Season Is Over Following More Surgery," St. Louis Post-Dispatch, August 6, 2003: D5.
44 Joe Strauss, "Cards Still Like Carpenter's Tools," St. Louis Post-Dispatch, December 2, 2003: D2.
45 Dan O'Neill. "Cards Hitters Say This Carpenter Is Electric," St. Louis Post-Dispatch, February 28, 2004:OT5.
46 Tom D'Angelo, "Carpenter Retools," Palm Beach Post, March 2, 2004: 8C.
47 Lori Shontz, "Pitching on Wife Support," St. Louis Post-Dispatch, July 30, 2004: D1.
48 Derrick Goold, "Pitchers' Injuries Strike Raw Nerve," St. Louis Post-Dispatch, October 8, 2004: C4.
49 Gary Gillette and Pete Palmer, eds., ESPN Baseball Encyclopedia (New York: Sterling Publishing, 2007), 1769.
50 Joe Strauss, "Carpenter Bounces Back," St. Louis Post-Dispatch, February 21, 2005: D1.
51 Derrick Goold, "Carpenter's Opening Effort Draws Accolades," St. Louis Post-Dispatch, April 6, 2005: B5.
52 "Carpenter, the Ace That Got Away, Rips Apart Blue Jays," Peace River Daily News (Dawson Creek, British Columbia), June 15, 2005: 6.
53 Pat Borzi, "Cardinals' Top Starters Not Strong to Finish," New York Times, October 4, 2005: D4.
54 Derrick Goold, "Players Honor Cards' Carpenter," St. Louis Post-Dispatch, November 4, 2005: D3.
55 Joe Strauss, "No-Brainer for Carpenter," St. Louis Post-Dispatch, March 19, 2006: D1.
56 Joe Strauss, "Cards Will Put Carpenter on DL," St. Louis Post-Dispatch, May 29, 2006: D5.
57 Derrick Goold, "Muscles Cramp Carpenter's Style," St. Louis Post-Dispatch, August 27, 2006: D5.
58 Derrick Goold, "To Help Heal His Aching Elbow, Carpenter Must Rest," St. Louis Post-Dispatch, April 14, 2007: B7.
59 "Cards' Ace May Be Out Until August," Deseret News (Salt Lake City), May 6, 2007: D12.
60 Joe Strauss, "Season Ends for Cards Pitcher," St. Louis Post-Dispatch, July 20, 2007: D1.
61 "Cards Drop in Wild-Card Race," Toronto Globe and Mail, September 13, 2008: S3.
62 "Pujols, Holliday Back Carpenter to Topple Reds," Fort Wayne (Indiana) Journal-Gazette, August 13, 2009: B4.
63 Rick Hummel, "Carp Uses His Hammer" St. Louis Post-Dispatch, October 2, 2009, C1.
64 Joe Strauss, "Sigh! It's Lincecum's Cy; Chris Carpenter and Adam Wainwright Finish Second and Third in Cy Young Voting," St. Louis Post-Dispatch, November 20, 2009: C1.
65 Neil Keefe, "Chris Carpenter Wins 2009 Tony Conigliaro Award," Online at nesn.com/2010/01/chris-carpenter-wins-2009-tony-conigliaro-award/.
66 Joe Strauss, "Mad on the Mound," St Louis Post-Dispatch, March 13, 2011: C1.
67 Derrick Goold, "Carpenter Set to Go First," St. Louis Post-Dispatch, March 31, 2011: C5.
68 "Cheering Carpenter: Elite Talent, Elite Ethic," Manchester Union Leader, October 23, 2011. Online at unionleader.com/article/20111023/OPINION01/710239971/0/.
69 Derrick Goold, "End of an Era as Carpenter Retires," St. Louis Post-Dispatch, November 21, 2013. Online at stltoday.com/sports/baseball/professional/end-of-an-era-as-carpenter-retires/article_fa898878-d869-59d8-9207-94b978f26642.html.
70 Rich Hummel, "Hall of Fame Induction Special for Carpenter," St. Louis Post-Dispatch, August 28, 2016: C9.
Full Name
Christopher John Carpenter
Born
April 27, 1975 at Exeter, NH (USA)
If you can help us improve this player's biography, contact us.
https://sabr.org/sites/default/files/CarpenterChris.jpg
600
800
admin
/wp-content/uploads/2020/02/sabr_logo.png
admin
2017-01-19 13:26:23
2020-11-11 02:52:12
Chris Carpenter