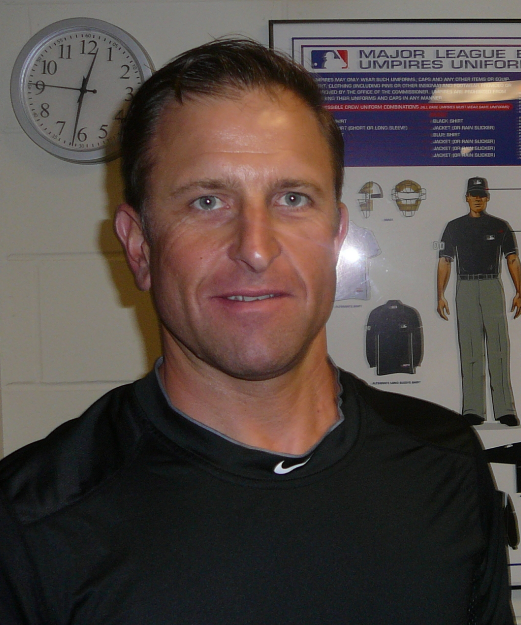 ---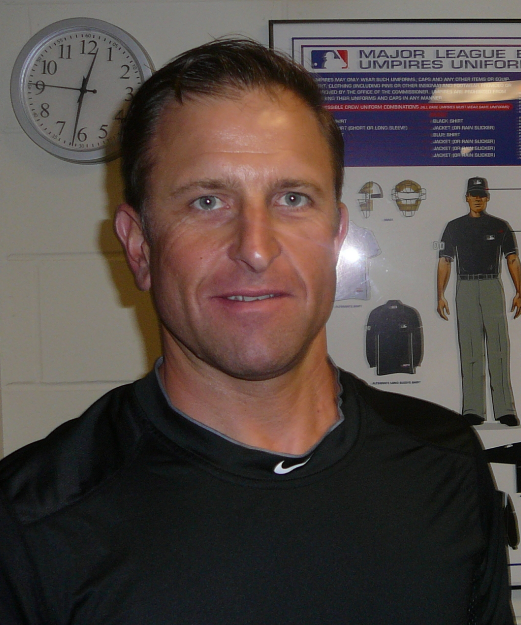 Through the 2016 season, Chris Guccione has been a major-league umpire for eight full seasons. Before that, he was an "up and down" umpire, for the eight prior seasons (2000 through 2008), and he had worked five years in the minor leagues, from 1995 through 1999. Like most umpires, he had to work many years before becoming hired as a major-league umpire. But he holds a record that may never be broken – having worked 1,255 games as a "fill-in" umpire before finally getting the promotion to the big leagues.
In October 2016, Guccione worked his first World Series and not only did he work one of the most exciting World Series in baseball history, it was his distinction to call the final out in the bottom of the 10th inning in Game Seven.
Christopher Gene Guccione (widely known as "Gooch" among his fellow umpires) was born in Salida, Colorado, on June 24, 1974. Salida is a small town in the "Heart of the Rockies" on the Arkansas River about 140 miles south and west of Denver, a couple of hours more or less west of Colorado Springs. Its population is a stable one, currently a little over 5,000, only about 600 or 700 more than it had been in 1920.1 His father's aunt Rose was the first member of the family to emigrate from Italy to Salida, in the 1920s. Chris's father, Geno Luigi, emigrated considerably later, in 1958 at the age of 12. He came with his mother, two of his sisters, and one brother. The family came from the small village of Gesuiti, in Calabria.
The railroad ran through Salida, but it was perhaps the mining work that attracted so many southern Italians to the area. Word had spread, of course, from one family to another that there was work to be found, and the town – despite its Spanish name – was home to a large number of southern Italians.2
Geno Guccione came to America at the time the New York Yankees were riding high, and he became a huge fan of the Yankees, and of baseball in general. He was only 5-feet-8, but he was a very good pitcher and Salida had a very good team. Geno learned how to pitch from throwing thousands of times through an old tire. "They had an incredible team," Chris said. "He's got this trophy that they won when he was maybe 16 years old. They won third place in the state tournament in 1963."
Strange as it may seem, Salida nearly hosted a Boston Red Sox baseball game once upon a time. There was a game scheduled in Salida itself on March 30, 1911, as the team worked its way back east from spring training in California. The game had to be called because another train had been involved in a wreck and the line was blocked. The Red Sox went on to play in Pueblo on March 31.3
Chris was told that his father had gone to a tryout for the Pittsburgh Pirates at a minicamp held at Runyon Park in Pueblo. The love of baseball was passed down from father to son, to Chris and his younger brother, Stephen.
Geno Guccione had become a naturalized United States citizen, finished high school, and then served in the Army during the Vietnam War. His experience and talent with mechanical things stood him well after he arrived in Da Nang. That first night, there were nighttime mortar attacks on the American base there, but the real fighting was farther north, on the front lines. "They were sending guys up north, to go fight. They were just going down the line – 'OK, you up north. You stay here. You up north …' They were just picking guys. When they got near my dad, someone said, 'Hey, we need a mechanic to work around here' – and my dad's arm went up. They said, 'All right, you're staying here. You're working on the trucks and all the vehicles.'" He was thus spared a more active combat role.
After a year or year and a half in Vietnam, Geno returned Stateside and took up work mining for CFI Steel Corporation. [Colorado Fuel & Iron]. "He was mining limestone up at Monarch Mountain; at the time they used limestone to harden and purify the steel. He worked there all through the '80s, but then once steel production started going overseas to China and all that, they shut down the mine. Really, my dad was a handyman. Small motors, a mechanic, working on cars, trucks, and small engines like lawnmowers and all that. Real handy as a guy."
Geno Guccione married Suzanne Corinne Sparks, a blonde-haired, blue-eyed woman of Dutch descent. They divorced when Chris was in the sixth grade.
During the winters, when the mines were shut, Geno drove a school bus in Salida. After the mine closed for good, he worked at the school district for nearly 30 years, doing all the maintenance work for the Salida High School and becoming head of maintenance for the district. "He retired from that but to keep busy, he does lawn jobs. He's got like a lawn service and does that in the summer. He still gets to tinker with motors. He loves doing that stuff."
Chris started with baseball early. Claiming to be a year older than he actually was, he began playing Babe Ruth Baseball at the age of 5, on the Marvin Park baseball field. "I was usually an infielder. I was a second baseman for most of the time. Once I got older, I played center field, like during that 13-, 14-, 15-year-old league. I pitched some, too. My dad taught me what he knew about pitching. He loved pitching, so he taught me little tricks about pitching. So at that same age, 13, 14, 15, I was a pitcher as well."
Their home had a backyard, and beyond that a field with cows and horses. In a vacant lot, Chris and a friend fashioned a pitcher's mound from dirt they took off the side of a mountain. They put some 2-by-4's together and buried those in the mound to serve as a pitcher's rubber, and they built a backstop, creating their own pitching area.
There was no high-school baseball at Salida back then, nor were there more than four or five interested in starting an American Legion team. When he turned 15, and was no longer eligible for Babe Ruth Baseball, Chris became devoted to the track team, throwing the shotput and the discus, and remained so when baseball was finally belatedly offered during his senior year.
However, Chris had already started umpiring at the age of 12. When he didn't have a game, chances were that Stephen did. "I was at the ballpark, regardless," he said. "I just started umpiring games. I was getting five bucks a game and I'd go and buy all the fishing lures I could muster up with five bucks."4
A very good friend in junior-high and high school was Chris Clarkson. "We started umpiring about the same time, and we did that for a year or two, and then his dad – John Clarkson – started like a small umpire organization. It was me, it was Chris, he had a brother C.P., and then his dad. There might have been a couple of other guys in there. We did that for a couple of years. And then when I was 18 or 19, he said, 'You guys got to think about going to umpire school.' I had never heard of umpire school. I had no idea what umpire school even was."
Umpire school was relatively expensive, about $3,000 per person, but Chris and the Clarkson boys held some fundraisers in town and some people helped financially, including the two families. In 1995, when Chris was 20 years old, the three of them went to umpire school.
That in itself was a haul. Chris's girlfriend, Amy Lynn Wyble, dropped him off at the Greyhound bus station. "That was the only thing we could afford. It took us 52 hours from Salida to Kissimmee, Florida, and we spent five weeks down there at the Jim Evans School. Out of there, we all ended up getting jobs. All three of us ended up getting placed in pro ball."
Guccione's first assignment was to rookie ball, to the Pioneer League in 1995. Chris Clarkson worked two, three, or four years. C.P. worked for a year. Chris Guccione is still at it.5
The Pioneer League had teams in Billings, Medicine Hat, Great Falls, Helena, Butte, Idaho Falls, Ogden, and Lethbridge, Alberta. The Helena Brewers, with a record of 49-22, won the South standings and also both rounds of the playoffs.
After the Pioneer League, it was one assignment after another, working his way up the ladder. In 1996 Guccione was assigned to the Class-A Midwest League, where he partnered with current major-league umpire Brian Knight. The Midwest League had three divisions, and it was the West Michigan Whitecaps that won the finals. Among the states represented were Wisconsin, Illinois, and Iowa, as well as Michigan.
Guccione says, "Between rookie ball and all the A leagues, it was all two-man. Once you get to Double A, it's three-man, and Triple A is three or four. First of all, hopefully you have a person you can get along with. Your partner. If not, it's a long season. At the time, we had to share rooms. These days, you get your own room. But you had to basically live with the guy for six months. You knew him better than you did your family, at times. You would talk about everything.
"I was 20 years old, so this was all new, exciting, and fun."
In 1997 he was assigned to the California League, again Class-A ball. San Bernardino, Bakersfield, Modesto, Stockton, and San Jose were among the cities fielding teams. The High Desert Mavericks won the playoffs in 1977. The accommodations were typically of the Motel 6 variety, two beds to a room, but the team would pay for the hotel. Having a good partner was essential. "You usually stayed pretty close. You usually had lunch together. You worked out together. You really did everything together. The team would pay for the hotel, but you'd have to use your own car. That was kind of a sticking point."
Per diems were, to the best of his memory, $15 a day. "I ate a lot of Taco Bell, McDonald's, Arby's."
Guccione's partner in the California League was Brian Runge, of the famous umpiring Runge family. (Ed Runge was an American League umpire from 1954 to 1970 and his son Paul was a National League umpire from 1973-97.) Paul's son Brian had to work his way up, too. There was no limousine service provided. "I was the driver," Guccione remembers. "I had a 1988 Toyota pickup. We drove that thing up and down California the whole time. I had to replace a clutch, but it got us around, got us through. I actually still own the Toyota pickup. It's got a couple of hundred thousand miles on it. A new motor and everything else. My dad drives it now. I gave it to him."
Had he been paired with anyone who proved difficult? "You know, I was lucky. Every partner I ever had, we got along great. I never had any problem with league presidents, I never had a league I didn't like, but I'm a kind of easygoing guy. I consider myself easygoing. I can get along with just about anybody."
In both 1998 and 1999, he was assigned to the Texas League. This was Double-A baseball, an eight-team league with a 140-game season. Texas teams included El Paso, San Antonio, and Midland; also Wichita and one from Little Rock; and there were teams from Tulsa (Oklahoma), Shreveport (Louisiana), and Jackson (Mississippi).
The distances between parks could be considerable. "It depends, of course. In the Texas League, you're talking 15, 16 hours sometimes. You could go from El Paso to Jackson, Mississippi. You'd have to leave right after the game and get to the next city just before the next game. It was brutal. On average, it was like four, five hours between cities. The Southern League, you've got some long drives, too, but the Texas League, I think the shortest drive was four to five hours. All the rest of the trips were 8, 10, 12, 15 hours." That said, Guccione never missed a game, due to a breakdown or otherwise.
And for that matter, there weren't many days off. "You got a few days off. Not many in the minor leagues. You got a monthly salary. You only got paid for when you worked. You were probably at the poverty level."
It was difficult to maintain a relationship, too. Guccione recalls a time that first year he worked in the Texas League. Amy drove out to Wichita to see him at some point in May. She was graduating from the University of Colorado a little later; he wasn't going to be able to attend the graduation. "We were sitting at breakfast and I told her I was ready to call it quits. I was ready to come home. She basically told me to 'suck it up' and 'I've/we've put in too much to quit now.' It would have been real easy for her to agree. It was the only time the entire baseball season that I saw her.
"You have to come home after the season and hope that … that's the hard thing: You'd only get paid for April, May, June, July, August, and September. You'd get six months' salary. You'd make like $18,000 in that whole time. And then you'd come home, try to find a job. Hopefully, you wouldn't have to lie to the employer – saying you would keep working. I was kind of lucky. My cousin Pete had a painting business and for many, many years, the day I got home I'd be painting houses with him. Commercial, interior, exterior, anything. That was good.
"Amy was a nurse at the Veterans Hospital at the time. An RN. Then she went to the Tri-County Health Department. She worked and with what we could save from my salary during the season, we also had her salary." Amy and Chris married in 1998.
In 2000 Guccione was invited to big-league spring training and promoted to the Pacific Coast League. That was Triple-A baseball, the level just below the big leagues. But it was only a matter of a few weeks before he was asked to work his first major-league game. That first game was on April 25, 2000, in Atlanta, working with crew chief Tim Tschida. Guccione worked third base in a tight 1-0 game at Turner Field, Tom Glavine of the Braves shutting out the Dodgers.
At this point, he was "up" in the "up and down" cycle that would last through the 2008 season. And Guccione was up more than he was down. He worked 106 games that first year. In 2001 Guccione worked 132 games, and then in 2002 he worked an almost difficult-to-fathom 156 games. There are only 162 games on the major-league schedule. That means that he was essentially asked to work all but six games that year.
With vacations and time assigned to work at replay, the average major-league umpire now works about 120-130 games a year. Guccione was still a Triple-A umpire, but was filling in working big-league games. "I was working probably 20 or 30 more games than most of the staff. The older staff, guys that had vacation time, they were working about 130 games and I was working closer to 160 in those years. I remember one year, between the All-Star break and the last day of the season, I had one day off. "
The good news was that he was being paid the same daily salary (if not accruing all the pension time) that a major-league umpire was making, so the money was good. Hoping to one day be hired as a major-league umpire, you wouldn't want to turn down an assignment. "They tell you where to go and you want to say, 'Yes sir, I'll be there tomorrow.' I'd be on a crew and I'd be with them for a month or whatever. Then they'd get their one week off, but because I wasn't on staff, I didn't fall under that umbrella. They'd say, 'OK, now you're going to go to this crew.' Well, that crew didn't have any days off. Then you're working another 10 days, and then they go on vacation. Then you've gotta go to another crew and they didn't have any days off, either. Just bad luck, I guess."
Over the course of the nine years he worked as a fill-in umpire, the fewest games Guccione worked was 128 games in 2005. In the back-to-back seasons of 2007 and 2008, he once again worked 156 games.
The extra pay was very helpful. Amy had been working at the Veterans Hospital for a number of years, but now she was able to take two years off from the VA and focus on her master's degree on a full-time basis, and the couple was able to buy their first house.
Despite being used so frequently and for so many years, there was a stressful aspect to it, in a way, year in and year out, never knowing for sure if you'd get the call or not. One does develop a sense as to where they stand, and whether there might open up a slot for them in the majors. But another year might go by without getting the call. "When you're going up and down as an umpire, you never really know where you stand. If you do something on the field they dislike … you just never know. … It's eight years of not knowing where you stand and where your future's going to be, how many games you're going to work that year."
You do develop a sense of when the time might be approaching. "At the time, Rob Drake and I were kind of in the same position. It was either/or. He was up around the same number of games I'd worked. You knew it was going to be either one of us. That's kind of what you speculate anyway. You don't really know for sure. We were all waiting for the call. There was a couple of years prior to that and maybe I thought I was in the mix and they hired somebody else."6
March 2009 was ending and April beginning, and there was no call. Chris and Amy were wanting to sell their home and move to another one. "It was the first house that we'd purchased. We were just waiting to see what my future was going to hold. We didn't want to sell until we knew what was going on."
He was in Tucson, working a spring-training game the Rockies were in. "It was actually my last plate job of spring training. I was working with Tony Randazzo, Lance Barrett, and Brian Knight. Anyway, I walked off the field and I didn't even have my chest protector off. I looked at my phone and it was Cris Jones. I was like, 'Hey, guys, look. Cris Jones called.' They were like, 'Call him back! Call him back!' I was like, 'All right.' So I called him. I think he was at the minor-league minicamp.
"He gave me the runaround. 'Hey, Gooch. You know, we're sorry. It was between a couple of guys. …' Kind of one of those deals. He was going on about this and that, and then he said, 'We're hiring you.'
"We all jumped. We screamed and yelled. They ended up getting beers and doing the old thing like we'd just won the World Series and were pouring beer over my head. It was pretty cool."
Then he called his wife. "The first thing I said when I called was, 'Hey, babe. What're you doing?' 'Oh, I'm doing this and that, or whatever.' I said, 'Well, go ahead and get that For Sale sign up.' She was kind of like, 'Huh?' Kind of confused. I said, 'I just got hired. Get that For Sale sign up on the house.'"
Needless to say, Chris' father was pumped, too.
The timing was nice. He was told he could skip the last four or five games of spring training and go home. There was a routine physical he had to take, and then he had to make his way to Toronto for the April 6 game hosting the Detroit Tigers. It was just another game, but it was the first game he had worked as a full member of the major-league staff. Ed Montague was the crew chief.
From 2009 through the 2016 season, Guccione has worked 1,032 games. Though he says he was a little more fiery earlier in his career, you wouldn't know it from looking at his record of ejections. There was one year (2005) when he threw out nine players, but five of them all revolved around a throwing incident involving an intentional hit by pitch. Over the four seasons from 2013 through 2016, he's ejected only six players.
Off the field, working with Associate Pastors Ted Barrett and Tom Drake, Guccione is one of six major-league umpires of the board of Calling for Christ.7 The organization is made up of umpires of all levels of professional baseball, and their families.
Guccione's first postseason assignment was in 2010 to the American League Division Series (Yankees vs. Twins). He worked the All-Star Game in 2011 and the NLDS (Phillies vs. Cardinals) that year. And after the season was over, he served as grand marshal at the Parade of Lights in Salida that November.
He worked the American League wild card game in 2012, and the National League Championship Series, then worked Division Series in 2013, 2014, and 2015.
Then Joe Torre called, with an invitation to work the 2016 World Series.
"We kind of have an idea when they're going to make the phone calls. Not who they're going to call, but when they're going to call. If you've worked the Divisions and you've got so many years working the Divisions, and you've kind of met this criteria – you've worked an LCS, you've got some Divisions, and you've got some time working – like plate jobs in Game One, Game Two, Game Threes, Game Fours in the Divisions, you kind of have an idea like who might get it. Maybe. 'Well, I've got an outside chance. … Maybe. It'd be great.'
"We're waiting for the phone call. Well, nothing happened in the morning. People are texting me – 'Hey, have you heard anything?' Then the afternoon comes and everybody's saying, 'Well, they must be making the phone calls tomorrow, or a couple of days from now.'
"I'm in the living room. I was playing with my daughter, Gemma, just kind of rolling around on the floor. Just having a good time, and I hear the phone ring. I could tell somebody left a voicemail. I thought, 'Huh. Well … let me go check it.' Sure enough. Joe Torre. It was from Joe. So I called him right back. He said, 'You're one of our guys.' We were pretty excited. In shock, and excited at the same time." Gemma was just under a year old at the time.
"My wife did an incredible job, getting everything packed up and ready. There's a lot to do for just a 1-year-old. Clothes, food, formula. … Talk about being lucky with the travel, though. Cleveland and Chicago. We got her all packed up and got her there. She didn't go to any of the games. My wife would put her down for bed around 6:30 or so. We had like a worldwide nanny service and we just hired a babysitter to come and watch her in the hotel room. Amy was able to get to the game around the third or fourth inning. So it worked out.
"We're actually high-school sweethearts so we've been through this roller coaster of baseball since Day One. She put me on the bus to go to Florida for umpire school and she's still taking me to the plane."
What was it like to work the World Series for the first time?
Guccione had worked two no-hitters – first base when the Florida Marlins' Henderson Alvarez no-hit the Detroit Tigers at Marlins Park on September 29, 2013, and second base at Safeco Field when Seattle's Hisashi Iwakuma no-hit the Orioles on August 12, 2015. "What was great about Alvarez's no-hitter is that it went to the bottom of the ninth inning and it was tied. Ron Kulpa had the plate. Alvarez is on deck. There were two outs and runners on second and third. Then there was a wild pitch that scored the winning run. 1-0."
But in 2016, this was the World Series, and it was a historic one, pitting the Chicago Cubs (who hadn't won a world championship since 1908) against the Cleveland Indians (who had been without a world championship since 1948.)
"It's a strange thing. Before Game One, I was like super amped-up. I just wanted the game to get started. There were butterflies. I was anxious to get out there. Sitting around all day, the game starting late. I kept telling myself, 'Yes, it's the World Series but it's the game of baseball you've been umpiring for many, many, many years. It hasn't changed. The game hasn't changed. It's just on a bigger scale.' You have to just do your job. I kept telling myself, 'I'm just going to treat this like any other day. I'm going to work out.' My wife and I had our daughter with us. We're going to hang out. But inside I was feeling, 'Oh, man, I just want to get out there.'
"You usually try to eat something before the game, but I didn't really want to eat anything. My stomach was tied up or whatever. So the minute I hit the grass in Cleveland … I'm telling you, the minute I hit the grass, I was like, 'I've done this. This is just baseball. I'm going to do my job. I'm going to do the best I can. And just do it.' Really, all the games, all the way to the last out, it was the same. It was just, 'I'm working.'"
Game Seven lasted 4 hours and 28 minutes. The Cubs had a 5-1 lead after 4½, but a three-run bottom of the eighth by the Indians tied the game, and it ultimately went into extra innings. Guccione had worked the plate in Game Two. He was working first base in Game Seven. The Cubs scored twice in the top of the 10th, but the Indians scored once and had a runner on first base with two outs. The batter was Michael Martinez. He hit the ball to Cubs third baseman Kris Bryant.
"That last play, the way it ended, the last out – Kris Byrant slips. I'm sitting at first base watching all this and there's this little chopper in the infield. 'Oh, this is going to be a tough play.' As an umpire, you always are trying to be ahead of the play. So I'm thinking, 'This is going to be a tough play for him.' And then I see him slip and I think, 'Oh, boy. He's going to overthrow it.' All this is like racing through your head. But obviously he made the right throw. As an umpire, you're thinking, 'He slipped. OK, now I've got to make sure that Rizzo stays on the bag.' There could be a swipe tag. Something goofy happens. All this stuff is going through your head. Rizzo caught it right at his chin basically. It ended up being a good throw."
"It wasn't until about a week or two after when you go, 'Man! We just got to experience one of the greatest World Series of our time!' That's when it hit you, when you have time to unwind. I was getting text messages from my family, 'Oh my gosh, you just called the last out of the World Series!'"
Last revised: February 5, 2017
This biography is included in "The SABR Book on Umpires and Umpiring" (SABR, 2017), edited by Larry Gerlach and Bill Nowlin.
Sources
The primary information for Chris Guccione's family background and his experiences becoming a major-league umpire came from interviews conducted on July 3 and 5, 2015; May 9 and October 2, 2016; and January 5, 2017, with a number of exchanges by email. The author also relied on the remarkable umpire database at Retrosheet.org for information regarding major-league games.
Notes
1 The 2010 census enumerated 5,236 inhabitants. In 1920, the figure was 4,689.
2 The 2000 census showed 12.8 percent of the town's population claimed Italian ancestry. See http://salidaarchive.info/wp-content/uploads/2014/12/Salida-in-English-October-2016-4th-edition.pdf.
3 The full story of the unusual 1911 preseason is told in Bill Nowlin, The Great Red Sox Spring Training Tour of 1911: Sixty-three Games, Coast to Coast (Jefferson, North Carolina: McFarland & Co., 2010).
4 Stephen Guccione works today as a teacher, or "a teacher-slash-coach." He teaches elementary physical education and also coaches as the defensive coordinator for the Brighton High School football team in Colorado.
5 Guccione said, "C.P. works in one of the correctional facilities up in Sterling, Colorado. Chris (Clarkson) is a pastor of a church. He was transferred – he's been kind of nomadic – he lives down in Florida now. He's been all over the place. His dad, John, he's also a preacher, but has also worked for the Department of Corrections as well."
6 Rob Drake was hired as a major-league umpire the following year, in 2010.
7 The others are Rob Drake, Mike Everitt, Marvin Hudson, Alfonso Marquez, and David Rackley.
Full Name
Christopher Gene Guccione
Born
June 24, 1974 at Salida, CO (US)
If you can help us improve this player's biography, contact us.
https://sabr.org/sites/default/files/GuccioneChris.png
600
800
admin
/wp-content/uploads/2020/02/sabr_logo.png
admin
2012-01-04 20:26:56
2012-01-04 20:26:56
Chris Guccione