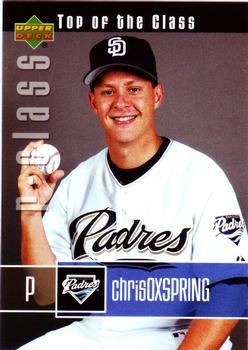 ---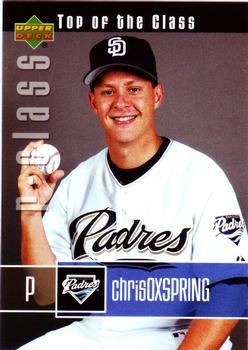 Australian Chris Oxspring pitched in just five big-league ballgames in September 2005. However, he also performed in Nippon Professional Baseball, the Korea Baseball Organization (KBO), and the Australian Baseball League (ABL). In addition, the righty represented his homeland in international competition — most notably in the 2004 Summer Olympics. In the semifinal against Japan's "Dream Team," Oxspring was the starter and winning pitcher in a 1-0 upset, outdueling Japanese ace Daisuke Matsuzaka. The Sydney Morning Herald called it "the most monumental moment in Australian baseball history."1
Chris Andrew Oxspring was born on May 13, 1977, in Ipswich, in the state of Queensland. That's also where the first Australian major-leaguer, Joe Quinn, was born over a century before. Sports played no part in Quinn's life, however, until he moved to the U.S. in 1872.
Young Chris Oxspring played rugby, a major sport in Australia. Family and friends also played softball. However, his brother Scott (nine years older) enjoyed baseball in particular. Chris followed in Scott's footsteps — he recalled photos of himself in diapers swinging at a ball on a tee.2 The boys also had a sister named Marly; their parents were John and Lyn Oxspring.3
Oxspring attended Ipswich State High School, graduating in 1994. Even today, very few comprehensive high schools in Australia have a baseball program. In the 1990s, young ballplayers had to join a strong local club to get the best regular training and mentoring. The teenaged Oxspring gained junior baseball experience with North Ipswich, the Ipswich Musketeers (part of the Greater Brisbane League), and the Norfolk Rockies. He also played on junior state representative teams, which played in national age-based tournaments. The governing bodies are state or territory associations — Baseball Queensland, Baseball New South Wales, and others.
In Oxspring's view, Major League Baseball's strike in 1994 may have prevented him from coming to the U.S. earlier than he did. In the long run, though, he thought it was for the best, because he might not have been ready at age 17 or 18, either physically or mentally. He joined the Southside Indians, a club based in the Brisbane suburb of Runcorn, playing there through 1999.4
The Australian Baseball League was formed in 1989, giving both local and international players a chance to develop. Scott Oxspring, a lefty pitcher, was good enough to appear in one game for the Gold Coast Clippers during the 1989-90 season.5 Chris Oxspring played for the Gold Coast team, known by then as the Cougars, during the 1997-98 season. He got no decisions in six appearances out of the bullpen, allowing just one earned run in five innings. Although he walked a batter an inning, he made a positive impression and "had good enough stuff to get out of the potential jam."6
In December 1998, Australian big-league star Dave Nilsson put up US$3.5 million of his own money to buy majority ownership of the struggling ABL. The 1998-99 season was the last for the original circuit. The Cougars became champions, but Oxspring wasn't part of the team.
The ABL was renamed the International Baseball League of Australia (IBLA) in 1999. The schedule in 1999-2000 was limited to just 17 games. It's not certain whether Oxspring took part, but if so, it was limited because he then earned his living as a bartender and retail salesman.7
Oxspring made baseball a full-time career in 2000, when he played in America with the Cook County Cheetahs of the independent Frontier League. That team had five other Aussies, under a swap arrangement then in its third year. The program was conceived by Chicago native Mike Young, who'd become coach of the Australian national baseball team and was friends with one of the Cheetahs' coaches.8
Oxspring stepped right into action because the Cheetahs had injured pitchers.9 He showed a live arm, striking out 29 men in 29 innings across 14 games. Yet playing in the U.S. meant forgoing the 2000 Summer Olympics, held in Sydney.
The San Diego Padres signed Oxspring in October 2000, as he beat the odds during a day-long open tryout at Alexian Field in Schaumburg, Illinois (the home park of another indie team, the Schaumburg Flyers of the Northern League). Five years later, Oxspring remembered how he felt. "I really didn't know what was going on. They [scouts Bill Bryk and Bill Clark] just told me to go sit over there and wait for them. The adrenaline was pumping and I remember I was fairly fidgety. I was nervous, excited and anxious all in one." Official word from the organization came the next day, Halloween.10
Oxspring remained active at home that winter with the IBLA. In its second and final season, there were just four teams, but various other future big-leaguers were visible, including Justin Huber and Trent Oeltjen. Trent Durrington and Luke Prokopec had already appeared in The Show.11
During his first years in the U.S., Oxspring tried to blend in. He got tired of repeating himself in conversation because of his Australian accent and phrases, so he used more American locutions. Oddly enough, he found the similarities between U.S. culture and his upbringing made him homesick at times. Food, for example, had much in common but tasted different. Yet he also found that coming from a distant land was a good motivator. He felt that if he didn't do well, he'd be an earlier candidate for release because the organization would cut its losses in view of the greater flight and visa expenses to send him home.12
Oxspring took part in his first international competition in November 2001. He joined the Australian team in the Baseball World Cup, held that year in Taiwan. He allowed no runs in 2 1/3 innings pitched. Australia's original national baseball championship series, the Claxton Shield, returned for the 2001-02 season; Oxspring played in it for several years.
Despite missing much of the 2002 season on the disabled list, Oxspring rose gradually through the Padres system. Off-season shoulder surgery then enabled him to throw pain-free again.13 He pitched largely in relief until 2003, when he became a starter at the Class AA level and thrived. He relied on a sharp slider, and his fastball reached the low to mid-90s. He also used a curve and changeup.
Oxspring got married in 2003. His wife, Mandy Lamond, came from Sydney. They went on to have a son (Kalan) and two daughters (Trinity and Amity).
Oxspring made San Diego's 40-man roster after his success in 2003. In Claxton Shield action with the New South Wales Patriots that winter, he got the win in the 2004 Grand Final in relief of Ryan Rowland-Smith. He won the tournament's Golden Arm award.14
On top of that came his first big-league spring training. Even ahead of that camp, the team honestly told him he wasn't quite ready for the majors yet, but he climbed to Class Triple-A. With Portland of the Pacific Coast League, he made just 17 starts and pitched merely 85 2/3 innings in 2004. There was a good reason: He took time off to pitch in the Summer Olympics in Athens, Greece. He called it an amazing experience on many levels: being around the world's top athletes, getting to wear his nation's colors, the electricity in the stadium, and standing on the dais to receive a medal.15
Oxspring was a key member of the Australian squad that surprised the baseball world by taking silver behind Cuba. In fact, the New York Times called him "the breakout star" of the tournament.16 He won both his starts and didn't allow a run. First, with Australia facing elimination after losing its first two games, he went eight innings in a 6-0 victory over Italy, giving up just one hit. Then, after the Aussies advanced to the medal round, he hurled 6 2/3 shutout innings against Japan, allowing five hits while striking out five. Former Los Angeles Dodger Jeff Williams went the rest of the way to save the 1-0 win. For his efforts, Oxspring was named the International Baseball Federation's Male Player of the Year for 2004.17
The New South Wales Patriots made it back-to-back Claxton Shield titles in 2005. Oxspring then returned to Portland. He made 26 starts, posting an ERA of 4.03 in 160 2/3 innings to go with 12 wins (tops in the PCL that year) against six losses. That performance earned his trial in the majors.18 Beavers manager Craig Colbert, who knew Oxspring well from lower levels, gave the news so deadpan that it didn't sink in until a couple of minutes later. Oxspring went back from his locker to Colbert's office, and the skipper confirmed that he should pack his bags and join the Padres.19
Oxspring's big-league debut came on September 2 at Milwaukee's Miller Park. Bruce Bochy, then managing the Padres, pulled starter Brian Lawrence after just 1 2/3 innings. Lawrence had given up three runs and left Brewers on first and second when Oxspring entered. He loaded the bases with a walk to Carlos Lee, and then Geoff Jenkins hit a grand slam homer. Oxspring stayed in through the seventh inning. He gave up six runs (five earned), including another homer, by Lee. Yet he also struck out seven. The next day, veteran closer Trevor Hoffman encouraged the rookie by pointing out how his long relief stint had given the bullpen needed rest.20
"It is still very, very vivid in my mind," Oxspring told the Sydney Morning Herald five years later. "I can replay it in my head like I was there yesterday. The result wasn't ideal, but the emotion and the hype and the excitement that came along with it that day, it was something you always dream about, and it was every bit of what I wanted it to be, and I learnt a lot from that experience and got better throughout my time at the big league level."21
In his next outing, Oxspring allowed two unearned runs, the only other runs scored against him in the majors. Bochy considered giving him a spot start on September 10 when Jake Peavy was out with a sore shoulder, but used him in relief of Clay Hensley instead.22 In 12 innings pitched, Oxspring finished with a 3.75 ERA while allowing just nine hits and striking out 11.
That November, Padres general manager Kevin Towers notified Oxspring of an offer for 2006 from the Hanshin Tigers of Japan's Central League. If he stayed with the San Diego organization, he'd most likely have shuttled back and forth from Triple-A to the majors filling temporary needs.23 The money also was better — a one-year contract with a signing bonus and salary each paying him $500,000.24 He was also reunited with countryman Jeff Williams, who'd become a Tiger in 2003.
The Australian Baseball Federation established the Baseball Australia Diamond Awards in 2006. Oxspring was the first recipient in the Open Male category. Shortly thereafter, the inaugural World Baseball Classic took place, but Oxspring wasn't part of the Australian squad, most likely because of spring training with Hanshin.
In Japan, Oxspring started well but wound up 4-3, 5.12 in 77 1/3 innings across 16 games. He found the thought process in Japanese ball quite different and admitted that he didn't perform as well as both he and Hanshin had expected. Thus, the Tigers sent him down to their minor-league team, and though he was recalled a couple of times, Hanshin didn't invite him back for 2007. He understood and noted that he learned a lot about himself and baseball, making him a better player.25
In December 2006, Oxspring signed with the Milwaukee Brewers, who remembered his big-league debut at Miller Park.26 Oxspring started the 2007 season with Nashville in the PCL, and did pretty well (7-5, 3.56 in 18 starts). He was even named the starter in the Triple-A All-Star game, but before that game took place, his contract was sold to the LG Twins of the KBO.27 The Brewers didn't have room for him at the top level but thought he was doing too well to be kept at Triple-A.28
Oxspring spent the rest of 2007 (4-5, 3.24) and 2008 (10-10, 3.93) with the LG club. He was very happy with how he fit in on the team. He displayed an effective knuckleball, though he used it mostly as a surprise pitch. Although fellow knuckleballer R.A. Dickey had been a teammate in Nashville, they didn't work together on their craft. Oxspring's knuckler was self-taught.29
It does not appear that Oxspring was on Team Australia's roster for the 2007 Baseball World Cup, held in Taipei that November. (Australia did not take part in the 2003 tournament, and Oxspring was with the Padres while the 2005 edition was taking place.)
The second World Baseball Classic took place in March 2009. Oxspring was on the Australian roster but didn;t make it to the tournament. During spring training, elbow problems, which bothered him during his time with the LG Twins, worsened. He underwent two operations, the first to remove bone chips and a bone spur. A month later, Tommy John surgery kept him out of action for the rest of that year and most of 2010.30 Being in his early 30s, he worried that his career might be over, but he did everything he could to recover. The Australian Baseball League restarted in the fall of 2010, at the perfect time.31
Joining the Sydney Blue Sox, Oxspring posted a record of 4-2, 2.23 in 11 starts. In addition, he was the team's pitching coach, working with manager Glenn Williams, who'd also reached the majors as a player in 2005. Noticing Oxspring's performance, the Detroit Tigers gave him a minor-league contract in December 2010. Detroit's Pacific Rim Coordinator was an Australian, former minor-league infielder Kevin Hooker.32 Oxspring had been extremely happy playing in Korea but was delighted to have another shot in the United States, where the competition was the best.33
Oxspring was the last man on the staff for Triple-A Toledo in 2011. He got into just eight games with the Mud Hens, going 0-1, 6.53 in 20 2/3 innings. It wasn't a good fit, and he didn't enjoy himself.34 The Tigers organization released him in May, whereupon he joined the Somerset Patriots of the independent Atlantic League. With the Patriots, he was in a rotation with former Mets blue chipper Bill Pulsipher, still hanging on at age 37. Oxspring (5-9, 4.17) got patchy run support but was philosophical about it: "There are going to be some bad games you win and some good games you lose. All you can do is uphold your end of the bargain."35 There was little money in indie ball, but he had a lot of fun playing for manager Sparky Lyle, and having Justin Huber as a teammate was a bonus because they became better friends. His family was with him too.36
Oxspring started three games in the final Baseball World Cup in October 2011. He lost to Italy but beat Venezuela (throwing five shutout innings in a game halted by the mercy rule). Finally, he pitched six effective innings against host nation Panama in a game that Australia eventually won.37
He also remained active with the Blue Sox in the 2011-12 season (4-4, 3.08 in 11 games). But in the spring of 2012, he found himself without an offer to play ball. He took an office job with National Australia Bank in Sydney, calling it "a huge dose of reality."38 He did well again for the Blue Sox in 2012-13 (4-2, 2.71 in 12 games) and was a member of the Australian squad in the 2013 World Baseball Classic. He lost a start to Chinese Taipei against Chien-Ming Wang and threw five shutout innings of relief in a loss to the Netherlands.39
As a result, Oxspring returned to the KBO in 2013. He spent two seasons with the Lotte Giants and then joined an expansion team, the KT Wiz, in 2015. Still mixing in the occasional knuckleball, his overall record was 35-25 in 93 starts, with a 3.99 ERA in 552 2/3 innings. The Wiz also drafted catcher Jang Sung-Woo from Lotte to make sure they had a receiver with experience in handling the knuckler.40
"It's so much fun being in South Korea," Oxspring said. "The people are great, I enjoy the food and the lifestyle there. It takes a little adjusting to get used to, but once you get it, you discover a whole new side of Korea that you didn't know you would enjoy." By that time, two of his children were in school, so he got to see them only during holidays.41
In January 2016, Lotte named Oxspring minor-league pitching coach, working with the team's prospects in Korea's Futures League. The Giants said they valued his serious, disciplined approach to the game and hoped that his professionalism would rub off on young players.42 That August he was promoted to the big-league staff along with hitting coach Julio Franco.43
At age 39, however, Oxspring wasn't quite finished as a pitcher. During the ABL's 2016-17 season, he made four last starts for the Blue Sox, going 0-2, 8.05 in 19 innings. That brought his overall record with Sydney to 12-10, 3.11.
During the World Baseball Classic in 2017, again Oxspring was on the Australian roster. He was part of the "designated pitchers pool" (a group of up to 10 hurlers, of which only two could be on the active roster).44 Australia was eliminated from Pool B, precluding Oxspring's activation had the team advanced.
In December 2018, Oxspring gave notice to the Lotte Giants organization that he would not return for the 2019 season because he wished to spend more time with his family.45 Previously, that October, he had talked about the rapid development of the game in his homeland since 2010. As evidence of the trend, the ABL had brought in two new expansion teams. One of them, Geelong-Korea, had named Oxspring's former Blue Sox teammate Dae-Sung Koo as manager. Koo, a Korean native, had become a resident of Australia years before. After commenting on Koo's baseball knowledge and intelligence, Oxspring talked about how experience was filtering down more broadly from the professional ranks, including Aussies who'd played overseas. He concluded, "Baseball is making huge strides in Australia, which is fantastic to see for someone like me who has put a lifetime's work into the sport."46
Last revised: July 22, 2019
Acknowledgments
This biography was reviewed by Warren Corbett and Jan Finkel and fact-checked by Chris Rainey. Continued thanks to Nicholas Henning in Australia for his input.
Sources
Online
Facebook.com
YouTube.com
Chris Oxspring interview — part of a series with the Australian Baseball Players Alumni Association (ABPAA).
Part 1: https://www.youtube.com/watch?v=cHx–oB5S3U
Part 2: https://www.youtube.com/watch?v=uvzAvpvC8_E
ComingtoAmericaBaseball.com
Chris Oxspring interview with Philip Riccobono — podcast, May 10, 2013 (http://comingtoamericabaseball.com/?powerpress_pinw=354-podcast)
web.theabl.com.au (Australian Baseball League statistics from 2010 onward)
www.baseball.com.au: Baseball Australia.
pflintoff.com: Flintoff & Dunn's Australian Major League Baseball.
Notes
1 Michael Cowley, "Aces of bases: Australia one win from gold," Sydney Morning Herald, August 25, 2004.
2 ABPAA interview, Part 1, Riccobono interview.
3 Scott Oxspring obituary, Gold Coast Bulletin (Southpoort, Queensland, Australia), October 17, 2009.
4 ABPAA interview, Part 1, Riccobono interview.
5 Summer in Australia but winter in the Northern Hemisphere.
6 Peter Flintoff and Adrian Dunn, Flintoff & Dunn's ABL Almanac, 3rd Edition, Wantirna, Victoria, Australia: Flintoff & Dunn (2000): 8-77.
7 Ryan Dunleavy, "Australians take the path less traveled to majors," MyCentralJersey.com, August 27, 2011 (http://blogs.mycentraljersey.com/patriots/2011/08/27/australians-take-the-path-less-traveled-to-majors/)
8 Mike Shannon, Everything Happens in Chillicothe, Jefferson, North Carolina: McFarland & Company, 2004: 179.
9 ABPAA interview, Part 1.
10 Kevin Gemmell, "Improbable dreams," San Diego Union-Tribune, July 25, 2005.
11 "Baseball," Sydney Morning Herald, January 18, 2001, 45.
12 Dunleavy, "Australians take the path less traveled to majors."
13 ABPAA interview, Part 1.
14 Peter Flintoff and Adrian Dunn note that Oxspring was a member of the Queensland Rams at some point, but references available online do not specify when.
15 ABPAA interview, Part 1.
16 Tyler Kepner, "Cuba, with Help, Wins Gold, but Australia Shows It Belongs," New York Times, August 26, 2004.
17 "Chris Oxspring," Australian Olympic Committee web page (http://corporate.olympics.com.au/athlete/chris-oxspring)
18 "Padres recall Oxspring, [Craig] Breslow, and [Paul] McAnulty," MLB.com, September 1, 2005 (http://sandiego.padres.mlb.com/content/printer_friendly/sd/y2005/m09/d01/c1192814.jsp)
19 ABPAA interview, Part 1.
20 Ibid.
21 Michael Cowley, "Minor deal gives Oxspring another bigs chance," Sydney Morning Herald, December 17, 2010.
22 "Today's matchup," San Diego Union-Tribune, Sptember 10, 2005.
23 ABPAA interview, Part 1. Riccobono interview.
24 "Tigers land Aussie Oxspring," Japan Times, December 10, 2005.
25 ABPAA interview, Part 1. Riccobono interview. Cowley, "Minor deal gives Oxspring another bigs chance."
26 Ibid.
27 James Barron, "Sounds' Oxspring to start for PCL," Santa Fe New Mexican, June 30, 2007, B3. "Power: Stratton still holds 'Topes team record for HRs in a season," Santa Fe New Mexican, July 10, 2007, B3.
28 ABPAA interview, Part 1.
29 Riccobono interview.
30 Yoo Jee-ho, "Small changes lead to big success for Lotte's Chris Oxspring in KBO," Yonhap News, May 9, 2013.
31 Cowley, "Minor deal gives Oxspring another bigs chance."
32 Riccobono interview.
33 Nathan Smith, "Chris Oxspring talks about success with the Blue Sox, his coaching role, and his contract with the Detroit Tigers," Oz MLB Players blog, December 14, 2010 (http://ozmlbplayers.blogspot.com/2010/12/chris-oxspring-talks-about-success-with_7134.html)
34 Riccobono interview.
35 Ryan Dunleavy, "Patriots struggle with run support," Bridgewater (New Jersey) Courier-News, September 8, 2011, C1.
36 ABPAA interview, Part 2. Dunleavy, "Australians take the path less traveled to majors,"
37 "Dismal Cup continues for Aussie baseballers," ABC New Australia, October 4, 2011 (http://www.abc.net.au/news/2011-10-04/dismal-cup-continues-for-aussie-baseballers/3208890). "First round ends with plenty of open spots available for 2nd round," IBAF press release, October 11, 2011. Gilbert Gardiner, "Australia upset host nation Panama in IBAF Baseball World Cup," Herald Sun (Melbourne, Australia), October 14, 2011.
38 ABPAA interview, Part 2.
39 Debby Wu, "Wang leads Chinese Taipei to victory in Classic opener," MLB.com, March 2, 2013 (http://mlb.mlb.com/wbc/2013/gameday/index.jsp?gid=2013_03_02_ausint_tpeint_1&mode=recap). Josh Timmers, "Korea Loses By Winning: Chinese Taipei and the Netherlands Advance in WBC," BleedCubbieBlue.com, March 5, 2013 (https://www.bleedcubbieblue.com/2013/3/5/4067372/korea-loses-by-winning-chinese-taipei-and-the-netherlands-advance-in)
40 Brett Ward, "Oxspring joins new KBO franchise," Australian Baseball Alumni website (https://www.abpaa.com/oxspring-joins-new-kbo-franchise). Sung Min Kim, "An American Knuckleballer in Korea," Frangraphs.com, March 2, 2018 (https://www.fangraphs.com/blogs/an-american-knuckleballer-in-korea/). Subject: Ryan Feierabend.
41 Ward, "Oxspring joins new KBO franchise."
42 "Ex-Lotte pitcher Oxspring named team's minor league coach," Yonhap News, January 5, 2016.
43 Naver Sports, August 17, 2016 (Twitter link to Korean-language release).
44 Cash Kruth, "Australia boasts strong arms on WBC '17 roster," MLB.com, February 8, 2017 (https://www.mlb.com/news/australias-wbc-17-squad-has-veteran-pitchers/c-215471548)
45 "Australian pitching coach leaves S. Korean club to be with family," Yonhap News, December 3, 2018.
46 Sam Finn, "Oxspring's Korean journey continues," TheABL.com.au, October 17, 2018 (http://web.theabl.com.au/news/article.jsp?ymd=20181017&content_id=298084700&fext=.jsp&vkey=news_abl)
Born
May 13, 1977 at Ipswich, Queensland (Australia)
If you can help us improve this player's biography, contact us.
https://sabr.org/sites/default/files/OxspringChris.jpg
600
800
admin
/wp-content/uploads/2020/02/sabr_logo.png
admin
2019-07-19 00:28:52
2020-04-09 14:37:32
Chris Oxspring