---
The cover of the March 20, 1978, annual baseball preview issue of Sports Illustrated featured a picture of Kansas City Royals rookie Clint Hurdle looking ready for action, with the caption "This Year's Phenom" in bold yellow letters right next to his smiling face. Keeping with the "phenom" theme, the article described the 20-year-old Hurdle as "tall, dark, handsome and brash and able to hit a baseball nine miles."1 Batting instructor Charlie Lau described Hurdle as "the best hitting prospect I've ever seen in our organization." Manager Whitey Herzog rated Hurdle "the best player in the minors last year."2 General manager Joe Burke called him "one of the top prospects I've seen in the 17 years I've been in the major leagues."3
Hurdle's playing career — politely described as "utterly modest"4 — fell far short of the hype. Appearing in 515 games over 10 seasons for the Royals, New York Mets, Cincinnati Reds, and St. Louis Cardinals, Hurdle batted.259 with 32 home runs and 193 RBIs. In only three of those seasons did he make more than 200 plate appearances in major-league games.
Hurdle made more of a mark in baseball as a successful manager, for both the Colorado Rockies and the Pittsburgh Pirates. Both teams were in the midst of prolonged periods of losing at the time Hurdle took over. He led each to a level of success including postseason play — once with the Rockies in 2007, when they went to the World Series, and three times with Pirates in 2013 through 2015.
Hurdle's life off the diamond has been a journey in which he has experienced difficult circumstances, but has been very public in sharing his experiences when he believes he can help others. During Hurdle's playing career, he enjoyed the nightlife and the fast lane. As a recovering alcoholic, he continued as this writing to remain involved with Alcoholics Anonymous and became a prominent advocate of therapy and the benefits of treatment programs.5
Clinton Merrick Hurdle was born on July 30, 1957, in Big Rapids, Michigan, to Louise Hurdle and Clint Hurdle Sr. When he was 3 years old the family moved to Merritt Island, Florida, site of NASA's Apollo space program at the Kennedy Space Center, when his father joined Grumman Aircraft, which had a contract with NASA.
The senior Hurdle worked for 37 years in Grumman's computer data systems lab, supervising more than 300 employees. His management style was to try to meet each month with as many of his subordinates as possible so that "they felt they were part of the program," adding that in the process, "people learn to trust you, you gain credibility."6 Clint described his father as a "connector of people," who "put people in the right spots."7
During Hurdle's childhood it was not unusual for his family to watch NASA launches from their front porch or the nearby schoolyard.8 (On January 28, 1986, Hurdle and his father watched as the space shuttle Challenger broke apart and its crew of seven was killed.9)
Baseball was a family tradition. His paternal grandfather had been offered a contract by the Cincinnati Reds at age 15, a day before his own father died, but turned it down so he could work to help support his family. Clint Sr. played college baseball at Ferris State University but had to forgo a baseball career after being drafted into the military.10 A Hurdle family ritual occurred regularly on the baseball field behind the family home, with Clint Sr. pitching batting practice to his son, with Hurdle's mother, his two sisters, and the family dog playing outfield.
Hurdle starred in baseball and football at Merritt Island High School. He was named an all-state quarterback in his senior year after leading the team to a state championship. He received more than a dozen scholarship offers. The University of Miami wanted him to play both baseball and football, and an offer came from Harvard.11 Hurdle chose instead to make himself available for the 1975 first-year player draft.
Kansas City Royals scout Bill Fischer, who lived near the Hurdles, spent three years watching games, tossing batting practice, and filing reports during Hurdle's high-school years. Before the 1975 draft, Fischer pitched to Hurdle in front of a group of Royals front-office executives whom the scout had persuaded to come and watch. After Hurdle finished hitting, providing the group with what Fischer termed "the greatest exhibition you ever saw," Fischer asked the executives if they'd like to see him run and throw.12 The response was unanimous: if he could hit like that, no one cared whether or not he could run or throw.13
The Royals selected Hurdle with the ninth overall pick in first round, ahead of future major-league stars Lee Smith, Carney Lansford, Andre Dawson, and Lou Whitaker. Anxious that Hurdle begin his professional career right away, he and his parents met with Fischer at a nearby restaurant, where a paper napkin with proposed numbers was passed back and forth until a $50,000 signing bonus was agreed to and Hurdle signed a contract.14
Hurdle's ascent through the Royals' minor-league system was rapid. The 6-foot-3, 195-pounder played in the outfield at each level, batting left-handed and throwing right-handed. With the Royals rookie league team at Sarasota in 1975, he was named to the Gulf Coast League All-Star team, batting .274 and leading the league with 31 RBIs. The next season, playing for the Waterloo Royals in the Class-A Midwest League, he was named "Prospect of the Year," clubbing 19 home runs, tying him for second in the league, with 89 RBIs in 127 games.
Hurdle was invited to the fall Florida Instructional League and Royals spring training in 1977. Although he started out at 1-for-19 in the Instructional League, Royals hitting instructor Dennis Paepke told him to relax, and "go out and have some fun."15 Hurdle then smacked 11 hits in 27 at-bats, including seven extra-base hits. Paepke said, "When Clint hits the ball, it just explodes. He hits the ball as hard as the big-league hitters do right now."16
When the Royals headed north for the 1977 season, they promoted Hurdle to Triple-A Omaha, where he batted .328 with 16 home runs and was named American Association Rookie of the Year. A September call-up, he made his major-league debut on September 18, 1977, starting in right field and batting fifth in a home game against the Seattle Mariners. After grounding out to third base in his first at-bat, Hurdle hit a two-run homer off the Mariners' Glenn Abbott. Hurdle was 20 years old, and the youngest player in Royals history. He was also the first Royal to hit a home run in his first start.17 Playing in nine games over the remainder of the season, Hurdle hit .308 with two homers and seven runs batted in.
Hurdle managed to focus on producing on the field during spring training in 1978 despite any distraction created by the Sports Illustrated cover, performing well enough that the Royals moved veteran first baseman John Mayberry to Toronto. Although this made room in the lineup for Hurdle, it had him playing a position at which he had no experience except for about 14 games in winter ball.18 Nonetheless, beginning Opening Day and until July 2, Hurdle was the Royals' everyday first baseman.
By July 1 Hurdle was hitting only .251 with not much power, so Herzog moved him to the outfield. His problem adjusting to first base was believed to be one of the reasons for his problems at the plate.19 That batting coach Lau pushed a technique for him to hit line drives, while Herzog encouraged development of a home-run stroke added to Hurdle's problems at the plate.20
Hurdle relaxed at the plate in the second half of the season and finished the year with a batting average of .264. Among his offensive highlights that season, he drove in six runs, going 3-for-3 with a three-run homer off Dennis Eckersley in a 9-0 Royals home victory over the Boston Red Sox on July 21. In the 1978 American League Championship Series, which the Royals lost to the New York Yankees, Hurdle started two games and pinch-hit in two games, getting two singles, a triple, and two walks in 10 plate appearances. At season's end Herzog said, "Clint had a good year. If it wouldn't have been for all the ballyhoo, we would be saying it was a hell of a year."21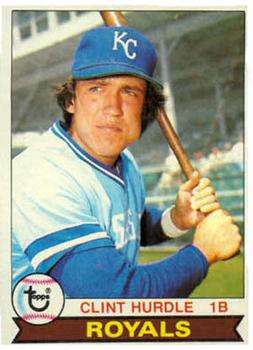 Batting .240 two months into the 1979 season, Hurdle was demoted to Triple-A Omaha. Bitter about the demotion, Hurdle said afterward, "When they sent me back to Omaha … it was a shock, but it really shouldn't have been. I was beaten out of my job by Willie Wilson and they explained to me that I'd be doing the team and myself no good by sitting on the bench."22
Working with his father at the batting cage, he changed from a negative frame of mind to a positive one, relaxing and finding a more comfortable stance at the plate.23 Recalled to the Royals in mid-August, he hit an identical .240 over the rest of the season.
Under Jim Frey, who replaced Herzog, the 1980 Royals not only won a division crown but swept the Yankees in the 1980 ALCS. Moving on to the World Series, they lost in six games to the Philadelphia Phillies. The 1980 season was the most productive of Hurdle's playing career, with a .294 batting average and career highs of 10 home runs, 31 doubles, and 60 RBIs.24
Although Hurdle was the regular right fielder for most of the season, over the last few weeks Frey platooned him with veteran outfielders Jose Cardenal and Rusty Torres. The platooning continued during the ALCS, in which Hurdle was platooned in right field with John Wathan. In the World Series Hurdle started all four games in right field and batted .417 with two walks in 14 plate appearances.
Hurdle began the 1981 season as the Royals' starting right fielder, going 7-for-15 with two home runs in the first five games. On April 14 he injured his back sliding into third base and spent two stretches on the disabled list for a total of 72 days.25 Another major disruption was the players strike from June 12 to August 10. During the strike Hurdle tended bar, saying that he was doing it just to keep busy.26 After the strike Hurdle was the Royals' regular right fielder for the last two weeks of the regular season, batting .310. Limited to 89 plate appearances, Hurdle batted .329 with a .553 slugging percentage. The Royals were swept by Oakland in three games in the AL Division Series. Hurdle had three hits and a walk in 12 plate appearances.
In December Hurdle was traded to the Cincinnati Reds for Scott Brown, a relief pitcher with 10 games of big-league experience. Hurdle's value had perhaps diminished in the eyes of team brass due to the back injury.27
As a member of the Reds, Hurdle was united with Bill Fischer, the scout responsible for his signing with the Royals, who was the Reds' pitching coach.
Penciled in by manager John McNamara as the team's starting left fielder at the outset of the 1982 season, Hurdle batted only .182 with four hits and one RBI in his first eight starts and was reduced to a reserve role before being optioned to the Reds' Triple-A affiliate, the Indianapolis Indians, on May 15.28 In 88 games with Indianapolis, Hurdle batted .245 with 12 home runs. He was not recalled.
Released by Cincinnati at the end of the season, Hurdle signed as a free agent with the Seattle Mariners, who were desperately in need of left-handed hitters.29 Although Hurdle hit .317 in spring training, and manager Rene Lachemann and his coaches were unanimous in recommending that the team keep him, Mariners President Dan O'Brien decided to release him. Disappointed, Hurdle said O'Brien "had told me that if I had a good spring, I'd make the club. Obviously, I didn't have a good enough spring."30 A spokesman for the Mariners said Hurdle's run production "was not where everyone thought it would be."31
Hurdle then signed with the New York Mets and was assigned to the Triple-A Tidewater Tides (Portsmouth, Virginia). To broaden his appeal to the Mets, Hurdle undertook to learn to play third base.32 His.910 fielding average with 20 errors in 115 games was evidence that it didn't come easy, but Hurdle described how "my footwork got better and I picked up my range a little bit."33
After batting .285 with 22 home runs and leading Tidewater in doubles, hits, runs scored, RBIs, and walks, Hurdle got a September call-up. Mets manager Frank Howard moved Hubie Brooks to second base to give Hurdle an opportunity at third base. In nine games Hurdle made four errors in 20 chances and batted .182 with only two extra-base hits and two RBIs in 34 at-bats. After the season he was sent outright to Tidewater, where he spent the full 1984 season.
While Hurdle played mostly first base in 1984, he also played in 21 games as a catcher — the continuation of an experiment initiated by the Mets in spring training.34 His progress was impaired when he injured his thumb in mid-May and missed three weeks.35 In the 21 games behind the plate, Hurdle was charged with seven passed balls, but only one error. He joked that his goal was to drive in more runs than he let in.36
Although his batting average dropped to .243, Hurdle led the Tides in home runs (21) and walks (79). Because of his versatility in the field, the Mets brought him to 1985 spring training as a nonroster invitee. Hurdle spent the entire 1985 season with the Mets but played in only 43 games, among them 17 games behind the plate and 10 in the outfield. In 97 plate appearances, he batted .195 with 3 home runs and 7 RBIs, and was 0-for-16 as a pinch-hitter.
Dropped from the Mets' major-league roster, Hurdle was selected by the St. Louis Cardinals in the 1985 Rule 5 draft. Making the Cardinals roster as a utility player, he played in 78 games, at third base, first base, two outfield positions, and even catching in five games. Hurdle's versatility made him particularly desirable that year, during which major-league rosters were trimmed from 25 players to 24.
At that year's All-Star Game, Hurdle received the annual Danny Thompson Award, presented by Baseball Chapel to a player "for exemplary Christian spirit in baseball."37 On the field, he batted .195 with 3 home runs and 5 doubles in 184 plate appearances. After the season the Cardinals declined to offer him arbitration and he became a free agent.
Hurdle signed a minor-league contract with the Mets in 1987 and was invited to spring training.38 Calling Hurdle a "leader," Mets manager Davey Johnson described him as a "great guy to have in the clubhouse" and an "insurance policy" due to his versatility.39 After playing in one game, Hurdle was sent to Tidewater in late April. Recalled for a brief time in mid-June, he made his final appearance as a major-league player in a 5-2 loss to the Phillies on June 26, pinch-hitting for Sid Fernandez. Kevin Gross struck him out looking.
On December 1, 1987, in Port St. Lucie, Florida, Hurdle announced his retirement as a player and accepting appointment as manager of the Port St. Lucie Mets of the Class-A Florida State League. He was candid with sportswriters about his mixed feelings over retiring at age 30: He said that while he still thought he could play in the major leagues, he had come to terms with himself — that he was not going to be a Hall of Famer as a player. "Maybe I can do it this way," he said.40 By the time he retired Hurdle had already managed the Mets team in the Florida Instructional League that fall, getting a head start on his next career.41 It was the first of five consecutive seasons that the Mets would name him as Instructional League manager — a testimonial to the Mets organization's opinion of his ability in teaching the game.
In Hurdle's first season as a manager, St. Lucie won the second half of the Florida State League's split season and the league playoffs. Hurdle managed St. Lucie again in 1989, with the team winning both halves of the season.
Hurdle's coaching technique impressed Mets first baseman Keith Hernandez, who after a four-day rehab stint in St. Lucie described him as a "teacher as well as a manager."42 That offseason Hurdle returned briefly to the diamond as a player, splitting the catching duties for the St. Lucie Legends of the Senior Professional Baseball Association with another Mets veteran, Jerry Grote.43
Moved up to the 1990 Jackson Mets of the Double-A Texas League, Hurdle again won praise for his techniques and approach. Mets director of minor league operations Gerry Hunsicker described him as a "great teacher" with "great rapport with his players and the ability to communicate with them," adding, "There is no question he will not only manage in the big leagues, but he has a chance to be one of the top managers of the future."44
Hurdle was named Texas League manager of the year.45 Notably, despite the team's success in being first in its division, no Jackson position players made the league all-star team, further evidence of Hurdle's skill in managing.46
Hurdle remained at the Double-A level in 1991, managing the Williamsport Bills of the Eastern League, in a makeshift move when an intended transfer from Jackson to Binghamton, New York, could not be completed on time.47
Promoted to manage the Mets' Triple-A affiliate Tidewater Tides (International League) in 1992, Hurdle faced a challenging season: The team finished  a league-worst 56-86.48 Hurdle described the challenge of keeping players at Triple A happy: "You do have a little different athlete here. You've got a third of the guys who think that they should be in the big leagues and never have been. You've got another third who have been and don't think they should be here. And you've got the other third who are just happy to be where they are at."49
For 1993, the Mets retained Hurdle to manage the renamed Norfolk Tides, who improved to 70-71 and were in the race for a playoff spot until late in the season.50
Immediately after the season ended the Tides announced that Hurdle was being released "to seek other opportunities in baseball."51 A major factor in Hurdle's release was that Mets minor-league director Steve Phillips didn't like Hurdle's open and highly communicative approach to managing, favoring instead a stricter, more traditional approach.52
In October 1993 Hurdle joined the Colorado Rockies as their minor-league hitting instructor. At the end of the 1996 season Rockies manager Don Baylor named him the team's hitting coach and first-base coach. Hurdle was the Rockies' fifth hitting coach in five seasons. Baylor had been a hitting coach for several teams and had his own ideas on the right way go about it, leading to occasional conflicts with whoever was the incumbent Rockies hitting coach.53
To start, Hurdle asked Baylor for his own evaluation of each player so that Hurdle would know what to look for. Baylor praised Hurdle's approach, calling him "always positive with (the players), but … truthful too."54 Hurdle obtained outstanding results. The Rockies as a team batted .294 in 2000 and.292 in 2001, the National League's top averages in 70 years; they also set a major-league record with 2,748 total bases in 2001. Rockies All-Stars Larry Walker and Todd Helton won four batting titles between them in Hurdle's five seasons on the coaching staff.55 When Jim Leyland replaced Baylor as manager for the 1999 season, he kept Hurdle, explaining, "When I talked with some of the players, Clint got great reviews. Sometimes, when you look around for great coaches, they're already there."56
Every season from 1996 to 2001, the Rockies finished last or next to last in the NL West. When they started 2002 with a record of 6-16, manager Buddy Bell was fired and Hurdle succeeded him. Under Hurdle, the Rockies won the next six games and posted a record of 19-8 over the next month, putting the team over the .500 mark on May 25. Hurdle didn't take credit for the turnaround and felt bad that it didn't take place under Bell. "We were due to play better. We played so poorly we got a good man fired," he said.57
In June Hurdle said he and his coaches were just trying to "simplify the game — slow it down, play it inning by inning, win and inning, play today's game, don't worry about tomorrow's game. … We're capable of playing in the present. We've proven that over the last month."58 Hurdle said the team had been winning with "pitching and defense" and praised the pitchers, who over the past month had a 3.47 ERA, in contrast to the 5.48 ERA of the team's initial 22 games.59
In June and July the Rockies' pitching woes returned; the team ERA over that time was 5.99. The Rockies finished the season in fourth place. Two high-priced free-agent pitchers, Mike Hampton (7-15, 6.15 ERA) and Denny Neagle (8-11, 5.26, ERA), could not compensate for Jason Jennings's record of 16–8 with a 4.52 ERA; Jennings became the first Rockies player to win the National League Rookie of the Year Award.
For 2003, Hurdle assembled his own coaching staff. Most remained with him during his time with the Rockies until after the 2008 season.
Despite Hurdle's enthusiasm and open communication with his players, the 2003 Rockies again finished in fourth place. They ranked second in the league in home runs and doubles and third in batting average and runs scored. After the season the Rockies extended the club options on Hurdle's contract to include 2005 and 2006. They also extended general manager Dan O'Dowd's contract through 2006. Rockies managing general partner Charlie Monfort said Hurdle and O'Dowd were not "just good baseball men. … They are key leaders who will help us continue to build a strong organization and bright future for the club and fans."60
The Rockies again finished in fourth place in 2004, and finished last in the division in 2005 with a record of 67-95, matching the record of the inaugural 1993 club as the worst in their history. Top performers from the previous year, Jeromy Burnitz and Vinny Castilla, had gone elsewhere as free agents, and first baseman Todd Helton missed a number of games with injuries, posting the lowest home-run total of his career up to that point (20). In August Hurdle experimented with using a four-man rotation with a controlled pitch count because the performance of whoever was used as a fifth start was so poor. The experiment didn't work and was scrapped by the end of the season.61
The 2006 Rockies finished tied for fourth place (or last place, if you see the glass as half-empty) with a slightly improved 76-86 record. It was noted that Hurdle is "the only manager in major league history to start a career with five losing seasons and not get fired."62 His longevity was attributed to his being an "organizational advocate … never afraid to take blame for the organization, … (shepherding) the youth movement, and … (charming) the community with his big heart."63
Going into 2007, Hurdle declared that he needed to "prepare (the team) more effectively." He admitted that he overmanaged during the second half of 2006, and promised a slightly different approach. "I am going to do things differently, because it's time," he said.64 In February his contract was extended through the end of the 2007 season.65
After 149 games of the 2007 season, the Rockies were four games out of the NL wild-card spot. At that time what became known as "Rocktober" materialized; the Rockies won 13 of their last 14 regular-season games and tied the San Diego Padres for the wild-card berth. The Rockies then won an unforgettable tiebreaker with the Padres, 9-8, overcoming a two-run deficit by scoring three runs in the bottom of the 13th inning off future Hall of Fame pitcher Trevor Hoffman.
After sweeping the Philadelphia Phillies in three games in the Division Series, the Rockies swept the Arizona Diamondbacks in four games in the National League Championship Series. When it was over the Rockies had won an incredible 20 of 21 games to reach the 2007 World Series. There, a four-game sweep at the hands of the Boston Red Sox was a disappointment. But after Game Four, Hurdle said that although the Rockies were outplayed by Boston, he was proud of what they had achieved, and that he had told the team "they've brought me more joy this year than I've had in 35 years of professional baseball."66
After a 74-88 record in 2008, followed by an 18-28 start in 2009, Hurdle was fired and replaced by Jim Tracy. Dan O'Dowd said later that letting Hurdle go was his biggest regret during his tenure as GM.67
Offered an unspecified role in the Rockies organization, Hurdle chose instead to join the nascent MLB Network, working as a studio analyst for the remainder of the 2009 season. During his brief time there he worked with younger analysts and assistants, in the process becoming acquainted with new-age baseball thought and the world of sabermetrics.
In November 2009 Hurdle was hired as the hitting coach of the Texas Rangers. Among a group of talented young players on the Rangers was outfielder Josh Hamilton who, like Hurdle, had been labeled a "can't-miss" prospect and who had a history of substance-abuse issues, including alcoholism. The Rangers hoped Hurdle could help Hamilton in view of his own history as a recovering alcoholic.
Hurdle met daily with Hamilton in sessions which were more about life in general than baseball. He related his own experiences — from his days as a phenom, to the drinking and divorces, and also to the process by which Hurdle eventually found himself.68 That season the Rangers won their first pennant since the franchise moved to Texas from Washington; Josh Hamilton was the American League batting champion and its Most Valuable Player, batting .359 with 32 home runs, the best year of his career.69
At the end of the season Hurdle was contacted by both the Mets and Pittsburgh Pirates about their managerial vacancies. In November 2010 he signed a three-year contract to manage the Pirates.70 Although he considered the Mets offer, people close to Hurdle said he was wary about the Mets organization's perceived micromanaging, and felt he would be just another manager in New York, no matter what happened. Hurdle embraced the challenge presented in Pittsburgh, where if he was successful, he "would be king forever."71
In addition, the location of the Children's Institute in Pittsburgh, facilitating any needs his daughter Madison would have, was another factor. Madison had Prader-Willi syndrome and the institute is considered to be one of the top providers of care for that genetic disorder. He moved his family to Pittsburgh, declaring that he should live where he manages. "If you're going to tell people you are all in, you need to be all in," he said.72
The Pirates had not been to the postseason since 1992, had finished last or next to last in their division for seven straight seasons, and had not had a winning season for 18 years, a period of futility that continued for the first two seasons under Hurdle and resulted in a major-league record of 20 losing seasons in a row.73
Neal Huntington, the Pirates general manager, who hired Hurdle, was adapting the Pirates organization to the use of sabermetric techniques of player evaluation. Although Hurdle's baseball background was clearly "old school," the time he spent with his colleagues at the MLB Network had opened his eyes to many of the concepts underlying sabermetrics.74 Hurdle and Huntington worked together exploring and considering various sabermetric concepts, including defensive shifts. While initially Hurdle was not totally on board with shifts, he embraced them fully within two years. The Pirates went from shifting 87 times in 2011 to 105 times in 2012 and 494 times in 2013.75
The 2011 season started off with a bang. One game after the All-Star break the Pirates were tied for first place in the National League Central Division. It was the first time the team had been above .500 at the All-Star break since 1992. On July 26, hanging onto first place by percentage points, they lost a 19-inning heartbreaker to the Braves. After that the Pirates went 19-42 and finished in fourth place. Despite the second-half slump, Hurdle came away with a positive read, declaring, "We want to win. That being said, we haven't won enough. We have a core group in place. Obviously we have some areas that we need to improve upon."76
The 2012 season followed a similar pattern. On August 6 the Pirates (62-46) were 3½ games out of first place in the Central Division and in the running for one of the two wild-card spots. After that date, the team collapsed, losing 37 of its final 54 games and finishing with a 79-83 record. It was the team's 20th consecutive losing season. In a meeting with Huntington after the season, Hurdle stated that he wanted to fully embrace analytics.77
Over the last two months of the 2013 season, the Pirates were in a dogfight with the St. Louis Cardinals for first place in the division, separated by two games or less for most of that time. The Cardinals won out, finishing in first, three games ahead of the Pirates, but the Pirates qualified for the wild-card game as the home team, and defeated the Cincinnati Reds, 6-2.
Facing the Cardinals in the Division Series, the Pirates lost, three games to two. Before the deciding game, Hurdle's message to his team was: "Find a way to play your heart. Play the size of your heart, not the size of the audience. Go get in the backyard and get after it. Play to win."78 The Sporting News named Hurdle the National League Manager of the Year. He also was named the Sportsman of the Year by Dapper Dan Charities in Pittsburgh.79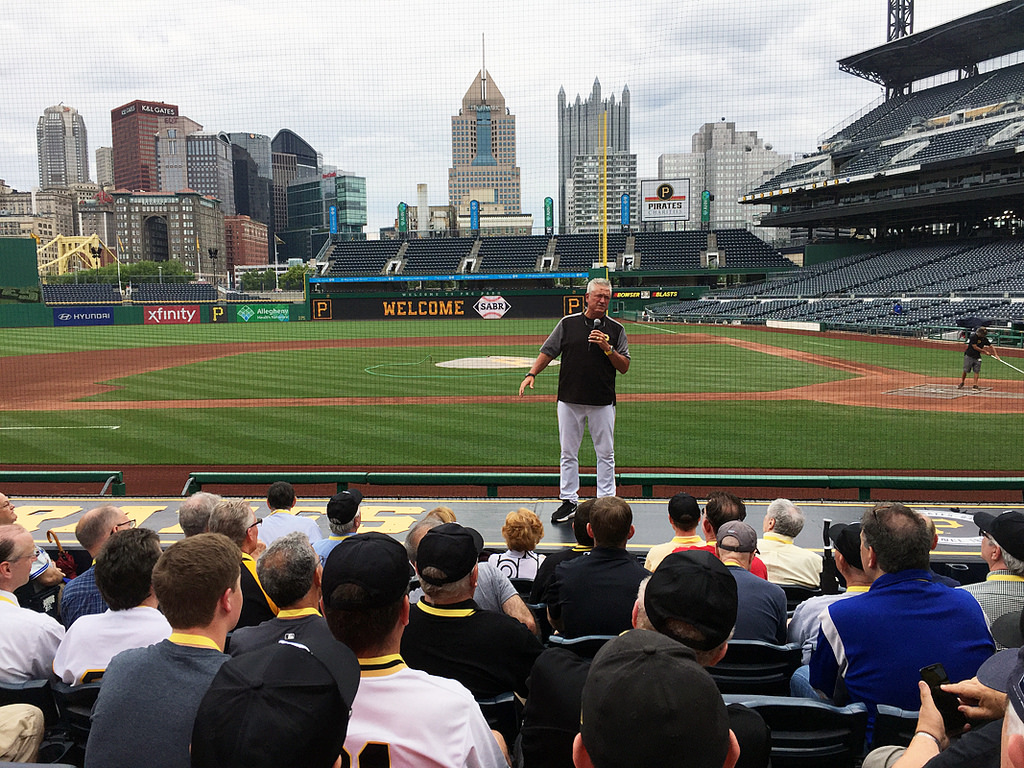 The Pirates also reached the postseason in 2014 and 2015, but lost the wild-card game each time, to the San Francisco Giants, then to the Chicago Cubs. The team failed to make the playoffs in 2016 and 2017. At the end of the 2017 season, Hurdle signed a four-year contract extension, through 2021.80
In his family life, Hurdle went through the emotional trauma of two divorces prior to his marriage in 1999 to his third wife, Karla, whom he credited with being the major factor in his straightening his life out. While managing in Williamsport, Hurdle met Karla Yearick, an accountant, while having his taxes prepared.81 After six years of dating, Hurdle asked Karla to marry him. She turned him down, telling him that he had to clean up his drinking binges and declaring, "Until you find a way to make yourself happy, you will never make me happy."82 Hurdle went sober for good in 1998, and "put his demons to rest," including those that haunted him from the Sports Illustrated cover. When he asked her again, satisfied that Hurdle had accomplished what she asked, Karla said yes.
Hurdle and Karla have two children, a daughter, Madison, born in 2002, and a son, Christian, born in 2004. Hurdle also has a daughter from his second marriage, Ashley, born in 1985. Madison was born prematurely with a genetic disorder that was later diagnosed as Prader-Willi syndrome, characterized by low metabolism and unrelenting hunger. Despite the considerable demands on his time as manager of the Rockies, Hurdle became a spokesman for the Prader-Willi Syndrome Association, taping public-service announcements, participating in charity events to raise money to fight the disease, and offering encouragement to parents whose children suffer from the disorder.83
Clint and Karla lead the annual "Wins for Kids" campaign, in conjunction with ROOT Sports and Pirates Charities to raise funds for the Children's Institute of Pittsburgh's Center for Prader-Willi Syndrome. The campaign raised more than $360,000 in its first six years.84 For his work in this area, Hurdle in 2014 received the Brooks Robinson Community Service Award, presented by the Major League Baseball Players Alumni Association.85
Hurdle sends daily email or text messages to his players, colleagues, associates, and others. They embody a wide range of themes, from inspiration to humor. With each such message the closing is always the same: "Make a difference today. Love, Clint." 86
Hurdle's managerial style works well with the modern ballplayer. He respects his players. He acknowledges the temptations that come with being young and a major leaguer. He often tells players, "Anything you've done wrong, I've done worse, and I've done it twice!"87
Asked once about good judgment, he said that it came with experience. "How do you get experience?" he was asked. His response: "Through bad judgment."88
Last revised: April 1, 2018
This biography appears in "Major League Baseball A Mile High: The First Quarter Century of the Colorado Rockies" (SABR, 2018), edited by Bill Nowlin and Paul T. Parker.
Sources
In addition to the sources cited in the Notes, the author also consulted Retrosheet.org, Baseball-Reference.com, and Clint Hurdle's player file at the National Baseball Hall of Fame. Thanks to Phil Davis, on whose initial rendition of a Hurdle biography this article was built.
Notes
1 Larry Keith, "The Eternal Hopefuls of Spring," Sports Illustrated, March 20, 1978: 20. si.com/vault/issue/70772/21/1?cover_view=0
2 Ibid.
3 Ibid.
4 Tom Singer, "Phenom to Manager, Hurdle's Brain Matches Brawn," MLB.com, September 13, 2012.
5 Tom Friend, "Love, Clint," ESPN.com, September 30, 2013. espn.com/mlb/playoffs/2013/story/_/id/9726637/pirates-manager-clint-hurdle-inspiring-others-daily.
6 Travis Sawchik, Big Data Baseball (New York: Flatiron Books, 2015), 18.
7 Ibid.
8 Stephen J. Nesbitt, "Note to Self," Pirate Baseball Issue (supplement), Pittsburgh Post-Gazette, April 3, 2016, newsinteractive.post-gazette.com/pirates/2016/clints-climb/.
9 Ibid.
10 Clay Latimer, "Life's Lessons Had Sting for Hurdle," Rocky Mountain News (Denver), October 8, 2007.
11 In addition to his athletic prowess, Hurdle was an excellent student, graduating from high school with all A's except for an offending "B" in driver's education. Sawchick, 20.
12 Sawchick, 20.
13 Ibid.
14 Ibid.
15 John Brockman, "Clint Hurdle Takes Major Strides," The Sporting News, October 30, 1976: 40.
16 Ibid.
17 Del Black, "Kansas City Cookie Quits Without Crumbling," The Sporting News, October 8, 1977: 11.
18 Sid Boardman, "Royals Crowing Over Bat Feats of LaCock," The Sporting News, August 26, 1978: 17.
19 Del Black, "Clint Faces New Hurdle as Royals Right Fielder," The Sporting News, January 12, 1980: 42.
20 Mike DeArmond, "Popeye Saves Hurdle From Kaycee Taunts," The Sporting News, July 19, 1980: 29.
21 Edwin Pope, "Life Just Starting, Hums Hurdle," The Sporting News, March 31, 1979: 40.
22 Bill Madden, "Hurdle Changes Attitude," New York Daily News, August 22, 1979.
23 Ibid.
24 All 10 of his home runs were off right-handers.
25 "Hurdle Traded to Cincinnati," Florida Today (Cocoa, Florida), December 12, 1981: 1C.
26 Associated Press, "Serving the Hard Stuff," July 1, 1981 (Hall of Fame Archives).
27 "Reds Hinting a Foster Deal," The Sporting News, December 26, 1981: 42.
28 Playing in the Reds loss to the Pirates on the date he was optioned, Hurdle entered the game in the second inning as a pinch-hitter, then remained in the game, hitting two singles and raising his average from .161. to .206 which kept his final average for the season above the Mendoza Line (.200).
29 Tracy Ringolsby, "Hurdle Looking for a Second Chance," The Sporting News, February 21, 1983: 40.
30 "Hurdle Annoyed by M's Decision," The Sporting News, April 18, 1983: 28.
31 "Mariners Release Hurdle Despite Impressive Spring," Florida Today, April 5, 1983: 1C.
32 Barry Jacobs, "Hurdle Trying to Clear Path Back to Majors," USA Today, June 15, 1983: 5C. The Mets had been unhappy with third baseman Hubie Brooks' offensive output.
33 James Tuite, "Mets Give Hurdle Third Base Tryout," New York Times, September 14, 1983: 89.
34 Jack Lang, "Keystone Combo Is Mets Top Concern," The Sporting News, March 5, 1984: 19.
35 Joe Gergen, "Hurdle's Enthusiasm Is Definitely Catching," Newsday, May 12, 1985.
36 Ibid.
37 Rick Hummel, "Daley May Go on Disabled List," St. Louis Post-Dispatch, July 16, 1986: 36.
38 "NL East — Mets," The Sporting News, February 16, 1987: 34.
39 Joseph Durso, "Hurdle Is Heading for Mets Again," New York Times, February 10, 1987: D31.
40 Barbara Caywood, "Playing Days End for Hurdle," Florida Today, December 1, 1987: 23.
41 "NL East – Mets," The Sporting News, December 14, 1987: 54.
42 Peter Kerasotis, "Skills Pass From Father to Son," Florida Today, July 16, 1989: 14.
43 "NL East – Mets," The Sporting News, November 6, 1989: 71. The team folded after one season, finishing in last place.
44 Rob Rains, "Hurdle Charts New Course," The Sporting News, July 2, 1990: 32.
45 Jackson finished with the league's best record, 73-62, winning the second half of the league's split season but losing in the league playoffs.
46 Joe Powell, "Hurdle, Young Are Top TL Manager, Pitcher," Clarion-Ledger (Jackson, Mississippi), August 31, 1990: 23.
47 John W. Fox, "Eastern League Says Farewell to an Old Friend," Press and Sun Bulletin (Binghamton, New York), September 4, 1991: 21. The Bills finished in seventh place. One of the few bright spots was the performance of the Mets' top pick in the 1990 draft, Jeromy Burnitz, who led the league with 31 home runs and tied for the league lead with 85 RBIs.
48 A rash of injuries on the parent club required that a number of players be moved up to the Mets; over the course of the season, 46 players appeared with the Tides.
49 David Jones, "Mets' Hurdle Continues Climb Up Minors," Florida Today, August 25, 1992: 21.
50 Mike Holtzclaw, "Going, Going …Gone," Daily Press (Newport News, Virginia), August 15, 1993.
51 Mets vice president Gerry Hunsicker issued a statement the next day that "[W]ith the hiring of Dallas Green, it became apparent that the advancement of Clint's manager career in New York would not be able to happen in the future." "Hurdle Felt Path to Mets Blocked by Green's Hiring," Daily Press, September 7, 1993.
52 Bob Klapisch, "Hurdle's Dismissal No Minor Matter," New York Daily News, September 12, 1993.
53 "NL," The Sporting News, March 10, 1997: 33.
54 Cheryl Rosenberg, "Hurdle an Expert on Unfair Expectations," Palm Beach Post, May 3, 1998: 720.
55 Troy E. Renck, "Rockies Turn to Tracy as Manager," Denver Post, June 2, 2009.
56 Ibid.
57 Murray Chass, "Hurdle Works Magic With Pitching Staff," New York Times, June 2, 2002: G3.
58 Ibid
59 Ibid.
60 Tracy Ringolsby, "Retention of Hurdle, O'Dowd Shows Faith in Direction of Team," Rocky Mountain News, November 13, 2003.
61 Sawchick, 122.
62 Troy Renck, "Hurdle Couldn't Have It Both Ways," Denver Post, May 30, 2009.
63 Ibid.
64 Troy E. Renck, "Hurdle on Hot Seat in '07 Season," Denverpost.com, January 19, 2007.
65 "Crisp Agrees to Boston Deal," Albany Times Union, February 7, 2006.
66 Jeremy Sandler, "Curse Obliterated as Sox Sweep," Nanaimo (British Columbia) Daily News, October 29, 2007: 15.
67 Nesbitt.
68 Nesbitt.
69 Friend.
70 Ron Cook, "Hurdle Is a Terrific Hire," Pittsburgh Post-Gazette, November 16, 2010.
71 Ibid.
72 Bill Brink, "Clint Hurdle's 'Yinzer" Life Suits Him Fine," Pittsburgh Post-Gazette, October 19, 2011.
73 DJ Gallo, "Sports Biggest Losers," ESPN.com, September 5, 2013, espn.com/sportsnation/story/_/id/9636396/with-pirates-streak-dj-gallo-takes-look-sports-current-big-losers.
74 Sawchick, 13.
75 Sawchick, 105.
76 Bill Brink, "A Glimpse of What Could Be," Pittsburgh Post-Gazette, October 2, 2011: 43.
77 Kevin Creagh, "How Clint Hurdle Stayed the Course After 2012's Implosion," The Point of Pittsburgh, Nov 25, 2015. thepointofpittsburgh.com/how-clint-hurdle-stayed-the-course-after-2012s-implosion/.
78 Michael Sanserino, "Hurdle Keeps Message Simple," Pittsburgh Post-Gazette, October 10, 2013: 26.
79 Pittsburgh Post-Gazette, December 22, 2013: 33.
80 Bill Brink, "Clint Hurdle Agrees to Four-Year Contract Extension With Pirates," Pittsburgh Post-Gazette, September 4, 2017. post-gazette.com/sports/pirates/2017/09/04/Clint-Hurdle-agrees-to-four-year-contract-extension-with-Pirates/stories/201709040104.
81 Sawchick, 24.
82 Phil Rogers, "Hurdle Has Had Big Dreams Since First Day on the Job," MLB.com, October 2, 2013.
83 For a more detailed discussion on Prader-Willi Syndrome, see Vicki Michaelis, "Clint Hurdle Balances Family Concerns With Baseball," USA Today, September 12, 2005, usatoday30.usatoday.com/sports/baseball/nl/rockies/2005-09-12-hurdle-family-cover_x.htm; see also Barry Syrluga, "Hurdle Manages to Find Ways Through Difficulties," Washington Post, October 23, 2007. washingtonpost.com/wp-dyn/content/article/2007/10/22/AR2007102202430.htm.
84 "Clint Hurdle's 2017 Win for Kids Charity Campaign in Full Swing," Pirates Breakdown.com piratesbreakdown.com/2017/05/19/clint-hurdle-pirates-wins-for-kids-charity/.
85 Staff Report, "MLBPAA Announces Clint Hurdle as Brooks Robinson Community Service Award Winner for 2014," Cision, May 15, 2014, a report found in Hurdle's player file at the National Baseball Hall of Fame.
86 Friend.
87 Perkins.
88 Bob Cohn, "Pirates Manager Hurdle Is Guided by History," Pittsburgh Tribune-Review, August 14, 2011.
Born
July 30, 1957 at Big Rapids, MI (USA)
If you can help us improve this player's biography, contact us.
https://sabr.org/sites/default/files/clint%20hurdle.png
600
800
admin
/wp-content/uploads/2020/02/sabr_logo.png
admin
2018-03-27 09:17:04
2022-02-15 02:02:31
Clint Hurdle