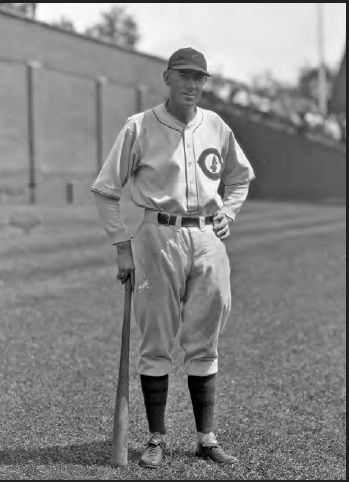 ---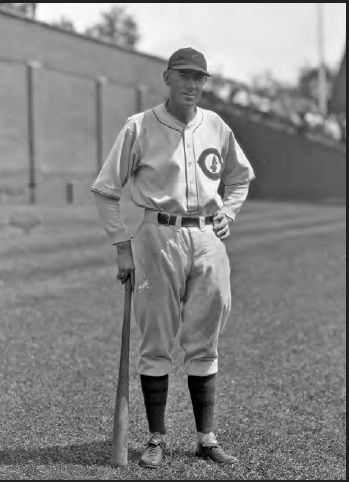 Clyde Beck was your prototypical good-field, no-hit utility infielder.  He was by no means a star in an era when players like Babe Ruth and Jimmie Foxx made headlines with their prodigious blasts. But he was the kind of player every team needs, someone who provided the bench depth and versatility that helped the 1929 Cubs make it to the World Series.
The new century had barely dawned when Clyde Eugene Beck was born on January 6, 1900, in the Los Angeles suburb of Bassett, California.1 He was the third son and youngest of four children of Charles Beck of California and Melvira (McGarvin) Beck of Missouri.
Beck acquired his baseball skills playing semipro ball around California.  He finally got his chance in the professional ranks with the Los Angeles Angels of the Pacific Coast League in 1922.  As a rookie, Beck got into only 46 games, but batted a respectable .279 with eight doubles and one triple among his 38 hits. 
There was some uncertainty over what team he would play for in 1923. The Angels had tried to sell Beck to the Wichita Izzies of the Class A Western League prior to the season and appeared to have difficulty consummating the deal.  In fact, The Sporting News reported in its February 8, 1923, edition that the proposed trade had fallen through and that Beck would play for the Angels that season. The sale to Wichita was completed in late March.2
Minor leaguers sometimes played many more games in those days than their major-league counterparts.  The Western League season was a grueling 169 games long and Beck played in 168 of them.3  He averaged close to one hit per game (167) and batted.284. In the field he compiled a .941 fielding percentage at shortstop while committing 49 errors.  He was recalled by the Angels at the end of the season and played six games for them, getting four singles in 20 at-bats for a .200 average.
Beck's performance with the Izzies was impressive enough for the Angels to bring him back in 1924.  He played in 148 Pacific Coast League games that year, batted .268, and showed some sock with six home runs.  More significantly, he set a league record for second basemen that still stood in 2014 when he had 12 assists in a game on October 5 against the Seattle Indians.
The 1925 season was a strange one for Beck.  He played in a whopping 188 games, all at second base. He hit 17 home runs, an astounding total for someone who never hit more than six homers in any other professional season. It's impossible to determine what accounted for Beck's power surge, especially when he never came close to hitting that many home runs in a season before or after.  The Angels did move into a new ballpark late in the season but that didn't explain it.  They played most of their home games that year at old Washington Park where the dimensions were 325 feet down the lines and 411 feet to straightaway center field.  On September 29 they moved into brand-new Wrigley Field.  That ballpark's dimensions were even bigger: It was 340 feet down the left-field line, 339 feet down the right-field line, and 412 to straightaway center.
The large number of games played doesn't account for the difference, either, as Beck played in only 40 games more than the previous season yet hit almost three times as many home runs.  Whatever batting stroke or stroke of luck that worked for him that year never worked for him again.
Of course no one could have predicted his future paucity of power, but Beck's 1925 numbers prompted the Cubs to buy his contract. In return, the Angels received cash and four players.4
Beck wasn't used very much when the 1926 season started. His first major-league appearance came as a pinch-runner in a May 19 game against the Boston Braves.  He was optioned to Milwaukee of the Double-A American Association on May 22 and had an immediate impact with the Brewers. He did so well, in fact,  that he became a pawn in a feud between the Milwaukee and Chicago owners.
The Brewers had a player named Fred "Fritz" Schulte whom Brewers owner Otto Borchert wanted to sell for $100,000.5  Cubs president Bill Veeck wanted Schulte for his team, but Borchert sold him to the St. Louis Browns.  At the time, the Brewers were in a tight race for the American Association pennant  — they finished in third place with a 93-71 record, 12½ games behind the league champion Louisville Colonels — and Beck was an integral part of the Brewers' success:
"Beck was fielding like a big leaguer, covering a world of ground and playing the keystone sack so brilliantly that he has made fans forget all about (former Brewer) Oscar Melillo," wrote George F. Downer in the Milwaukee Sentinel.  "Coming here reputed to be a weak hitter, Beck had developed into a dependable clubber, having hit safely in the in the last sixteen consecutive games."6
"As a backlash of the failure of Wrigley's money to sway Borchert," said The Sporting News, "the big-league club took a retributive poke at the Brewers by recalling second baseman Clyde Beck. …"7
Of course Beck was just caught in the middle of all this, and considering that he played in only 30 games for the Cubs that season and hit only .198, he probably was not integral to the Cubs' 1926 pennant hopes. (They finished fourth with an 82-72 record, seven games out of first.)
The Cubs gave Beck a chance to strut his stuff in 1927 and he had a solid if not spectacular season, getting into 117 games, mostly at second base.  He batted .258 with 101 hits, 2 home runs, 44 RBIs, and 44 runs scored.  In the field, he committed 19 errors, a respectable total (Brooklyn's Jay Partridge led National League second basemen with 52 errors).
An offseason move assured Beck of regular playing time in 1928.  The Cubs acquired future Hall of Famer Kiki Cuyler from the Pirates for second baseman Sparky Adams and outfielder Pete Scott.  Beck played in 131 games that year, splitting his time primarily between third base (87 games) and shortstop (47 games).  He hit .257 with three home runs, one of which was a grand slam that drove in all the Chicago runs in a 4-3 victory on July 17 over the Philadelphia Phillies, the team's eighth and last victory during a midseason winning streak.
Beck was married by the time the 1928 season began, and his wife, Gertrude, wasn't one to let him off the hook if he played poorly, as a September 20 newspaper article amply illustrated:  
"Clyde Beck of the Chicago Cubs has a wife whose heart and soul are on winning ballgames and there is no smile at home for the Chicago infielder when he fails to do his part.
"Recently, Mrs. Beck sat in the grandstand in the Cubs' park.  In a nearby seat was a rooter who had no idea of the lady's identity.  Beck came up in a pinch and struck out. 
" 'Damn that Beck!' exploded the irate fan.  'I could shoot him for that.' "
"Then noticing the lady looking at him, and thinking she disapproved of his profanity, he started to offer an apology.
" 'Not at all, not at all,' said Mrs. Beck.  'I echo your sentiments.  You see, I happen to be Clyde's wife, and believe me, I could shoot him myself!' "
"But all ball players' wives are like that."8
Beck probably slept wearing a bulletproof vest during the 1929 season.  Even before the season began, the media speculated that the Cubs would swing a trade for Les Bell of the Braves to get some better hitting from the third-base position.9  That trade fell through, but journeyman Norm McMillan replaced an injured Beck at third base early in the year and held on to the hot corner for the remainder of the season.  Beck played in only 54 games at third base and shortstop, hitting a meager .211.  He didn't play in the World Series, in which the Cubs fell to the Philadelphia Athletics in five games.
The Cubs acquired Bell off the waiver wire on October 29, 1929, the same day as the US stock-market crash that signaled the beginning of the Great Depression.  Hopefully this turn of events didn't cause Beck any great depression, for even though Bell's presence on the Cubs should have severely limited his playing time in 1930, injuries to teammates forced manager Joe McCarthy to use Beck in his infield. Bell suffered an arm injury that prompted McCarthy to move regular shortstop Woody English to third and install Beck at short.10  For the season, Beck got into 83 games (57 at shortstop), but his weak hitting (.213 batting average) ensured that he would not be a regular player.  Oddly enough, he hit six home runs that year, more than he hit in any other major-league season and exactly half of his career total of 12.
Beck's 1931 season did not get off to a good start.  In fact, it didn't get off to any start as he sat on the bench for the Cubs' first 37 games before being released on June 3.  He was picked up by the Cincinnati Reds, ostensibly the "player to be named later" in a preseason trade for utility outfielder Cliff Heathcote.11  In what turned out to be his last season in the majors, Beck hit just .154 in 53 games as a part-time infielder, primarily at third base.  The Reds sent Beck down to the St. Paul Saints of the American Association at the end of the 1931 season, ending his major-league career. 
Beck played two seasons for St. Paul before returning to his old California stamping grounds with the PCL's Mission Reds of San Francisco. At 34, he proved there was still some life in the ol' glove yet when he led PCL shortstops in fielding in 1934 with a .970 fielding percentage in an exhausting 188 games.  And to prove that 1934 was no fluke, he repeated the feat again in 1935, topping PCL shortstops with a .957 fielding percentage.
After playing one more year with the Mission Reds in 1936, Beck was traded to the Oakland Oaks for pitcher Tom "Dutch" Conlan. Apparently the Oaks adopted an "if you can't beat 'em, join 'em" approach in acquiring him.
"Although he is no DiMaggio at the plate, Beck, nevertheless, has been a thorn in the side of Oakland hurlers," wrote Emmons Byrne in The Sporting News.  "The front office thought something should be done about it and henceforth, if he is going to hit in the clutch, it will be for the Oaks."12
Well, it seems that the front office changed its mind because the Oaks released Beck on May 20, 1937. He was immediately picked up by the Seattle Indians.  Between the two teams Beck played in 20 games and hit a paltry .171. This was his final season as a professional baseball player.
After his playing days ended, Beck moved back to Los Angeles with his wife and two children, Evelyn (born 1927) and Charles (1931), and made his living as a motor winder.13  Even though he never went back to baseball, he participated in activities commemorating events that took place during his career. He played in an old-timer's game held on October 7, 1950, to honor the 25th anniversary of the first game played at Wrigley Field in Los Angeles.  He attended dinners put on by the Pasadena Sports Ambassadors to honor former ballplayers who played in the World Series. (The fact that Beck didn't actually play in the 1929 Series with the Cubs didn't seem to matter.)
Beck may also have been surprised by the results of an opinion poll of Cubs fans commissioned by the Chicago club that was published in 1950.  One of the questions was, "Who do you think is the greatest Cub player of our time?" Stan Hack, who retired in 1947, led the results with 14.2 percent of the vote and Gabby Hartnett was second respondents with 13.9 percent.  Other Hall of Fame players such as Hack Wilson and Grover Cleveland Alexander were on the list. Beck also made the list, with 0.9 percent of the vote, which is strange considering that even Joe Tinker didn't make the list.14
Clyde Beck lived in the Los Angeles area until he died of an acute myocardial infarction on July 15, 1988, in Temple City, California.  He was 88 years old.
Sources
Ancestry.com
Ballparksofbaseball.com
Baseball-Reference.com
Borchertfield.com
Milb.com
The Sporting News
Clyde Beck player file, National Baseball Hall of Fame
Notes
1 Different sources cite different places and dates of birth.  The 1910 US Census indicates Beck was born in 1899, and an undated newspaper article lists his date of birth as January 6, 1902, in bordering El Monte, California.  Beck himself listed January 6, 1900, as his birthdate.
2 "Clyde Beck Sold to Wichita Ball Club," Dubuque (Iowa) Herald, March 26, 1923.
3 In a review of Western League statistics on baseball-reference.com for the 1923 season, no player appeared in more than 169 games.
4 Associated Press, "Angels Do Well in Beck Deal," The Deseret News, Salt Lake City, Utah, December 11, 1925.
5 "If the Ice Plants Will Only Hold Out," The Sporting News, July 22, 1926 .
6 George F. Downer, "Following Through With Downer," Milwaukee Sentinel, July 16, 1926.
7 The Sporting News, July 22, 1926.
8 Clipping, publication unknown, from Beck's file at the National Baseball Hall of Fame.
9 Associated Press, "Cubs and Braves Plan to Swing Trade," St. Petersburg (Florida)  Evening Independent, January 31, 1929.
10 William Weekes, "Reserve Player Sent Into Lineup of Cubs as Hornsby Breaks Ankle Leads Chicago to Double Victory," St. Petersburg Evening Independent, May 31, 1930.
11 Associated Press, "Cubs Release Beck to Cincinnati Club," Milwaukee Sentinel, June 4, 1931.
12 Emmons Byrne, "Well Thinned Oaks Wait on New Buds," The Sporting News, January 28, 1937.
13 The birth years are based on Evelyn's being listed as 13 years old and Charles as 9 at the time of the 1940 US Census.
14 "Barber Shop Poll 86.6 Per Cent for Farm Aid," The Sporting News, January 25, 1950.
Born
January 6, 1900 at Bassett, CA (USA)
Died
July 15, 1988 at Temple City, CA (USA)
If you can help us improve this player's biography, contact us.
http://sabr.org/sites/default/files/ClydeBeck.JPG
600
800
admin
/wp-content/uploads/2020/02/sabr_logo.png
admin
2012-01-04 20:39:23
2020-10-12 11:51:51
Clyde Beck