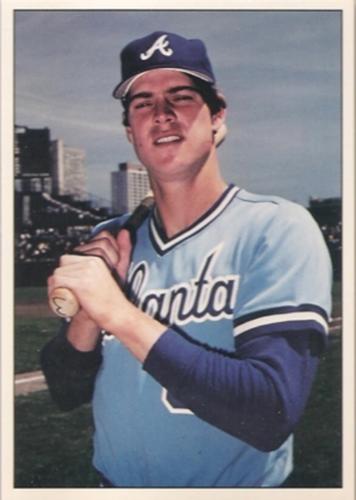 ---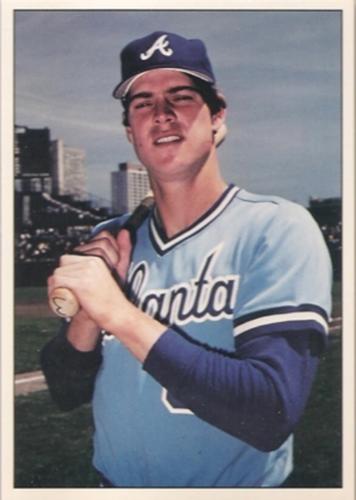 From 1978 through 1990, the Atlanta Braves were one of the worst teams in the National League, despite a surprise first-place finish in the NL West Division in 1982 followed by two consecutive seasons with a second-place finish. Within this 13-year span, the Braves finished in sixth (last) place for six seasons, fifth place in three seasons and fourth one year.
Although the Braves had some outstanding ballplayers, they just didn't have enough of them to remain competitive within their division. The face of the Atlanta Braves was Dale Murphy. He was described as a boy scout. He didn't smoke, didn't drink, didn't curse and didn't carouse. Murphy was a professional athlete whom children could emulate. He won back-to-back Most Valuable Player Awards in 1982 and 1983, and remains the only two-time recipient in the Braves franchise.
Dale Bryan Murphy was born on March 12, 1956, to Charles and Betty Murphy in Portland, Oregon. Charles Murphy was a sales executive for Westinghouse and the family relocated to Moraga, California, for a very brief time.
Murphy was a catcher at Woodrow Wilson High School, capping his career with a .465 batting average in his senior season. Murphy's coach in American Legion ball and high school was Jack Dunn, a family friend. "I always knew he was something special," said Dunn. "I know it's just a coincidence, but did you know that the man who discovered Babe Ruth was also named Jack Dunn?"1
Arizona State University came calling, luring the young backstop to Tempe. But the Atlanta Braves selected Murphy with their first pick (fifth pick overall) in the June draft in 1974. "I'm a little bit excited, it's quite an honor," said Murphy. "I'll just listen to what the Braves offer and then try to make a decision. I've already signed a letter of intent with Arizona State, and no matter what happens I'd like to get an education. Right now, I just don't know what I'll do for sure."2
Murphy opted to take the route to a pro baseball career instead of one of a collegiate athlete. After he signed with the Braves, Murphy reported to the Kingsport Braves, Atlanta's Rookie League club in the Appalachian League.
Like many players who could hit with little problem at the high school level, Murphy had to adjust to the higher level of pitching he was facing. But Murphy faced another change, this one occurring off the diamond. In 1975, Murphy was with Greenwood (South Carolina) when he struck up a friendship with teammate Barry Bonnell. Murphy was curious about Bonnell, who was a member of the Mormon religion. Murphy, who was raised a Presbyterian, liked what he heard from his new friend. Eventually, Murphy converted to the Church of Latter-Day Saints. Bonnell baptized Murphy the day after the 1975 season.3
Murphy's conversion to the Mormons was indeed a life-changing moment. The Mormon religion was a solid foundation for Murphy for the rest of his life. He wanted to serve a two-year mission with the Mormons, putting his career on hold. Braves owner Ted Turner tried to talk him out of it, to no avail. An official with the church convinced Murphy that he could continue his professional baseball career, while also serving the church.
Murphy began the 1976 season with Savannah of the AA Southern League. The tall (6'4") right-handed batter hit .267 with 12 homers and 55 RBIs. In 1977 he was promoted to Richmond of the AAA International League. In 18 games he hit .260 and earned a late-season call up to Atlanta. Murphy made his major league debut on September 13 at Dodger Stadium, going 2 for 4 with two RBIs in a 4-3 loss. In 17 starts as a catcher, he threw out nine of 21 would-be base stealers.
He returned to Richmond for the 1977 season because he had developed a throwing problem form his catcher's position. Some of his throws would bounce in front of the pitching mound; some would go in all directions around the infield, or sail into the outfield. Rarely did he hit the spot he was trying to throw to. "It'll come around," said Murphy. "It's got to be in my head and not physical. It's been discouraging but something I've got to forget."4 Offensively it was a breakout year. Murphy batted .305 to go with 22 home runs and a league-leading 90 RBIs. Once again, the Braves called Murphy up in September.
On September 15, Murphy had a two-home run game, knocking in four runs in the Braves 8-7 win over San Diego. His second round-tripper came off Rollie Fingers in the top of the 10th inning and proved to be the game-winner.
When Atlanta departed its spring training home in West Palm Beach and headed north, Dale Murphy was in tow. But the team moved him to first base. Biff Pocoroba was to remain as the Braves starting catcher. Another rookie in camp was manager Bobby Cox. "Give Murphy 500 at-bats this season and he'll hit 25 homers minimum in the National League," said Cox.5
Cox was close in his prediction, as Murphy posted 530 at-bats and homered 23 times, sharing the team lead with Bob Horner and Jeff Burroughs. But Murphy was the league leader in strikeouts, whiffing 145 times. On the defensive side, the Braves found that their prized prospect had a hard time throwing from the first base position as well. He led the league with 20 errors. Horner was named the National League's Rookie of the Year.
That fall Murphy enrolled at Brigham Young University, where he met his future wife Nancy, a cheerleader at BYU. In May of 1979, Murphy was dealing with a sore left knee. Although he wasn't experiencing a lot of pain, it felt more awkward. At first the knee was drained because there was excess fluid. But when the knee didn't respond, it was discovered there was cartilage damage. He underwent arthroscopic surgery to remove the cartilage. Murphy did not return to full-time duty until July 19.
While he was on the shelf for a few weeks, and Nancy boarded a plane from Provo, Utah, to Atlanta to cheer him up. Two months later they were engaged. They married in October that year at Temple Square in Salt Lake City. Their marriage has been blessed with eight children.
The Braves (69-93) finished in last place in the NL West, 26 games behind first place Los Angeles. But the Braves had a good nucleus of young players. Horner, who manned the hot corner, was the prototypical power hitter, and Glenn Hubbard was a solid infielder. Gary Matthews provided more power and hit for average and patrolled right field.
The Braves addressed two positions in their lineup with one trade. On December 5, 1979, they acquired first baseman Chris Chambliss and shortstop Luis Gomez from Toronto for pitcher Joey McLaughlin, shortstop Pat Rockett and Bonnell.
Chambliss, a starter at first base with two World Series champion Yankee teams, replaced Murphy. The Braves, realizing they needed Murphy's bat in the lineup, moved him to center field and Gomez was inserted as the starting shortstop.
The new lineup provided results. Atlanta finished 81-80 and in fourth place in the NL West. It was the first time the Braves had finished out of the cellar since 1975 and their best record since 1974. The foursome of Murphy, Matthews, Horner and Chambliss combined for 105 home runs and 325 RBIs. Almost as important, Murphy found the outfield to his liking (324 putouts, 11 assists, five errors). He was selected to the NL All-Star team for the first of seven times.
The 1981 season was a washout for many teams, as the MLB players' strike on June 12, 1981, lasted until July 31. A total of 713 games was canceled. The season was divided into two halves, with the winners of each half squaring off and creating another level of playoffs. The Braves slipped back into fifth.
Turner fired Cox after the 1981 season. Joe Torre, who managed the New York Mets the previous five seasons, had little success (286-420 record). However, when Sports Illustrated came out with its MLB Preview issue on April 12, 1982, the Braves were optimistic about their chances. "It's about time we did something," said Murphy.6 "We can win the division. We've got as much talent as the Dodgers," said Chambliss.7
And they did just that, edging Los Angeles by one game to capture the NL West for the first time since 1969, when MLB had instituted the two-division format in each league. The Dodgers, who took seven of 11 games from Atlanta in the regular season, led the Braves by 3½ games on September 17. But the Dodgers hit the skids and lost nine of their next 10.
The season ended with a thud when St. Louis swept them in the LCS.
But the real story was Murphy. He smacked 36 home runs to go with a league-leading 109 RBIs and batted .281. He was durable, playing in all 162 games. He was selected as the NL Most Valuable Player for 1982. "Most Valuable Player … well, I haven't felt that way," said Murphy. "I don't really know how to describe it; the only word I can think of is overwhelming.
"There are so many people responsible for what happened this year with the Braves. I keep thinking about Jerry Royster who carried us for the last month, and Terry Harper, who carried us for the last week. It's hard to pick an MVP on a winning team."8
As if the MVP award was not enough, Murphy was selected as the recipient of a Gold Glove Award. It was the first of five straight years he would be honored for defensive excellence. Bobby Cox, who was now leading the Blue Jays, had to have a wide grin on his face as the move of Murphy to the outfield looked like an act of genius.
The Braves, buoyed by their successful 1982 season, were in command with a 5½ game lead over Los Angeles in the NL West as the curtain came down on the month of July 1983. But their season soured when the Braves turned in a 23-32 record in August and September. Conversely, the Dodgers went 34-24 and passed Atlanta, winning the division by three games.
The Braves made a trade late in the season to shore up their pitching staff, but the move backfired. On August 28, Atlanta acquired pitcher Lenny Barker from Cleveland. Barker was an oft-injured right hander who had bone spurs in his right elbow. And it showed as Barker went 1-3 and needed surgery. The Braves sent outfielder Brett Butler and third baseman Brook Jacoby to Cleveland. Both started in Cleveland for a few years, and it stifled the influx of young talent making their way to Atlanta.
Murphy was again awarded the MVP award, becoming the youngest player in history to win the award in consecutive seasons. He belted 36 home runs, drove in 121 runs and batted .301. Murphy led the league in RBIs and slugging percentage (.540). "It doesn't really sink in … It hasn't really hit home," said Murphy. "I just still feel like one of the guys on the team. I don't feel any different, and I don't feel I should. I don't want to feel this award — two or how many — puts me at higher level than anybody else."9
The Braves finished in second place in 1984 to San Diego, in its first pennant-winning season. Torre was fired after the season and was replaced by Eddie Haas. But Haas, who had no managerial experience, was soon let go and replaced with Bobby Wine, who was also shown the door at season's end.
Under new manager Chuck Tanner, the Braves landed in the cellar in 1986. It was a position that unfortunately they would know all too well in four of the next five seasons.
In 1986, Murphy's consecutive game streak of 740 games ended when he sat out a game on July 9 at Philadelphia.
By the time the 1987 season rolled around, Horner signed a free-agent deal with St. Louis. Besides Ozzie Virgil, Atlanta's catcher who belted 27 homers in 1987, there was not much surrounding Murphy in the Braves lineup. Despite that, Murphy set a career high with 44 home runs and batted in 105. He was still shown respect from opponents as he led the league in intentional walks with 29. He also totaled 14 assists from his new position, right field.
The Braves had some greybeards on their club, including Ken Griffey, Graig Nettles, Ted Simmons, and Gary Roenicke. But the tide was starting to turn. Tom Glavine, Ron Gant, Jeff Blauser, and Pete Smith all made their debuts in 1987. All four would have a role in the Braves' success in the 1990s.
Murphy slumped the next two seasons, batting .226 in '88 and leading the league in double plays with 24. He still led the club in homers (24) and RBIs (77). By 1989 (20 HR, 80 RBIs and .228 batting average), Murphy's best days were in the rearview mirror.
Naturally, Murphy's name was coming up in trade talks. He had the right to give his consent to any proposed deal. "I would imagine that the Braves have gotten into a situation where we didn't win too many games and they're looking for a change," said Murphy. "Just like teams look around and see who possibly might be available or could use some young players, the Braves come up. We really didn't play that well, and probably because of the way I played. I really didn't do that well. Sometimes that enters in as well."10
"He had his chance to get out of there in his last contract," said former teammate Glenn Hubbard. "Last winter, he felt a commitment to that team. He took that road. And now they're talking about trading him? That shows you how much. … They shouldn't even mention his name in trade talks."11
The anticipated trade did not happen. At least, not right away. Murphy played 97 games for the Braves in 1990. He swatted 17 home runs and knocked in 55 runs. His batting average continued to be mediocre at .232. On August 3, Murphy was part of a five-player deal that sent him to the Phillies. The key player going to Atlanta was pitcher Jeff Parrett. "We think he (Murphy) has a lot of years left," said Philadelphia general manager Lee Thomas. "Dale's always liked to hit here. Those long fly balls he hits will hit the seats here."12
The good news for Murphy was that he missed the third straight season that the Braves finished in the cellar. The bad news was that Atlanta then won back-to-back pennants in 1991 and 1992. As if Murphy's luck could not get any worse, he was waived by the Phillies two days before the start of the 1993 season. Philadelphia went on to knock off the Braves in the LCS in 1993 and claim their first pennant since 1983.
In spite of missing out on the trappings that come with playing with a winning club, Dale Murphy is best known as a complete player who was one of the best in the senior circuit. He stands on his career numbers and his achievements. And he stands tall over most of his contemporaries.
"I've learned a lot from him," said Pete Smith. "It's a big change. He's the best I've ever been associated with. There's only one Murph. There will never be anyone like him to come along for his franchise. That's because he was the franchise."13
Philadelphia was hoping that Murphy would be a piece of the championship club they were trying to put together. With a lineup of talented players that already included Darren Daulton, Von Hayes, John Kruk, and Lenny Dykstra, they were counting on the acquisition of Murphy to fit right in.
But as often happens, the opposite was true. The Phillies tied for fourth place, sharing an identical 77-85 record with Chicago, 18 games behind first-place Pittsburgh. The 1991 season was a carbon copy of the prior one. The Phillies tied again with the Cubs, but this time both clubs ended in third place. However, even though they rose in the standings, the Pirates finished 20 games ahead of both the Cubs and Phillies.
The 1991 season was the only one in which Murphy played a full season with the Phillies. His 18 homers and 81 RBIs finished second on the team to Kruk (21/92). A chronic left knee injury in 1992 kept Murphy on the shelf after May 18.
Murphy was released and signed on with the expansion Colorado Rockies in 1993. He had hit 398 career home runs and was hoping to get to 400. But after 26 games, 42 at-bats, and no home runs, Murphy called it quits. The Rockies had been hinting that he might be released, and he beat them to the punch. "I have no problem with that," Murphy said of his probable release. "They have to do what they have to do. I haven't really been doing the job, which was fairly obvious."
Regarding his goal to hit 400 home runs, Murphy said, "I should have done it. I had plenty of pitches and plenty of opportunities to do it. I didn't do it. I'm thankful to be able to be around and hit those that I did."14
Murphy retired after 18 seasons and 2,180 games. Along with his 398 career homers, he drove in 1,266 runs and batted .265. He totaled 2,111 hits and 350 doubles.
On June 20, 1994, the Braves retired Murphy's jersey number at Fulton-County Stadium. With his family in tow, he watched as the sign "Dale Murphy 3" was unveiled for the Murphy family, and the 46,681 in attendance. "This was saying goodbye," said Murphy. "When I retired, I never had the chance to tell people here. This is kind of final."15 "I almost lost it when they unveiled the number and when I talked about Nancy and the kids," he added.16 Only Warren Spahn, Eddie Mathews, Hank Aaron, and Phil Niekro had been previously honored with having their number retired by the team.
Murphy's baseball career opened the door for many opportunities after he hung up his cleats. From 1997 to 2000, the Murphy clan lived in Boston. He supervised nearly 200 Mormons who were working two-year stints as missionaries in Massachusetts. "I'm like the supervisor," said Murphy. "I help, I train, I educate, I see how they're doing. We help find them apartments and provide them cars."17
In 2005, Murphy started the foundation, I Don't Cheat. The foundation promotes honesty to young athletes and the dangers of taking performance-enhancing drugs. Murphy has been outspoken on the topic of steroids. He has taken former players to task over taking steroids, Roger Clemens among them. "If you're asking me if I think Clemens took steroids or something — yes I think he took them," said Murphy. "I don't have any proof. I'm just giving you my opinion, and that's my opinion. I'm like everybody else. This isn't a court of law. I don't see all the evidence.18
Murphy was also active raising money for the charity, Operation Smile, a nonprofit organization that performed surgery on children born with a cleft palate.
In 2017, Murphy opened a restaurant in Atlanta, aptly called "Murphs."
The Murphy family resides in Alpine Valley, Utah.
Last revised: October 22, 2019
Acknowledgments
This biography was reviewed by Andrew Sharp and Norman Macht and fact-checked by Kevin Larkin.
Notes
1 Steve Wulf, "Murphy's Law is Nice Guys Finish First", Sports Illustrated, July 3, 1983: 26.
2 Charlie Roberts, "Delemma For Catchers", Atlanta Constitution, June 6, 1974: 6-D.
3 Vic Fulp, "Throwing Flaws Block Path Back to Majors for Murphy", The Sporting News, May 7, 1977: 29.
4 Fulp
5 Furman Bisher, "Dale Murphy and Murphy's Law", The Sporting News, March 25, 1978: 2.
6 "Atlanta", Sports Illustrated, April 12, 1982: 70.
7 Ibid.
8 Tim Tucker, "MVP: Overwhelming choice Murph overwhelmed", Atlanta Constitution, November 18, 1982: 8-D.
9 Tim Tucker, "Murphy named MVP—again", Atlanta Constitution, November 9, 1983: 1-C.
10 Thomas Stinson, "Caught in the Eye Of the Storm", Atlanta Constitution, November 6, 1989: 25-C.
11 Stinson.
12 Sam Carchidi, "Phils get Murphy in trade for Parrett", Philadelphia Inquirer, August 4, 1990: 1-C.
13 Joe Straus, "Ex-teammates agree: 'He was the franchise'", Atlanta Constitution, August 5, 1990: F10.
14 "Murphy decides it's time to retire", New York Post, May 28, 1993.
15 Joe Strauss, "Murphy: 'This was saying goodbye'", Atlanta Constitution, June 24, 1994: E1.
16 Joe Strauss, "An Atlanta hero comes full circle", Atlanta Constitution, June 24, 1994: C1.
17 Bob Duffy, "A new calling draws Murphy", Boston Globe, Player's Hall of Fame File.
18 Jeff Schultz, "Murphy Takes His Cuts at Clemens", Atlanta Constitution, January 14, 2008: 1D.
Born
March 12, 1956 at Portland, OR (USA)
If you can help us improve this player's biography, contact us.
https://sabr.org/sites/default/files/MurphyDale.jpg
600
800
admin
/wp-content/uploads/2020/02/sabr_logo.png
admin
2019-10-22 13:11:42
2022-11-07 11:55:11
Dale Murphy