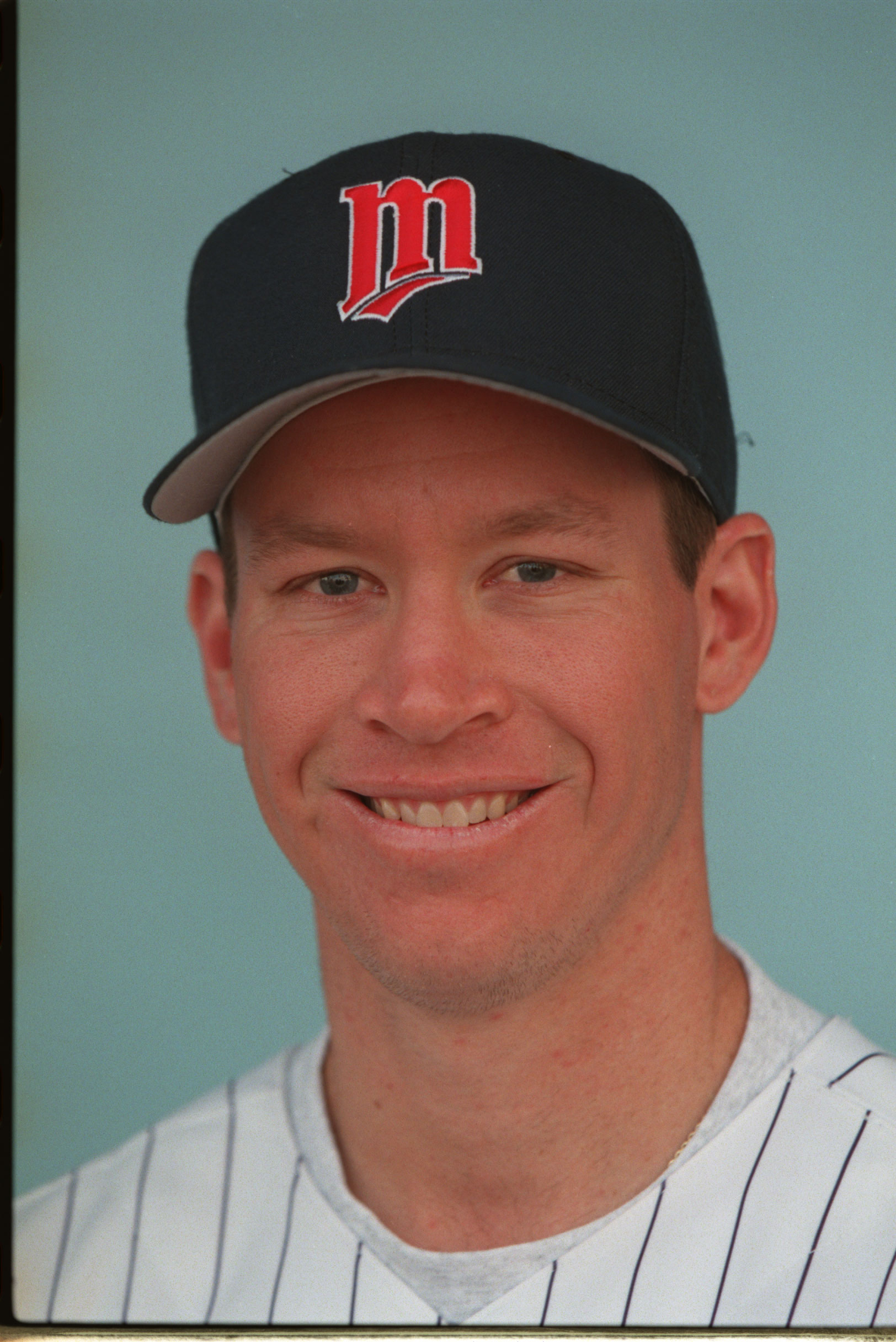 ---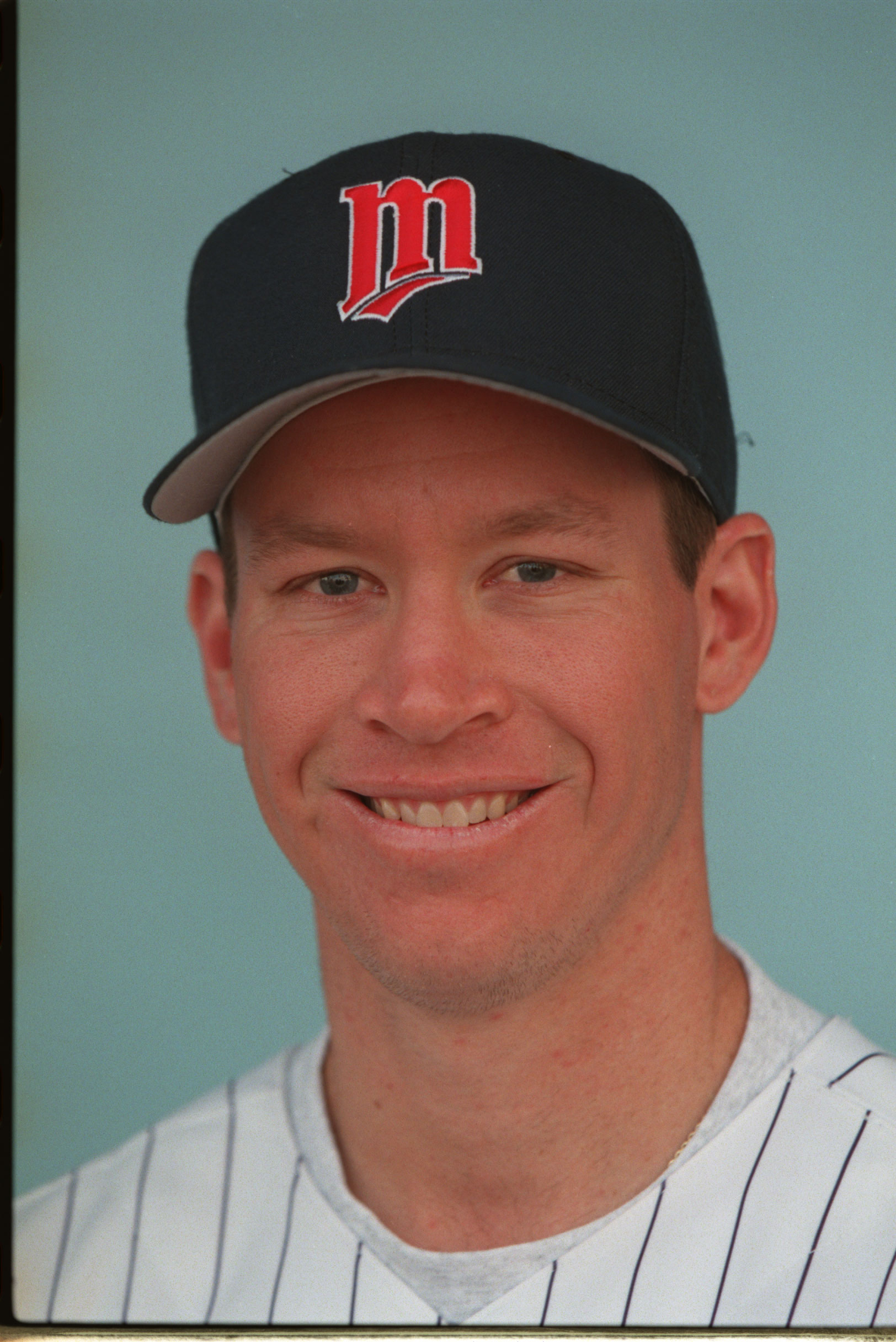 In 2002, in his sixth major-league season and 12th season of professional baseball, Damian Miller was named to the National League All-Star team.
His manager was happy his catcher received the recognition.
"I definitely have a soft spot for guys like Miller," Arizona Diamondbacks manager Bob Brenly said. "They're the guys who weren't drafted high but worked their way to the top. A lot of people don't realize how the odds are stacked against these guys. They don't get free passes like some bonus babies do."1
Miller was born on October 13, 1969, in La Crosse, Wisconsin. After graduating from West Salem High School, where he had been a three-sport athlete (football, basketball, and baseball), Miller enrolled at Viterbo University in La Crosse. Miller is the only major leaguer to be produced by the Catholic liberal-arts school (enrollment 2,700 in 2015), whose athletic teams competed at the NAIA level. The school has produced 11 professional baseball players.
As a freshman, Miller batted .312 with one home run and 19 RBIs in 26 games for the V-Hawks. As a sophomore, he hit .409 — the fourth-best single-season mark in school history — with 3 home runs and 22 RBIs in 34 games.
As a junior Miller batted .505 — the top single-season mark in school history — with 6 home runs and 46 RBIs (the RBIs were fourth-best in school history) in 36 games. He was named the NAIA District 14 Player of the Year after helping the V-Hawks get to within one game of the NAIA World Series. After the season he was selected in the 20th round of the 1990 amateur draft by the Minnesota Twins.
In his three seasons with the V-Hawks, the 6-foot-3, 200-pound Miller set school career records for batting average (.419), doubles (29), and RBIs (87). In 96 games he hit 10 home runs and had a .632 slugging percentage.
After signing with the Twins, Miller began his 18-year professional career with Elizabethton of the Appalachian League. He hit a home run in his first professional at-bat, going 2-for-3 with three RBIs against Johnson City on June 22. But his rookie season was cut short when he suffered a season-ending thumb injury in a collision at the plate on August 6.
While Miller recovered from the injury, he began the 1991 season at extended spring training. In the first week of May, he went 11-for-13 in five games to show that he was healthy. On May 10 he joined Kenosha (Wisconsin) of the Class-A Midwest League. He spent both the 1991 and 1992 seasons with Kenosha.
Miller, a right-handed batter, blossomed in his second season with Kenosha, hitting .292 with a .385 on-base percentage. Defensively, he threw out 38 percent of baserunners attempting to steal. He was named to the Midwest League All-Star team.
In 1993 Miller got his first taste of a big-league spring training by appearing in seven Twins exhibition games, going 0-for-4 as a nonroster player. He started the 1993 season at Fort Myers of the Class-A Florida State League. He hit just .212, but he was solid defensively as he threw out 33 percent of potential basestealers. His only home run was a grand slam on July 15 against Daytona. He finished the season in Double A after being promoted to Nashville on August 29. After another brief stint as a nonroster invitee in 1994, going 0-for-1 in two games, he spent the entire 1994 season with Nashville, rebounding with a .268 batting average in 103 games. He threw out 42 percent (third-best in the league) of potential basestealers.
Miller spent the entire 1995 and 1996 seasons with Triple-A Salt Lake City. In 1996 he hit .286 in 104 games and had a 15-game hitting streak (22-for-62, .355) from April 15 to May 5. His fielding percentage of .991 was tied for second-best in the league. He threw out 42 percent of potential basestealers.
In both seasons Miller again went to spring training with the Twins as a nonroster invitee. In late March of 1997 he was told that he would again start the season at Salt Lake. But he remained with the Twins until the end of spring training as an extra player and bullpen catcher.
"I never really was a candidate to make the team in training camp," said Miller. "It did give me enough of a taste of what big-league life might be like that I wanted it even more. I would say, 'Man, I don't want to go back to the minors,' but I always would."2
He put together solid numbers with Salt Lake in 1997. In 85 games, he hit 11 home runs and had 82 RBIs while batting a career-high .338. He was called up to the Twins on August 9 as a replacement for catcher Greg Myers, who was put on the disabled list with an ankle injury.
Miller made his major-league debut on August 10 against the New York Yankees as a pinch-hitter in the ninth inning. The Twins, who were trailing 9-6, had runners at second and third with nobody out against reliever Mike Stanton. After Miller was announced as a pinch-hitter, the Yankees replaced the left-handed Stanton with closer Mariano Rivera. Miller popped out to right field.
After going 0-for-1 in each of the Twins' losses on August 11 and 12, Miller made his first big-league start on August 13 in Toronto. In his second at-bat of game, Miller singled to left field off Blue Jays starter Woody Williams for his first major-league hit.
On August 19, Miller hit his first major-league home run, in Detroit off Tigers starter Willie Blair. His two-run blast in the fifth inning was responsible for all of Minnesota's runs in an 8-2 loss to the Tigers.
Miller put together a seven-game hitting streak — going 10-for-25 — in mid-September. He punctuated the streak with his first major-league grand slam, off Milwaukee Brewers' starter Jeff D'Amico in a 5-2 victory in Minneapolis. In 25 games for the Twins in 1997, he hit .273 (18-for-66) with 2 home runs and 13 RBIs.
After the season, Miller was not among the 15 players protected by the Twins in the expansion draft to stock the rosters of the Tampa Bay Devil Rays and Arizona Diamondbacks. On draft day, November 18, he was taken by the Diamondbacks in the second round of the draft. Miller got an extended look in Arizona's first spring training.
The Arizona Republic's daily training camp log reported, "Damian Miller has been battling Kelly Stinnett for the No. 2 catching job behind Jorge Fabregas. Miller has struggled a bit hitting .174 with one home run and two RBIs while Stinnett has had a solid spring. But Manager Buck Showalter, not wanting to miss out on a chance to keep Miller on the squad because of his power as a right-handed hitter, has expanded Miller's horizons instead of limiting them. While some of the Diamondbacks traveled to Phoenix for a game against Oakland on Friday night, Miller stayed behind and took a bucketful of grounders at first base."3
The Diamondbacks decided to open their inaugural season with Fabregas and Stinnett, so Miller was optioned to Triple-A Tucson. He got off to a good start, hitting .349 with 11 RBIs in 18 games. He was recalled on May 6 and made his National League debut that night at New York's Shea Stadium in the Diamondbacks' 8-2 loss to the Mets. Miller entered the game in the ninth inning as a pinch-hitter for Brent Brede, who had also been selected from the Twins in the expansion draft. Facing Mets closer John Franco, Miller reached base on an error by second baseman Carlos Baerga.
Miller made his first start for the Diamondbacks on May 24 at home against the Los Angeles Dodgers, going 2-for-3 in Arizona's 8-5 victory.
Another highlight of the season for Miller was his first major-league appearances in his home state of Wisconsin. On July 31 he went 1-for-4 in the Diamondbacks' 8-2 victory over the Brewers in Milwaukee. Two days later, he went 3-for-3 with a solo home run in a 7-2 loss to the Brewers. For the season, he hit a team-leading .286 in 57 games with 3 home runs and 14 RBIs.
After hitting .264 in 53 at-bats in spring training in 1999, Miller began the season on an Opening Day roster for the first time. He and Stinnett split the catching duties for the Diamondbacks that season. Miller batted .270 with 11 home runs and 47 RBIs in 86 games. He missed the final two weeks of the regular season and the playoffs after a suffering a hairline fracture near his right thumb while blocking a pitch in the dirt in a game against the Rockies in Denver on September 21. Before he left the game in the ninth inning, he had homered twice — his first multiple-home-run game.
Miller participated in a defensive rarity in the Diamondbacks' 4-0 victory over visiting San Diego on May 25. He teamed with pitcher Randy Johnson for three strikeout/throw-out double plays. It was the first time a catcher had participated in three double plays of that nature since Shanty Hogan of the New York Giants in 1931.
The Diamondbacks went into the 2000 season with Miller and Stinnett again sharing the catching duties. On April 4 Miller made the first Opening Day start of his career and celebrated by hitting a three-run home run in his first at-bat in the Diamondbacks' 6-4 victory over the visiting Philadelphia Phillies.
On May 9 Miller hit a solo home run and a walk-off grand slam off Orel Hershiser in the 12th inning of Arizona's 11-7 victory over the Los Angeles Dodgers. The five RBIs were a career high. On August 16 he went 4-for-4 and drove in two runs in Arizona's 5-1 victory over the Phillies in Philadelphia, the first four-hit game of his career.
For the second time in as many years, Miller's season came to end prematurely with an injury on September 21. He suffered a sprained right foot in the sixth inning of Arizona's 8-7 loss to the Giants in San Francisco. Miller had doubled in his final at-bat. For the season, Miller appeared in 100 games and batted .275 with 10 home runs and 44 RBIs.
Miller became the regular catcher for the Diamondbacks in 2001, playing in a career-high 123 games (111 starts). He got off to a slow start offensively. On May 29 he was hitting just .218. Over his next 48 appearances, between May 30 and August 11, he batted .335 with 12 doubles, 8 home runs, and 25 RBIs. In a six-game stretch in late July, he went 13-for-22 and had the second four-hit game of his career. Even though he was hampered late in the season by a strained right shoulder, he finished the regular season with a .271 batting average, a career-high 13 home runs, and 47 RBIs.
With 92 victories, the Diamondbacks earned their second National League West Division title. In the Division Series against St. Louis, Miller went 4-for-15 in the Diamondbacks' series victory in five games. In their conquest of Atlanta in five games in the National League Championship Series, he went 3-for-17. In the World Series against the New York Yankees, he went 4-for-21 with two doubles and two RBIs. In Game Seven the Diamondbacks went into the bottom of the ninth trailing 2-1 with Mariano Rivera on the mound for the Yankees. Mark Grace led off the inning with a single, bringing Miller to the plate. Miller bunted and Rivera threw wildly to second base trying to get pinch-runner David Dellucci at second. The Diamondbacks went on to score two runs to win the game, 3-2, and the World Series.
A controversy involving Miller developed after the Series. Miller, who had been a replacement player during spring training in 1995, was not a member of the Major League Baseball Players Association. Some of his teammates wanted Miller to be included in the royalties from World Series souvenirs. But they were voted down. Miller's name does not appear on any official commemorative merchandise from the 2001 World Series.
Miller started the 2002 season strong. After going hitless on Opening Day, he went 21-for-69 with 22 RBIs in his next 20 contests. His 22 RBIs in April were a monthly high for his career. During that stretch he had three four-RBI games and twice he was part of three consecutive home runs by the Diamondbacks — Steve Finley, Miller, and Grace on April 28, and Danny Bautista, Finley, and Miller on May 3. On June 30, batting .285, he was named to the National League All-Star team as a reserve. In the All-Star Game, on July 9, at Milwaukee, he went 2-for-3 with two doubles and an RBI in the 11-inning, 7-7 tie.
After the All-Star break Miller was limited by a lower back strain and from July 24 to August 14 he was on the disabled list for the first time in his career. After playing in 71 of Arizona's 87 games before the All-Star Game, he started just 24 times in the second half. Four days after coming off the disabled list, Miller hit his first inside-the-park home run in a 3-2 loss to the Chicago Cubs at Wrigley Field.
The Diamondbacks earned their second consecutive division title with 98 victories, but they were swept in the Division Series by the St. Louis Cardinals. Miller was 1-for-2 against the Cardinals.
For the season, he batted .249 with 22 doubles, 11 homers, and 42 RBIs in 101 games. Defensively, he was the top catcher in the National League with a .997 fielding percentage, throwing out 38 percent of would-be basestealers. He did not make an error until August 31, and made only two all year.
Miller, who was paid $2.7 million in 2002, went into the offseason eligible for arbitration for the first time. On November 13, the Diamondbacks traded him to the Chicago Cubs for two minor leaguers, outfielder Gary Johnson and pitcher David Noyce.
The Cubs acquired Miller to be their regular catcher in 2003 and he played in 114 games. He hit a career low .233 with 9 home runs and 36 RBIs for the National League Central champion Cubs. In the postseason for the third consecutive year, Miller went 1-for-11 in the Cubs' 3-2 series victory over Atlanta in the National League Division Series and then went 2-for-10 in their loss to Florida in the Championship Series.
In December the Cubs traded Miller to the Oakland Athletics. It was reported that he was sent to the Athletics as a player to be named when the Cubs acquired catcher Michael Barrett. But it was technically a separate deal as the Cubs agreed to pay $800,000 of Miller's $3 million salary and the teams agreed to exchange minor leaguers before the 2004 season opener.
Miller rebounded to hit .272 in 2004 and reached career highs with 58 RBIs, 397 at-bats, 108 hits, and 25 doubles while matching his career high with 39 walks. He hit five of his nine home runs and had 25 of his 58 RBIs in a 20-game stretch from June 6 to July 3. Between June 6 and June 11, he had five consecutive multiple-RBI games, driving in 16 runs total. In 19 games in June, he had 20 RBIs — the second-best month of his career. Between June 25 and July 8, Miller put together a career-high 10-game hitting streak (17-for-40).
Miller set an Oakland team record with a .999 fielding percentage with just one error. He began the season with 96 consecutive errorless games before committing his only error of the season on September 11. The error was his first since July 18, 2003, and ended a streak of 139 consecutive errorless games and 1,012 total chances without an error. That was the sixth-longest streak of consecutive errorless chances by a catcher in major-league history.
After the 2004 season, Miller became a free agent. On November 23, he and the Milwaukee Brewers reached agreement on a three-year contract worth a reported $8.75 million. The deal was held up briefly until team medical personnel could evaluate an MRI of Miller's right shoulder.
"Over the last three years, Damian has dealt with some great pitching staffs with the Cubs, Diamondbacks and Athletics and he's been in pennant races with all of them," Brewers' general manager Doug Melvin said. "This no doubt will bring a lot to this ballclub. Plus, we've scuffled for two years at the bottom of the lineup. We're hoping he can help out there too."4
Miller and Chad Moeller split the catching duties for the Brewers in 2005. Miller appeared in 114 games and ranked third among National League catchers with a .996 fielding percentage. He batted .273 with 25 doubles, 9 home runs and 43 RBIs. In 2006, Miller played in 101 games and batted .251 with a career-high 28 doubles, 6 home runs, and 38 RBIs. In the Brewers' 11-0 victory over the visiting Cincinnati Reds on April 22, he tied his career highs with four hits and five RBIs. He was one of five Brewers to hit a home run in their seven-run fourth inning. It was the fifth time in major-league history that a team hit five home runs in an inning. At the All-Star break, Miller was hitting .273 with 5 home runs and 28 RBIs. He batted just .207 after the break.
In 2007 Miller played in just 58 games, his fewest since 1998, and batted just .237 with 4 home runs and 24 RBIs. Despite his weakness at the plate, Miller had two offensive highlights. On June 27 against the Houston Astros on "La Crosse Day," Miller hit a walk-off, three-run home run in the 11th inning to give the Brewers a 6-3 victory. (It was the second walk-off home run of his career.) In his next start, on July 2, he enjoyed the best game of his career, going 4-for-5 with two home runs, including his sixth career grand slam, and driving in a career-high seven runs.
After the season, Miller filed for free agency but went unsigned. Early in the 2008 season, he drew interest from the New York Yankees after Jorge Posada was hurt and the San Diego Padres after Barrett was hurt. But Miller declined. "If I came back now, it would be only for the money and, if you play baseball, that's not why you should do it," Miller said on May 5 at a meeting of the Wisconsin State Associated Press sports editors. Miller told the group there was only one team that could convince him to play — the Brewers.5
In his 11-year major-league career, Miller batted .262 with 87 home runs and 406 RBIs in 989 games. He summed up his career by saying, "The most important thing for me was being a good teammate. Do the little things right, be respectful to your teammates, to the other team and the game."6
After retiring, Miller returned to his hometown, La Crosse, where he helped coach youth baseball teams, including West Salem's 16-and-under Legion team and the Coulee Christian High School team. After five seasons as an assistant at Coulee Christian, Miller took over as the head coach in 2017. As of 2018 he also coached basketball at the school.
Miller and his wife, Jeanne, have known each other since first grade. They started dating as high-school juniors and married shortly after graduating from high school. They have two children.
Miller was named to the Viterbo University Wall of Fame in 2001 and the La Crosse Area Baseball Hall of Fame in 2018.
Last revised: December 1, 2018
This biography appeared in "Time for Expansion Baseball" (SABR, 2018), edited by Maxwell Kates and Bill Nowlin.
Sources
In addition to the sources cited in the Notes, the author also consulted Baseball-Reference.com, viterboathletics.com, Mlb.com, newspapers.com, and Retrosheet.org.
Notes
1 Pedro Gomez: "Struggles Make Miller's All-Star Game Even Sweeter," Arizona Republic (Phoenix), July 8, 2002: C8.
2 Patrick Reusse, "Kelly: Twins Lack Makeup for Move to National League," Minneapolis Star Tribune, August 11, 1997: C7.
3 "Camp Log," Arizona Republic, March 22, 1998: C16.
4 Associated Press: "Brewers Finalize Deal with Miller," Eau Claire (Wisconsin) Leader-Telegram, November 30, 2004: 2D.
5 Brad Zimanek, "Miller Retired, Unless Brewers Call," Appleton-Fox Cities (Wisconsin) Post Crescent, May 6, 2008: D2.
6 Colten Bartholomew, "Miller Focused on Youth Coaching After MLB Career," La Crosse Tribune, March 15, 2016.
Born
October 13, 1969 at La Crosse, WI (USA)
If you can help us improve this player's biography, contact us.
https://sabr.org/sites/default/files/MillerDamian.JPG
600
800
admin
/wp-content/uploads/2020/02/sabr_logo.png
admin
2012-01-04 20:25:02
2023-01-09 02:49:16
Damian Miller