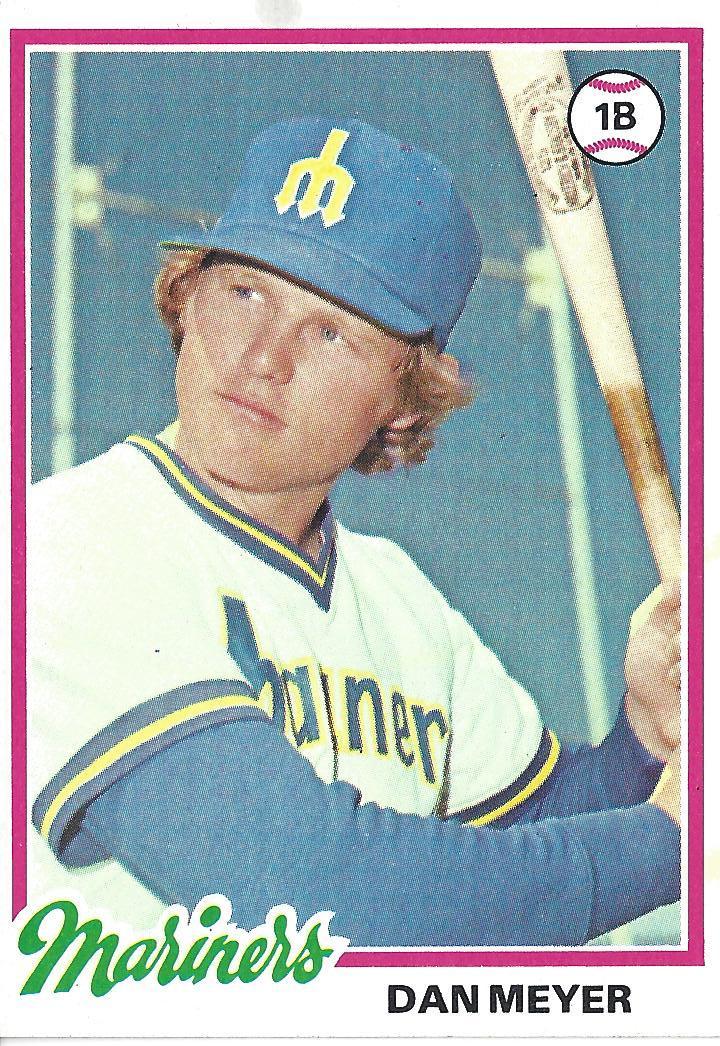 ---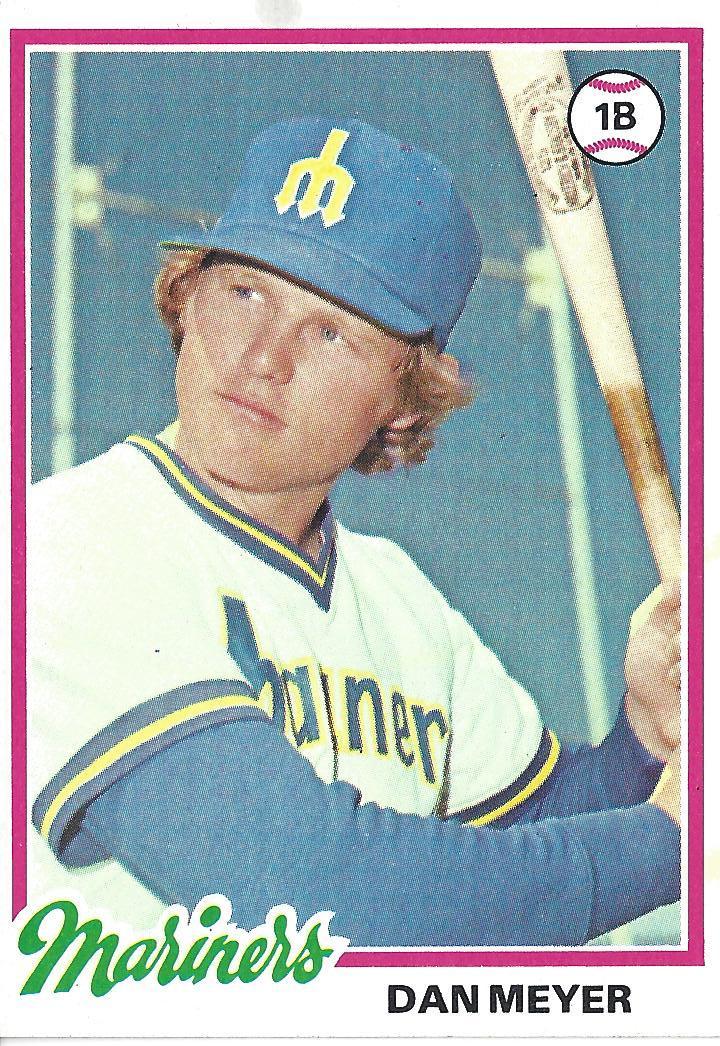 Life isn't always a fastball down the middle. Sometimes it is unpredictable, with all the ups and downs and erratic sharp curves of a Wiffle Ball thrown into a still breeze. An original Seattle Mariner, Danny Meyer experienced the full gamut of life's changes both on and off the field. Through it all, Meyer adjusted, even if it meant traveling a different road than the one he imagined.
Daniel Thomas Meyer was born on August 3, 1952, in Hamilton, Ohio, a suburb of Cincinnati. He was the only child of Thomas and Judy (Nichting) Meyer.1 Tom was a US Navy officer and later worked as an electrical engineer with Beckman Instruments in Fullerton, California. Judy was a stay-at-home mother while Dan was growing up. Like many military families, the Meyers moved frequently when Dan was very young. The family spent time in Florida, Tennessee, and San Diego before settling in Santa Ana, California, after Thomas left the Navy.
Meyer credited his father with getting him interested in baseball and having a profound impact on his hitting. From an early age the senior Meyer would come home from work and take his son out to hit. "My dad wasn't the type of guy who came home from work and read the paper with a martini. He would take me out to hit," he said. When they didn't have time to go to the park to hit, Meyer's father would throw Wiffle Balls to him on the sun-soaked driveway swept by the warm Santa Ana winds. "When you can learn to hit a Wiffle Ball fluttering in the wind, you can hit anything," Meyer said. Dan demonstrated an uncanny ability to hit the ball at an early age and went on to star in the Sunset Little League in Santa Ana.
Meyer attended Mater Dei High School in Santa Ana, where he was a standout third baseman. He graduated in 1970 and was inducted into the school's athletic hall of fame that same year.2 Tom was adamant that his son would attend college. Despite his desire to stay close to home to be near his girlfriend, Meyer accepted a baseball scholarship at the University of Arizona, where he majored in business. According to Meyer, it was a bit of an "ill-fated arrangement."3 He wasn't very interested in business and he became disillusioned when he was put on the freshman team in the spring of 1971 and decided to go home.
Meyer announced the decision to his father when the latter came to pick him up at the end of the spring semester. Meyer remembered that his father was none too happy about the decision and he described the drive home as the "least pleasant 7-hour experience of my life."4
Roger Wilson, the Santa Ana College baseball coach, invited Meyer to play on a summer-league team. After the season, Wilson persuaded Meyer to enroll at Santa Ana and in 1972 he was the Dons' starting second baseman. Meyer had a solid year and attracted the attention of California Angels and Los Angeles Dodgers scouts, as well as other teams.
The right-handed-throwing, left-handed-hitting Meyer was selected in the fourth round of the June 1972 amateur draft by the Detroit Tigers. He was signed by Tigers scouts John Deutsch and John Hockenberry for $12,500, with the standard $7,500 progression bonuses he would receive as he was promoted through the system.5 After signing, he was assigned to the Bristol (Virginia) Tigers of the Appalachian League. That year, he enjoyed the best offensive season of his professional career.
Meyer played in 65 games for the rookie-league Tigers. Defensively he appeared in 49 games at third base and 13 at second. He was hitting over .400 late in the season and flirted with the league record of .410 established by Tony Oliva in 1961, finally capturing the circuit's batting title with a .396 mark.6 The effort earned Meyer the 1972 Silver Bat Award, given to the player with the highest batting average in Organized Baseball.7 He led Tigers in hits (93), home runs (14), RBIs (46), and stolen bases (13). Meyer was named the Topps George M. Trautman Player of the Year for the Appalachian League.8
Meyer's success was somewhat unexpected. In fact, he was nearly finished before the season started. "I struggled during the second spring training and about got released," he said.9 He wasn't in the starting lineup on Opening Day and was inserted at third base in the second game of a doubleheader due to a rainout. He collected three hits that game and was a mainstay in the Tigers lineup for the rest of the season. Reflecting back on the season, Meyer remembered Hoot Evers, the Tigers' director of player development, apologizing to him late in the season for almost releasing him. Evers was a mentor of Meyer's throughout his time in the Tigers organization.
Tigers executives had trouble believing the .396 and sent Meyer to Dunedin, Florida, to see if he could handle advanced pitching in the Florida Instructional League.10 Meyer had little difficulty with the league's pitchers: He captured his second batting title of the year with a .409 average.11 His Instructional League season ended prematurely when he suffered a sprained ankle in November. Collectively he finished the year 131-for-328 for a combined .3993 average.
After the Instructional League season, Meyer returned to Southern California and on November 25, 1972, married Eugenia Maria Formolo, the high-school sweetheart he reluctantly left behind two years earlier to attend the University of Arizona.12
There was a great deal of buzz about Meyer after his unexpected success. His seeming out of nowhere success resulted in his being dubbed a "novice of promise" by one national magazine.13 The Tigers assigned him to the minor-league camp at Tigertown to start spring training in 1973. General manager Jim Campbell attempted to quell speculation that Meyer would be rushed up to the majors, saying, "We won't let him get too excited. But everyone says he is some kind of hitter. First base might be his best position, although he plays second and third base as well."14
After spring training Meyer was assigned to the Lakeland Tigers of the Class-A Florida State League. He played in 133 games, all at second base, and hit .241 with 10 home runs and a team-leading 59 RBIs. Meyer had a simple explanation for the drop in average: "I was a dead pull hitter at the time and by my second year they had figured and started to defend me with a slight shift."15 After the season, Meyer returned to the Instructional League and bounced back with a .330 average.16
The 5-foot-11-inch, 180-pound Meyer started the 1974 season with the Evansville Triplets of the Triple-A American Association. He played first, third, and some outfield during a bounceback year at the plate. He finished the season with a .302 average, 9 home runs, and 57 RBIs, and was rewarded with a September call-up to the Tigers.
Meyer made his major-league debut on September 14, 1974, in a game against the New York Yankees at Tiger Stadium. It was the Game of the Week, televised nationally on NBC. Meyer entered the game in the bottom of the eighth inning as a pinch-hitter for third baseman Aurelio Rodriguez. With a runner on first and one down, he grounded into a fielder's choice against Dick Tidrow.
Meyer made his first start for the Tigers on September 20 and collected his first major-league hit when he singled off Brewers right-hander Bill Champion in the top of the first at Milwaukee's County Stadium. Two innings later he hit his first major-league home run, a one-out, bases-empty line drive to right-center off Champion. He hit another home run, also a solo shot to right-center, in the bottom of the seventh inning off left-hander Bill Travers. The Tigers left fielder finished the day 3-for-5 with two runs scored and two RBIs. In 13 games with the Tigers that fall, Meyer batted .200 average, three home runs, and seven RBIs.
Three years removed from their 1972 AL East Division championship, the Tigers were faced with the need to begin rebuilding an aging roster. Meyer was a key piece, if not the centerpiece, of this youth movement.17 The Sporting News hailed the young outfielder as "the best pure hitter the Tigers have had since Al Kaline joined Detroit fresh out of high school in 1953."18
The Tigers broke spring training in 1975 with Meyer as the everyday left fielder. He played the position in 73 of the Tigers' first 82 games and was hitting .267 with 5 home runs and 31 RBIs before being sidelined with a fractured foot, suffered while he scaled the left-field wall of Tiger Stadium in an attempt to catch a drive off the bat of the White Sox' Bill Stein. When he returned to the lineup after a nearly four-week absence, the Tigers were in the midst of a 10-game losing streak.
The return of Meyer, who was moved to first base, did little to bring the Tigers out of their funk: They went on to lose nine more games and establish a team-record 19-game losing streak. Reflecting on the team's slide, Meyer said, "For us it wasn't any big thing. Sure, we wanted to win. But we didn't sit around each day wondering how many we had lost. We'd just go out and play. It's the press that worried about numbers."19 He hit only .191 the remainder of the season and finished at .236 with 8 home runs and 47 RBIs, as the Tigers wound up in last place in the AL East with a dismal 57-102 record.
Despite his injury-plagued tail-off at the end of the season, Meyer was the toughest player in the American League to strike out in 1975. He led the league with 18.8 at-bats per strikeout. Throughout his career, Meyer had a reputation as a tough strikeout and was known for his ability to make contact. He ranks high on the all-time list with 13.48 at-bats per strikeout, much better than a host of Hall of Famers.
After the season, the Meyers welcomed the birth of a son.20 (The couple had no other children and divorced in 1978.)
Meyer began the 1976 season as the Tigers' starting first baseman. He struggled during the first few weeks of the season, and the Tigers called up first baseman Jason Thompson from Evansville.21 Meyer spent the rest of the season in a part-time role, backing up Alex Johnson in left field and Thompson at first, and pinch-hitting. In 105 games he hit .252 with 2 home runs and 16 RBIs.
Despite the reduced playing time and the Tigers growing stable of young left-handed sluggers, including University of Southern California superstar Steve Kemp, whom they selected with the first overall pick of the 1976 draft, Meyer was assured by manager Ralph Houk that he would be back with the Tigers the next year. "Ralph told me, 'Don't worry. You're one of our guys,'" Meyer said.22
While he was not among the 15 players the Tigers were able to protect in the November 1976 expansion draft, the Tigers were confident that one of the expansion teams, the Seattle Mariners and Toronto Blue Jays, would select 21-year-old right-handed pitcher Frank MacCormack, allowing the Tigers to protect Meyer after the first round. The draft did not play out that way. The Mariners selected Meyer with the ninth overall pick in the first round. (Seattle also grabbed MacCormack, with the 16th overall pick.)
Given what he had been told, Meyer had moved his family to Ypsilanti, Michigan, outside Detroit, and found an offseason job. He was surprised when he learned he was no longer a Tiger. He heard the news while listening to the radio on the drive home from playing racquetball with Tigers teammates Chuck Scrivener and Vern Ruhle. Meyer epitomized the Mariners' drafting strategy, which produced a first-year team with the ability to hit home runs with some frequency but was short on pitching.
Meyer was hitless in eight at-bats during the Mariners' first two games, a pair of shutouts tossed by Angels Frank Tanana and Nolan Ryan.23 After 21 scoreless innings, Meyer recorded the franchise's first RBI on April 8 with a fourth-inning double off Angels starter Gary Ross that drove in Dave Collins. The Mariners won the seesaw affair in dramatic fashion by scoring two runs in the ninth inning for a 7-6 walk-off victory at the Kingdome, the team's first regular-season victory.
On May 3, in a 10-8 Mariners victory over the Boston Red Sox at Fenway Park, Meyer had the rare distinction of reaching first base on catcher's interference twice in one game when Carlton Fisk's mitt made contact with his bat in the fifth and ninth innings. The next day Fisk claimed that Meyer had intentionally hit his glove, to which Meyer responded, "I'm hitting .179. I couldn't hit it twice if I was trying."24 Meyer was just the third player and as of 2018 was one of only six to have reached on catcher's interference twice in the same game. 25
Meyer played in a career-high 159 games in 1977 and proved to be a major contributor during the Mariners' inaugural season. The team's everyday first baseman, he batted .273 with career highs in runs scored (75), home runs (24), RBIs (90), and stolen bases (11). His 90 RBIs tied for the team lead with left fielder Leroy Stanton. Though he was only 25 years old when the season ended, the 1977 season was the best of Meyer's career.
Meyer got off to a slow start in 1978. He was hitting .179 with 4 home runs and 15 RBIs when he went on the disabled list with an abdominal strain suffered during batting practice in Cleveland in early May. The injury periodically resurfaced and hampered Meyer throughout his career. After his return, he hit only .245 the rest of the season. Meyer summed up his frustrations in mid-August when he commented, "Every time I'm at the plate it seems there are 40 fielders out there to keep me from getting a hit."26 In 123 games, he batted .227 with 8 home runs, 56 RBIs, and 7 stolen bases.
After the 1978 season, Meyer married Laura Hilger. The couple had three children and divorced in 1989.
Meyer started the 1979 season in left field before settling in at third base when Bruce Bochte was moved from the outfield to first base. Despite struggling defensively at third, Meyer enjoyed a solid season at the plate. From June 9 to 30, he had a career-high 21-game hitting streak in which he hit .412 with 7 home runs and 16 RBIs. He captured AL Player-of-the-Month honors in June with a .369 average, 9 home runs, and 23 RBIs. Meyer's average remained over .300 until he slumped at the end of the season. He hit .209 during the last seven weeks of the season and finished with a .278 average, 72 runs scored, 20 home runs, and 74 RBIs in 144 games.
Meyer was a fan favorite in the early years of the Mariners franchise. He was captain of the Pepsi Jr. Mariners Fan Club and was actively involved in United Way charities in the Greater Seattle area. Along the way, he acquired the nickname Disco Danny for his unique mannerisms during his routine to prepare to hit. The moniker was used in a 1980 promotional piece for the Mariners in which coaches, teammates, and fans mimicked Meyer's neck-loosening movements and upper-body gyrations.27
Back in left field, Meyer got off to one of the best starts of his career in 1980. He hit safely in the first 10 games and finished April with a .324 average and 11 RBIs. While his power numbers were down, he was hitting .306 with 34 RBIs at the All-Star break. After the break, his average dropped to .242 with 8 home runs and 37 RBIs. He finished the season with a .275 average, 11 home runs, and 71 RBIs.
The strike-shortened season of 1981 was Meyer's last with the Mariners. He started the season on the disabled list after tearing an abdominal muscle during spring training and missed the team's first 11 games. He returned to pinch-hitting duty in late April before getting back into the lineup in left field and eventually migrating back to third base. The injury, coupled with the strike, limited Meyer to 83 games. He finished the year with a .262 average, 3 home runs, and 22 RBIs.
After the season Meyer's five-year tenure with the Mariners ended when he was traded to the Oakland Athletics for 21-year-old right-handed pitching prospect Rich Bordi. Years later he reflected on his years with the Mariners. Meyer described the first year as hopeful, but said malaise that would affect the franchise for years quickly set in. "It got to the point where you just knew you were going to end up in the cellar or close to it, because we hadn't done anything to make ourselves better," Meyer said.28 The Mariners were 290-465 (.384) during Meyer's five years with the club.
Meyer attributed some of his late-season slumps to the revolving-door nature of expansion team rosters and the annual late-summer realization that the team would finish at or near the bottom of the standings. "It was tough to stay up mentally," he said.29
The A's acquired Meyer in the hope he would be a left-handed power hitter off the bench, a void manager Billy Martin thought the A's needed to fill if they were to improve on the team's AL Championship Series appearance the year before. While Meyer joined the A's logjam of position players in left field and at first base, A's President Roy Eisenhardt was confident that the acquisition strengthened the bench. "We felt we really needed bench strength. We got that with Meyer and Joe Rudi," he said.30 The A's had signed Rudi as a free agent. For his part, Meyer was excited to be joining a contending team, or at least he thought so.
The A's emerged from spring training in 1982 with Meyer as their primary left-handed designated hitter. By early July, he returned to the infield and played first base. In 120 games, he batted .240 with 8 home runs and 59 RBIs.
The A's finished 1982 with a disappointing 68-94 record and a fifth-place finish in the AL West. Still, Meyer said the season was enjoyable in one respect. Acknowledging that Billy Martin had a tendency to self-destruct, Meyer said he had a great baseball mind. "It was very interesting watching Billy operate that year," he said.31
Meyer played a part-time role for the A's in 1983. In May and early June, he filled in for Wayne Gross, who had moved from first base to third when Carney Lansford went on the disabled list. Meyer endured a 0-for-37 stretch while Lansford was out. In a self-deprecating moment during the swoon, Meyer told teammates, "It's all Carney Lansford's fault. If he had been playing, I never would have been out there."32 He finished the year with a .189 average, one home run, and 13 RBIs.
When the A's broke camp in 1984, Meyer was the odd man out and was assigned to the Tacoma Tigers of the Triple-A Pacific Coast League. He played in 124 games, at first base, third base, and a few games in the outfield. He finished the season with a .293 average, 7 home runs, and 57 RBIs before being called up to the A's in September. In 20 games with A's, 18 as a pinch-hitter, he hit .318 with 4 RBIs.
Meyer started the 1985 season with A's in a pinch-hitting role. In 14 games he went 0-for-12 before being released on May 26. That brought an end to his 12-year major-league career. In 1,118 games he batted .253 with 86 home runs and 459 RBIs. Defensively, he never found a permanent spot on the field. He played 469 games at first base, 314 in left, and 157 at third base.
Not quite ready to call it a career, Meyer signed a minor-league contract with the Tigers' American Association affiliate Nashville Sounds. Tigers general manager Bill Lajoie wanted Meyer to go to Nashville to get his swing back before calling him up to DH and pinch-hit for the defending World Series Champions. Meyer suffered another abdominal injury when he volunteered to throw batting practice and a liner off the bat of Dwight Lowry found its way through a hole in the protective screen and into Meyer's rib cage. The injury caused Meyer to miss three weeks and hampered his ability to find his stroke. In 51 games with the Sounds, he hit .225 with one home run and 13 RBIs.
The Tigers released Meyer during spring training of 1986. Meyer, who always believed he had the skills and the temperament to be a coach or manager, turned down a coaching position with the Tigers.33 Still only 33 years old, he believed he could make it back to the majors as a role player. With no offers from major-league clubs, Meyer signed with the Mexico City Reds and spent 2½ months of the 1986 season playing in the Mexican League. When he returned to Northern California he purchased and operated the Dog House Restaurant in San Ramon, California.
Former A's teammate Steve McCatty, who was attempting a comeback and playing for the Class-A San Jose Giants, enticed Meyer to come back for a few games in 1987. He played three games with the Giants and went 3-for-12 with one RBI.
Meyer later worked for AT&T as an account representative in Pleasanton, California. When AT&T closed its facility in Pleasanton, he was offered a position with the company in Utah. Rather than uproot his family, Meyer decided to stay in California.
The Meyers divorced in 1989 and sold their restaurant. Meyer was granted custody of the couple's three children and became a single father. He took a series of graveyard-hour jobs that allowed his family to stay in California and be available during the day to coach Little League and be an active in his children's other activities.
Meyer also worked as a private hitting coach for Wellman Sports, a baseball training facility in San Ramon, California. He married Linda Peters in 2013 and as of early 2018 the couple resided in a retirement community in Rio Vista, California. The Meyers enjoyed playing tennis and pickle ball, a hybrid of tennis, badminton, and table tennis played with a plastic ball, similar to a Wiffle Ball, still proving that if you can hit a Wiffle Ball fluttering in the wind, you can hit anything.
Last revised: December 1, 2018
This biography appeared in "Time for Expansion Baseball" (SABR, 2018), edited by Maxwell Kates and Bill Nowlin.
Sources
In addition to the sources cited in the Notes, the author also relied on Baseball-reference.com and Retrosheet.org.
Notes
1 Dan Meyer, personal communication, March 9, 2018.
2 "Hall of Fame," https://materdeiathletics.org/apps/pages/index.jsp?uREC_ID=452859&type=d&pREC_ID=1045476.
3 Dan Meyer, personal communication.
4 Dan Meyer, personal communication, March 14, 2018.
5 Dan Meyer, personal communication, March 9, 2018.
6 "Topps Player of the Month: Appalachian League," The Sporting News, September 23, 1972: 5.
7 Detroit Tigers 1975 Media Guide, 41.
8 "Meet the Winners of the Topps George M. Trautman Minor League Player-of-the-Year Awards," The Sporting News, December 9, 1972: 39.
9 Dan Meyer, personal communication, March 9, 2018.
10 William Leggett, "The Phenoms That Bloom in the Fall," Sports Illustrated, December 4, 1972: 70.
11 "FIL Frontrunners," The Sporting News, November 18, 1972: 55.
12 "California Marriage Index, 1960-1985," database, FamilySearch (familysearch.org/ark:/61903/1:1:V6JJ-4Z6: 27 November 2014), Daniel T Meyer and Eugenia M Formolo, 25 Nov 1972; from "California, Marriage Index, 1960-1985," database and images, Ancestry (ancestry.com : 2007); citing Orange, California, Center of Health Statistics, California Department of Health Services, Sacramento.
13 Tigers 1975 Baseball Yearbook, 41.
14 Watson Spoelstra, "Campbell Facing Pay Assault by Tiger Players," The Sporting News, January 13, 1973: 45.
15 Dan Meyer, personal communication, March 9, 2018.
16 Detroit Tigers 1975 Media Guide.
17 Dan Holmes, "Willie Horton," SABR BioProject, https://sabr.org/bioproj/person/e320ca42.
18 "A.L. Flashes," The Sporting News, June 14, 1975: 22.
19 Art Spander, "Tigers Victims of Numbers Game," The Sporting News, September 6, 1975: 25.
20 Detroit Tigers 1976 Media Guide, 47.
21 Dan Holmes, "40 Years Ago: Thompson Was the 'Other' Tiger Rookie in 1976," Detroit Athletic Co., February 3, 2016. https://detroitathletic.com/blog/2016/02/03/40-years-ago-thompson-was-the-other-tiger-rookie-in-1976/.
22 Dan Meyer, personal correspondence, March 9, 2018.
23 Bob Dutton, "Mariners Notebook: Altavilla Provides Bullpen with Another Benoit Dividend," Tacoma (Washington) News Tribune, April 7, 2017. https://thenewstribune.com/sports/mlb/seattle-mariners/mariners-insider-blog/article143457834.html.
24 Dan Meyer, personal communication, March 14, 2018. He was actually hitting .233 at the time.
25 Pat Corrales is the only player to have reached base on catcher's interference twice in the same game more than once. He did it twice in 1965.
26 Hy Zimmerman, "Mariners," The Sporting News, August 19, 1978: 16.
27 "1980 — Disco Danny," youtube.com/watch?v=1Kfst1oBrWI.
28 Dick Rockne, "Memories — 20 Years of Mariners — Meyer's Life Revolves Around His Children," Seattle Times, April 13, 1997. https://community.seattletimes.nwsource.com/archive/?date=19970413&slug=2533738.
29 Dan Meyer, personal communication, March 9, 2018.
30 Kit Stier, "Meyer Provides A's With Lefty Power," The Sporting News, January 2, 1983: 43.
31 Dan Meyer, personal communication, March 9, 2018.
32 Stan Isle, "Caught on the Fly," The Sporting News, July 4, 1983: 14.
33 Dick Rockne.
Born
August 3, 1952 at Hamilton, OH (USA)
If you can help us improve this player's biography, contact us.
https://sabr.org/sites/default/files/MeyerDanny.jpg
600
800
admin
/wp-content/uploads/2020/02/sabr_logo.png
admin
2012-01-04 20:42:28
2012-01-04 20:42:28
Dan Meyer