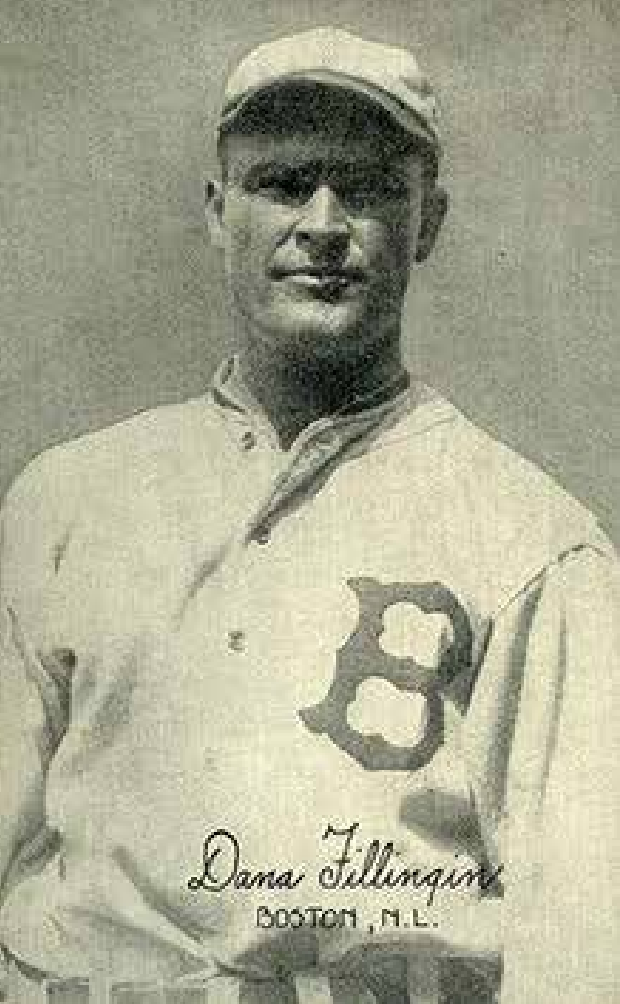 ---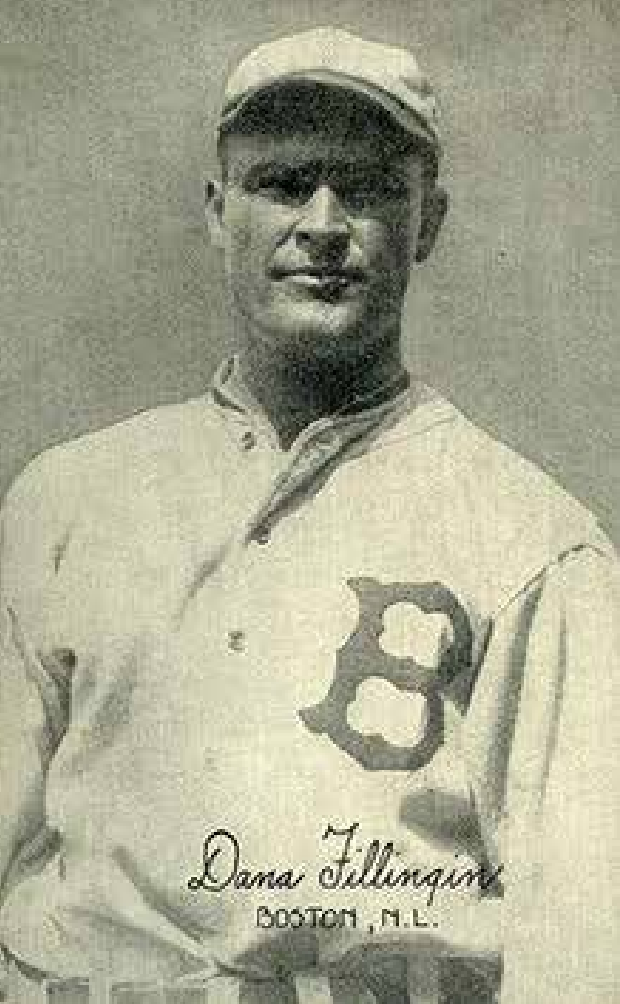 Dana Fillingim used the wet pitch to his advantage from 1912 to 1928, as one of the last legal spitballers in the majors. His 47-73 overall record in the majors was as deceptive to the passing eye as the spitball was to an opposing batter. The right-hander won 20 games twice in the minors and once lost 20 games in the majors. He also won a 19-inning major-league game. He was a good pitcher on some bad teams. He used every advantage he could to get the win.
Dana Fillingim was born into Scotch-Irish and English ancestry on November 6, 1893, in Columbus, Georgia, the son of Alabama natives Henry and Terah (Fort) Fillingim.1 He was the third of four brothers, the others being Henry (1881), Roscoe (1888), and Leon (1899).2 He attended the Gordon Institute in Barnesville, Georgia, for four years.
Fillingim is said to have learned the spitball either at the Gordon Institute3 or in working with Chicago White Sox hurler Ed Walsh.4
According to major-league umpire Bill Finneran, "seldom has a finger heaved such an effective spitter."5
According to his wife, Ava, her husband never had much of a curveball, and "the spitball acts like it's been rolled off the end of a table." When throwing the spitter overhand, his would break straight down. From a side-arm delivery, his spitter would break to either side.6
Dodger spitballer Bill Doak explained the pitch this way in 1961: "The spitter spun forward toward the plate. The fastball spins backward toward the mound. A liberal application of saliva on a spot about the size of a half-dollar formed the "launching pad." The two middle fingers rested on this spot. The thumb and outside fingers gripped the dry portion. The throw was the same motion as the fastball, but because of the wet surface, the ball left the two middle fingers first instead of last, giving it the down break."7
To further deceive batters, Fillingim pitched with a hesitation delivery, something copied by left-hander Johnny Cooney. "Fillingim slipped as he was about to deliver the ball. Fillingim recovered his equilibrium, got the ball across the plate and (Johnny) Cooney noticed that the batter was off-balance."8
Fillingim's "football knee," which slipped out of place when extended, would also cause concern for some teams to sign him.9 It would eventually end his career, but not until 1928.
The spitball did have its disadvantages, discovered by basestealer Max Carey. Fillingim could not hold runners on, as the spitball was even harder for the first baseman to handle.10
Fillingim began his professional career in Albany, Georgia, in 1912, pitching in two games in the South Atlantic League.11 He turned to the Empire State League and Cordele, Georgia, in 1913 for whom he went 15-10. On July 23, 1913, he pitched the front end of back-to-back no-hitters – Fillingim for nine innings followed by Cleo "Kid" Wilder's for seven in game two.12
A rival in high school in 1912, Wilder combined with Fillingim to go 31-20. The rest of the staff was 12-16, as Cordele dropped into last place in second-half standings.13 Cordele was the first of many bad teams of which Fillingim was a part. The Empire State League disbanded in 1913.Cordele, the league's smallest city, became part of the Georgia State League in 1914.14
Fillingim would pass on his spitball to Eastman, Georgia, native John Vaughn, a fellow pitcher in the Georgia State League. Vaughn became a sought-after semipro spitballer in Akron, Ohio.15
In 1914 Fillingim split time between Cordele, where he was 16-6,16 and the Atlanta Crackers in the Southern Association, to whom he was sold on August 20 and for whom he went 2-2.17
After four minor-league seasons Fillingim finally got the attention of the majors in 1915 while pitching for Charleston. In August he was sold to the last-place Philadelphia Athletics for $65018 and was known as a spitball pitcher with a "fine curve and a good break to his fast one."19 Fillingim was in the midst of a 14-5 record.
He made his major-league debut on August 2, 1915, at home against Cleveland, going seven innings, giving up four runs on eight hits. He did walk eight. News reports noted, "[A]lthough he was beaten he showed enough to warrant another chance . … [W]ildness was responsible for three of the four runs made by Cleveland and his lack of control was probably due to stage fright. After the third inning Fillingim pitched well and three of the hits secured by the Indians would have been outs with good fielding."20
In his next start, on August 7, he had "plenty of stuff" but gave up three runs over the first four innings against Ty Cobb's Tigers,21 and a month later, on September 7, squandered a 2-1 lead by giving up five runs in the sixth against Washington. His career with the Athletics was brief, 0-5 for the 109-loss Athletics.
Fillingim returned to Charleston in 1916 and produced a 20-7 season. On May 12 he pitched a no-hitter against Montgomery22 and racked up nine wins in a row.23 Still the property of Connie Mack's A's, he struck out a rare 13 against Albany in May.24
At 14-4-1, Fillingim was sold to the Cleveland Indians in June where for three weeks he "viewed the scenery in Cleveland. … (Manager Lee) Fohl let Dana warm up daily, but never used him."25 He took his services to Columbus in July, going 2-5 with a 2.34 ERA,26 and returned to Charleston to start August and finish the season.27
Fillingim joined the Indianapolis Indians in 1917 and at the age of 23 had his most successful season at 20-9 with a 2.34 ERA, which included an American Association championship.
There was high praise for the right-hander as one newspaper noted that he "appears to have lots of confidence and courage as well as a fine assortment of pitching stuff."28 He stood at 5-feet-8 and weighed 182 pounds, "in other words all muscle." From his previous stints, "Folks in Albany who have seen him perform in the Sally League … say he is one of the best pitchers ever developed in this part of the country." As with anyone, he longed to return to the majors.29
Fillingim debuted with Indianapolis with a four-hit shutout over St. Paul on May 5, 1917, hurling six no-hit innings.30 By mid-June he was leading the American Association with a 7-1 mark and a 1.31 ERA as the Indians built a six-game lead over Columbus.31 New York Giants scout Herman Schaefer took notice in July.32 At 10-2 he was getting "quite a bit of attention from big league scouts."33 The Phillies drafted him and then returned him at the end of the season because of a bum knee.34
Fillingim closed out 1917 by putting the Indians up 3-1 in the "Minor League World Series" with the International League's Toronto club, beating them 5-3, himself collecting three hits and getting the game-winning RBI.35
The eventual ban on the spitball reached the American Association in 1918. It was noted that some of the best pitchers in the league were dependent on the "freak delivery."36 Only pitchers Jake Northrop and Fillingim pitched past 1920.
Without the spitter, Fillingim looked to develop a curveball, but was unsuccessful37 and was traded to the Boston Braves in May for Clarence Covington and Calvin Crum. "His work has been made ineffective by the ban placed on the moist ball (in the American Association)," a newspaper commented.38
His first appearance for Boston, on May 9, featured four Braves errors, but seven assists by their newest pitcher in a 3-1 loss to Brooklyn.39 Five days later he pitched a six-hit shutout against the eventual pennant-winning Cubs and followed that up with an 11-0 win over St. Louis, when he didn't allow a runner past second base.40 He went on to win four straight decisions after losing his debut.
How good were young Fillingim's first four starts of seven or more innings with one earned run or less allowed? When Matt Harvey did it with the Mets at the age of 24 in 2013, just Fillingim and Ernie Wingard (1924 St. Louis Browns) had done it so young.41
For the Braves, Fillingim, along with Bunny Hearn and Hugh Canavan, comprised a "promising bunch of young pitchers" behind older ace Art Nehf.42
The 1918 season also saw the U.S. continue to draft able-bodied men, including major leaguers. (The Braves sent 13 men into service.)43
On June 12 Fillingim's ERA plummeted to 0.29 over his first 62 innings after he beat Pittsburgh spitballer Roy Sanders, 1-0. He led the NL with four shutouts.
On June 22 he beat the Phillies 8-4, a team that passed on him because of that bad knee.44 At that point Fillingim was 7-2 and the Braves were playing on borrowed time, improving to 29-28, in third place, nine games out. Fillingim enlisted in the Naval Reserve in early July.45 With players leaving for the service, Boston would go 24-43 the rest of the way and Fillingim in limited action finished 7-6.
In half a season, 10 of Fillingim's 13 starts were complete games, in half as many starts as Nehf (28 complete games in 32 starts) or Pat Ragan (15 in 30). He finished the shortened year 7-6 with a 2.23 ERA, the lowest of any of the five Boston starters with 100-plus innings.
Serving in the Navy in Newport, Rhode Island, Fillingim and former big leaguer Toots Schultz provided the pitching46 and Fillingim went 20-0 on a team featuring teammates Ray "Rabbit" Powell and catcher Walter Tragesser and outfielder Walter Rehg.47 He was discharged in December without seeing action overseas.48
Fillingim returned from the service and worked at a Macon, Georgia, hotel in the offseason and returned as "one of the mainstays in the box" for the Braves.49 Fillingim, Nehf, and Dick Rudolph were the set starters, as manager George Stallings had high hopes, while others stated that the Braves were a "hopeless organization."50 They were right. Boston ended up sixth, losing 82 games..
Fillingim was used sparingly to start 1919, as he saw his ERA rise to 4.79, taking four losses as a starter. He did not win his first game until July 21, when he pitched six no-hit relief innings against St. Louis.
From there Fillingim started 13 of his final 17 games (nine complete games). In August and September alone he had a 2.98 ERA, but went just 3-8. He finished 6-13 with a 3.38 ERA as the Braves scored two runs or less in nine of his starts (0-8). The durable starter also pitched 15-, 11-, and 10-inning complete games, winning two of them.
Three years removed from winning 20 in the American Association, the opposite occurred in 1920 when Fillingim went 12-21 with a 3.11 ERA for the 90-loss Braves.
It was the dawn of the final legal spitballers in the majors, as 17 spitball pitchers, including Fillingim, were allowed to use that pitch until each retired.51 By December 1920, the pitch became illegal for everyone else not grandfathered in.52
Fillingim had to overcome malaria prior to the start of the 1920 season.53 He was considered one of the "best members of the twirling staff," as his control and spitball led to his success.54
In game three of the season Fillingim was the lucky recipient of a 19-inning win over Brooklyn on May 3, in which he gave up one unearned run in a 2-1 win. Brooklyn had played a 26-inning tie a few days before. He started the year with four straight complete games (and a 2-2 record). It took until late May for Fillingim to recover from that long outing, in the process losing three straight.55
At the end of June both the Braves (28-28) and Fillingim (7-8 with a 2.22 ERA) were respectable. Boston would go 36-62 the rest of the way and Fillingim followed at 5-13 as one of the "hardest luck pitchers we have seen in moons and many moons."56
Showing late-season grit on September 6, Fillingim "pitched his best game of the season," holding the third-place Giants to two hits in a 1-0 win.57
He completed 22 of his 31 starts that season, but Boston scored two or fewer runs in 20 of those starts (2-18 record). Never a strikeout pitcher, Fillingim was also one of only eight pitchers to strike out the Pirates' George Cutshaw, who finished with nine punchouts all season.58
Both Fillingim and Boston had a bounce-back year in 1921. The Braves finished fourth (79-74) and Fillingim was 15-10 with a 3.45 ERA.
A stiff arm all spring pushed the spitballer into the bullpen to start, as he had an 8.38 ERA through May 1.59 But five straight wins turned the season around. He was 10-4 on July 18 and the Braves were 47-33 and six games back. But the Braves of old reappeared, as Boston played .438 ball the rest of the way and Fillingim was 5-6 with a 3.72 ERA.
Despite everything, Fillingim was one of seven NL pitchers to score three shutout victories.60 The spitballers slowly faded as 17 became 15 and the lively ball proved troublesome. The top three spitballers, Burleigh Grimes, who would become the last legal spitballer; the Indians' Stanley Coveleski; and the White Sox Urban Faber relied on what was known as a fastball spitter. Fillingim was considered "runner-up of spitball honors" in the NL behind Grimes.61
With better-than-average hopes, Boston again faltered in 1922 as the Braves had another 20-game loser, Oeschger (6-21). Oeschger, Fillingim (6-9), Rube Marquard (11-15), and Hugh McQuillan (5-10) were expected to "win a majority of their games,"62 but Boston lost 98 games.
Fillingim never recovered from a poor start in 1922 as his ERA ballooned to 5.92 on April 29 and he finished with a 4.54 ERA. After 33 complete games in 1920 and 1921, Fillingim had just five in '23 after wrenching his knee on July 10 while trying to field a bunt in the seventh inning against the Cubs. He did not pitch again that season.63
To try to get right for 1923, Fillingim was the only veteran pitcher to head to Hot Springs, Arkansas, on February 15. It was a schedule that saw 21 games of exhibition play primarily for the Braves rookies.64
The 100-loss Braves used Fillingim out of the bullpen, where despite a 1-9 record and 5.20 ERA, he had a 3.14 ERA out of the pen, combing for 100⅓ innings. Eight of his nine losses came when he was a starter.
Fillingim was due to pitch for Beaumont in the Texas League in 1924, one of the few leagues left that allowed the spitball. Because of his knee he wore a shoe with exceptionally high spikes and in one March game it got caught on the pitching rubber. He was helped from the field65 and was lost for the season. His salary was still paid by Beaumont for the 1924 season. The club got its money back when Fillingim was sold to the Phillies after the season.66
Fillingim's time in Beaumont was not a total loss; it was where he met his wife, Ava Eugenia Fort, 10 years his junior.67 The couple married in Tuskegee, Alabama, in March 1926 and they had their only child, Merle Eugenia, in 1927.68
Fillingim was one of a few former major leaguers looking for another shot with the Phillies, who had lost 96 the year before. He survived until May but Elmer Smith, Walter "Duster" Mails, Vean Gregg, and Ralph Shinners did not get that far.69
In five games in April and May, Fillingim went 1-0 with a 9.64 ERA, winning his last major-league game his first time out, pitching 1⅔ shutout innings in relief against Brooklyn on April 23.
Through an unknown transaction, he returned to Beaumont, where he won his debut on May 21.70 Despite a high ERA, in August Fillingim was still considered one of the aces of the Texas League.71 He won seven of the Exporters' 19 wins en route to a last-place finish at 19-55.72 He finished 7-15 with a 5.73 ERA.
In one final attempt at the majors, Fillingim wrote to Reds owner Garry Herrmann with help of Ohio newspaper publisher James M. Cox. New Reds manager Jack Hendricks had known Fillingim in Indianapolis. The Reds declined his request because of his age, record, and knee.73
Back in Beaumont in 1926, Fillingim went 15-8 with a 3.54 ERA at the age of 32 before being sent to San Antonio for the 1927 season. There he pitched to a respectable 12-10 record with a 3.38 ERA, but San Antonio finished seventh of eight.
By the time of the 1927 season there were six spitballers left in the majors from the original 17.74
Fillingim opened San Antonio's 1928 season, his last professionally, against Cuban spitballer Oscar Tuero, who also found a home in the Texas League.75 Fillingim went 7-10 with a 3.84 ERA before being released in August when he had "no plans for the immediate future."76
Six years after Fillingim hung up the spikes, Grimes won his 270th major-league victory in 1934 as the last legal spitballer in the majors.77 Bucking the trend, the Pacific Coast League implemented the spitball as a way to draw fan interest.78
Fillingim moved to Alabama, where he would live out his life.79 He worked as an inspector for the Alabama Beverage Control Board.80 After his death from heart disease on February 3, 1961, his wife, Ava, noted in 1962 that it was harder for pitchers with the emphasis on offense. "My husband, Dana," she said, "had the finest spitball pitch ever thrown and it ought to be returned to the game."81 Dana Fillingim was buried in Tuskegee Cemetery.
This biography is included in "20-Game Losers" (SABR, 2017), edited by Bill Nowlin and Emmet R. Nowlin.
Notes
1 Some newspaper accounts said Fillingim was one of the first Greek-Americans in major-league history, but there is nothing in his recorded family history to indicate that this is correct.
2 Jones Family History, https://earljones.net/aqwg8565.htm#262642.
3 Charles Faber, Spitballers: The Last Legal Hurlers of the Wet One (Jefferson, North Carolina: McFarland and Company, Inc., 2006), 174-79.
4 "Pitcher doesn't have a chance – Ave Fillingim," Daily Republican (Monongahela, Pennsylvania), August 17, 1962: 9.
5 Ed Cunningham, "Rudolph and Fillingim Hurl Braves to Victory," Boston Herald, April 5, 1920: 8.
6 "Pitcher Doesn't Have a Chance – Ave Fillingim."
7 Frank Hyde, "Frankly Speaking," Post-Journal (Jamestown, New York), November 14, 1961. https://chautauquasportshalloffame.org/bedientcaldwell1961.php.
8 "Cooney Tells of Hesitation Pitch," Longview (Texas) News Journal, February 3, 1943: 8.
9 George Biggers, "Play the Game," Indianapolis Star, June 26, 1918: 10.
10 Lester Biederman, "Carey Remembers When Ball Players Stole Bases," Austin (Minnesota) Daily Herald, May 5, 1959: 11.
11 Faber, 174-179.
12 "Fillingim Has Seen Rare Feat," Pittsburgh Press, May 16, 1918: 22.
13 William F. Ross, "The Empire State League: South Georgia Baseball in 1913," The National Pastime (Cleveland, Ohio: SABR, 2010). https://sabr.org/research/empire-state-league-south-georgia-baseball-1913.
14 Faber, 174-79.
15 Mark Price, "Ptooey! Akron Pitcher's Spitball a Moist Memory From the 1920s," Akron Beacon Journal, June 9, 2013. https://ohio.com/news/local/local-history-ptooey-akron-pitcher-s-spitball-a-moist-memory-from-1920s-1.404689.
16 "Fillingim Has Seen Rare Feat."
17 Faber, 174-179.
18 Faber, 174-179.
19 "Proposed Baseball Deals Should Be Stopped by ­League Presidents," Philadelphia Evening Public Ledger, August 3, 1915: 10.
20 Ibid.
21 "Detroit Hammers Fillingim Hard in Early Periods," Philadelphia Evening Public Ledger, August 7, 1915: 11.
22 "No-Hit; No-Run Game," Charlotte News, May 12, 1916: 13.
23 "Ninth Victory Without Defeat Dana Fillingim Adds Another to His List," Columbia (South Carolina) State, May 20, 1916: 5.
24 "Mack's Farm Hands Are Doing Well in the Minors," Pittsburgh Press, May 18, 1916: 27.
25 "Fillingim Has Seen Rare Feat."
26 Faber, 174-179.
27 CE Collins "Sports Snapshots," Arkansas Democrat, August 2, 1916: 9.
28 "Notes of the Game," Indianapolis Star, March 27, 1917: 14.
29 Ralston Goss, "Mixing 'em Up," Indianapolis Star, March 16, 1917: 10.
30 Ralston Goss, "Fillingim and Swilling Shine in 2-0 Victory," Indianapolis Star, May 6, 1917: 47.
31 Statistics, Indianapolis Star, June 23, 1917: 8.
32 Robert Read, "Fillingim's Work Drawing Attention of New York Giants," Indianapolis Star, July 10, 1917: 11.
33 "Fillingim a Slab Star in the A.A.," Oklahoma City Times, July 24, 1917: 11.
34 "Wickland to Get Chance in Big Show," Indianapolis Star, September 25, 1917: 10.
35 "One More Victory and the Minor League World Series Belongs to Indianapolis," Indianapolis Star, September 30, 1917: 44.
36 Capital Times (Madison, Wisconsin), March 19, 1918: 6.
37 George Biggers "Fillingim Is Traded to Braves for Two Players," Indianapolis Star, May 5, 1918: 19.
38 "Braves Get Fillingim," Des Moines Register, May 5, 1918: 25.
39 "Marquard's First Win a Classy Pitching Feat," Brooklyn Eagle, May 10, 1918: 20.
40 John Hallahan, "Braves Batter Down Cards With Heavy Fire," Boston Herald, May 19, 1918: 12.
41 Ben Hoffman, "A Met Approaches Rarefied Air," New York Times, April 23, 2013. https://nytimes.com/2013/04/24/sports/baseball/mets-pitcher-harvey-already-has-a-historically-strong-start.html.
42 "New Hurlers Help Braves. Stallings Has Been Fortunate in Picking Up Winning Staff. Dana Fillingim," Kansas City Star, June 4, 1918: 8.
43 "Blow to Jawn's Hopes," Baltimore Sun, May 23, 1919: 12. The Sports Encyclopedia of Baseball (2004) lists 16 Braves players.
44 Jim Nasium, "Moran's Discard Humbles Phillies," Philadelphia Inquirer, June 23, 1918: 14.
45 "Fillingim New Shutout King," Cincinnati Post, June 13, 1918: 8.
46 "Our Navy, the Standard Publication of the U.S. Navy, Volume 12," Our Navy, September 1918: 71.
47 "An Obituary of Ray 'Rabbit' Powell," Newport (Rhode Island), Daily News, October 30, 1962: 14.
48 "Rowland May Go as Sox Manager," Watertown (New York) Daily Times, December 20, 1918: 8
49 "Braves' Boss in Columbus; Likes Grounds Announces That Gowdy, Maranville and Dana Fillingim on Braves," Columbus Daily Enquirer, February 18, 1919: 2.
50 "Braves better Than in 1914," St. Louis Dispatch, April 15, 1919: 26; NE Boston Brown, "National Look Weak, Lack New Materials," Arizona Republic, April 23, 1919: 7.
51 "The Last Legal Spitball Pitchers," Not Another Baseball Blog, September 15, 2012, https://notanotherbaseballblog.wordpress.com/2012/09/15/the-last-legal-spitball-pitchers.
52 St. Louis Post-Dispatch, December 15, 1920: 19.
53 Ed Cunningham, "Rudolph Not Worrying Over Spitball Ruling," Boston Herald, March 5, 1920: 11.
54 "South Represented by Boston Brave Players," Charleston (West Virginia) Daily Mail, March 30, 1920: 3.
55 Ed Cunningham, "Leslie Man Plans to Hang Up uniform," Boston Herald, May 18, 1920: 14.
56 Burt Whitman, "Rabbit Acts Rabidly, but Will Stay With the Tribe," Boston Herald, July 7, 1920: 9.
57 Ed Cunningham, "Braves and Giants Take Turns Shooting Blanks," Boston Herald, September 7, 1920: 11.
58 "Cutshaw Is a Second Keeler, Struck Out Nine Times," El Paso Herald, January 29, 1921: 11.
59 "Braves Battle Giants Twice," Boston Post, April 19, 1921: 16.
60 "Hornsby Repeats as First Place Hitter in Nationals," The Evening Journal (Wilmington, Deleware), October 8, 1921: 11.
61 Urban Faber, "Wet Ball Artists Are Fading," Appleton (Wisconsin) Post-Crecent, June 23, 1922: 10.
62 Robert Maxwell "Acquisition of Larry Kopf by the Braves Rounded Out Defense of Powerful Team," Brooklyn Daily Eagle, March 29, 1922: 22.
63 "Watching the Scoreboard," Muskogee (Oklahoma) Times-Democrat, July 11, 1922: 8.
64 Bridgeport (Connecticut) Telegram, February 10, 1923.
65 "Downfall Cause Was Shoe Spike," Altoona Tribune, March 20, 1924: 8.
66 "Steers Stopped at Beaumont by Dana Fillingim's Spitball Delivery," Dallas Morning News, May 22, 1925: 16.
67 "Pitcher Doesn't Have a Chance – Ava Fillingim" Monongahela (Pennsylvania) Daily Republican, August 17, 1962: 9.
68 Jones family history.
69 Norman Brown, "The Year of the Big Comeback for Them," Kingsport (Tennessee) Times, March 19, 1925, 7.
70 "Steers Stopped at Beaumont by Dana Fillingim's Spitball Delivery," Dallas Morning News, May 22, 1925: 16.
71 Dallas Morning News, August 21, 1926: 12.
72 "Texas League," The Sporting News, September 24, 1925.
73 Faber, 174-179.
74 "Spitball Hurler Fast Passing," Wisconsin Rapids (Wisconsin) Daily Tribune, January 11, 1927: 5.
75 "Exporters Play Buffs," Galveston (Texas) Daily News, April 13, 1927: 5.
76 "Fillingim Draws Release From Grizzlies," Dallas Morning News, August 4, 1928: 9.
77 Faber, 174-179.
78 William Ritt, "Spying on Sports," Sedalia (Missouri) Democrat, March 8, 1934: 10.
79 Anniston (Alabama) Star, July 5, 1942: 2.
80 Baseball Hall of Fame player questionnaire.
81 Monongahela (Pennsylvania) Daily Republican: 9.
Born
November 6, 1893 at Columbus, GA (USA)
Died
February 3, 1961 at Tuskegee, AL (USA)
If you can help us improve this player's biography, contact us.
https://sabr.org/sites/default/files/Screen%20Shot%202018-10-04%20at%201.45.35%20PM.png
600
800
admin
/wp-content/uploads/2020/02/sabr_logo.png
admin
2012-01-04 20:49:30
2012-01-04 20:49:30
Dana Fillingim