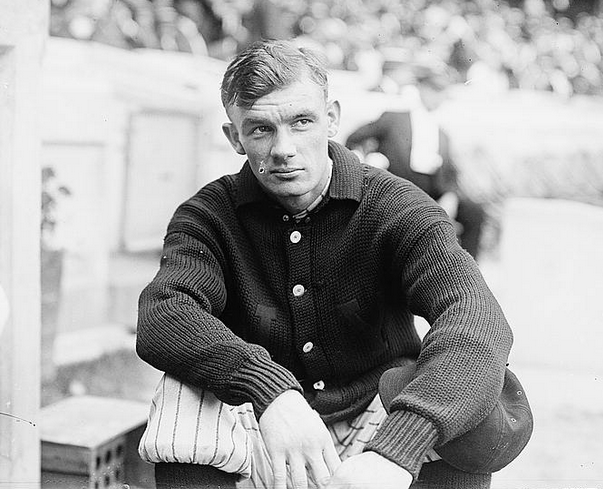 Tall and gangly, with a cannon for a left arm, Rube Marquard made headlines around the country in 1908 when the New York Giants purchased his contract from Indianapolis (American Association) for the unprecedented price of $11,000, by far the largest amount of money ever paid for a ballplayer. Initially the New York reporters called him the "$11,000 Beauty" or "$11,000 Peach," but two years later, when he was still in search of his 10th major-league victory, they derided him as the "$11,000 Lemon." Just when John McGraw was about to give up on him, Marquard won a total of 73 games from 1911 to 1913, including a 19-game winning streak in 1912 that remains the record nearly a century later; suddenly the manager was calling him the "best left-handed pitcher in baseball." With a wicked curveball to compliment his blazing fastball, and a fine screwball learned from his friend and roommate Christy Mathewson, the 6'3", 180 lb. southpaw finally lived up to New York's high expectations.

The son of Lena and Fred Marquard, who worked for the city as an engineer, Richard William Marquard was born in Cleveland on October 9, 1886. His mother's death in 1899 gave rise to a stubborn independence in young Richard. To his father's dismay, he had no inclination toward schoolwork; all he wanted to do was play baseball. Richard became a standout pitcher, earning the nickname "Rube" because he reminded observers of Rube Waddell. His most notable success came with the Telling Ice Cream Company, which paid him $15 per week to deliver ice cream and $10 to pitch on Sunday afternoons for the company team. In his free time Rube hung around poolrooms and smoke shops, mingling with older players. Occasionally he served as batboy for the Cleveland Naps, even befriending Bill Bradley and the great Nap Lajoie. During the off-season Rube even pitched to the local major leaguers on occasion.

One night in June 1906, the 19-year-old Marquard stole out of the house and rode freight trains, hobo-style, to Waterloo, Iowa, where he was invited to tryout for the local team in the Iowa State League. The trip took five days and nights, and he arrived hungry, broke, and exhausted, but he pitched twice against Keokuk and beat them once. To his disappointment, Rube didn't receive a contract; he returned home dejected but not defeated. Marquard continued to shine in Cleveland semipro leagues and waited for another opportunity, which came the next spring when he signed with Canton of the Central League and left home for good. For two years Rube dominated the minor leagues. He won 23 games at Canton in 1907 and 28 the next year for Indianapolis in the prestigious American Association, breaking league records at both stops. By late summer 1908 Rube had drawn the attention of several major-league teams, including the Giants.

Marquard arrived in New York in September as the Giants were locked in a fierce three-way pennant race with the Cubs and Pirates. He arrived in time to witness the famous "Merkle Game," making his first major-league start just two days later at the Polo Grounds against the Cincinnati Reds. In what he later called the worst day of his life, Rube pitched miserably, giving up six hits and five runs (two earned) in the defeat. "I was so badly rattled I didn't get over it all winter," he recalled years later. "I lost confidence in myself completely and those calls, 'take him out,' '$11,000 lemon,' and so on, they ring in my ears yet." For the next two years Marquard continued to struggle, winning a total of only nine games. In 1911, however, Wilbert Robinson joined the Giants as an assistant coach and made Rube his special project. Under Robinson's tutelage, the 24-year-old left-hander finally fulfilled his potential, posting a 24-7 record and leading the National League in winning percentage and strikeouts (237).

The following year Rube enjoyed his greatest season, going 26-11 and winning two more games in that year's World Series against the Boston Red Sox. His 19-game winning streak began with his first outing of the year on April 11, when he beat Brooklyn's Nap Rucker, 18-3. Nearly three months later he defeated Rucker again, 2-1, for the final game of the streak. In between Marquard beat every team in the league at least twice, including Brooklyn, Boston, and Philadelphia three times each. He completed 16 of the 19 games, surrendering only 142 hits and allowing only 42 earned runs. When he finally lost to Chicago on July 8, his record stood at 19-1; at the time only two other NL pitchers, Rube Benton and Larry Cheney, had as many as 10 wins. In the Chalmers Award voting Marquard finished eighth, first among pitchers.

Rube became an instant celebrity, advertising products, writing a newspaper column, and even starring in a silent movie called "Rube Marquard Wins." He also appeared on the Broadway stage, singing, dancing and telling jokes, and there he met the beautiful Blossom Seeley, the so-called "hottest girl in town." Noticing the chemistry between Rube and Blossom, enterprising managerial agents booked them to appear as a duo at New York's Palace Theater. Audiences loved them and soon they were appearing on stages across America, each earning $1,500 per week. "Marquard & Seeley" sang, joked, and flirted onstage, performing their hit songs "Breaking the Record" and "The Marquard Glide." Though Blossom was married, she and Rube began a love affair, a fact that caught the attention of the tabloids. Blossom divorced her husband and married Rube in March 1913; six months later she gave birth to Richard Marquard, Jr.

Marquard posted his third consecutive 20-win season in 1913, finishing at 23-10 with only 49 walks in 288 innings, less than half as many as he had walked in fewer innings only two years earlier. After that, however, Rube struggled. He went 12-22 with a 3.03 ERA in 1914 and got off to an even worse start the following year, even though he pitched the only no-hitter of his career against Brooklyn on April 15. In August 1915 Marquard arranged his own sale to Brooklyn, now managed by his old mentor Wilbert Robinson. Once again Uncle Robbie helped him resurrect his career. Rube won 13 games with a career-best 1.58 ERA for the pennant-winning Robins in 1916, and posted a 19-12 record the following year. After slumping to 9-18 in 1918 and missing most of the 1919 season with a broken leg, Rube won 10 games in 1920 and appeared in his fifth World Series (each time he was on the losing club), this one against his hometown Indians.

Before Game Four a Cleveland undercover policeman arrested Marquard for attempting to sell his box-seat tickets. The judge, believing that the negative publicity was punishment enough, fined Marquard only $1 and court costs, for a grand total of $3.80. Brooklyn owner Charles Ebbets wasn't as forgiving; on December 15 he traded Rube to Cincinnati for Dutch Ruether.

Reunited with his old friend Mathewson, who was managing the Reds, Marquard had his last winning season in 1921, going 17-14 with a 3.39 ERA. He hoped to finish his career with Cincinnati, but after the season the Reds traded him to the Boston Braves for infielder Larry Kopf and pitcher Jack Scott. Rube held on for four mediocre years, finally retiring after the 1925 season. By that time he was divorced from Blossom Seeley. Marquard managed in the minor leagues for a few years but tired of the constant travel. Eventually he remarried and lived quietly in Baltimore, working at pari-mutuel horse-racing tracks and spending his winters in Florida. One year after his wife Naomi died in 1954, he married for a third time, this time to a wealthy widow named Jane Hecht Guggenheimer. Rube had plenty of money, traveled the world as he pleased, and was content. It seemed that the Rube Marquard story was over.

But in 1966 a New York University economics and finance professor named Larry Ritter traveled the country, collecting oral histories from old-time ballplayers, including Rube. Ritter's resulting book, The Glory of Their Times, become an instant classic. Rube's recollection of some of the events of his life was circumspect; he shaved three years off his life, unnecessarily romanticized his hobo-style train trip to Iowa, and downplayed his scandalous affair with Blossom Seeley. Despite a few inaccuracies, his story seemed to capture the essence of the early days of baseball, and it was prominently featured as the first chapter of Glory. A whole new audience came to know Rube and his exploits, and Cooperstown took notice, too. In 1971 he was elected to the National Baseball Hall of Fame, along with Satchel Paige and his old friend Harry Hooper. Rube Marquard died in Baltimore on June 1, 1980, at the age of 93.


Note: A slightly different version of this biography appeared in Tom Simon, ed., Deadball Stars of the National League (Washington, D.C.: Brassey's, Inc., 2004).

Sources

For this biography, the author used a number of contemporary sources, especially those found in the subject's file at the National Baseball Hall of Fame Library.