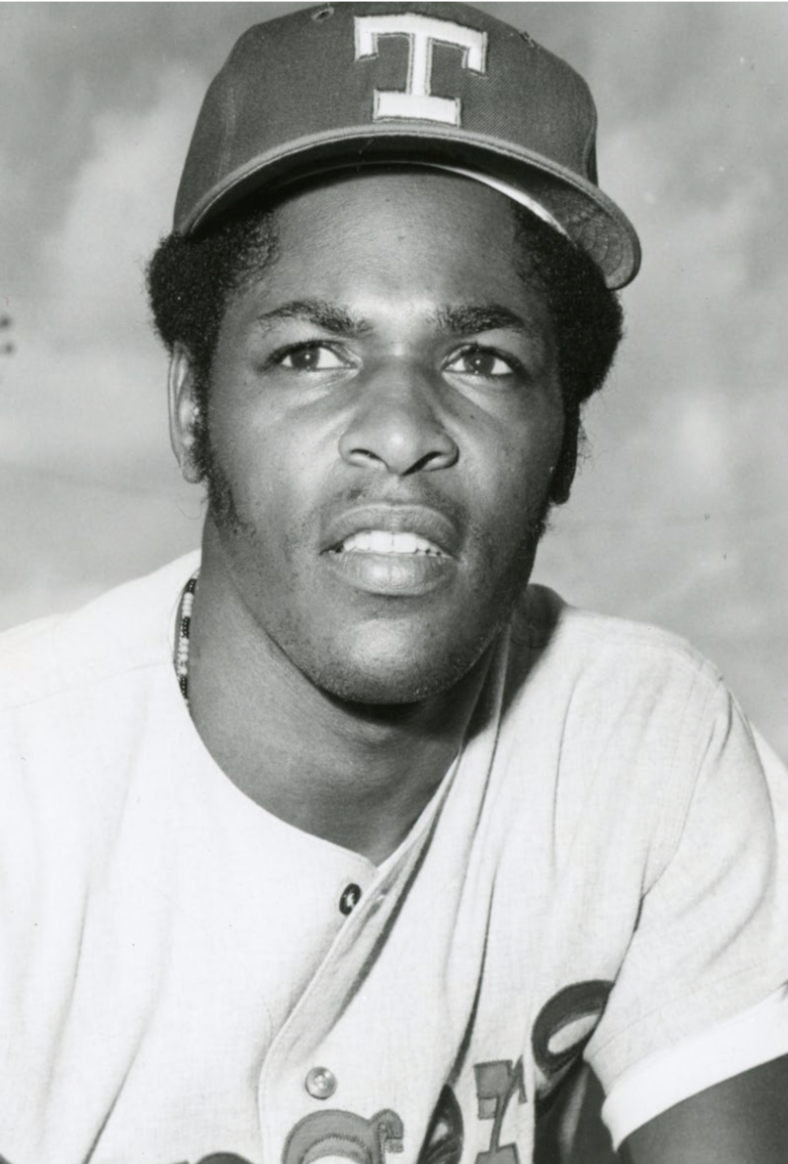 ---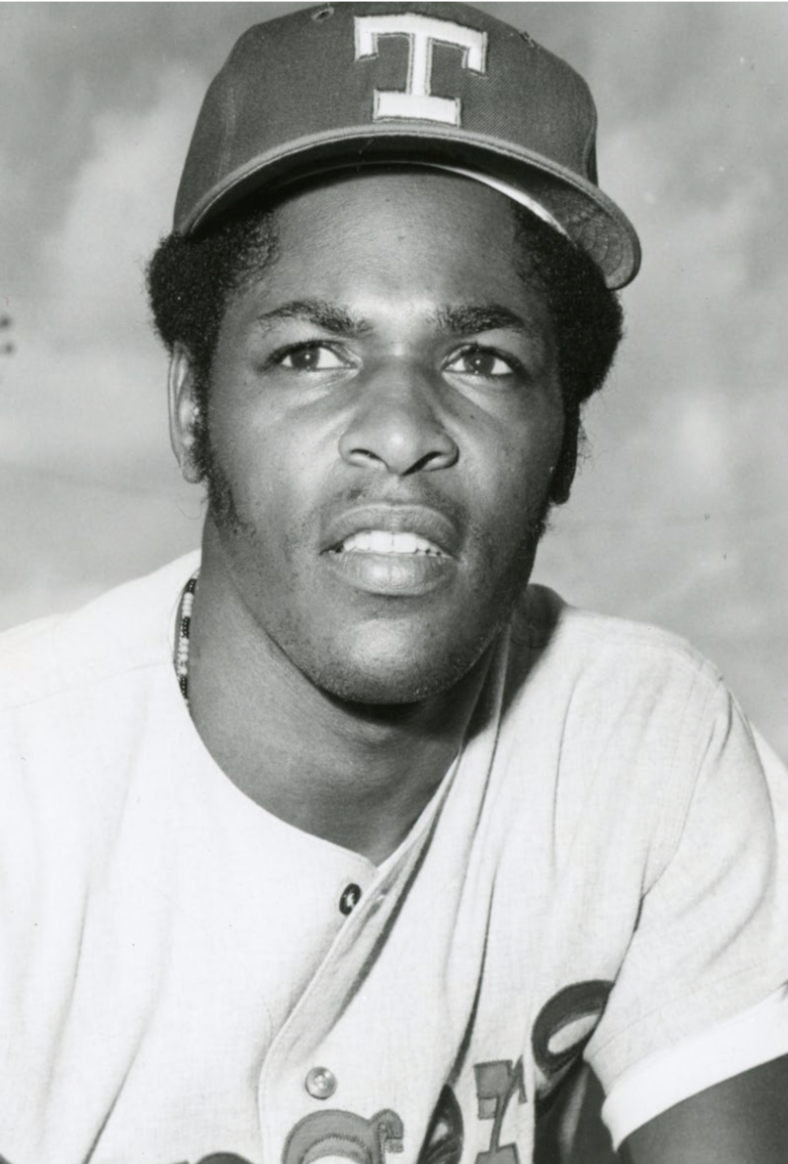 David Earl Nelson was born on June 20, 1944, in Fort Sill, Oklahoma. He loved sports and played in the Little League, the Babe Ruth League and Connie Mack ball. Basketball was also a favorite sport. Nelson's idols growing up were Oscar Robertson and Jackie Robinson. Nelson graduated from Junipero Serra High in Gardena, California, in 1963. He had an outstanding athletic career, playing baseball, basketball, and football, and running track. Nelson was on the baseball and track teams at the same time. One day he had a baseball game followed by a track meet in which he competed in the 100-yard dash. He wasn't too fatigued after the baseball game, winning his event with a time of 9.6 seconds.
Commenting about his football skills, Nelson remarked, "A lot of people don't know about my football career. I have kept it a secret. I played a lot of football in high school and had a lot of success with it. I had more success with it than I did baseball. I had all kinds of football scholarship offers. I had scholarships from Notre Dame, Brown University, Oregon State, and a number of other schools, but I wanted to stay close to home."1
Nelson attended Compton (California) Junior College for one year. His parents were going through a divorce, and he wanted to stay close to his mother. He played football and was selected as a back on the 1963 Junior College All-American football team. From Compton Nelson accepted a baseball scholarship to Los Angeles State College (now Cal State LA). After his two years in college, Nelson decided that he wanted to pursue a professional baseball career. At a tryout he caught the eye of Cleveland Indians scout Bob Mattick and signed a contract. Assigned to the Dubuque Packers of the Class A Midwest League in 1964, Nelson batted .253, was second in stolen bases with 53, and was the league's All-Star second baseman. In 1965 Nelson played for the Salinas Indians and led the Class A California League in stolen bases with 41. He was promoted to the Pawtucket Indians of the Double-A Eastern League, again led his league in stolen bases (57) and earned a spot on the league all-star team. Promoted to the Triple-A Portland Beavers in 1965, Nelson led his league in stolen bases (29) for the third time in a row, and in a poll of managers was voted the league's fastest baserunner.
The Indians' new manager Alvin Dark liked Nelson because of his speed, and a great spring training, in which he was voted the most outstanding player by writers and broadcasters covering the team, resulted in Nelson making the move to the major leagues for the 1968 season.  Prior to Nelson's arrival at camp, Dark approached him about becoming a switch-hitter, even though Nelson had never hit left-handed prior to this. For the first four months (April through July) of his career, Nelson continued the experiment as switch-hitter. On April 11, 1968, he made his major-league debut when he ran for catcher Duke Sims in the eighth inning. In his first major-league start, on April 20 at Fenway Park in Boston, playing second base and leading off, Nelson made his presence known. He walked to open the game and promptly stole second base. In the third inning he had his first hit, a single off Jerry Stephenson. An injury to starting second baseman Vern Fuller gave Nelson more playing time. He finished the season batting .233 in 189 at-bats and stealing 23 bases, and was chosen to the Topps Major League Rookie All-Star Team at second base.
A confident Nelson arrived for spring training in 1969. "I'm just trying to win a job," he said. "Last season, even though I was in the big leagues, I didn't know myself if I belonged here or not. Now I feel like I fit into the picture. Now I feel so confident I could play any place except catcher or pitcher – and it's a great feeling."2 A torn hamstring muscle, suffered in the next to last spring training game, bothered Nelson all season, and he batted .203 in 123 at-bats, stealing four bases. After the season, the Indians traded Nelson, Horacio Pina, and Ron Law to the Washington Senators for Dennis Higgins and Barry Moore.
Senators manager Ted Williams remembered Nelson from an at-bat against his team the previous summer. Nelson pulled a Casey Cox slider for a hit, prompting Williams to say, "Anybody who can handle a pitch like that can play for me."3 There was a lot of competition for the starter's job at second base, but Nelson hit around .400 in spring training and won the job. Williams said of Nelson, "He has done everything expected of him and more. He is a most pleasant development."4 But Nelson had a tough season, batting .159 in 107 at-bats, and in May was sent to Triple-A Denver, where he batted .369 in 236 at-bats. Nelson bore no animosity toward Williams, saying, "Whenever I got a chance, I always sat near him on the bench and listened. I really learned a lot that way. He teaches you a lot about confidence, attacking the ball and picking on your pitch. I told him I'd work hard and come back a better ballplayer."5
Going into the 1971 season, Nelson was confident about winning back the second-base job, but after a few exhibition games he was shipped to Denver. "That was the biggest disappointment of my career," he said. "Ted kept saying he had to have a long look at Richie Scheinblum because he had the best credentials on the club with his .337 batting average. I kept hearing that and reading that. I batted .369!"6 At Denver Nelson batted .307 and was recalled on June 15. He started at third base the next night. Three days later, on June 18, Nelson hit his first major-league home run off Boston's Sonny Siebert at Washington's RFK Stadium. He went on a tear and a month later on July 15, he was batting .327 with three home runs, after having 419 times at bat over 2½ seasons without one. He finished the season batting .280 with 5 home runs and 17 stolen bases.
The transition to third base wasn't easy for Nelson, but he worked hard. "It didn't come naturally to me as it does to some people," he said. "I had to work at it. I still have to. I don't feel that I'm overconfident or lazy, but I can't take my mind off what I'm doing. There's no such thing as a reflex play for me with the glove."7
In 1972 the Senators moved from Washington to the Dallas-Fort Worth, Texas, area, becoming the Texas Rangers, and Nelson made sure they got off to a running start by stealing seven bases in eight attempts in the first 13 games of the season. Rangers TV broadcaster Don Drysdale observed, "Nelson studies the pitchers, and for the first two or three steps he has tremendous explosion. That's what Maury (Wills) had in his prime. He didn't have blazing speed, but he could get into high gear quickly."8
Manager Ted Williams respected Nelson's ability on the basepaths, commenting, "This year I gave him his head on the bases. He has the go-ahead anytime he feels he's ready. He's not a glory hog and he won't go unless he thinks it will help us. I'm not surprised he's off to a good start hitting and stealing bases. That's the way he ended up last year."9 Speed is an obvious factor for basestealing, but there are some intangibles also. Nelson elaborated, "You got to know your pace and the catchers and pitchers. You get the feel of it. You can figure your odds pretty well before you take off."10
Nelson's batting average hovered in the .280 range for the first two months of the season, then fell off, dropping to .235 by the All-Star break. He finished the season with a .226 batting average and 51 stolen bases, one behind league leader Bert Campaneris.
After the season Nelson moved from Los Angeles to Texas and helped the Rangers with promotions. He also would be playing for a new manager, Whitey Herzog, and returning to second base in 1973. Herzog wanted to try Joe Lovitto at third base, with Nelson going back to his old position. The move wasn't easy for Nelson, who said, "When I first moved back this spring, nothing felt right. I was butchering plays I should have made easily. It was tough, but everything feels natural again. I like it."11 Rangers third-base coach Chuck Hiller was amazed at Nelson's transition, saying, "I never saw a guy so handcuffed find himself so fast."12
The 1973 season proved to be the best of Nelson's career. He batted .286 with 43 stolen bases, and was selected to play in the All-Star game in Kansas City, an honor that Nelson called his greatest baseball thrill. Among the highlights of the season were homering twice off the White Sox' Eddie Fisher on April 17, becoming the first Rangers player to hit two homers in a game, and being selected in a vote by the media covering the Rangers as their Most Valuable Player. At least two clubs approached the Rangers seeking to acquire Nelson, but the Rangers weren't interested.
Billy Martin managed the Rangers in 1974. On April 14 he drove in six runs against the Athletics with a three-run homer, a single, and a sacrifice. But injuries were a big part of his season. In a game against the Chicago White Sox on May 10, Nelson and Lenny Randle collided on a short fly ball off the bat of Ron Santo. Nelson was knocked unconscious and carried off the field with a broken nose, sprained ankle, and a whiplash injury. He was in the hospital for five days. (Randle suffered a severe shoulder sprain.) Nelson didn't return to the playing field until June 12. On July 21 he injured a knee against the Red Sox when Rick Miller slid into him trying to break up a double play.
Things were back to normal on August 30 when Nelson stole second, third, and home in the same inning. Nelson was happy, "It was very satisfying. It proved that, at long last, I can move again," he said.13 He stole 25 bases during the season but batted only .236.
Nelson pulled an unusual hidden ball trick against the Brewers' Bob Coluccio on June 14. Teammate Tom Grieve recalled it a few years later: "Dave was playing second base, he takes the throw and Coluccio is safe. So Dave tells him, 'Step off the bag for a second, I want to kick the dirt off it.' So Coluccio steps off the bag and Dave tags him out, pulls the hidden ball trick on him."14 Remembering the play Nelson said, "At first he just laughed about it. Then he went into the dugout and his manger, Del Crandall, just chews him out. So the next inning, he comes running out of the dugout and mad and he says, 'You embarrassed me and you embarrassed my team.' I said, 'I didn't embarrass your team, you did.' He said, 'I'm going to get you back. You watch out, one day you're going to be playing second base and I'm going to get you.' I said, Why wait, let's get it on right now!"15
After his injury-plagued 1974 season, the Rangers wanted Nelson to prove without a doubt that he was the starter at second base. Nelson responded with one of the best spring trainings of his career in 1975, both at bat and in the field, and kept his starting position.
Nelson got off to a great start, stealing six bases in the first 11 games, but on April 19 he reinjured his ankle sliding into second base in a game against the Royals. After conferring with Martin, Nelson decided to have another surgery.
Dr. Harvey O'Phelan, the Minnesota Twins physician and a close friend of Martin's performed the surgery on April 29. Nelson remained on crutches until May 19, and was in a walking cast until early June. After therapy and a conditioning program, it was hoped Nelson would be as good as new. On August 15 he returned to the active roster, but started only 10 games the rest of the season, batting only 39 times. He finished the season with a .213 batting average. Reflecting on the 1975 season Nelson said, "Last season was a lost one for me. When I finally was ready to play, I didn't get to. I started so well in '74, but the injury messed me up."16
After the season Nelson was traded to the Kansas City Royals for pitcher Nelson Briles. "Dave is going to be a great addition to our club," said manager Whitey Herzog, who had been his skipper in Texas. "He goes all out all of the time. Not only will he give us more maneuverability, but he can hit and steal bases. I won't be afraid to use him leading off as the designated hitter."17
Nelson was elated to be reunited with Herzog, reflecting after his career, "Whitey Herzog was without a doubt the best manager I ever played for. He did all phases of the game well. As a manager he was a great communicator. He was able to let everybody know what their roles were, and they played hard for him."18
Before 1976 spring training, Nelson met with Royals general manager Joe Burke and, according to Burke, said he wouldn't complain if he wasn't a regular. "… I'm confident he can help us," Burke said.19 An injured leg muscle put Nelson on the disabled list early in the season. While he was on the DL, he joined the Royals' TV crew as a color man.
Back in action, he had a big game on June 15 in a 21-7 victory over the Tigers at Tiger Stadium. He went 3-for-4 and drove in four runs. He finished the season with a .235 average and 15 stolen bases.
The Royals were playoff-bound. Nelson recalled, "It was exciting. I felt we had one of the best teams in baseball that year. We struggled at the end to win the Western Division. We ended up playing the Yankees in the playoffs, and it was one of the most exciting playoff series I have ever been involved in."20 The Royals lost to the Yankees when Chris Chambliss hit a walk-off homer in Game Five.
Injuries again limited Nelson's playing time in 1977, limiting him to 55 plate appearances in 27 games. He suffered a pulled leg muscle early in the season, and a pulled groin muscle in midseason. On September 27 he doubled off Oakland's Matt Keough in what turned out to be his last major-league at-bat. After winning the AL West again, the Royals faced the Yankees in the 1977 ALCS. Because of injuries, Nelson was not on the playoff roster.
After the season, the Royals offered Nelson a job managing their rookie-league team in Fort Myers, Florida, but he wanted to try to play one more season with the Royals. The Royals gave Nelson his release on April 1, 1978. Nelson turned down an offer to play in Japan, and sought a nonbaseball career. Through friends in Washington he landed a job with the Department of Housing and Urban Development helping redevelop low-income homes. The job was interesting and fun, but not what he wanted to do for the rest of his life. Nelson joined the Royals TV booth for the 1979 season, then after the season he took a job as an assistant coach for Texas Christian University near his offseason home in Fort Worth. He liked coaching, but he yearned to return to the majors in that capacity.
Good fortune came Nelson's way. A baseball's winter meetings in Dallas, former teammate Tom Grieve asked Nelson if he could fill in for Dick Howser who was scheduled to do a speech on infield play. Nelson did such a great job talking about not infield play, baserunning, and stealing, that he got a number of job offers to coach. Nelson signed with the White Sox as a minor league infield and baserunning instructor. Chicago manager Tony La Russa was so impressed with Nelson's work during spring training that he used him with the White Sox from 1981 to 1984.
In 1985 Nelson left to work as minor-league coordinator for the Oakland Athletics for two years. He returned to the broadcast booth with the Chicago Cubs for two years, in 1988-1989. He missed the playing field and served as the Montreal Expos minor-league baserunning instructor for two seasons.
In 1992 Nelson returned to the majors as a coach for the Cleveland Indians, a position he held through the 1997 season. Longtime Indians announcer Herb Score retired, so the Indians moved Nelson to the broadcast booth, working with Mike Hegan and Tom Hamilton. Nelson missed the playing field. "Working with the players, being in uniform, down on the field – that's my first love," he said. "Working with Tom and Mike was tremendous fun, as was being involved in the media side of baseball. But my heart is on the field."21
Nelson spent the 2001 and 2002 seasons as an outfield instructor in the minors for the Milwaukee Brewers before working as the Brewers' first-base coach from 2003 to 2006. He returned to the broadcast booth in 2007, serving as an analyst for Brewers games for Fox Sports, a position he still held in 2016.
Outside of the broadcast booth, Nelson stayed busy as the director of Brewers alumni relations, and joined the board of directors of Open Arms Home for Children, which provides homes to orphaned children affected by the AIDS pandemic in South Africa.
Dave Nelson passed away on April 23, 2018 after a battle with liver cancer. He was 73 years old.
Brewers chief operating officer Rick Schlesinger summed up Nelson's life: "Davey took every opportunity to turn a casual introduction into a lifelong relationship, and his legacy will live on in the positive impact he had on the lives of so many people. Davey's love of life and commitment to helping those in need were second to none, and we are so grateful for the time that we had with him."22
Last revised: August 29, 2020 (ghw)
This article was published in "The Team That Couldn't Hit: The 1972 Texas Rangers" (SABR, 2019), edited by Steve West and Bill Nowlin.
Notes
1 Chuck Greenwood, "Licensed to Steal: Nelson Stole Three Bases in One Inning." Sports Collectors Digest, October 28, 1994.
2 Russell Schneider, "Nelson Puts Headlock on Second Sack," The Sporting News, April 5, 1969: 10.
3 Merrell Whittlesey, "Nelson Gives Nats a Solid Midway Lift," The Sporting News, April 11, 1970: 37.
4 Ibid.
5 Frank Haraway, "Nelson's Big Bat, Glove Brought on the Spurt of the Grizzlies," The Sporting News, September 5, 1970: 33.
6 Merrell Whittlesey, "Nats Rejoice Over Nelson Bat Revival," The Sporting News,
July 7, 1971: 11.
7 Merle Heryford, "Nelson's Flying Feet, Hot Bat Win Plaudits of Ranger Fans," The Sporting News, June 10, 1972: 33.
8 Major Flashes: "Nelson a New Wills?" The Sporting News, July 8, 1972: 30.
9 "Nelson's Flying Feet."
10 Ibid.
11 Merle Heryford, "Nelson's Quick Shift Ends Ranger Keystone Problem," The Sporting News, April 21, 1973: 22.
12 Ibid.
13 Merle Heryford, "Triple Theft Signals Return," The Sporting News, September 21, 1974: 19.
14 T.R. Sullivan. "Ex-Ranger Nelson Embodies Spirit of Robinson," "Texas Rangers.com," April 13, 2012.
15 Ibid.
16 Joe McGuff, "Royals Pad Their Keystone With 'Full' Nelson," The Sporting News, November 29, 1975: 53
17 Ibid.
18 Greenwood.
19 Joe McGuff, "K.C. Cools Toward Cleon, But Warms to Nelson," The Sporting News, February 11, 1976: 39.
20 Greenwood.
21 "Tribe's pitching Coach Regan Resigns; Nelson Quits," Cleveland Plain Dealer, October 14, 1999: 6D.
22 Tom Haudricourt, "Brewers' TV analyst Nelson dies at 73," Milwaukee Journal Sentinel, April 24, 2018: 3B.
Born
June 20, 1944 at Fort Sill, OK (USA)
If you can help us improve this player's biography, contact us.
https://sabr.org/sites/default/files/NelsonDave.jpeg
600
800
admin
/wp-content/uploads/2020/02/sabr_logo.png
admin
2012-01-04 19:54:19
2020-08-29 14:35:54
Dave Nelson