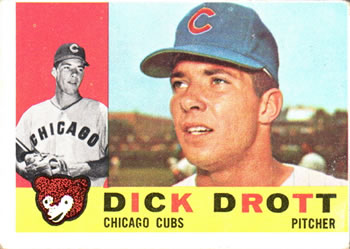 ---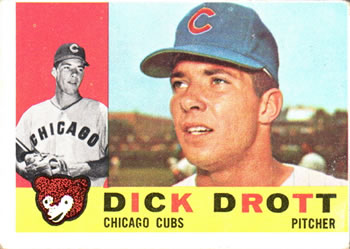 Dick Drott may not have been a Cubs icon like Ryne Sandberg or Ernie Banks, but he earned a place in the annals of Chicago greatness on May 26, 1957. Against the Milwaukee Braves, the right-handed rookie set a Cubs record of 15 strikeouts; Burt Hooton matched it in 1971 and Kerry Wood broke it in 1998 with a 20-strikeout game. Drott's win-loss tally for his rookie year was 15-11. Lifetime, 27-46.
Drott's lineage can be traced to Russia on his grandfather's side; Drottski was the family name.1 Born to Chris Drott and Dorothy Wambsgans on July 1, 1936, the future Cubbie enjoyed phenom status with Cincinnati's Western Hills High School — his exploits included a senior-year no-hitter where he struck out 17 of 21 batters and walked two2 — and Cincinnati's American Legion Bentley Post. Drott struck out 19 in one game for the squad,3 which was the national champion in 1952 and 1953.4 During his rookie MLB season, Drott emphasized the value of American Legion competition, saying: "Any boy who can play Legion ball and doesn't take advantage of the opportunity is very foolish. It's a great experience for anyone and I'm not just talking about the fellows who want to make baseball their career."5
In late May 1954, The Cincinnati Enquirer mentioned that Drott would play sandlot baseball.6 But the Cubs interrupted, offering a chance to become a professional ballplayer. Signing with the Cubs in mid-June at age 17 (he turned 18 in July), the 6'2", 190-pound right-hander got sent to the Cedar Rapids Indians in the Class B Triple-I (Illinois-Indiana-Iowa) League.7
Drott finished the 1954 season with a 5-7 record for the Indians and earned plaudits from a local columnist who changed his opinion of the teenaged hurler. Gus Schrader of The Cedar Rapids Gazette wrote, "Well, if you were at Tuesday night's game at Memorial stadium [sic] you know how much I underestimated this sturdily built lad from Cincinnati. He has definitely made good, even if he doesn't finish another game all season, and at the moment even a cautious observer would have to hail him as a definite big-league prospect."8
Beginning 1955 with the Des Moines Bruins in the Class A Western League, Drott compiled an 0-3 record before Des Moines sold his contract to the Burlington Bees in mid-May.9 Back in the Triple-I League, he threw a one-hitter against Cedar Rapids in early July and finished the season at 10-8.10
In 1956, Drott went 13-10 with the Los Angeles Angels in the Pacific Coast League. His power was evident — after whiffing 14 San Francisco Seals batters on May 11, Drott got pulled with one out and the bases loaded in the seventh inning.11 He struck out 15 batters in a 6-2 game against the Sacramento Solons on May 17 and headed the PCL with a tally of 184 strikeouts.
The Cubs elevated Drott to major-league status for 1957 — he ended spring training with "the greatest game of the 1957 exhibition season," described the Chicago Tribune. The 3-2 win against the New York Giants was a two-hitter; both hits were home runs.12 Gail Harris and Dusty Rhodes smacked the round trippers; Willie Mays notched three of the five walks.13

The Sporting News labeled Drott the Cubs' "Kid With Greatest Potential" in their team-by-team assessment. Other categories and selections included "Most Improved Player" (Don Zimmer for the Dodgers, Ken Aspromonte for the Red Sox); "Hottest Young Prospect" (Brooks Robinson for the Orioles, Bill Mazeroski for the Pirates); "Best Managerial Material" (Harvey Kuenn with the Tigers, Solly Hemus with the Phillies); and "Most Popular With Fans" (Andy Pafko, with the Braves; Yogi Berra with the Yankees).14
Midway through his rookie year, Drott noted the impact of Freddie Fitszimmons — a coach and ex-pitcher who compiled a 217-146 lifetime record with the Giants and Dodgers during his 1925-1943 major-league career. In 1930, he led the National League in winning percentage; 10 years later, he topped the majors. "Fitszimmons corrected my stride," credited Drott. "That helped my control. I wasn't a very good fielder but Bob Scheffing, Cub manager, helped me on that."15 Scheffing had managed Drott with the '56 Angels.
During his landmark outing against the Braves, the first game of a doubleheader, Drott mowed through the Milwaukee nine at an age when his peers were worrying about which coed to invite to the spring formal. "I threw about as many curves as fast balls,"16 explained Drott after the game. Hank Aaron, the 1957 MLB leader in home runs, struck out looking three times.17
But the rookie also allowed five runs on seven hits, including two each by Chuck] Tanner and Eddie] Mathews. He went 15-11 that season with a 3.58 ERA. Control was a bit of an issue, though — he led the majors with 129 walks.
On July 1, 1957, his 21st birthday, Drott marked the occasion by blanking his hometown Reds on four hits. His performance led to a revelation of maturity after the game — instead of trying to strike out every batter, "Now I just try to get the ball over and make them hit it."18 Drott also explained that he chose the Cubs for a quick route to the majors rather than staying in Cincinnati. "With the Reds, I might still be in the minors."19
But there was another factor. The following year, Drott disclosed to The Cincinnati Enquirer that he did not want to face the fans at Crosley Field. "One of my early ambitions was to pitch for Cincinnati some day, but I soon changed my mind after watching the treatment the Crosley Field fans gave Herm Wehmeier while he was with Cincinnati. I guess it is that the hometown fans just expect too much from you."20
Drott's performance inspired Cubs owner Phil Wrigley to boost the hurler's salary from the minimum $6,000 to $15,000. Fellow pitcher and roommate Moe Drabowsky got the same raise.21 In the off-season, Drott confirmed his decision to aim for a different team than the Reds. "Maybe I'm wrong but not so far," said the Cincinnatian. "The Chicago organization has treated me wonderfully. They've done everything possible to help me and I never have regretted my choice."22
One of the game's greatest hitters praised the hurler after the outstanding 1957 output. "Drott's exceptional speed, and his three-quarters delivery, make him one of the finest pitching prospects to come up in the National league [sic] for many years," predicted Rogers Hornsby. "This year'll tell if Drott has the heart."23 Promise heralded went unfulfilled in 1958; Drott compiled a 7-11 record, pitching in 39 games, and completing four.
Playing time decreased severely in 1959: eight games, 1-2 record. Early in the season, an inflamed tendon sent him to the bench for 30 days.24 It looked like Chicago's North Side could be optimistic when he threw a seven-hit, 6-0 shutout against the Braves, in his first game back.25 But the Cubs sent Drott to the minors in mid-July26 — with the Fort Worth Cats in the Triple-A American Association, he started seven games and went 0-5.
By 1960, Cubs skipper Lou Boudreau noted his pitcher's limited repertoire: fast ball and curve. Drott expanded it to include a slider. "He is getting a lot of spin on the ball, which is good, because the hitter can't tell how much the ball will 'break,'"27 said Boudreau. Drott spent all of 1960 with Chicago, starting nine games and playing a relief role in 14 games. His record was 0-6. In 1961, he started eight games of the 35 that he pitched and went 1-4.
The Houston Colt .45s drafted Drott for their inaugural season28 with a price tag of $75,000.29 His time with Houston was about as brief as niceties between J.R. Ewing and Cliff Barnes on Dallas — six games, 1-0 record. Drott spent part of 1962 with the Triple-A Oklahoma City 89ers of the American Association and went 3-1 in eight games. "His trouble was that he started throwing with his arm, and not his body,"30 said Houston manager Harry Craft.
Drott's Army Reserve status and Private First Class rank did not prevent him from playing baseball, claiming a streak of five victories with his base at Fort Bragg against other military service teams during his six-month, active-duty stint.31
Returning to Houston, Drott was 2-12 in 1963. When Juan Marichal pitched his no-hitter against the Colt .45s that year, Drott was the opposing pitcher.32 He spent three games with the Double-A San Antonio Bullets in the Texas League — three games, 1-0 record — and never saw the major leagues again. Drott's last season in professional baseball was 1964, eight games with Oklahoma City (1-3) and one game with the Columbus Jets in the Triple-A International League (0-0).
In January, 1965, there was talk of continuing when the White Sox signed him with the intention of adding to their PCL club's roster — Indianapolis Indians.33 An elbow operation convinced White Sox skipper Al Lopez that Drott could make a valuable contribution.34 But a sore back and a poor outing in an intra-squad game — his only game during this trial period — led to his release in mid-March. He pitched two innings and walked nine batters.35
Drott's rookie season, especially the 15-strikeout performance against the Braves, placed him in the ranks of beloved Bruins. But recognition may fade. Chicago native, Tony Award Winner, and lifelong Cubs fan Joe Mantegna — who conceived the idea that became the 1977 play Bleacher Bums, written by Mantegna with his fellow members of the Organic Theater Company — points out that lack of notoriety is a common factor in The Friendly Confines:"Since Ron Santo didn't get into the Hall of Fame until his death, I feel it's fair to say many of the Cubs got overlooked in Cubs lore due to the fact they were never in contention for so many years and they were overshadowed by the stars of winning ball clubs."36
For the last 20 years of his life, Drott worked in community baseball programs for the Chicago Park District.37 It was a job that one could argue made a bigger, more lasting impact on the National Pastime than holding the Cubs' single-game strikeout record for more than 40 years. On the Windy City's baseball fields, Drott's responsibilities as baseball director38 included putting on baseball clinics to inspire and instruct children in the nuances of baseball.39 He leveraged his connections so the kids could get advice from famous players, including Aaron.40 Drott also stayed connected to the Cubs — during the team's 100th anniversary in 1976, he made an appearance with other Cubs alumni to sign autographs at Wrigley Field.41
Drott's decision to settle in Chicago after his baseball career reflects the city's allure and loyalty. "I really think it's the magic of the Midwest," says Mantegna. "Hardworking, unpretentious people who live in not the best of climates but yet have a great love of life and certainly their sports teams."42
When Drott died of stomach cancer on August 16, 1985, at age 49 in Glendale Heights, a Chicago suburb, his survivors included his second wife, JoAnne; his father; and three daughters from his previous marriage to Darlene Nelson.43 His mother predeceased him.
Drott is interred at Queen of Heaven Catholic Cemetery in Hillside, Illinois.
Acknowledgments
This biography was reviewed by Bill Lamb and David H. Lippman and fact-checked by Chris Rainey.
Notes
1 "Drott No Dutchman — Grandpop Was Drottski," The Sporting News, June 12, 1957: 14.
2 "No-Hitter Is Tossed By Maroon Hurler; Season's First Here," The Cincinnati Enquirer, April 3, 1954: 16.
3 Jim McCulley, "Drott Preferred Cubs As Best Major Chance, Daily News (New York), July 24, 1957: 68.
4 Richard Fred Drott, Biographical Sheet, Giamatti Research Center, National Baseball Hall of Fame and Museum.
5 Jerry Holtzman, "Drott, Cubs' Strikeout King, Gives Credit to Legion Ball," The Sporting News, July 17, 1957: 21. "Drott estimates that in two years with the Bentley Post he pitched about 30 games, winning 26 and losing four." His best performance came against Lafayette, Indiana, when he struck out 18.
6 "Stars Of Local Diamond Play," The Cincinnati Enquirer, May 30, 1954: 11.
7 "Dick Drott Signs With Cubs," The Cincinnati Enquirer, June 19, 1954: 15.
8 Gus Schrader, "Red Peppers," The Cedar Rapids Gazette, August 11, 1954: 23.
9 "Bruins Sell Two Pitchers," Des Moines Tribune, May 16, 1955: 18. "Drott, who came to Des Moines on option from Los Angeles of the Pacific Coast League, will remain under option to the Angels."
10 "Burlington's Drott Wins 1-Hitter 1-0," Waterloo Sunday Courier, July 3, 1955: 32.
11 Walter Judge, "Angels Defeat SF, 6-5," San Francisco Examiner, May 12, 1956: 15.
12 Edward Prell, "Drott Yields 2 Homers, and Wins On Walk," Chicago Tribune, April 1, 1957: 73.
13 John C. Hoffman, "Dazzler by Drott Flicks Switch in Cubs' Dark Hour," The Sporting News, April 10, 1957: 24.
14 Oscar Kahan, "Comebackers, Kids Share Spotlight," The Sporting News, April 17, 1957: 15.
15 Jim McCulley, "Drott Preferred Cubs As Best Major Chance."
16 "15 Strikeouts! Dick Drott Earns a Degree in Speed," Chicago Daily Tribune, May 27, 1957: C1.
17 Ed Prell, "Drott's Strikeout Pitch Dazzles Weary Cub Fans," The Sporting News, June 5, 1957: 18.
18 Bob Pille, "Drott Chose The Fast Way," The Cincinnati Post, July 2, 1957: 15.
19 Pille.
20 Joe Smith, "Redleg Fans Encouraged Drott To Sign With Chicago Cubs," The Cincinnati Enquirer, January 19, 1958: 60.
21 Joe Quinn, "Drott Recalls 6-0 Win," The Cincinnati Post, November 18, 1957: 15.
22 Quinn; "Drott Recalls 6-0 Win; Ed Prell, "Crew-Cut Scheff Getting Through to Mod Mets," The Sporting News, February 14, 1970: 33.
23 David Condon, "He Knows He's Good!," Chicago Sunday Tribune Magazine, March 30, 1958: 32.
24 "Cubs Reinstate Dick Drott," Chicago Daily Tribune, June 10, 1959: 49.
25 "Drott Hurls Whitewash at Braves," Associated Press, The El Paso Times, June 15, 1959: 10.
26 "Cubs Option Drott To Fort Worth Cats," Associated Press, The Corpus Christi Times, July 17, 1959: 26.
27 "Drott Needs a Slider: Needs 3d Pitch, Says Lou," Chicago Daily News, June 2, 1960: 53.
28 "Dreadful To Finish Tenth," United Press International, Tyler Morning Telegraph, January 30, 1962: 9.
29 "Relief Pitchers, Si; Starters, No," The American-Statesman (Austin, TX), February 4, 1962: 36.
30 "PFC Drott Begins Rehabilitation," The Houston Post, June 26, 1962: 1.
31 "Pfc Drott Begins Rehabilitation." Drott had two stints in the Army Reserves: September 20, 1958 — March 2, 1959; October 29, 1962 — July 29, 1962. U.S. Department of Veterans Affairs BIRLS Death File, 1850-2010, ancestry.com.
32 Curley Grieve, "Marichal No Hitter!," San Francisco Examiner, June 16, 1963: 55.
33 "Drott Is Added To Tribe's Slab Corps For 1965," The Indianapolis Star, January 6, 1965: 24.
34 Bob Ford, "Same Old Story! Lopez, Chisox Figure To Win," The Kokomo Tribune, January 19, 1965: 9.
35 "Comeback of Drott Fails; Sox Drop Him," Chicago Tribune, March 22, 1965: 62.
36 Joe Mantegna, email to David Krell, March 2, 2020.
37 "Services held Monday for ex-Cub hurler Drott," Associated Press, The Marion Star, August 20, 1985: 10.
38 Bernie Lynch, "Musial playoffs open Saturday," South End Reporter (Chicago), July 15, 1976: 36.
39 Martin Fischer, "Local kids miss Sox, Cubs," The World (River Grove, IL), June 4, 1976: 46.
40 Richard Dozer, "Aaron Aims for Top Salary in Baseball," Chicago Tribune, February 15, 1972: 32. Drott is not mentioned in the article. But is featured in an accompanying photo with Hank Aaron and the kids. He's also mentioned in the caption.
41 "Hack will autograph," Dixon Evening Telegraph (Dixon, IL), July 30, 1976: 17.
42 Joe Mantegna, email to David Krell.
43 "Services held Monday for ex-Cub hurler Drott," Associated Press, The Marion Star (Ohio), August 20, 1985:10.
Born
July 1, 1936 at Cincinnati, OH (USA)
Died
August 16, 1985 at Glendale Heights, IL (USA)
If you can help us improve this player's biography, contact us.
https://sabr.org/sites/default/files/DrottDick.jpg
600
800
admin
/wp-content/uploads/2020/02/sabr_logo.png
admin
2020-05-26 20:39:30
2020-06-16 23:21:13
Dick Drott