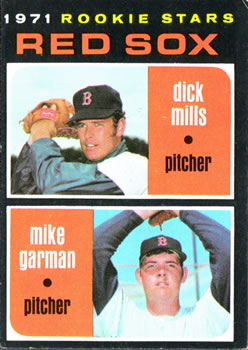 ---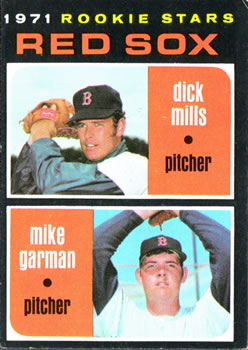 Dick Mills was a 6-foot-3,195-pound right-handed pitcher who appeared twice for the Boston Red Sox in 1970. They were his only two games in major-league baseball.
Mills was a hard guy to pin down at first. Drafted by the Philadelphia Phillies in June 1965, a 13th-round pick, he chose not to sign. Drafted by the Pittsburgh Pirates in January 1966 in the sixth round, he again chose not to sign. When the Boston Red Sox drafted him in the third round in the June 7, 1966, draft, Mills signed. It might have been the third-round money, or maybe he just wanted to wait for a chance to sign with the Red Sox. He was, after all, Boston-born.
Richard Allan Mills was born on January 29, 1945.1 His father was Harvey Mills, who in 1940 worked as a "sand hog" doing tunnel construction in Boston, perhaps a job he worked at for a relatively short time. Dick Mills' son Ryan Mills understands that his grandfather worked as an elevator mechanic.2 Harvey's father William had been a janitor in apartment buildings. Harvey Mills had married Barbara (Wallace) Mills. Harvey's siblings included a sister who was listed as "forelady/printing" in the 1940 census as well as a newspaper reporter and an "office boy/newspaper."
Dick Mills was raised in the suburb of Weymouth, Massachusetts, attending the Academy Avenue elementary school there for his first eight years and then Thayer Academy in Braintree, Massachusetts, where he played baseball and basketball. On May 9, 1962, Mills pitched a seven-inning no-hitter against Providence Country Day School, 11-0.3
He graduated and went to Parsons College in Iowa, where he received a bachelor's degree in Business Administration. He was drafted out of Parsons after completing his junior year.
"I was ready to sign," he said in 1969. "The Red Sox were the third club to draft me. Previously I was drafted by the Phillies and the Pirates. Although I always wanted to be a big-league ballplayer, I put that behind me at the time. My education came first. I wanted to finish at least three years of college. Then it wouldn't be so tough to combine the two. Well, I signed with the Sox and finished that summer playing ball in Virginia. Then, I went back to school and got my degree. And now I'm a fulltime ballplayer."4
Had the third-round money actually been significantly better? The reporter said his "smile widened" as he answered: "The three were fairly comparable. It's just that when the Sox spoke to me I was ready to play ball. But let me say that I was more than satisfied with the money the Sox gave me to sign. It was always the Sox in my mind, but in all fairness to myself I weighed all offers."5 SABR's Scouts Committee credits his signing to Don Lenhardt. The family retains a letter from scouting director Ed Kenney acknowledging Mills's $8,000 signing bonus.
Mills did indeed begin his professional career playing in Virginia, in rookie league ball with the Covington Red Sox. He started 10 games and relieved in four others, finishing 2-6 with a 4.58 ERA, but he did strike out 61 batters in 53 innings. In 1967 he pitched for the Greenville (South Carolina) Red Sox in the Class-A Western Carolina League. He was 0-2 in six games.
He got in a full year in 1968 in the Class-A Carolina League for the Winston-Salem Red Sox, working 130 innings. He was 8-8, 4.29. He joined the Boston Red Sox for spring training in 1969, and manager Dick Williams saw him as one of several possibilities to make the team.6 Teammate Carl Yastrzemski foresaw the possibility in a column he wrote during spring training: "Dick Mills, from the Boston area, is an outstanding young pitcher. He has a great sinker, a good curve ball, slider, and he has that control. He also has poise and is very determined."7
Mills was among several cut on March 25. He was, however, promoted from Single A to the Double-A Eastern League in 1969. Mills was 5-3 (3.63) in just 10 starts. Three of his first five starts were shutouts. But then he developed tendinitis. The rest of the season was pretty much a waste, but he recovered his arm strength after the season and started six games in the Florida Instructional League later that year. Pitching instructor Mace Brown said, "He can be a great pitcher. His fast ball moves as well as anyone we've got."8
Over the winter, Mills and fellow pitcher Ed Phillips worked in what was called public relations for the Red Sox. Basically, they visited area businesses looking to sell season tickets. In 1970, Mills advanced to Triple A, playing for the Louisville Colonels. In 27 starts, he was 6-6 with a 3.53 ERA. Mills had put in his time, interrupted as it was. After a relatively few years in the minors, he was called up to the Red Sox in September and had a brief shot. Eddie Kasko was the manager.
His major-league debut was on September 7, 1970, in Cleveland, in the second game of a doubleheader. The Red Sox won the first game, 4-3. Cal Koonce started the nightcap, giving up six runs in four frames. Mills pitched the sixth, seventh, and eighth innings, giving up one run on four hits. He walked two and struck out two, and threw a wild pitch. The Indians won, 8-2, Koonce taking the loss.
Dick Mills's second (and last) appearance came in a Sunday afternoon game at Baltimore's Memorial Stadium six days later, on September 13. He came into a bases-loaded, one-out situation in the bottom of the seventh. The O's already had a 7-1 lead. An unfortunate series of events ensued. Andy Etchebarren hit the ball back to Mills, who committed an error. One run came in, leaving the bases still loaded. A walk to Mike Cuellar forced in another run. Mills then hit Mark Belanger with a pitch, forcing home a third run. After Paul Blair struck out, Boog Powell singled in two more and Merv Rettenmund singled in the sixth run of the inning. Brooks Robinson grounded out. None of the runs was charged to Mills as earned runs, even though it was his error that set them all up. It was not an impressive showing. John Kennedy batted for Mills in the eighth and Roger Moret came in to pitch a 1-2-3 bottom of the eighth in his own major-league debut. The final score was 13-2, Orioles. Mills was not given another assignment that season.
His major-league record was 0-0, with a 2.45 ERA in the 3 2/3 innings he pitched. It was a better earned run average than he posted in any of his years in the minors.
In 1971 he felt he was pitching very well in spring training, but he was assigned to Pawtucket. Kasko said, "It's hard to say we're planning on him when we have 13 or 14 pitchers with more experience. That's Mills's biggest handicap – inexperience. The unfortunate thing is that he's had one problem or another that's prevented a full season in most of his five previous years in pro ball."9 The most innings Mills had thrown was 130 in 1968 and 153 in 1970.
Mills saw it a little differently, feeling his age – more than the lack of experience – might have been against him. "I can't figure out some of the things," he lamented. "They decided to go with the kids at Louisville and dumped me."10 Mills pitched in Pawtucket for the Double-A PawSox, with a record of 5-9 (3.76). It was his last year as a professional baseball player.
Ryan Mills said his father didn't talk all that much about his own baseball career, but his understanding was that a shoulder injury hampered his ability to perform at the end.
He had a real estate office in Hingham, Massachusetts. "He had a lot of different jobs throughout the years after baseball," says son Ryan. "He did some modeling. He did photography. He worked for Spalding Sporting Goods for a little bit. Sales."
Mills and his future wife Virginia ("Ginny") met at the Bachelors III bar in Boston, the local restaurant/bar founded by Joe Namath in New York and run locally in Boston by Bruins star Derek Sanderson. "My mom was working at Mass General [Hospital] as a dietician. She was doing an internship there. There were married for 42 years until my dad passed."11 Later in life, Ginny Mills became a fitness instructor.
At a certain point, they moved to Peoria, Illinois, where Ginny Mills was from, so that they could be around her parents. Their son Ryan was born on July 21, 1977, in Peoria. When he was about 2, the family moved back to Boston and when he was about 6 the family moved to Scottsdale. Dick's sister had moved out there, and the family came to visit her and liked the area. "He wasn't a fan of the snow," Ryan says.
From early on, it was clear that Ryan Mills had some pitching genes, too. He was a left-hander. Dick Mills said in a 2013 interview, "I turned into a coach when my son was going into T-ball. I coached him until high school and then I turned into an instructor. I've been instructing now about 30 years."12 Ryan said, "My dad had a baseball card and when you're a 5-year-old kid, that was a pretty big deal. I always wanted to play baseball and he always coached me as a youth player. That's what our relationship was built on – baseball."
Ryan Mills went to Horizon High School in Scottsdale, Arizona, and to ASU at Tempe. He began to draw attention from scouts, and people started asking Dick Mills about Ryan. Ginny Mills suggested that Dick write a book about the work he had been doing with Ryan and what he had learned. Called All About Pitching, it was later developed into a website, Pitching.com.
Ryan Mills was initially drafted by the New York Yankees in the 13th round of the June 1995 draft but elected not to sign and to go to college instead. He was drafted in the first round of the 1998 draft by the Minnesota Twins. He spent seven seasons in the Twins system, the last two at Triple-A. It was a shoulder injury which also brought about the end of his career. He had reached the end of his string with the Twins, entering free agency, but his shoulder had hampered him sufficiently that he was not picked up by another team. A couple of shoulder operations followed, but it was never the same as it had been.
In August 1996, Dick Mills launched Pitching.com. "I've kind of followed the science-based aspect of pitching," he explained, "and got off the road of just whatever everybody believes to be true. I've done more of a science-based program."
Mills said determination was important, that you had to work a little harder than everybody else if you're going to haves a chance to make it, but you also have to work smarter. He was concerned that as many as 50 percent of high school pitchers are going to be pitching in pain, a problem that needs to be addressed by avoiding overwork and allowing sufficient recovery time.
He started going to the American Sports Medicine Institute in Birmingham and began videotaping Ryan. The proclivity of many pitchers at the time to be doing long-toss, he said, often did more harm than it produced benefits. He thought long-toss should only be done during the offseason, and then only as part of a full-body conditioning program.
Mills cautioned against playing in too many games, as opposed to focusing on practice time, and he warned against excessive static stretching before games.
He called himself the "pitching rebel" because he follows a science-based approach.13
Dick Mills had found his calling, his niche.
Working with his wife Ginny, Dick produced a number of books and age-specific instructional videos, tailored for youth pitchers, high school pitchers, and college pitchers. After 1996's Pitching Mastery Video Series: the Ultimate Teaching Tool to Help Develop Big League Mechanics, the two collaborated in 1998 on The Ultimate Strength & Conditioning Survival Guide for Pitchers.
Just a bit later, he produced an instructional video entitled How to Develop Great Mechanics in the Little League Pitcher. In 2006, he published The Science and Art of Baseball Pitching: The Coach's Complete Handbook of Scientific Pitching. Around 2008 or 2009, Ryan joined in the business full-time.
The website Pitching.com offers numerous products, but also offers the opportunity do a video analysis that a parent might send in of their child, the young pitcher. See www.pitching.com for more information on the company.
Dick Mills remained a Red Sox fan throughout his life and the family enjoyed visiting in 2012 to help celebrate the 100th anniversary of Fenway Park.
Only a few weeks after diagnosis, Dick Mills died of Stage 4 melanoma cancer in Scottsdale on March 28, 2015. He was survived by his wife Ginny and son Ryan. Both continue to run Pitching.com.
Acknowledgments
This biography was reviewed by Norman Macht and fact-checked by Kevin Larkin.
Sources
In addition to the sources noted in this biography, the author also accessed Mills' player file from the National Baseball Hall of Fame, the Encyclopedia of Minor League Baseball, Retrosheet.org, and Baseball-Reference.com. Thanks to Rod Nelson of SABR's Scouts Committee.
Notes
1 The author of this article was born in a different but nearby Boston hospital just 16 days later.
2 Author interview with Ryan Mills on June 15, 2018. Unless otherwise indicated, all quotations attributed to him come from this interview.
3 Will McDonough, "Brady, Mills Join No-Hitters," Boston Globe, May 10, 1962: 47.
4 Fred Ciampa, "Sox Rookie Lauds Conig Showing in Florida Ball," Boston Record American, January 9, 1969.
5 Ibid.
6 Clif Keane, "Four Rookies May Pitch for Sox," Boston Globe, March 2, 1969: 65.
7 Carl Yastrzemski, "Sox Have Power; Right-handed Relievers A Problem," Boston Globe, March 19, 1969: 40.
8 Peter Gammons, "E. Weymouth Still Counting On Him and Mills, 25, Knows the Red Sox Can't Wait Forever," Boston Globe, December 14, 1969: 45.
9 George Sullivan, "'Mills Has Chance, But….'," Boston Herald, February 20, 1971: 15.
10 Peter Gammons, "'I'll Be Back' – Dick Mills," Boston Globe, June 13, 1971: 91.
11 Author interview with Ryan Mills on June 15, 2018.
12 Mark Brown interview with Dick Mills posted on March 12, 2013 at https://artofbaseball.net/dick-mills-on-the-science-of-pitching-w-art-of-baseball/
13 Ibid. See "I Am A Pitching Rebel" on Facebook at https://www.facebook.com/ExplosivePitching/
Born
January 29, 1945 at Boston, MA (USA)
Died
March 28, 2015 at Scottsdale, AZ (USA)
If you can help us improve this player's biography, contact us.
https://sabr.org/sites/default/files/Mills%20Dick.jpg
600
800
admin
/wp-content/uploads/2020/02/sabr_logo.png
admin
2018-07-16 17:16:33
2020-04-09 14:38:43
Dick Mills