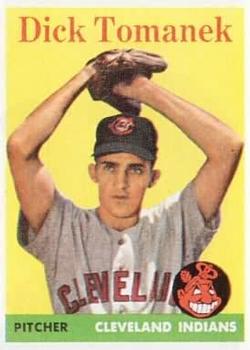 ---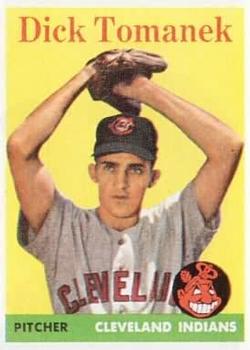 Signed as a teenager, Dick Tomanek reached the big leagues after serving in the US Marines and pitching in the minor leagues for less than three years. He went on to amass more than 100 major-league appearances with the Cleveland Indians and Kansas City Athletics. More than half of those appearances came in 1958, when Tomanek split the season between the two teams and served a valuable role as a reliever and spot starter for both clubs.
Richard Carl Tomanek was born on January 6, 1931, in Avon Lake, Ohio, about 15 miles west of Cleveland. He was commonly called Dick and was also known by the nickname Bones. He was signed by the Indians before the 1950 season and began his professional career at the age of 19. A left-handed pitcher, Tomanek stood 6-feet-1 and his playing weight was listed as 175 pounds.
Tomanek began his minor-league career in 1950 with the Pittsfield Indians, Cleveland's affiliate in the Class C Canadian-American League. Tomanek finished with the third-lowest ERA on the team at 3.80. The only regular starter with a lower ERA was Brooks "Bull" Lawrence, who also went on to pitch in the major leagues. Tomanek finished with a 6-8 record in 16 starts and five relief appearances for the seventh-place team. One of only two 19-year-olds on the staff, Tomanek walked 142 batters in 123 innings.
Tomanek missed the following year and part of 1952 while serving in the Marines. Discharged in the middle of the 1952 season, he reported to the Reading Indians of the Class A Eastern League.[fn]Reading (Pennsylvania) Eagle, February 18, 1954, 17.[/fn] The youngest pitcher on the team, Tomanek posted a 2-5 record with a 3.35 ERA and made progress on the control issues that had been his Achilles' heel in 1950. Although he still walked more than a batter every other inning, he halved his walk rate from 1950, giving up 44 bases on balls in 78 innings. Tomanek and former Pittsfield teammate Brooks Lawrence had a hard time breaking into Reading's veteran rotation; Tomanek got only nine starts.
Tomanek made big strides the following season with the Indianapolis Indians of the Triple-A American Association. He made 23 starts and went 13-8 with a 3.11 ERA and three shutouts. He showed that the progress he made with his control during the previous season was sustainable, walking 98 batters in 165 innings. He struck out 158 batters, and continued to be difficult to hit, as he surrendered only 127 hits. Playing under the tutelage of manager Birdie Tebbetts, a former major-league catcher and future Indians manager, the 22-year-old Tomanek struck out the most batters per inning and surrendered the least hits per inning of any pitcher on the club and had the lowest ERA of any Indianapolis starter.
His fine season caught the eye of the Cleveland front office and Tomanek was called up to Indians in September. His major-league debut came in a start on September 25 against the Detroit Tigers at Cleveland Stadium, with the Indians sitting in second in the American League but unable to catch the first-place Yankees. Tomanek held the Tigers scoreless as the Indians built a 7-0 lead. He surrendered a three-run home run to Ray Boone in the seventh inning, but retired six of seven batters in the last two innings and recorded a 12-3, complete-game victory, allowing six hits, walking six, and striking out six.
The Indians had high hopes for Tomanek at the beginning of the 1954 season. In an offseason column for the Milwaukee Journal, manager Al Lopez said, "In addition to [Rocky] Nelson and [Gale] Wade, our outstanding rookie may turn out to be a young left-handed pitcher named Dick Tomanek. You may recall that Tomanek pitched one of our late season games against Detroit and showed a great deal of poise as he defeated the Tigers. … What was particularly impressive to us was the poise the youngster showed when he was in serious trouble in the early innings. … He has a fine fastball and if he can supplement this with an effective curve ball he may be an outstanding pitcher within the next two or three years."[fn]Milwaukee Journal, February 8, 1954, 15.[/fn]
But Tomanek pitched only once for the Indians in 1954, on April 17, entering a game against Chicago in relief in the first inning with the White Sox already leading, 5-0. He retired the first five batters he faced before allowing a home run to Ferris Fain and walking Bob Boyd. Jose Santiago was summoned in relief. Tomanek didn't pitch again for Cleveland for more than three years.
Tomanek had a sore elbow after that performance and the team physician, Don Kelly, diagnosed it as "curve ball pitching disease" that had resulted in pulled elbow muscles.[fn]Milwaukee Journal, April 19, 1954, 2.[/fn] After missing several months, Tomanek was sent to Indianapolis, where he posted a 6-9 record with a 4.29 ERA. For the first time in his career, Tomanek allowed over a hit an inning, and he walked 53 in 107 innings. The Indians won the American Association title by 10½ games.
Indianapolis was Tomanek's home for the next two seasons. He found it difficult to break into Cleveland's rotation, headed by Early Wynn, Mike Garcia, Bob Lemon, and Bob Feller. In 1955 Tomanek's ERA rose to 5.25 and his record fell to 7-13. He walked 104 in 168 innings, allowed 19 home runs and threw 14 wild pitches, both totals exceeding those of his previous two seasons combined.
With Indianapolis in 1956, Tomanek made only 13 appearances, winning two games and losing three, and walking only 13 batters in 46 innings. His performance put him back on the Indians' radar, and he made Cleveland's bullpen out of spring training in 1957. The season did not begin well; Tomanek surrendered six runs in 3⅔ innings in his first two appearances. He entered May with a 14.73 ERA and was a peripheral member of the bullpen, pitching only four times in Cleveland's first 22 games. He bounced back in his next seven appearances, giving up only three runs in 14⅔ innings, striking out 16 and walking four. Tomanek picked up his first win of the year, and his first major-league victory in nearly 3½ years, against the White Sox on May 24. That was followed by his first major-league loss in June. Tomanek was inconsistent in July, pitching 6⅔ scoreless innings in two appearances but giving up 13 runs in 4⅔ innings in two more games. He picked up his second win of the year on August 23, with a scoreless tenth inning against the Yankees. He used infrequently toward the end of the season, pitching only three innings after September 1. Tomanek finished the year with a 2-1 record and a 5.68 ERA in 69⅔ innings. He struck out 55 batters while walking 37.
Tomanek began 1958 back in Cleveland's bullpen, surrendering a pair of runs in his first appearance but holding the opposition scoreless in his next two. On April 24 he started against the White Sox, allowed four runs in 4⅓ innings, and didn't get the decision as the Indians won the game.
Subsequently, Tomanek returned to the bullpen and had one of the busiest stretches of his career, with six appearances between May 9 and May 18. On May 13, after Tomanek allowed three runs in two innings, manager Bobby Bragan called him the team's "biggest disappointment."[fn]Portsmouth (Ohio) Times, May 22, 1958, 38.[/fn] Tomanek seemed to respond to his manager's criticism, as he threw six scoreless innings of two-hit relief on May 16. Perhaps owing in part to that strong effort, he was handed another start on May 21, against the Boston Red Sox. He went 12 innings and surrendered just a Jackie Jensen home run and a second run that was unearned. In his complete-game victory, secured by a walk-off home run by Minnie Miñoso, Tomanek allowed only four Red Sox to reach second base. It was perhaps his finest performance in the majors.
After the game, Bragan said, "That was a masterful pitching job against the team that I figure as the best we've met."[fn]Ibid.[/fn] Tomanek was asked if he had heard Bragan's earlier criticism and he responded, "I heard about it. Maybe it did shake me up a little, made me more determined." However, he added, "I'm not doing anything different. My control has been better and that always helps."[fn]Ibid.[/fn]
Bragan complimented Tomanek's stuff, saying it was probably second only to Herb Score's on the staff, but he was not as fond of Tomanek's approach on the mound. "When he gets out there in a tough situation, he throws the ball in the dirt or fools around with his slider when his fastball is his best pitch. … Sometimes he seems plain scared out there."[fn]Ibid.[/fn]
Tomanek immediately got two more starts, but he didn't match his results against the Red Sox, and the Indians lost both games. In early June he returned to a swingman role, alternating between starting and relieving. Tomanek lost two starts, although he did throw an eight-inning complete game. On June 8 he notched a victory in relief over the Yankees with 1⅔ scoreless innings.
On June 15, the day of the trading deadline, Tomanek was dealt from his home-state Indians along with outfielder Roger Maris and first baseman Preston Ward to the Kansas City Athletics for utilityman Woodie Held and outfielder/first baseman Vic Power. The Athletics would come to rely on Tomanek's presence in the bullpen heavily during the second half of the season.
Tomanek quickly made a positive impression on his new team; he didn't allow a run in his first five appearances and recorded a save with 2⅔ innings of strong relief against the Red Sox. He picked up two quick victories for his new club; the second was particularly deserved as he spun five innings of one-run relief against the Yankees in a 12-6 victory.
Another career highlight came on July 4, as Tomanek recorded two saves in a doubleheader (retroactively, because saves were not a major-league statistic then). He threw two scoreless innings against the White Sox to pick up his second save of the year during the first game of a doubleheader. Because he looked so good in the first game, he was summoned again from the bullpen during the second game and threw a scoreless ninth for his second save of the day.
On July 18 Tomanek made his first start for the A's and he responded with a complete game in a 2-1 victory over the Yankees. Tomanek gave up 11 hits, but he didn't walk a batter and struck out four. Tomanek, who surrendered the run in the ninth inning, almost became the first left-hander to shut out the Yankees in nearly two years. (Herb Score had recorded the last shutout on August 21, 1956.) Tomanek didn't fare as well in a start against New York 10 days later, and took the loss to even his record at 5-5.
August was the busiest month of Tomanek's major-league career; he made 14 appearances, all out of the bullpen. Tomanek finisheds 5-5 for the Athletics and 7-8 for the season with a 4.50 ERA. He had five saves and threw three complete games in his eight starts. He struck out 92 and walked 56 in 130 innings. With 54 appearances, Tomanek was the second busiest pitcher in the American League, finishing one appearance behind Washington's Tex Clevenger. He led the league with nine wild pitches.
Tomanek began 1959 in Kansas City's bullpen, but he spent much of May at the back of the bullpen, entering during the latter stages of losses and finishing the game. In four games he pitched seven innings and allowed six earned runs and three homers.
Tomanek went on the disabled list with a sore arm and didn't pitch again until August 7.[fn]St. Joseph (Missouri) News-Press, July 10, 1959, 16.[/fn] He pitched in five games that month, often in the same mop-up role he had in May. His most notable appearance came on August 23, in the first game of a doubleheader against Washington. In a game Kansas City lost, 7-3, Tomanek entered in the fifth and finished the game with five innings of one-hit relief, giving the bullpen some necessary rest.
On September 7 Tomanek entered a 4-4 tie against the White Sox in the third inning and allowed back-to-back homers, retiring only one of the four batters he faced, and left with the Athletics behind 7-4. He took the loss, and those were the last runs he surrendered in the major leagues. After three scoreless innings in two appearances, Tomanek entered a game against the Indians in the bottom of the ninth inning on September 26 with the Athletics leading 8-4, two outs, and two runners. He gave up a single to Jim Baxes, loading the bases, but retired Carroll Hardy on a grounder to shortstop and picked up his second save of the year. Tomanek never pitched in the majors again.
He finished the year with a 6.53 ERA and an 0-1 record in 16 appearances, finishing the game 12 times and picking up a pair of saves. In 20⅔ innings Tomanek allowed 27 hits, walked 12, threw five wild pitches, and struck out 13. He allowed six home runs.
In the offseason Tomanek was sold to Dallas-Fort Worth, Kansas City's American Association affiliate. He pitched the entire season for the Rangers and led the team with 27 starts. The last-place Rangers had the league's highest earned-run average and Tomanek's 4.08 ERA was the second lowest among the eight pitchers who started at least ten games for the team. Tomanek led the team in innings pitched (181) and had a 7-11 record. Tomanek never pitched again in Organized Baseball after that season.
Tomanek worked for B.F. Goodrich Chemical Company after his baseball career finished. He retired in 1990. He continues to live in Avon Lake, Ohio, his birthplace, as of this biography's completion.[fn]Tomanek declined to be interviewed for this biography.[/fn]
This biography is included in the book Pitching to the Pennant: The 1954 Cleveland Indians (University of Nebraska Press, 2014), edited by Joseph Wancho. For more information, or to purchase the book from University of Nebraska Press, click here.
Born
January 6, 1931 at Avon Lake, OH (USA)
If you can help us improve this player's biography, contact us.
http://sabr.org/sites/default/files/TomanekDick.jpg
600
800
admin
/wp-content/uploads/2020/02/sabr_logo.png
admin
2012-01-04 19:54:55
2012-01-04 19:54:55
Dick Tomanek