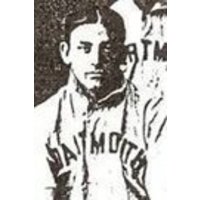 ---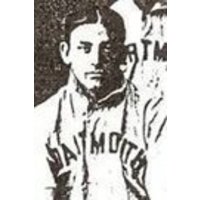 Dike Varney's major league career was more than a cup of coffee but not quite a potful — three games — flashing by like the 20th Century Limited express train that débuted in 1902. It's the same year that Varney took the hill for the Cleveland Blues/Bluebirds/Bronchos of the American League. Varney's baseball journey took him through four seasons of professional baseball, seven minor-league teams, and a 1-1 major-league record.
Born on August 9, 1880 in Dover, New Hampshire, Lawrence (sometimes spelled Laurence) Delano DeVarney, was one of five children born to George Ezra Varney and Helen Delano Everett, who married six months before — February 5, 1880. Lawrence had four siblings: Lucius Everett, Alice Marguerite, Wallace Gallinger, and Helen Everett. Varney patriarch George was heavily involved in the Dover community as a businessman — he owned a drug business — Mason, and New Hampshire state legislator. Dike's grandfather, also named George and one of 10 children, ran a shoe store and worked in the furniture industry.1
A captain of the baseball and football teams at Dover High School, Varney's excellence on the diamond earned him a varsity spot in his freshman year at Dartmouth. In addition, he was a star tennis player — Dartmouth's champion in all four years — and the winner of the 1902 Golf Driving Contest. Varney and his brother Lucius enjoyed campus social life via membership in the local Delta Kappa Epsilon fraternity chapter.2
During Varney's sophomore season, the Portsmouth Herald noted, "Varney has proven that he has lost none of the ability to puzzle opposing batters which was his last season. In fact, the Dover boy is even better this year than he was in '99 and for the past two or three weeks it has been equivalent to a victory to the Dartmouth team to place Varney in the box." Varney's exploits earned him the position of team captain. Off the diamond, Varney was also involved in the Chi chapter of Theta Nu Epsilon, a sophomore class society.3
Dartmouth's rivalry with Harvard got a boost when Varney earned the first victory against the Cambridge nine. At least one Dartmouth alumnus questioned the honor, though. After Varney's death in 1950, the Dartmouth Alumni Magazine included a summary of achievements in its July edition. Louis S. Cox, class of 1896, cast doubt on the landmark game, claiming that a team of medical students had beaten Harvard in 1892. Information about Varney's Dartmouth tenure is sparse. Responding to an inquiry from Alice in 1961, Dartmouth athletics director Robert A. Rolfe claimed that a "diligent" search had yielded no further information.4
Varney did not wait for an Ivy League sheepskin to begin his professional baseball career, latching on to the Potsdam squad in the Class-D Northern New York League in 1901. It looked as if Varney might be staying in New England after graduation in 1902. New Hampshire's baseball fans likely felt a surge of pride when an item about a Granite State native — a hurler for Dartmouth — appeared in the Portsmouth Herald on May 1, 1902: "There is a story going the round that "Dike" Varney has signed to pitch for the Boston National league [sic] team, but there is no foundation in the report. He has not signed with any team and will not until he graduates from college in June."5
The Worcester Daily Spy commented that the Boston Beaneaters ball club was "especially anxious" to sign Varney. Varney bluffed another suitor and got called on it. Hoping that a high figure would cause the Montreal Royals of the Eastern League to balk, thereby availing other options, Varney demanded a $300 per month salary. When Montreal agreed, Varney's plans got frustrated, so staying in New England — with a potential salary at the $300 rate or higher — proved unlikely.6
Varney never made it to Montreal, landing instead with Cleveland. Montreal wanted to trade him, but Varney escaped to the Buckeye State; his late play had not been impressive. "Varney is flying high and may land with a sickening thud early in his career," opined the Daily Spy, "for in recent semi-professional games he has not shown good form."7
The 1902 Cleveland squad, managed by Bill Armour, went 69-67, but the mediocre record belies some outstanding hitting and pitching. Cleveland led the league in hitting with .289, but it finished fifth in the standings. Third baseman Bill Bradley batted .340 in 137 games; second baseman Nap Lajoie, a future Hall of Famer, led the team in hitting with .378 in 86 games, tied with first baseman Charlie Hickman who appeared in 102 games. Catcher Harry Bemis hit .312 in 93 games, while future HOF pitcher Addie Joss compiled a 17-13 record, and Bill Bernhard went 17-5.
It was a team tainted with a bit of controversy. Lajoie, a standout second baseman, left the Philadelphia Phillies in 1901 for the crosstown A's, a member of the nascent American League, for a higher salary. When the Phillies took legal action, the Pennsylvania Supreme Court issued the requested injunction to compel Lajoie's return. But there was a loophole — it was only enforceable in the state of Pennsylvania; A's owner Connie Mack traded Lajoie to Cleveland. Because of the injunction, Lajoie did not play when the Cleveland squad visited the A's in Philadelphia. In 1903, the team's name changed to the Napoleons (Naps), a short-lived moniker.
Varney played in his first major league game in Detroit's Bennett Park on July 3, 1902, against the Tigers, a 10-inning contest ending with a 9-7 victory for Cleveland. Tigers hurler Edward Siever, who tallied a 1.91 ERA that year to lead the AL, got pummeled for 11 hits in eight innings. The Cleveland Plain Dealer also pummeled him, describing his defense as a "copyrighted exhibition of how not to field the pitcher's position," which allowed the visitors to walk "off with the last game of the series after the Tigers appeared to have it clinched."8
Cleveland's victory did not seem possible in the first inning, when Varney, the "big husky southpaw,"9 allowed three walks, three hits, and five runs. For the rest of the game, Varney walked two batters and gave up six hits and got pulled after the ninth inning. Bill Bernhard preserved the win, giving up one hit in the tenth. Charlie Hickman stood out for Cleveland. Leading the major leagues that season with 193 hits, Hickman ended the game with four hits — two singles, a double, a triple. Defensively, as well, Hickman proved a model first baseman, handling 16 chances with no errors.
Varney's next game was also against the Tigers in Cleveland. He notched a 9-6 victory, allowing five hits in five innings. But there was a void in his pitching repertoire, the same one that fictional Cleveland hurler Rick "Wild Thing" Vaughn suffered nearly 90 years later.10 "While Varney did not last the game out, it is the opinion of most of those who witnessed the game that he will do. He has great speed and one of the most deceptive drop balls ever seen. His fault is lack of control," reported an unnamed scribe in the Plain Dealer. He hit four batters, walked two, and threw a wild pitch. Varney could "make life miserable for the opposing batters," in future contests if he fixed this problem, posited the writer.11
Varney's third and last major-league start, an 8-7 loss against Baltimore, again illustrated his lack of control. One of three Cleveland hurlers in the game, Varney was "a dismal failure," stated the Plain Dealer. He walked the first four hitters "and of the sixteen balls he pitched not one was a strike." The Dartmouth alumnus never saw the second inning; Cleveland skipper Armour pulled him after he walked home another run.12
Varney finished his major-league career with a 1-1 record and a 6.14 ERA in 14 2/3 innings pitched, 14 hits, 12 walks, and 15 runs allowed. He managed one hit in six at-bats.
In 1903, Varney pitched at least one game for Brockton in the New England League. His prowess was noticeable in the 3-2 victory over Nashua. After giving up the two unearned runs in the first inning, Varney settled down. The Brockton Daily Enterprise described his performance as "cool and steady with men on bases" and his pitches "had great speed and excellent curves" for the rest of the game.13 Later that season, the Brockton club moved to New Bedford.
Varney married Agnes Madden that same year. They had no children. Dartmouth's star pitcher worked for the O'Rourke Construction Company in New York after his MLB baseball career, but it's not clear how long he was with the company. During a job on a tunnel, Varney got a severe case of "bends" from which he never fully recovered.14
After staying out of organized baseball in 1904, Varney ended his professional baseball career the following year. He started the season in Harrisburg, Pennsylvania, which went through some pre-season drama of its own concerning league placement. Staying in the Tri-State League after "overtures had been made by the Eastern League," the Harrisburg Senators never formally considered the issue because neither the Harrisburg Athletic Club nor the Eastern League ever officially addressed the question.15
Varney might have played the season in Cleveland, but a conflict forced his exodus. The Harrisburg Patriot described Varney as "expected to prove one of the best southpaws in the league. He was a former Dartmouth twirler and last season reported to Cleveland, where he left on account of troubles with the management. All the club owners were sorry to see him leave as they claim he was a comer and would have undoubtedly made a star."16
In his first and only start for Harrisburg, an exhibition game against Wyoming Seminary's baseball team at Island Park on April 22, Varney pitched for four innings and gave up two hits in a 17-0 victory. Rain shortened the game to six innings. Two weeks later, the Senators shipped Varney to the Haverhill Hustlers in the Class B New England League. Condoning the action but mourning the loss of possibility, the Philadelphia Inquirer stated that Varney's release "may have been a good move, but the local enthusiasts had every confidence in this twirler and would like to have seen him given a better opportunity to display his ability."17
About three weeks later, Varney signed with Nashua, another New England League club.18 By the end of the season, Varney had also played with New Bedford before returning to Harrisburg.
Varney wasn't quite finished with baseball, though. He played semi-pro ball that year with the Barre-Montpelier team in the Northern League, which had two other Vermont teams — Rutland and Burlington — and one in Plattsburgh, New York. The Northern League was an "Outlaw League" comprised of "mostly college students, former college students, and former big-league players." The games provided a lucrative opportunity for Vermont's railroad industry, transporting fans who "traveled to games by train, and streetcar spurs took them right to the ballfields." The streetcar company financed the home field for the Barre-Montpelier team. With stations at all three Northern League cities in Vermont and extra cars on the train for game days, the Rutland Railroad shepherded fans to and from intrastate games.19
Varney's post-baseball career activities included checkers — he was a formidable competitor in New Hampshire bouts, winning second place in the 1909 championship in Rockingham and Strafford counties, in addition to York County, Strafford's neighboring county in Maine.20
According to Dartmouth's alumni files, Varney was working as the assistant superintendent for the Gillespie Manufacturing Company in Lowell, Massachusetts, in 1917. Gillespie made munitions for the federal government. The following year, as part of the U.S. buildup in World War I, he was commissioned as a first lieutenant in ordinance. Stationed on Boston's Portland Street, Varney was discharged after one year and returned to Gillespie, which sent him to St. Louis. In his new position of general service manager, Varney supervised production of the Eden, the company's electric washing machine. Varney left Gillespie in 1922 and began working as assistant general manager for Cling-Cutlery in New York, which produced cling blade scissors.21
Varney's career does not, in any way, merit consideration for an impact, however slight, on baseball. He was a college phenom who neither excelled nor lasted in his four-year career in organized baseball. A three-game stint in the majors is proof enough that his Dartmouth days constituted his prime. An Ivy Leaguer who also made it to the big leagues, he's a member of an exclusive club that includes, among others, Moe Berg, Lou Gehrig, and Eddie Collins.
Varney's professional career coincided with highly significant landmarks in baseball, too. The American League launched in his début year of 1901; the following year was the second and last year for the latest incarnation of the Baltimore Orioles before the franchise was transferred to New York to become the Highlanders and eventually, the Yankees. The modern World Series began in 1903. And though there was no World Series in 1904, Moonlight Graham had his only major-league appearance in 1905 when he played one inning for the Giants. Years later, W.P. Kinsella noted him in his 1982 novel Shoeless Joe, which became the basis for the 1989 movie Field of Dreams, both of which inspired a generation to become aware of baseball's wonderful oddities.
Varney died on April 23, 1950. He and Agnes are buried in Brooklyn's Green-Wood Cemetery.
Acknowledgments
This biography was reviewed by Tom Schott and fact-checked by Rob Wood.
Notes

1 E.S. Stearns, Genealogical and Family History of the State of New Hampshire, (New York: Lewis Publishing Company, 1908) 924. The Varney name dates back to the mid-17th century in New England, beginning with William Varney, who left England and started his new life in Ipswich, Massachusetts, according to New Hampshire genealogical historian E.S. Stearns. The family name had different spellings — Verney or Varnie. There's an alternate angle to the Varney genesis, where the Varneys first settled in Barbados, West Indies, and stayed for 25 years — whether as indentured servants or landowners is not yet known — before heading north and settling in Massachusetts. Humphrey Varney — William's oldest son — settled in New Hampshire in 1659, spawning 11 generations of Varneys in the Granite State as of 2018. Varney's family line includes his paternal great-great-grandfather John Riley Varney, a Dartmouth College graduate who taught mathematics at his alma mater from 1860-63 and found prominence in journalism as the editor of the Dover Enquirer and the Dover Republican from 1868 until his death in 1882.
2 Dartmouth Alumni Magazine, July, 1950, 42:48; Catalogue of the Delta Kappa Epsilon Fraternity (New York: Council Publishing Company, 1900), 200.
3 Portsmouth Herald, May 25, 1900; Ancestry.com; U.S., School Yearbooks, 1880-2013 for Lawrence Delano Varney.
4 Dartmouth Alumni Magazine, July, 1950; Louis S. Cox to Dartmouth Alumni Magazine, November, 1950; Robert A. Rolfe to Mrs. M. Everett Mathes, December 15, 1961; Dike Varney file, Baseball Hall of Fame
5 "On the Diamond," Portsmouth Herald, May 1, 1902.
6 "Leonard Due in a Few Days," Worcester Daily Spy, March 24, 1902.
7 "Sporting Notes," Worcester Daily Spy, June 25, 26 1902.
8 "Cleveland Won In The Tenth," Cleveland Plain Dealer, July 4, 1902.
9 "Gossip And Grumbles About Clubs and Players," Pawtucket Times, May 27, 1905.
10 Vaughn was part of the fictional Cleveland Indians squad in the 1989 movie Major League. The Indians won the AL East pennant against the New York Yankees in a one-game playoff. When Major League II hit theaters in 1994, it was learned that the Indians lost the AL championship.
11 "In Seventh Place At Last," Cleveland Plain Dealer, July 12, 1902.
12 "Still On The Toboggan," ibid., July 30.
13 "Brockton Checks the Floods: Nashuas Beaten in Fine Game, 3 to 2 — Lots of Fun and Excitement," Brockton Daily Enterprise, May 28, 1903.
14 Dartmouth Alumni Magazine, July, 1950; Laurence Delano Varney Biographical Information sheet.
15 "H.A.C. Will Remain In The Tri-State," Harrisburg Courier, March 10, 1905.
16 "Manager Hamilton And His Team Come To Town," Harrisburg Patriot, April 17, 1905.
17 "Harrisburg Had 17 And Wyoming Seminary, 0," Harrisburg Patriot, April 22, 1905; "Harrisburg," Philadelphia Inquirer, May 7, 1905.
18 "Gossip And Grumbles About Clubs and Players," Pawtucket Times, May 27, 1905.
19 "History: Baseball in Central VT," Official Site of the Vermont Mountaineers, http://bit.ly/2DUJAWr; "Turn of the Century Baseball in Vermont," October 13, 2013, http://bit.ly/2nq5c2z . Both accessed January 31, 2018.
20 "Alumni: General," The Dartmouth, March 19, 1909.
21 Dartmouth Alumni Magazine, July, 1950 (referenced on Laurence Delano Varney Biographical Information sheet in Dartmouth alumni files).
Born
August 9, 1880 at Dover, NH (USA)
Died
April 23, 1950 at Long Island City, NY (USA)
If you can help us improve this player's biography, contact us.
https://sabr.org/sites/default/files/Dike%20Varney.jpeg
600
800
admin
/wp-content/uploads/2020/02/sabr_logo.png
admin
2018-07-10 00:13:10
2020-04-09 14:38:43
Dike Varney