Eddie Collins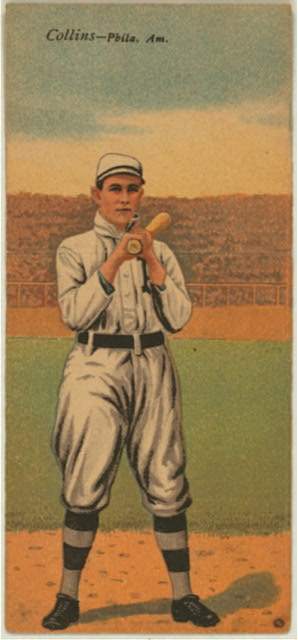 An excellent place-hitter, slick fielder, and brainy base-runner, Eddie Collins epitomized the style of play that made the Deadball Era unique. At the plate, the 5'9", 175-pound left-handed batter possessed a sharp batting eye, and aimed to hit outside pitches to the opposite field and trick deliveries back through the box. Once on base, Collins was a master at stealing, even though his foot speed wasn't particularly noteworthy. A believer in the principle that a runner steals off the pitcher and not the catcher, Collins practiced the art of studying pitchers--how they held the ball for certain pitches, how they looked off runners--all the pitcher's moves. He focused especially on the feet and hips of the pitcher, rather than just his hands, and thus was able to take large leads off first base and get excellent jumps.

An Ivy League graduate, Collins was one of the smartest players of his day, and he knew it. Saddled with the nickname "Cocky" from early in his career, Collins drew the resentment of teammates for his self-confidence and good breeding that at times seemed like it belonged more in a ballroom than a baseball clubhouse. Perhaps for this reason, contradiction and complexity became a recurring theme throughout his 25-year major league career. He made his major league debut under an alias, and finished the Deadball Era as captain of the most infamous team in baseball history. He won an award recognizing him as the most valuable player in the league, only to be sold off to another club in the subsequent offseason. Despite his upper class origins and education, Collins abided by a litany of superstitions, although he insisted he was "not superstitious, just thought it unlucky not to get base hits."

Edward Trowbridge Collins was born on May 2, 1887 in Millerton, New York, the son of railroad freight agent John Rossman Collins and Mary Meade (Trowbridge) Collins. When Eddie was eight months old, the Collins family moved to Tarrytown, New York, in the Hudson Valley 30 miles north of New York City. Young Collins registered at the Irving School in Tarrytown for the fourth grade in the autumn of 1896. By legend, he played ball there that afternoon, and continued smashing hits for Irving through the spring of 1903, when he graduated from the prep school. That fall he entered Columbia University. Though a slight 135 pounds, the precocious 16-year-old quarterbacked the varsity football team, and was the starting shortstop for the college nine.

Shortly after beginning his amateur athletic career at Columbia, Collins began picking up paying gigs on the side. In 1904, he pitched for the Tarrytown Terriers for $1 per game. The following summer, he performed for a Red Hook, NY squad, drawing closer to $5 a contest. In the summer of 1906, Eddie played for a succession of semipro clubs--Plattsburgh, Rutland, and Rockville--before his professional career was discovered, thus invalidating his senior year eligibility at Columbia. The summer was not to be a total loss, however. While honeymooning, Andy Coakley, pitcher with the Philadelphia A's, happened to see Collins playing for Rutland. Coakley sent word of the youngster to Connie Mack, who dispatched backup catcher Jimmy Byrnes to develop an in-depth scouting report. When Byrnes confirmed the pitcher's observations, Mack signed Collins to a 1907 contract, but not before Collins obtained a written promise that Mack would not send him to the minor leagues without his consent. John McGraw, manager of the New York Giants, had been aware of the budding prospect but declined to offer him a trial.

At Connie Mack's suggestion, Collins made his major league debut under the alias of Eddie T. Sullivan on September 17, 1906, at Chicago's South Side Park. He played that first game at shortstop behind Rube Waddell, who completely subdued Eddie in batting practice. Nonetheless, "Sullivan" managed to reach Chicago's Big Ed Walsh for a bunt single in his first-ever at-bat. Six fielding chances were executed flawlessly that day, though Eddie's tenure at short was not to last.

Collins was back in class at Columbia shortly after the Mackmen completed their Western tour, having played six games with the Athletics. On March 26, 1907, the day of Columbia's opening game, Collins ran out to take the field at shortstop before being informed that the University Committee on Athletics at Columbia had ruled him ineligible for the 1907 season. Still, Eddie's game smarts earned him the unprecedented position of undergraduate assistant coach for the Lions' 1907 squad. By this time, the baseball bug had a firm hold on Collins, and the youngster postponed his plans for a legal career to rejoin the Athletics after graduation in 1907, appearing in 14 games for Philadelphia that summer.

Collins became a regular player in the majors in 1908. That first full season, he split time at five positions: short, second, and all three outfield spots, hitting .273 in 102 games. He converted to second base full-time in 1909, pushing Danny Murphy to right field, and from there his remarkable career took wing. It was no small coincidence that when Collins became the starting second baseman, the team also took off. Eddie played every game in 1909, hitting .347 as the club rose to second, chasing the pennant-winning Tigers to the wire. The young second sacker finished second in the circuit in hits, walks, steals, and batting average, and placed third in the league in runs, total bases, and slugging. He led all second basemen in putouts, assists, double plays, and fielding average.

In 1910 the club broke through, winning the first of four pennants in a five-year stretch by a convincing fourteen and a half games. Eddie led the American League in steals, was third in hits and RBI, and fourth in batting, while leading in most fielding categories. Philadelphia dusted the Cubs in five games to give Connie Mack his first world title. Collins was the star of the series, hitting .429 and hitting safely in each contest. A month after the championship was secured, Eddie married Mabel Doane, a close friend of Connie Mack's fiancée; Mack himself had introduced them. Collins and Mack had a standing bet as to whom would get married first, which Mack won by a week. The Collinses remained married for more than 30 years until Mabel's death in 1943.

In 1911 the A's, with the "$100,000 Infield" of Home Run Baker, Jack Barry, Collins and Stuffy McInnis now intact, repeated as world champs, besting Detroit by 13 1/2 games, and downing John McGraw's Giants in six. After finishing fourth in hitting (.365) during the year, and leading the league's second basemen in putouts, Eddie had a modest series, batting .286 with four errors. Still, the A's had successfully defended their championship and, just 24, Collins had experienced little but success in his few years of prep, collegiate and professional play.

Eddie's plainly evident self-confidence could rub people the wrong way. As educated and ostensibly sophisticated as he was, cockiness could lead to actions that in hindsight at least were not entirely smart. In 1912, the only year in a stretch of five that the A's didn't win the pennant, some of his teammates groused about Collins' loyalties and priorities. In the wake of the 1911 World Series triumph, Eddie accepted a $2,000 commission to write a collection of ten articles for American Magazine on the inner workings of the game. In one, he explained how opposing pitchers had been tipping off their deliveries. The unhappiest of the A's argued that, alerted, the foes had corrected the give-away weaknesses. While Eddie led the league in runs, and posted a .348 average with 63 stolen bases, in 1912 the dissension in the clubhouse was at least in part attributable to the gifted second baseman. The anti-Collins faction in the A's clubhouse was led by backup catcher Ira Thomas, whom Mack named his field captain in spring training 1914.

The bright, confident, and successful Collins was given to a litany of less than "rational" practices and observances. At the plate he kept his gum on his hat button until two strikes, then would remove it and commence chewing. He loathed black cats, and would walk or drive out of his way to avoid crossing paths with one. If he saw a load of barrels, he believed he'd make one or two hits that day. Finding a hairpin meant a single, two hairpins a double. Scraps of paper littering the dugout steps drove him crazy. He would refrain from changing game socks during a winning streak, and as player/manager for the White Sox, is said to have fired a clubhouse man for acting in violation of this practice. He believed it lucky to have someone spit on his hat before a game. Each winter Collins soaked his bats in oil, dried them out and rubbed them down with a bone. This practice became the stuff of lore, as it has even been said that he buried his bats in cow dung piles to "keep 'em alive." On the more practical side, he would wear heavier shoes as spring approached so that his feet would feel lighter when the season opened.

Known as a gentleman off the field, the brainy star gave grudging quarter at best between the foul lines. Hard-nosed play around the bag invited like responses and incurred the enmity of some. One such encounter in 1912 would have long-term consequences. An unflinching tag by Eddie broke the nose of Washington first baseman Chick Gandil. Chick's teammate Clyde Milan witnessed the play and noted that "for the rest of his playing career, Gandil was out to get even. He went into the bag against Collins 200 times I guess, and always got the worst of it."

In 1913 the A's returned to form, winning their third World Series, in five games over the Giants, as Collins hit .421, with five runs, three RBI, and three steals. His standout autumn followed a regular campaign that featured 55 steals, 73 RBI and a robust .345 average. In 1914, the A's repeated as American League champs, and Collins was honored as the Chalmers Award winner, given to the league's most valuable player. Unfortunately, the bat that drove in 85 runs and registered a .344 clip was utterly absent in the Series. Philadelphia was stunned in four straight by the "Miracle" Braves, with Collins batting .214. In the aftermath of the upset, his team's harmony fractured by overtures from the Federal League, Mack began to clean house. On Tuesday, December 8, 1914, Collins was sold to the Chicago White Sox for a reported $50,000. As part of the deal, the White Sox agreed to pay Collins a salary of $15,000 per year (some sources say $20,000). By 1919, his salary had been trimmed to $14,500, but it was still more than double that of any of his Chicago teammates.

The White Sox had spent the first half of the 1910s languishing between fourth and sixth place. Eddie's tenure in Chicago lasted twelve years. For all twelve seasons, he was a genuine star. For the last two-plus years, he was player/manager. During Eddie's first year in Chicago, the great Cleveland outfielder Joe Jackson joined the club via trade with 45 games remaining in the campaign. Though by skill they were peers, there was little evidence of friendship or social interaction between the two stars. The educated and savvy Collins may have intimidated his illiterate teammate.

A sub-.500 team in 1914, the White Sox steadily rose in the standings. The 1915 club finished third, besting the .600 mark with 93 wins. Eddie was second in the league in batting, led in walks, was third in steals and was fifth in total bases while leading second basemen in both assists and fielding average. In 1916, the White Sox chased the Red Sox all summer, finishing a mere two games back. Eddie led the league's second basemen in double plays and fielding average, while on the offensive side of the ledger, he was second in triples, third in walks, and fourth in steals. In 1917, the White Sox won the pennant by a convincing nine games, with 100 wins for a .649 percentage. Though Eddie's average dipped to .289, he led second basemen in putouts, and was second in the circuit in steals and walks.

In that year's Fall Classic, Collins enjoyed his third great World Series with a .409 average, and scored the first run in the sixth and final game by outthinking the Giants defense. Though immortalized as the "Heinie Zimmerman boner," it was actually catcher Bill Rariden, first baseman Walter Holke and pitcher Rube Benton who were the real goats. In a rundown between third and home plate, Rariden allowed Collins to slip past him, and Holke and Benton neglected to cover home plate. With a foot pursuit his only option, the lumbering Zimmerman failed to catch Collins as he slid across home with what proved to be the Series winning run.

Like many other players, Collins's 1918 campaign was cut short by U.S. involvement in the Great War. On August 19, 1918, Collins joined the U.S. Marines, missing the final 16 games of the season. He served chiefly at the Philly Naval Yard, received a good conduct medal, and was honorably discharged on February 6, 1919, in time for spring training.

As the great White Sox team coalesced, it became ever more socially segmented. When Chick Gandil had arrived before the 1917 season, the calcification of some of these divisions was pretty much assured. There was resentment of owner Comiskey's penny-pinching ways, and Gandil's pre-existing bitterness towards Eddie helped to focus some of the discontent on the captain. Collins came to represent management, and his status as one of Commy's favorites further poisoned the atmosphere. Of all the performers in this ill-fated cast, Collins was sharp enough to have sensed the malignant potential. Perhaps his privileged status, seemingly unbroken record of personal success, and the team's burgeoning success combined to help dull such sensitivity.

One might expect if Collins were so aware and adept at the multi-dimensions of leadership, that he might have sensed and tried to mitigate intrasquad tensions. The superficial machismo of clubhouse camaraderie should not have been too significant a hurdle for a well-bred, broadly experienced, established star. The distinct cliques among the 1919 White Sox might have been immutable, but few were better equipped than Collins to initiate the select one-to-one rapprochements that might have modulated such tensions.

The 1919 White Sox finished with a record of 88 and 52 for a .629 percentage, besting Cleveland by three and a half games. Eddie hit .319 and drove in 80 runs while leading second basemen in putouts and finishing second in double plays. The 1919 White Sox were the greatest he ever saw because, in part, they won despite widening dissension: "[The club] was torn by discord and hatred during much of the '19 season," Collins later said. "From the moment I arrived at training camp from service, I could see that something was amiss. We may have had our troubles in other years, but in 1919 we were a club that pulled apart rather than together. There were frequent arguments and open hostility. All the things you think--and are taught to believe--are vital to the success of any athletic organization were missing from it, and yet it was the greatest collection of players ever assembled, I would say."

Although Collins, like many others, heard that the "fix was on" during the 1919 Series, he refused to believe the rumors, and said he was not suspicious of the actions of any of the eight players later accused. "[E]ven today, no one realizes how subtly conceived and executed the whole thing was," Collins later marveled. "Sure, I heard that the fix was on, but I looked on it as just idle gossip and completely preposterous."

After the scandal gutted the club, Collins still starred. He was one of the few bright lights for the decimated White Sox in the early twenties. He filled in as player/manager for 27 games during the 1924 season, and assumed the role full-time for the 1925 and 1926 campaigns. The club finished fifth in each of his full years at the helm. Injuries cut into his playing time in both of these seasons. Deposed as White Sox manager on November 11, 1926, Collins was released as a player two days later. He signed with Philadelphia six weeks later, and emerged as a solid pinch hitter in 1927. From 1928 through 1930 he mostly coached, finally playing his last game at age 43 on August 2, 1930. He concluded his career with a .333 batting average, 1,821 runs scored, 3,315 hits, and 741 steals, figures which assured his induction to the Hall of Fame in 1939, as one of the original 13 players honored by the baseball writers upon the museum's opening. Also in 1939, Eddie Collins, Jr., made his debut with Connie Mack's Athletics, where he would spend three seasons as a light-hitting outfielder. Collins' other son, the Rev. Paul Collins, officiated his father's marriage to his second wife, Emily Jane Hall, in 1945.

Eddie coached full-time for Philadelphia in 1931 and 1932 before joining the Boston Red Sox as Vice-President and General Manager when fellow Irving schooler Tom Yawkey purchased the team in early 1933. Collins remained with the Red Sox for the rest of his life, but his most notable act as general manager was his decision to absent himself from Fenway Park on April 16, 1945, when Jackie Robinson and two other Negro League players tried out for the Red Sox. Facing pressure from local press and politicians, Collins and Yawkey had offered the sham tryout only reluctantly, and their failure to take Robinson and the other black prospects seriously resulted in the Red Sox becoming the last team to integrate instead of the first. Due to deteriorating health, Collins turned over the General Manager's reins to Joe Cronin after the 1947 season but remained as vice president. A cerebral hemorrhage in August 1950 left Eddie partially paralyzed and visually impaired. Devoutly religious throughout his life, he succumbed to complications from cardiovascular disease on Easter Sunday evening, March 25, 1951, at age 63. He was buried in Linwood Cemetery in Weston, Massachusetts, and was survived by his wife and two sons.


Note

This biography originally appeared in David Jones, ed., Deadball Stars of the American League (Washington, D.C.: Potomac Books, Inc., 2006).


Sources

Eliot Asinoff. Eight Men Out. Henry Holt, 1988.

The Baseball Encyclopedia, Eighth Edition. Macmillan Publishing, 1990.

Lawrence Ritter. The Glory of Their Times. Collier Books, 1971.

Eddie Collins' clippings file, National Baseball Hall of Fame and Museum, 1997.

Charles S. Verral. The Mighty Men of Baseball. 1955.

Howard Bryant. Shut Out: A Story of Race and Baseball in Boston. Routledge, 2002.