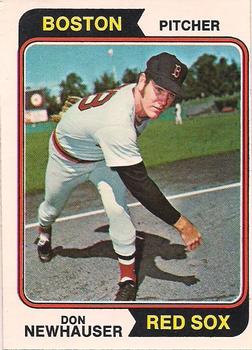 ---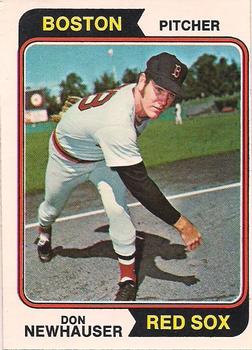 Right-handed reliever Don Newhauser joined the Boston Red Sox during the pennant drive in 1972. He contributed a 4-2 half-season, with a very good ERA, but appeared only briefly in the two subsequent years.
"Newy" was born in Miami on November 7, 1947, the only child of Donald Louis Newhauser Sr. and Ann Sesso. "My mother was a registered nurse, but she never practiced," he said in a 2018 interview. "She kept up her registration in case something happened to my dad. My dad was a carpenter. I grew up in a neighborhood with a lot of kids my age and older."1
He attended Westview Elementary School and Westview Junior High, then Pace High School. He completed two years at Broward Junior College, Dubbed a "strikeout artist" because he'd struck out 19 batters in a nine-inning game and 15 in a seven-inning game, Newhauser had caught the eye of Boston Red Sox scout George Digby. After completing two years at Broward Junior College, the 19-year-old was selected in second round of the January 1967 amateur draft and signed on April 30, 1967.2 That summer Newhauser pitched for the Greenville Red Sox in the Class-A Western Carolinas League.
Newhauser was 7-9 during his '67 season with Greenville, working in 89 innings and striking out 80 while walking 44 and compiling a 2.73 earned run average. That winter he played in the Florida Instructional League, then returned to Greenville in 1968 putting up nearly identical stats: 5-8 with 86 innings, striking out 88 and walking 42 with a 2.62 ERA.
Unlike many pitchers, who began their careers as starters and were converted to become relief pitchers, Newhauser was a reliever from the beginning, only starting five of his 33 games in 1967 and seven of 31 in 1968. A few years later, in 1972, he explained that he himself chose to become a reliever: "I spent too many sleepless nights waiting to pitch regularly. So I asked to be a relief pitcher."3 The year 1969 started with his marriage to Linda Tymms the day after Valentine's Day.
With the Class A Winston-Salem Red Sox (Carolina League) he appeared in 40 games, starting five times. "I was a short reliever. In '69, I was throwing good. I threw a sinkerball and my ball was really sinking in 1969. 11-3. Real low ERA. I had 109 strikeouts in 105 innings. I had a good year." Indeed, baseball statistics bear out his memory. Newhauser was indeed 11-3 with a minuscule 1.11 earned run average. In 105 innings, he had struck out 109 and walked 49.
Newhauser grew to be 6-foot-4 and was listed at 200 pounds. He worked in the offseasons as a construction worker. "I worked construction to try to stay in shape. I worked helping build high rises in Miami."
He'd gone to winter instructional league but then had arm problems. A bone chip was discovered on his elbow and it needed to be surgically removed. In 1970 we worked only 25 innings with Winston-Salem. He was 3-1 with a 5.40 ERA.
In 1971, Newhauser pitched more, but bore a lighter load — 46 innings for Winston-Salem (4-2, 1.37) and then 37 innings for the Triple-A Louisville Colonels (4-1, 3.89).
In April 1972, Newhauser returned to the Colonels. Manager Darrell Johnson said he thought Newhauser had fully recovered from his surgery and would be ready to head up the bullpen crew.4 He got off to a decent start and was 2-1, with four saves, in 35 innings for Louisville (3.60, with 35 strikeouts.) When Ken Tatum was sidelined by a troubled sciatic nerve in early June, the Red Sox called Newhauser up to the big leagues.
Newhauser's big-league debut was on June 15, 1972, at Fenway Park. The Kansas City Royals had scored seven times off starter Sonny Siebert, but Boston had pulled to within a run in the bottom of the sixth. Manager Eddie Kasko asked Newhauser to pitch the top of the seventh. He struck out the first batter he faced, then gave up a single and a ground-rule double. An intentional walk loaded the bases and set up a possible double play or a force at any base, but Richie Scheinblum singled. Just one run scored, but after Bill Lee relieved Newhauser, a double drove in two more, both charged to Newhauser.
Two days later, in the second game of the June 17 doubleheader, he pitched the top of the ninth against the visiting White Sox and struck out two, bracketing a fly ball and a walk, thus preserving a 10-8 Red Sox lead and earning his first save. "I'm new up here," he said after the game. "I just let Pudge (Fisk) call them, and I tried to throw the ball where he wanted."5
In his seventh appearance, on June 29, Newhauser had his first decision, a loss. The Red Sox had a 4-0 lead over the Tigers. Lynn McGlothen relieved to pitch the top of the ninth, but after two runs had scored and there were runners on first and second with just one out, Kasko called on Newhauser. A single and a double resulted in the game being tied. Bill Lee replaced Newhauser and, after a walk and a strikeout, gave up a grand slam to Bill Freehan, two of the runs charged to Newhauser.
In July he appeared in eight more games, picking up a hold, a save, three wins in a row — on July 20, 21, and 28 — and then another save. On July 20, the Sox won the first game of a Fenway doubleheader, 2-1, over the Oakland Athletics. Game 2 was tied, 3-3, after nine. Newhauser was asked to hold the A's. He hit the first batter in the top of the 10th, but got out of the 10th and retired the side in order in the 11th. Boston loaded the bases in the bottom of the 11th and Carl Yastrzemski walked in the winning run.
The very next day, the two teams squared off again and it was 4-4 after nine innings. Ken Tatum had returned and he began pitching the 10th, but after a walk, a bunt single, and an error by Tatum loaded the bases with nobody out, Kasko called on Newhauser. He induced a fly out to second base, then struck out back-to-back pinch-hitters. The 11th, 12th, and 13th resulted in neither team scoring. In the top of the 14th, Newhauser walked the bases loaded, one of the walks intentional after a sacrifice. He then struck out the new two batters. In the bottom of the 14th, Yaz came to the plate once again, with a man on first base, and the winning run scored on an error by second baseman Sal Bando, with Yaz's drive caroming off him into right-center field.
The Boston Herald's Bill Liston wrote that Newhauser had "emerged as a young man with a future."6 Manager Kasko said, "That kid pitched like mad. I talked to him a couple of times about coming out of the game, but he said he could throw and I let him go to the 14th." Catcher Carlton Fisk added, "Newhauser has shown me a lot of guts in the past. And this was just another example of it. He really gave it everything and I guess the people here now know that he can pitch under pressure."7
A week later, Liston's colleague Fred Ciampa wrote that Newhauser had pitched in eight games in July, throwing 13 2/3 innings without allowing a run. "That the Red Sox are still in the pennant race is attributable in no small measure to a completely unexpected source — rookie pitcher Don Newhauser."8
He gave up a run and lost a game on August 11. He won another one on August 26. Newhauser finished his rookie season with a 4-2 record and a 2.43 earned run average, having worked 37 innings in 31 games. The Red Sox challenged to the end, but finished in second place, just a half-game behind the champion Detroit Tigers.
Despite his strong performance in 1972, Newhauser only appeared in 11 more major-league games — nine in 1973 and two in 1974. He began the '73 season with Triple-A Pawtucket; though he hadn't been used that much in spring training, he was nonetheless one of the last roster cuts. "I didn't break camp with the Red Sox. For whatever reason, they chose not to bring me. I started off slow, then I started throwing pretty good."
By late May, the Sox brass decided they had made a mistake and optioned Lynn McGlothen to the PawSox, calling up Newhauser on May 25.
He worked 12 innings without giving up a single earned run, and only four base hits. He had no decisions, but had one save. He was unfortunately being hampered by physical issues. On July 14 he was seen at Hahnemann Hospital for what was thought to be a possible disc problem in his back. Surgery was initially contemplated, but rehabilitation was ordered instead. He was reactivated and added to the 40-man roster when rosters expanded on September 1, but did not pitch again in 1973. In October, however, it was deemed that surgery was required and he had spinal surgery in mid-October.
In 1974, Newhauser trained with the Red Sox but in late March was sent back to Pawtucket. Another serious medical issue cropped up. He was felled by appendicitis, which laid him low for a period of time in May and into June. He made two appearances for the Red Sox, on July 7 and July 13, giving up two earned runs each time over a total of five innings. When it appeared that outfielder Juan Beniquez was coming back to Boston, Newhauser was optioned to Pawtucket in order to make room. He never returned to the majors. He readily agreed, "If I hadn't had the medical problems, I probably would have been pretty good."
In 1974, Newhauser relieved in 27 games for Pawtucket, with a 2.09 ERA. That winter he went to Puerto Rico to pitch but was unable to get in much work due to a sore arm. The next year he relieved in 66 games with a 3.49 ERA. In 1976, he was signed as a free agent by the International League's Charleston Charlies, part of the Pittsburgh Pirates system.9 Working in 32 games, all in relief, he was 5-2 with an even 3.00 ERA. After that, Newhauser left baseball.
What did he do after baseball? "I had a rough time," he says. "I'd done something all my life and was used to it. You're changing your career when you're in your mid-20s. I only had two years of college and I was married with two kids. I couldn't afford to go back to school. I ended up working for a grocery wholesale company. I worked my way up through that organization into national sales. I did well with the company. I got into sales, then became a sales supervisor, a sales manager, and then got into national sales.
The company was sold.
"My dad was in ill health, so I retired at a young age. It was more to take care of my parents than my lack of desire to work. To me, that was the toughest thing I ever did. Both of my parents passed away at my house. My dad first, and them my mom much later."
Don and Linda Newhauser's marriage lasted about 20 years. They had two sons. "They're both very successful. Both graduated college. The oldest boy's married. The youngest one's still single. One — the oldest one — works for a wholesale grocery retailer and the younger one is an engineer. Two grandkids, one boy, one girl."
A second marriage, to Martha Verniece Lazarus, followed and as of late 2018 has endured about 20 years. They live in Ocoee, Florida. Don is a cancer survivor, who had at the time of the interview recently received word that his fifth-year scan looked good, and he now needs only to be checked once a year. He keeps active playing disc golf. "I play that pretty much every day either with friends or myself. Try to keep moving."
Last revised: October 18, 2018
Acknowledgments
This biography was reviewed by Norman Macht and fact-checked by Chris Rainey.
Sources
In addition to the sources noted in this biography, the author also accessed Newhauser's player file and player questionnaire from the National Baseball Hall of Fame, the Encyclopedia of Minor League Baseball, Retrosheet.org, and Baseball-Reference.com. Thanks to Rod Nelson of SABR's Scouts Committee.
Notes
1 Author interview with Don Newhauser on September 24, 2018. Unless otherwise indicated, all quotations from Don Newhauser come from this interview.
2 "Red Sox Land Strikeout Artist," Nashua Telegraph, May 1, 1967: 12.
3 Clif Keane, "Red Sox Summon Reliever Newhauser," Boston Globe, June 13, 1972: 49.
4 "Returning Mound Staff Bolsters Colonels Hopes," Lexington (Kentucky) Leader, April 12, 1972: 17.
5 Ray Fitzgerald, "Sox Rally for 10-8 After 5-4 Loss to Wood," Boston Globe, June 18, 1972: 81.
6 Bill Liston, "Sleepless Fans Dream of Pennant," Boston Herald, July 23, 1972: 64.
7 Clif Keane, "'That Kid Pitched Like Mad' — Kasko," Boston Globe, July 22, 1972: 22.
8 Fred Ciampa, "Rookie Newhauser Makes Red Sox Pennant Threat," Boston Herald, August 1, 1972: 24.
9 "Minor Deals," The Sporting News, June 19, 1976: 44.
Born
November 7, 1947 at Miami, FL (USA)
If you can help us improve this player's biography, contact us.
https://sabr.org/sites/default/files/NewhauserDon.jpg
600
800
admin
/wp-content/uploads/2020/02/sabr_logo.png
admin
2018-10-18 15:47:53
2020-04-09 14:38:40
Don Newhauser