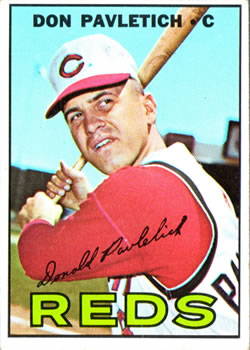 ---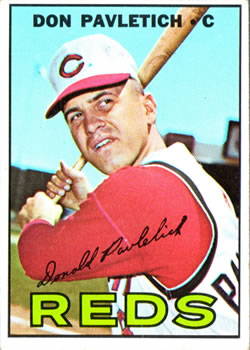 Catcher/first baseman Don Pavletich broke into the big leagues on April 20, 1957, but had to wait until April 29, 1962 — a little more than five years — before he got his first base hit.
He was only 18 at the time of his debut with the Cincinnati Redlegs.
Just a couple of months after graduating from Nathan Hale High School in West Allis, Wisconsin, and a month after he turned 18, Pavletich had been signed on August 14, 1956, by scout Dale McReynolds and farm director Phil Seghi for a reported $35,000 bonus.1 It was written that "the Reds encountered fierce opposition before they landed the personable Pavletich."2 Indeed, the AP story said he had been "eyed by nearly every major league baseball team" and Cincinnati's chief scout Bill McKechnie said, "He comes to us with the highest recommendations ever given a prospect by our area scouts."3  Worked out by the team a few days before signing, he was scheduled to report to Tampa for spring training in 1957.
Regarding the bonus, years later Pavletich said, "I didn't know what to do with it. I paid off my parents' mortgage. I felt pretty good about doing that."4
Donald Stephen Pavletich was born in Milwaukee on July 13, 1938, and grew up in the suburb of West Allis. He was of Croatian descent; all four of his grandparents came from Croatia to the United States. Don's parents were Joseph and Ann Pavletich. "I have an older sister, Virginia, and an older brother, Joseph. My dad was a laborer for Leroy Company here in West Allis. They made these…when you see them tearing up the streets, they made the big generators that ran those big hammers. My mother worked at a grocery store, doing checkout."5
One highlight of his youth stands out. Pavletich "grew up in West Allis, shagging balls for Harvey Kuenn on the playground at Franklin Elementary School." While a student at the University of Wisconsin, Kuenn held a summer job as director of the Franklin Elementary School playground.6  In high school Pavletich hit .405 over four years, the team winning the suburban baseball title all four years. He also played American Legion baseball where he hit over .500 for the Tanner Paull Post 120 team.7 After graduating from high school and before signing, he played semipro ball, catching for the Milwaukee Highway Beers team.8 In that year's Wisconsin semipro tournament he had been voted "the best major league prospect."9 Pavletich had already reached his height of 5-feet-11 and his listed 190 pounds. He also played guard for the basketball team and one year as quarterback for the football team.
Pavletich's coach throughout high school, Legion, and semipro play was Steve "Tex" Belich.
Kuenn called Pavletich "the most polished youngster I've ever seen." When he had worked out for the Orioles, manager Paul Richards declared, "He's going to be a great star someday."10
The Reds knew he would need time to develop, mainly on the defensive side of his game, said manager Birdie Tebbetts during 1957 spring training. "Offensively, he's farther advanced. I'd say he's as close to being a major league hitter as any 18-year-old can possibly get."11 Under the bonus rule of the day, he had to be kept on the major-league roster but Pavletich felt he could learn a lot from being around Tebbetts, even though he would largely be sitting on the bench.12
His big-league debut came in the third game of the season. At Milwaukee's County Stadium, the Braves took a 4-0 lead over Cincinnati and, with relief pitcher Hal Jeffcoat due up to lead off the third inning, Tebbetts had Pavletich pinch-hit. He grounded out to the shortstop on a 1-2 count.  
After the game, he went to his home in West Allis. Though signed by the Redlegs, another organization had a claim that superseded theirs — the United States Army. Knowing he was about to be drafted, Pavletich enlisted instead, planning to put in his two years and be ready to come back in time for the 1959 season; he served from May 13, 1957, to February 14, 1959. Pavletich was stationed overseas. "I went in through Fort Leonard Wood, to Fort Hood, Texas, and then from Fort Hood to Heilbronn, Germany. It's around Stuttgart, somewhere in that area.
"I was a medic. We went through medical school and then I was assigned…our company was actually a full hospital.  We had two huge tents. We had officers that were surgeons. In a war, we would have been close to the front lines."13
He returned and went through spring training, appearing in his second game on April 17, 1959, this time as a pinch-runner. He scored the only run of the game for the Reds, but it was his only big-league appearance of the year. He could have been kept on the roster without taking up a roster spot, under the National Defense List, but it was deemed far better to get him more playing experience. Optioned to the Class-B Topeka Hawks (Three-I League) on April 27, he  played in 69 games and hit .277 with 12 homers and 50 runs batted in. A bad shoulder kept him from playing more.
On October 24, 1959, he married Dolores Wilhelm of West Allis. They had four children — Diane, Dean, Denice, and Dan. "My youngest son showed some interest when he was young and I did coach Little League in West Allis at the time he was playing. We got divorced. I remarried Connie [Constance Bannister] and we've been married for 34 years. We married on Valentine's Day in 1984."   
He spent most of 1960 with Topeka again (89 games, .284/10 HR/65 RBIs), but got into 15 games of Single-A ball with the Columbia (South Carolina) Reds of the South Atlantic League. He acquitted himself well there, batting .279 and driving in 10 runs.
In 1961 he was still just 22 years old. He spent the whole year in Triple A with Indianapolis. He played in 142 games, batting .295 with 22 homers and 78 RBIs. In a national poll of writers, he was named a Triple-A All-Star.14 He was ready for regular duty in the big leagues. In the winter, he played for Ponce in Puerto Rico.
Reds manager Fred Hutchinson saw Pavletich as a possible starting catcher for the 1962 team. Johnny Edwards beat him out for the spot, but Pavletich was on the team all year long. In the first game of the April 29 doubleheader in St. Louis, the Cardinals were ahead, 9-1, in the fourth inning so Hutchinson gave Edwards a breather by having Pavletich take over catching duties. In his first at-bat, Pavletich singled to center field. He appeared in 34 games that year, but only two were behind the plate. He played 25 games at first base, a position that was less stressful on the shoulder that had bothered him in 1959. On June 5 he got his first RBIs, two of them, with a single off Curt Simmons. He picked up two more on his first home run, pinch-hitting on July 27. He hit .222 for the season, with the one home run and seven RBIs.
Although he put in some time with the Pacific Coast League San Diego team to start the 1963 season, he was brought up to the Reds in mid-May when Edwards was hurt, and more than doubled his games in the majors, playing in 71 Reds games. Thirteen were as catcher, but 57 were at first base. He only hit for a .208 batting average, though he enjoyed some big moments, such as his bases-loaded single in the May 31 game that provided the margin of victory. That winter he played for Caracas in Venezuelan winter league baseball. He was still troubled by a sore throwing arm; though successful with his bat, he had to leave Venezuela to give it a rest. In March 1964, he said that 1961 had been the only year he hadn't been bothered by his arm. Still he preferred to catch rather than play first base because he was more in the action.15
He started '64 with San Diego again, played in 71 games and batted .302, then joined the Reds on July 17, again after Edwards developed a sore arm. Unfortunately, that very day his throwing error on a pickoff attempt at second base set up the winning run for the Phillies. Another E2 on September 19 saw the St. Louis Cardinals put across two runs in their 2-0 shutout. Pavletich only appeared in 34 games but improved in batting to .242.
His next two seasons were his best two, and he never returned to minor-league ball. Johnny Edwards had won Gold Gloves in both 1963 and 1964 and remained the first-string catcher in 1965 (116 games to Pavletich's 68), but Pavletich hit well and consistently all year long and his .319 average was tops on the team for anyone with more than 200 plate appearances. He drove in 32 runs. His best game was almost certainly the June 25 night game in front of his friends in Milwaukee. He played the full game and won it with a two-run homer in the top of the 11th inning.
In 1966 he appeared in 83 games, batting .294 with 12 homers and 38 RBIs. A double off Ferguson Jenkins in the 14th inning on May 14 against the Cubs won the Reds a game. He seemed to specialize in extra-inning game-winners, beating the Cubs with another home run, over the left-field wall in the 18th inning (also off Jenkins), on July 19. When he came up in the 13th inning of the September 20 game, the Cubs issued him an intentional walk. He'd suffered a broken thumb on July 20, but barely missed a game. 
"Then in '67, '68, that was when [Johnny] Bench came along," Pavletich said of the Hall of Fame catcher. "That was it for me. I'm gone. I got traded to the White Sox in 1969 and the White Sox traded me to Boston in 1970. And guess who comes along in Boston, but Carlton Fisk? That's it for me. Just my luck."16
Actually, Pavletich got more work than Bench in 1967. Johnny Edwards was still the main man behind the plate, working 80 games to Pavletich's 74, but Pavletich saw his own batting average drop all the way back down to .238. Pavletich still contributed with several key hits, particularly in the first half of the season, earning himself several headlines or subheads in national newspapers for key hits in games played on April 26, May 12, May 20, and June 9.17 The biggest blow was his pinch-hit grand slam in the bottom of the ninth inning of the June 11 game, topping the Astros, 8-4. He'd almost been hit by the pitch before the one he hit, and he took some ribbing from teammates. "All Pav had to do was stand there and get hit and he'd have won the game," said his roomie Jim Coker. "But no, he has to be a big show off and hit a grand-slammer."18
A 20-year-old Bench came on strong in 1968. Pavletich had an exceptionally strong spring training, but he suffered an injury that kept him out from April 16 to May 29 and gave Bench an opportunity. Bench was not to be denied. He performed well and won the position — and the Rookie of the Year Award. Pavletich hit for a slightly better average (.286 to Bench's .275) but was only used in 46 games (primarily as a pinch-hitter and first baseman) and only drove in 11.
On December 5, the Reds traded him (and Don Secrist) to the Chicago White Sox for pitcher Jack Fisher.
In the spring of 1969, he held out for a while despite being granted an increase in pay. "I got a raise over what I received at Cincinnati," he said, "but I can't sign until this pension issue is settled."19 He elaborated a bit in 2018: "In '69, the player's union was threatening to strike. We weren't going to spring training until we got our contracts settled. I didn't sign my contract until I got down to Florida."20 Matters were worked out, at least for a couple of years.
Backup catcher to Ed Herrmann, Pavletich lost a month due to a broken left hand suffered at first base on May 10. He nonetheless got into 78 games (51 as catcher), batting .245. He drove in 33.
On December 13, the White Sox traded him and Gary Peters to the Boston Red Sox as part of a five-player trade. The trade reunited him with manager Eddie Kasko; the two had been teammates in 1962 and 1963. The Red Sox were loaded with catchers, though none of them standouts. Kasko was well aware that Pavletich could also play first base. Versatility kept him on the team but he wasn't used much. Jerry Moses and Tom Satriano got the most work. Pavletich appeared in only 32 games, and only accumulated 76 plate appearances. He had 15 plate appearances in April and May but didn't get his first base hit of the season until June 7 and didn't get his second until July 19. By season's end, he was 9-for-65 (.138).
In February 1971, Kasko said he'd probably made a mistake in not using Pavletich more in 1970.21 He repeated the sentiment a month later, near the end of spring training, when at least one headline proclaimed "Pavletich Seen Top Sox Catcher."22 As late as March 20, the Boston Globe's Clif Keane wrote that Pavletich "looks like he's going to take the top job."23
On March 30, though, the Sox acquired Duane Josephson from the White Sox and he became the first-string catcher with Bob Montgomery second. Pavletich played very little. He wasn't used at all in July and was used only once in August and once in September. In all, he played in just 14 games — finishing with a .259 batting average.
Pavletich was traded on October 10, 1971, part of a 10-player trade with the Brewers. Billy Conigliaro, Jim Lonborg, and George Scott were among the other Sox players heading to Milwaukee. Tommy Harper and Marty Pattin were two of the four Brewers heading to Boston.
He never played with the Brewers and was released on March 31, 1972, which concluded his playing career.
"It was kind of unexpected when the Brewers cut me," he said. "I thought I was going to make the team. It was tough at that time."24
But life worked out well afterwards. He chose to retire and went into real estate. "I sold investment real estate to begin with, for about eight years. Mainly apartment buildings, anywhere from a duplex to 30, 40, 50, 60 units. And then I became a loan officer for Universal Mortgage here in Milwaukee. I did that for about 15 years and retired from that."25
Looking back on his life for the Milwaukee Journal Sentinel interview, Pavletich simply says, "I was fortunate. I was very, very fortunate."26
Pavletich died on March 5, 2020., at the age of 81. He was buried at the Wisconsin Memorial Park in Brookfield.
Last revised: July 26, 2020.
Acknowledgments
This biography was reviewed by Norman Macht and fact-checked by Alan Cohen.
Sources
In addition to the sources noted in this biography, the author also accessed Pavletich's player file and player questionnaire from the National Baseball Hall of Fame, the Encyclopedia of Minor League Baseball, Retrosheet.org, and Baseball-Reference.com. Thanks to Rod Nelson of SABR's Scouts Committee.
Notes
1 Associated Press, "Pavletich Inks Red Contract for $35,000," Daily (Eau Claire) Telegram, August 15, 1956: 18.
2 Jack McGrath, "A Bit of This and A Bit of That," Troy (New York) Record, January 20, 1962: 21.
3 "Pavletich Inks Red Contract for $35,000."
4 Gary D'Amato, "Memories are fresh for West Allis native Don Pavletich in career that ended with brush with Brewers," Milwaukee Journal Sentinel, March 30, 2018.
5 Author interview with Don Pavletich on April 26, 2018. When reached for the interview, Pavletich said, "This is amazing to me. I haven't had an interview since 1971, the last year that I played. Approximately a month and a half ago, a writer for the Milwaukee Journal called me and wanted to write an article. About five or six days later, another older fellow — he's actually 85 years old, he writes for this over-60 paper here in the Milwaukee area. He wrote an article. I had two of them call, and now you're the third."
6 "Milwaukee's Pavletich Becomes Bonus Player With Cincy Outfit," Beckley (West Virginia) Post-Herald, October 30, 1956: 12.
7 McGrath.
8 "Soldiers Grove Bows Out of State Semipro," La Crosse Tribune, July 20, 1956: 13.
9 "Pavletich Inks Red Contract for $35,000."
10 Ibid.
11 "Pavletich Will Get Chance to Develop With Redlegs," Milwaukee Journal Sentinel, March 15, 1957: 47.
12 "West Allis Bonus Baby Tells Why He Chose Redlegs Over Braves," Milwaukee Journal Sentinel, March 28, 1957: 55.
13 Author interview.
14 See, for instance, Associated Press, "Minor Leagues Outstanding Players Named," Christian Science Monitor, November 22, 1961: 14.
15 Johnny McDonald, "Pavletich Likes Catching Chores," San Diego Union, March 26, 1964: 35.
16 Gary D'Amato.
17 See, for example, "Pavletich Stars As Reds Win, 4-2," New York Times, May 13, 1967: 40. He drove in three of the four Reds runs in the game.
18 "Pavletich Gets the Needle As Reward for His Slam," The Sporting News, July 1, 1967: 10.
19 UPI, "Pavletich of Sox Prepared to 'Sit it Out'," Chicago Tribune, February 15, 1969: 1.
20 Author interview.
21 Larry Claflin, "Thoughts for Kasko As Sox Open Spring Training," Boston Record American, February 18, 1971: 21.
22 Fred Ciampa, "Pavletich Seen Top Sox Catcher," Boston Record American, March 20, 1971: 4.
23 Clif Keane, "Pavletich Catcher As Sox Get Serious," Boston Globe, March 20, 1971: 17.
24 Fred Ciampa.
25 Author interview.
26 Gary D'Amato.
Born
July 13, 1938 at Milwaukee, WI (USA)
Died
March 5, 2020 at Brookfield, WI (USA)
If you can help us improve this player's biography, contact us.
https://sabr.org/sites/default/files/Pavletich%20Don.jpg
600
800
admin
/wp-content/uploads/2020/02/sabr_logo.png
admin
2018-06-27 13:04:22
2022-04-04 13:52:33
Don Pavletich