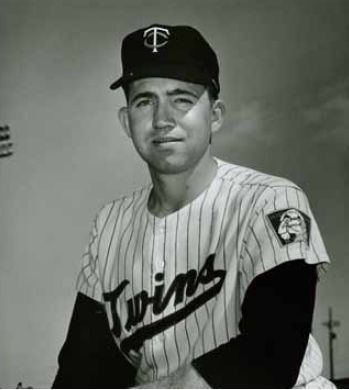 ---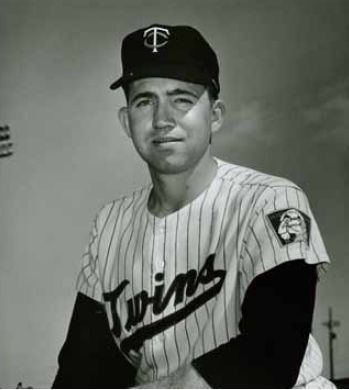 Fate can sometimes be cruel. After working his way through the Philadelphia Phillies farm system for three years, hard-throwing right-hander Dwight Siebler injured his elbow pitching to the first batter in his first major-league spring-training game, in 1962.  Robbed of his heater, Siebler relied on ball movement, a hard curve, and command when he made it to the big leagues in July 1963 as a member of the Minnesota Twins. A three-hitter in his debut start suggested a bright future, but the tall Nebraskan spent all but one of his five seasons (1963-1967) with the Twins bouncing between Triple-A and the big leagues before retiring with a 4-3 record.
Dwight Leroy Siebler was born on August 5, 1937, in Columbus, Nebraska, the third of four children of William and Viola Siebler, whose parents had emigrated from Germany around the turn of the century. When Siebler was 3 years old and the Great Depression gradually gave way to the war years, the family moved from their farm to Omaha, about 85 miles to the east, where his father eventually opened a heating and air-conditioning company. The elder Siebler, a former semipro player, sponsored a team in a local Little League, where Siebler and his two brothers were introduced to the sport. "At that time, the distance between the bases and the mound was exactly like it was in pro ball," Siebler recalled. "I became a pitcher because I was one of the few 10-year-olds who could throw the 60 feet and 6 inches to home plate for strikes. My mom and dad were my biggest fans, and greatest influences in my life."1
Siebler came of age in Omaha as the city established itself as one of the hotbeds of amateur baseball by hosting the annual College World Series beginning in 1950. The tall, slender Midwesterner starred as a hard-throwing hurler at North High School, where he earned three letters each in baseball and basketball. His success in American Legion ball made him and his team, Storz, local celebrities when they won the state title in 1954 and advanced to the regional finals in Denver.  Recruited by a number of college baseball programs, Siebler accepted a scholarship to attend the University of Nebraska, where he played for Tony Sharpe, the longest-tenured coach (1947-1977) in Husker baseball history.
Siebler played semipro ball for small towns like Columbus, Winside, and Genoa in the summers of 1955 to 1957, and pitched on the varsity squad at Nebraska in 1957 and 1958. "I pitched a no-hitter against Oklahoma, but lost 1-0," he said with a chuckle. "With a man on first base, the batter bunted, I fielded the ball and threw it into right field, and the runner scored." Big-league scouts took note of the All-Big Eight conference performer in 1958. "Tom Demark, a scout for the Philadelphia Phillies, started showing up to my college and semipro games," Siebler said. "Scouts weren't supposed to approach us in college until after our junior year. But he kept it under cover and would casually run in to me when I'd go out to my car." Siebler passed up his senior year of eligibility to sign with the Phillies for a $20,000 bonus and a $400-a-month minor-league contract.
The chance to pursue his dream of a career in baseball was a big step for Siebler, who had gotten married in 1957. He and his wife, Pearl, had welcomed their first of four children to the world just weeks before he was to report to the Bakersfield (California) Bears in the Class C California League. "We just packed the baby into car and drove across the US," said Siebler, whose youthful enthusiasm could still be detected in his voice.
"The biggest challenge was playing every day," replied Siebler when asked about the transition to professional baseball. "The first half of the season I relieved. I was doing pretty good so manager Paul Owens moved me into the four-man rotation. I didn't know if I could do that. You were expected to go nine innings. In college I had just pitched once a week. But it worked out." Siebler tossed a four-hitter in his first professional start en route to an 11-7 record. His 190 strikeouts (in 179 innings) ranked second in the league while his 9.6 strikeouts per nine innings paced the circuit.
"I could throw the hell out of the ball when I was younger. In college and my first two years of pro ball I threw maybe 90 percent fastballs," said Siebler who cut an intimidating presence on the mound at 6-feet-2 and about 180 pounds. (He grew to 200 by the end of his career.) Relying on his heater with the Class A Williamsport (Pennsylvania) Grays in 1960, Siebler whiffed about a batter per inning, allowed just 6.9 hits per nine innings, and led the Eastern League in ERA (2.31) while splitting his time between starts and relief outings for the pennant winners.
Groomed by the Phillies to be a starter, Siebler was assigned to the Buffalo Bisons of the International League in 1961. "The team was independently owned and had a tremendous amount of ex-big leaguers who probably wouldn't make it back," he said. "It was difficult to break in as a starter." More concerned about wins and losses than player development, manager Kerby Farrell relied on veterans to lead the Bisons to their first Junior World Series title in 55 years. Siebler started only three times among his 30 appearances and earned praise from The Sporting News as the "ace of the … bullpen."2 One of those starts was a stellar 14-strikeout performance against Toronto in July
Despite his tossing only 73 innings (but striking out 87) for the Bisons, Siebler's third year in professional baseball was pivotal in his development as a pitcher. Al Widmar, the Phillies' roving pitching coach and instructor, had helped many prospects in the organization, and Siebler was no exception. "He taught me how to throw a curveball, and that pitch really developed in the next few years," explained Siebler. As with his fastball, he tossed his curve at a three-quarters angle. "It was a hard curve. I threw it to righties and lefties at exactly the same place. Low and away to righties and low and inside to lefties," said Siebler. The Nebraskan also fell under the tutelage of crafty veteran and former New York/San Francisco Giants starter, Rubén Gómez, who was trying to win his way back to the big show. "I learned to throw a screwball-change from Gómez," Siebler said. "It broke like a left-hander's curveball. I used it primarily against lefties, but was afraid to throw it to righties because it broke in to them. I was pretty effective in my career against left-handers." With his three-pitch arsenal, the hard-throwing "rescue artist" was added to the Phillies' 40-man roster in the offseason.3
Coming off a miserable 107-loss season, Phillies manager Gene Mauch looked forward to seeing Siebler in spring training in 1962. "His arm is as live as there is," said the young firebrand skipper.4 Asked what he remembered about his first big-league camp, Siebler replied with vivid clarity. "It was an incredible feeling to be with all the big leaguers. But you learn the old saying, 'They put on their pants the same way you do.' I thought, these guys aren't really any better than I am. I could hold my own."
There was a tinge of doubt hovering over the highly touted prospect's quest to break into a staff that had ranked dead last in ERA in the previous season. "I had hurt my arm in Buffalo and didn't pitch the last month of season," explained Siebler. "Mauch told me 'I want you to show me that your arm is OK. If it is, you're our fourth starter.' I was in hog heaven after that."
Pitchers are always just one throw away from a career-altering or career-ending injury. Siebler's excitement soon transformed into bitter disappointment. "My arm wasn't hurting at all during camp. In the first exhibition game, I was scheduled to pitch the last three innings against, ironically, the Minnesota Twins," said Siebler. "Harmon Killebrew was the first batter up so I figured I'd blaze one by him. Well, I uncorked one and hurt my arm again." In excruciating pain, Siebler had reinjured muscles leading from his elbow to his wrist. Physicians determined that he had ripped a buildup of scar tissue, but they did not prescribe surgery.
After getting a taste of the life of a big leaguer in spring training, Siebler bounced around to three different Triple-A teams in 1962 (Buffalo, Dallas-Fort Worth Rangers, and Syracuse Chiefs). "I was dejected and depressed the whole year. I didn't have a good year and didn't feel strong,' said Siebler honestly about his 4.41 ERA in 100 innings. "It was frustrating because my arm was not hurting. But I had lost 3-4-5 miles off my fastball. I had to learn how to pitch and how to move the ball around. I never did get my 94-95-mile-an-hour fastball back."
Siebler was back at the Phillies camp in 1963, but the situation had changed drastically. Mauch had guided the team to its first winning season since 1953 while a core of young pitchers between 22 and 26 years old (Art Mahaffey, Chris Short, Jack Baldschun, and Dennis Bennett) anchored the staff. Siebler was optioned to the Arkansas Travelers of the International League, where he regained his form, appearing 30 times (10 starts) and posting a 3.06 ERA in 100 innings.
An unexpected phone call in late July 1963 gave Siebler a new lease on his big-league aspirations. "At about 10:30 or 11 at night I was in my room with [roommate] Danny Cater when [manager] Frank Lucchesi called me. He told me that I was sold to Minnesota. I'll never forget that," said Siebler. The previous season the Twins enjoyed a surprising second-place finish in their second season in Minneapolis after relocating from Washington, DC.  "I was ecstatic about the trade. The Twins had all those hitters and I figured the pitchers didn't need to worry about getting any runs. But I didn't realize that Met Stadium was pretty small," said Siebler with a laugh. "And that other teams could hit 'em out of the park, too."
Siebler's lifelong dream was realized in the second game of a doubleheader against the Washington Senators in the nation's capital on August 26. "My debut was horrible," he said. "I was nervous. When I came in to relieve Jim Kaat, I couldn't get the ball over the plate. I hit Don Zimmer right in the middle of the back and walked two. I was so disgusted afterward." Despite permitting two inherited runners to score in two-thirds of an inning, Siebler's shot at redemption came quickly. "I didn't know anyone on the team except Don Mincher," he said. "I'm sitting in the hotel reading the paper and Sam Mele comes over and tells me that I'm starting the second game of a doubleheader. I was surprised." He shook off any butterflies and hurled a three-hit complete game to defeat the Senators, 10-1, on August 29. He also recorded his first hit and run batted in and accomplished something that he never repeated: He scored a run. On September 17 he tossed his second and final big-league complete game, a four-hitter to subdue the Detroit Tigers, 3-1. Siebler won two of three decisions for the third-place Twins, surrendering only 25 hits in 38⅔ innings, and carved out a sparkling 2.79 ERA. 
In light of his impressive late-season performances, Siebler entered spring training as Minnesota's fourth starter. But like two years earlier with the Phillies, things didn't progress as he had envisioned. "We had a pitching coach — Gordon Maltzberger — and all I can say is that he was not good. Sam Mele didn't know anything about pitching. Maltzberger puts me in the bullpen and changes my delivery two different ways. First he didn't like my follow-through because I flopped clear to the left like Bob Gibson. That is how I generated my power, but I wasn't in ideal fielding position. Then he wanted me to throw a slow curve instead of my power curve. Well, I had been working on a slow curve for years and it never worked. By the time spring training was over, I couldn't get anyone out. I lost my fastball, my power curve, and my slow curve was not even average. I wasn't a good pitcher."
After five mostly ineffective relief appearances, the 26-year-old Siebler was optioned to the Atlanta Crackers of the International League. "Jack McKeon was an organizational manager," said Siebler respectfully about his skipper. "He wanted to develop players and didn't worry about winning the pennant. He pitched me every fourth day no matter what. I'd get my brains beat out because I was trying to go back to the way I had pitched. It took me a year to feel comfortable again." The good-natured right-hander posted a 7-12 record and carved out a 4.10 ERA in 156 innings. In a September call-up, he tossed hitless ball for five innings spread over four relief outings.
Siebler recalled that the general mood and attitude of the pitching staff change radically in spring training with the addition of Johnny Sain as the club's new pitching coach in 1965. "Sain showed us how to throw three different fastballs all at the same speed," said Siebler. "It all had to do with the placement of the fingers on the seams. One would rotate down like a sinker, the other broke away like a cutter, and the four-seamer looked like it would rise. He told us to throw only these fastballs in games until he said to mix in curves and change-ups." Siebler added that the pitchers were unsure at first about Sain's unorthodox methods but quickly accepted his philosophy. "Well, the staff really blossomed and I think that's what led us to the pennant." Mudcat Grant led the AL with 21 wins and six shutouts in his career year; Jim Kaat paced the circuit with 42 starts and lowered his ERA; and Jim Perry revived his career after being considered washed up.
Siebler spent the 1965 season on a proverbial yo-yo between the big-league club and its Triple-A affiliate in the Pacific Coast League, the Denver Bears. Starting out the season in Denver, Siebler was recalled in July to replace hard-throwing Dave Boswell who had been diagnosed with mononucleosis.5 In six appearances (including one start), Siebler yielded seven runs and 11 hits and nine walks in 12 innings, and was ultimately sent back to Denver in August.  "We were getting ready for an Eastern road trip (August 10) about a week after Killebrew dislocated his shoulder," said Siebler about his disappointing option in the middle of a pennant race. "We had a big lead, and Don Mincher did a great job filling in at first base. But I think Mele overthought the situation or panicked a little. He called up Andy Kosco, who was having a Triple Crown season for Denver. I had been the last person called up so I was sent down."
Siebler was recalled in mid-September, but unfortunately it was well after the deadline for determining postseason rosters, making him ineligible for the World Series. In his only appearance after his call-up, he hurled three scoreless innings of relief against the Baltimore Orioles on September 22. In stark contrast to the joy and excitement of his teammates, the up-and-down season between Minneapolis and Denver left Siebler with a sour taste. "[Club owner and general manager] Calvin Griffith told me that I could go with the team to Los Angeles, but could not suit up. I could sit on the end of the bench in civilian clothes," said Siebler. "I was so mad that I told him that I didn't want to go, though I wish now that I would have gone. My temper got the best of me. And then I told him that I really wanted to be traded."
Despite Siebler's request, Griffith did not trade him in the offseason. However, the team had to make a decision about the hurler's future because he was out of options. Mele described Siebler the "most improved pitcher in  … camp," and for the first time in two years Siebler went north to Minnesota with the team to kick off the regular season.6 Siebler had a difficult time cracking a starting rotation consisting of six pitchers (Grant, Kaat, Perry, Boswell, Camilo Pascual, and Jim Merritt) who garnered all but three starts the entire season; while Al Worthington and 23-year-old power pitcher Pete Cimino were the first two right-handers out of the bullpen. Consequently, Siebler found himself as the as the tenth pitcher on a ten-man staff. Eight of his 23 appearances came in July, and he didn't pitch after August 28, finishing with a 3.44 ERA in 49⅔ innings. On August 17 he pitched 6⅓ innings of relief, surrendering four hits and one unearned run to the California Angels to earn what proved to be the last of his four wins in the big leagues.
"After the World Series and my trade demand, I don't think my career really developed right," said Siebler with a hint of melancholy. "I never got back in the groove of pitching. I pitched sparingly and not enough to stay sharp. I got stale. I did everything I could to stay in shape, but it's not the same as pitching in a game."
In 1967 Siebler made his final two appearances in the majors before he was sent outright to the Denver Bears prior to May 15, when rosters had to be trimmed from a maximum of 28 to 25 players. (This practice was eliminated the following season.) "I lost my interest and capability by not pitching much," said Siebler. "I just didn't have the zip anymore." He won only four of 14 decisions and posted a 4.56 ERA in 142 innings for the Bears.
Just 30 years old, Siebler made a big decision. "I quit at the end of the '67 season," said the pitcher bluntly. "I told Griffith that I didn't want to play anymore. They weren't happy about it because they had invested money in me. For two years I told them to trade me. Later I find out from Jim Rantz, a former teammate of mine who had moved into the front office, that several teams wanted to buy me in the previous years but the Twins refused to sell me. Of course there was no free agency at the time and I was stuck."
After pitching in parts of five big-league seasons, Siebler hung up his spikes. In 48 appearances, he logged 117⅓ innings and posted a 3.45 ERA. He also logged in excess of 1,000 innings over eight seasons in the minors.
Siebler returned to his family and home in Omaha, where he had spent almost all of his life. "I probably wouldn't have quit if I didn't have my family's business to fall back on," he said. But the hurler was far from retired. He successfully transitioned to his post-baseball career, taking over his family's heating and air-conditioning business. In his first year away from Twins, he managed a semipro team in nearby Ralston and pitched for them, too.
As of 2014, Dwight Siebler resided in Omaha with his second wife, Caryn, with whom he has two stepchildren.  In 1994 he was inducted into the Nebraska Baseball Hall of Fame; and in 2011 was inducted to the Omaha Old-Timer's Baseball Association Hall of Fame.
Acknowledgment:
The author expresses his sincere thanks to Dwight Siebler who was interviewed for this biography on February 17, 2014. He subsequently read the biography to ensure its accuracy.
Sources
The Sporting News
BaseballLibrary.com
Baseball-Reference.com
Retrosheet.com
SABR.org
Notes
1 Author's interview with Dwight Siebler on February 17, 2014.  All quotations from Siebler are from this interview unless otherwise stated.
2 The Sporting News, August 9, 1961, 29.
3 The Sporting News, December 20, 1961, 35.
4 The Sporting News, February 21, 1962, 26.
5 The Sporting News, July 31, 1965, 7.
6 The Sporting News, April 16, 1966, 22.
Born
August 5, 1937 at Columbus, NE (USA)
Died
June 16, 2021 at Omaha, NE (USA)
If you can help us improve this player's biography, contact us.
http://sabr.org/sites/default/files/DwightSiebler.JPG
600
800
admin
/wp-content/uploads/2020/02/sabr_logo.png
admin
2012-01-04 20:33:31
2022-04-04 13:52:39
Dwight Siebler