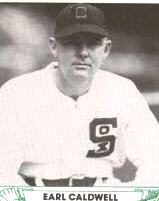 ---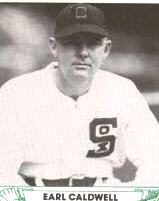 A right-handed pitcher with a side-arm, almost underhanded delivery, Earl Caldwell, born on April 9, 1907 in Sparks, Texas, spent most of his lengthy professional baseball career in the minor leagues, winning 323 games, beginning with Temple/Mexia of the Texas Association in 1926 and ending with Harlingen of the Big State League in 1954. Caldwell appeared in the major leagues with four teams: the Philadelphia Phillies, the St. Louis Browns, the Chicago White Sox, and the Boston Red Sox, compiling a pitching record of 33 wins and 43 losses and a 4.69 ERA in 200 games. He accomplished a feat few pitchers could claim — becoming a 20-game winner in each of four decades, from the 1920s into the 1950s.
In 1924, while at Holland High School in Holland, Texas, Caldwell responded to the principal's recruitment call for baseball players, thinking that his 6-foot frame would suit him well to try out at first base. The principal, though, who also served as the baseball coach, was desperate for pitching. He took a hoop from an apple barrel and set it on the side of a barn, saying that whoever was the most accurate at throwing balls inside the hoop would be the pitcher on the team. Caldwell threw eight of 10 pitches inside the hoop and, by doing so, set in motion his pitching career.1
In 1926, after finishing two years at Thorp Spring College, he took a teaching/principal position in Rogers, Texas. To be eligible for the position, he had to be 21 years of age; he told them that he was born in 1905 which explains why he is sometimes listed as older than he actually was.2 However, after pitching an exhibition game against Temple/Mexia of the Class D Texas Association, Caldwell left the teaching profession to become a professional baseball player. His performance that day had impressed the Temple manager so much that he signed Earl immediately. Caldwell pitched well for Temple and, within a month, was signed by Waco of the Class-A Texas League. At Waco, from 1926 to 1928, Caldwell compiled a 21–24 record with 24 complete games, earning him a call-up to the major leagues with the National League's last-place Philadelphia Phillies, who purchased him from Waco.
On September 8, 1928, the slow, easy-going Texan made his major league debut against the Boston Braves, scattering six hits in a 4-0 complete game shutout in the second game of a doubleheader. The Associated Press summary of the game described Caldwell as having a "sweeping curve flung with a side-arm delivery."3 Reports from the mid-1930s described him as pitching "underhanded." However, his second start, against the Brooklyn Robins, was not as successful, as he gave up 12 hits and nine runs in a 10-0 loss. He followed that up with a 5-2 loss to the St. Louis Cardinals, giving up 11 hits in seven innings while issuing four walks. Despite a promise from manager Burt Shotton that he would be brought back the following year, the Phillies returned Caldwell to Waco in March 1929, where he spent the season earning 21 wins in 291 innings pitched. During the winter of 1928, he began work as plant manager for the Harlingen Citrus Association.
In 1930, "Teach" Caldwell began pitching with Waco once more before going to the Wichita Falls team, also of the Texas League, where he had a 12-game winning streak. In December, his contract was purchased by the Milwaukee Brewers of the American Association. Caldwell spent three seasons in Milwaukee, from 1931 through 1933, during which he lost more games than he won, with an ERA of almost 5.00. In 1934, the Brewers sent him to his third Texas League team, San Antonio. Caldwell had two impressive years there, winning 19 games in 1935, with a 2.27 ERA. After six years out of major league ball, he was summoned to the Browns later that season, appearing in six more major league games and winning three, including a 1-0 three-hit win against Schoolboy Rowe and the American League champion Tigers on September 22.
Caldwell spent the 1936 season with a dismal Browns team, winning only seven games while losing 16. After pitching in nine games in 1937 without a decision, Caldwell was sold by the Browns to Toronto of the International League on June 1, posting a 10-12 record for the season there. He spent the next two full seasons and part of a third in Toronto before being sold to Indianapolis of the American Association in May, 1940. Despite a 5-12 win-loss record at Indianapolis, Caldwell had a respectable ERA of 3.56 with six complete games. When asked about his record in the minors after being sent down by the Browns, Caldwell later admitted, "I had an arm that felt like a toothache every time I pitched for the Browns and after I had drifted back to the minors, I was at the point of giving up baseball as a bad job at the end of the 1940 season." However, after playing the next season for a semipro club in Harlingen, Texas, he felt no pain in his arm. "The weather was warm and I suppose that the adhesions in my arm had broken," Caldwell related.
After his stint with the semi-pro Harlingen club, Caldwell signed with Fort Worth, yet another Texas League team. The move proved to be a good one since he had two stellar seasons in which he led the league in innings pitched in both 1941 and 1942. In addition, he posted victory totals of 22 and 21, respectively, with ERAs of 1.57 and 2.33 and placed third in league MVP voting. His former team, Milwaukee, took note of his success and acquired him for the 1943 season. Caldwell continued his winning ways for the Brewers, especially in the 1944 season, when he won 19 games. During the season, Caldwell opined about what he would look for in a young pitcher, saying, "If I were looking for a young pitcher, I'd pick a good-sized man, loose, not awkward, who can throw hard. I don't care whether or not he knows how to hold the ball for a curve. You can teach him everything else if he has speed. Remember Bob Feller?"
Caldwell's success in Milwaukee earned him a contract with the Chicago White Sox for the 1945 and 1946 seasons, during which he showed a knack for winning games played under the lights.4 He didn't lack confidence; at age 38 — apparently — he told the Associated Press in February 1945 that he was a better pitcher than ever before and predicted he'd win 15 for the White Sox. He also felt that pitching in the American League would be as easy as pitching in the American Association, declaring that "In the big leagues, each team has more good hitters than in the minors but you always have better fielders and I have always been a big winner when I played on teams with strong infields." Red Sox scout Billy Disch agreed he was good: "Caldwell is a much faster and much better pitcher than when he was with the Browns. Now he would help any big league club."
Caldwell was 6-7 in 1945, but threw over 100 innings, and he blossomed in 1946, when his 13 wins and 2.08 ERA (he was 13-4, used exclusively in relief, and finished a league-leading 37 games) earned him enough votes to finish in 14th place in the AL's Most Valuable Player balloting. Using his puzzling sidearm delivery, he accomplished this despite suffering a badly swollen thumb that hampered him towards the end of the season. He was, of course, well behind winner Ted Williams, but it was certainly the crowning achievement of his major league career.
During the season, Caldwell, in his practical way of looking at his baseball experience, related, "I feel now like I could pitch nine innings easy, but I probably will last a couple of years longer as a relief pitcher and that suits me. I enjoy the life in major league baseball so until I fade out again, I'll stay at it." When asked to explain how he was doing so well now in the major leagues after so many years in the minors, he stated, "Well, my fast ball — while not fast — has got more stuff on it than it ever had. It's a sinker and makes the hitters top it often and hit on the ground, so there's a better chance for double plays. I don't know why it breaks better than it ever did. I just tinkered with it through the years and finally stumbled on the knack of doing it.
An unimpressive 1947 season began with an uncontested divorce granted his wife Myrtle on grounds of infidelity and was hampered by injuries during the season, but the White Sox kept him on their roster. His poor 1-5 start in the 1948 campaign dampened White Sox interest in him and he was placed on waivers, claimed by the Boston Red Sox for $10,000 on July 26, 1948. Boston sent Mike Palm to Birmingham to make room for the veteran Methuselah of the mound. Upon arriving in Boston, Caldwell was given number 20 for his uniform, after which he remarked, "Glad they gave me a smaller number. They always kidded me in Chicago that number 46 was not only my number, but also my age." At a later time, when asked about why he has lasted in baseball for so long, he replied, "You remember baseball thrills, old and new; that's why it's such a great game and I guess why I remain young."
After bouncing around the minors for so many years and pitching for so many hapless teams, Caldwell was finally with a team involved in a pennant race. But in a season that would again end in disappointment for Red Sox fans, with a playoff loss to Cleveland, Caldwell appeared in eight games with a 1-1 record and an ERA of 13.00 — statistics that signaled the end of his major league career. One shining moment in his dismal year was the attainment of five years in the majors, which qualified him for the players' pension plan.
The 1949 season found Caldwell, by now 42 years old, pitching for the Birmingham Barons of the Southern Association, after being sold by the Red Sox. After a second season there, he moved on to Harlingen of the Class B Gulf Coast League for the 1951 and 1952 seasons, where he won 19 and 20 games respectively; to Lafayette of the Evangeline League as a player-manager in 1953 (still strong, there was one day where he pitched two games in a doubleheader, losing 2-1, then winning, 5-1) and as player-manager for Harlingen/Corpus Christi of the Class-B Big State League in 1954, after which he finally retired from baseball and took a position as manager of the Mission (Texas) Citrus Growers, a co-operative farm association. He served as an agent between the association and wholesale buyers in the North and East. He played his last game on August 2 and threw four-plus innings of relief, yielding only two unearned runs, getting the win — and singling, to spark the come-from-behind rally that saw Corpus Christi win the game.
Author Lloyd Johnson notes one interesting aspect of the 1953 season; Caldwell's son, Earl Jr., served as catcher for his father on the Lafayette team. The two figured in an unusual play where Earl, as the pitcher, was called for a balk on a pitch that Earl, Jr., as the catcher, was called for catcher's interference.5
Caldwell died on September 15, 1981, leaving behind his wife, Naomi; three sons, James, Larry and Jon; and a daughter, Charlene; Earl Jr. predeceased his father, dying in 1979.
Persistence, determination, and a love for the game seem to be what motivated Earl Caldwell to stay in baseball. In an era when professional baseball players feel slighted when they are sent down for more seasoning, Caldwell survived many trips to the minor leagues without complaint. His attitude toward the game is reflected in this quote by him: "My only wish is that all young players give baseball the best there is in them while playing the game."6
Note
This biography originally appeared in the book Spahn, Sain, and Teddy Ballgame: Boston's (almost) Perfect Baseball Summer of 1948, edited by Bill Nowlin and published by Rounder Books in 2008.
Notes
1. "Caldwell Back in Big Time at 39" — Sam Levy, The Sporting News, February 15, 1945.
2. "Pitcher Caldwell Quits at 47 in B League; Winner of 391," Washington Post and Times Herald, August 3, 1954, p.23. He noted the irony in baseball that most players made themselves out to be younger. "But I was born April 9, 1907, and am 46."
3. "Phillies Upset Braves Twice," Associated Press. September 9, 1928.
4. "Sox Fireman Caldwell Goes Like Blazes at 41," Milt Woodard, The Sporting News, August 28, 1946.
5. Johnson, Lloyd, The Minor League Registry (Baseball America, 2000)
6. "Earl Caldwell Still Hurling Well at 48," Washington Post, June 16, 1953, p.19.
Born
April 9, 1905 at Sparks, TX (USA)
Died
September 15, 1981 at Mission, TX (USA)
If you can help us improve this player's biography, contact us.
http://bioproj.sabr.org/bp_ftp/images3/CaldwellEarl.jpg
600
800
admin
/wp-content/uploads/2020/02/sabr_logo.png
admin
2012-01-04 20:00:19
2012-01-04 20:00:19
Earl Caldwell