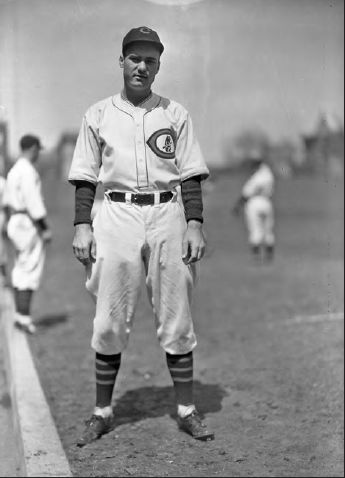 ---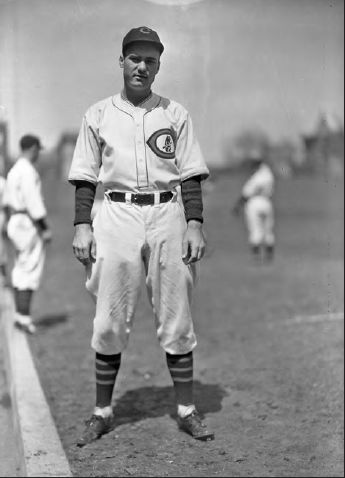 As the 1929 season began, the Chicago Cubs were in trouble.  They were without the services of their starting catcher, 28-year-old Gabby Hartnett, whose arm had gone dead.  While Hartnett would eventually regain his throwing abilities, he played in only 25 games that year, just one as a catcher.1 Initially, 38-year-old Mike Gonzalez and Earl Grace, whose professional experience had consisted of just 159 games in the minor leagues, took his place.  The Cubs, a close third behind the New York Giants and the pennant-winning St. Louis Cardinals in 1928, needed someone other than an old veteran or an inexperienced rookie to handle their talented pitching staff. Mike Gonzalez eventually shared the catching duties with Zack Taylor. Although Grace would go on to be one of the better defensive catchers of his era, he had not yet reached his potential and was gone from the Cubs in midseason.  
Robert Earl Grace was born in Barlow, Kentucky, on February 24, 1907, to Robert Edward and Nannie Grace.  Earl, as he came to be known, was the second of five children.2 In 1916 the family moved to Phoenix, Arizona, where the elder Grace became a real-estate broker, eventually forming his own realty company, and subsequently became a leader in civic affairs, including involvement on the Phoenix baseball scene.3
Earl played ball at Union High School, and his talent caught the eye of a scout, Grover Land, a former Cleveland Indians catcher. Grace signed a contract to play for the Lincoln Links of the Class A Western League.  He later recalled, "My contract called for $200 a month for five months, but I only lasted a month.  By the time I got my first paycheck I was so homesick I quit the club and went fishing.  Oh boy, was I homesick.  I thought my heart had withered away.  That's the way you get at the age of 17." 4 Somewhat chastened by this experience, he gave it another try the following spring.
"By the time the next spring rolled around I had grown up and decided to give baseball another try.  I reported to Little Rock and was transferred to Muskogee, where I played first base, the outfield and caught." Appearing in 69 games for the Muskogee Athletics of the Class C Western Association in 1926, Grace hit .298, playing alongside future Hall of Famer Bill Dickey.  Still not good enough to stay in professional baseball, he was released again. Grace played semipro ball in the Phoenix area the following year hoping to catch on in Organized Baseball.  His perseverance paid off as he signed with the Little Rock Travelers of the Class A Southern Association.  Again teamed up with Dickey, he caught the bulk of the games for the Travelers and batted .336 5
With the Cubs opening the 1929 season minus the services of their veteran catcher Hartnett, they purchased Grace's contract from Little Rock in hopes that he could fill in. It was a tremendous burden to place on the shoulders of a 22-year-old.  At that point, Grace just had parts of two seasons in the minor leagues, essentially only one as a catcher.  The Cubs were expected to be contenders, having finished third just four games behind the pennant-winning Cardinals the year before.  Over the winter, to improve their chances, the Cubs had obtained Rogers Hornsby via a trade with the Boston Braves for five players and an estimated $200,000.  The pressure was on to win.
With the high expectations, there was a great deal of stress on Grace to help handle a veteran pitching staff headed by Guy Bush, Pat Malone, and Charlie Root. He made his debut on April 23 against the St. Louis Cardinals, entering the game in the late innings. Just over a week later, he got his first start, going hitless in four at-bats against Cincinnati.  On May 4 Grace caught both ends of a doubleheader against the Philadelphia Phillies at the Baker Bowl in Philadelphia.  Hitless in the first game, he came to bat in the second inning against pitcher Claude Willoughby and collected his first major-league hit, a three-run home run that started the Cubs on their way to a 9-7 victory to complete a sweep. 
Although Grace played passably well, alternating behind the plate with Mike Gonzalez, the Cubs could not pull away from the pack.  By late June Grace had given way to another veteran catcher, Johnny Schulte, who had been signed as a free agent in late April.  In early July, the Cubs claimed another veteran receiver, Zack Taylor, on waivers from the Braves.  Taylor proved adequate to the job and the Cubs went on to win the pennant.  With the acquisition of Taylor, Grace went to the Reading Keystones of the Double-A International League, where he finished the season.  Under different rules than are now in place, Grace did not receive a players' share of World Series proceeds, because he had been sent out in July.6 
Grace spent all of 1930 with Reading, where he hit .324 in 137 games. It was there he recalled having his biggest day in baseball.  In a doubleheader against Newark he got six hits in seven at-bats including two home runs.7
Grace's play earned a trip back to the Cubs in 1931. He made the team only to be traded to the Pittsburgh Pirates on May 29 for catcher Rollie Hemsley in the first of what would be Grace's three major-league transactions each involving a fellow receiver.  Thanks to a couple of late-night escapades, Hemsley had worn out his welcome in Pittsburgh.  He had caught the eye of the Cubs manager, Rogers Hornsby, which made Grace expendable.8 It proved a beneficial trade for Grace. Hartnett was back at full strength and all Grace could have hoped for with the Cubs was to serve as a backup.  Joining Pittsburgh, he alternated with Eddie Phillips, again facing mostly right-handed pitching. He finished the season with a credible batting average of .280 for Pittsburgh (combined .270, including his stay with Chicago).
Grace made his last error of the 1931 season on August 29, in a game against St. Louis, an error that would obtain greater significance the following season.  In 1932 Grace emerged as the first-string catcher for Pittsburgh, playing in 115 games, hitting .274 with 17 doubles and 8 home runs.  Overall it was the best offensive season of his career. But it wasn't for his hitting that Grace gained attention in 1932. He broke several fielding records for catchers.  On July 24, playing against his old teammates at Wrigley Field, Grace handled four chances and set a major-league record for the most consecutive chances without an error, 282. His streak continued until September 8, when he made a poor throw to second, allowing the Brooklyn Dodgers' Tony Cuccinello to score. In all, Grace had handled 444 chances without an error over the course of 121 games, another record.9 The season ended a few weeks later with Grace setting yet another record, a .998 fielding average.10 His record fielding percentage stood until 1946, when the Philadelphia Athletics' Buddy Rosar had a perfect 1.000 average in 117 games.11 These fielding records were set in competition with Ray Hayworth of the Detroit Tigers.  Hayworth had run up streaks of errorless games and chances accepted before dropping a called third strike against the Athletics on August 29, just ten days before Grace's streak ended, allowing Grace to surpass his effort.12     
If 1932 proved something of a breakthrough for Grace, 1933 was less so. Barely a month into the season, the Boston Globe reported that Grace's left foot had become infected.13 A few weeks later, after Grace had missed several games, the Globe reported that the infection was not healing and that Grace would probably have to undergo an operation, missing two to three weeks of play.  The estimate was accurate; Grace went out of the lineup on June 22 and returned on July 12.  He played the rest of the season without incident and only a late-season slump prevented him from finishing over .300. He settled for a .289 mark, his highest major-league average.
Over the next few years, Grace platooned with Tom Padden. He happened to be playing in a game of historic proportions in late May of 1935. The Pirates were facing the Braves in a series at Forbes Field. The Braves had drawn a lot of attention for signing the aging Babe Ruth as a player and team vice president. Ruth's main value to the team was as a drawing card. In the first game of the series, on May 23 with Grace behind the plate, Ruth was hitless. The next day, with Padden catching, he singled in four at-bats.  On May 25, with Grace again catching, Ruth went 4-for-4 with three home runs, the last of them judged to be the longest homer hit in Pittsburgh up to that time. They proved to be Ruth's last major-league home runs.  A week later he retired. Years later, Grace was asked about that day.  "I don't recall much about it," he said. "But I remember I was 0-for-4 and my name was misspelled in the box score."14 (Interestingly enough, a review of various newspaper accounts of the game found Grace's name being spelled correctly.15)
On November 21, 1935, Grace was traded again, this time to the Philadelphia Phillies along with 21-year-old pitcher Claude Passeau for catcher Al Todd.  Over the next two seasons, Grace hit .249 and .211 with the second-division club, appearing almost exclusively against right-handed pitchers. On October 3, 1937, he pinch-hit for pitcher Pete Sivess against Boston at Braves Field, drawing a walk. That turned out to be his last major-league game. For his career, Grace played in 627 games, batted.263, and set several fielding records, which stood for several years. 
After the season ended, Grace was traded once again, to the St. Louis Cardinals for catcher Cap Clark.  Grace was assigned to the Cardinals Columbus farm team in American Association.16 He was not happy with the transaction and considered retiring from the game.17 He eventually decided to report to Columbus, playing there until he was traded in mid-June to the Minneapolis Millers.  Grace hit a combined. 233 with the two high-level minor-league teams in 117 games. In 1939 his playing time fell off while he played for both the Millers and the Nashville Volunteers of the Class A1 Southern Association.  In 1940 Grace batted once for the Millers before being released. That ended his professional career. 
Grace returned to Phoenix, where his father and brother Bill had established themselves in the real-estate business.  He had little time to consider his post-baseball career before World War II beckoned.  Grace went into the Army Air Corps and eventually was assigned as athletic director at Luke Field in Phoenix.18 
Several years earlier, when asked about being single, Grace had noted, "I have been spoiled by three sweet sisters, but I am willing to be spoiled by someone else's sister." Just as long as she could cook and darn socks, he added.19 Grace's affection for his sisters went beyond talk.  While playing ball, he provided financial support for two of them, both of whom eventually became teachers.20
An opportunity to be spoiled by someone other than his sisters presented itself when certain out-of-town visitors came to Phoenix.  As related by Grace's daughter Vickie, businessman Herbert Johnson of Evanston, Illinois, came to town, accompanied by his daughter, Shirley Mae, who was introduced to Earl. Whether Miss Johnson could cook or darn socks may or may not have been a factor, but she did marry Grace on December 25, 1941, just weeks after the United States entered World War II.  The new Mrs. Grace had attended DePauw University in Greencastle, Indiana.21 
From Luke Field, Grace was transferred several times, among other places to Camp Grant, Illinois, and Daytona Beach, Florida.22 At Daytona Beach his and Shirley's first daughter, Vickie, was born.  Several years later they had another daughter, Cheryl.
By then Grace was out of the service and back in Phoenix.  While still playing he had begun to purchase land in the Phoenix area, eventually coming to own cotton and citrus farms in the Peoria, Phoenix, and Yuma areas as well as land near what is now the Phoenix Sky Harbor International Airport.  He kept close ties to the baseball community, and played golf and hunted doves with his neighbor and friend Dizzy Dean.
Grace's name occasionally popped into the news whenever someone made a run at his fielding records.  Although Rosar bested Grace's record for the highest fielding percentage for a major-league catcher, Grace still held the National League record. After 18 years, it was broken by the New York Giants' Wes Westrum, who surpassed Grace in 1950 with a .999 percentage.23 
Grace was often on hand for various events connected with baseball, among them welcoming the Giants to spring training at Phoenix in 1948 and gathering at sports award banquets with players and ex-players.24 He frequently ran into Grover Land, who had recommended him for his first contract. Grace kept in touch with other ballplayers as well through such organizations as the Arizona Organized Baseball Oldtimers Association, formed in 1953 with Grace as its secretary-treasurer.   
Grace's daughter Vickie, recalled her father as a quiet and private person.  He seldom spoke of his baseball career; it had ended several years before she and her sister were born. But when he occasionally scouted for the Yankees, she went with him to games as he sized up the local talent.  Vickie went to spring-training games, at one time getting the autograph of Wes Westrum with mixed feelings — she knew from her dad's scrapbook Westrum's significance as it related to her father.  Golf was a major activity for her parents.  Her mother was an accomplished golfer; they were both members of the Arizona Country Club, where they played golf, and frequently went on golfing trips together.25   
In 1966 Jerry Eaton of the Arizona Republic interviewed Grace at one of his citrus fields.  Grace was less than nostalgic about his career in baseball.  Sitting in his Thunderbird alongside Easton, he watched workers weed his field as he spoke of his baseball career and life since retiring from the game.  "The first two or three years in the big leagues were fun, but after that it turned into a doggone hard job.  We did all our traveling by train then and a fellow would have a hard time keeping track of where he was.  I'd wake up in a sweat in a hotel room at night sometimes not knowing for a moment what city I was in or where the door was.  We were always on the go and it was tough to stay oriented or adjusted."  Of his time with the Pirates, Grace said, "I played on some pretty good Pittsburgh teams, but we never quite seemed to have the pitching."26
By this time Grace had experienced several heart attacks, which limited his mobility.  The old ballplayer lamented his slower pace of life, "I've had a couple of heart attacks and I can't get around like I once did.  It wears me out not roaming around the fields anymore.  I sure am jealous of those young fellows in the fields.  Look at them move around.  That kind of activity tuckers me out these days — makes me furious that it does."27
That slower pace of life continued until December 22, 1980, when Grace died of congestive heart failure at 73.  He was buried at Greenwood Memorial Lawn Cemetery in Phoenix.28 He was survived by his wife, Shirley, and daughters, Vickie and Cheryl.  Numerous letters of condolences were received, which reflected a convivial spirit.  Former US Senator and Arizona Governor Paul Fannin said in a letter, "He told great stories in a humble way."  Another friend spoke of his laugh and sense of humor.29
Grace played in heady company.  He was a teammate of several Hall of Fame players. While not much of a hitter, Grace had a reputation for defense and was known as one who had particular savvy in handling pitchers.  Unlike many players, he did not let baseball define his life. It was an adventure along the way, not a destination, as he proved in his subsequent career as a successful businessman, and perhaps more important as a family man and friend.
Notes
1 Peter Golenbock, Wrigleyville, A Magical History Tour of the Chicago Cubs, (New York: St. Martin's Press, 1996), 206.
2 Ancestry.com
3 The Sporting News, January 126, 1952, 23.
4 Unidentified newspaper dated March 21, 1936, in Grace's file at the Hall of Fame.
5 All baseball statistics from retrosheet.org/boxesetc/T/Ptaylz101.htm and baseball-reference.com/players/g/graceea01.shtml. 
6 Grace's Hall of Fame player file.
7 Grace's Hall of Fame player file.
8 "Pirates Trade Hemsley to Cubs for Earl Grace," Chicago Daily Tribune, May 30, 1931, 11.
9 "It's Bad Day for Pirates; Beaten 12-2; Grace Errs," Chicago Daily Tribune, September 9, 1932, 23.
10 "Grace, Pirates Set 2 Fielding Marks," New York Times, December 28, 1932, 21.
11 "Rosar Sets Fielding Mark," The Sporting News, December 19, 1946, 12.
12 Unidentified newspaper dated September 1, 1932, in Grace's Hall of Fame player file.
13 "Earl Grace Out of Game With Infected Foot," Boston Globe, May 13, 1933, 7.
14 "Obituaries," The Sporting News, January 10, 1981, 45.
15 An informal review of news accounts of the game in the Boston Globe, Chicago Daily Tribune, New York Times and Washington Post in their May 26, 1935, showed Grace's name spelled correctly in the box score. 
16 "Slow Trading Mars Meeting At Chicago," The Sporting News, December 16, 1937, 3. Both Baseball.Reference and Retrosheet at the time of this research incorrectly showed Grace being traded to the St. Louis Browns. Other articles from the New York Times and the Washington Post note Grace going to the Cardinals.  Clark had been in the Cardinals' minor-league organization before being traded for Grace.
17 "Leiber Holds Out Again," New York Times, January 23, 1938, 76.
18 "Bride of Army Athletic Director," Chicago Daily Tribune, January 4, 1942, N5.
19 Unidentified newspaper dated March 21, 1936, in Grace's file at the Hall of Fame.
20 Telephone interview with Vickie Lund, Grace's daughter, on June 13, 2013
21 Telephone interview with Vickie Lund on June 6, 2013.
22 "In The Service," The Sporting News, August 3, 1944, 12, and July 26, 1945, 11.
23 "Six N.L. Defense Marks Broken and Three Tied," The Sporting News, December 27 1950, 16.
24 "Del Webb Host at Gala Party for Giants," The Sporting News, March 17 1948, 20;"Casey Salutes Giants, Lippy Hails Giants," The Sporting News, January 30, 1952, 24.
25 Telephone interview with Vickie Lund, June 6, 2013.
26 Jerry Eaton, "Arizona Agriculture:  From Athletics to Agriculture — The Tale of Catcher Earl Grace," Arizona Republic, April 10, 1966, 18-B.
27 Ibid.
28 Telephone interview with Vickie Lund, June 6, 2013.
29 Telephone interview with Vickie Lund, June 13, 2013.
Born
February 24, 1907 at Barlow, KY (USA)
Died
December 22, 1980 at Phoenix, AZ (USA)
If you can help us improve this player's biography, contact us.
http://sabr.org/sites/default/files/EarlGrace.JPG
600
800
admin
/wp-content/uploads/2020/02/sabr_logo.png
admin
2012-01-04 20:37:19
2020-10-14 16:42:21
Earl Grace