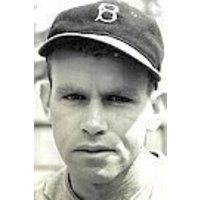 ---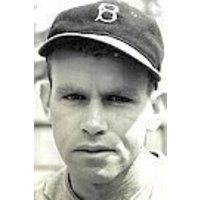 Ed Moriarty was a .324 hitter, rising star, and fan favorite with the Boston Braves in 1935. Well, in his first eight games, anyway. He then shocked the Boston baseball world by suddenly calling it quits, saying he had a higher calling and was going to enter the priesthood. This player with 34 at-bats was front-page news. But he found the collar wasn't a good fit for him either, so he returned to the field in 1936. He gained another six at-bats and finished as a career .300 hitter in what is probably one of the most entertaining careers anyone with only 14 games played ever had. Moriarty found his true calling right back in his hometown, where he spent over 40 years as an educator and coach.
Edward Jerome Moriarty was born October 12, 1912 in Holyoke, Massachusetts, to Thomas and Johanna (Daley or Daly) Moriarty, who had both emigrated from Ireland in the 1890s. Thomas, according to the 1920 census, was a shipping clerk at a tablet company. The family also included Edward's older brothers John and Thomas, older sisters Eileen and Anna, and a younger brother Charles.
Moriarty grew up at 62 Franklin Street in Holyoke, a home his parents rented, and played sandlot baseball in town and at the Sacred Heart Schools he attended.1 He graduated at age 15 from Sacred Heart High School and worked for three years before enrolling at the College of Holy Cross in Worcester, Massachusetts, in 1931.
Moriarty played baseball for Holy Cross beginning with his sophomore year, when he batted .300.2 The Boston Red Sox traveled to Worcester to play Holy Cross in an exhibition game at Fitton Field on April 23, 1934. This would be the game Moriarty, then a junior, would be known for the rest of his life. Boston sent their ace, Lefty Grove, to the mound. The future hall of famer, plagued by a sore arm the entire 1934 season, had not yet pitched for the Red Sox in a regular season game. Manager Bucky Harris was cautious with Grove, who "only occasionally did any bearing down, working control and not being afraid to put more than a casual 'something' on his curve," wrote Melville E. Webb Jr. of the Boston Globe. Grove worked five innings, allowing four hits, one of them Moriarty's. Moriarty launched a shot to center field "across the running track and almost down to the kickoff point on the football field. It was a real rap for Eddie and was made on a fairly speedy ball right over the middle." Boston won, 6-2, but talk of Moriarty's home run would continue for years. The Holy Cross athletics webpage still mentions this as the longest home run ever hit at Fitton Field, an estimated 490 feet.3
Later in his junior year, Moriarty slammed a two-run home run in the tenth to beat Boston College. Arthur Siegel of the Boston Herald gave us some insight on the young man's physique and personality, calling him "one of those strong, silent men with a strong concentration on duty. Moriarty is not a spectacular figure, but he is a sturdy one, with arms and legs as big as porch pillars. He manages to keep a line of chatter as he plays his second base position, but back on the bench or off the field of play his conversation is a poor second to his listening qualities." Moriarty finished the season batting .354.4
Entering his senior year in 1935, Moriarty was named captain of the team and "rated the most dangerous hitter in college baseball," according to the Boston Globe. Moriarty slammed two home runs on May 30 in a 7-1 win over Boston College before 10,000 fans at Fitton Field. Moriarty led the Crusaders to a 22-1 record, batting a phenomenal .483 with 42 runs scored and 42 hits in 87 at-bats, with four home runs, four triples and three doubles. He had a .963 fielding percentage with only four errors committed with 41 putouts and 63 assists, mostly at second base. Holy Cross records show Moriarty's teams compiled a 51-11 record while he was there. In his final college game against Boston College, Moriarty was under the watchful eye of Boston Braves manager Bill McKechnie.5
It had been a busy week in June: Moriarty played in his final college game, graduated magna cum laude on June 19, and was awarded the John C. Lawler Medal as the best student athlete, having appeared on the Dean's List all four years. "He received one of the loudest ovations at his Commencement exercises," wrote Gerry Moore of the Boston Globe. The very next day he signed with the Boston Braves. "[Coach] Jack Barry believes that Moriarty is one of the best hitting infielders he has ever had at Holy Cross," the McKechnie revealed. Because of injuries to key infielders, he promised "you can expect to see Moriarty in there at second base at almost any time that the proper situation develops."6
Braves owner Judge Emil Fuchs was under severe financial pressure at the time. The team was losing money, and the desperation signing of the 40-year-old Babe Ruth had turned into a disaster; the legend retired earlier in the month. Adding the young and popular Moriarty, whom Barry heaped praise on, must have been refreshing. With the Braves trailing the Cubs 7-2 in the bottom of the sixth on June 21, Moriarty got into his first major league game, and promptly got involved with two future Hall of Famers. McKechnie sent him up to pinch hit for Rabbit Maranville. Facing Tex Carleton, Moriarty lined a 1-0 pitch into right center for a single in his first at-bat. In the eighth, Moriarty "lifted a fly that was so towering that Bill Herman (at second base) clutched it only by throwing his gloved hand back over his head at the last instant," wrote Moore. The Braves lost, 11-3, and fell to 17-36, but the rookie had a good day.7
While the Braves kept losing, the hits kept coming for the youngster. He batted leadoff in both games of a doubleheader on June 22, going 2-for-5 with a double in the opener, and 3-for-4 with a home run in the nightcap as the Braves lost both to the Cubs. The Boston crowd, with little reason to cheer for the Braves, latched onto this new phenom. Cartoonist Gene Mack in the Globe on June 23 pictured Moriarty smashing hits to the delight of the crowd under the headline, "Ex-Crusader Captain Steals Show as Cubs Take Two." "Yes, the Cubs won 2 games, but the crowd spent the P.M. cheering young Eddie Moriarty," another caption read. In the opener, Moriarty laced a third-inning double which Moore reported "crashed against the 'Babe Ruth' background on the centerfield bleachers." He also singled in the sixth. In the nightcap, he homered off Charlie Root in what would be his only round tripper and added two singles. Moriarty still remembered the blast off Root decades later. "It was my second day in the majors, 35 years ago," he recalled at the time of Root's death. "I homered off him and it gave me an odd feeling because he had always been one of my idols. I can still remember what Bill McKechnie said after I hit that homer. He told me I had just hit one against a good pitcher, and one of the finest men in the game."8
"The crowd nearly forgot the score in both games as they concentrated on cheering young Moriarty," Moore wrote, "and although it is a trifle early to go overboard on the youngster, it certainly looks as if, in this season of Ruthian and financial troubles, the Tribe has picked up another real prospect."9
Moriarty started at second base and batted leadoff in both games of a doubleheader against Pittsburgh on June 23. He singled and doubled in the opener but went 0-for-5 in the nightcap to "drop" his average to .381. He also committed an error and generally looked shaky in the field. Moriarty traveled with the Braves to Portland, Maine for an exhibition game against these same Pirates on June 24 at the Portland High School field. A crowd of 5,000 saw Moriarty double and score to give the Braves a temporary 1-0 lead in an eventual 7-5 loss.10
While headlines focused on potential buyers for the Braves franchise, Moriarty kept on hitting. He finally contributed to a victory on June 25, also against the Pirates. He laced a leadoff single and scored in a three-run first inning, then later tripled in Boston's 7-2 win. Again batting leadoff in a doubleheader, Moriarty went 1-for-4 in the opener and 0-for-4 in the nightcap the next day, committing an error in both Braves losses to Pittsburgh.
The following day the Globe emblazoned shocking news on the front page, right next to an article on President Franklin D. Roosevelt's tax plan. "Moriarty Quits Boston Braves," blared the huge headline. The 22-year-old rookie, who had graduated from college and joined the Braves just one week before and had taken Boston by storm, was calling it quits? Moriarty, "one of the brightest prospects obtained by either Boston club in years," was leaving baseball to enter the priesthood! He planned to attend Grand Seminary in Montreal in the fall. Braves officials reported this after the June 26 doubleheader, which sent the media hightailing it in a frenzy to Holyoke.
"I do not like professional baseball," Moriarty confessed to the reporters, "and I intend to obtain a higher education. I informed manager Bill McKechnie of my plans before today's doubleheader and he tried to persuade me to change my mind. I told him I had given the matter careful consideration in the past few days and had definitely reached a decision. The Braves gave me excellent treatment at all times. They were very fair." When his "many loyal rooters in Holyoke who had been following his work with the Braves," were mentioned, Moriarty replied that he "didn't care for the publicity. The least said the better."
It was learned that Moriarty had refused a bonus when he signed with the Braves, admitting he had not made up his mind about baseball as his future career. His Holy Cross classmates had described Ed as a deeply religious person, and his signing with the Braves had been more of a favor to Fuchs for what he had done for the college. McKechnie supported Moriarty's decision. "I wish this boy all the luck in the world," the manager/father-figure said. "I think it is a wonderful thing for a boy of his age to make such a decision in this day and age, especially when he had the prospects of becoming a great ballplayer. I knew he was thinking about it and that he was going to come to a decision this week. I can truthfully say that I could think of no greater satisfaction for myself than to have a son of mine come to me and tell me that he was going to enter the ministry."11
Maranville wasn't surprised. "Up in Portland, the other day, I was talking to some boys who knew Moriarty well, and they expressed their surprise to me that he had not gone away to study for the priesthood," he said. "I did the best I could to coach him on making various plays around second base. He's a fine, high-grade fellow. I wish him luck, and know he will have it."12
Moriarty submitted a statement to the press, no doubt the longest such press statement ever issued from a player who played in only eight major league games:
I wanted to do something to show my appreciation of what Judge Fuchs had done for Holy Cross by agreeing to play for the Braves. That is the reason I signed a Braves contract.13
I could not make up my mind definitely about following baseball as a career. I like to play baseball and I have enjoyed my associations with the Braves. They are a great set of fellows and manager McKechnie has been very kind and considerate.
Rabbit Maranville gave me special coaching daily on how to play second base. Everyone tried to make me feel at home right from the start, and, naturally, I regret leaving these men who have been so friendly to me.
Nothing has happened since I joined the Braves to cause me to make up my mind not to follow up baseball. I was more fortunate at bat than I had expected in facing the best of pitching.
All along I have wanted to study for the priesthood. I conferred recently with advisors and came to a definite decision this morning that I would start immediately preparing for examinations to enter the Grand Seminary in Montreal.
I want to thank Judge Fuchs and manager McKechnie and all the Braves for the many kindnesses they have shown me and to say I regret very much that I am leaving them.14
On July 2, Moriarty took his seminary entrance exams. He was officially placed on the voluntarily retired list by baseball commissioner Judge Kenesaw Mountain Landis. In August, however, it seems Moriarty had a change of heart. After all the media hoopla, it was rather quietly reported that he sought reinstatement and return to the Braves. McKechnie requested that NL President Ford Frick reinstate him, but the rules regarding voluntary retirement forbade a player returning to action after August 1 of the same year.15
In September, it was announced Moriarty passed the exams and could now enter Grand Seminary. Did he actually attend? Harry Grayson of Ohio's Coshocton Tribune reported that upon visiting Montreal to make arrangements, Moriarty changed his mind and returned to Holyoke, where he worked as a playground instructor. He then began teaching and kept himself in shape by skating over the winter. Landis eventually granted Moriarty reinstatement, thus allowing him to join the newly-named Boston Bees for spring training in 1936.16
One issue Ed couldn't skate around was whether he had abandoned his desire of becoming a priest, one of the first questions he was asked on the train ride to spring training. "He asked to be excused from discussing that matter," wrote the Globe's James C. O'Leary. Moriarty changed the subject to baseball. "I have signed a contract to play ball this year and expect to go through with it and will give the best that is in me to the Boston club." In a spring game on April at Jacksonville, Florida, Moriarty blasted a home run well over the fence, an estimated 440 feet away. "The former Holy Cross star can hit," wrote O'Leary, "but it is a mystery how he gets so much power into his punch."17
What position Moriarty would play was the question during camp. Considered weak at second base, he was tried at both first base and the outfield. He made the team but was limited to only six at-bats for the Bees, all of them as a pinch hitter—he went 1-for-6—and not one of those games ended in a victory, either. On May 12 Moriarty struck out in his last major-league at-bat in a game which ended in a tie due to darkness. In his 14 career games, the Braves/Bees had gone 1-12-1.
The Bees sent him to Syracuse of the AA International League in the middle of May, but when the team used him only as a pinch hitter, he left and came home. Boston next sent him to Wilkes-Barre of the Single A New York-Pennsylvania League (NYPL), where he batted .281 with eight home runs (ninth in the league) in just 87 games. The Bees recalled Moriarty when the rosters expanded in September, but he never got into a game.18
Moriarty was sent to Buffalo of the International League at season's end, but he never played there. In 1937, Ed was sent to Scranton in the NYPL, where he batted .264 in 28 games. In July, he was given his release. That was the end of Moriarty's professional baseball career; he was 24 years old. "I just didn't care for it," Moriarty said in 1970, with no mention of his one-time priesthood ambitions. "So I came home. I must admit, I made some rather sensational headlines at the time because of my decision."19
Moriarty, who had been teaching part-time since 1935, would spend the next 42 years as an educator and coach. He received his Masters degree from Springfield (Massachusetts) College. He taught English, Latin, and mathematics, and also coached at South Hadley (Massachusetts) High School from 1937-42. He was then hired by his hometown Holyoke High School. On March 20, 1943, Ed married Julia Mary Rohan, who had also grown up in Holyoke and attended Sacred Heart schools. The couple would have no children of their own.
Moriarty enlisted in the Navy, where he served as a lieutenant, junior grade, during World War II from 1943-45. While stationed in Oklahoma, he coached the baseball and soccer teams on the naval base. When he returned home from the Navy, Moriarty taught at H.B. Lawrence Junior High School in Holyoke from 1945-53. In 1949, while still teaching junior high, he also became the soccer and basketball coach of Holyoke High School. Moriarty led the basketball team to several Valley League championships. He became principal at H.B. Lawrence, then moved on to Holyoke High School in 1953, where he taught English and Latin and became the head of the English Department. He coached the Holyoke baseball team for only one season in 1953, and they won the state title.20
Ed became the principal at Holyoke High School in 1963. The school received the prestigious Bellamy Award in 1968, which gave Moriarty time to reflect on the role of "team" in the education world. "A good teacher is not one who merely hears lessons, but who inspires, sheds light, encourages, listens and has unlimited patience," he said. "I like a teacher who is dedicated to the true purpose of education and not to a contract. We teach by example. Parents are often not setting a good example, and they are reaping what they have sown." He also spoke about the pressure parents placed on their children in athletics. "Youngsters should be enjoying the game and not playing for the benefit of their parents. In many areas today, parents are reliving their own youth by forcing their children to excel." Recognizing the challenges facing underprivileged youth, Moriarty said they are "severely handicapped if there is an unhealthy atmosphere at home. The game of teaching is always the teamwork of home, school and place of worship." Holyoke HS saw 71 percent of its graduates in 1968 go on to college, and one of his former students summed up Moriarty's career. "I think he really cared."21
Moriarty became the Holyoke School system's assistant superintendent in 1976, superintendent in 1977, and then retired in 1979. "I shall be bringing to a close 44 years of delightful, joyful service to young people as they prepared themselves to fulfill the purpose of their lives," he said. "During these 44 happy years, by the Grace of God, I was absent from my duties on only 4 days."22 It was a far cry from those 14 major league games he had played in, four decades prior.
He was inducted into the Holy Cross Sports Hall of Fame in 1971.23
Ed and Julia both were devoted to the Blessed Sacrament Church in Holyoke. He was involved in many organizations in Holyoke and served as chairman of the Holyoke Centennial celebration in 1973.
Ed Moriarty died in Holyoke, the same place he was born, lived, and worked for so many decades, on September 29, 1991, at the age of 78, and was buried there in Calvary Cemetery.
Acknowledgments
This biography was reviewed by Tom Schott and fact-checked by Alan Cohen.
Sources
My thanks to Cassidy Lent, reference librarian at the Giamatti Research Center at the Baseball Hall of Fame for access to Moriarty's player file. In addition to the sources listed in the Notes, I also consulted the following sources:
Baseball-reference.com
Edward J. Moriarty player file, HOF Library, Cooperstown, NY.
"Edward J Moriarty, 78," [Springfield, MA] Union-News, October 1, 1991.
"Edward J. Moriarty, 78, Was schools chief in Holyoke," Boston Globe, October 1, 1991.
"Julia Moriarty," Springfield MA Republican, July 25, 2005.
Retrosheet.org
Notes
1 Gerry Moore, "Crusader Moriarty Signs with Braves," Boston Globe, June 21, 1935:30.
2 "Moriarty Didn't Hitch His Wagon to a Star," Brooklyn Daily Eagle, June 25, 1935.
3 Melville E. Webb Jr., "Sox Win, 6-2; Grove Hurls Five Rounds," Boston Globe, April 24, 1934:1, 20; "Edward J. Moriarty Bio." Holy Cross Athletics. http://bit.ly/2DxJfZF Accessed January 15, 2018.
4 Arthur Siegel, "Ed Moriarty's Two-Run Homer in 10th Gives Purple 9-8 Victory over the Eagles; Mulligan Outlasts Three Mound Foes," Boston Herald, June 12, 1934:18; "Edward J. Moriarty Bio."
5 "Ed Moriarty to Lead Holy Cross Baseball," & Ray Finnegan, "Eagles Beaten by Moriarty," Boston Globe, February 20, May 31, 1935:17, 20; see note 1; "Edward J. Moriarty Bio."
6 "Edward J. Moriarty Bio"; "Holy Cross Honors Delegate of Pope," Boston Globe, June 20, 1935:25; see note 1; Arthur Sampson, "Moriarty, Captain, Second Baseman at Holy Cross, Signs Braves Contract; Ready for Action Against Cubs Today," Boston Herald, June 21, 1935:36.
7 Gerry Moore, "Berger and Hogan Hit for the Circuit," Boston Globe, June 22, 1935:7.
8 Ibid., "Ed Moriarty's Hits Cheer Braves' Crowd," June 23:27; Garry Brown, "Some Memories of Charlie Root," Springfield (MA) Union, November 8, 1970:50.
9 Brown, "Some Memories".
10 James C. O'Leary, "Pirates Win From Tribe in Portland," Boston Globe, June 25, 1935:18.
11 Gerry Moore, "Moriarty Quits Boston Braves," Boston Globe, June 27, 1935:1, 23.
12 Burt Whitman, "Ed Moriarty of Braves Quits Baseball to Enter Priesthood," Boston Herald, June 27, 1935:17.
13 The exact meaning of this support Fuchs gave to Holy Cross is unknown.
14 "Moriarty Prepares for Priesthood," Boston Globe, July 3, 1935:22.
15 "Pytlak and Moriarty Placed on Retired List," James C. O'Leary, "Reds Appear for Two with Braves," "Ed Moriarty Passes Exam For Seminary,"Boston Globe, July 25, August 14, September 10, 1935: 23, 10, 28.
16 Harry Grayson, "Boston Bees Have 'Honey' in Rookie Slugger, Ed Moriarty," Coshocton Tribune, March 20, 1936:9; James C. O'Leary, "Quinn Buys Young Pitchers for Club," Boston Globe, January 18, 1936:4.
17 James C. O'Leary, "Edward Moriarty Expects to Land That First Base Job for the Bees the Coming Season," "Moriarty's Home Run is one of the Longest," Boston Globe, February 26, April 2, 1936:20, 24.
18 "Bees Buzzes," "Moriarty Back Home from Syracuse Club," "Bees Recalling Players," May 14, 27, August 25, 1936:23, 30, 21.
19 Gerry Moore, "Tex Carleton and Bill Lee Are Due to Face Bees in Double Bill," Boston Globe, September 16, 1936:25; Milton Miller, "Etceteras and Postscripts," Wilkes-Barre Record, July 2, 1937:24; see note 9.
20 "Ed Moriarty Coach at Oklahoma Base," Springfield Republican, May 19, 1944:5; Jim Regan, "Announce New Coaches in Holyoke High Sports," Springfield Union, September 8, 1949:25; see note 9; Ralph Wheeler, "Holyoke Tops Milford, 7-4, Taking Title," Boston Herald, June 14, 1953:49.
21 "Moriarty is Appointed High School Principal," "Proud Principal Tells Why School Received Award," Springfield Union, July 2, 1963, November 1, 1968:34, 25.
22 Robert Perkins, "Moriarty's Resignation Stuns Board," Springfield Union, August 7, 1979:1.
23 "Holy Cross Enshrines Holyoke's Moriarty," Springfield Union, April 25, 1971:6.
Born
October 12, 1912 at Holyoke, MA (USA)
Died
September 29, 1991 at Holyoke, MA (USA)
If you can help us improve this player's biography, contact us.
https://sabr.org/sites/default/files/MoriarityEd.jpg
600
800
admin
/wp-content/uploads/2020/02/sabr_logo.png
admin
2018-02-06 14:31:48
2020-04-09 14:40:24
Ed Moriarty