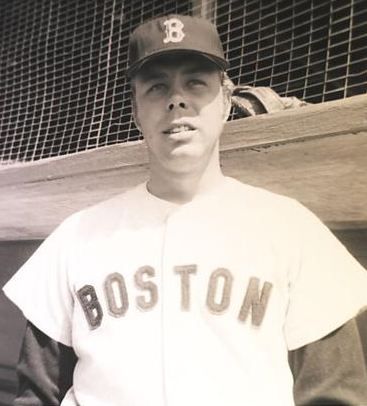 ---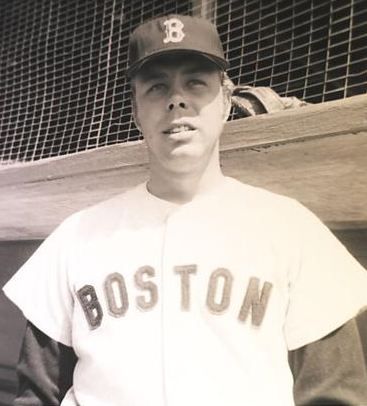 Right-handed pitcher Ed Phillips appeared only briefly in the big leagues, working in 18 games for the 1970 Boston Red Sox. His record was 0-2, a win proving elusive.
Phillips was both born and died on September 20. He was born in Ardmore, Oklahoma, on September 20, 1944, as Norman Edwin Phillips Jr., the son of Maurine and Norman Phillips. He died on September 20, 2017.
Phillips's parents had met in Oklahoma during the Second World War when Norman was in the U.S. Air Force and stationed in Norman, Oklahoma. Maurine had worked in a bank there. They married and had two children. Norman Jr. (Ed) had one sibling, Mary, three years younger. "I was always Eddie Phillips's younger sister," Mary laughed during a June 2018 interview.1
Around 1950, the Phillips family moved back to Norman Sr.'s native Maine, driving cross-country from Oklahoma with all of the family's worldly belongings in the back of a pickup truck. They settled in Portland, where Ed and Mary's father had purchased a house.
In Maine, Mary said. her mother worked in the school system's cafeteria for many years and then worked for AAA (American Automobile Association). "My father ran a Cushman route — Cushman, the bakery — for a good many years, and after they closed up, he went to work for a bank. He did a little of everything for them."
Ed attended Portland's Longfellow Elementary School, Lincoln Junior High, and Deering High School. He was an active athlete at Deering High, participating in baseball (22-5 in three seasons), basketball, and football. H. When he graduated in 1962, he was 6-foot-1 and listed at 190 pounds. He had a three-quarter arm motion, according to Portland Press-Herald writer Tom Chard, who added that he "didn't overpower hitters, using a strong breaking ball and pinpoint control." Chard quoted Deering teammate Paul Pendleton as saying, "Speed wasn't his forte. Eddie had great control. He rarely walked a hitter. If he walked one or two in a game, that was it. He kept his composure and if a player made an error, Eddie would bear down that much more. It was always about the team." Pendleton added, "Eddie pitched us to three state titles," said Pendleton. "Little League, Pony League and (American) Legion."2
There was one game at Deering that stands out in retrospect. During Phillips's junior year, his team faced off against another undefeated team, the Cherevus Stags. Left-hander Dick Joyce was pitching for Cherevus. In 1965, Joyce pitched in five games for the Kansas City Athletics. The battle thus pitted two future major leaguers against each other. Cherevus won that game and finished their season undefeated.
Phillips went on to Colby College in Waterville, Maine, where he played basketball, and baseball for coach John Winkin. There he compiled a 16-5 record, with a 6-0 (0.50 earned run average) in his final year. One of the wins in his senior year was a 5-1 no-hitter on May 10 against the University of Maine. On June 8, the Boston Red Sox selected him in the 16th round of the amateur draft. He learned of it during a game that day while pitching at Fenway Park for the first time in the NCAA District 1 final.3 He had come into the game with an ERA of 0.56, but suffered his first loss of the season, 5-4, to Northeastern.
Two days after graduating in 1966, Phillips signed a contract with the Boston Red Sox for a reported $9,000.4 The signing is credited to Robert H. Murray.5
He was assigned to the Oneonta Red Sox in the Single-A New York-Penn League. He maintained a good earned run average there, 2.80 in 15 games (seven of them starts). His record was 4-4.
In 1967 with the Single-A Greenville (South Carolina) Red Sox in the Western Carolinas League, he split his time between starting (19 games) and relieving (15 games). He got in 163 innings of work and was 14-6, with a 2.37 ERA. He also started three games for Pittsfield in the Eastern League, a Double-A circuit, and was 2-1 with a 1.71 ERA.
For whatever reason, he started 1968 in Single A once again. This time it was with Winston-Salem in the Carolina League. He was 10-9 with a 2.65 ERA, one of the wins a perfect game on July 17 at Ernie Shore Field in Winston-Salem, beating visiting Rocky Mount, 3-0. He also homered, accounting for the first Red Sox runs.6 He struck out each of the last three batters.7 "I didn't see any possible way it could happen," he said afterwards, declaring his slider his most effective pitch of the day.8 His perfect game gave him "the unique distinction of having pitched at least one no-hitter at every baseball level, Little League, Pony League, high school, American Legion, college, and professional."9
He pitched 14 complete games that year, and appeared in 10 games for Triple-A Louisville, 1-0 (1.88). After the season he went to Sarasota to play in the Florida Instructional League, and on to San Pedro de Macoris where he pitched for Estrellas de Orientales, going 2-1 in the Dominican winter league playoffs. The first win was a 1-0 shutout of the Leones de Escogido of Santo Domingo, where he faced all three Alou brothers, with only Jesus Alou getting a single off him.10
Phillips pitched the full 1969 season at Louisville, mostly working in relief (he only started 4 of 34 games). His record was 7-4, 3.25. His manager at Louisville in both 1968 and 1969 — Eddie Kasko — was named manager of the Boston Red Sox for 1970 and first met with the press on October 2. He noted Bill Conigliaro, Luis Alvarado, and Ed Phillips as among his charges who might make the majors in 1970.11 Later in the month, Phillips was added to the major-league roster, and even worked for the team during the offseason.12 He joined the Red Sox for spring training in 1970.
Phillips had a good spring training, won a bullpen spot with the team and had his major-league debut on April 9 during an afternoon game at Yankee Stadium. The Yankees held a 4-3 lead heading into the bottom of the eighth. After Vicente Romo gave up a two-out single, Kasko brought in Sparky Lyle. But Lyle gave up back-to-back walks, loading the bases. He seemed to have nothing that day, and Phillips was waved in. Down by just one run and with the bases loaded, it was a difficult situation but he threw just two pitches. The first was a called strike and on the second, Phillips induced New York first baseman John Ellis to pop up to his counterpart at first base, Boston's George Scott. The Sox failed to score, but Phillips had done his job. After the game, Kasko said of bringing in his rookie reliever, "You might as well use them and find out. Phillips did well for a spot like that."13
Phillips told a reporter he was still nervous 20 minutes after the game was over and that he was glad he'd had his first appearance on the road, since he had so many friends in Boston and would have felt more pressure there. He said of Ellis, "I faced him last year in the Little World Series playoffs and knew he couldn't hit the breaking ball very well. That's what I kept thinking about coming in from the bullpen. I had to get the breaking ball over first."14
On April 12 in Washington, he got in a full inning of work, allowing one single but striking out the three other batters he faced. By the end of April, he'd appeared in six games, thrown eight innings, and had yet to give up a run. That changed in May. He gave up one run in each of two games, unfortunately losing the last one on May 6, but still had just a 1.80 ERA when he was sent back to Louisville in mid-May on 24-hour recall to make room for Mike Nagy, who was having an excellent year there.
Phillips did not pitch well in Louisville. He was 1-5 with an ERA of 6.62 in 53 innings. When Jim Lonborg had to go on the disabled list, Phillips was brought back to Boston on July 1. He lost a second game, again just surrendering one run, on July 8. His ERA was 2.19.
Then he had a couple of poor performances, both times giving up four earned runs. His last appearance was on August 29. He finished with a 5.32 ERA and the 0-2 record. He'd worked 23⅔ innings and struck out 23 batters, but had given up 29 hits, walked 10, and been tagged for 14 earned runs.
He had had three at-bats, without a hit. He successfully converted the one fielding chance he was presented.
Why had he not lasted longer in the big leagues? Eddie Kasko was asked more than 20 years later. "He's got nothing to be embarrassed about…I don't think anyone worked harder than he did. When you get there, it's the opportunities that are presented to you." Kasko felt that the implementation of the designated hitter rule in the minor leagues in 1969 had meant that Phillips got less work since relievers got less work as the DH was first brought in. He didn't get enough innings in during 1969 or, in particular, 1970, to stay sharp. "Today," wrote Roberta Scruggs, "Phillips would be a classic set-up man; then, his role was never clearly defined."15
In 1971, Phillips played for Double-A Pawtucket (0-1, with a 12.00 ERA in nine games), and very briefly for both Louisville and Tidewater in the Mets organization, then retired from baseball. It was also in 1971 that Ed married Donna Burns of Nashua, New Hampshire. Ed and Donna had one daughter, Brooke.
After baseball, Phillips became a water treatment consultant for Garratt-Callahan, living and working in Kentucky and Illinois, but traveling nationally. He later started his own business, Nu-Air Corporation. Initially, Mary Davis explained, "He worked with a lot of automobile manufacturers. He'd go into their plants and try to remove the chemicals they had used — in painting and what have you — in the most environmentally-friendly way."16 When he started his own company, it was not only water purification but the company also developed a specialized expertise in cleaning the exhaust filters from diesel trucks so they could be re-used.
At a certain point, Ed and Donna separated. In 1998, at a class reunion, he and Barbara Page met. Barbara had lost her husband three years earlier. She was teaching elementary school in Wells, Maine, and retired the following year. Ed was living in Bloomington, Illinois, at the time, but in the year 2000 he sold the company and moved to live with her in Maine. After arriving, Ed also spent time serving as pitching coach for the Kennebunk American Legion baseball team. Ed and Barbara never felt the need to marry, but "we'd go on cruises every year and every single time we came home, we talked about it. We were very happy."17 The two enjoyed many cruises and road trips, and developed a large circle of friends. Ed also enjoyed woodworking and home improvement projects. Many who were originally more Ed's friends than Barbara's stay in frequent touch with her since Ed's passing. Barbara and Mary Davis are in very frequent contact with each other.
Ed Phillips was inducted into the Maine Baseball Hall of Fame in 1979 and into the Maine Sports Hall of Fame in 2016. The 2016 induction was attended by numerous family members and friends as well as several members of the 1957 Portland Little League All-Star team that he helped pitch into the Maine State Championship and regional playoffs in New York.
In 2016, his number 15 baseball jersey was retired by Colby College.
When Fenway Park celebrated its 100th anniversary in 2012, his daughter Brooke had accompanied him to the celebration. Tom Chard said she had asked her father if he was going to be nervous after being introduced and having to walk across the field at Fenway in front of the sold-out crowd. "I was nervous when I was the one walking out of the bullpen to the mound," he told the Press Herald. "It will be a lot easier to go out there with a couple of hundred other players."18
Phillips was diagnosed with cancer in the summer of 2017, but it had already metastasized at the time. He entered hospice care not long afterward. Ed Phillips died in Wells and is buried in Laurel Hill Cemetery at Saco, Maine.
"He had so many friends," Barbara Page recalled. "He had so much company — 10 people a day, at least. I had more company in a month than I had in the 40 years I had lived in my house. He was just so well liked by everybody."19
And he had accomplished that dream he'd given voice to in 1969 — one day (and quite a few more) in the majors.
Acknowledgments
This biography was reviewed by Norman Macht and verified for accuracy by the BioProject fact-checking team.
Sources
In addition to the sources noted in this biography, the author also accessed Phillips' player file from the National Baseball Hall of Fame, the Encyclopedia of Minor League Baseball, Retrosheet.org, and Baseball-Reference.com. Thanks to Rod Nelson of SABR's Scouts Committee, to Mary Davis and to Barbara Page.
Notes
1 Author interview with Mary Davis on June 3, 2018.
2 Tom Chard, "Former Deering High star and Red Sox pitcher Ed Phillips dies at 73," Portland Press-Herald, September 21, 2017. https://www.pressherald.com/2017/09/21/former-deering-high-star-and-red-sox-pitcher-ed-phillips-dies-at-73/
3 Larry Strum, "NU Leading Colby," Boston Traveler, June 8, 1966: 56.
4 Tom Chard.
5 Document in Phillips' player file at the National Baseball Hall of Fame.
6 Associated Press, "Phillips Hurls Perfect Game for Winston," Durham Morning Herald, July 18, 1968: 18.
7 Frank Spencer, "Phillips Fills Bill For Winston-Salem; A Perfect Pitcher," The Sporting News, August 3, 1968: 41.
8 Associated Press, "A Perfect Game for Ed Phillips," Durham Sun, July 18, 1968: 21.
9 Carroll Rines, "Phillips Expresses Baseball Player's Dream: 'One Day in the Majors'," Maine Sunday Telegram, February 2, 1969: 4B.
10 Ibid.
11 Bob Sales, "'I'll Treat Sox Like Men' — Kasko," Boston Globe, October 3, 1969: 25.
12 Fred Ciampa, "Back Woes Still Bother Nagy," Boston Record American, January 22, 1970: 21.
13 Harold Kaese, "Yankees End Sox Suspense," Boston Globe, April 10, 1970: 25.
14 Jack Clary, "Phillips Calms Yanks, Own Nerves in Debut," Boston Herald, April 10, 1970: 39.
15 Roberta Scruggs, "A 20-year Ache is Tough to Forget," Portland Press Herald, April 20, 1992: 10D.
16 Author interview with Mary Davis.
17 Author interview with Barbara Page on June 3, 2018.
18 Tom Chard.
19 Author interview with Barbara Page.
Born
September 20, 1944 at Ardmore, OK (USA)
Died
September 20, 2017 at Wells, ME (US)
If you can help us improve this player's biography, contact us.
https://sabr.org/sites/default/files/Phillips%20Ed.jpg
600
800
admin
/wp-content/uploads/2020/02/sabr_logo.png
admin
2018-06-27 12:56:23
2020-04-09 14:38:44
Ed Phillips